Looking for inspiration? The wide variety of kitchen photos in this section demonstrate the superior design quality and workmanship customers expect from Rosemount Kitchens. Our designers can help you create your dream kitchen, and there's nothing better than seeing some great examples for yourself at our two Melbourne
kitchen showrooms
.
Striking Port Melbourne kitchen renovation When some of our clients come to us, they're very certain of the style they want for their renovation. That was the case with this three-storey, contemporary apartment in Port Melbourne. The owners dreamed...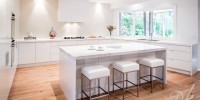 The quality of the build cannot be faulted and the level of service we have experienced from Rosemount has been exceptionally good. Everyone we spoke to over the phone and those that visited our house were a delight to deal with.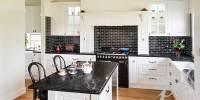 Rosemount's service was outstanding from start to finish. We love our new kitchen and couldn't be happier with the experience we had. I would highly recommend Rosemount without hesitation.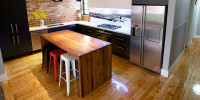 Rosemount made this an easy and mostly seamless undertaking for us and the results are significantly better than we anticipated. To say we are delighted with our new kitchen is a gross understatement. It is just sensational.