Why our Melbourne kitchen designers are worth their weight in gold
Check out our video below, which features Mark, Dave and Reuben talking about important factors when creating a new kitchen.
Why should you get a Melbourne kitchen designer to help you create your dream kitchen?
After all, it's only a new kitchen – how difficult can that be?
We often tell our clients that it's easy to fill a space with cabinets, benchtops and drawers. But it's much harder to make the space practical, functional and beautiful.
And we've yet to meet a client who doesn't want their kitchen to be wonderful in every way.
Some clients tell us they've lived in their house for years and know exactly what they want.
Yet we'll respectfully suggest that they can still benefit from the input of the city's best kitchen designers.
The fact the clients know the space better than anyone means they could be blind to the kind of valuable insight a fresh pair of expert eyes will provide.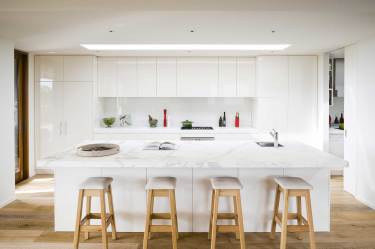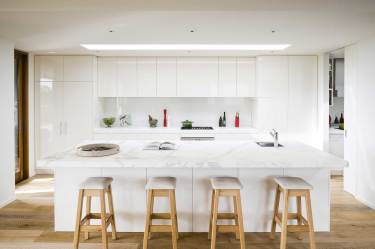 Let us ask the question we opened with another way – why would you risk missing out on your ideal kitchen by not seeking assistance from an expert in kitchen design in Melbourne?
Ready to find out what they can do for you. Read more below or contact us for a no-obligation consultation.

Benefits of using a Kitchen Designer

Size Matters

A good designer will consider not only the size of the space, but the clients who will be using it. A family of five will have very different needs from a mature couple, and that impacts the optimal look and feel of the kitchen.
What's important to you?

Some clients are entertainers. Others love nothing more than cooking. Bottom line – what matters most to you is vital when choosing everything from cabinets to fridge space.
Tap into the latest kitchen trends

These days many clients prefer clean lines and no handles. Induction cooktops often trump their gas counterparts. More people are opting for steamer ovens over microwaves. They choose undermount sinks without draining boards. A designer can advise on what's best for you and your circumstances
Emerging technologies can take your kitchen to the next level

Our kitchen designers keep up to date with the latest industry innovations. How will you benefit from fantastic improvements like soft-close drawers, pull-out pantries and easy-clean tiles – when you're not aware of them in the first place?
3D visualisation
Why not test computer software that lets you stand in your home and see exactly how the new kitchen would look in your space? Instantly change colours to see what works best. It's much better than looking at lines on a piece of paper.
Tricks of the trade
Experience counts, and our designers instinctively know what will and won't work in kitchen projects. Their expert advice will save you from being tripped up at any point in the process.
They will also advise you on budget and how to get the best value for money.
What makes a good kitchen?
That's a question where no two answers are ever the same. It all depends on the client – and every client is unique.
However, there are some important common principles.
High quality Australian-made materials are a must. They ensure your beautiful new kitchen stands the test of time – looking as good in Year 10 as on Day One.
Then, of course, comes high quality design.
Some designers will push something that works better for them than you, or simply try to fit too much into a space.
We're only interested in what's best for you, and the result will reflect your day-to-day life.
Whether it's a kettle or the kids' iPhones charging on the bench, most kitchens quickly fill up. If we've done a good job with the design, when you put things on top, the kitchen will still look clean and balanced.
Peace of mind

Put simply, we're obsessed working with you to make the most of the space and every dollar you spend – so we get the right result for you.
At Rosemount Kitchens we take enormous pride in our work, and our designers treat a client's space as if it was their own.
We love to see the excitement on clients' faces when they see their kitchen renovation created exactly the way they wanted it.
Let us help you create your dream kitchen
Ready to find out what our Melbourne-based designers can do for you?
Why not book a free no-obligation consultation with one of the team.
Your dream kitchen awaits.