The Complete Guide To Kitchen Sinks
What kind of sink should you have in your new kitchen?
A single stainless steel topmount sink, perhaps. Or maybe you'd prefer a vintage ceramic butlers sink set into the benchtop or cabinetry.
Like all other aspects of outstanding kitchen renovations these days, the choices are wide and the quality unprecedented.
Key tip: Remember, though, the sink is a true kitchen workhorse. Think about how much time you spend washing-up, rinsing dishes, soaking pans, filling saucepans, draining pots, washing produce, peeling vegetables, washing your hands.
That's a lot of action for one kitchen component, and it's got to be tough enough to take the strain.
So what's it going to be?
Undermount, topmount or flushmount? Skirted front? One bowl or two? Drainer or removable drainer? Round or square? Steel, stone or other? Installed on your benchtop or your kitchen island?
As we said, the choices can seem bewildering, so read on to find out the option that's best for your kitchen design – and find that crucial balance between functionality, your lifestyle needs, aesthetic preference and budget.
Key considerations:
Before choosing the right kitchen sink for you, keep in mind how it fits into your particular circumstances.
At Rosemount Kitchens we ask customers to consider questions like these:
How will the sink fit with the overall design of your kitchen?
Where is the best place for the sink functionally and also aesthetically?
Is there enough room for your dishes?
Is the bowl deep enough for your favourite cooking pots, trays, boards and dishes?
Is the sink close to the dishwasher for easy rinsing and stacking?
You'll spend a fair amount of time there, so does it have a good aspect or view eg, a view to the outside or looking onto the family room?
OK, let's take a closer look at the popular types, styles and makes of kitchen sink you can choose.
Kitchen Sink Mountings
You're most likely to choose from one of the following four installation types:
Topmount
Undermount
Flushmount
Butlers or Farmhouse Sink
Topmount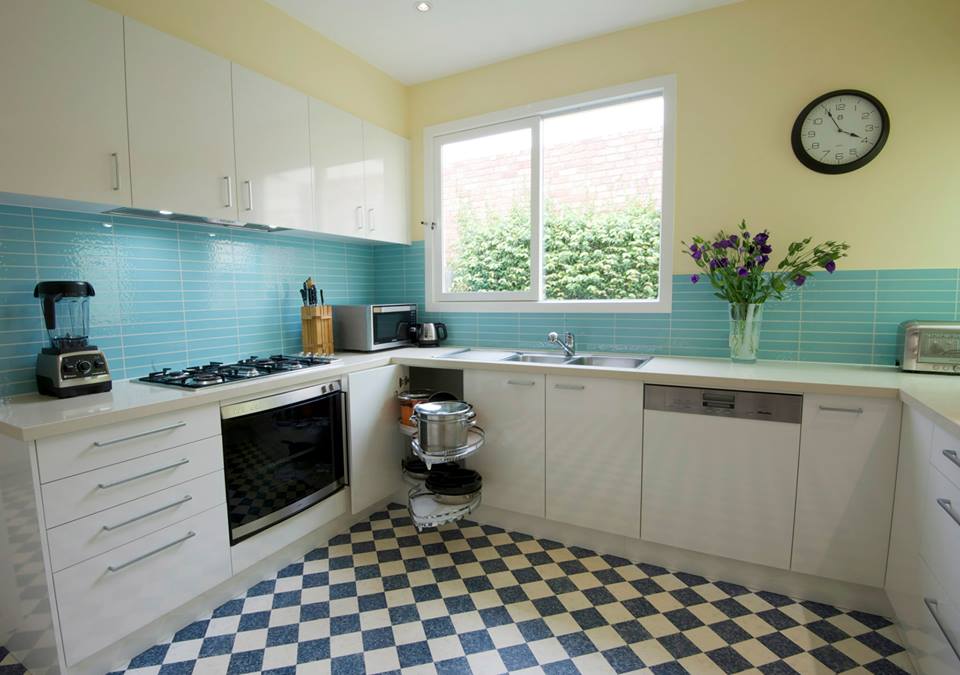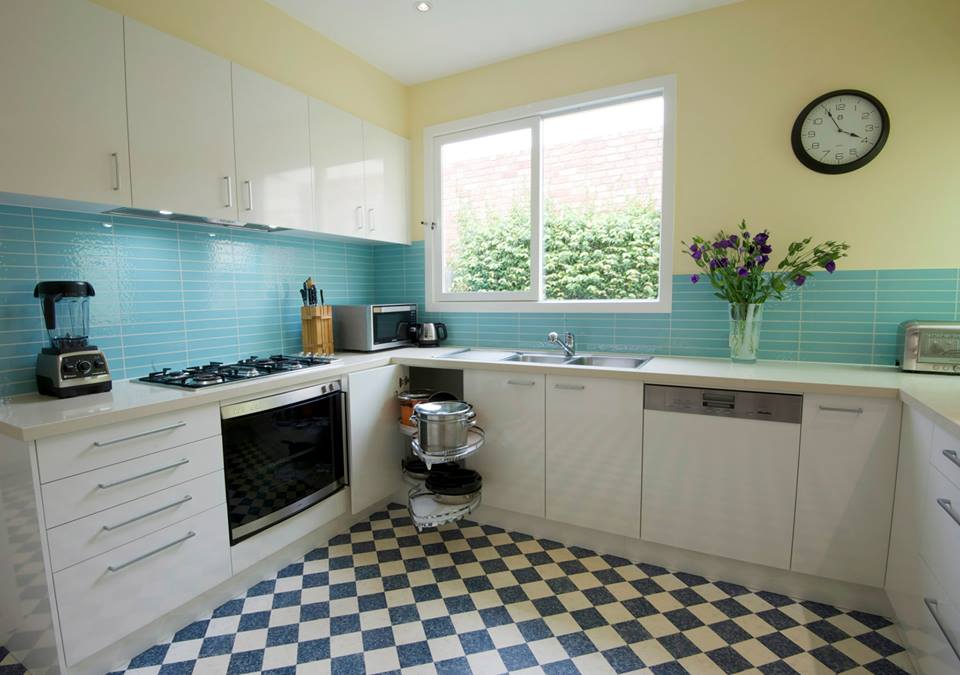 Traditionally topmount sinks have been the standard choice in kitchens.
As the name suggests, these sinks are installed on top of the benchtop. The "lip" or rim of the sink rests on the benchtop, which is largely how the sink is supported. And this lip is sealed to ensure that the edge of the sink remains waterproof.
Topmount sinks are easy to install, which makes them more budget friendly than alternatives.
Some customers ask about "gunk" building up around the lip. If you don't clean the area regularly, then that's what will happen. But if you do, it won't be an issue.
Undermount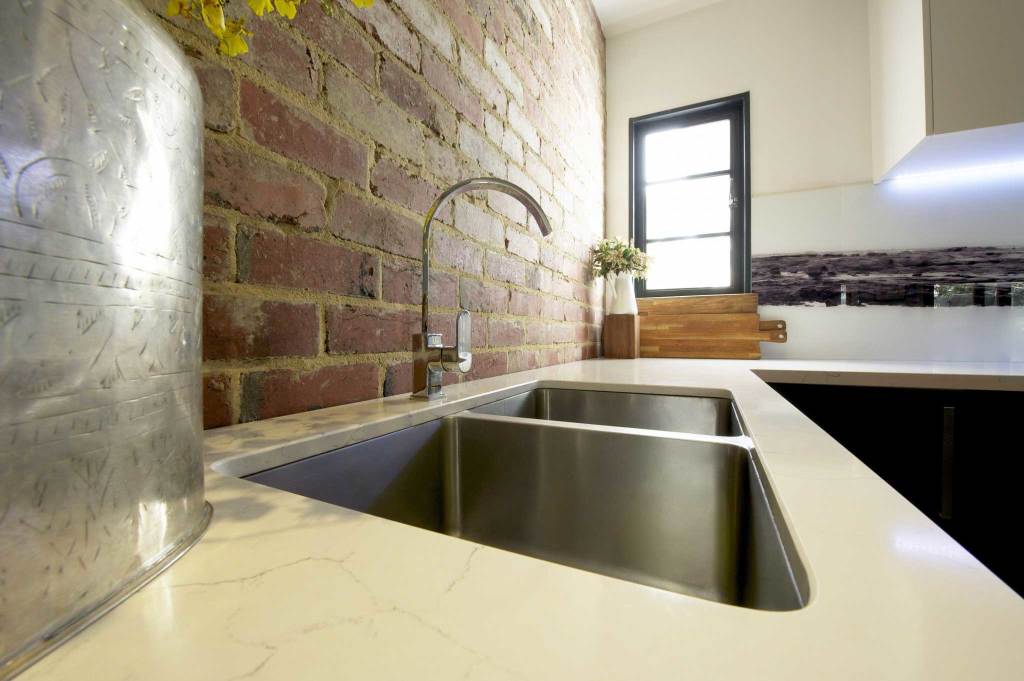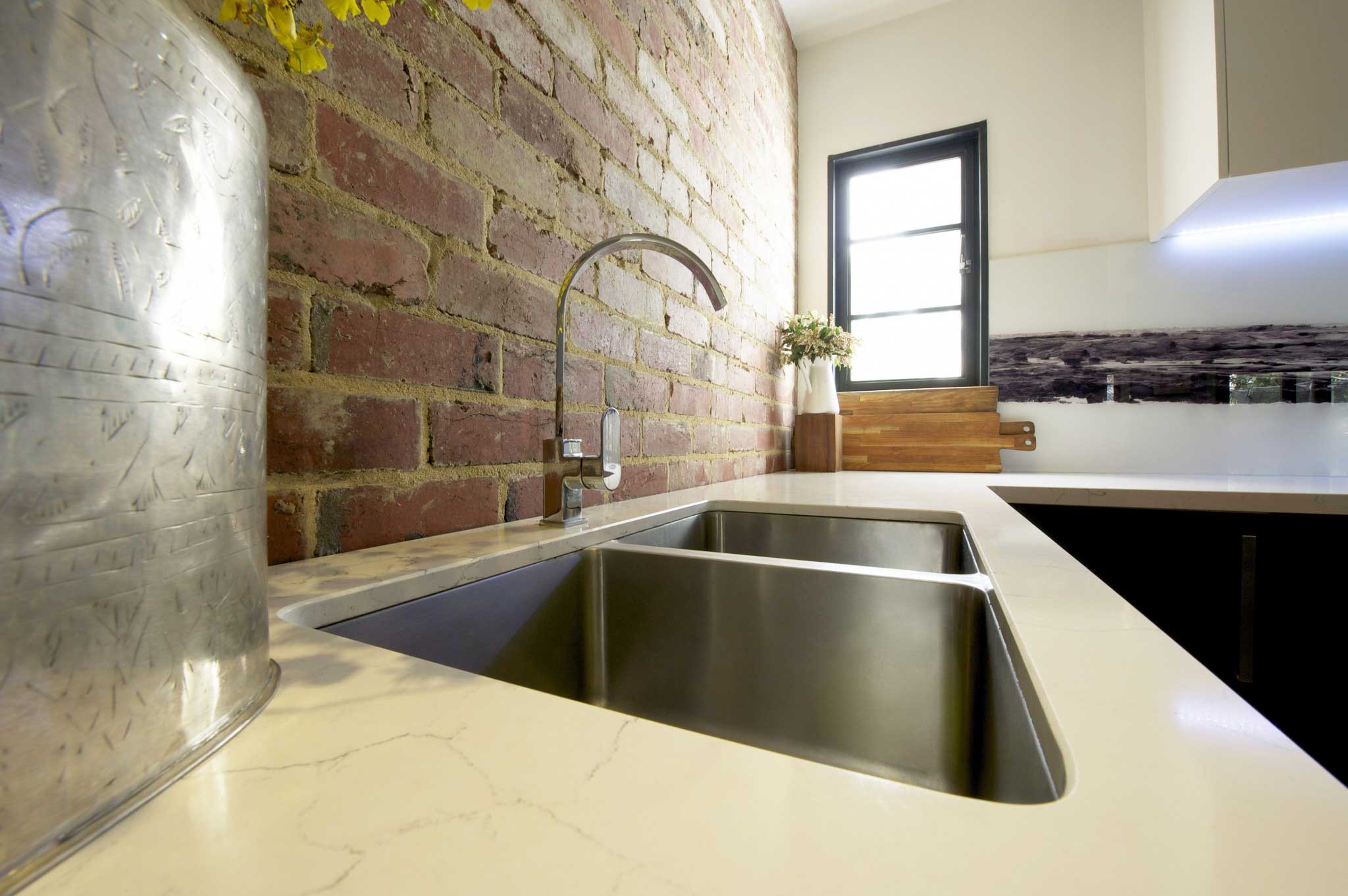 Undermount sinks sit below the surface of the bench and have been gaining in popularity in recent years.
Our clients just love the streamlined, sleek look that a well-installed undermount sink offers.
They work particularly well in stone benchtops – either in natural stone like granite or marble, or man-made stone such as Caesarstone.
To install undermounts, a hole needs to be cut precisely in the bench to accommodate the exact dimensions of the sink. Sealing is important to ensure they remain watertight.
Additional supporting structures are also required beneath the sink to hold it in place.
Always check what kind of support might be needed, as some styles take up more room than others and can compromise the cupboard space available under the sink.
Flushmount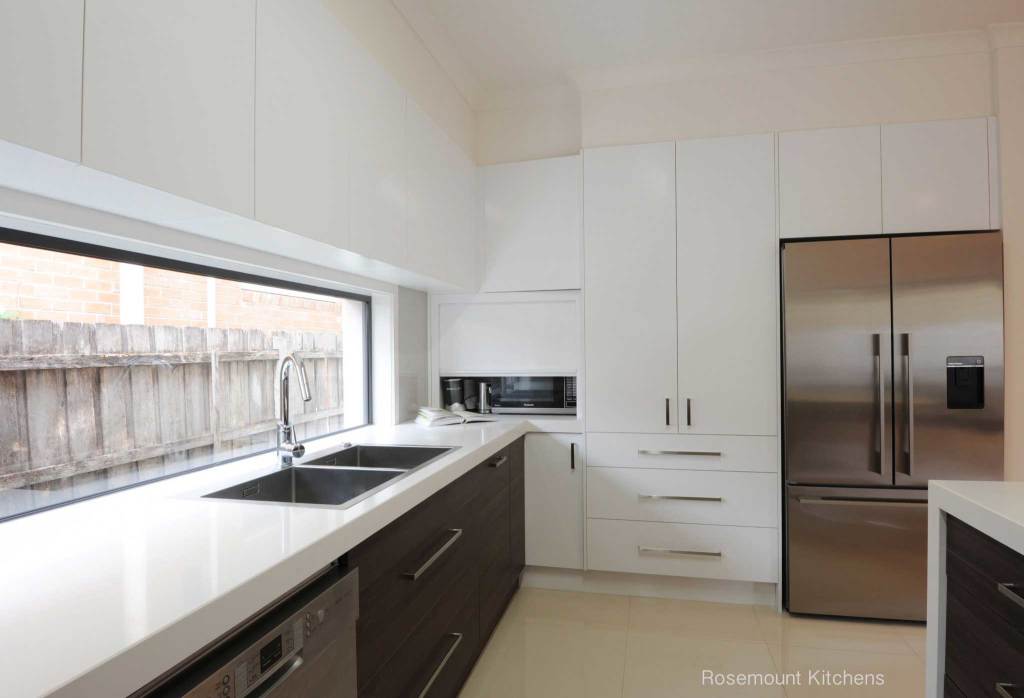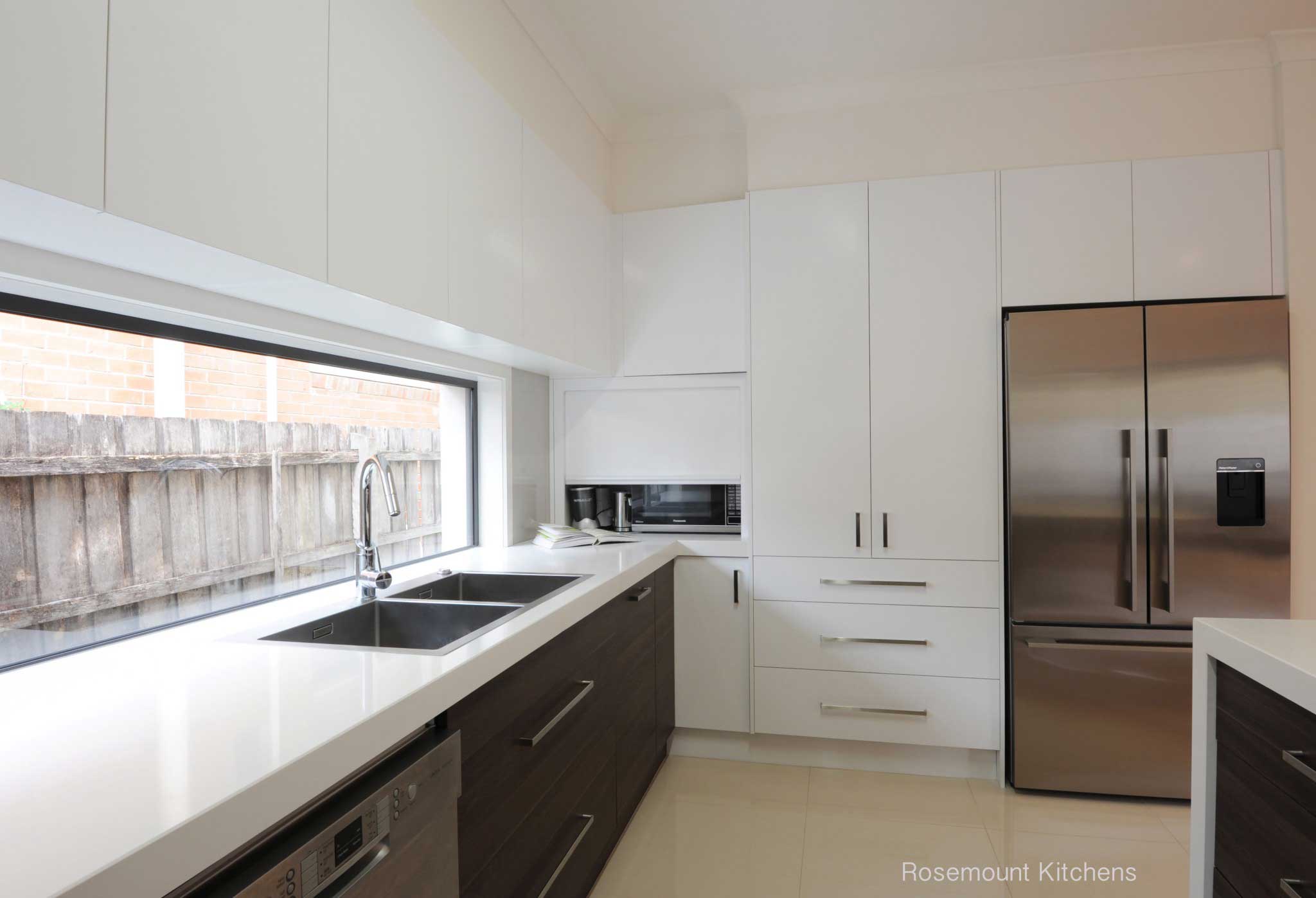 Flushmount sinks are where the sink and benchtop form one unit.
There are no edges, lips or rims to the sink and they provide a streamlined look.
Like undermount sinks, a hole to accommodate the sink must be cut perfectly and sealed well.
Butler's or Farmhouse Sink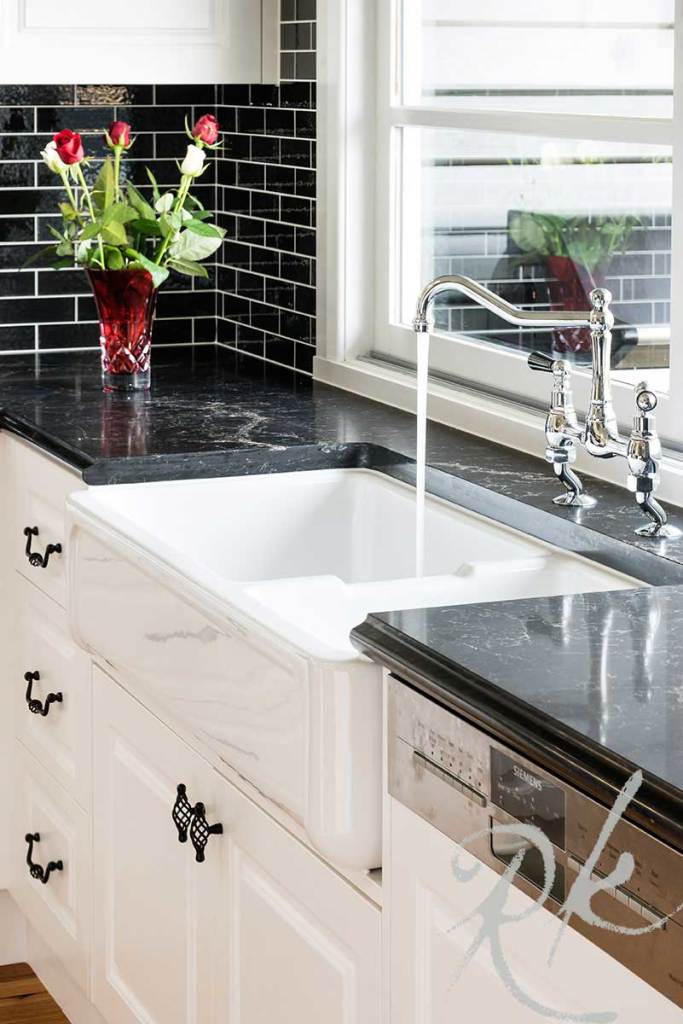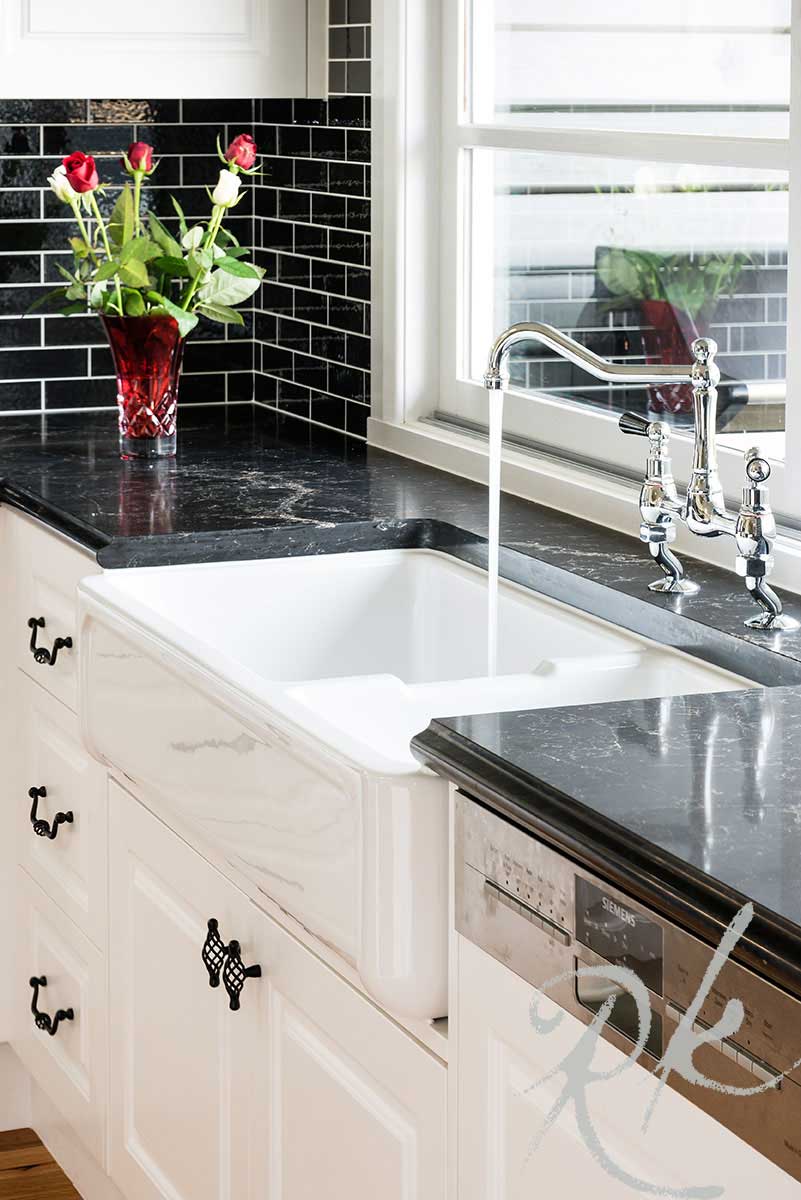 A Butler's sink is a rectangular, usually ceramic sink with a rounded rim which is set into the benchtop and cabinetry.  The distinctive "apron" front gives a strong vintage appeal.
Butler's sinks go by many names – including farmhouse, French, apron or skirted. We'll call them butler's for simplicity.
While traditional in style, modern materials and manufacturing techniques mean today's butler's sinks are tougher, more scratch resistant and easier to keep clean.
The single large basin might be the best known look, but double sinks offering greater convenience are also a popular option.
Either way, a butler's sink works beautifully in a French Provincial or Hamptons style kitchen.
Specialist cabinetry may be required to accommodate the size and weight of the sink, and that can can add to the overall budget.
Sink materials
So now that you've got an idea of what type of sink you'd like, it's time to decide what it will be made of.
Here are the four main options.
Stainless Steel Sinks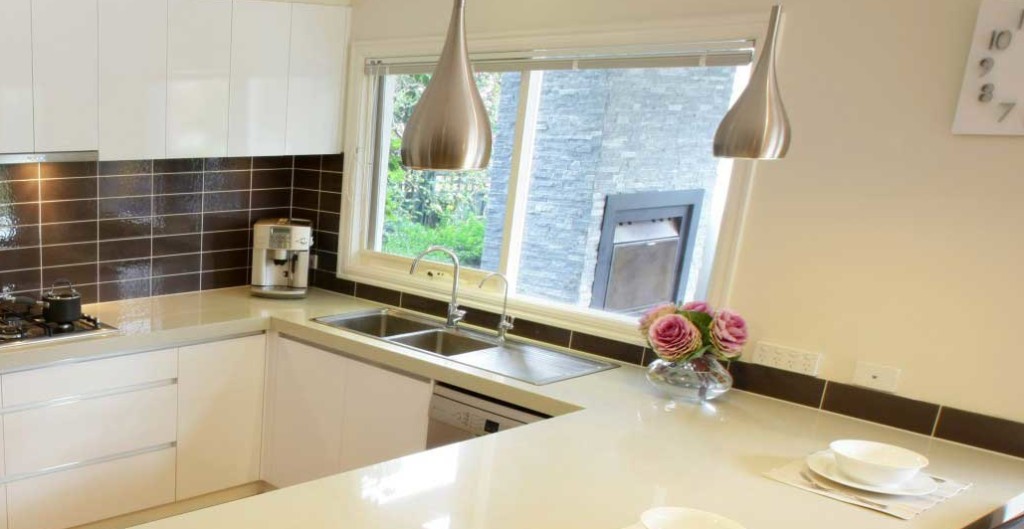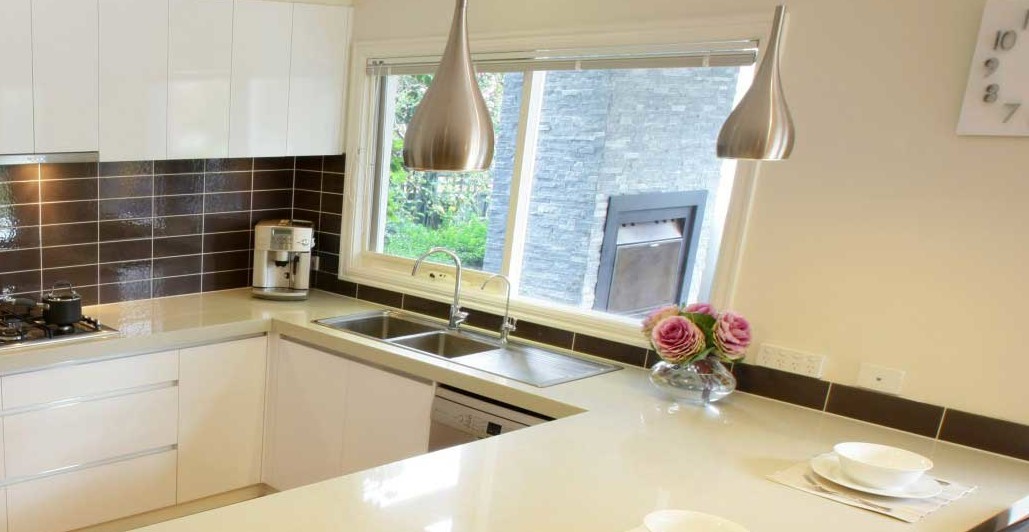 Stainless steel is the king of versatility in the sink world. It's durable, easy to clean, hygienic and economical – and tends to suit all styles of kitchens and colour schemes.
Be mindful of the fact that stainless steel can scratch, so take care not to use abrasive cleaners or cloths.
We recommend opting for a higher quality steel with sound deadening pads to avoid the "tinny" noise you get from some cheaper alternatives.
Stone Sinks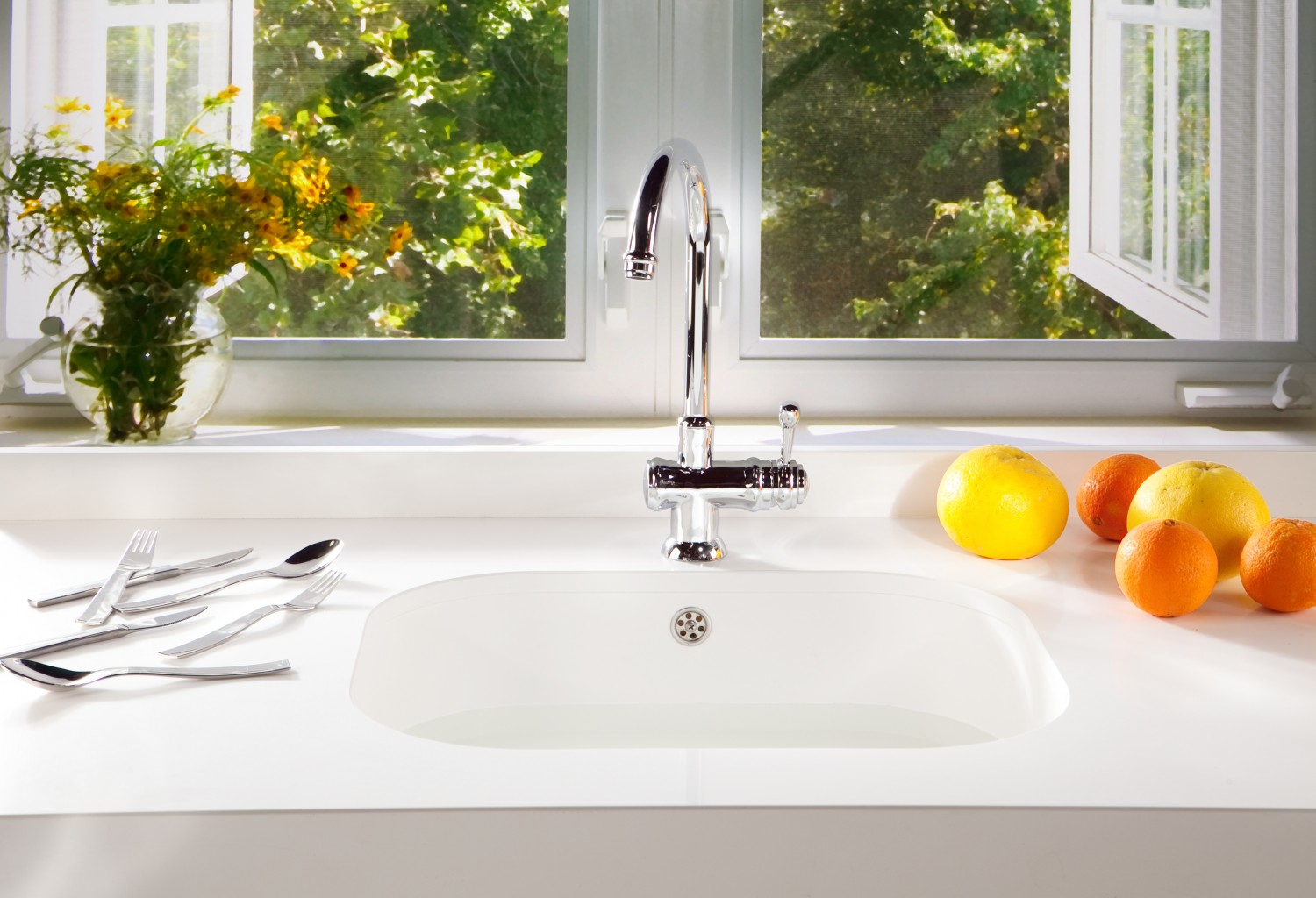 You can choose between natural stone and man-made composite alternatives like the 'Integrity ONE' range of sinks from Silestone, shown above. Choose the same colour as the bench for a seamless flow from bench to sink – in the right kitchen both look simply wonderful.
Silestone is non porous and never needs to be sealed. It has high stain, scratch and heat resistance.
Natural stones are fabulous, but be aware that they do need extra care to maintain those good looks.
Solid surface Corian Sinks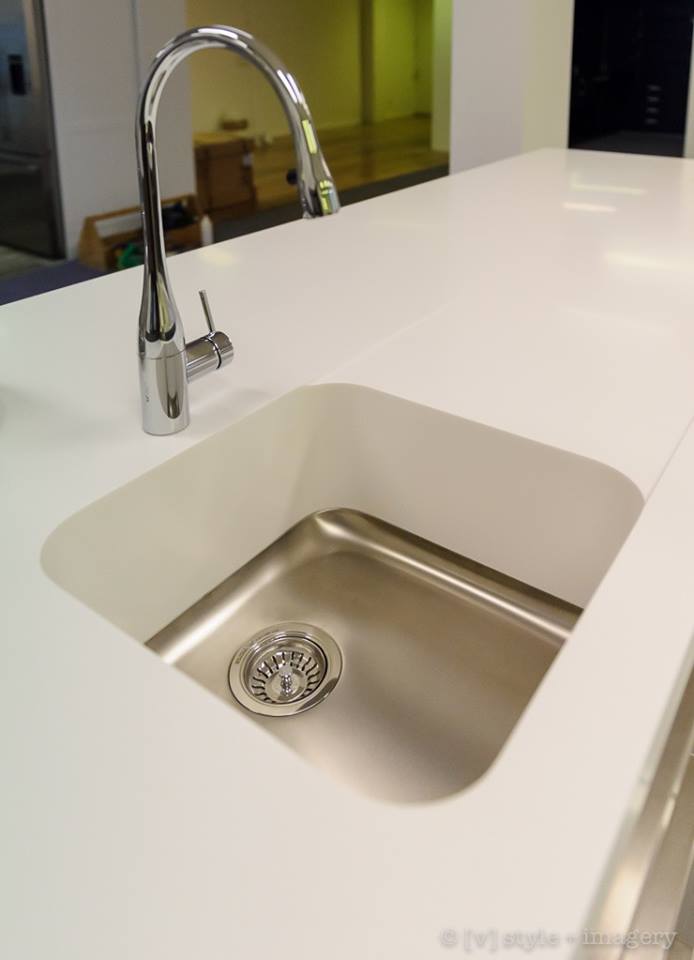 If hygiene is your main concern, you can't go past a solid surface sink – usually referred to as Corian (the brand name of the DuPont product).
Corian gives you the ability to create continuous surface incorporating the benchtop and sink (often splashbacks too). There are no joins or rims so it's harder for dirt, grime and water to gather.
You can even have a stainless steel base in the sink.
Ceramic Sinks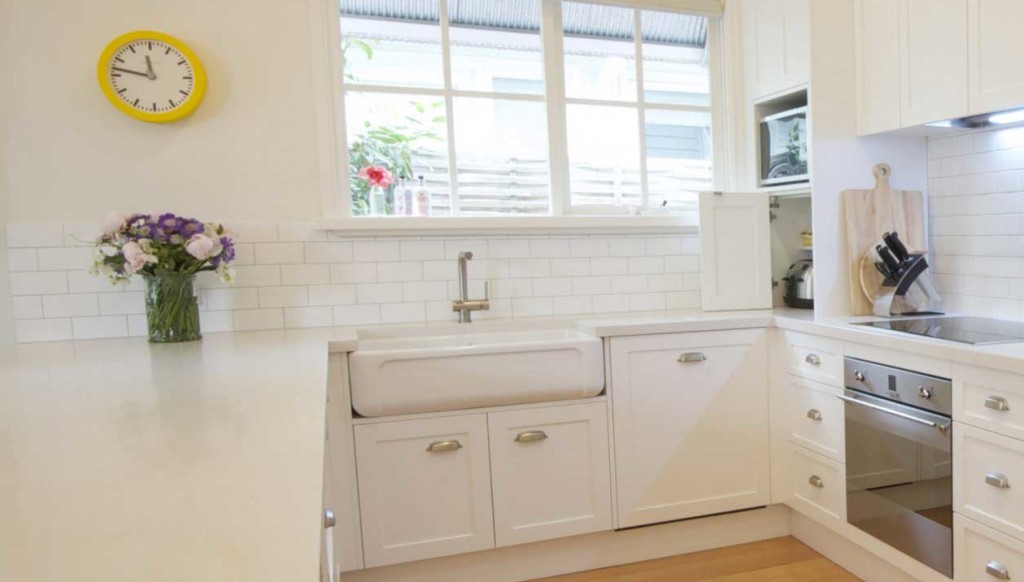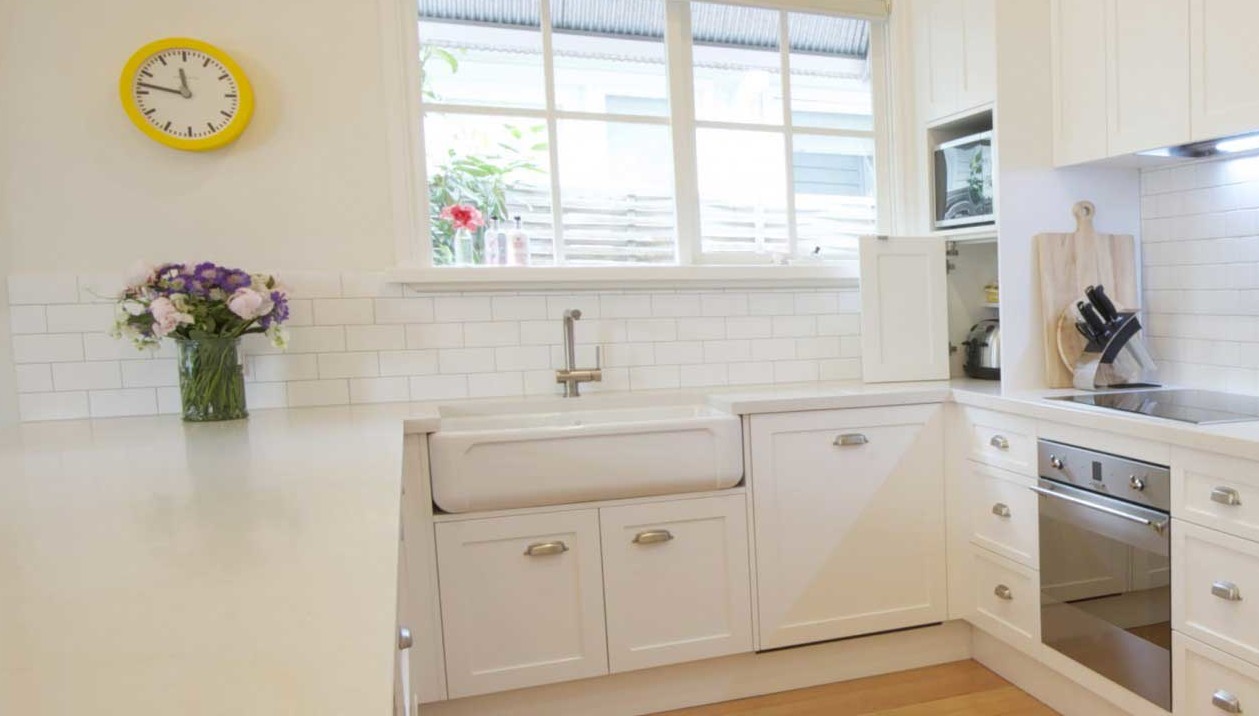 Gloriously vintage, ceramic sinks look perfectly at home in more traditional style kitchens. There are an array of colours to choose from, so you're sure to find something to fit your needs.
One consideration with ceramic is that it can scuff, mark and chip, so extra care and cleaning is required to keep it looking pristine.
A single or double sink?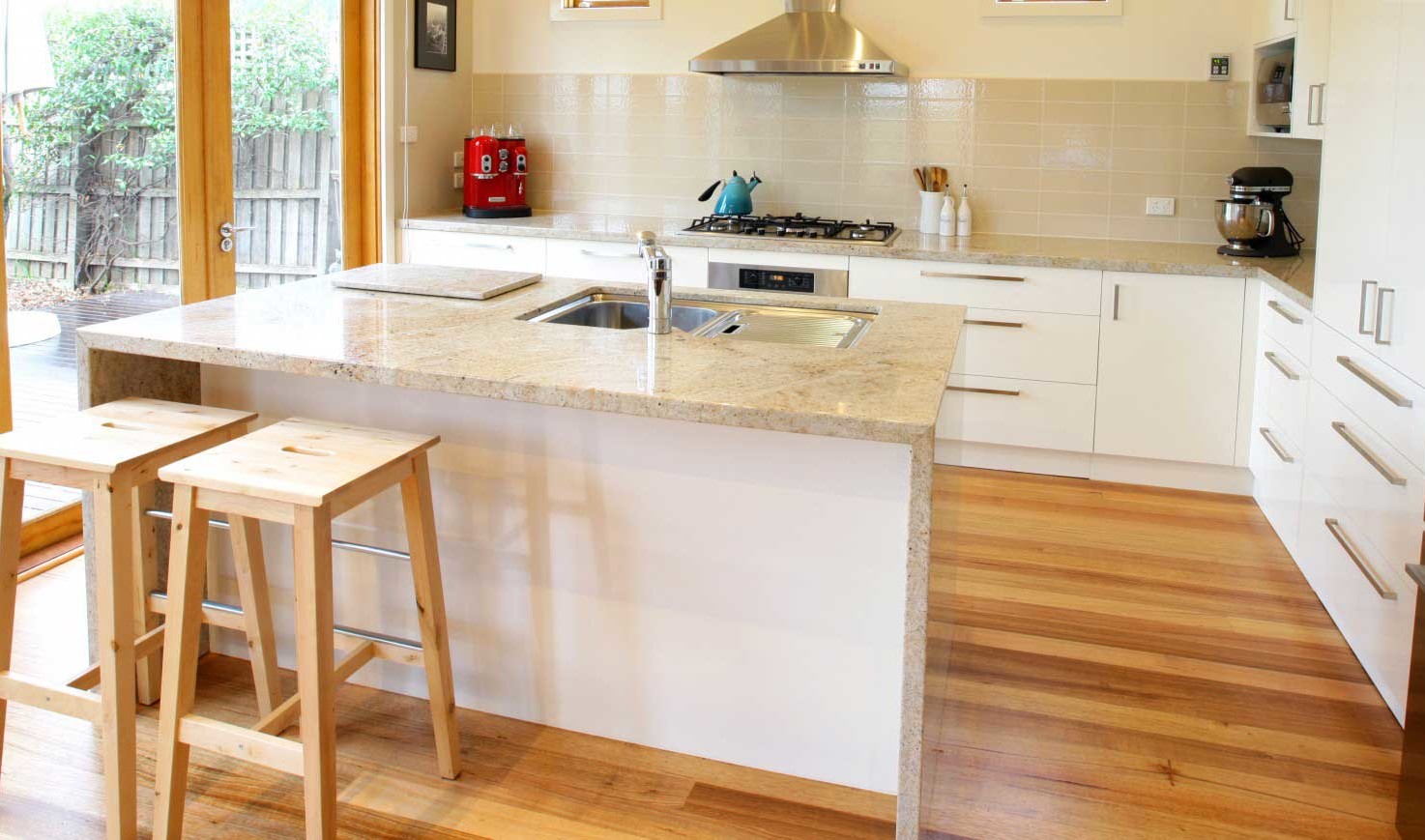 Whether you choose a single or double sink will depend on the functionality you need.
If you regularly need to soak large pans or trays, a large single bowl sink will work best. But if you need to do two or more things with you sink – such as rising vegetables while soaking a pan or using soapy water alongside clean rinsing water – it can become more tricky.
Double sinks offer more flexibility to perform separate tasks, but you might be limited by the size of the basins.
The choice is yours – both basins the same size or one larger than the other. Whatever you opt for, be mindful that the larger the sink, the more bench space it takes up, and a larger cabinet is required below.
And just to make things more interesting – you can even choose a triple sink set-up.
In those cases, the middle sink tends to be a dedicated garbage disposal with two regular basins on either side.
Sink in the kitchen island or benchtop?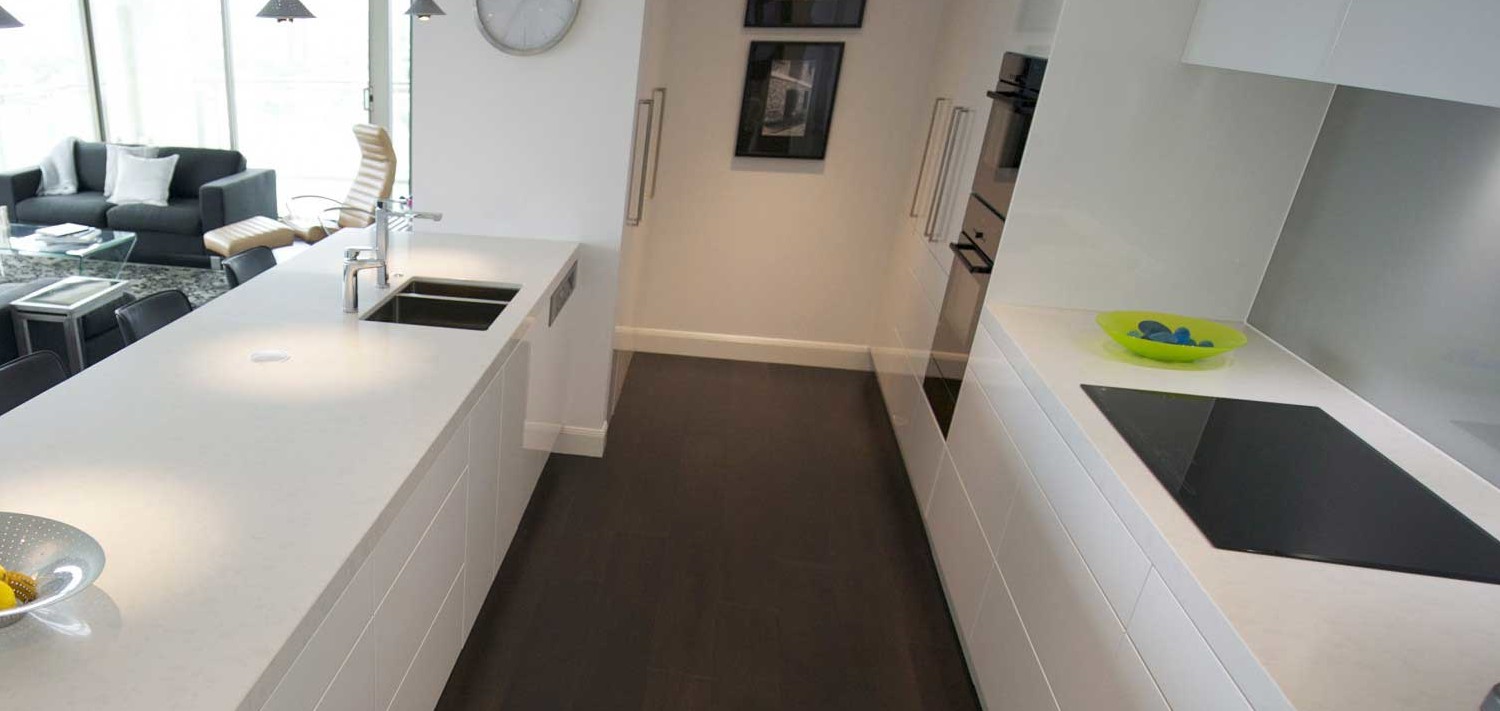 One question we're often asked is whether it's a good idea to put a sink into a kitchen island.
There's really no right or wrong answer to this and depends on your renovation, but there are a few things you should be aware of before making a decision:
If your sink is on the island, it can be more difficult to use the island as a servery for entertaining. By contrast, it's a good place to keep bottled drinks on ice for a party
Dirty dishes on or in the sink are often in full view
Water can splash from sink area to where others may be sitting at the bench
Everyone has their opinion on this, including Rosemount's managing director Mark Tonkin. See what he has to say in this short video.
Drainers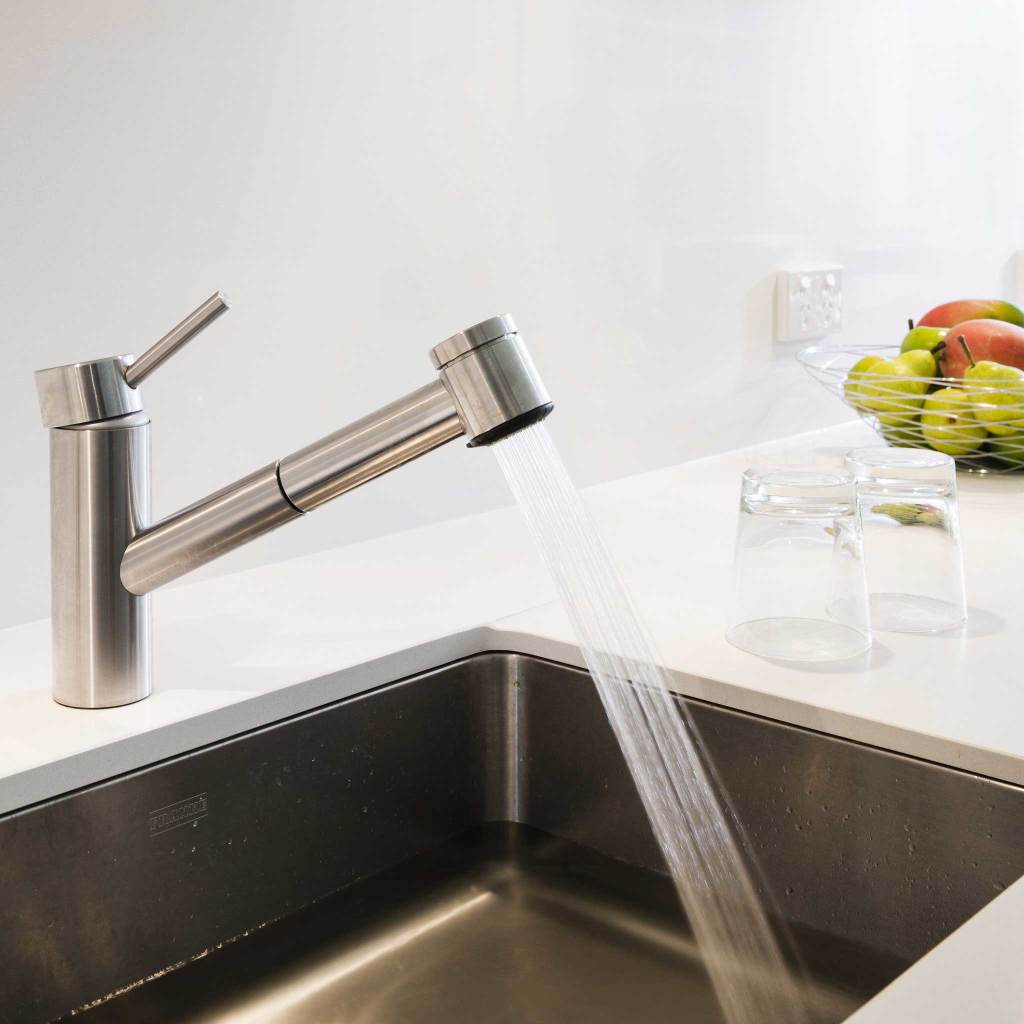 When you think about sinks you also need to consider drainers. Like sinks, there are a large number of potential choices.
What would you prefer – a drainer attached to the sink, a detachable drainer, a sloped or grooved drainer in your natural stone, Corian or Caesarstone benchtop? Or no drainer at all.
The image above features an undermount sink with a fantastic sloped drainer.
Drainers today can also be far smaller than the ones we all remember as kids.
Depending on what look you are trying to achieve, you'll find the drainer to suit your needs.
Sink accessories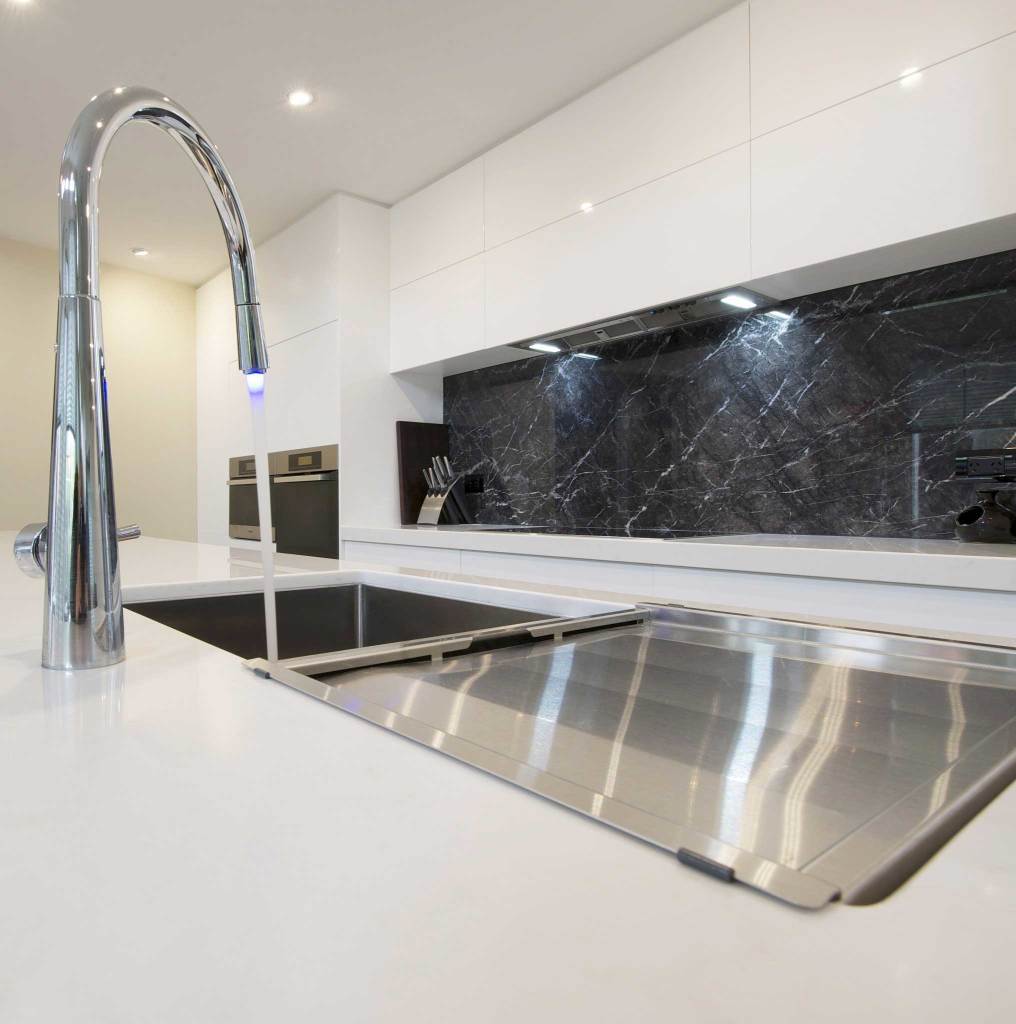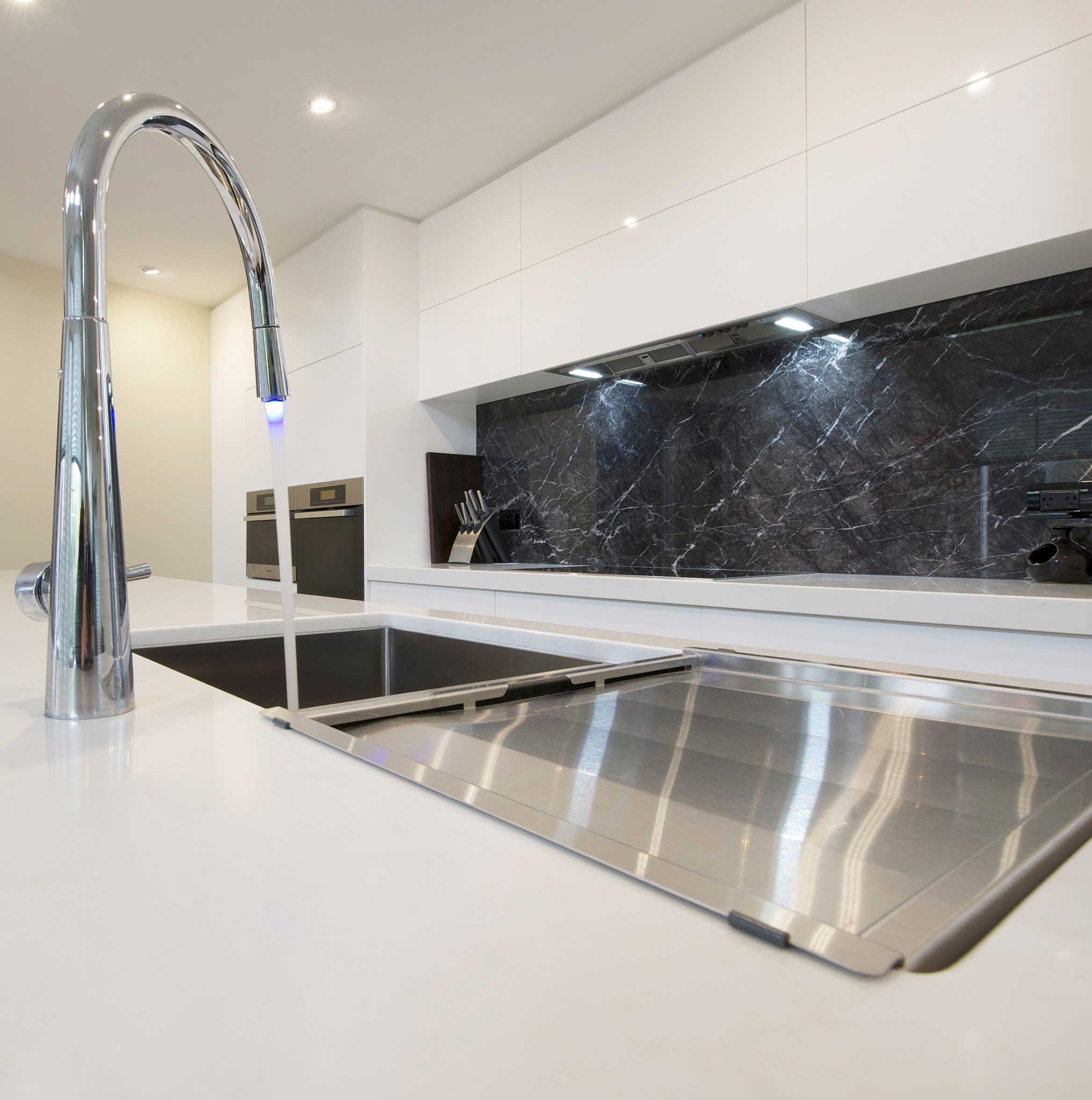 Keep in mind a wide range of accessories that make your sink even more versatile. For example:
Built in cutting boards
Draining racks
Colanders
Prep bowls
Some of the available accessories are made by manufactures to suit specific model sinks. So you can't necessarily chop and change.
What kitchen sink will you choose?
We hope this information helps you choose the best sink or sinks for your kitchen renovation.
It's just one of the important aspects to get right. Check out these great guides if you want to know more about kitchen benchtops, cabinets, cupboards and drawers, and of course, the layout of your new kitchen.
Any questions? Feel free to contact us and we'll do our best to help.