Your Guide To Kitchen Cabinets, Cupboards and Drawers
Your choice of kitchen cabinets is so important. They will account for a significant proportion of the cost of your Melbourne kitchen renovation. Plus, the style and finish you choose will have a big impact on the look of your new kitchen.
Quality is crucial and the best combination is well-built cabinetry using the best materials.
You're doing yourself no favours if you opt for one but not the other.
Kitchen cabinets are one those things in life where you really do get what you pay for.
That's just one tip. Check out many more from Rosemount Kitchens in the comprehensive guide below.
Contents
Considering your own kitchen renovation? You can also check out our Complete Guide To Renovating Your Kitchen.
Kitchen Cupboards
Cabinet doors, drawers and handles have a strong influence on the look and feel of most kitchen designs. And they're among the first features people notice.
It's vital to get these aspects just right and, fortunately, you have a wide range of options.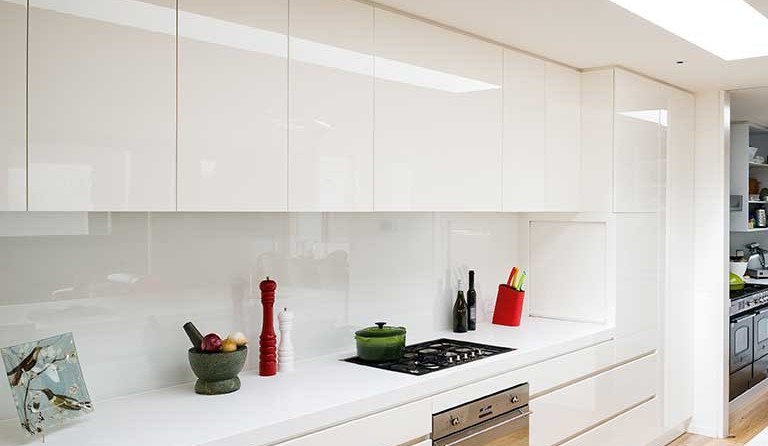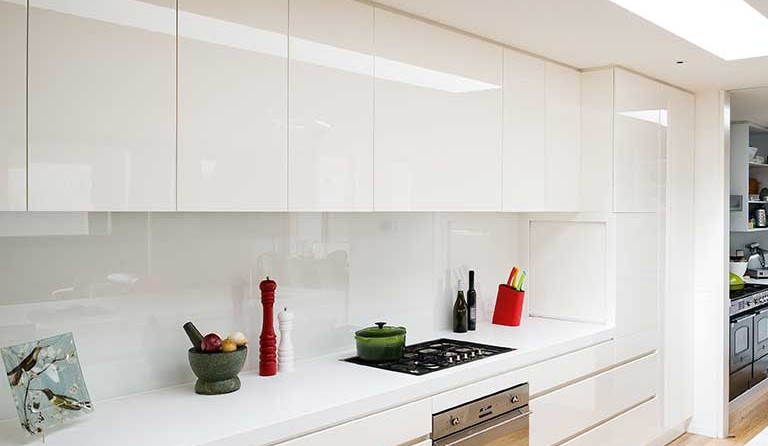 Kitchen Cupboard Doors
Getting the right aesthetic is important.
Sometimes it's pretty straight-forward – for instance, ultra high gloss, flat, handleless doors are likely to look out of place in a French provincial style kitchen.
Most people have an overall kitchen style in mind, which helps to narrow the range of options and whether or not a profile or flat door is best.
Here are a few common styles.
Flat speaks for itself. There are no door features – it's perfectly flat (which makes it easy to just wipe over with a cloth). The clean, minimalist style makes it a good choice for modern and contemporary kitchens.
The Shaker-style is one of the most popular profile cabinet door styles. Shaker doors have a flat centre piece with a frame around the edges. It's a simple style that works well in a range of kitchens.
Glass-front doors are great for displaying items inside cabinets. They can also be used to add variety to your cabinetry – just one or two glass fronted doors will add interest.
Open shelving – clients seem to love it or hate it. Open shelving is highly functional, as you can see where everything is, but that can also be a drawback for some people.

Kitchen Drawers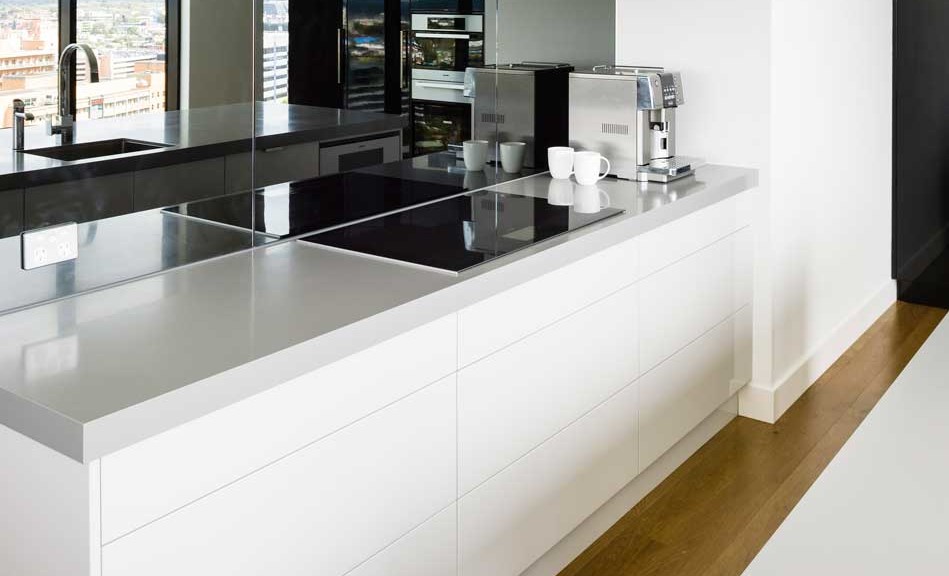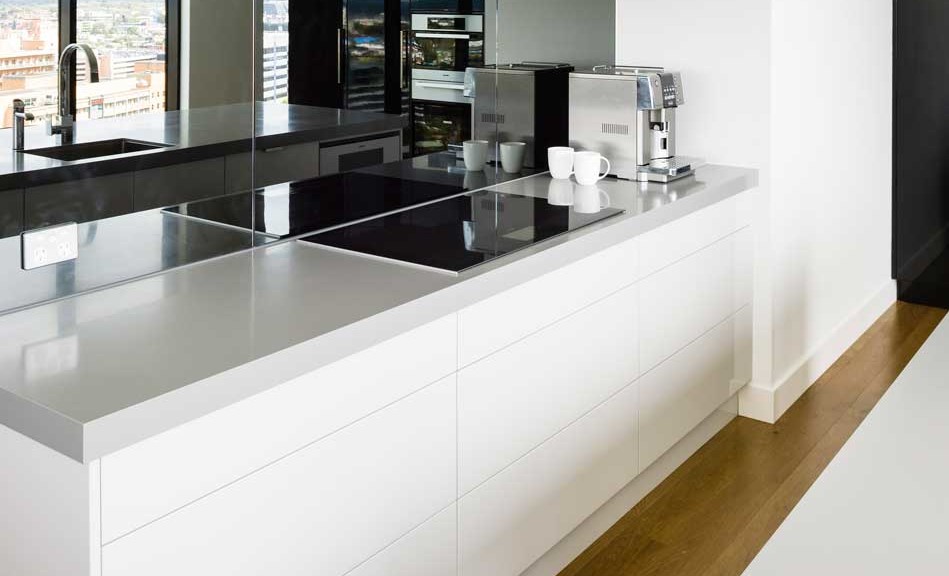 Kicker Drawers utilise the space that is usually wasted.  It is ideal for cooking trays or platters that are hard to stack. We have been told that some use kicker drawers to store their favourite red wine!!!!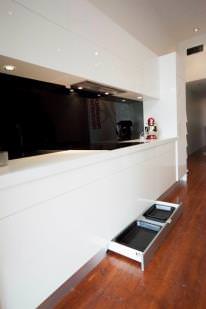 None of us want to get down on our hands and knees to collect items from the back of cabinets. 
With new drawers systems, all your saucepans, plates, glasses and plastics are easy to store and and easy to access.  Today's soft close drawers not only feel beautiful to use but they can take up to 65kg of weight.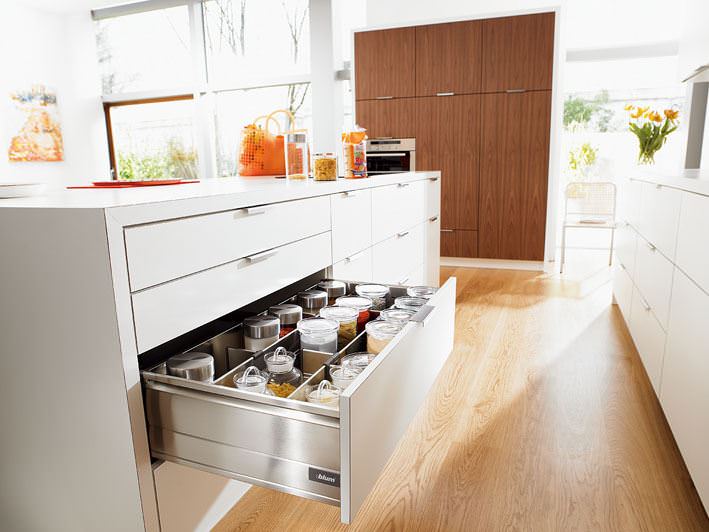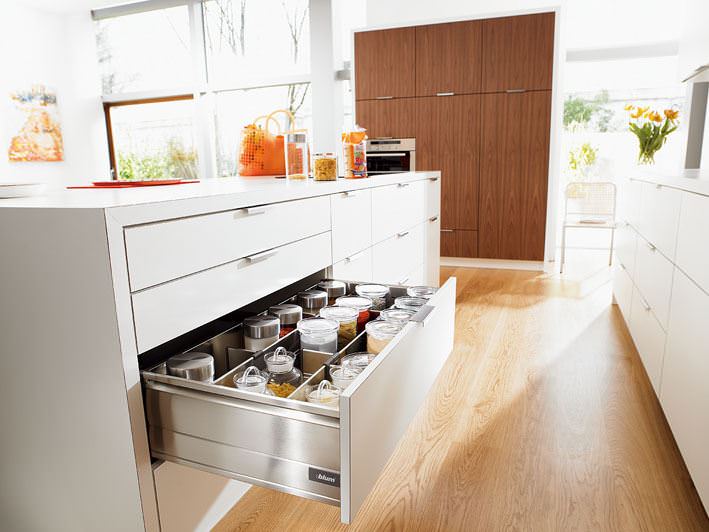 Kitchens with many drawers make all the difference. Everything becomes easily accessible.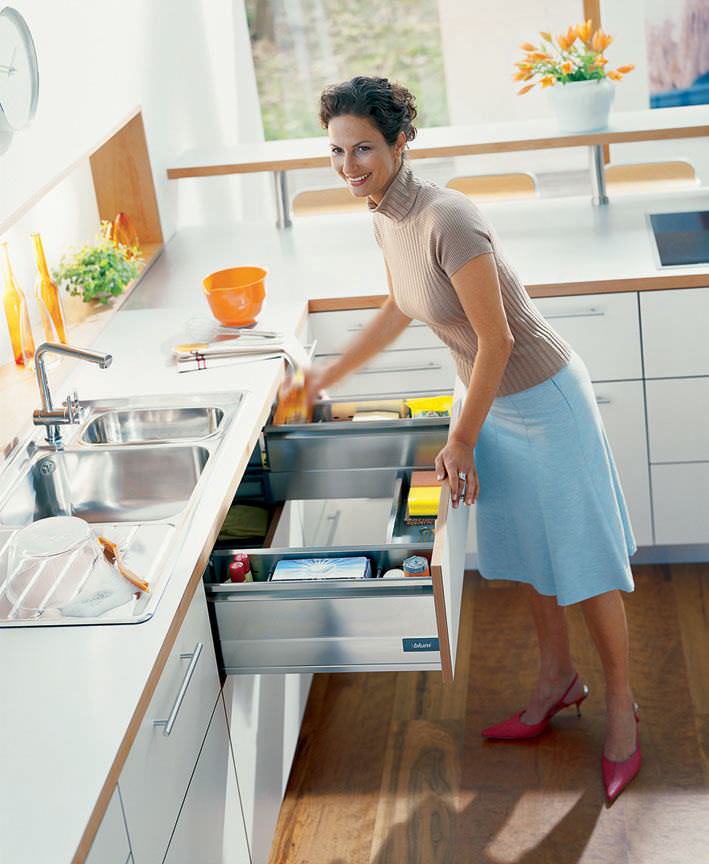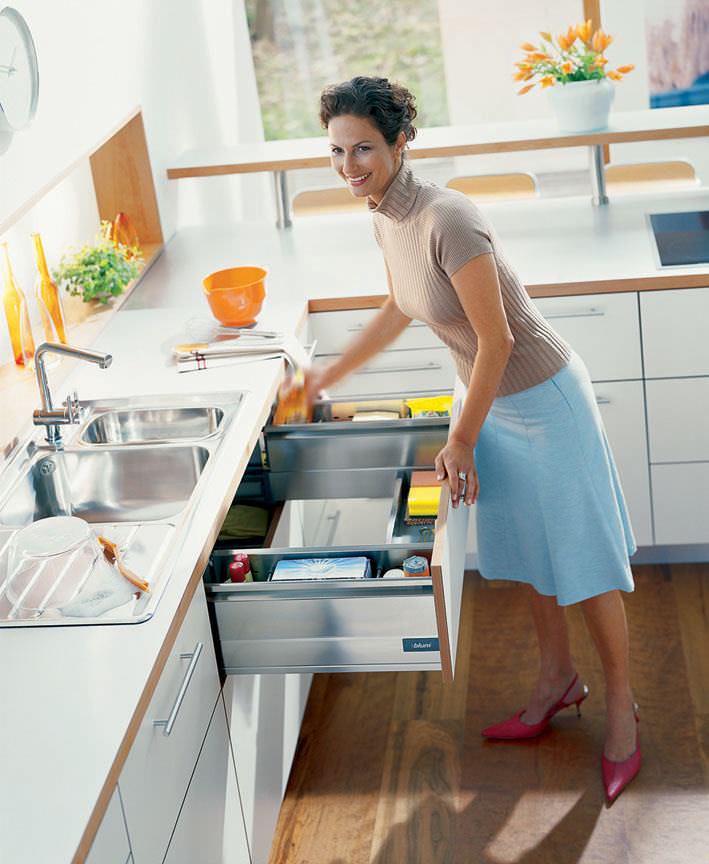 Sink drawers allow for a far more practical use of the cabinet.
No more messy sink cupboards with wasted space. Sink drawers allow you to store dishwashing items in a top drawer that is shaped to accommodate your sink and its plumbing.
You are then left with a bottom drawer to store other items or to use for a bin system.
Kitchen Bin Drawers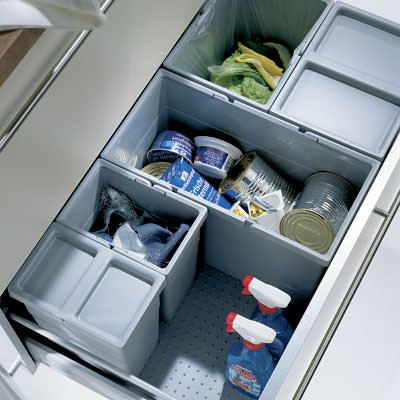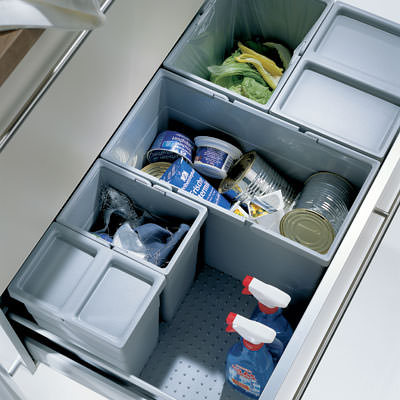 Being able to hide your rubbish behind a door is a popular option these days. Let's face it, when you think of your dream kitchen, is there a rubbish bin visible?
Bins can be unsightly and take up valuable floor space.
While visually more appealing, hidden cupboard bins also keep your waste out of reach of any little kids or pets.
There are a number of models available, and at the very least you want a system where the bins are easy to clean and maintain.
Generally the options are a slide-out or integrated bin.
Bin drawers are best installed near or under the sink. There are also various sizes available to suit your particular kitchen and household needs.
Systems these days also usually offer dual receptacles – ideal for sorting your recycling.
Recycle solutions – today we recycle more than ever.  
New bin systems to cater for separating rubbish are available in many different sizes to meet the specific needs of your household.  For example, larger bins can be used for your cans, bottles and cardboard and smaller ones with lids for food scraps for composting.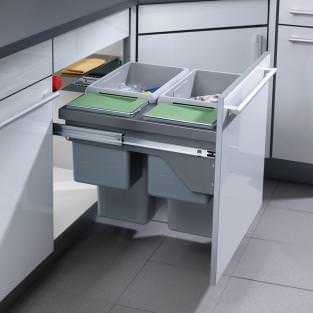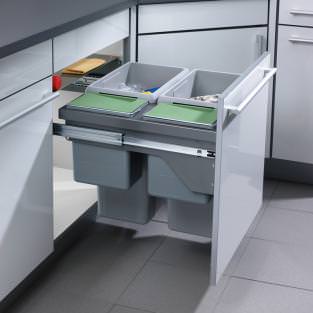 Cargo bins can be fitted into a cabinet in your kitchen.  They come in varying widths to meet your specific needs.
Other options include self-retracting lids, and antibacterial or odour control features.
Drawer Runners and Hinges
Often referred to as "hardware", these are the kitchen cabinet workhorses.
Think about how often kitchen cupboards and drawers are opened and closed each day.
Your runners and hinges need to be able to stand-up to this high level of usage. Poor quality options may save you money initially, but they will cause problems in a relatively short space of time.
Hinges


Most people are familiar with basic hinges. What's not so well known is that not all hinges are made the same.
To see what we mean, check out CLIP top Blumotion hinges made by Blum, a German company that takes craftsmanship and quality to the next level.
These hinges are just terrific – long-lasting, hard-wearing and harnessing innovative technology that ensures your doors will never bang again.
Watch on YouTube:
Runners and Sliders
The runner (or slider) is the element that allows the drawer to slide in and out – ideally with a smooth and silent action. They are mounted either on the side or the bottom of the drawer, and typically use ball bearings or nylon rollers/wheels.
Our Pick: We always recommend soft close kitchen drawers made by Blum.
Trying these out is a good reason on its own to visit a kitchen showroom. They are simply amazing, and come with a lifetime guarantee.
For more on the advantages of great quality drawers and hinges visit this page and watch the video.
Kitchen Storage Cabinets
Not so long ago you were lucky to get a built-in cutlery divider or a "lazy-susan" in an otherwise poorly-designed and awkward kitchen cupboard.
But not any more. These days the range of options for maximising and organising the internal space inside your cupboards and drawers is simply astounding.
These include:
pantry storage systems
pull-out spice racks
saucepan storage
kitchen drawer liners
kitchen drawer organisers
waste management (ie rubbish and recycling bins)
detergent rack options
There are so many to choose from – and the right selection will ensure your new kitchen is super-functional for many years to come.
Corner Cabinets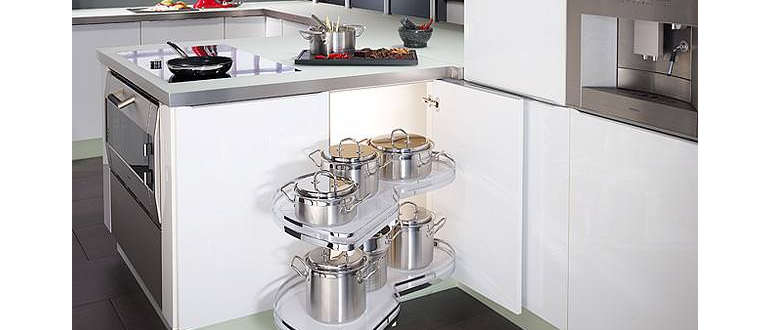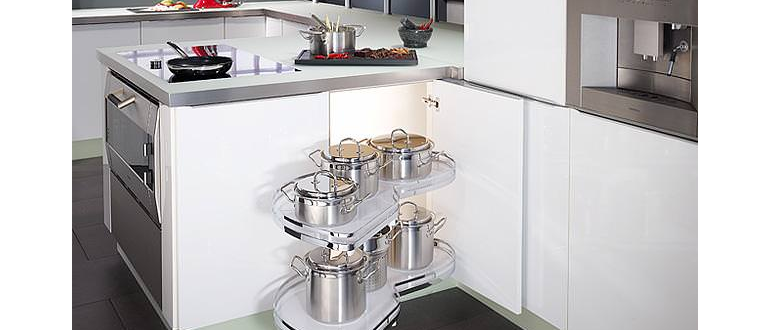 Don't forget those tricky spaces such as corner cupboards.
An effective corner solution will make full use of the space while allowing items to be easily accessible.
Our Pick: We love the Hafele Kessebohmer range for smart and innovative kitchen storage accessories.
Have a look at this short video showing the LeMans corner solution in operation – how smooth is that action?
Watch on YouTube:
Kitchen Cabinetry Finishes and Materials
Watch on YouTube:
You can choose from a wide range of finishes.
Generally speaking, most are available in textured, matt or gloss. Satin and ultra-high gloss finishes are also popular.
It's useful to know that most finishes will fingerprint to some extent, and it's not necessarily an issue confined to lighter surfaces. For instance, fingerprints might be visible on both a white high gloss and dark matt finish.
It's also worth keeping in mind that while all options are available for flat and plain-faced doors, there are some restrictions with profile doors.
Remember there are pros and cons to each finish and none are indestructible.
Popular Cabinetry Finishes
The types of kitchen cabinet finishes most commonly used in Australia include:
Colour Board / Melamine (commonly referred to as laminate or laminex)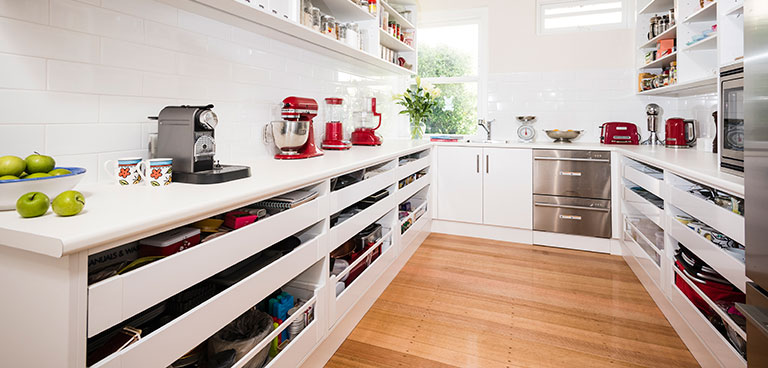 This is the most common material used in kitchen doors and drawer faces. Advances in technology mean that this type of material is super durable, suits all kitchen styles, is easy to clean and available in a vast range of colours and designs (including extremely convincing wood grains). At the lower price point, it's difficult to go past. Stick with known brands as their products are well researched, tested, safe and have strong retail support.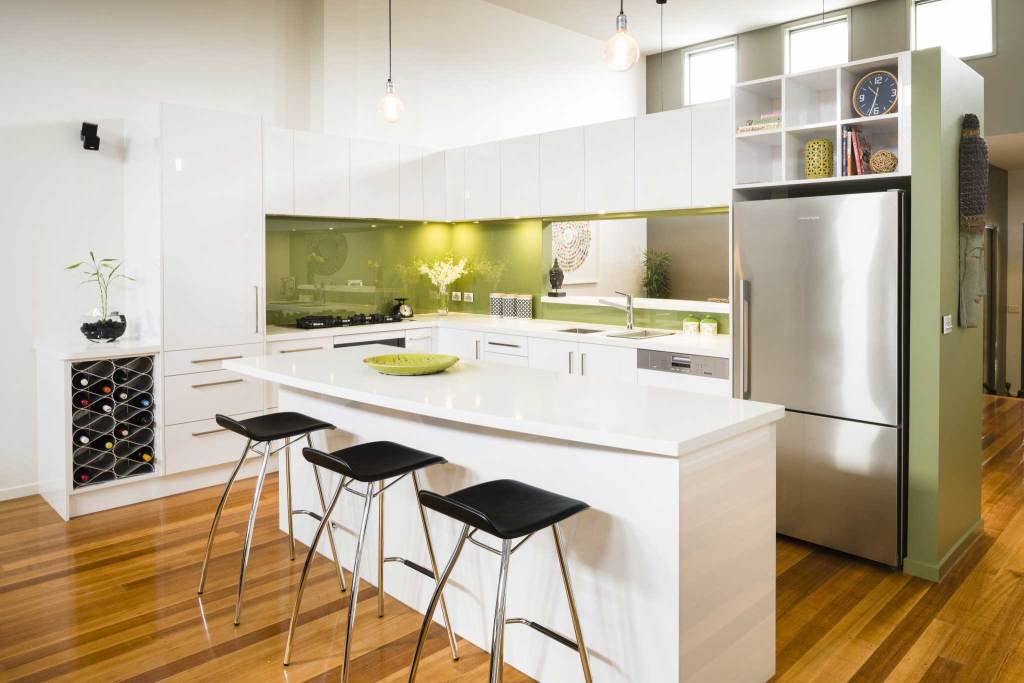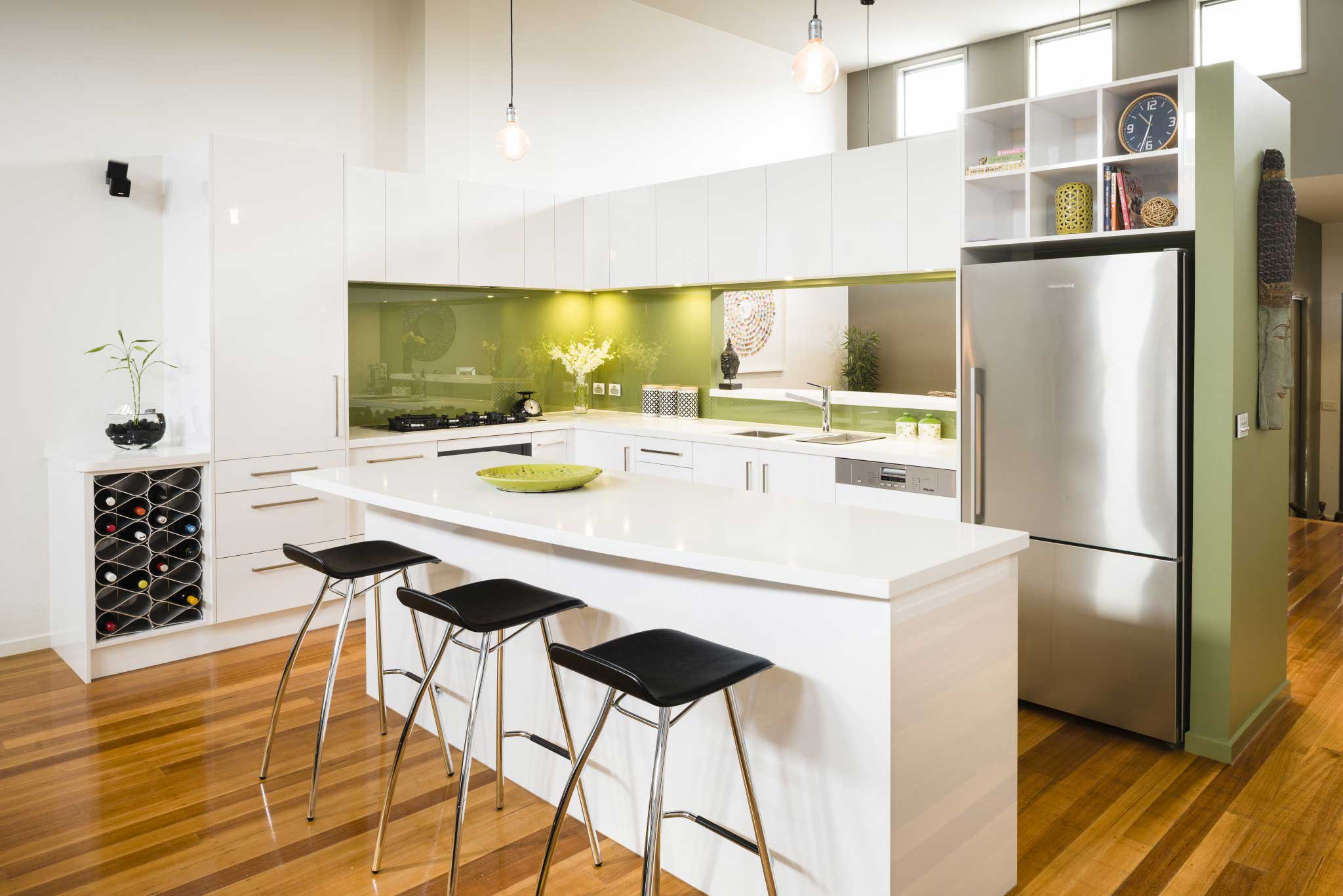 High Gloss Board offers a sophisticated, glossy, modern and clean look for your kitchen at a lower cost than Two Pack. Another highly durable material, High Gloss Board doors are usually 18mm thick (thicker than Colour Board and the same as 2 Pack) with a matching 1mm ABS edge.
With Thermo-laminated (vinyl wrap)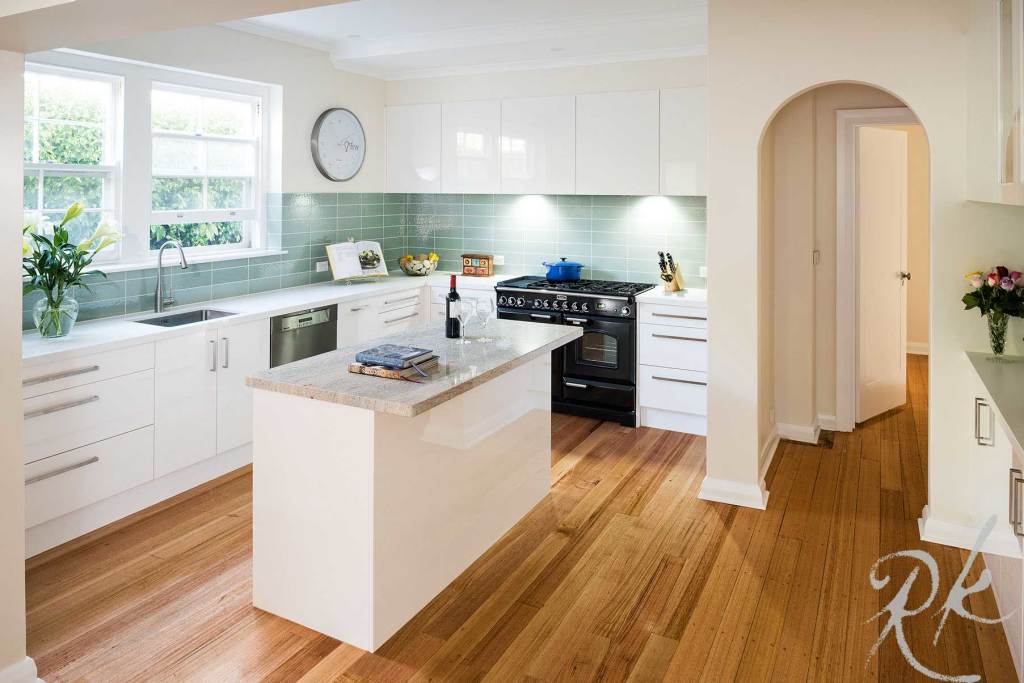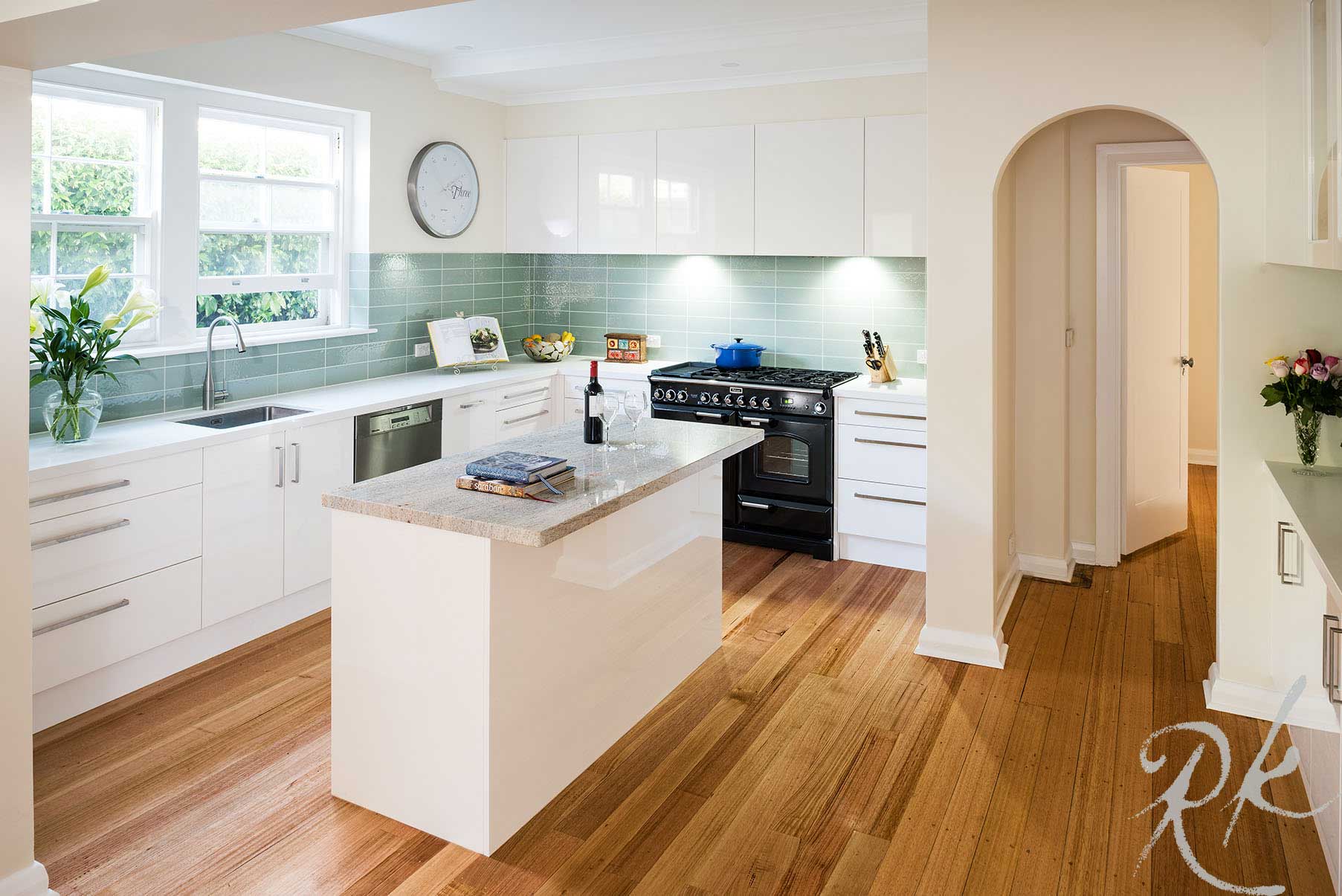 A thin vinyl sheet is vacuum-sealed onto the board. While there have been some issues with this finish in the past, recent technological advances mean this is now a quality kitchen cupboard door option. Vinyl wrap kitchen doors are great for a seamless look – as there are no edges – and for profile doors.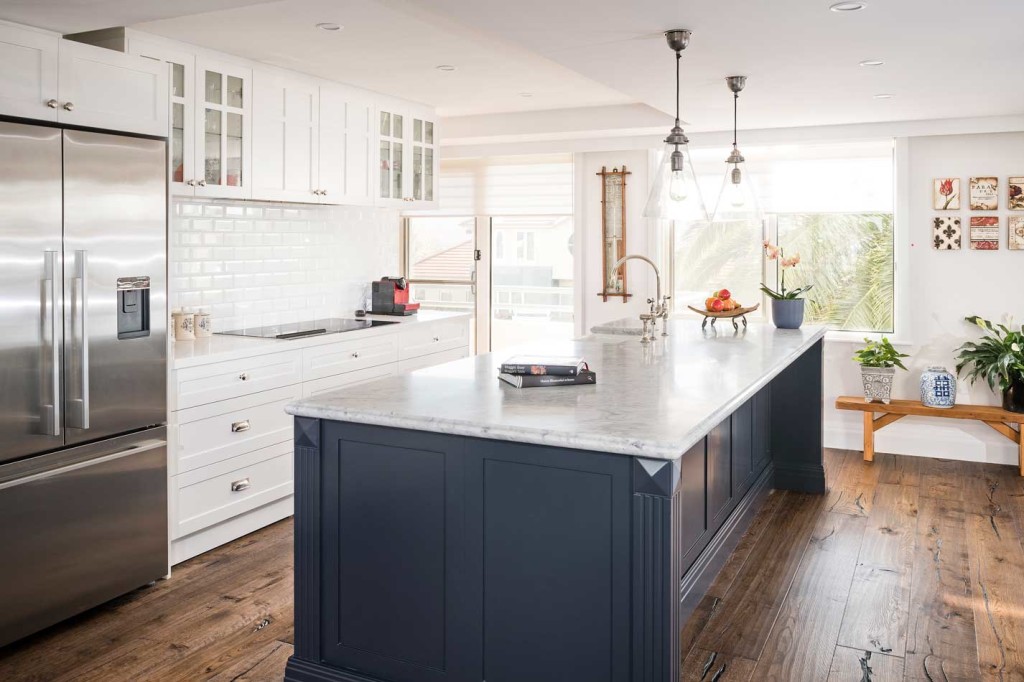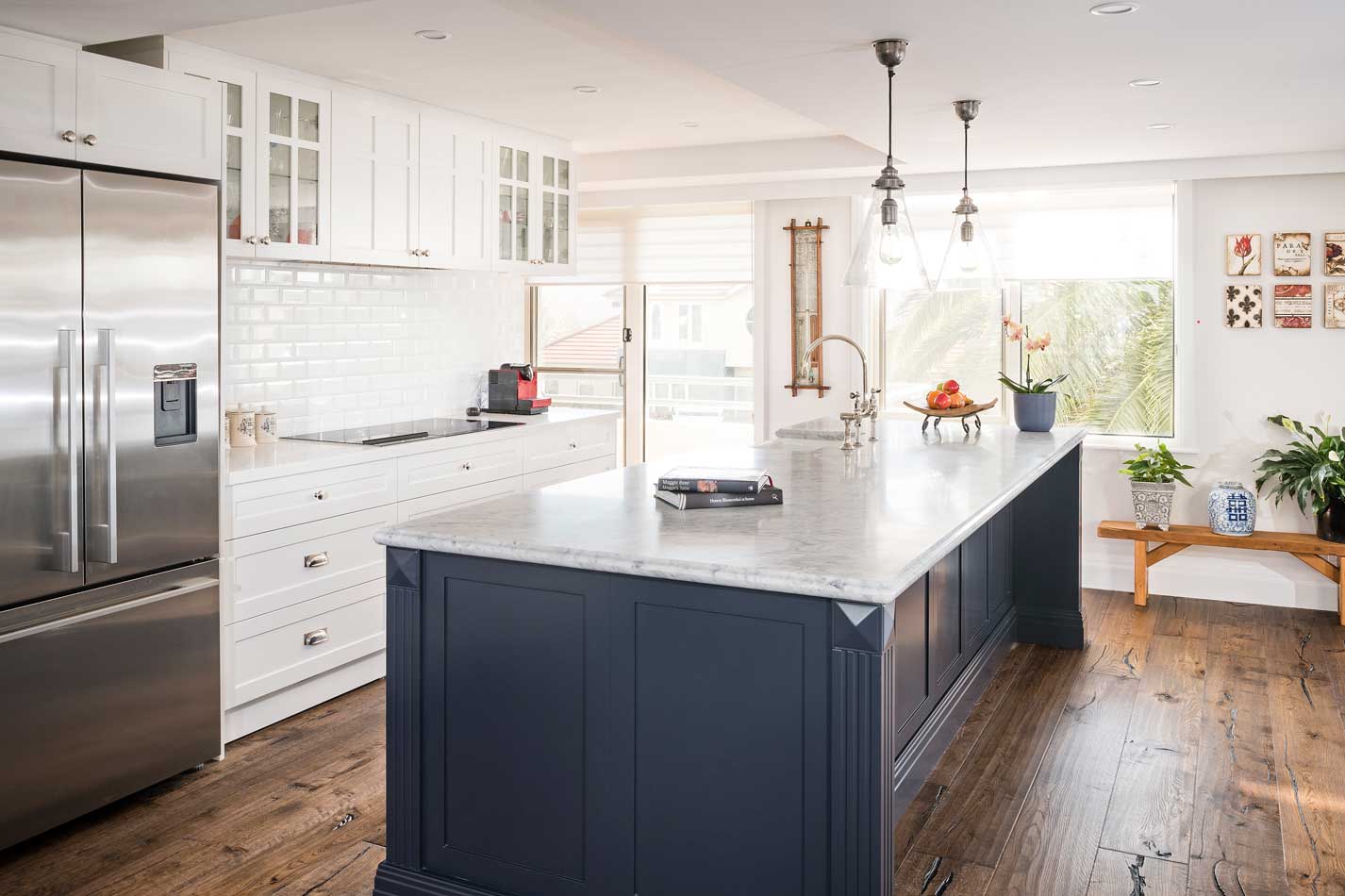 Two Pack kitchens have a terrific reputation, partly because of the very hard and super-durable polyurethane paint finish. Applied by the manufacturer, Two Pack is often seen in high-end kitchens. This door style is beautiful in finish, and as varied in look as the homes these kitchens are usually installed in. Of all the door material finishes, Two Pack offers the widest range and can be completely personalised in colour and profile.
Watch on YouTube: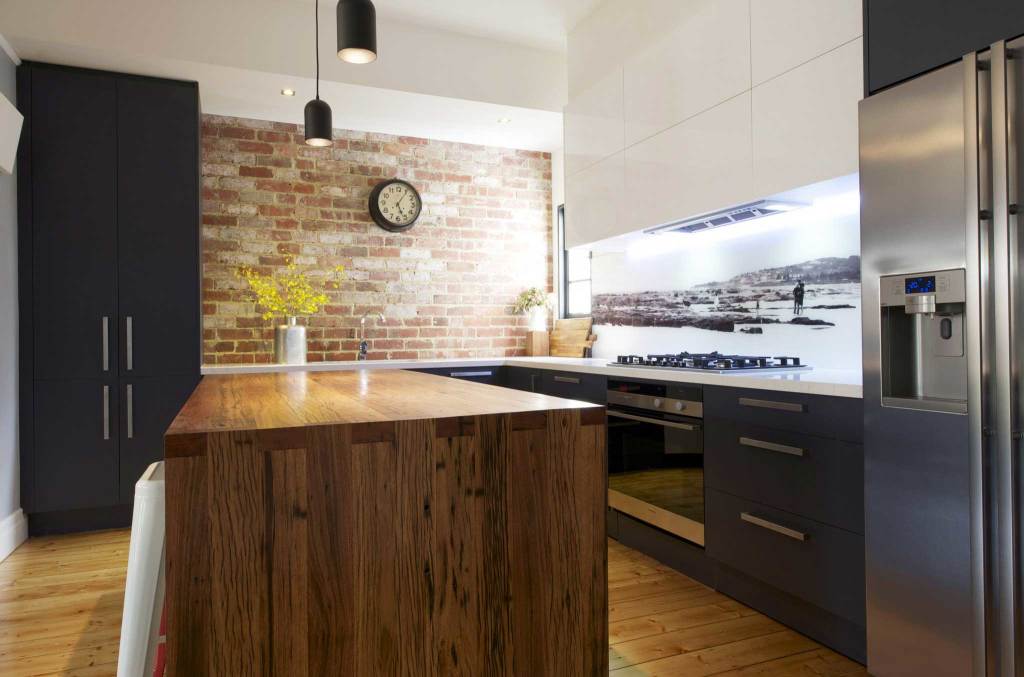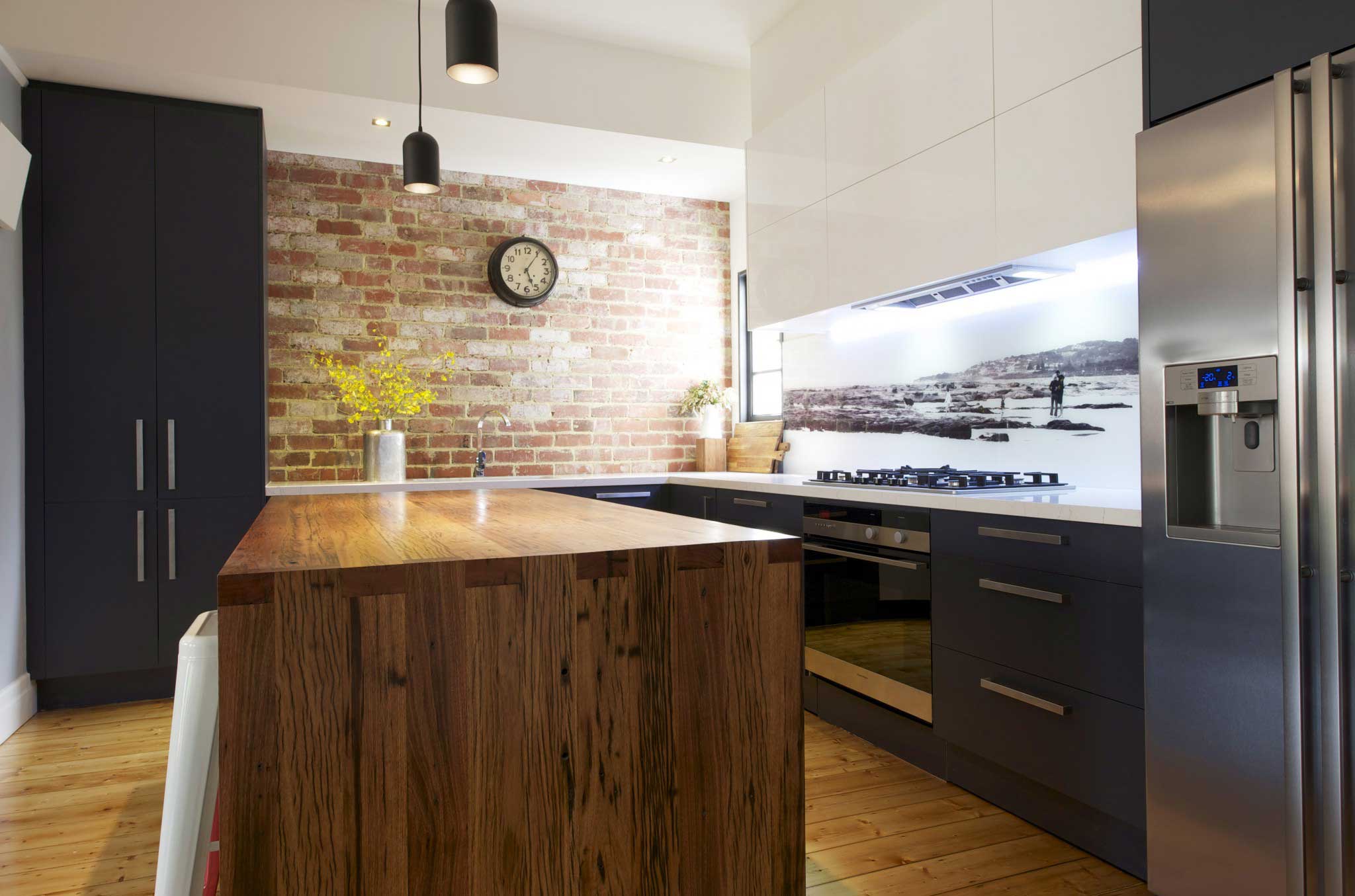 These capture the natural beauty and warmth of wood with timber or timber veneer doors. A wide range of solid timbers and veneers are available. Flat, plain-faced doors are made out of timber veneer, while profiled doors are made out of solid timber (although you may also see variations that have veneer centre panels). The benefits of veneer include an appearance of natural wood without the expense.
Key Tip: Be mindful of the edging. At Rosemount, we use high impact resistant ABS edging on kitchen cabinets, doors and panels. The reason? It doesn't chip or peel. We're also impressed by "laser fusion", a new sophisticated edging process with excellent finish, durability and visual appeal.
Kitchen Cabinet Handles
Take a look at the photos below to see how something as simple as kitchen cupboard handles can make a real difference to a space.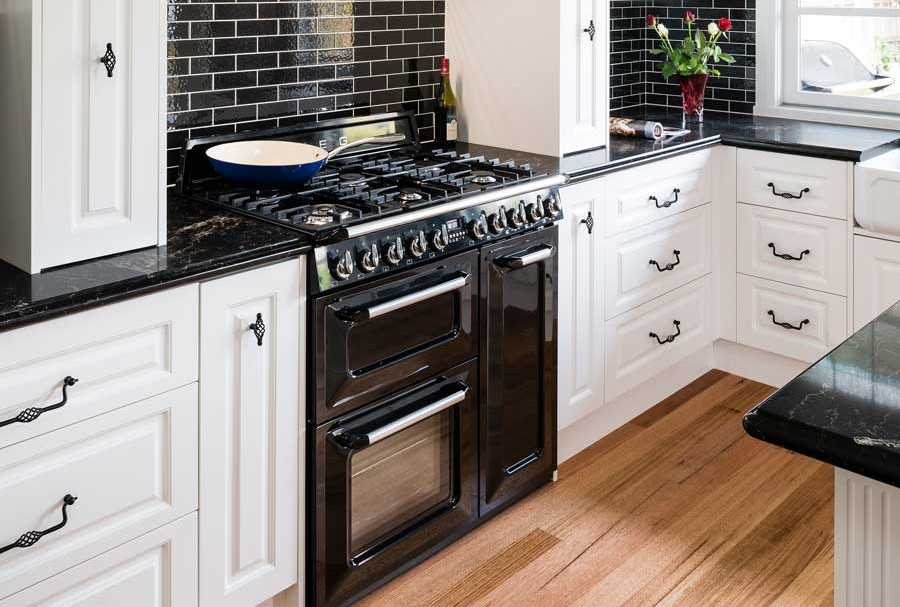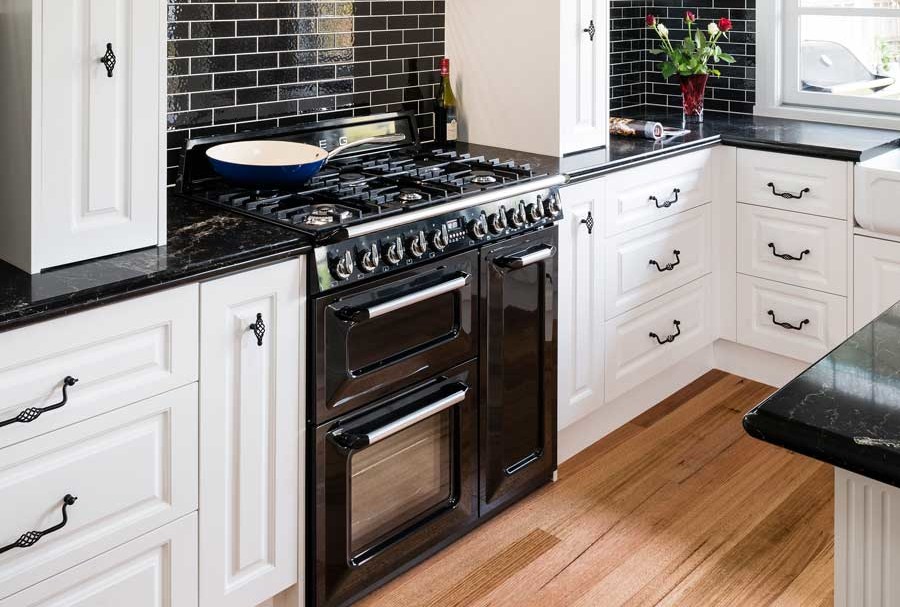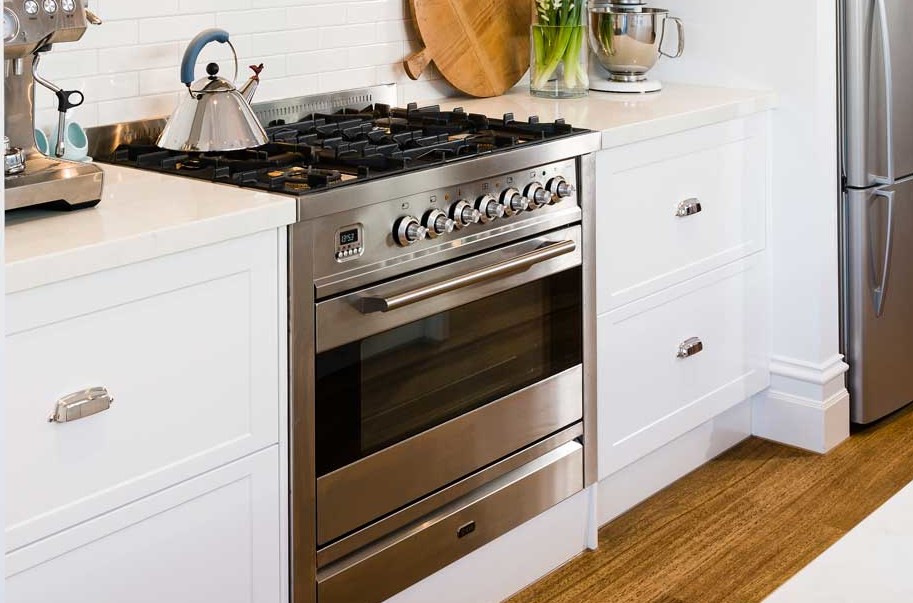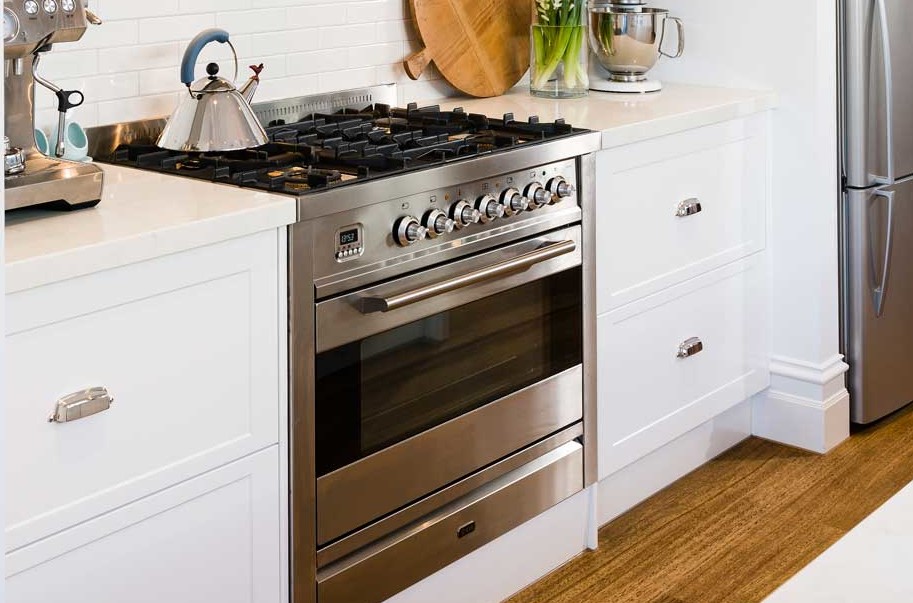 Quality Counts
When thinking about your cabinetry materials and finishes, while it might be tempting to consider lower quality and therefore cheaper options, it's likely to cost you more in the long term.
For example, did you know that much of the imported whiteboard for the lower cost cabinets does not comply with Australian standards? It simply doesn't stand up to Australian weather conditions, not to mention the extensive daily use kitchen cupboards and drawers are subjected to – especially if you have kids.
Plus, there's no reliable way to know the health and safety implications of the products involved (including those relating to formaldehyde emissions).
Even if the cabinets don't actually fall apart (which we see regularly), they will wear and age very quickly and detract from your entire kitchen remodel.
Why go to all the effort and expense of renovating your kitchen if the cabinets are not going to survive more than a couple of years?

What materials should you use?
These days most kitchen cabinet carcasses are made from Medium Density Fibreboard (MDF) or particle board.
Both are made by breaking down wood into smaller pieces or fibres. The board is formed after combining with resin and applying high temperatures and pressure.
MDF and particle board are very similar but tend to be used in different aspects of a kitchen renovation.
Key Tip: Rosemount Kitchens uses E0 & E1 environmentally friendly board for cabinet construction.
Use well-known and reputable brands. We recommend:
Polytec
Laminex
Albedoor, and
Tesrol
And Finally
Finally, a couple of other valuable pieces of advice.
Most cabinet manufacturers provide a warranty. Walk away if they don't. Check the warranty and understand exactly what is – and isn't covered.
We guarantee products for a period of 10 years from the date of delivery.
This applies to cabinets, benches, fittings and accessories supplied by Rosemount Kitchens with the following exceptions:
Hinges and drawer runners by Blum are guaranteed for the life of the product.
Bins and other accessories are guaranteed for one year, or for the period of the manufacturers guarantee.
And here's another key point – always check the professional registration of your cabinetmaker or manufacturer.
Rosemount Kitchens is a Registered Building Practitioner (Licence No: DB-L 43379).
Any Questions?
We'd be delighted to help if you have any questions about choosing the best kitchen cabinets, cupboards and drawers for your kitchen renovation – or if you'd like more information about our guarantees.
Get in touch or call us on 1300 476 736. Alternatively, visit one of our showrooms to see the great choices available.
Ready to get started? Book a consultation with one of our expert kitchen designers.
And check out some great examples of our work in these kitchen photo galleries.