Your Comprehensive Kitchen Splashback Guide
You're spoiled for choice with today's kitchen splashbacks.
The guide below gives you a glimpse into the myriad of available options, as well as some great practical advice. They're an essential component in today's kitchen renovations.
Also make sure you visit one of our kitchen showrooms to see some great splashback examples in person.
Our staff and kitchen designers will be able to advise on what's best for you.
Considering your own kitchen renovation? You can also check out our Complete Guide To Renovating Your Kitchen.
What we do:
Rosemount Kitchens can provide any of the splashback choices mentioned on this page as part of a kitchen, bathroom or laundry renovation.
What we don't do:
We don't sell splashbacks as a standalone product, and we don't repair or replace splashbacks unless it's part of a bigger renovation.
If you do want a new splashback, or a replacement or repair for your existing splashback, let us know and we'll put you in touch with a company that can help.
Tiled Splashbacks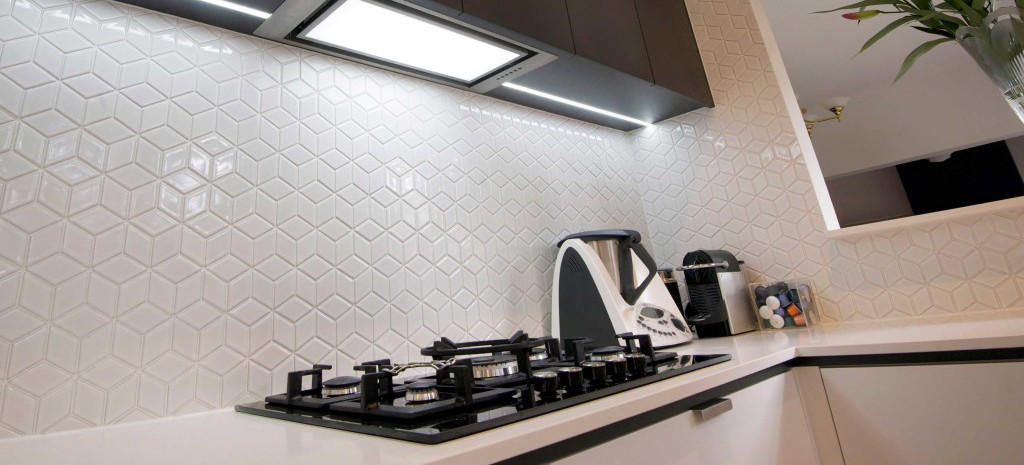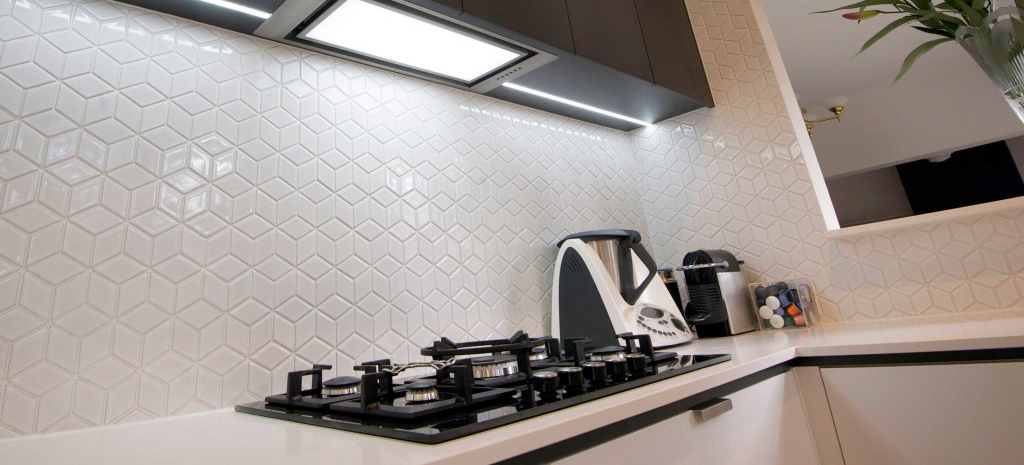 Possibly the most traditional of splashbacks, tiles come in a vast array of sizes, shapes, colours, materials and prices.
The wide range means you're sure to find a tiled option to suit your personal taste and hip pocket.
Tile splashbacks are a natural choice for French Provincial or Hampton styles, but equally suitable in more modern kitchens.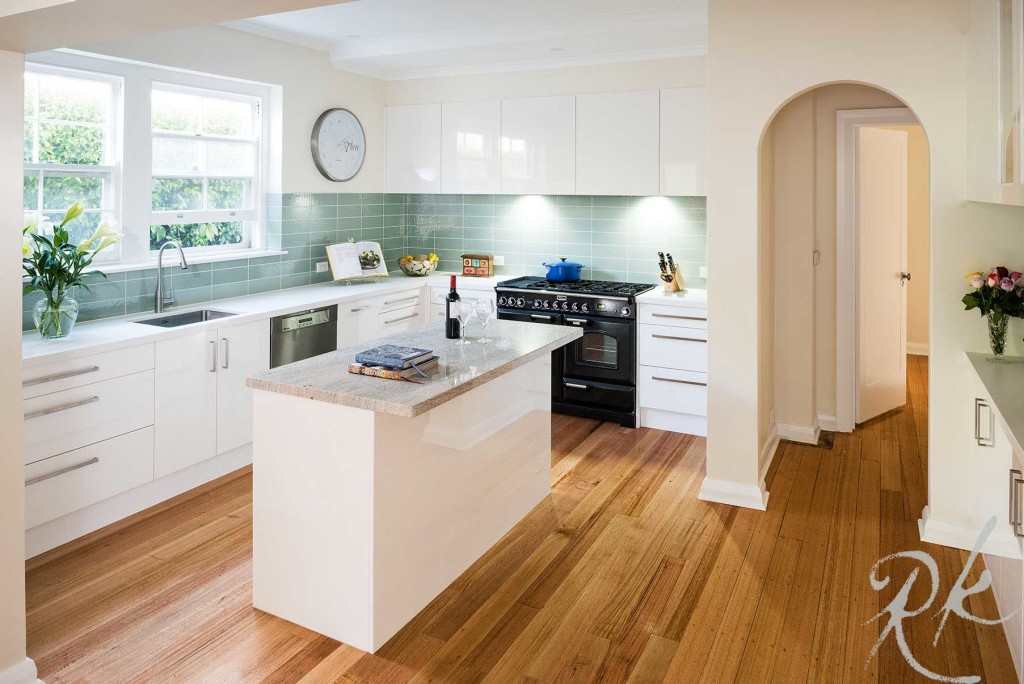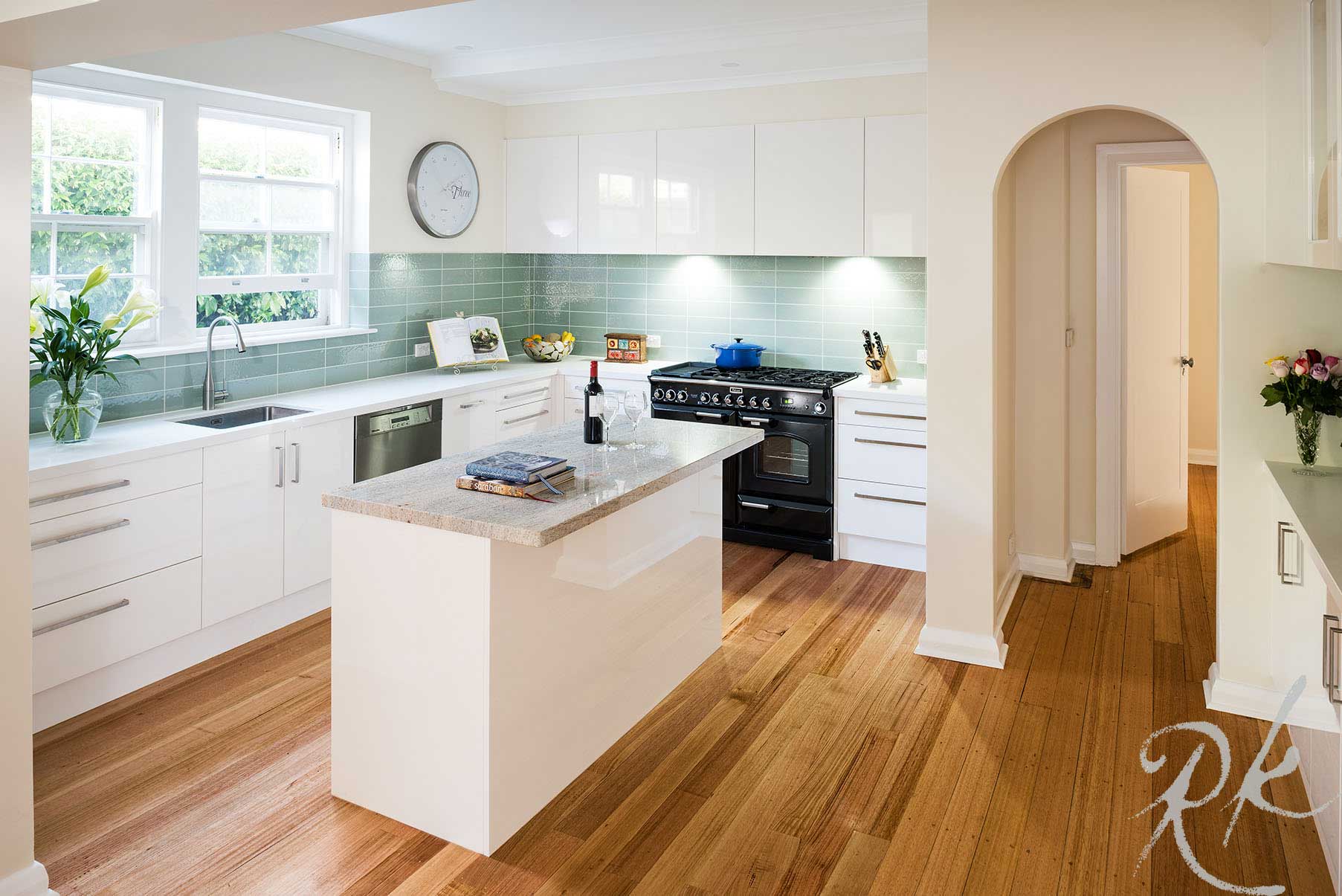 As important as the tiles themselves is the arrangement. Popular styles include the "subway" design and criss-cross herringbone pattern.
Key Tip: Keep in mind that grout on a tiled splashback can sometimes stain or discolour – particularly behind the cooktop. If this is an issue, you can choose large tiles that require less grout than their smaller, mosaic-style counterparts. A darker coloured grout is also an option.
Also available on the market is an epoxy grout, which is stain resistant and easy to maintain.
Glass Splashbacks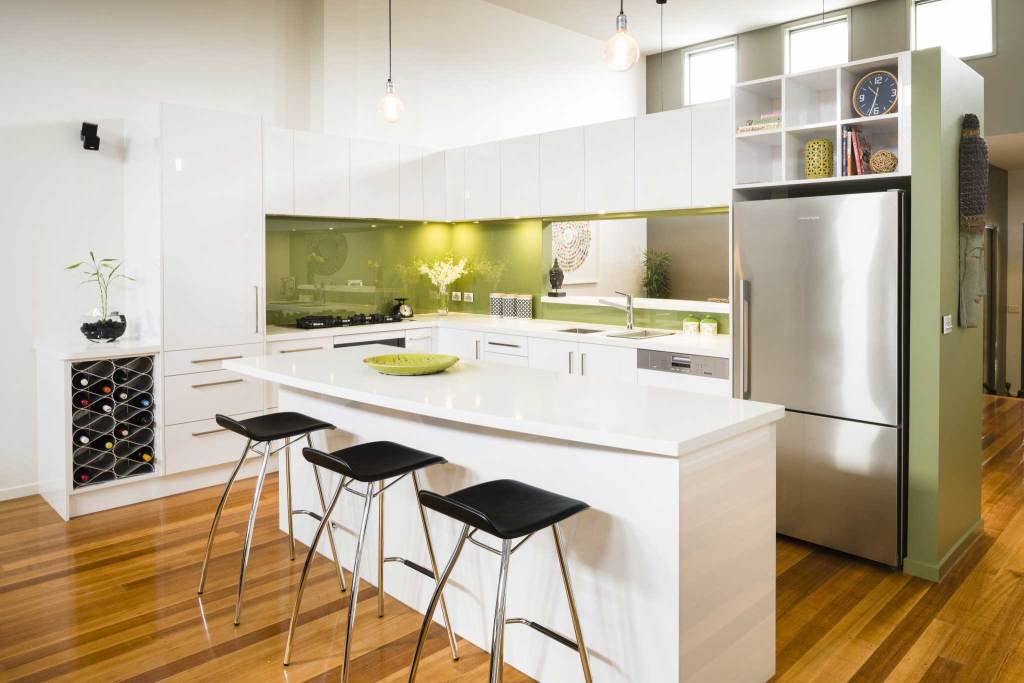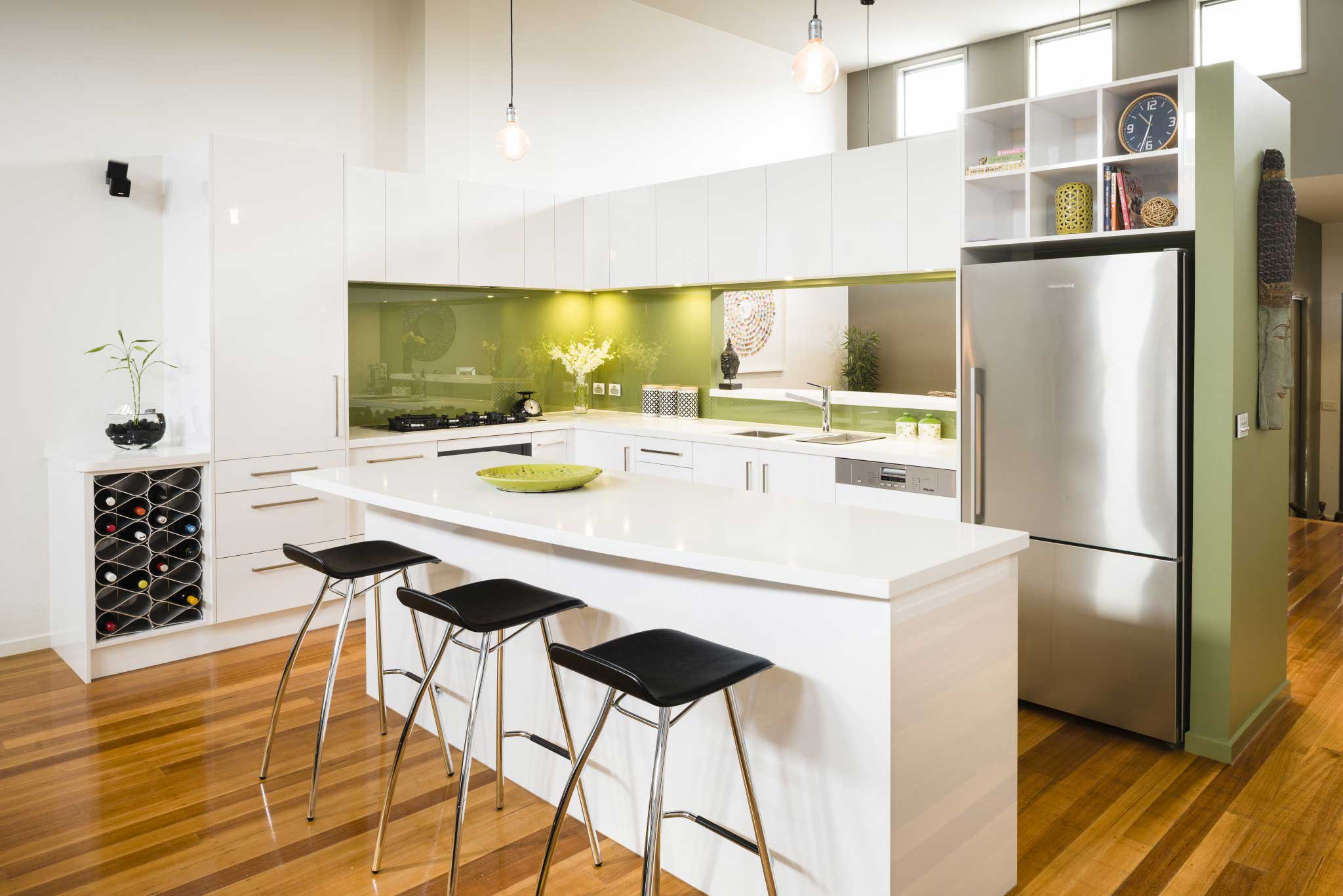 Glass splashbacks are an incredibly popular and versatile choice. They are manufactured specifically to your kitchen's dimensions and offer a durable, hygienic, seam-free, grout-free, modern and sleek look.
Due to their reflective qualities, glass splashbacks can also give a feeling of space and light to the room.
In addition to great looks, another major attraction is that they can be made in pretty much any colour you desire – from bold, eye-catching shades to more subtle hues.
Glass splashbacks can have metallic or shimmery finishes, and inclusions like glitter.
You can also install LED lighting behind a glass splashback.
While solid colours tend to be the most common choice, have you considered a splashback that's also an photographic image like the one below? These are becoming increasingly popular.
Choose something daring to make a statement. Or add a unique touch with an artwork or a photograph that is meaningful to you.
For this kitchen renovation in Northcote, our clients chose a black and white photograph of the family on holiday at Phillip Island.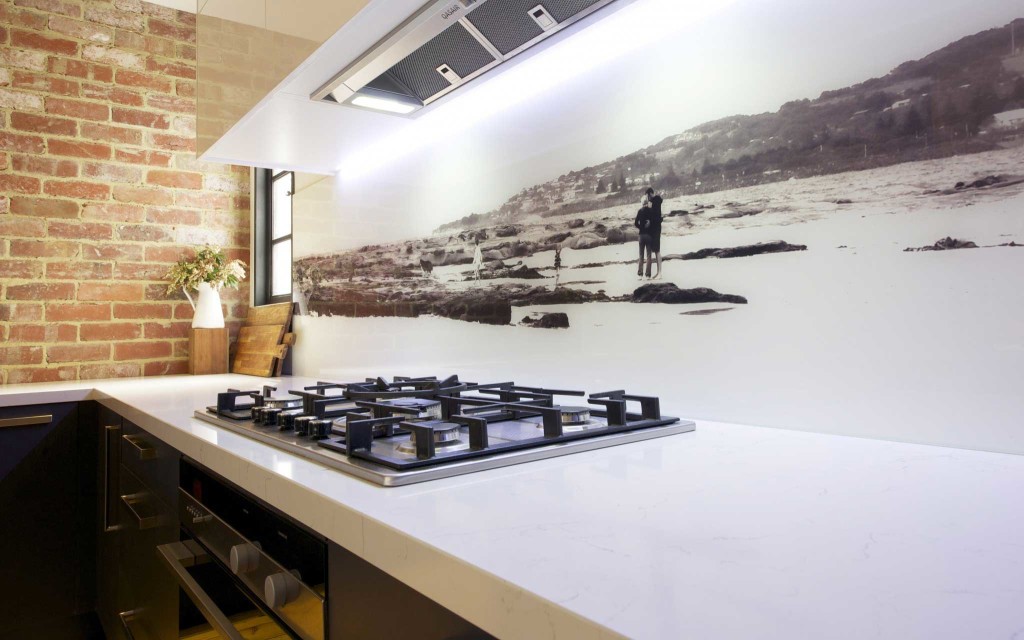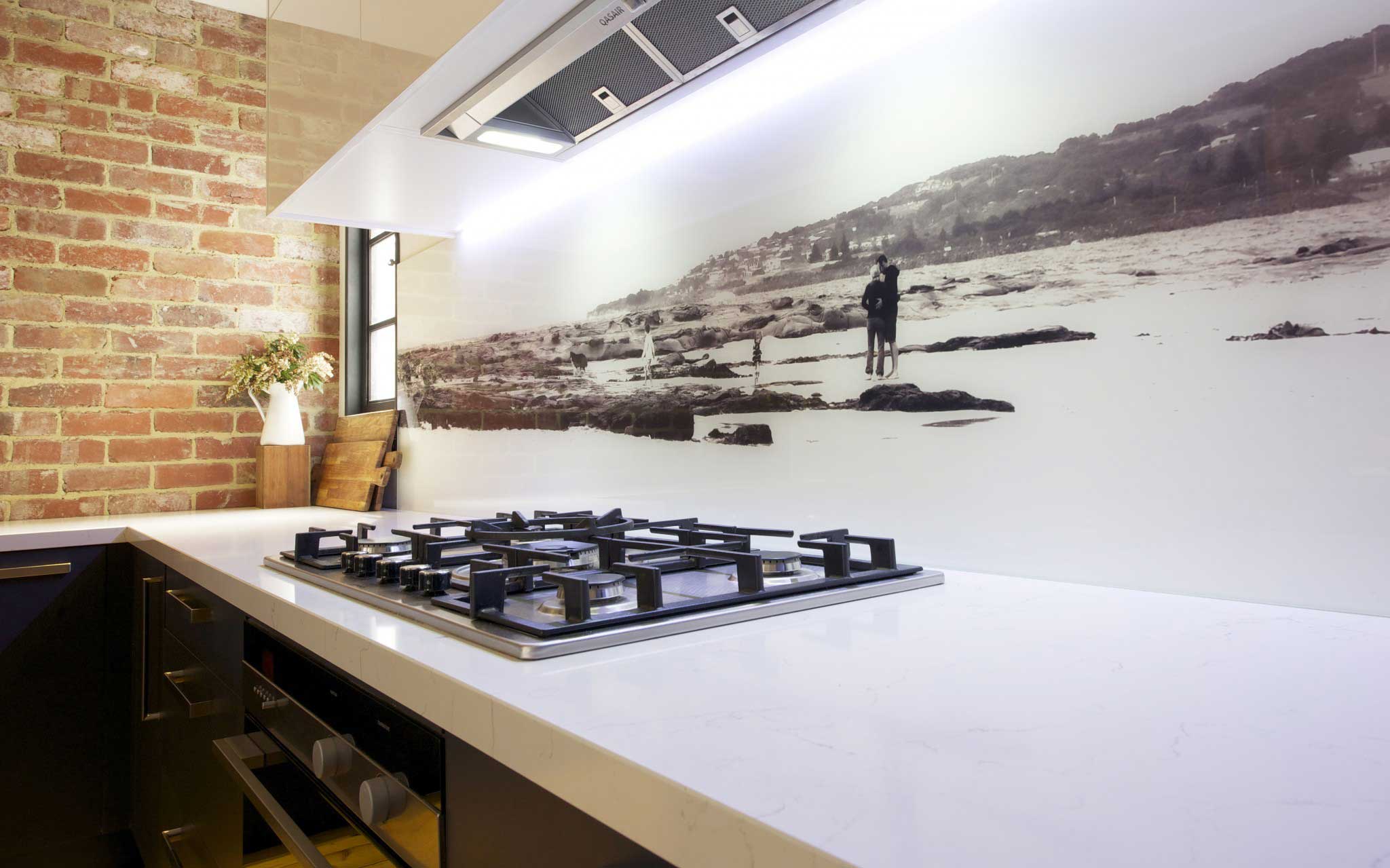 Key Tip: We tend to think of glass as clear, but depending on the amount of iron in the glass, it can look slightly blue or green. To avoid the tinge of colour in standard clear glass, opt for Starphire glass which has less iron and therefore less pigmentation. Although Starphire glass can be more expensive, it is sometimes the only way to get the exact colour you want.
Glass splashbacks are easy to clean and care for.
Just like cleaning windows, you may find they can be a bit streaky, but otherwise, glass is a terrific low maintenance option.

Acrylic Splashbacks
For the look of glass at a lower price point, an acrylic splashback may be just what you're looking for.
They are highly durable and usually installed as one sheet giving you a seamless, modern look.
The brand Zenolite comes in a range of colours and finishes that could work in any home.
Key Tip: One issue with these splashbacks is that they don't stand up to heat as well as some other options – making use behind a cooktop more difficult. To overcome this, another material such as stainless steel can be used in the area directly around the cooktop with a surrounding acrylic pane.
Another benefit to this material is that most scratches can be buffed out. More severe damage can be restored using extra cut polish and/or very fine grades of wet and dry sandpaper.
In terms of regular maintenance, you need to ensure that you use a non-abrasive cleanser and cloth (soft cloth and soapy water is fine) so as not to damage the surface.
Solid Surface Splashbacks
Solid surface splashbacks, products such as Corian, Staron, LG HI-MACS are popular for their superior hygienic features.
Corian is manufactured by DuPont™ and has become the standard name for this type of solid surface material, which is made from a mixture of resin and natural minerals.
It comes in a large range of solid colour finishes and natural stone like marble or granite.
One major plus is that the splashback and benchtop can be moulded as one piece. The splashback flows down into the benchtop without a join – making it wonderfully hygienic.
As with some other styles of splashbacks, Corian doesn't stand up to direct heat and you will need to follow the guidelines advised around cooktops.
Otherwise, Corian is a very durable and easy to maintain option.
Laminate / Melamine Splashbacks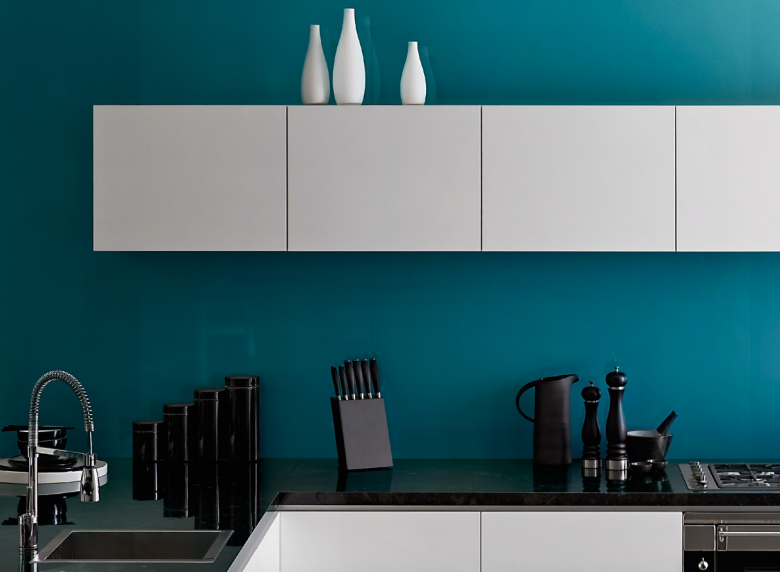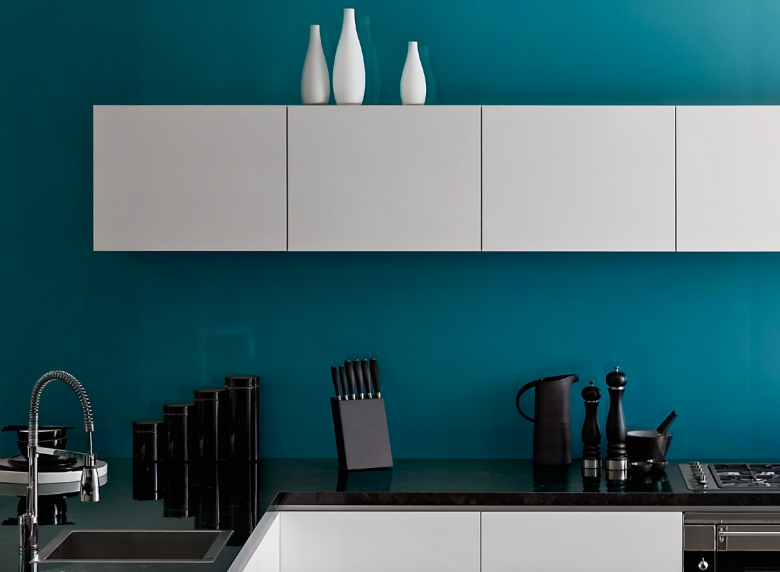 For consistency of tones of colour in your new kitchen, you can choose the same benchtop laminate for you splashbacks or you can choose a contrasting colour or pattern or stone lookalike.
Laminate splashbacks come in a vast range of colours, finishes and patterns. At the lower end of the price scale, they are ideal for those with an eye on budget.
There can be some size limitations in lengths and also behind cooktops, but a kitchen designer can discuss the possibilities of this laminate.
The brand 'Laminex' have a splashback material called 'Metaline' (image above) that many people call a laminate splashback, but it is actually an aluminium based product that is highly durable and flame retardant.
Care is needed in cleaning, soft cloth and soapy water, as to not damage the surface.
Marble and Granite Splashbacks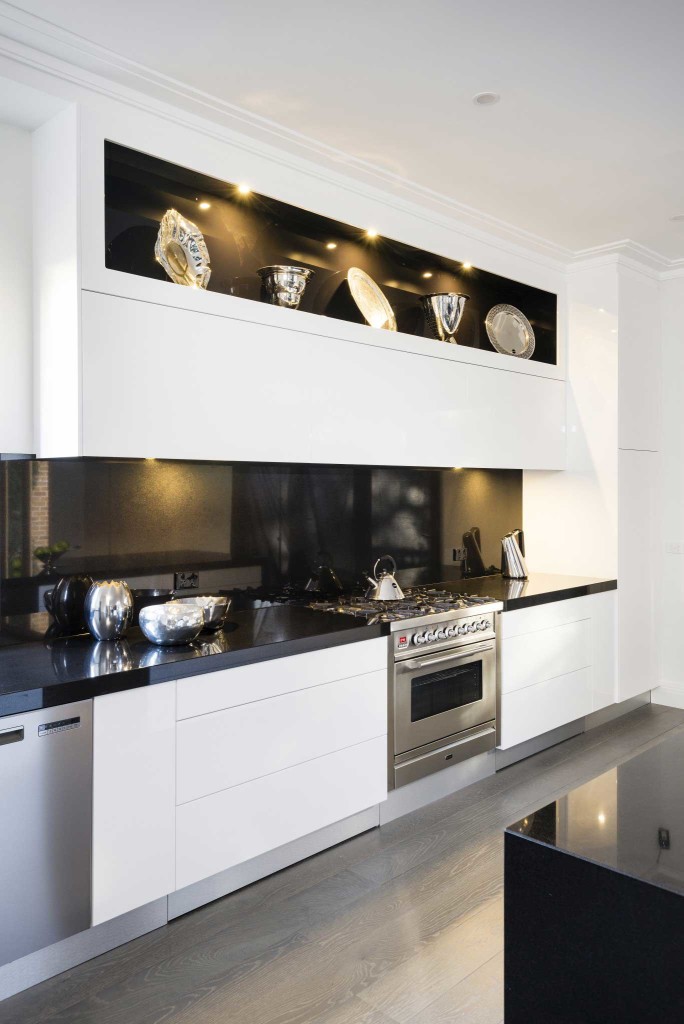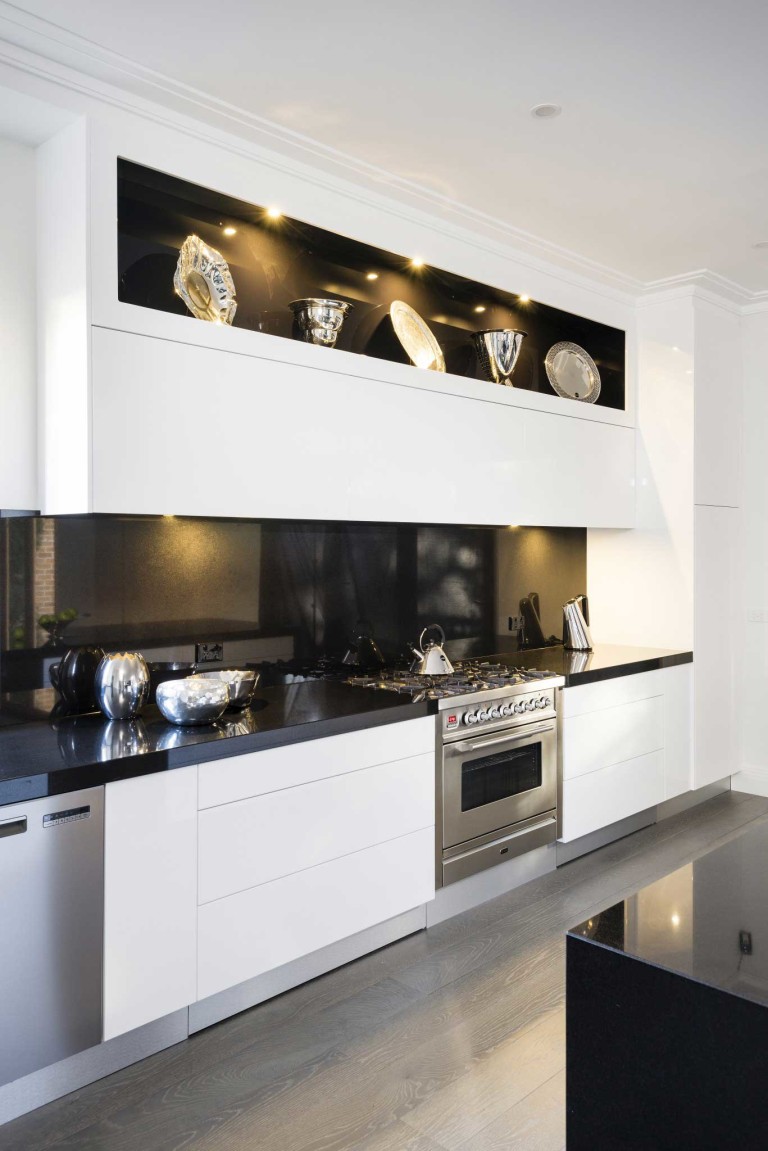 Just like benchtops, stone splashbacks can be fabulous additions to the right kitchen.
Because marble and granite are natural stones, the varied patterns and colours mean you're sure to get a unique look for your kitchen. That one off piece of natural stone that no-one else can have or replicate can be a major focal and talking point.
And like glass splashbacks, stone gives a sleek, seamless, grout-free look.
Key Tip: Remember that natural stone is quite porous, so these splashbacks usually require extra care. Marble and granite needs to be sealed to protect the surface and you should avoid cleaning products that are acidic or abrasive.
That being said, for a classic, luxurious look, a natural stone splashback is hard to beat.
Man-made Reconstituted Stone Splashbacks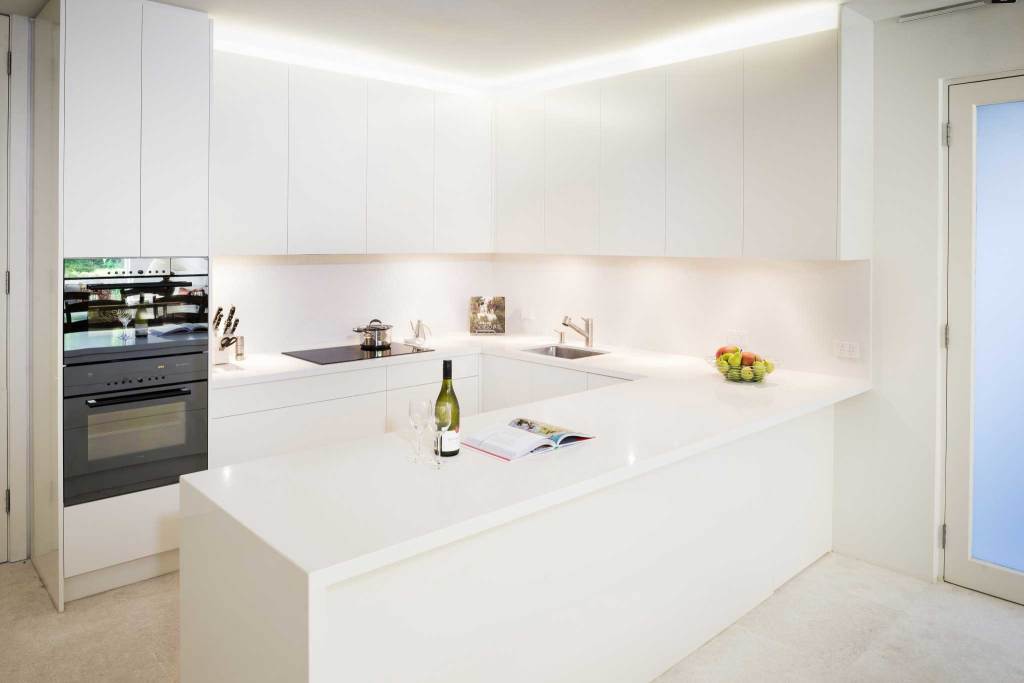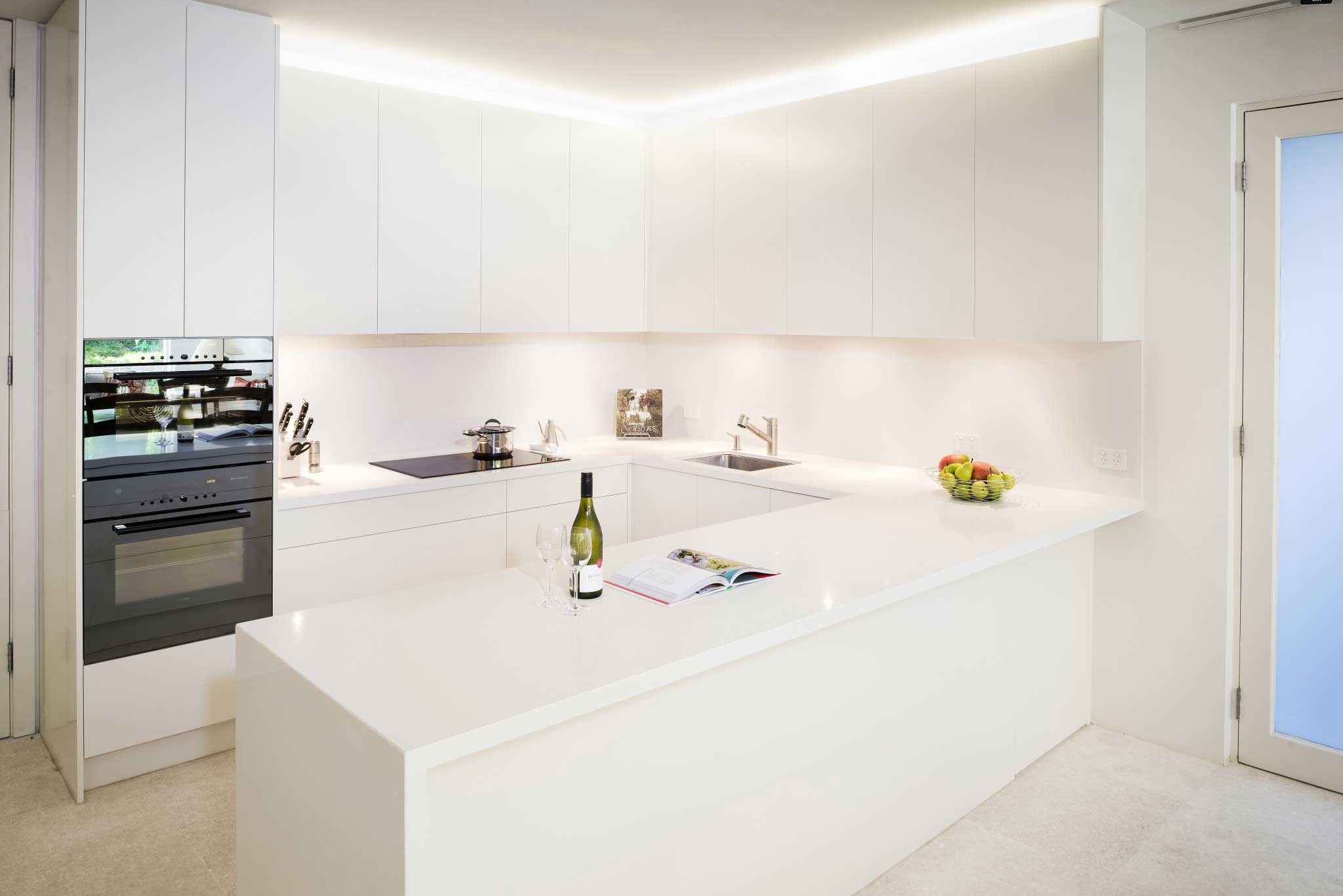 The big difference between reconstituted and natural stone is the former's increased durability.
Man-made stone is also available in a wide variety of colours and finishes – meaning you're more likely to find something that suits your specific needs.
Key Tip: Heat restrictions apply behind hotplates and kitchen design will need to be considered.
A great all-round option.
Stainless Steel Splashbacks
In commercial kitchens, the stainless steel splashback is king. They're affordable, heat resistant, durable and very easy to keep clean.
The good news is that all of these pros make stainless steel a good option in residential kitchens too.
You'll usually see them in more modern, industrial style kitchens and "cook's kitchens".
Key Tip: The steel can be shined to a reflective finish or brushed to a dull, matt surface that's easier to keep clean. Also avoid abrasive cleaners – for best results invest in a speciality steel cleanser to keep your splashback not only clean, but pristine.
Pressed metals as splashbacks can also add a lovely feature point to your kitchen and are very at home in traditional style kitchens (particularly French).

Mirrored Splashbacks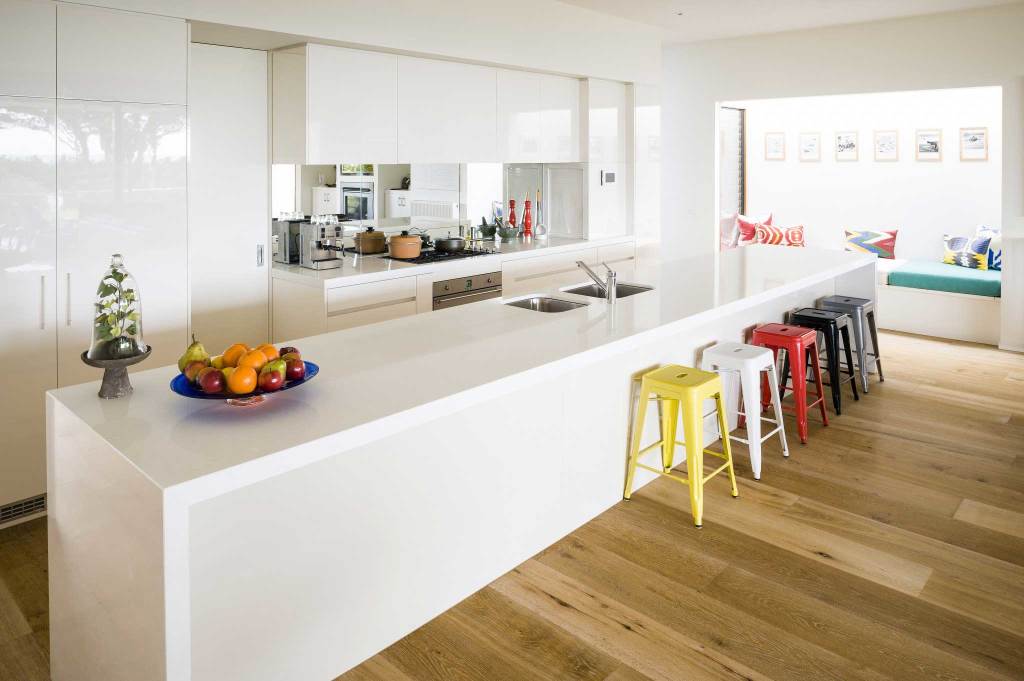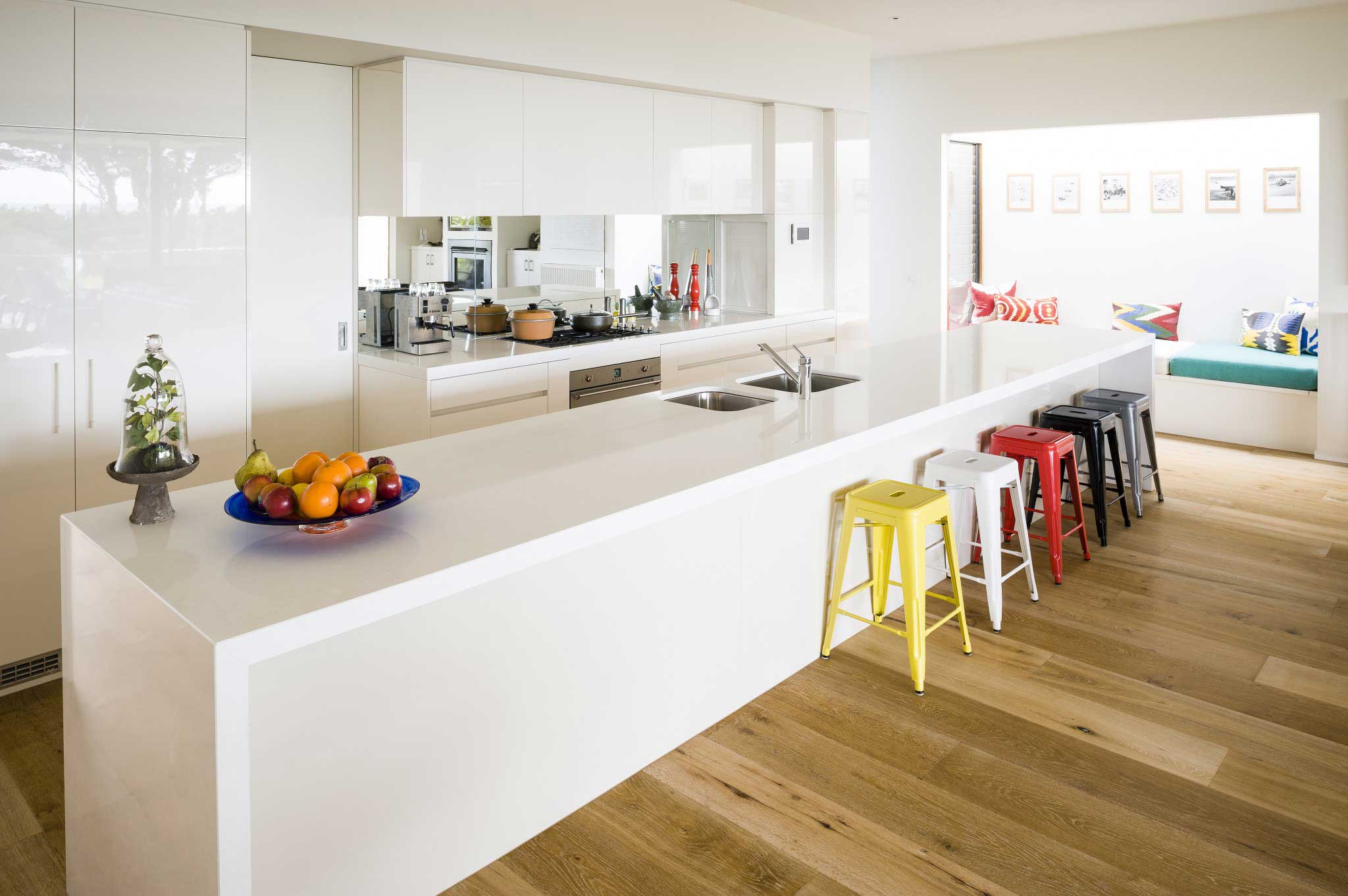 In the right kitchen a mirrored splashback can make a room seem bigger and brighter. It's one of just many techniques professional kitchen designers use to create an elevated sense of space.
Mirror options available: smoke grey, bronze and genuine mirror (silver).
For these splashbacks, we use specially reinforced mirrors that are more durable and able to withstand higher temperatures.
Key Tip: Because of reflection, the kitchen's layout is particularly important when opting for a mirrored splashback.

Window Splashbacks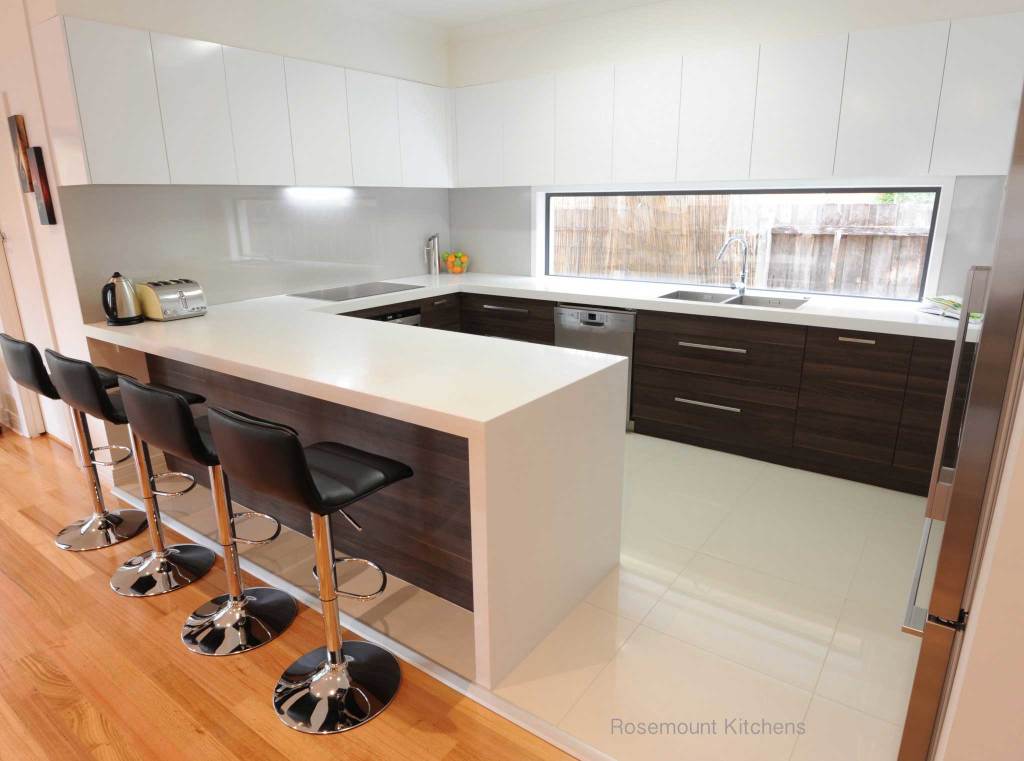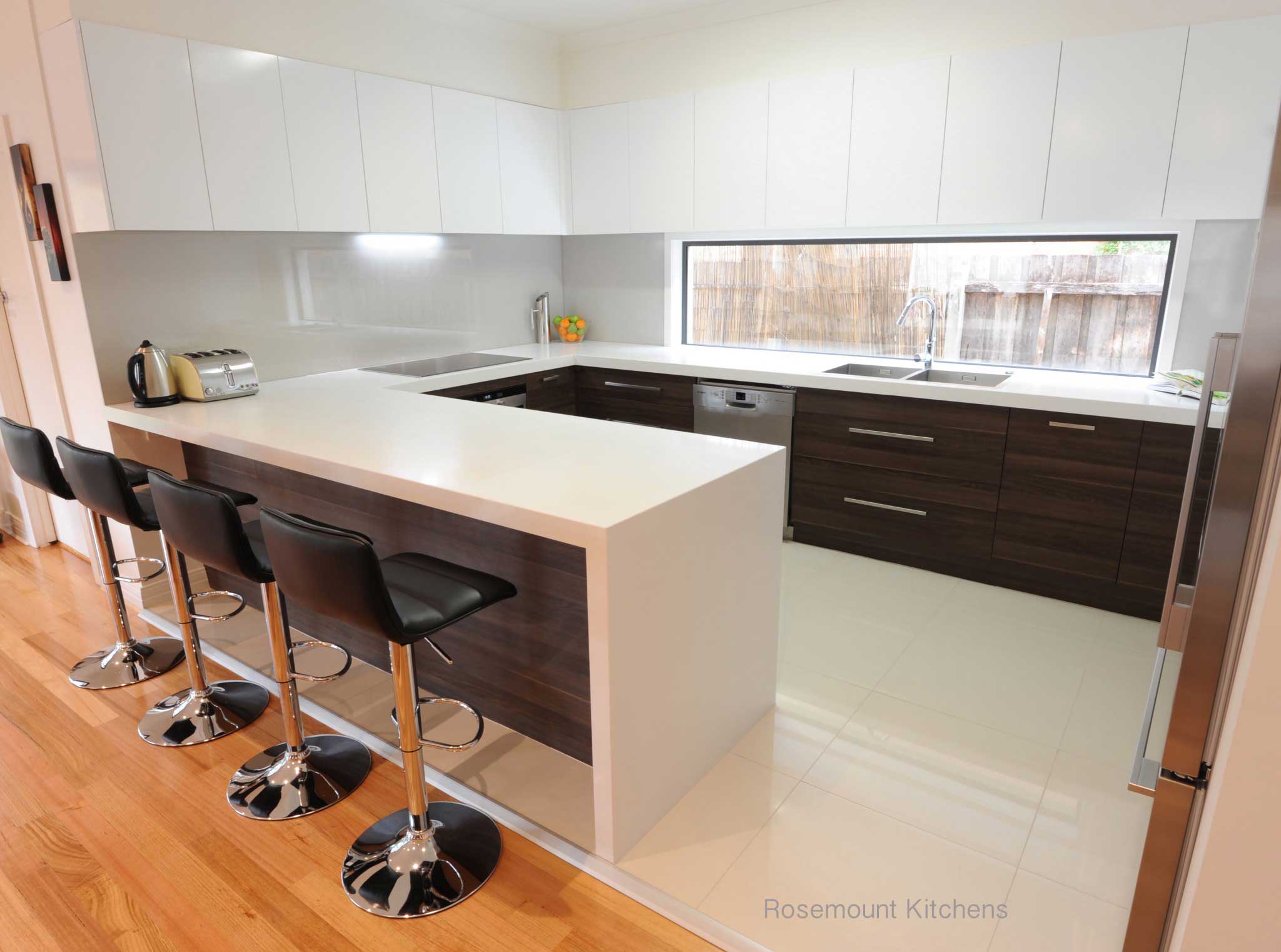 This is another great option for optimising natural light and making a kitchen seem bigger. Using a window as a splashback can be very effective in the right environment.
Structural considerations – and the view from the window itself – should be taken into account when considering this type of splashback.

Practical Tips
Splashbacks play important aesthetic and practical roles in any kitchen.
They complement and enhance the overall design, and protect walls from the consequences of everyday use – such as heat, water splashes and cooking grease.
For those reasons, be mindful of Australian legal requirements on distances between cooktops and splashbacks.
Our knowledgeable staff can advise you on all of this. And our kitchen designers and check measurers make sure kitchens comply before tradesmen start any installation.
Rosemount Kitchens is a Registered Building Practitioner (Licence No: DB-L 43379).
Any Questions?
We'd love to answer any questions you have on choosing the best splashback for your kitchen.
Get in touch or call us on 1300 476 736. Alternatively, visit one of our showrooms to see some terrific splashbacks in person.
Ready to get started? Book a consultation with a kitchen designer.