Your Guide To Today's Best Storage Solutions
Is kitchen clutter the bane of your life?
Tired of unnecessary items clogging your benchtop? Frustrated because you can't find a utensil when you most need it?
We've all been there, and at Rosemount Kitchens in Melbourne we know how much messy kitchens drive our customers crazy. It's one of the prime reasons they decide to renovate.
Which brings us to arguably the most important factor in keeping your kitchen as clean and tidy as the ones in those sparking magazine photos … storage.
Storage keeps out the clutter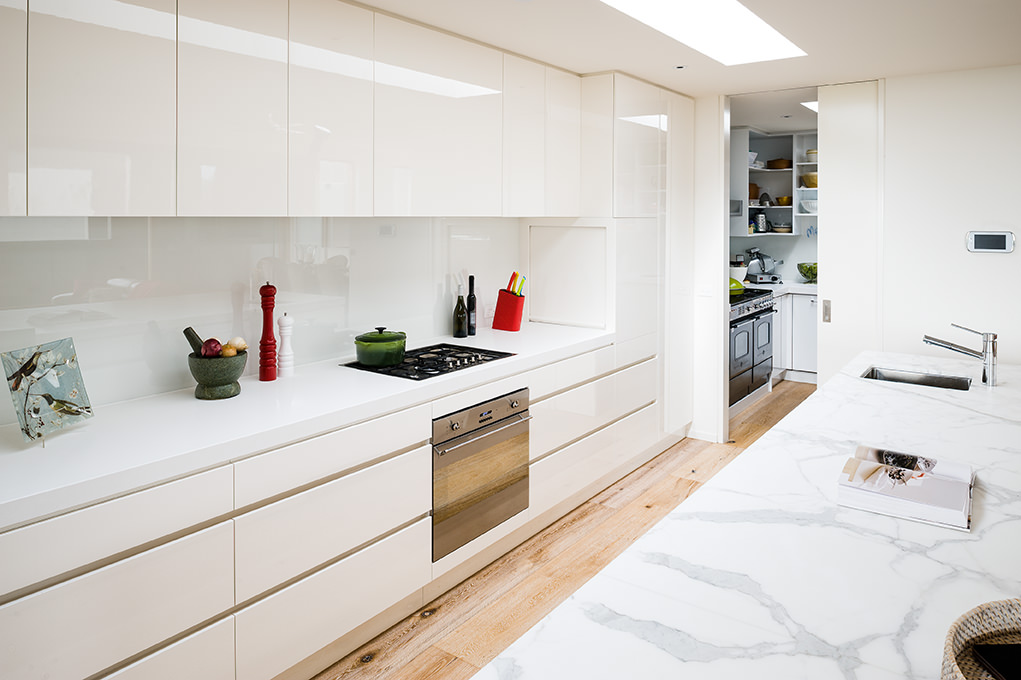 Storage might sound boring but take it from us – if you maximise your available space with today's innovative storage solutions, you're well on your way to a clutter-free kitchen that will always be a pleasure to spend time in.
Some key points:
No two kitchens are the same so first establish how much space you have.
How often do you cook and for how many? The more of each, the more storage space you'll need.
It's important to make the most of limited and unused space, and make it easier to access hard-to-reach corners.
Keep everything organised and in its right place. For example, make sure your cutlery drawer is close to the sink and dishwasher.
Find places for appliances and other items that would otherwise clutter bench space.
Clutter is a great word. It's an onomatopoeia, meaning the sound of the word is just like the meaning.
And kitchen designers know it well, because clutter – or more importantly the absence of it – is something that's vital to creating a space their clients will love.
Key to achieving this is to maximise and organise every bit of available storage space.

And the ways of doing so are simply mind-boggling.
Check out some great options below that might inspire you to transform your kitchen into a pleasure-filled clutter-free zone.
We only deal in quality products, and recommend the best solutions around from Blum and Hafele Kessebohmer.
Super-practical pantries and cabinets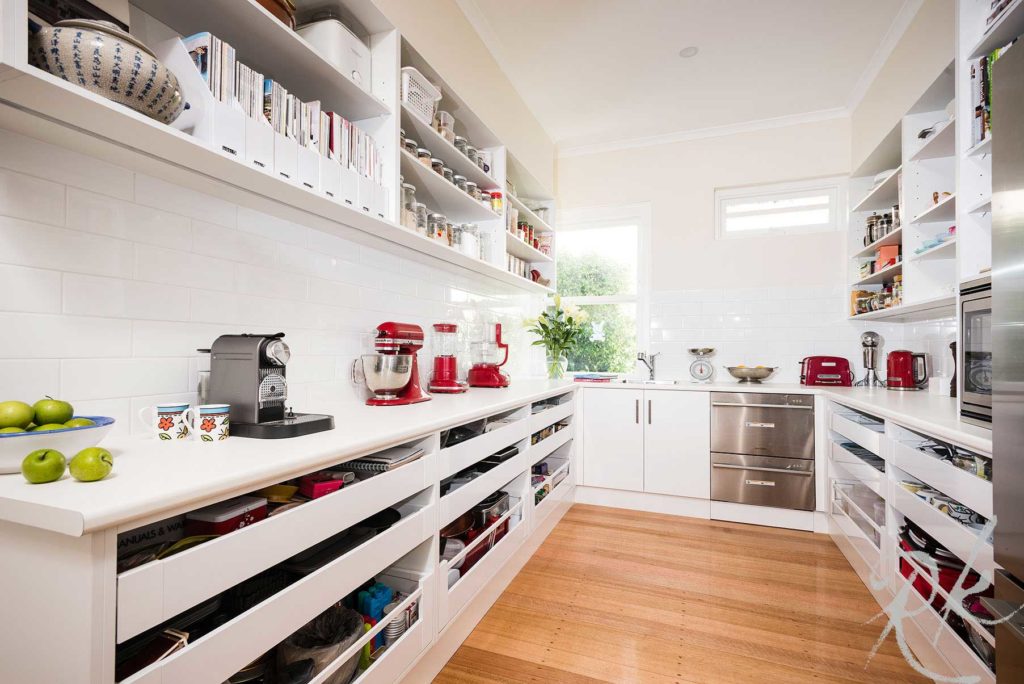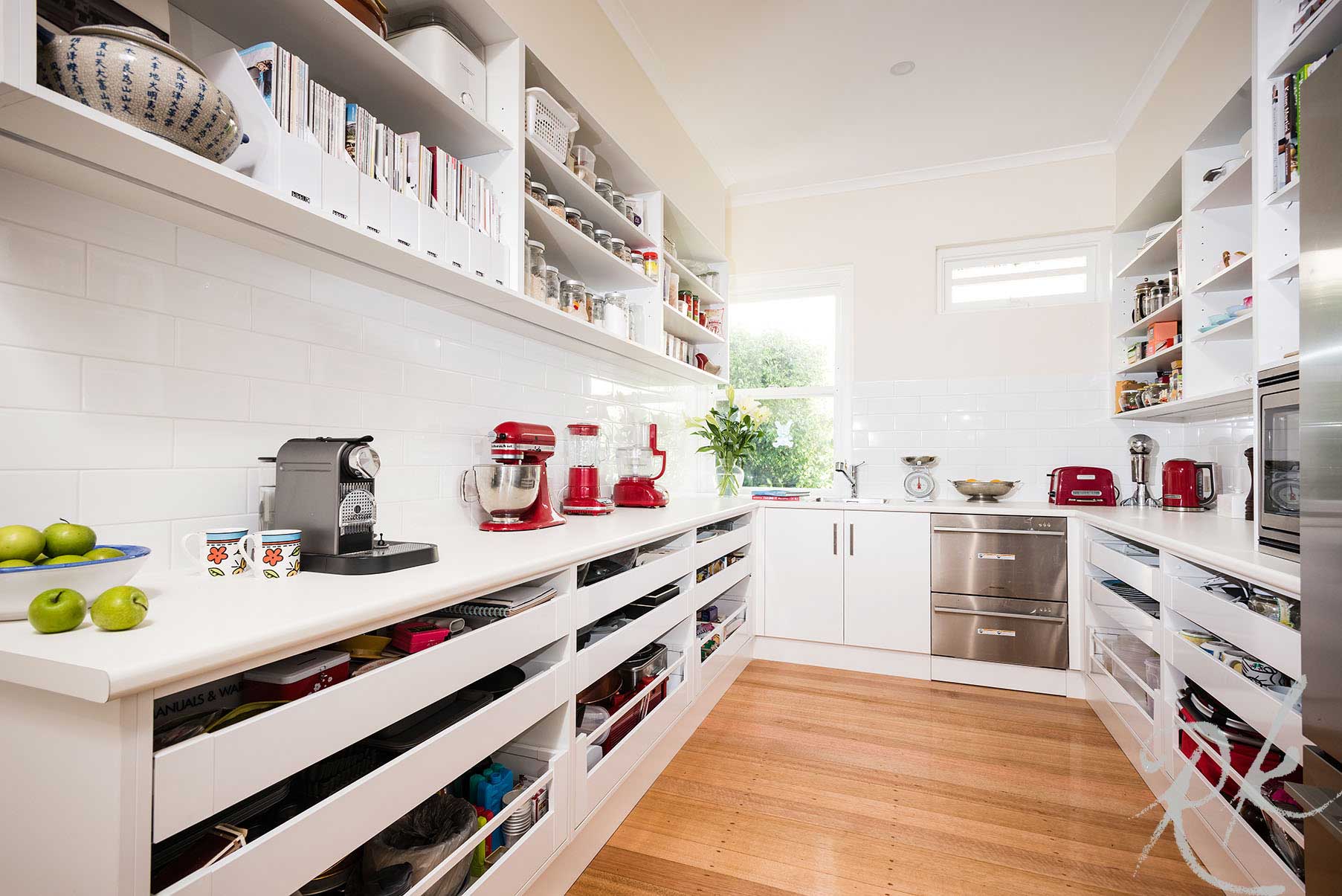 Pantries have come a long way since they were first used as a place for keeping food protected and cool.
For example, in bigger kitchens a butlers pantry can be a separate room and "work space", allowing the main kitchen area to be used primarily as a living or entertaining space.
In smaller kitchens we've often designed a pantry, sometimes situated behind sliding or bi-folding doors, that's home to food and appliances like the toaster, kettle and microwave – keeping the main benches clean and uncluttered.
Pull-out Pantries
When you don't have space for a larger pantry, consider easy-to-access innovative shelving within your cabinetry. These tall and slender options allow you to access food and dry goods before sliding out of sight back into the cabinet.
Great examples are Hafele's TANDEM pantry unit and Blum's SPACE TOWER. Instead of shelves, the latter has individual pull outs with high sides that allow you to fill up pantry drawers with provisions. They also extend fully and provide access from all sides.
Blum's AMBIA-LINE internal dividing system is also fantastic for keeping all the items in your pantry organised.
Fantastic accessories like the ORGA-LINE crockery holders make life so much easier – for example, allowing you to take out and put away plates in one go rather than one at a time.
Hafele's family of CONVOY cabinets are also terrific for organising, effortlessly sliding in and out of view when required.
Check out the video below in which Mark explains the pantries Rosemount designed and installed for one of our customers in Sandringham.
Watch on YouTube:
Find out more about the story of that renovation in Sandringham.
Go here for more information on kitchen pantries.
Corner Cabinets and Units
Most kitchens waste the valuable space in corner cupboards because they're so difficult to access.
That's not the case when you use Blum or Hafele's wide range of corner systems – including the LeMans II and Magic Corner units that make the idea of hard-to-reach completely redundant.
These innovative systems transform the storage space and how we use modern kitchens. They're not only clever and space-creating, but strong as an ox – with shelves that'll hold up to 25kg in weight.
The Magic Corner is super-smart. It has two complete storage units attached to one another in a single corner cabinet. One is secured to the inside of the door and on opening automatically pulls the other one forward in a seamless motion, meaning all of the available space is used.
Check out this video, in which Mark demonstrates Hafele's LeMans II system and TANDEM pantry unit.
Watch on YouTube:
Cabinet and drawer storage
With cabinets, our designers often advise customers to devote one wall to floor-to-ceiling storage.
This can have a number of advantages, from removing the need for upper cabinetry elsewhere in the kitchen to creating space for a kitchen island.
More customers are opting for a combination of overhead cupboards and deep "hands free" below-the-counter drawer units.
A great reason to choose drawers – fully extended with higher sides can mean up to 50% more storage space than a cupboard in the same space.
Ease of access
Check out Blum's SERVO-DRIVE electric opening system which makes accessing overhead cabinets a breeze. No stretching required.
The same system works just as well for base cabinets or floor level "kicker" drawers, which you can open with a tap of your knee or feet. No hands required.
With both you instantly see everything you need – instead of having to bend down or stretch up and look for stuff.
Whether it's cleaning detergents, saucepans, cooking utensils, baking trays or a wine rack, these solutions give you easy access to whatever you need in your kitchen.
Blum's TANDEMBOX Blumotion drawers not only close softly but hold up to 65kg weight.
Create extra storage space under the sink with innovative drawers like the one below.
You can use Blum and Hafele's innovative drawers to store and organise crockery, cutlery and food.
And you'll save heaps of time rummaging through them if you add organisers and dividers like those from Blum's ORGA-LINE range.
Conclusion
The number of storage options for your new kitchen seems endless. Which is great, because you can pick and choose the solutions that are best for you and your lifestyle.
We can help in that process, and with the overall design and installation of a new kitchen.
Call us on 1300 476 736 for more information of why not book a consultation.