Kitchen benchtops are a vital component in all kitchen renovations.
Benches need to meet several main criteria. First, they have to look great and suit the style of your new kitchen.
They also need to work well. Your benchtop should be functional, practical and durable.
What kind of kitchen benchtops do you recommend?
There are many materials and styles available, each with their own distinctive pros and cons.
What you choose will depend largely on your kitchen design, lifestyle and budget.
To ensure you make the best choice, speak to one of our kitchen designers. They are specialists who will offer invaluable advice and steer you clear of any potential pitfalls.
Contents
What we do:
Rosemount Kitchens can provide any of the benchtop types mentioned on this page as part of a kitchen, bathroom or laundry renovation.
What we don't do:
We don't sell benchtops as a standalone product, and we don't repair or replace benchtops unless it's part of a bigger renovation.
What should I be aware of when choosing a kitchen benchtop?
It's important to point out a few things about protecting your benchtops – whatever material you choose.
Keep in mind that no surface is indestructible and all require some level of care and maintenance. For example, you should never place a hot pot directly onto a benchtop made of any material – even the most durable surfaces such as stone and concrete are susceptible to thermal shock and may crack, while laminate will scorch and bubble.
To protect your surface from hot pots and pans, always use heat pads or trivets. The same goes for sharp utensils like knives. Always use a chopping board – they protect your surface and your knives.
And never slide or drag items across the bench surface – lift and place.
Without further ado, let's take a look at the main benchtop options available for your kitchen project.

Man-made Reconstituted Stone Benchtops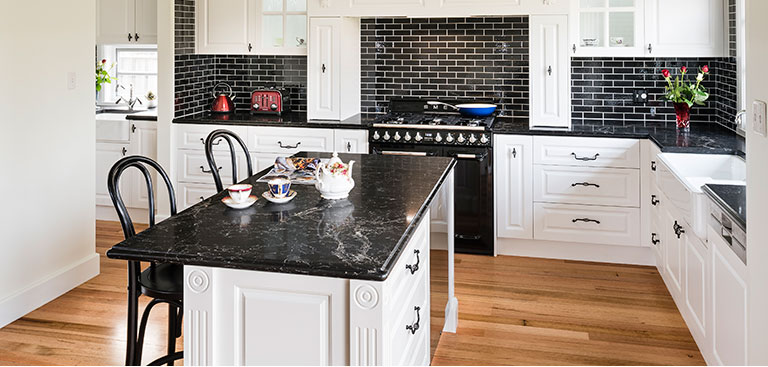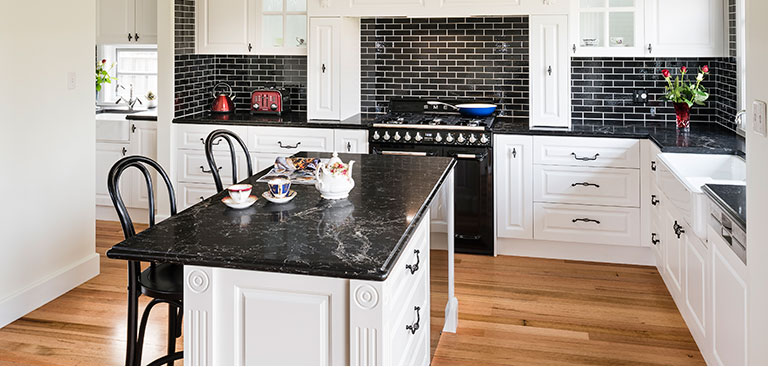 Reconstituted stone is one of the most popular choices for kitchen benches. There are a number of names for this type of benchtop, including:
Engineered stone benchtop
Composite stone benchtop
Quartz benchtop
One company tends to stand out in the world of reconstituted stone benchtops – Caesarstone.
Their brand name has become the generic term to describe this particular kind of bench material.
Other excellent manufacturers include: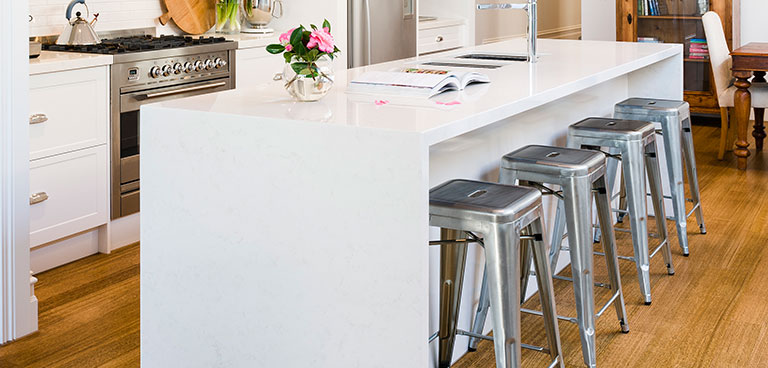 What are the benefits of a reconstituted stone benchtop from a company like Caesarstone?
The main benefits of these surfaces are that they are very hard, strong, durable – and extremely attractive.
You get the best of both worlds; all the natural beauty of natural rock but with increased durability, and at less expense.
Another bonus is that, unlike its natural counterpart, reconstituted stone doesn't need to be resealed.
These types of kitchen benchtops are also very hygienic and food safe. Reconstituted stone is virtually non-porous, which means that it's highly resistant to mould, mildew, stains and scratches.
You can choose from range of colours and thicknesses – all are available at a minimum of 20mm, but the most popular choices are 40mm and 60mm.
For a modern, clean benchtop, you can also consider an undermount sink.
Another benefit of reconstituted stone? You can also use it for splashbacks, and in the bathroom and laundry too.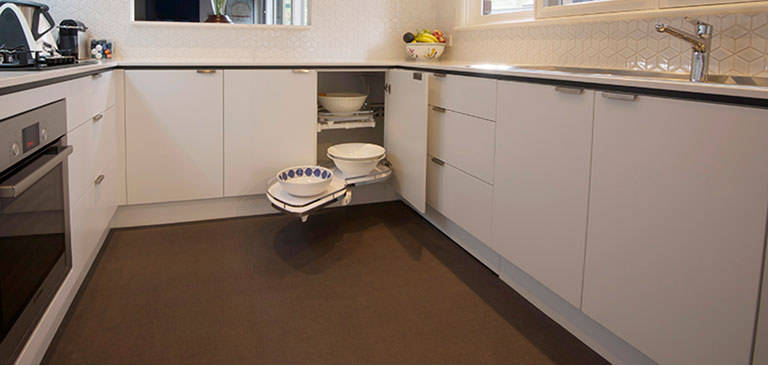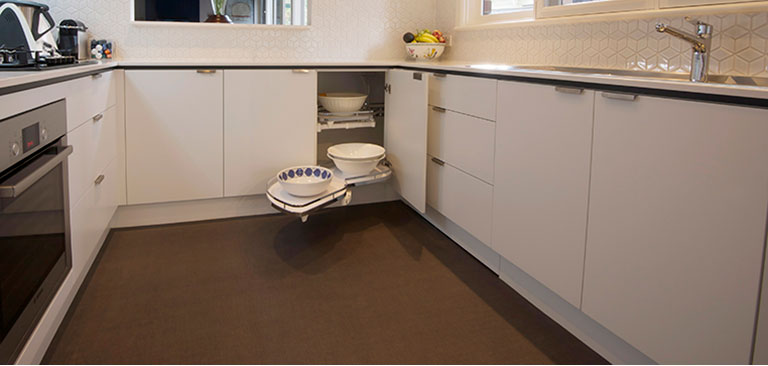 The precise composition of a reconstituted stone bench will depend on the manufacturer. It's basically made from a combination of natural components – like granules of quartz, granite, marble or glass chips – in a man-made polymer resin base.
Quartz based products are particularly popular for use in the kitchen.
How do you maintain reconstituted stone benchtops?
Caring for reconstituted stone benches is very easy – simply wipe the surface with warm soapy water (mild detergents only) and a soft cloth.
Avoid cleansers that have any abrasive qualities as these can dull the finish of the surface.
There are a number of commercial cleansers designed specifically for reconstituted stone surfaces.  You'll get these from the material manufacturers or in your local supermarket.
Key Considerations:
While very strong and durable, reconstituted stone is not indestructible. Excessive force or pressure can damage the surface. And like natural stone, reconstituted stone should not be subjected to sudden and rapid temperature changes. So it's best not to place hot pots and pans directly onto the surface.
In fact, you shouldn't do this on any bench surface. We recommend you always use a trivet or heat pad.
A variety of edge profiles are available, including mitred apron and bullnose, which are fabricated by a stonemason.
To prevent chipping, Caesarstone suggests a minimum edge detail of 3-4mm on any profile.
The recommended edge profile for an undermount sink cut-out should be a minimum 6mm radius edge. That minimises the risk of chipping or damage from things like pots and pans.

Natural Stone Benchtops
How Many Types Of Natural Stone Benchtops Are Available?
We most commonly use granite and marble.
Both of these natural stones look just terrific in a kitchen. They have a timeless quality that is never likely to go out of fashion.
However, it's important to realise that a natural stone benchtop typically requires extra care.
Prices vary depending on the availability and quality of the stone, but you are looking at the high end with these beautiful materials.
Granite Benchtops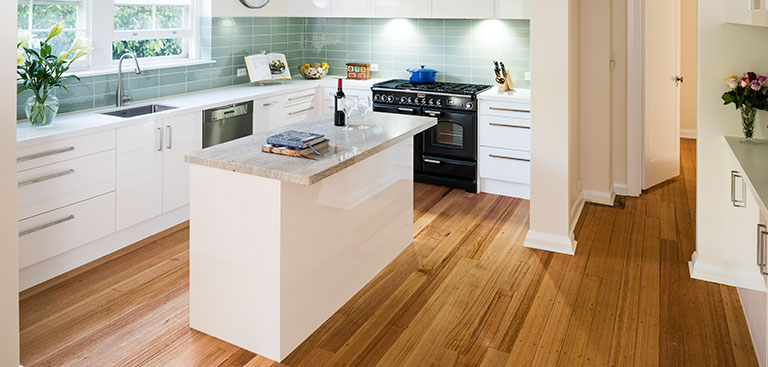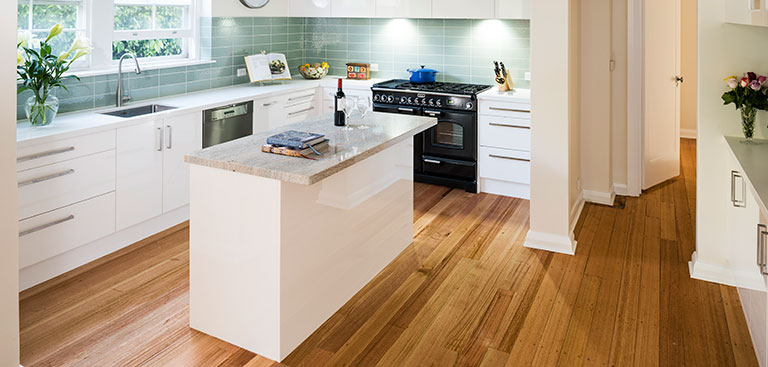 Granite is one of the hardest natural stones. It's composed mainly of quartz and feldspar with minor amounts of mica and other minerals.
The grains of the rock are visible to the naked eye, giving the stone its characteristic texture and patterning.
You'll find a range of available colours; from creams through to green, browns and blacks. Some have pearl features which produce a "one of a kind" look.
Durability is a big plus with granite benchtops. They are among the best when it comes to heat resistance, and will withstand most staining and scratching.
Still, keep in mind that all surfaces are susceptible to sudden and extreme temperature changes. That can cause cracking, so – as we've said previously – it's always best to avoid placing hot pots and pans directly onto any surface.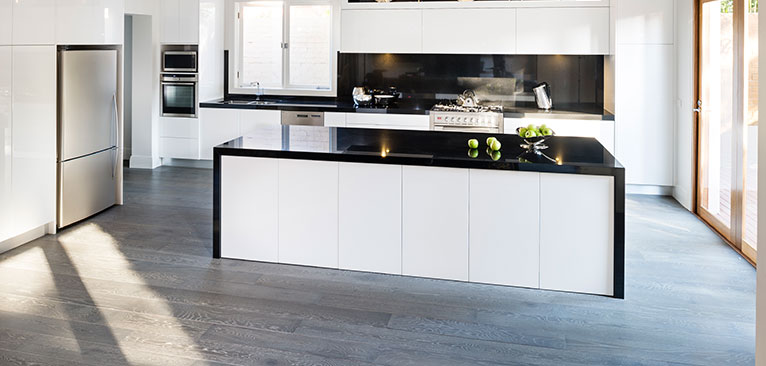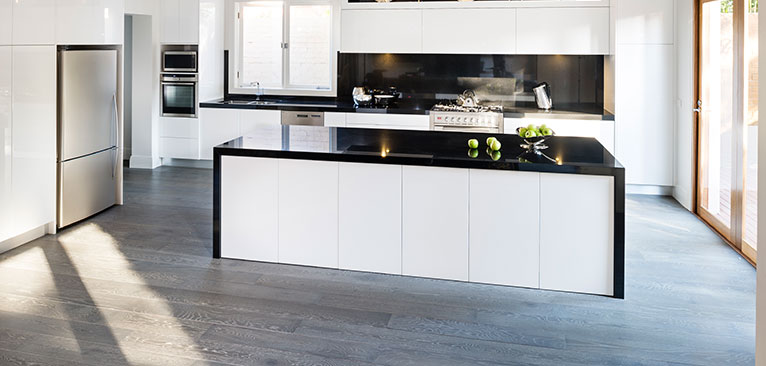 Maintaining Granite Benches:
Granite is another material with a very low porosity, which makes these types of benchtop hygienic, food safe and easy to clean.
To clean, simply use a damp soft cloth and a non-abrasive detergent.
While you're unlikely to scratch the actual stone with an abrasive cleanser or cloth, you may dull the polished finish.
To maintain the finish of your granite benchtop you may need to have it resealed periodically (but no where near as frequently as marble benchtops).

Marble Benchtops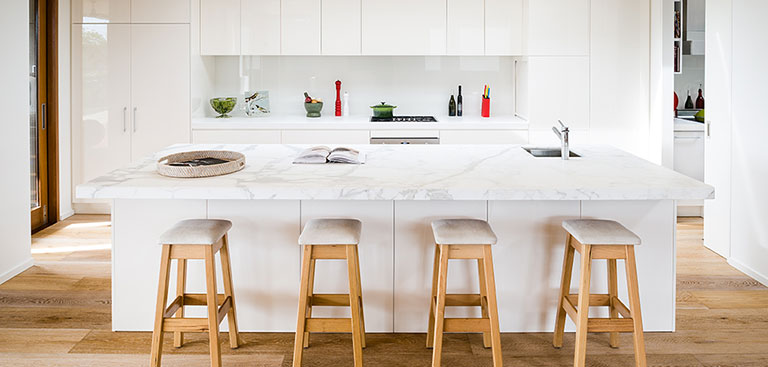 Marble has been used as a building material for thousands of years and its characteristic veining will add elegance, luxury, style and grandeur to your kitchen.
Marble is a form of limestone primarily made of the mineral calcite.
Although it is a durable kitchen surface, marble is one of the softer, more porous stones and sensitive to acidic foods like vinegar, citrus juices, tomatoes, wine and acidic cleaning products.
Key Points:
A marble benchtop is a high end option.
All colours come in at a minimum of 20mm. Theoretically, you can make it as thick as you want – to get 60mm thickness, an edge build up is used with a mitred edge.
Maintaining Marble Benches:
Marble has a reputation of being difficult to clean and care for, but a little forethought and routine maintenance will prevent staining and keep it looking pristine.
Marble needs to be resealed on an annual basis. Some manufacturers recommend every six months.
Remember to factor this ongoing cost when considering marble.
Although strong, this is a stone that does scratch. But that's also the beauty of marble – small etches and marks can actually add character to your benchtop.
Remember to wipe up all foods and liquids spills as soon as they happen. Things such as citrus and vinegars are acidic and can eat into the stone if they not wiped immediately. Water build-ups around the tap area can also cause discolouration.
To clean, only use mild soap and water. Avoid most household cleaning products as they can damage the surface.
And like granite and man-made stone, marble is susceptible to extreme changes of temperature. Placing hot pans and pots directly onto the benchtop can cause the stone to crack.
What Other Kinds Of Benchtops Do You Offer?
There are a number of other kitchen benchtop types we've installed in homes around Melbourne. See below to find out more:
Concrete Benchtops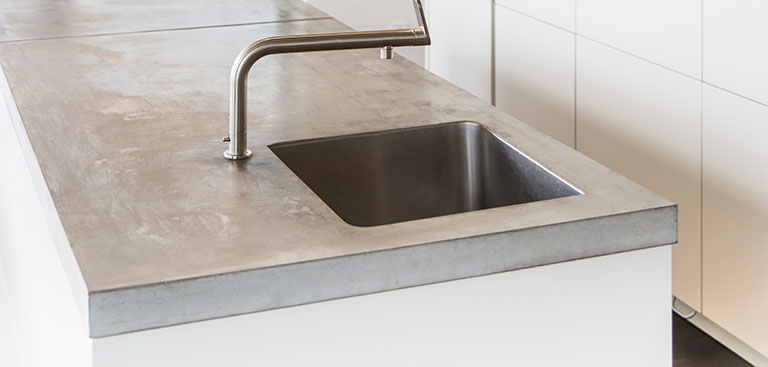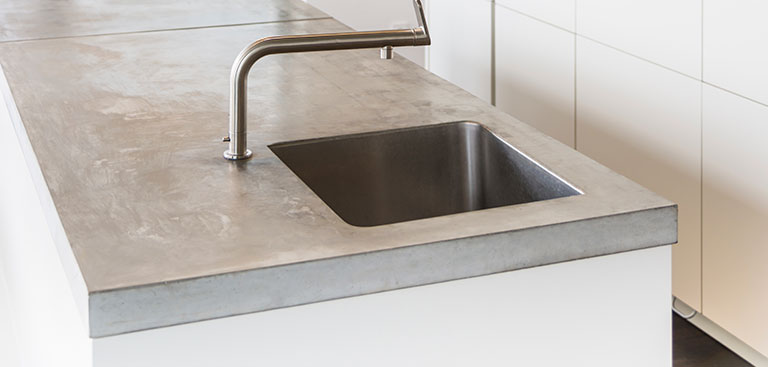 Concrete is the new kid on the kitchen benchtop block. It's gaining in popularity, particularly in modern, contemporary and industrial-style kitchens.
Concrete is surprisingly versatile. There's not much you can't do with it, and that's great when it comes to choosing benchtops.
They come in many different looks and can be moulded and sculptured to almost any shape and size.
Key Points:
Concrete benches are made by pouring a concrete mix into a prefabricated mould. They can be polished, buffed or stained to any colour.
You get to choose the mix of components which affect the final "look"of the benchtop. Select from basic aggregate to glass, quartz, granite, pebbles and basalt.
Concrete benchtops can be made specifically to imitate natural stone surfaces (but with greater durability) or polished to an almost mirror-like finish.
Maintaining a Concrete Bench:
As you might expect, concrete benchtops are incredibly tough, durable and long wearing.
Concrete does need to be finished so that it becomes non-porous and resistant to acids, oils and general staining.
A range of sealants are available, and all have different qualities so you need to discuss the best option for your kitchen needs.
Care of concrete benches is largely dependent on the sealant used.
And yes, concrete is tough but not indestructible. Like other surfaces, it can crack like stone if subjected to sudden and extreme temperature spikes.
Stainless Steel Benchtops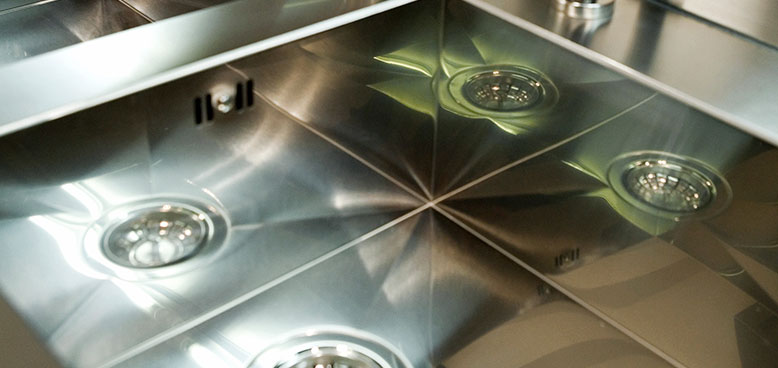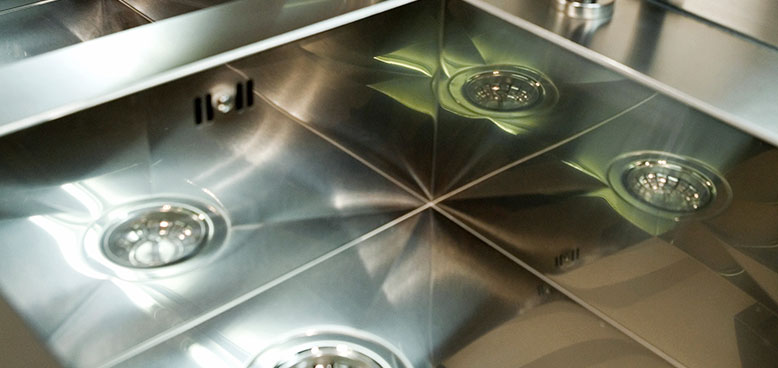 Stainless steel – the staple of the commercial kitchen – is now a choice for its domestic counterpart.
In the right home and with the correct design concepts, these benchtops can look utterly amazing.
Key Points:
Stainless steel can be made in any size or shape, and benchtops can be "seamless" with integrated, moulded sinks and full or partial stainless steel splashbacks.
It's durable, heat resistant, non-porous, stain resistant, hygienic and easy to clean. A stainless steel benchtop comes in brushed and textured finishes – which can help disguise minor scratches or marks.
Maintaining a Stainless Steel Bench:
As you would expect for a material used in professional kitchens, cleaning is very easy. While soap and water will usually suffice, stainless steel can also be safely bleached.
Still, it's best to avoid abrasive cloths or cleaners that might scratch the metal.
Applying a stainless steel polish will also ensure your benches stay pristine for years to come.
Bear in mind that steel can scratch and dent or reflect light.
Without the right design, it can also seem a little cold and harsh on the eye.
If you're considering a stainless steel kitchen, make sure you get advice from an experienced kitchen designer.

Laminate Benchtops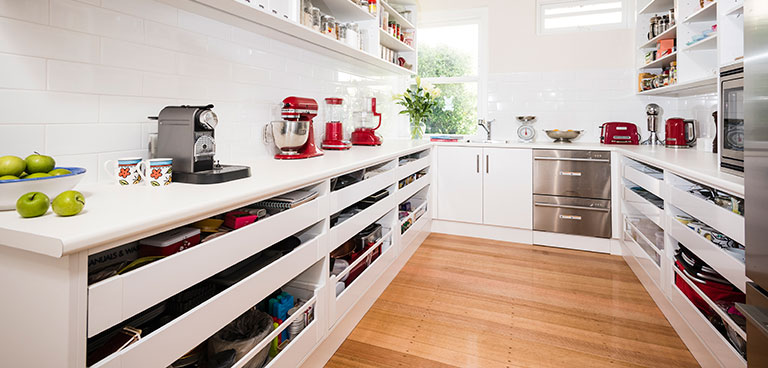 Laminate has come a long way in recent years. It might not have the instant appeal or natural beauty of timber or stone, but today's laminates do a good job of mimicking more expensive finishes like reconstituted stone, marble and granite.
And all at a lower cost – the main reason for its rising popularity.
Key points:
Laminate surfaces are relatively hard and resistant to wear, scratching, impact, boiling water, domestic stains and moderate heat. In Australia, legislated standards ensure laminate is safe and durable, but laminates do vary in quality so need to make sure you choose a product from a reputable supplier that is specifically designed for benchtops.
Laminate comes in a seemingly limitless range of decorative colours, patterns and finishes, and new ones are released regularly.
So you don't have to worry about sacrificing style if you make this choice.
Laminate benchtops are generally 34mm thick, with some colours available in 39mm with a deep square front edge that resembles a stone slab.
Laminate is also very versatile. It can be cut to any size and used on vertical surfaces too.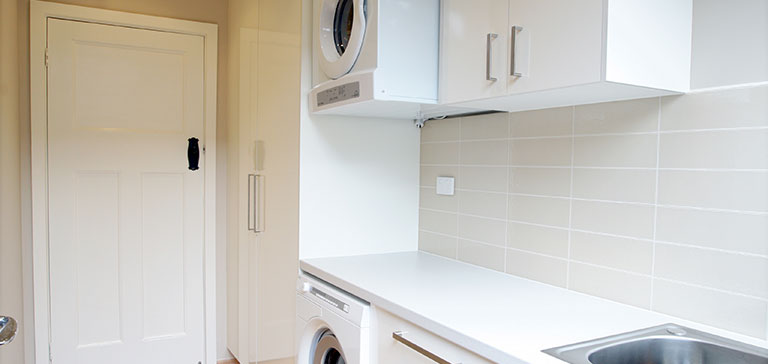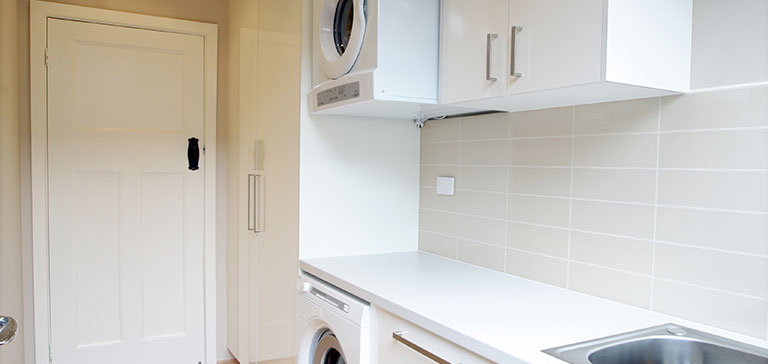 Laminate Bench Maintenance:
Overall, laminate is quite low maintenance and cleaning is pretty straightforward.
A wipe over with a clean, damp cloth is usually all that's required. If you do need a bit more, mild dishwashing detergent or kitchen surface cleaners you find in the supermarket will do the job.
But avoid using scourers, steel wool or abrasive liquid cleaners. Like sharp utensils, they can  damage a laminate surface. For the same reasons, avoid bleach and strongly acidic or alkaline cleaners.
Key considerations:
One drawback is that laminate won't stand up to direct high heat or steam. Place a hot pan on laminate and you risk a burnt or bubbled surface. It's not attractive and hard to repair.  –
Cut marks from knives and other utensils are also more likely to show up on a laminate surface. So you must always use cutting boards and never drag items across the benchtop.
But don't let this put you off. With proper care, a laminate benchtop will look great for many years to come.

Solid Timber Benchtops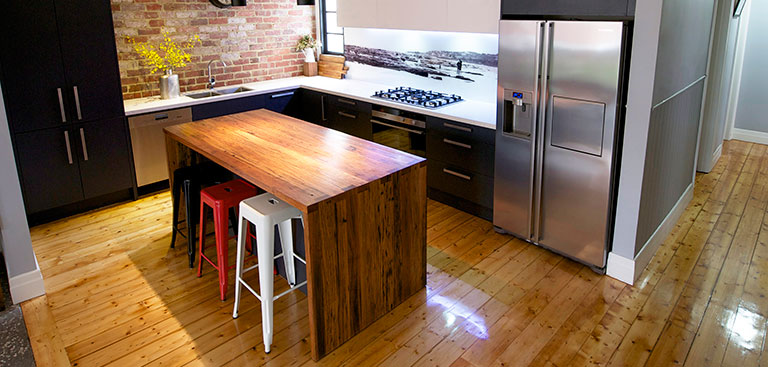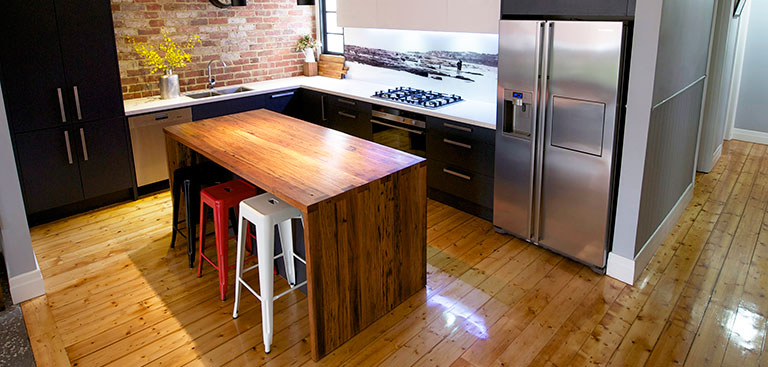 For a wonderfully warm natural option, consider timber benchtops.
There are so many options available – from Ash, Spotted and Blue Gum, to Jarrah, American Oak, Tasmanian Oak and Blackwood to a variety of other species.
You can choose a timber that's native to your area, something that's environmentally friendly or a classic high-end timber.
These days bamboo is also becoming more popular for its timber-like characteristics.
Key Points:
Wood is obviously a softer material than any of the stones or synthetics.
You'll need to watch for cuts and gouges – and, of course, burns.
Well-cared for timber benchtops age beautifully and small nicks and marks can actually add to the character. Timber can also be sanded back and refinished to repair most issues.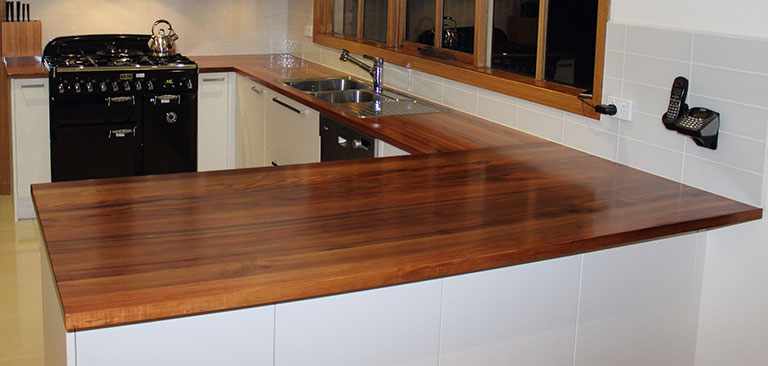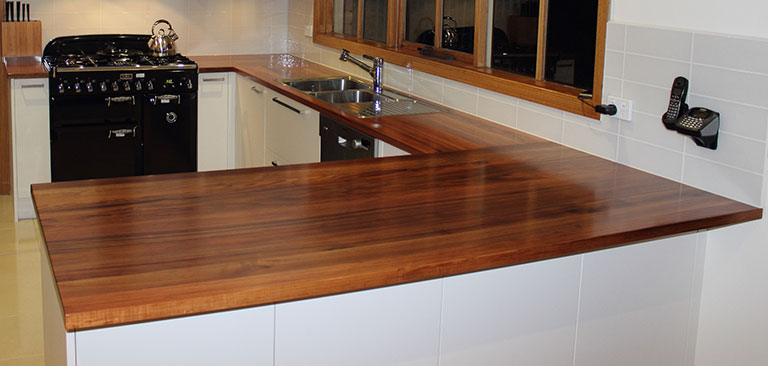 Maintaining a Timber Bench:
It's important to seal timber benchtops regularly to prevent staining and water damage. You've probably seen timber benches where water has seeped in and turned the timber a dark grey/black.
Polyurethane varnish or oil sealants provide protection against both stains and water damage.
What you choose really depends what finish you're looking for – glossy with the poly, or a more natural and matt effect with a wood oil.
When sealed correctly, timber benchtops are easy to care for. What you use to clean the surface will depend on what sealant was used, so make sure you're aware of the best and most suitable product.

Acrylic Composite / Solid Surface Benchtops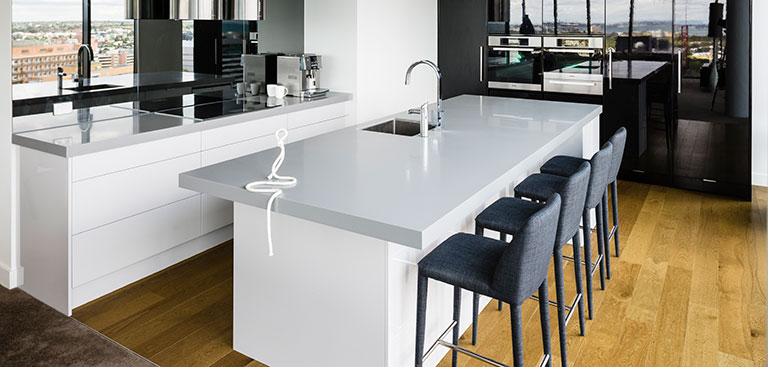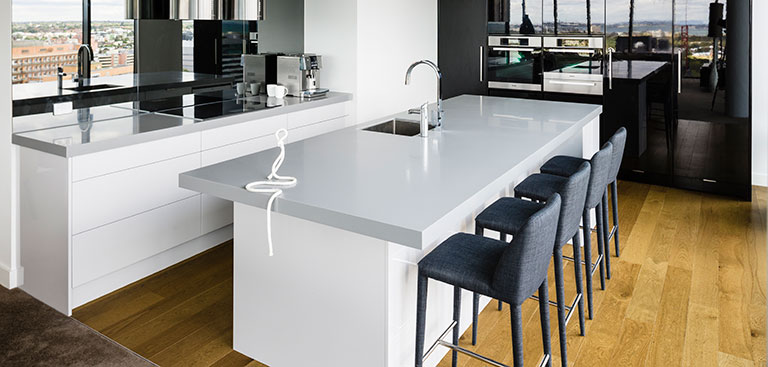 Acrylic composite solid surface benchtops offer the most hygienic benchtop option.
You may know this surface as Corian (produced by DuPont), which has become the generic name for this type of material.
It was originally developed for use in hospital operating rooms due to its superior hygienic features.
Key Points:
In the kitchen (or bathroom), Corian is often used as an imitation of natural stone like marble, but is also made in solid colours. The most popular finish tends to be the light sheen satin finish.
It's a very versatile material and can be moulded into any shape, so the design possibilities are endless.
Corian is so hygienic because the material is non-porous and seam-free – there are no cracks for bacterial-nasties to hide in.
The ability to polish out all joins makes these benches look very clean and sleek.
The core material is 12mm thick, with the most common thicknesses used being 40mm and 60mm.
Below is an example of a Corian vanity.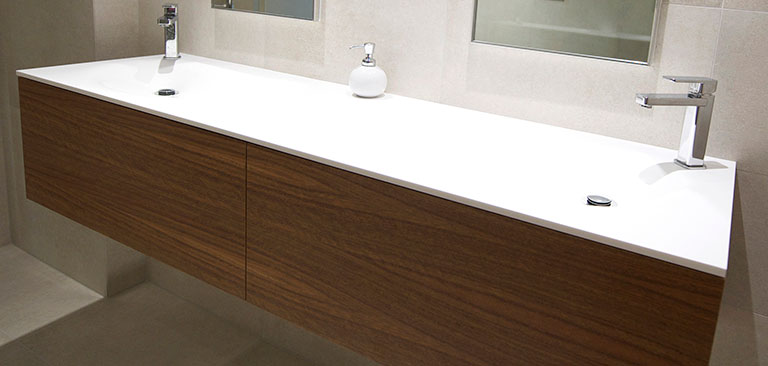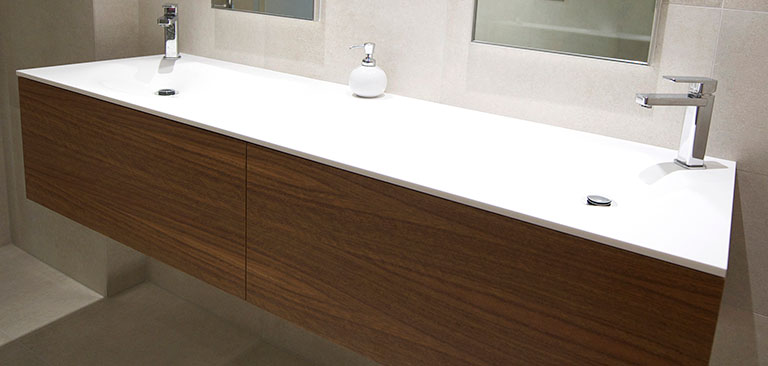 Maintaining a Corian Bench:
Although this surface is very durable, you have to be careful with heat.
Like all benchtop surfaces, acrylic doesn't tolerate direct high heats, making the use of trivets and heat pads on the benchtop surface especially important.
One definite bonus is "renewable" nature of the material, meaning your benchtop can be easily repaired – usually by buffing with a simple scouring pad. This is great for minor imperfections like light scratches.
You should of course always follow the manufacturer's instructions, and over time you can consider using a professional recommended by an authorised retailer to refinish.
Generally, Corian is very easy to clean. DuPont recommends a microfiber cloth with mild detergent. Avoid harsh chemical cleaning products.
Tiled Benchtops
Tile benchtops are not particularly common these days and are often best suited to more country style kitchens.
The options available are as extensive as the tiles available.
An epoxy grout is more durable and less porous than standard grouts.

Sintered Compact Surface
(sometimes known as Porcelain Benchtops)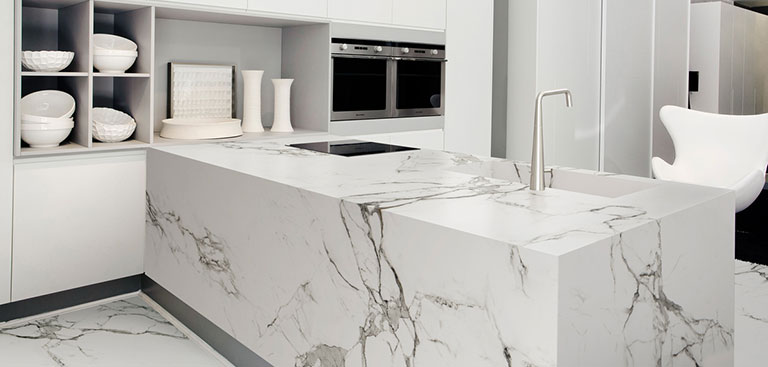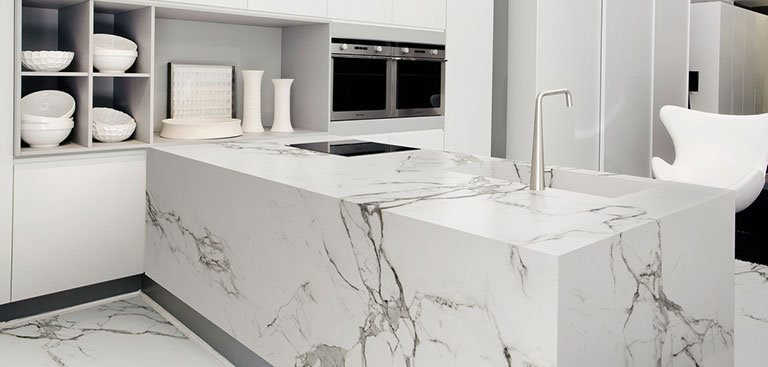 A big factor in the appeal of "porcelain benchtops" is that they are lightweight and surfaces start at just 12mm in thickness.
To manufacture these slabs, powdered clay and coloured pigments are bonded together at extremely high temperatures and pressure. The fineness of the particles allows the finish to be polished in high gloss or satin through to a matt or even a textured finish.
Melbourne companies Neolith and Dekton are suppliers to Rosemount.
Key Points:
Extra large slabs, which allows greater potential for installation in one piece with no cuts or joins.
Non-porous
Highly scratch resistant
It's not hard to understand the popularity of these products. They are not only lightweight, but waterproof, resistant to high temperatures and very easy to clean. They start 12mm, but you can get the same range of thickness as other benchtops.

Conclusion
So, what kind of benches would you like? What's best for you will be dictated by your own space, lifestyle and tastes. We can help you make the right choice.
As you can see, Rosemount Kitchens provides a number of options for kitchen benchtops that play a key part in all Melbourne kitchen renovations.
Contact us today to get started or visit one of our three showrooms.