The process of laying your new flooring varies based on the type of flooring you are using.
The basic principle is for your new flooring to be laid, or the finished coat applied, as late as possible.
You don't want to be working on a newly finished floor during the kitchen installation – where it can be helped. This is when a floor is at its "softest".
It's not uncommon to see kitchen renovations where the new design covers the existing "kitchen footprint" and the floor is not replaced.
This occurs when you may not have any more replacement floor tiles left, or there is a timber floor that runs right through the home. If you were to start re‐polishing in the kitchen, you would then have the expense of re‐polishing the entire house.
Process for individual floor types:
Floating Timber Floor
A new floating timber floor is laid after the cabinets have been installed. The simple concept here is that if the cabinets sit on the new 'floating floor', it is no longer floating.
The cabinets are installed, then the floating floor is laid.
We leave the kickboards off so that the new flooring runs under the 'visual line' of the cabinets and the new kickboards sit on top of the new flooring.
Solid Timber Floor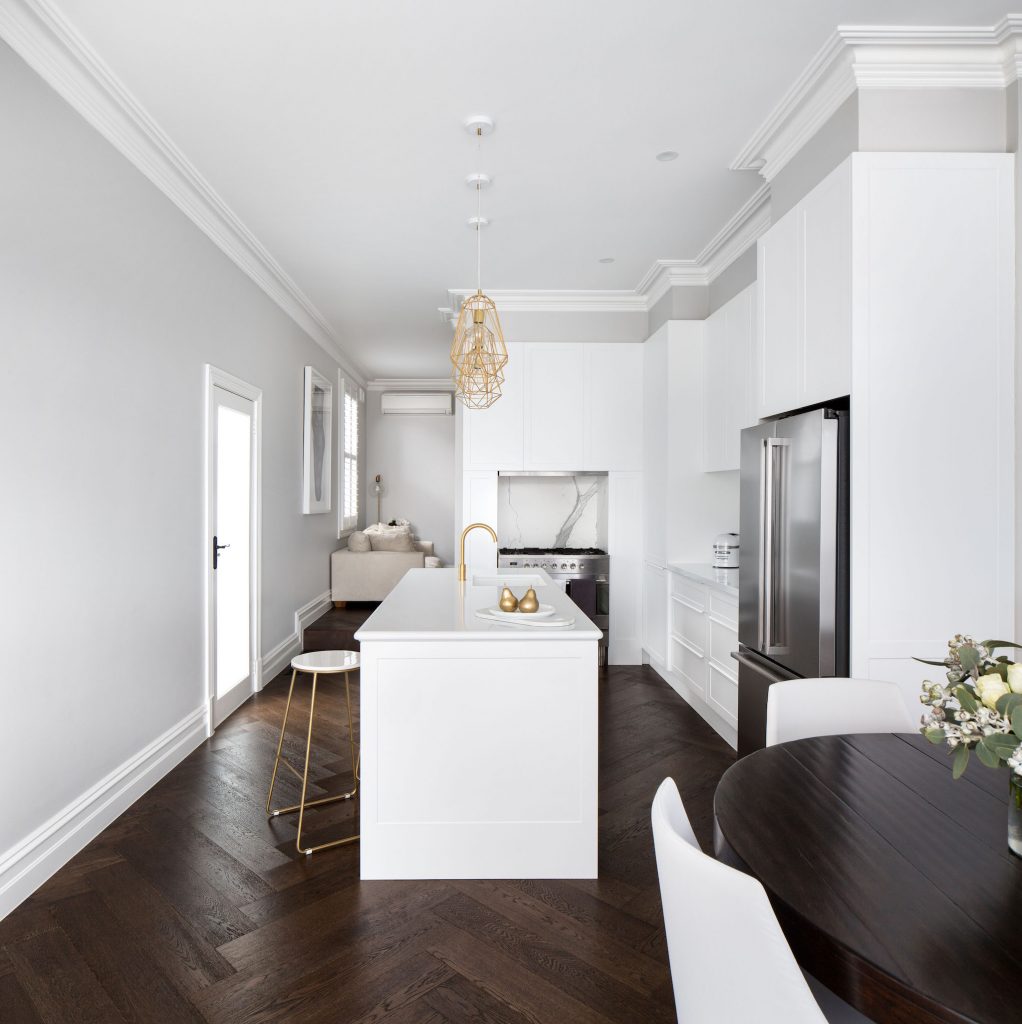 A new solid timber floor is laid prior to the installation of the cabinets, but is not polished until the end. One variation is to have the rough sand completed prior to the installation.
The new floor is laid. The cabinets are installed, and the raw floor is sanded and polished as one of the last jobs to complete.
Once again, we fit the kickboards after the floor has been polished.
Tiled Floor
There are two schools of thought on the laying of floor tiles. Before and After.
We recommend laying the floor tiles after the installation of the cabinets. If the flooring is laid first, an end panel may sit half over a grout line and won't look quite right.
Take it from me: the best visual outcome is for your floor tiles to be laid after the installation.
Also, when installing a new kitchen, the room is like a mini building site. It's always best to work on a raw floor, rather than a finished floor.