Laminate Kitchens
Why are laminate kitchens so popular?
It's little wonder that laminate kitchens are so popular in Melbourne.
Laminate is the most used material on kitchen doors.
Actually, the correct terms for this door style are Colourboard and melamine, although the term most commonly used, and understood, is laminate.
To make things a little more confusing, the type of material used on a laminate door is different from a laminate benchtop, and both have slightly different finishes.
But the bottom line is that laminate doors have terrific advantages.
It wasn't too long ago that they were regarded as the "cheap option", not just in terms of price but also quality.
Back in the day there was some truth to that statement. But not any more.
As a result of recent advances in technology, today's laminates are great quality – particularly those made by leading Australian-based brands like Polytec and Laminex.
Laminate doors stand up really well to the rigours of a typically busy kitchen. It's also ultra-flexible – available in an enormous range of colours and finishes.
Best of all for those on a budget … laminates remain inexpensive compared to other cabinet and benchtop options.
Because of these great attributes, laminates are often an integral part of the kitchen design toolbox.
Some customers like the fact they can trim costs but still achieve an amazing looking kitchen. Others love how laminates can be cut to any size.
We always recommend quality brands like Polytec and Laminex, which comply with standards that mean they work well in tough Australian conditions and give you peace of mind.
Find out much more about laminate kitchen options below.
Got any questions? Contact us and we'll do our best to help.
Laminate by any other name
As we said above, a laminate kitchen technically isn't referred to as a laminate kitchen.
For example, laminate cabinet doors are more likely to be called Colourboard or melamine.
The best way to find out for sure is to talk to one of our kitchen experts. They'll help you decipher the jargon.
So what is laminate?
Laminate is a highly versatile and durable material made up of layers of paper pressed together.
The top layer is customised to the required colour, pattern and texture.
At Rosemount we use a pre-finished melamine board with a 1mm edge that provides strength and ensures long-lasting wear.
Colourboard and melamine are typically used on cupboard doors, drawers and panels.
Laminate benchtops are usually 34mm thick. Some are as thick as 39mm, and come with a deep square front edge to resemble a stone slab.
Different types of laminates
High gloss
These images are examples using our recommended ultra-high gloss melamine board with 1mm edge.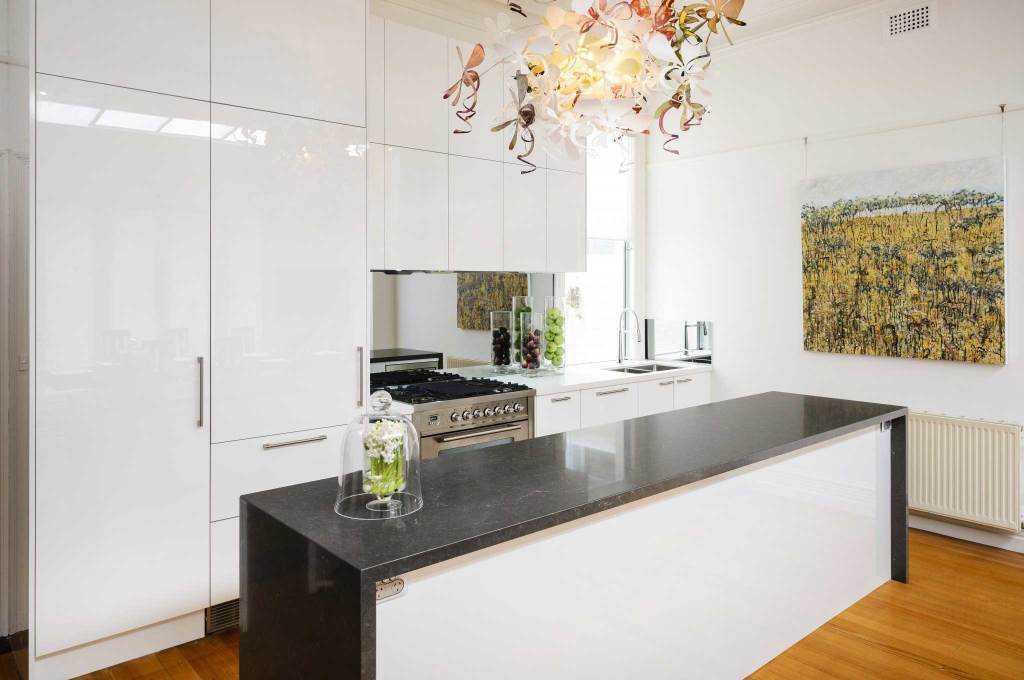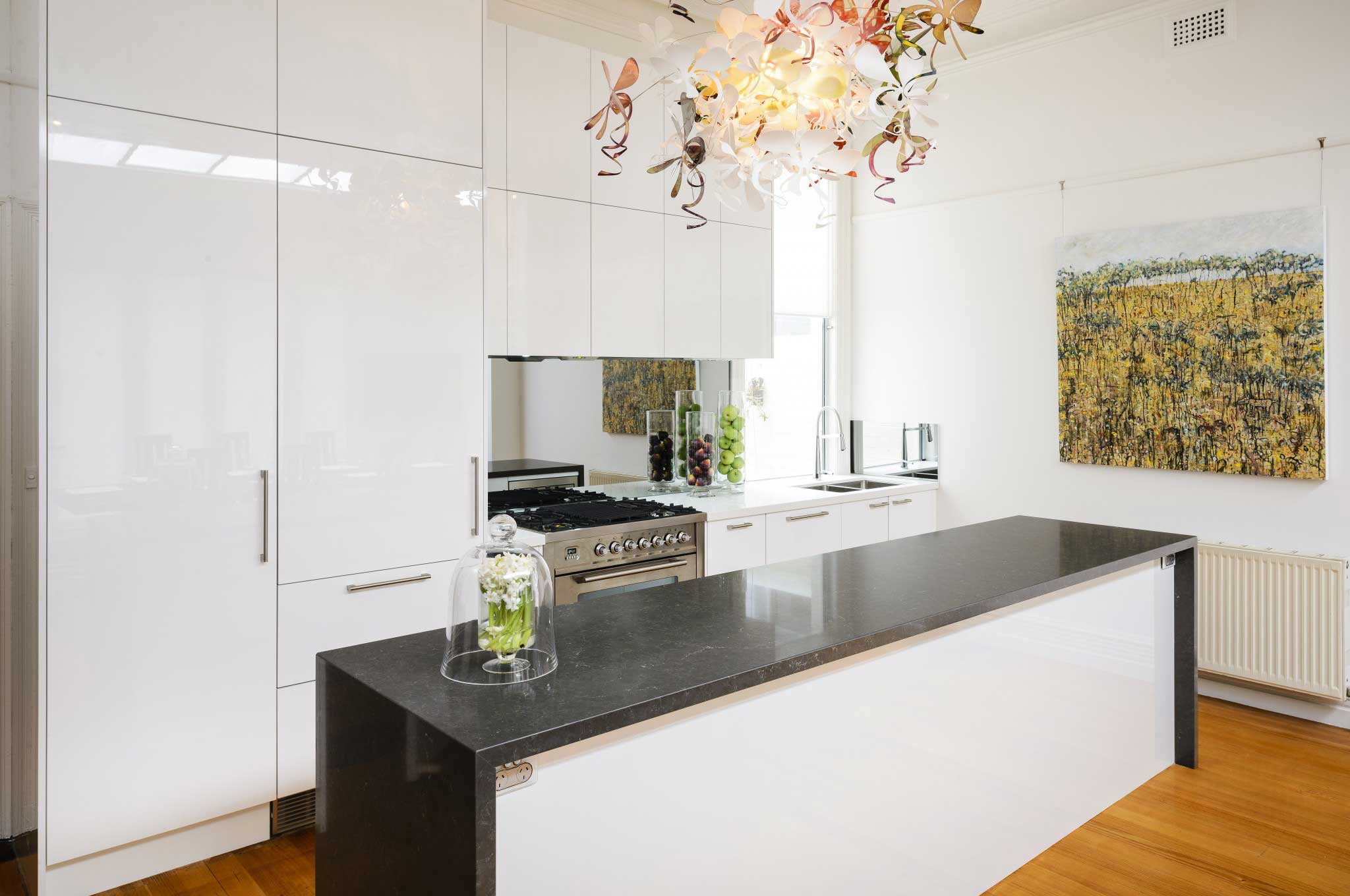 Low gloss (Sheen / Silk)
Low gloss finishes on kitchen surfaces (similar to a satin look) are sometimes also described as a sheen or silk finish.
This kind of finish provides a smooth and stunning appearance that can complement your decor.
These images are examples showing our recommended gloss melamine board with 1mm edge.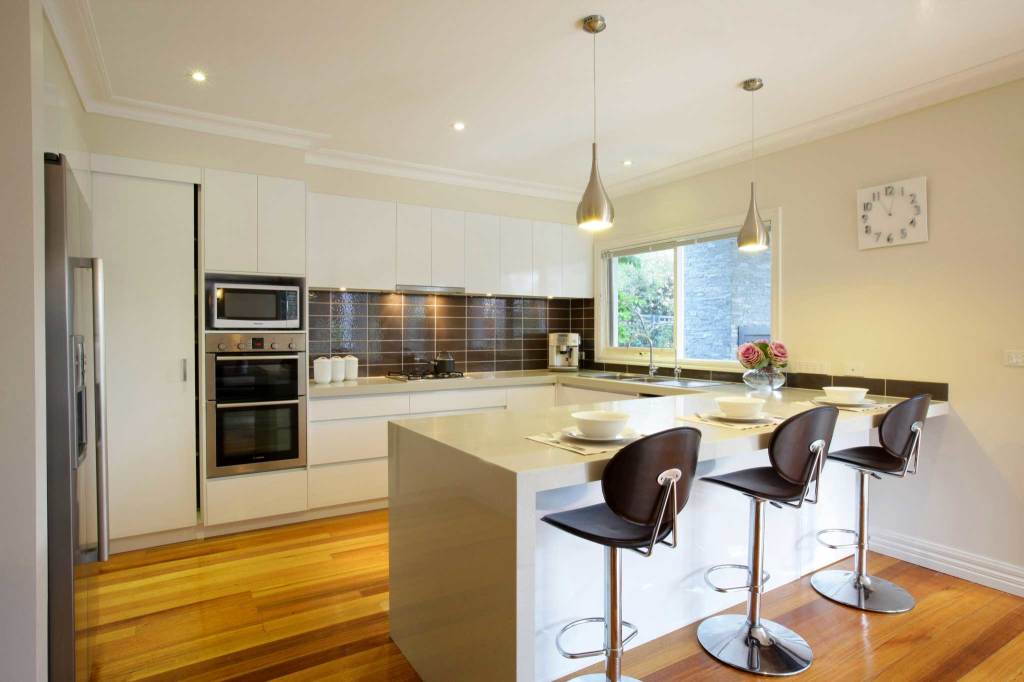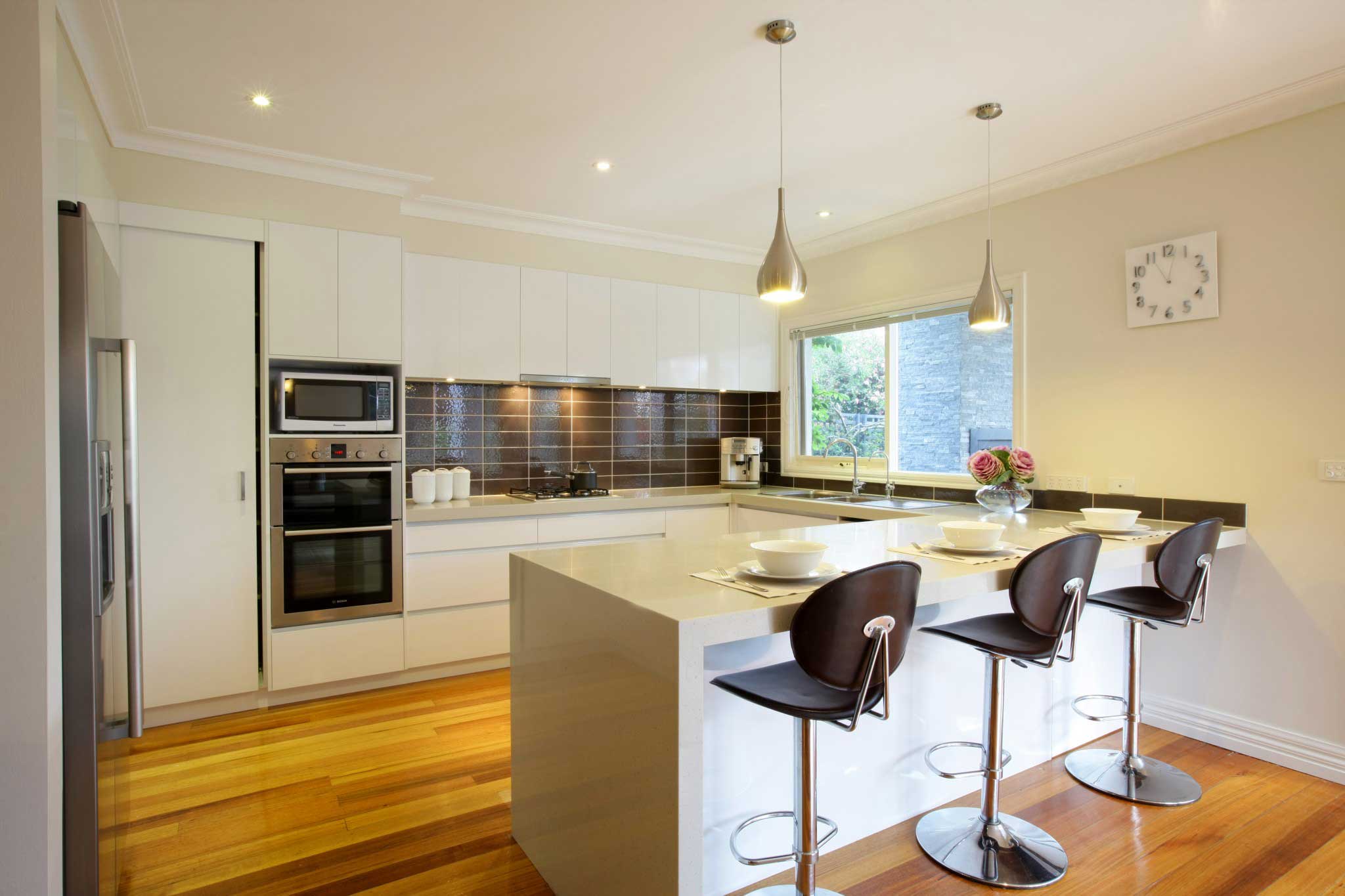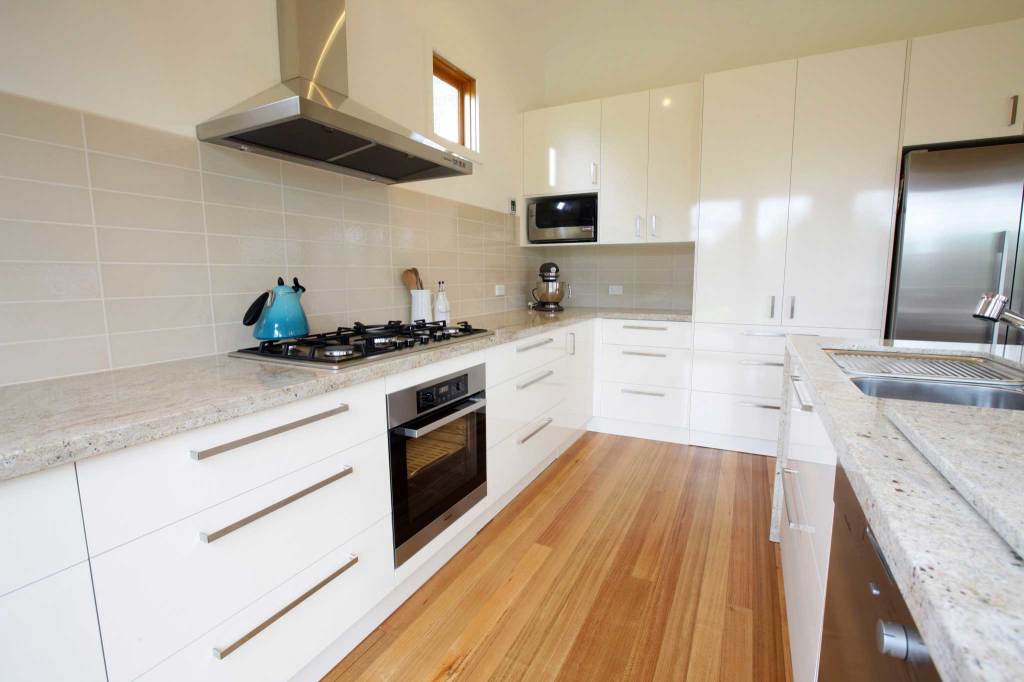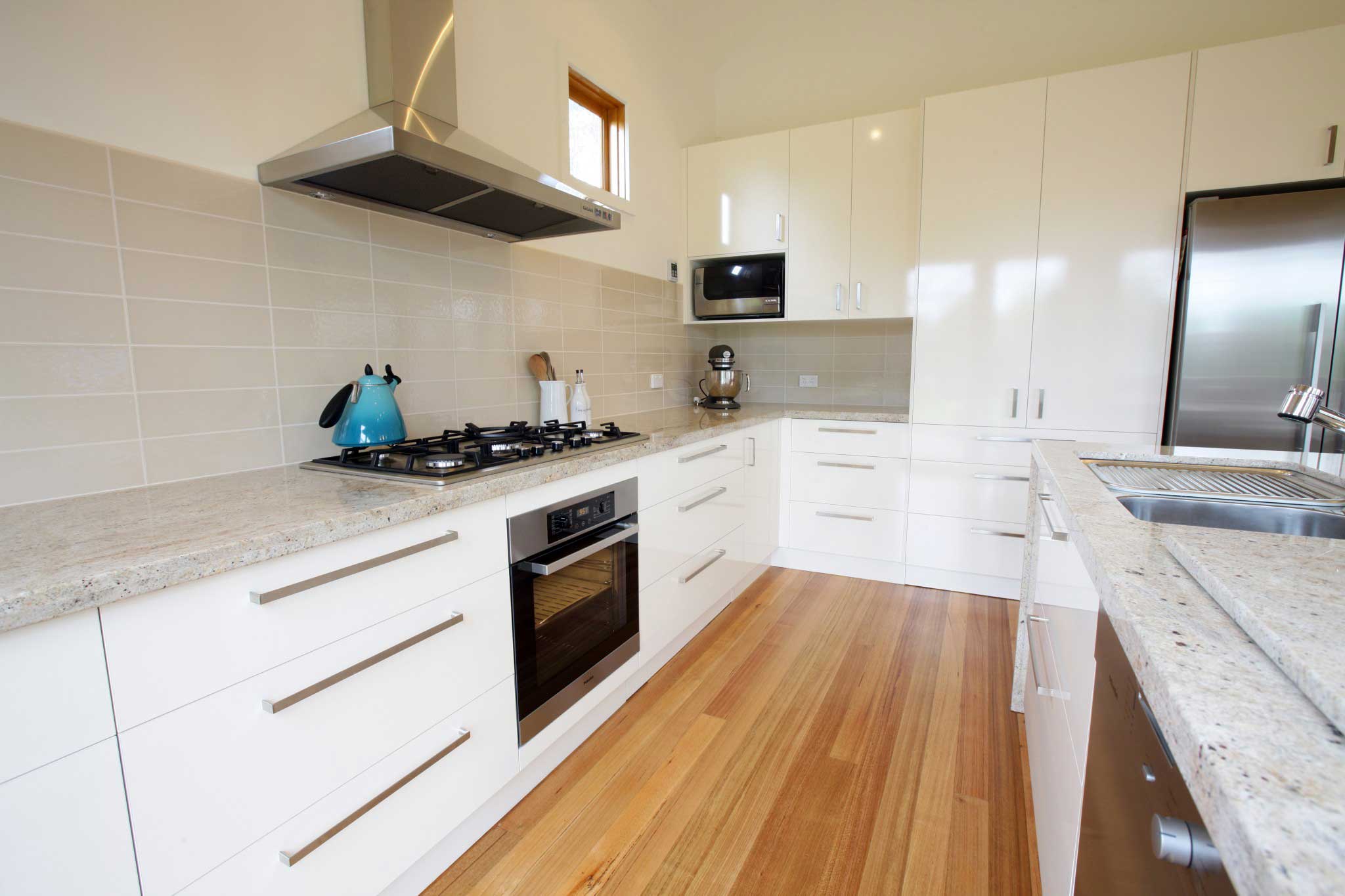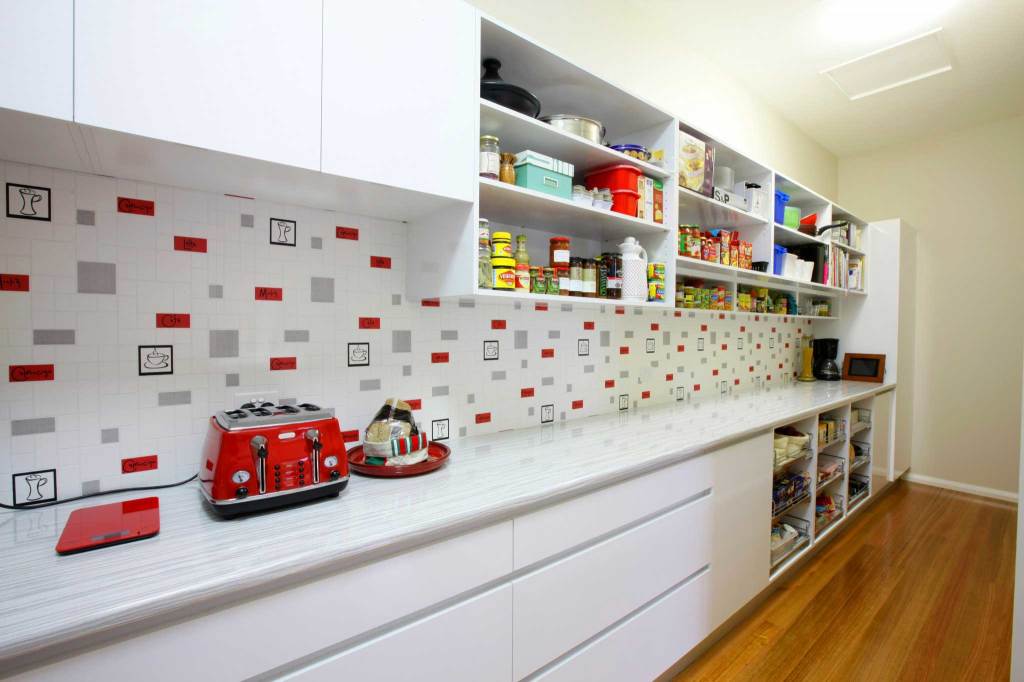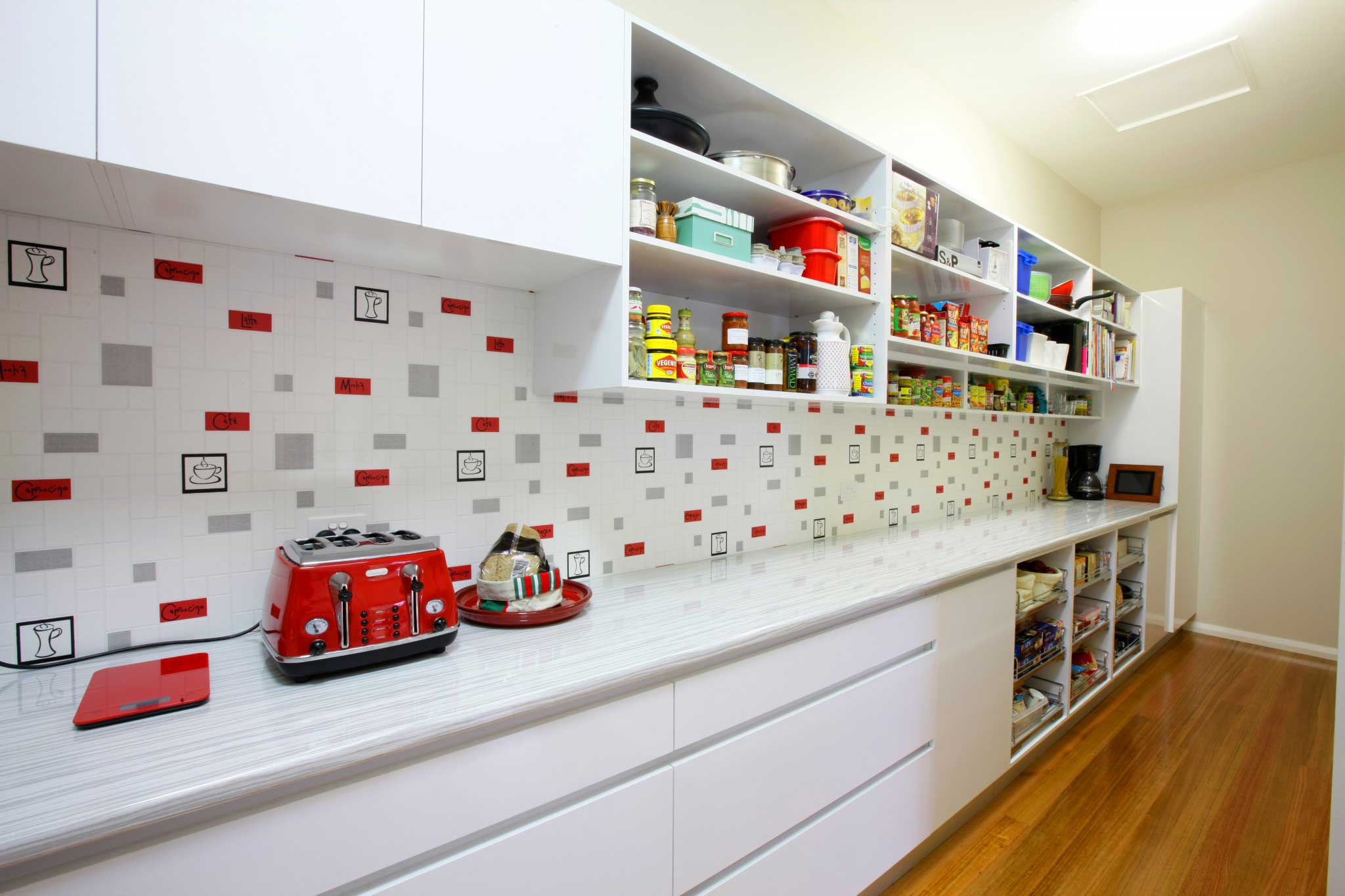 Laminate key considerations
Extremely versatile and durable
Available in a seemingly limitless range of decorative colours, patterns and finishes
Easy to install and low maintenance
Inexpensive compared to other options
Great at resisting stains, moisture, mould and allergens
Technological advances makes them much more durable than in the past
Take care with the following:
Scourers, steel wool and abrasive liquid cleaners can damage a laminate surface
Placing a hot pan directly on laminate can burn or cause the surface to bubble
Always use a cutting board as cut marks from knives can show on a laminate surface
But don't let this put you off – with proper care, laminate surfaces will look great for many years.
Conclusion
There's so much you can achieve using laminates in your kitchen design and renovation.
Talk to one of our experts about your project by calling us on 1300 476 736.
Or visit one of our showrooms and check out the premium Trend range – a surface finish perfect for benchtops and splashbacks that's built to last and impress.
You can also see Polytec's Nuance Ravine range of textured doors, or Laminex's Nuance range of textured doors, as well as Colorboard doors in a matt or silk finish.