Wolf cooking equipment delivers predictably delicious results
The cooking specialist, Wolf, puts precise temperature control in your hands so the dish you have in mind will be the dish you bring to the table.
Individual tastes in both food and design find limitless expression with Wolf. The different styles – ultra-sleek contemporary, classic, yet flexible transitional and bold professional – offer unlimited design possibilities.
When it comes to luxury quality and great looks, Wolf's extensive range of appliances, including ovens, cooktops, steam ovens, ranges and range hoods, are hard to beat.
If you're planning a luxury renovation, and want appliances to match the scale and size of your project, then Wolf could be the perfect choice – and we can advise you on the best options.
Alternatively, if you're looking for a Wolf appliance in your existing kitchen, check out Melbourne kitchen retailer, e&s, where you can purchase of range of high-end Wolf appliances.
Wolf and Rosemount: a great kitchen combination in Melbourne
At Rosemount Kitchens in Melbourne, we share Wolf's passion for producing quality products that exceed expectations and display the finest craftsmanship you'll find.
If you're looking for the kind of kitchen you've always dreamed of – where compromise isn't an option – it's a terrific combination.
You can see a Wolf oven and cooktop in one of the display kitchens at our Essendon showroom.
You can also read about high-end Sub-Zero refrigerators produced by the makers of Wolf – also on show in the Essendon showroom.
And don't forget to check out some examples of our kitchen renovations in the gallery section.
Why more homeowners are choosing Wolf
So just what do you get when you buy a Wolf appliance like the Built-in Single Oven installed in our Essendon showroom?
Wolf is well known for advanced technology that makes it easier for you to prepare delicious food just right.
The settings controlling temperature in the oven and on the cooktop are super precise.
Here are some of the benefits you'll find with the kind of oven and cooktop we have installed in our showroom.
OVEN
10 COOKING MODES FOR PREDICTABLY DELICIOUS RESULTS
Precisely control heat and airflow, providing just the right cooking environment for everything from a blueberry pie to butternut squash. Ten modes are Bake, Roast, Broil, Convection, Convection Bake, Convection Roast, Convection Broil, Bake Stone, Proof and Dehydrate.
DUAL CONVECTION FOR FASTER, MORE CONSISTENT COOKING
Dual fans – each with its own heating element – work in concert with two additional heating elements to control heat and airflow, eliminating "cold spots" and ensuring more consistent, more delicious results – even when using multiple racks at once.
COBALT BLUE PORCELAIN INTERIOR
Wolf's signature aesthetics enhance the oven's interior, creating a bold cooking backdrop.
DESIGN FLEXIBILITY
Built-in E series ovens can be installed flush with surrounding cabinetry to complement an overall integrated kitchen design.
IS IT DONE YET?
The temperature probe alerts you when your dish has reached the desired temperature, eliminating guesswork when preparing anything where internal temperature is the surest sign of delicious results.
ADJUSTABLE OVEN RACKS FOR COOKING CONVENIENCE
76 cm E series built-in ovens come with three adjustable racks: one standard rack, one full-extension easy-glide rack and one full extension door-glide rack that places heavier dishes easily and safely within reach.
OBSTACLE-FREE COOKING ENVIRONMENT
A hidden bake element allows for obstacle-free cleaning of the oven's floor, while a recessed broil element provides more room for large dishes.
COOKTOP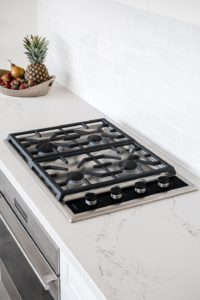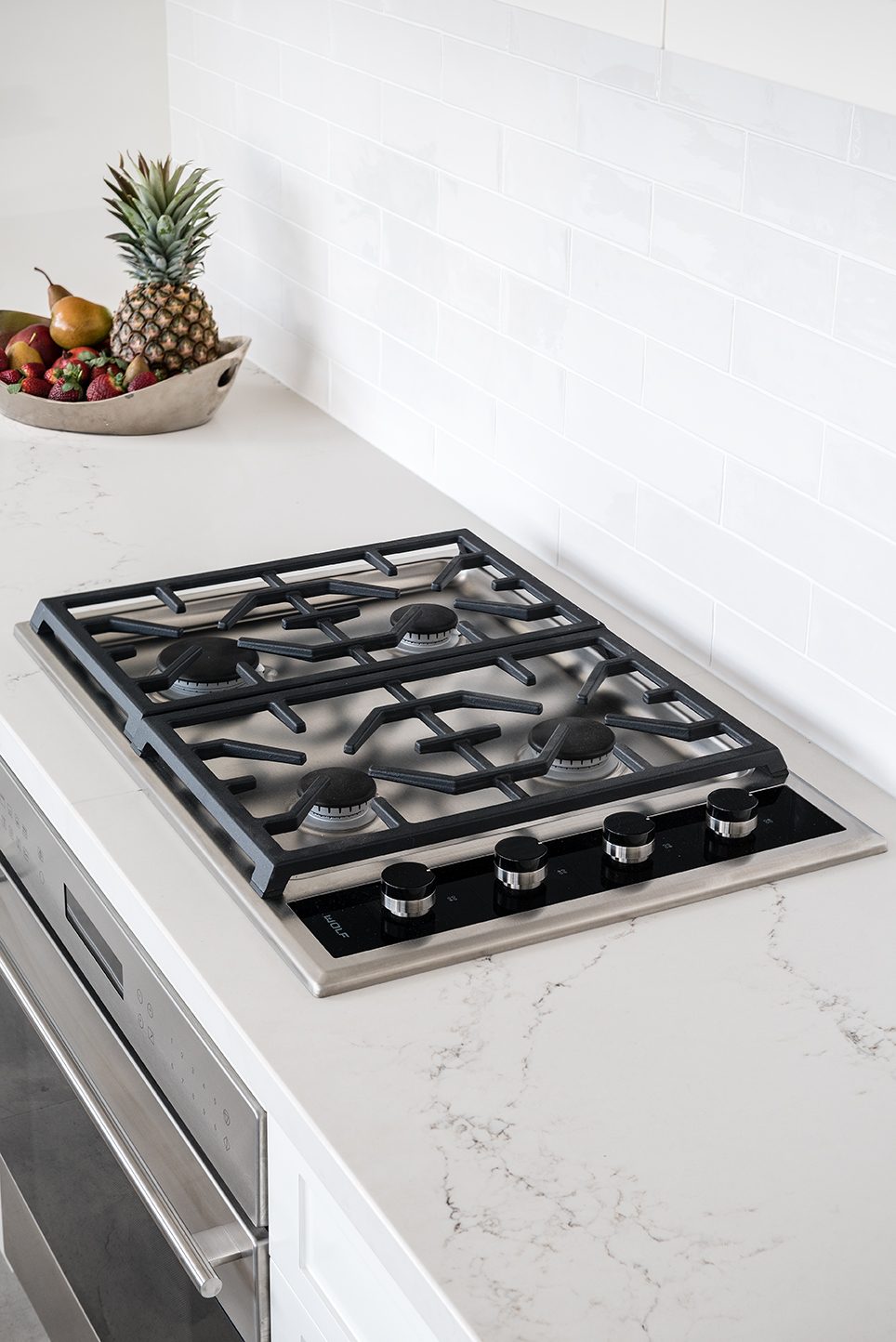 POWERFUL AND PRECISE BURNERS
Wolf's patented dual-stacked burner design means each spot on your gas cooktop is really two burners in one. The upper tier of the burner now produces up to 17 MJ on 76 cm and 91 cm models for 25% faster boils, and the power to maintain performance even when you're searing several steaks at once. Meanwhile, the lower tier allows you to dial down to just a breath of flame for gentle simmering and melting. And with a sealed, seamless burner pan, drips and spills stay on the surface for easy clean-up.
EASY-TO-CLEAN BURNER PAN
Made of seamless stainless steel, so clean up is a breeze.
SPARK IGNITION SYSTEM FOR EACH BURNER
Each burner has a sensor that detects if the flame has gone out while you're cooking and automatically re-ignites it for improved temperature control and added safety.
CAST-IRON BURNER GRATES WITH EASY-SLIDE FINISH
Continuous cast-iron grates with a matt black, porcelain finish let you slide pots easily on and off heat, or from one burner to another.
QUALITY
RIGOROUSLY TESTED TO ENSURE DEPENDABILITY
Built with superior-quality materials, Wolf products are designed to last a minimum of 20 years under far heavier use than any home cook will ever subject them to. To ensure reliability, engineers stress-test designs under laboratory conditions that simulate years of use. Major components are tested and subjected to extreme stresses prior to going into the final design of the unit, and every major function of every completed product is tested before shipping.
Where to try and buy Wolf in Melbourne
Come and see the Wolf oven and cooktop at our Essendon showroom or visit kitchen retailer, e&s, where you can purchase of range of high-end Wolf appliances.