Kitchen Cabinets or "Carcasses"
When it comes to choosing your kitchen cabinets there are a number of considerations.
Did you know that much of the imported whiteboard material does not comply with Australian standards, and it doesn't survive the tough Australian weather conditions?
Low quality board is "invitingly inexpensive" short term, but will end up costing you more in the long run.
So my advice on this is pretty clear: always use 16mm HMR Whiteboard … AUSTRALIAN MADE.
Check out the video above for more on that.
I also go into more detail on the benefits of quality materials on this blog post – How To Spot The Best Kitchen Cabinets And Doors.
Drawer Runners and Hinges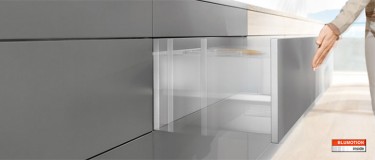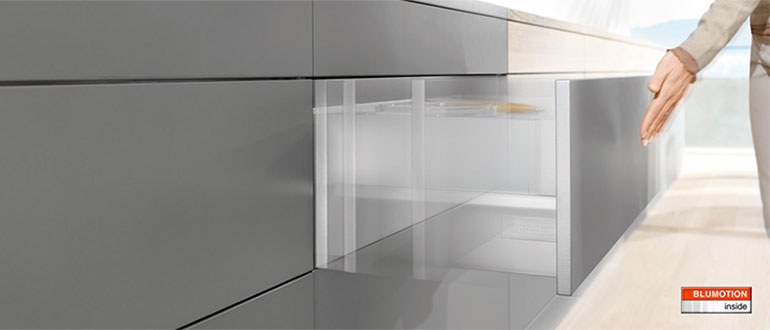 There are many choices of 'hardware' when it comes to hinges and drawer runners.
Blum is the original creator of the full extension and soft close drawer systems. They are German engineered and have a lifetime guarantee on the product. They will operate as well in their 20th year as they do on day one.
Poor quality drawer systems will save you money initially, but cause you problems in a relatively short space of time.
Never compromise on the most worked, most used and the most important components of your new kitchen ‐ drawer runners and hinges.
Check out this page for more information about the advantages of great quality drawers and hinges.
I also talk about this issue in the video below.
Storage Accessories
There are many cheap and inferior storage accessories available.
But rather than talking about that any further, let's focus on quality fittings you'll never regret using.
Hafele Kessebohmer Range
This range is seen throughout our showrooms.
They are German engineered and designed, and have a lifetime guarantee on the product.
They have a strong focus on corner storage solutions as well as fittings to maximise your pantry storage.
Pull-out spice racks, detergent rack options and many other storage solutions ensure your new kitchen is super-functional for many years to come.
Hafele One2Five Bins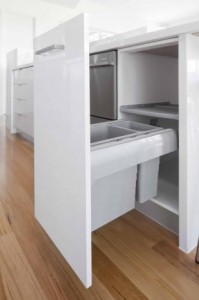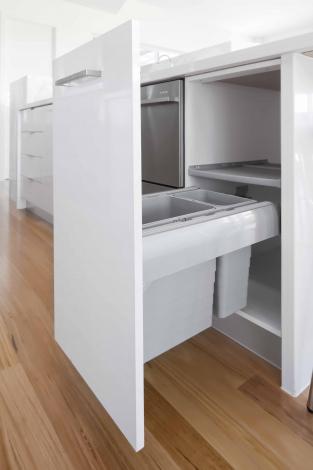 We deal with our rubbish so differently than even a few years ago. Recycling and correct removal of rubbish is a daily part of our lives, and needs to be taken into account when you're designing a new kitchen.
Recycling bins these days come in many forms, shapes and sizes.
Make sure you choose quality solutions that won't get brittle, crack and breakdown.
This page – which features on making the most of the space in a small kitchen – will give you a good idea why it's important to focus on storage opportunities.
Australian Made
We use the most advanced hardware from around the world and combine that with Australian-made and manufactured board material.
That ensures your new kitchen will stand the test of time. It'll stand up to the Australian climate and you'll be supporting local manufacturing and businesses.