When it comes to choosing materials for your kitchen doors and panels, don't risk cheaper, less well-known brands. Choosing the major brands is vital.
Why? There are many cheap, imported materials that do not meet Australian standards and are not designed for Australian conditions.
Cheap imported Vinyl and 2 Pack kitchens might appear beautiful when first installed, but they very quickly fail the true test of wear and tear in a normal family environment.
Kitchens are the heart of the home, and often bear the brunt of children growing up, entertaining family and friends and the 1001 other scenarios of family life.
How many homes are like showrooms? Not many – 99% of kitchens are well worn, well worked and tried and tested on a daily basis.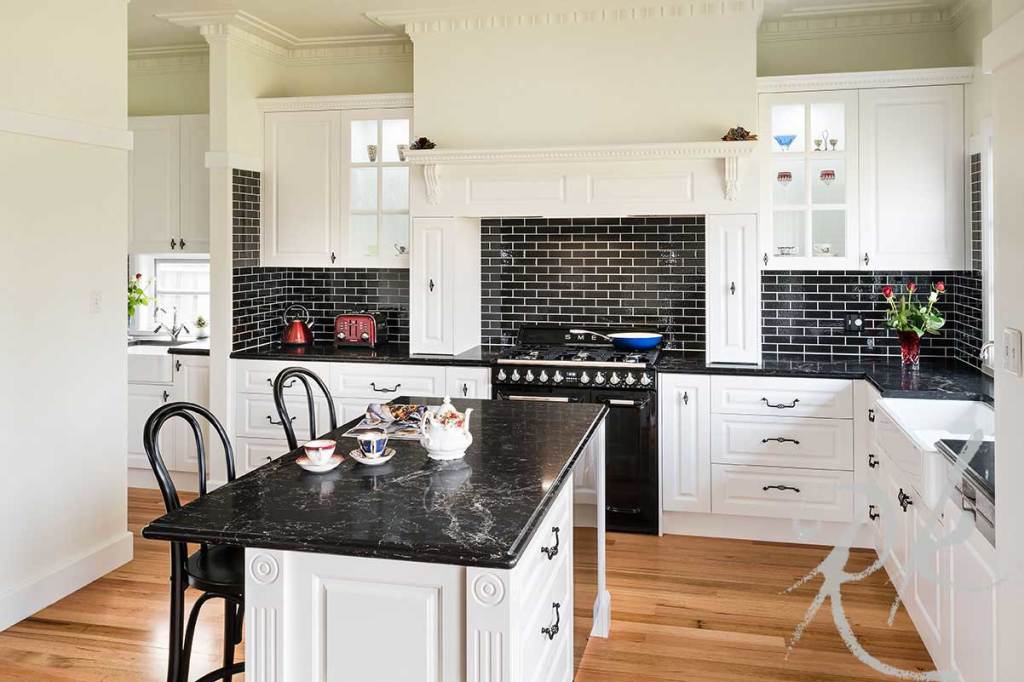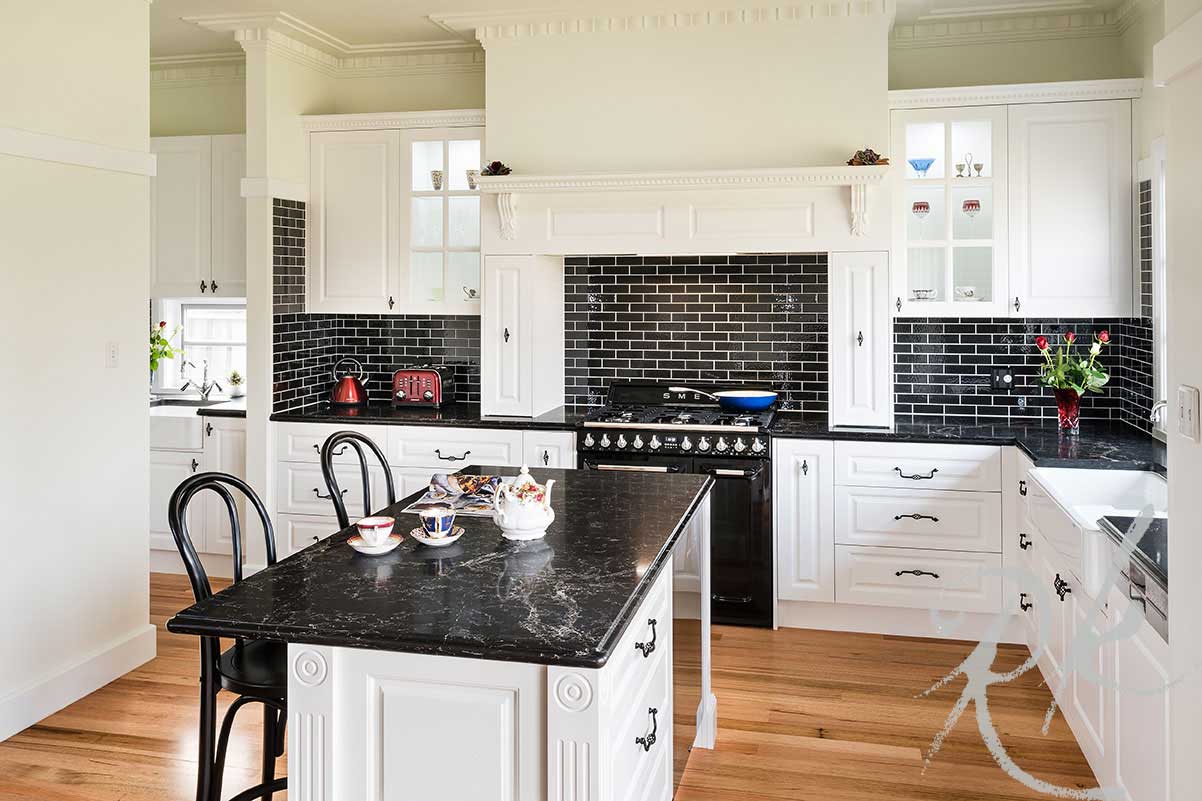 At Rosemount we only deal with the big main Australian companies.
Those that have a consistency of product and colour. Those that not only produce quality materials, but are also on the cutting edge of research to produce new materials and new 'current' colours.
Companies like, Polytec, Laminex, Albedoor and Tesrol.
Which materials last longest?
There is so much opinion and confusion over which materials will last the longest. Which material will take the knocks and bumps of daily family life? In 5‐10 years, which finish will look the best?
Firstly … if you want a door with a profile, you can't use Colour board doors (most commonly described over the years as laminate).
For a door with a profile in the face you should consider 2 Pack (painted), Thermo‐laminated (vinyl), or timber.
However, if you'd like a plain-faced door then the world is your oyster – all material options are open to you.
Here's a quick summary of the most common door materials used.
Colour Board (commonly referred to as laminate or laminex)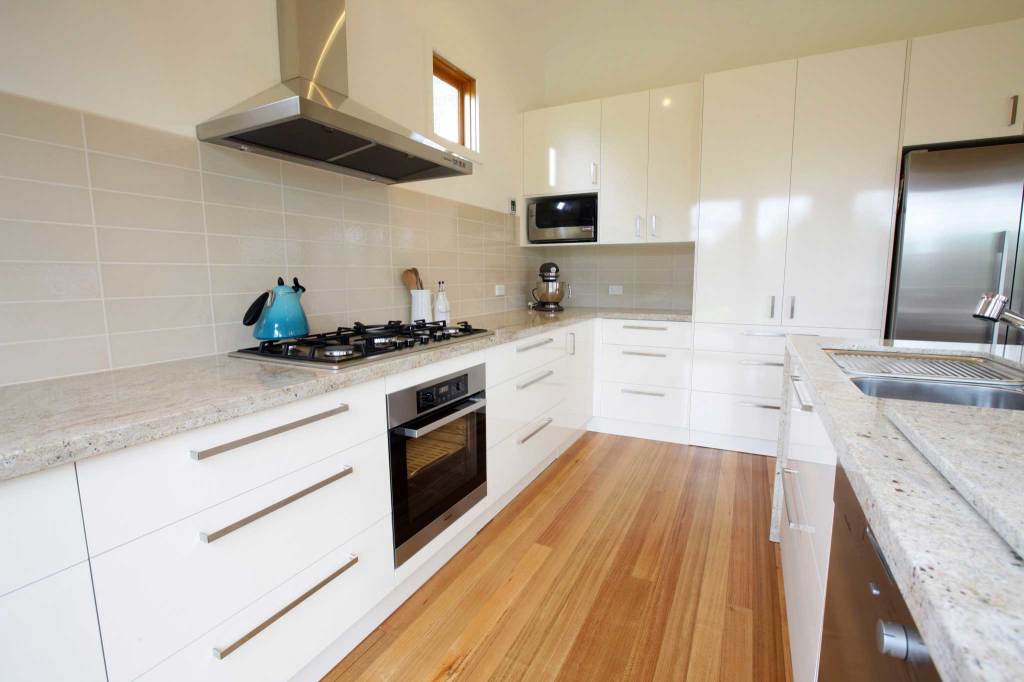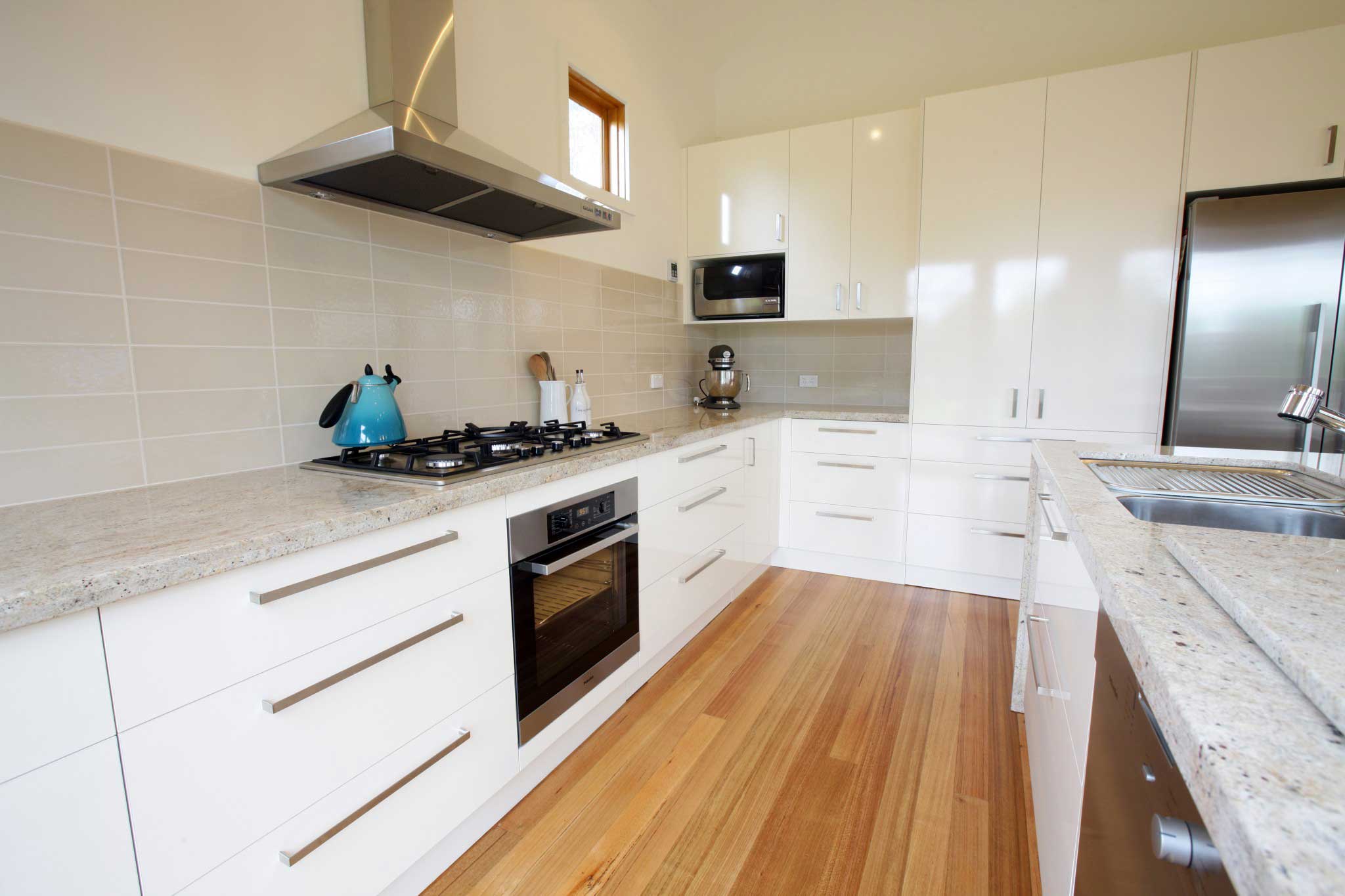 This is the most commonly used material on kitchen doors.
It's a style that used to commonly be regarded as the "cheap option", but remarkable advances in the product have blown that perception out of the water.
The colours and finishes of this material are as varied and popular as the looks they create. Not to mention the exceptionally strong durability.
Whether it's a matt, silk or sheen finish, these doors create a sleek, modern or even contemporary design concept that more than matches the look you would get with any other finish.
And from neutral colours through to European-style timber grains, you'll find the right colour palette to match any ideas you have.
It's very affordable and often allows you to spend more on the functionality of your kitchen.
This door style is mostly a 16mm thick door with a matching 1mm abs edge – an edge that makes it an exceptionally durable door style.
Main Benefits

Large range of colours and finishes
Durability
Ease of cleaning
Pricing
Best providers

Many companies are trying to bring "new brands" into the market,  but they lack testing, manufacturing and retail support.
High Gloss Board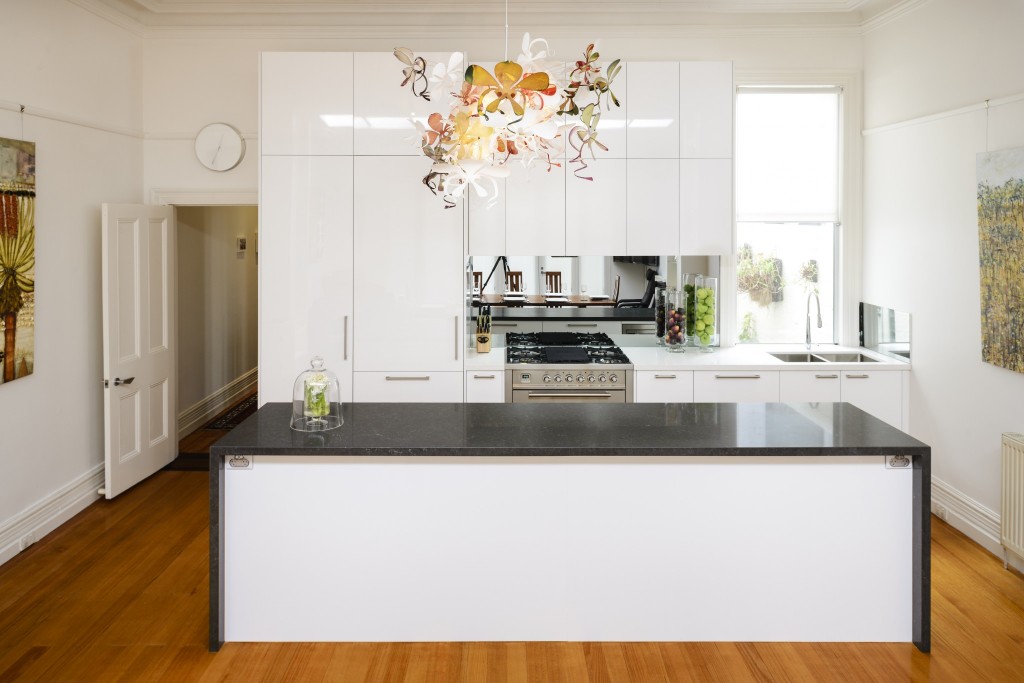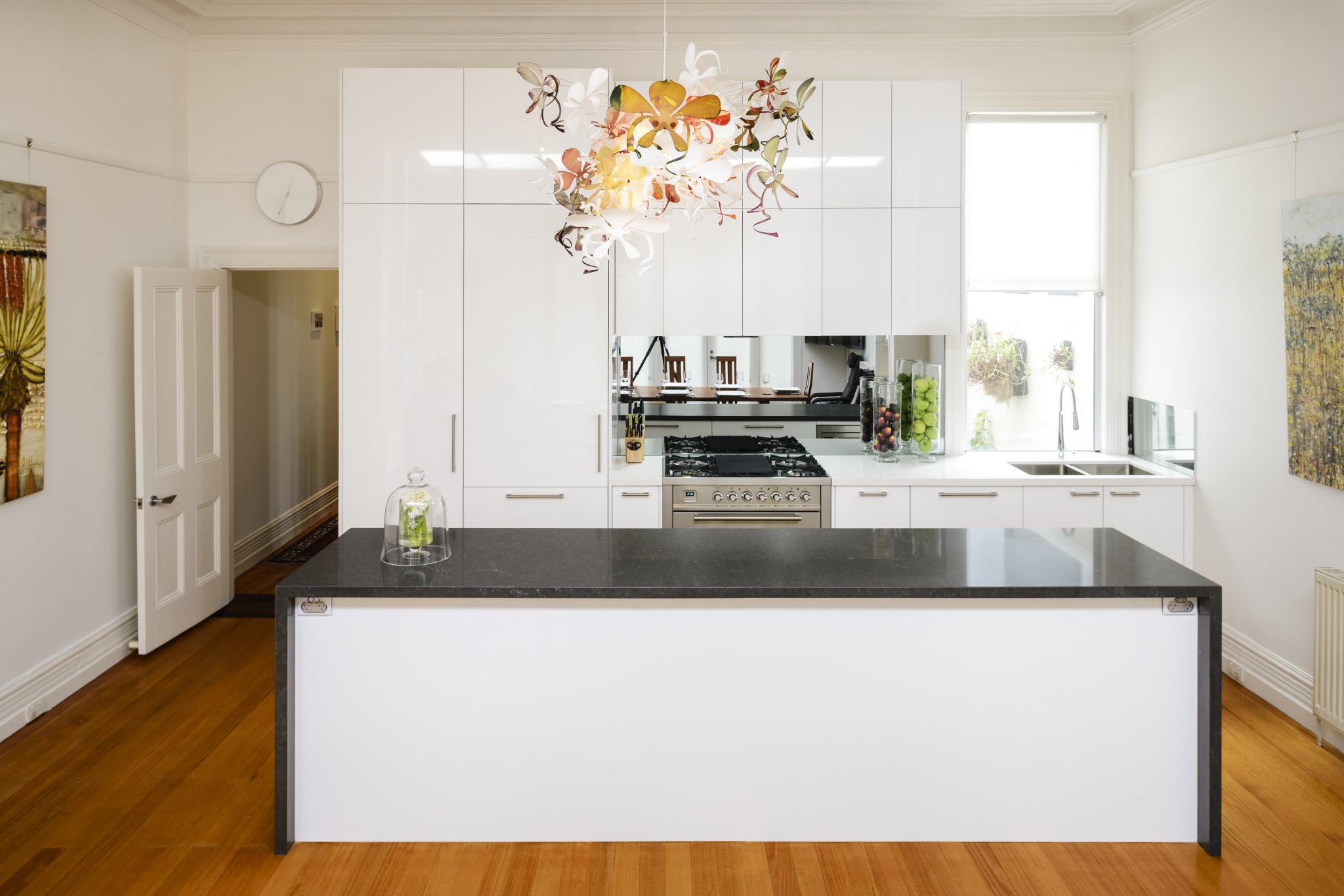 Once the exclusive domain of 2 Pack, this modern, clean, upmarket look is now available in a High Gloss Board.
Generally, the material is thicker than Colour board. High Gloss Board doors are usually 18mm thick, the same as 2 Pack,  and have a matching 1mm abs edge.
Some materials in this range also have the option of the abs edge being applied with a "laser edge bander".
That retains the benefit of the edge itself, but dramatically reduces its visibility. It is simply an amazingly clean look, and we recommend using Createc by Polytec for this style.
High Gloss Board is fast becoming the most popular door style on the market.
It provides a sophisticated look – and ensures all your friends know you have a new, stunning-looking kitchen. If you love that glossy, modern, clean look, but are mindful of your overall spending, then this door is for you.
ULTRAglaze by Polytec is another option to achieve this modern, high gloss look. It's an acrylic high gloss that has sleek seamless lines and provides the depth of a mirror finish.
Once again, it allows you to spend more money ensuring your kitchen operates as functionally as possibly.
Main Benefits
Durability – one of the most durable door material available.
Affordability – slightly dearer than Colour board doors, but considerably cheaper than 2 Pack.
Best Providers

Thermo‐laminated (vinyl)
If you want a profiled door, but don't want to spend the extra money for a 2 Pack, then the Thermo‐laminated door is for you.
Some of the "satin or matt" finishes available in this door style will blow you away. The expansive range of profiles allows you to create a personalised look that will make your kitchen "yours".
Let's discuss this style in an honest and objective way.
Over the years this "vinyl" door style has been the biggest strain on manufacturer warranties.
Talk to enough people and you'll hear the familiar refrain: "Vinyl peels. You're better using 2 Pack". But someone else might say: "2 pack chips. So use vinyl instead."
And your all of a sudden you're in two minds.
So let me put your mind mind at ease.
First of all, Thermo‐laminated doors (vinyl) are a quality door option. The manufacturers have "perfected the process". I'm a stickler for quality, and as you can tell from reading this guide, we only use great quality manufacturers.
And that philosophy is best stated when it comes to vinyl doors. Use good quality and you'll be delighted. Choose one of the many cheap options and you're lining yourself up for a world of disappointment and pain.
Both the quality of the vinyl sheeting and the glue is vital. There are also design elements to take into account regarding the exposure to heat – for example, from ovens, cooktops and rangehoods.
Main Benefits

Affordable quality – a profiled door but less expensive than 2 Pack.
No visible edges – the vinyl wraps around to the back edge of the door creating a beautiful seamless look.

Best Providers

2 Pack Polyurethane
(other names used ‐ poly, emporite, painted)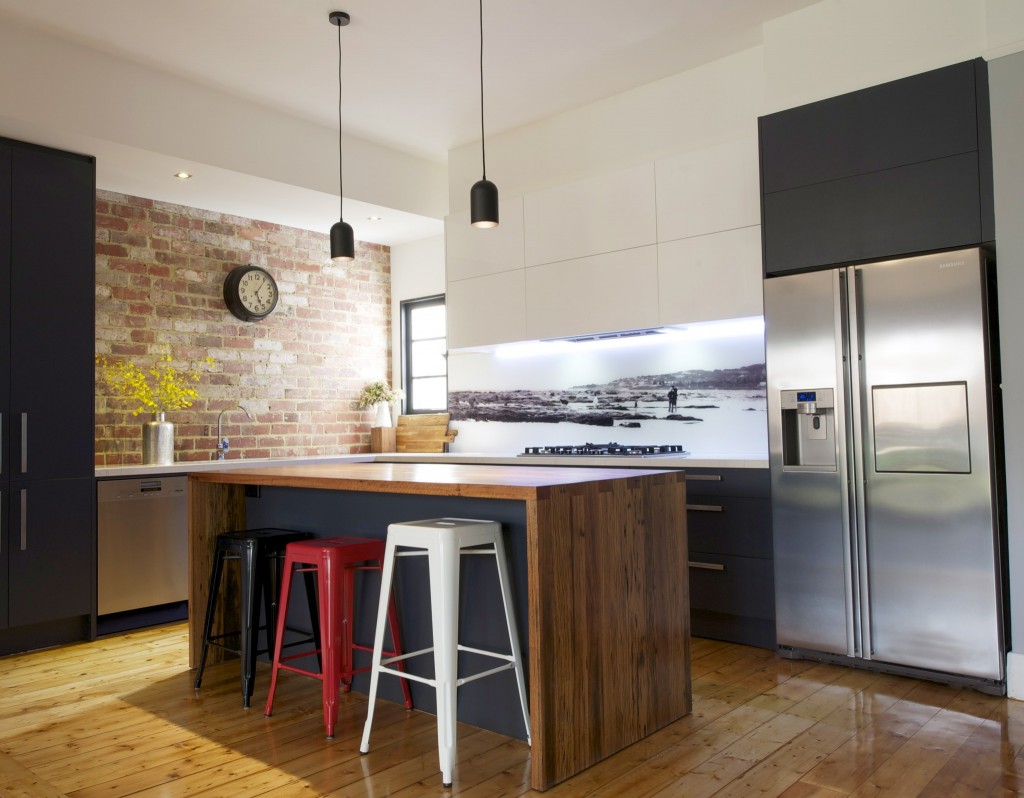 This door style is as beautiful and varied in finish and looks as are the homes that its kitchens are installed in. Of all the door material finishes, this gives you the widest range and can be completely personalised in colour and profile.
It doesn't matter if it's French Provincial or a modern, sleek kitchen, or Gloss, Satin or Textured, the choice of look is virtually limitless.
To ensure the colour is exactly right, you can choose any colour off a paint chart.
2 Pack kitchens are high end and gorgeous. Some homes are described as contemporary or modern, whilst others are more traditional. A simple change from a Gloss finish to a Satin finish can turn your new kitchen design into a classic look.
When it comes to the perception of 2 Pack kitchens chipping or scratching easily, it's important to use a quality painter who'll make sure the quality and thickness of the pain is good enough to stand up to wear and tear in a typical family home.
Truth be told, if you knocked any door material hard enough, you would damage it. The benefit of a 2 pack door is that a door or panel can easily be colour matched and repainted.
Main Benefits

Finish – top end and gorgeous.
Versatility – in look and the quality of the end result.
Best Providers

Polytec – raw profile door
TIMBER AND TIMBER VENEER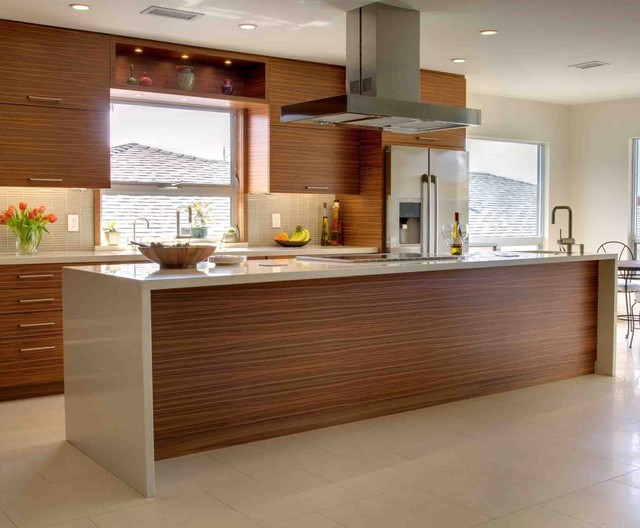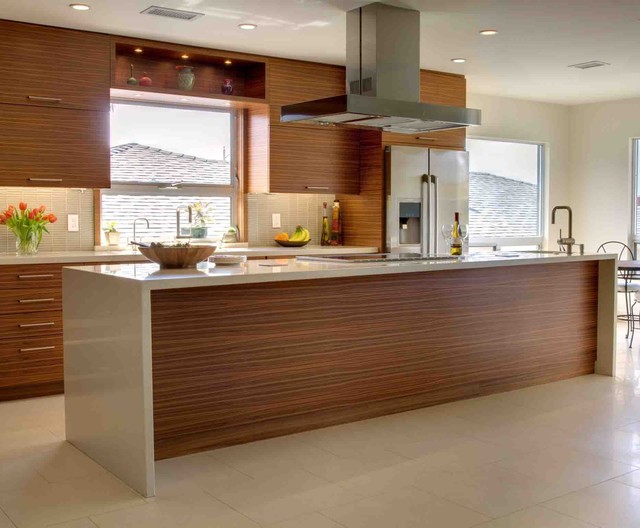 After a bit of an hiatus, this door style is starting to make a comeback. Put simply, you either love this look, or you don't. There's not a lot of middle ground.
Although full timber kitchens are not called for like days gone by, using timber for a feature wall, bench or or shelving can be a modern way to re-introduce timber into your design.
Timber Veneer is a great option for your kitchen design and other joinery in the home. Veneer is a thin layer of real wood bonded to a substrate, which results in a smooth, flat surface.
It has the natural beauty of timber and comes in a large variety of species and colours.
Flat, plain faced doors are made out of timber veneer, while profiled doors are made out of solid timber – although you'll also find variations that have veneer centre panels.
With changing approaches to forest rejuvenation in recent years, this door style has also gone through a number of changes.
 The timber used today is younger than it used to be, with a more responsible approach to the milling of the timber. And that's had an effect on the colourings of some species of timber.
You should also be aware that the availability of timber grain laminates has reduced the use of timber material.