Should you go for a laminate or a solid surface benchtop?
And if it's a solid surface benchtop, which one do you choose –  Granite, Marble or Reconstituted stone? What about Corian, Stainless Steel or a Solid Timber Top?
The choice can seem bewildering, especially when each of these kitchen benchtops have different properties that can create a completely different look and feel.
I like to ask myself this question: "Once done, if I was to sell my home, what would the market expect to see? What will be understood and help me sell my home, and realise my investment?"
Here are my thoughts on each.
Reconstituted Stone (man made)

In terms of sheer numbers, Reconstituted Stone is the most common bench material.
There are great quality brands like Caesarstone, Essa Stone, Quantum Quartz, Stone Italiana, Smart Stone, Sile Stone – to name just a few.
You've got to hand it to Caesarstone. Just like Hoover and Band-Aid, their marketing has been so good it's become the generic term to describe this particular kind of bench material.
Main Benefits
Superior quality – reconstituted stone is man-made, which means the poorer attributes you find in natural stone have been removed.
Virtually non-porous – resistant to mould and mildew, stains and scratches.
Colours – large range, from natural and earthy colours to marble lookalikes (there's sure to be one that's right for your style and design).
Visit the company websites to view the full colour ranges.
And what about thickness? All colours come in at a minimum of 20mm, with the most popular being 40mm or 60mm.
You can theoretically make it whatever thickness you desire, as an edge build up is used with a mitred edge.
Natural Stone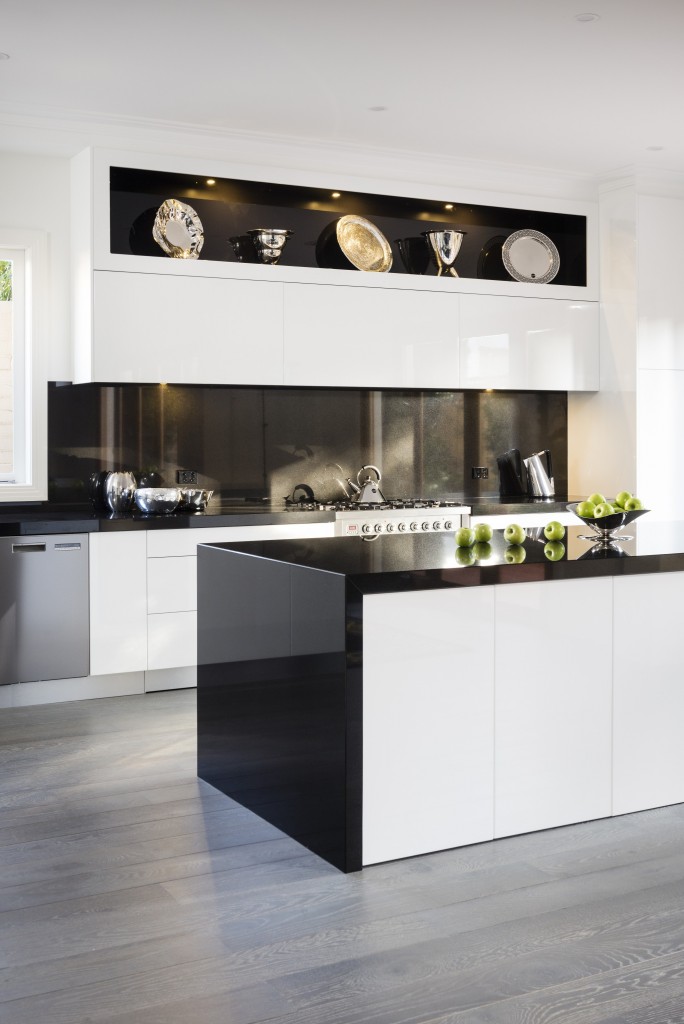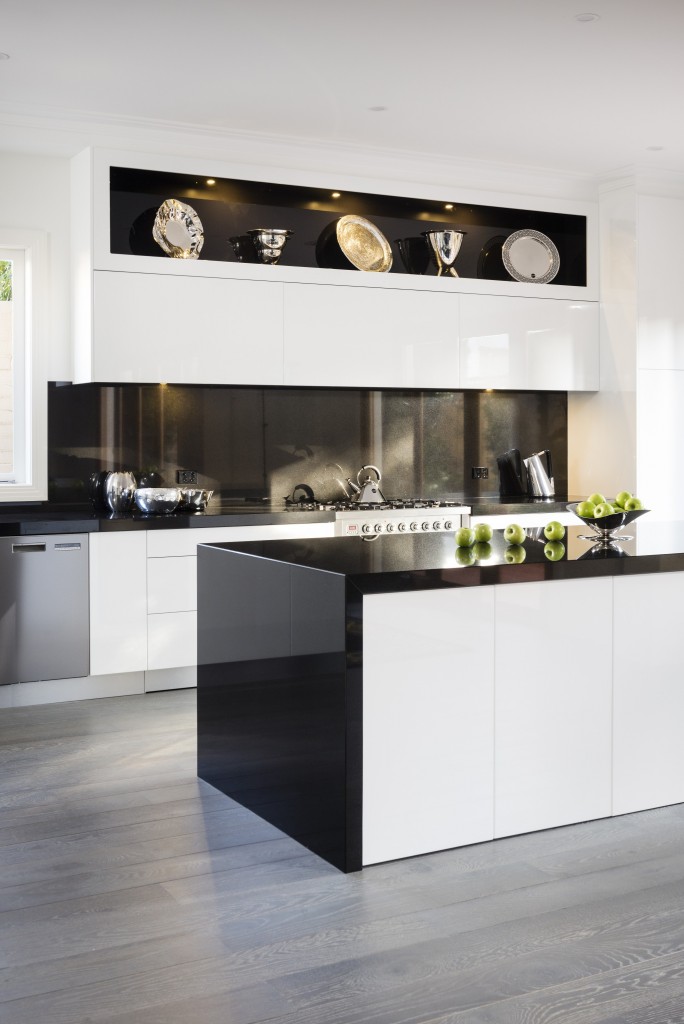 Granite and Marble are two natural stones that are just beautiful, and have been used in kitchens for many years. Admittedly, with the rise of reconstituted stone, they've taken a backseat – but there's still a place for natural stone.
Marble such as Calcutta or Carrara are often used for island benches because of the timeless grandeur and beauty.
Granite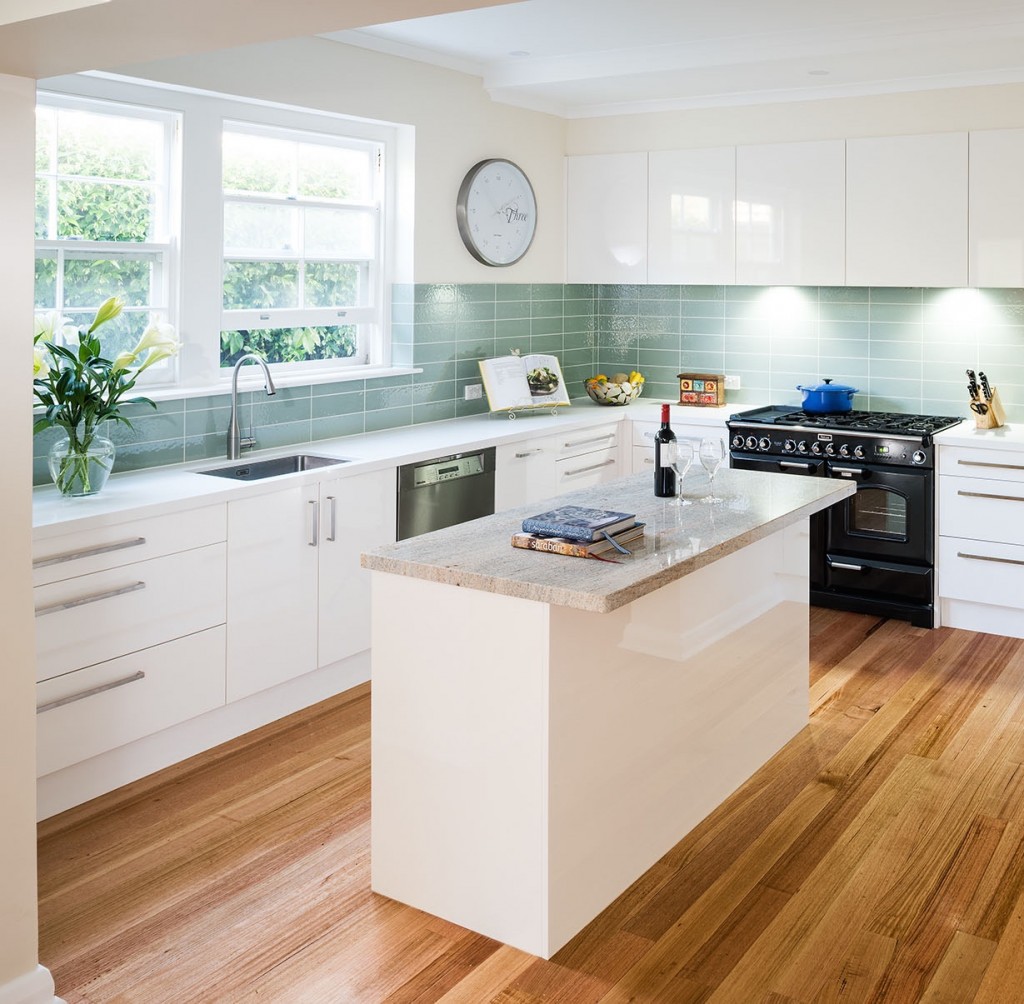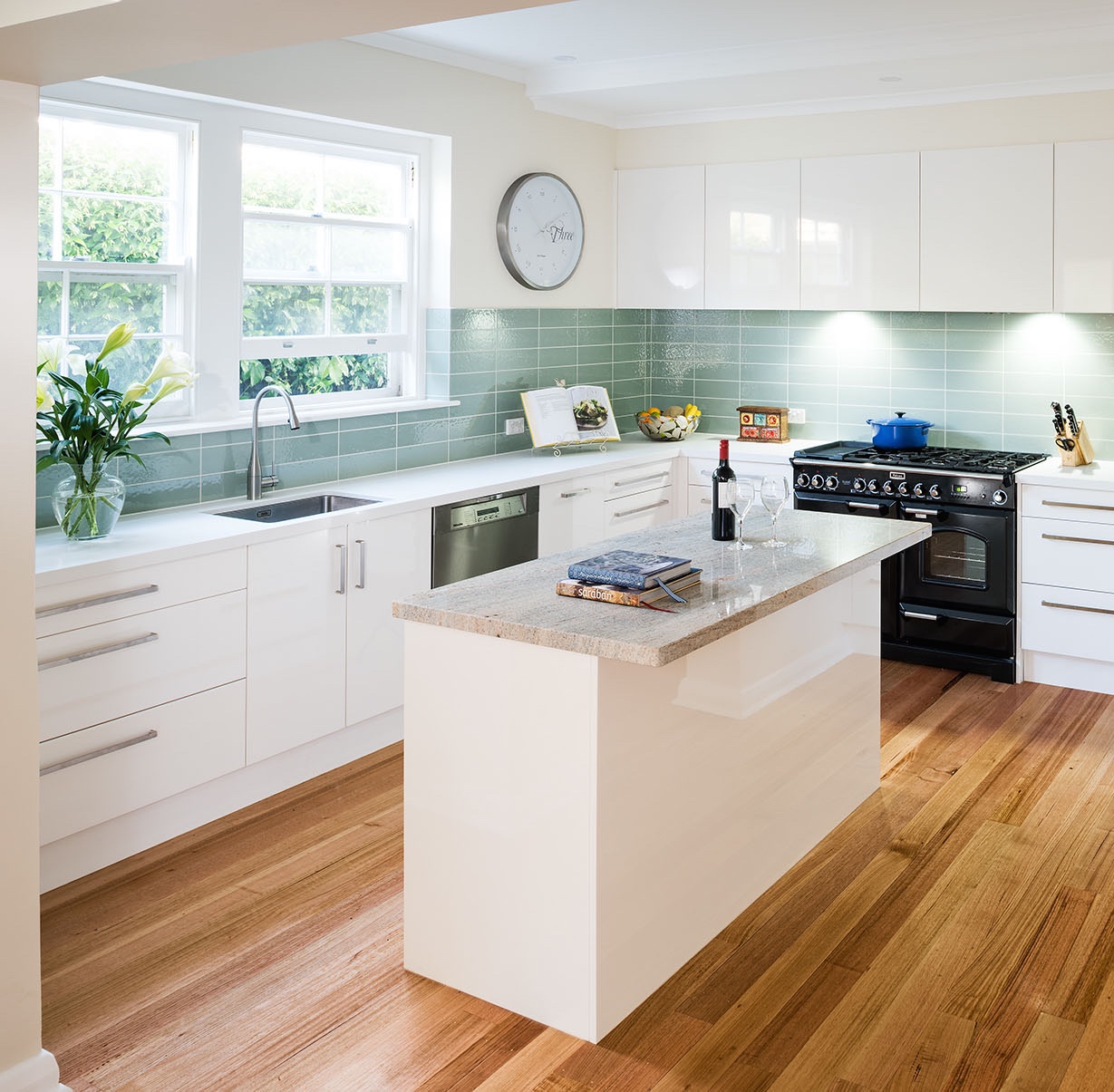 Essentially, it comes down to the look you're after. Granite tops make a statement. They generally come in "heavier colours" than other options and create a distinctive look and feel.
Granite is one of the hardest of the natural stones. It's durable and has low porosity, which makes it easy to clean.
Marble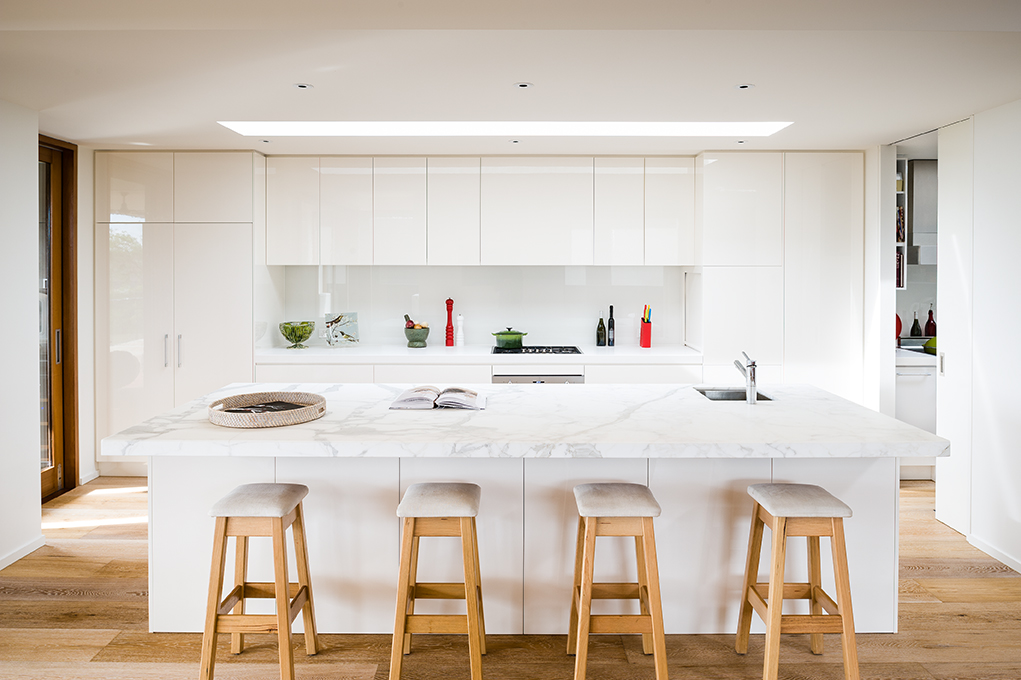 Now here's a talking point. If you've used Marble before, you'll be familiar with the conversation.
It looks amazing, but it's so hard to maintain. It stains and requires a lot of attention.
Marble looks great in a showroom, but in a family home used every day, it may not stay as pristine as the day it was installed.
While care is required over water marks and acidic foods, such as lemon juice, marble need only a little forethought and routine maintenance to prevent those kind of stains.
That's also the beauty of marble – small etches and marks can actually add character to the benchtop.
Thickness? It's the same as granite. All colours come in at a minimum of 20mm. Theoretically, you can make it as thick as you want. For example, to make it 60mm an edge build up is used with a mitred edge.
Prices of Marble and Granite vary greatly depending on the variety.
Concrete Benchtops
Concrete benchtops might still not be commonplace, but more and more people are talking about them.
They come in many different looks and can be moulded and sculptured to almost any shape and size.
Concrete can be polished, buffed or stained to any colour – or just sealed for that concrete look we have been used to.
No two benchtops are the same and you get to choose the mix from basic aggregate to glass, quartz, pebbles and basalt. The choices are endless.
Laminate Benchtops
Laminate benchtops have come a very long way. Colours and edge details have been designed to reflect the current trends of Reconstituted Stone, but at a cheaper price point.
If you are working to a budget, but still want a great looking kitchen, then take some time looking at the available laminate colours and finishes.
If you're looking at installing a kitchen and laundry, consider Stone in your kitchen, but a laminate in your laundry.
Thickness? Laminate benchtops are generally 34mm thick, with some colours available in 40mm.
Corian Benchtops
Corian is a resin based product, and has some of the best hygienic properties available in a bench finish.
The ability to polish out all joins makes Corian very clean and sleek – although some people find this finish a little "clinical".
With Corian you can get a "moulded sink" that creates a seamless look. That's a big attraction, and I'd say it's definitely worth your while further investigating this material. The best way to do that is to discuss with a designer who's experienced in seeing the pros and cons depending on the particular circumstances.
Thickness? The core material is 12mm thick, with the most common thicknesses used being 40mm and 60mm.
Stainless Steel Benchtops
Stainless Steel is not used a great deal in domestic kitchens, but in the right home and with the correct design concepts, it looks amazing.
It's a look that you either like or don't, with not a lot in between.  Again, there's an opportunity to have a "moulded sink" to create that ultimate seamless look.
Solid Timber Benchtops
This is a look that creates a natural warmth. From American Oak, Tasmanian Oak and Blackwood to a variety of other species, timber benchtops create a look and feel.