Port Melbourne
Striking Port Melbourne kitchen renovation
When some of our clients come to us, they're very certain of the style they want for their renovation.
That was the case with this three-storey, contemporary apartment in Port Melbourne.
The owners dreamed of living in a Hamptons inspired home, and were set to renovate the kitchen and bathrooms, plus other elements of the apartment to achieve this look.
To realise this ambition, some design challenges needed to be overcome.
Unlike the lofty overhead spaces usually seen in a Hamptons-style space, this apartment had low ceilings that couldn't be altered.
The kitchen was poorly designed and the laundry was pokey.  Some serious plumbing and electrical cabling in the living area also had to be disguised while remaining accessible.
Read our full interview with the home's owner about this great renovation – includes before and after photos.
Kitchen
The previous kitchen wasn't functional or efficient and had two islands. It was also in a style at odds with the owners' vision.
Key to this kitchen renovation was going to be a butler's pantry to improve functionality. To achieve this we reconfigured the whole kitchen space and added a new wall to incorporate the pantry.
Typically, true Hampton-style designs have moulding about the cabinetry, but the low ceilings meant this could not be done.
Instead, we added numerous other design features to fit the Hamptons brief – including forward skirting on the island bench, profile pilasters and a marble benchtop with decorative lamb's tongue edge.
The lovely subway tile splashback in white is a classic Hamptons feature.
Bathrooms and Laundry
Rosemount also renovated the apartment's bathrooms and laundry in the new style.
We created custom vanities to go with the style and colour scheme, with lovely features such as the profile doors and handles.
A combined laundry/bathroom needed to be completely re-designed as it was too small and pokey. We moved a wall to create a larger space, which turned the room into a full-sized bathroom with plenty of space for a functional laundry and ample storage.
Living areas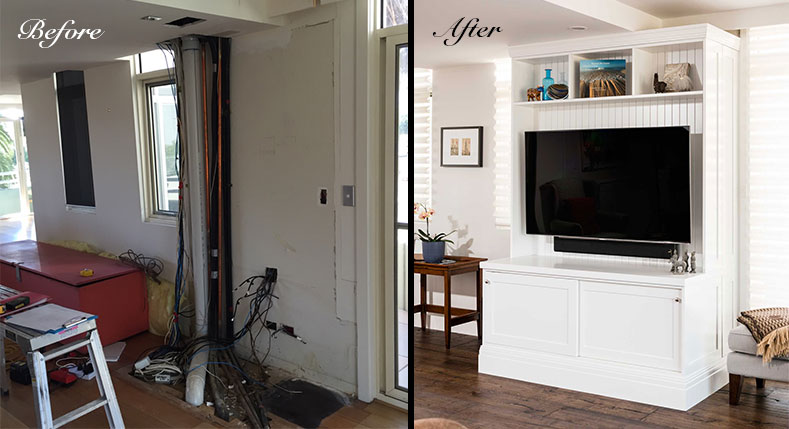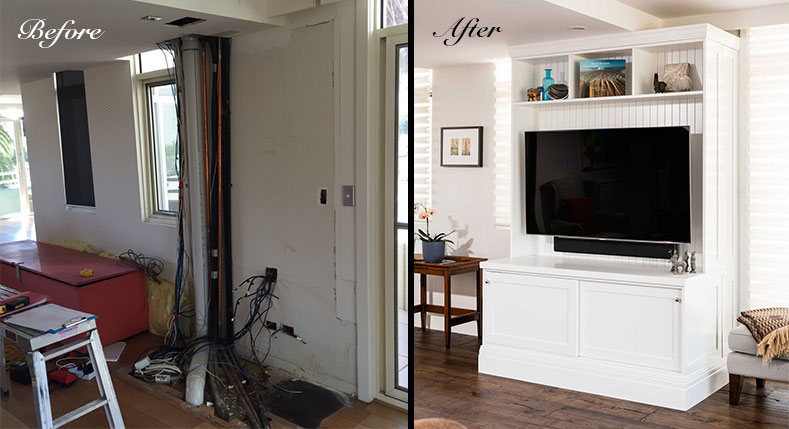 Throughout the apartment, the builder made a number of changes, including adding a new floor and skirting boards – and adapting staircases – to reflect the Hamptons décor.
The TV unit needed to be custom built to accommodate the services and plumbing (see image above to understand what we were dealing with – quite a tangle).
We designed a stylish cabinet that looks fabulous as a TV and storage unit, but also conceals the services. Now you wouldn't even know they were there.
The sides of the unit are hinged, which provides easy access to the services when required. A real win-win.
Key Kitchen Features
Cabinet doors – Polytec Oceanic door profile; 2pack Dulux: Lexicon, satin finish & British Paints: Dark Silhouette, satin finish
Walk-in-Pantry open shelf overheads – Laminex Charcoal, natural finish
Panels (Plain and profiled) – 2pack Dulux: Lexicon, satin finished, and British Paints: Dark Silhouette, satin finish
Hinges and Drawers – Blum
Storage solutions – Blum Orgaline cutlery trays and utensils; kicker drawers
Pull-out Bins – Hafele one2five bin
Benchtop – Caesarstone 40mm, Snow
Island Bench – marble: Bianco Carrara 40mm, lambs tongue edge detail.
Splashback – white tile
Kickboards – 2pack – Dulux: Lexicon, and British Paints: Dark Silhouette
Appliances and Accessories
Oven – Siemens
Cooktop – Siemens Inductions and Siemens Teppanyaki
Rangehood/canopy – Sirius SL906-L Excel 1000
Dishwasher – Siemens
Refrigerator – Chatelet range wine fridge and Fisher & Paykel
Sink – Acquello and Shaws Laboratory 4 sink
Taps – mixer
Read our full interview with the home's owner about this great renovation – includes before and after photos.
Go here for more information on your kitchen pantry options.
Considering your own kitchen project? Check out our Essential Kitchen Renovation Guide.