Stunning renovation transforms Port Melbourne townhouse
We have referred loads of people to Rosemount. They weren't the cheapest company but for me it's about the quality of the product. You get what you pay for.

William, Port Melbourne
From the outside it's hard to imagine this is a spectacular Hamptons themed home.
The townhouse was built at the turn of the century – the 21st century, that is – and had ceilings as low as 2.1 metres. On the face of it, the property in Port Melbourne seems as far from the famed coastal style as the breathtaking upper-New York area that inspired it.
But that doesn't take into account the vision of the owners, who saw great potential and turned a dream to reality after buying the three-level home in 2014.
"We've moved around the country and world, we've bought houses and renovating is something we enjoy doing," explains William, who describes himself and and his wife as "serial renovators".
"With this house we asked ourselves, 'what's the theme?'. It's close to the beach and most of the windows look out onto the water. So we picked up on the Hamptons feel, even though the house style is not of that vintage."
Before the renovation: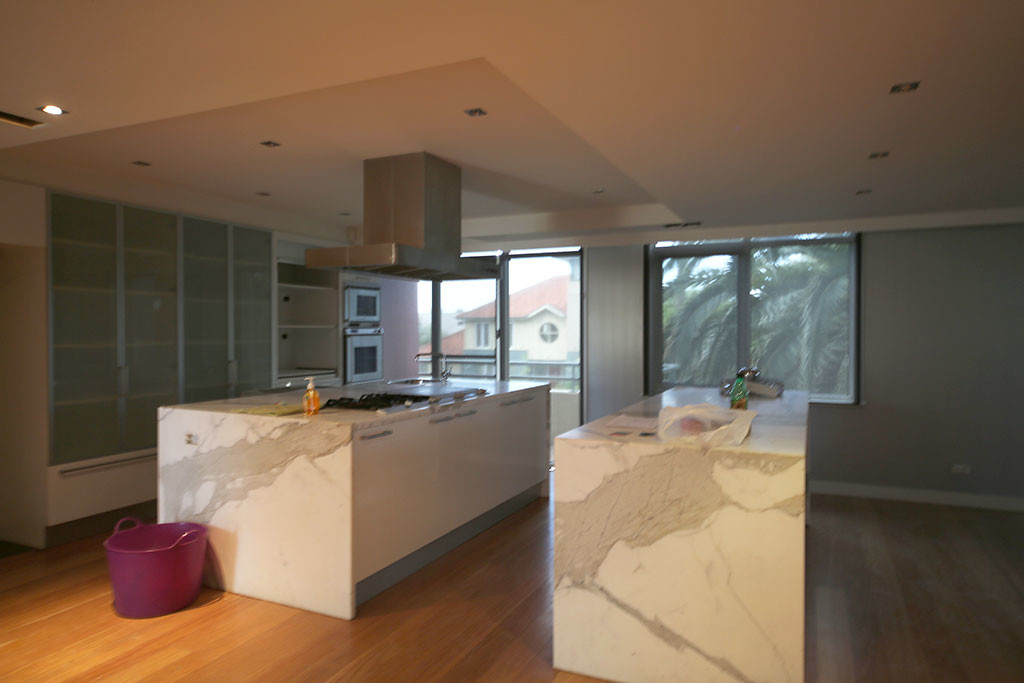 After the renovation: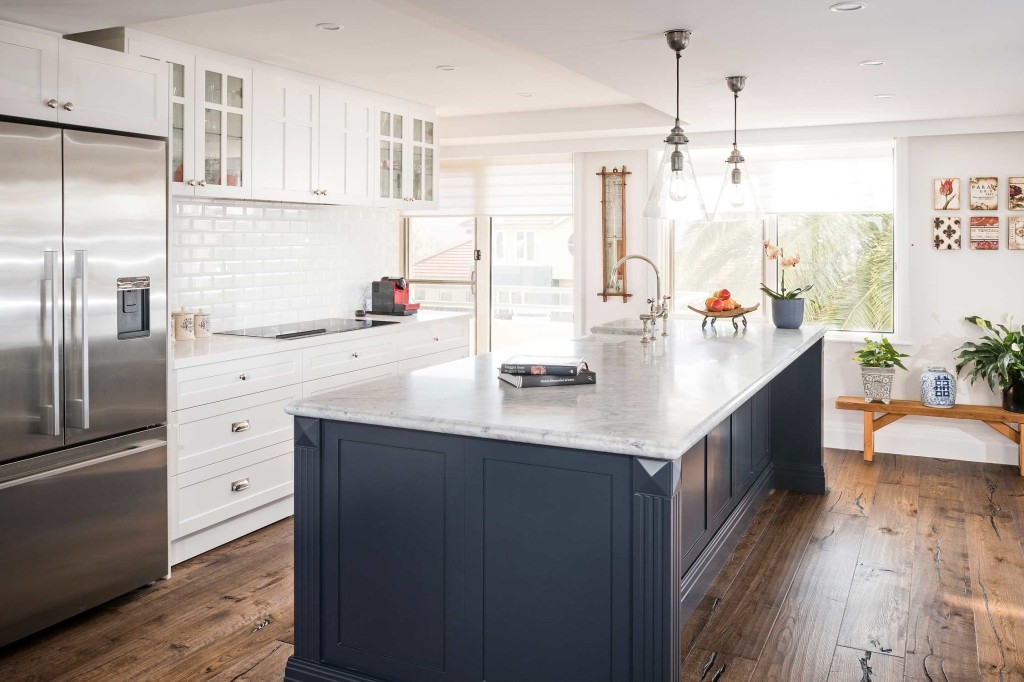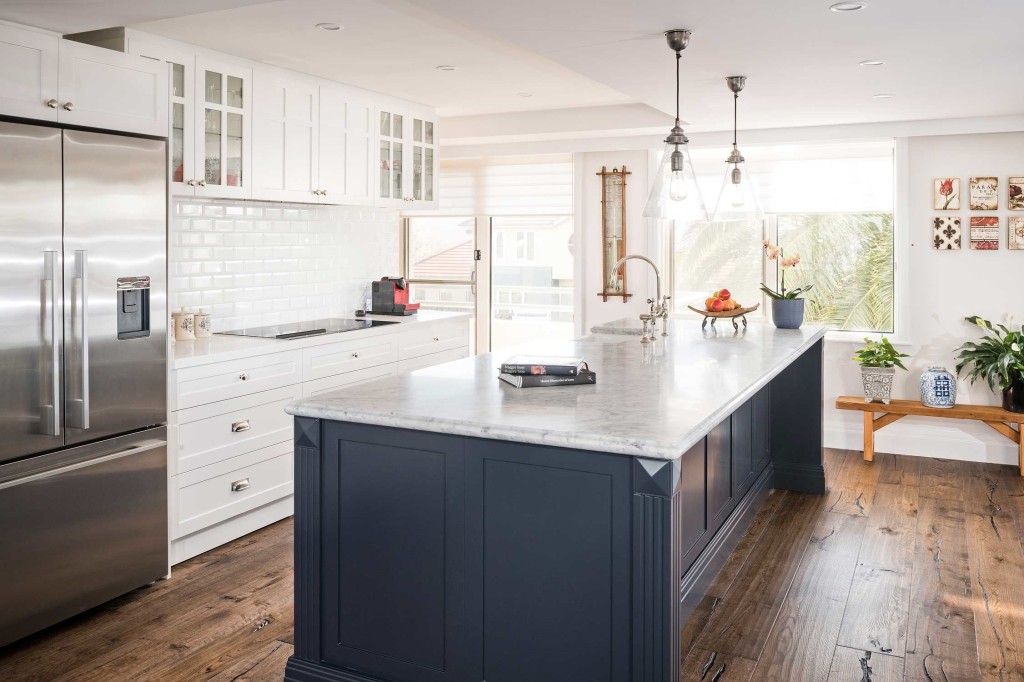 A full home renovation
This fully refurbished house is testament to what can be achieved when imagination and foresight are combined with the possibilities afforded by the quality and flexibility of modern components.
The couple did substantial research before deciding on what they wanted for their home renovation, and then brought in interior designers, colour consultants and Rosemount Kitchens to provide necessary expertise.
Rosemount renovated the kitchen, bathrooms and laundry in the desired style. We also designed and built a TV unit that reflected the Hamptons decor, and concealed services and plumbing.
"We could tell the history of the building by things like the bathrooms having three layers of tiles on them," says William.
"We got the jackhammers in and brought it back to the concrete. We also took out an enormous amount of redundant wiring."
Exploring Hamptons possibilities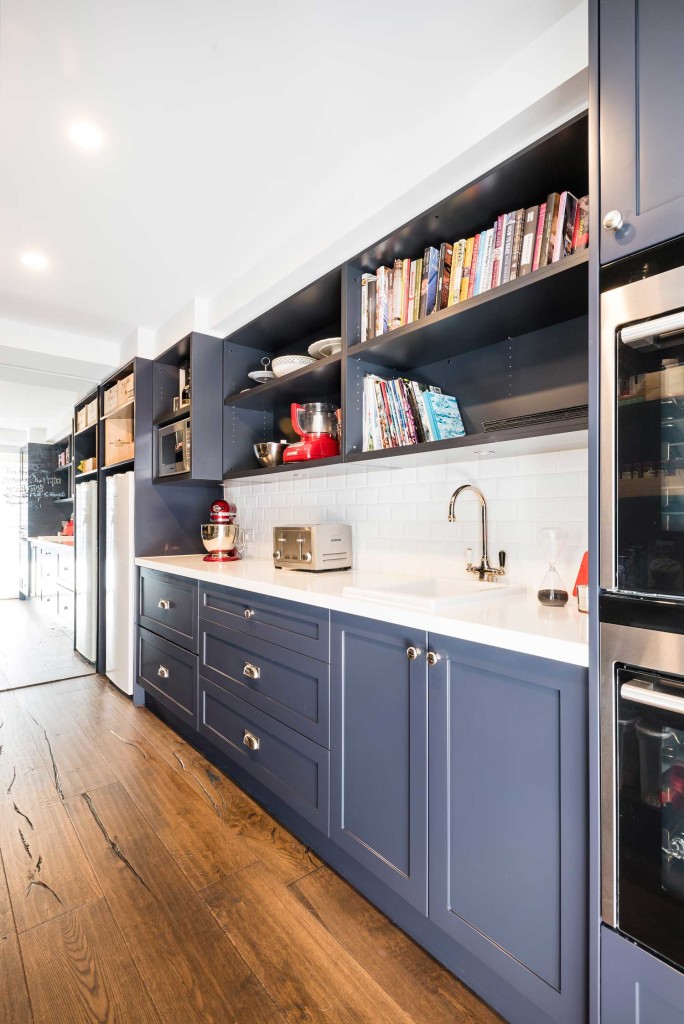 One of the more challenging aspects of the renovation was creating the Hamptons inspired kitchen with butlers pantry.
The previous kitchen had been poorly designed, so Rosemount designer Reuben Hurst completely reconfigured the space – and added a new wall – to accommodate the pantry and island.
The couple also appreciated practical suggestions around kicker drawers and the structure of cabinets that have enhanced the kitchen's function.
"Reuben was a great adviser all the way through, not only in terms of design but in thinking about the details," says William.
"Having experience in the industry, the experts we brought in knew about things we didn't even think about. Reuben did a lot of that."
Low ceilings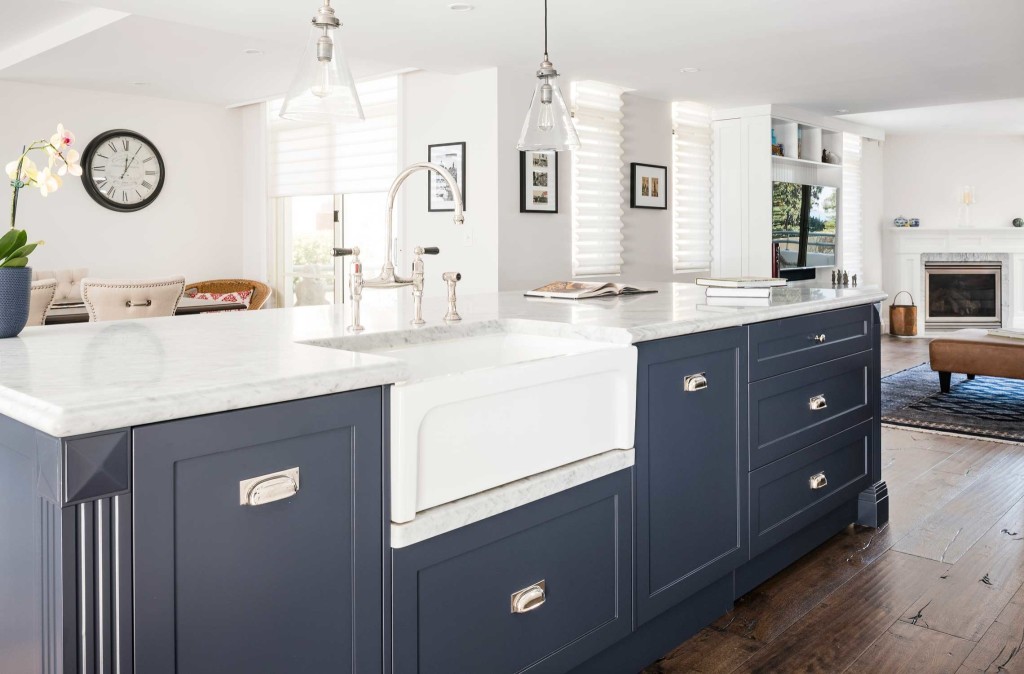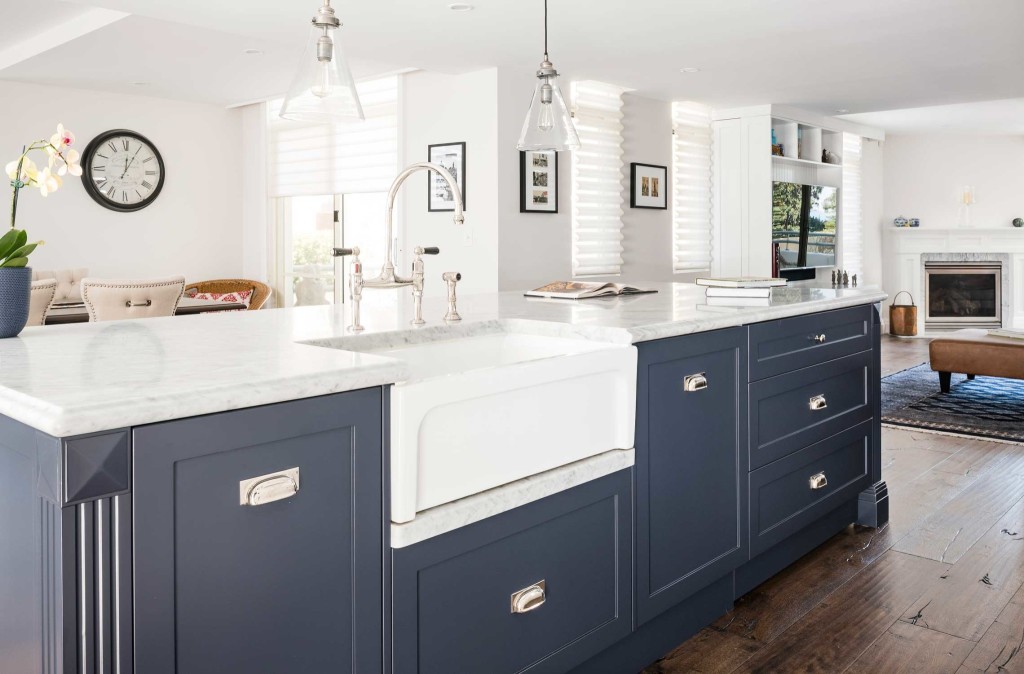 Traditional Hampton designs include moulding above cabinetry, but because of the townhouse's low ceilings, that wasn't practical.
To compensate, Reuben added a number of other Hamptons features, including profile pilasters, a decorative lamb's tongue edge on the marble benchtop and forward skirting on the island bench.
"Once you get things built with the right dimensions you don't notice the low ceilings," adds William. "The result is that the eye is drawn in a way that makes the space seem larger than it is.
"The ceilings are also at different heights to give perspective."
Quality finishes
Another aspect that impressed the owners was Reuben's suggestion of higher quality components to take the kitchen to the next level.
The addition of "English" handles "jacked up the cost a little," says William. But the superior finish and detail more than compensate. "Our mantra is quality products first."
The couple had originally planned to use marble throughout, but Reuben suggested a marble bench with synthetic alternatives elsewhere. "Reuben saved us a bit of money with those suggestions," says William.
Key Kitchen Features
Cabinet doors – Polytec Oceanic door profile; 2pack Dulux: Lexicon, satin finish & British Paints: Dark Silhouette, satin finish
Walk-in-Pantry open shelf overheads – Laminex Charcoal, natural finish
Panels (Plain and profiled) – 2pack Dulux: Lexicon, satin finished, and British Paints: Dark Silhouette, satin finish
Hinges and Drawers – Blum
Storage solutions – Blum Orgaline cutlery trays and utensils; kicker drawers
Pull-out Bins – Hafele one2five bin
Benchtop – Caesarstone 40mm, Snow
Island Bench – marble: Bianco Carrara 40mm, lambs tongue edge detail.
Splashback – white tile
Kickboards – 2pack – Dulux: Lexicon, and British Paints: Dark Silhouette
Appliances and Accessories
Oven – Siemens
Cooktop – Siemens Inductions and Siemens Teppanyaki
Rangehood/canopy – Sirius SL906-L Excel 1000
Dishwasher – Siemens
Refrigerator – Chatelet range wine fridge and Fisher & Paykel
Sink – Acquello and Shaws Laboratory 4 sink
Taps – mixer
Conclusion
Given the dramatic nature of this home renovation, working together with the customers and their builder was a must – and a pleasure. Custom-made is not just a marketing term, but a commitment to an individuality that is unique and 'one of a kind'.

Mark Tonkin, Rosemount Kitchens
William and his wife love living in their Hamptons inspired townhouse in Port Melbourne. The quality of the renovation and products has produced a beautiful and comfortable home that's a pleasure to live in.
"The Hamptons theme was something we really wanted and we love it," says William. "It's fabulous, and everyone who comes in here loves the way it has been done."
William was impressed by the quality of Rosemount's work and after-sales service. "No issue was too small for someone to come round to fix or modify," he says.
"We have referred loads of people to Rosemount as a result. They weren't the cheapest company but for me it's about the quality of the product. You get what you pay for."
See more on this project at our Port Melbourne kitchen renovation page.
You'll find more inspiration in our kitchen photo galleries.
Considering your own kitchen project? Check out our Essential Kitchen Renovation Guide.