How important is the layout of your kitchen?
In short, kitchen layouts are among the most vital parts of any renovation project. Get the design right, and you'll just love being in your home's most important space. Get it wrong, and it won't be long before the frustration – like your hard-to-reach kettle – hits boiling point.
At Rosemount Kitchens we passionately recommend using specialist kitchen designers to get the optimal result – a design that maximises function as well as form.
Where will you put your refrigerator, stove, sink, benches, eat-in areas and even windows and doors? Will you have enough storage space?
Creating the best kitchen layout for a particular space is one area where skilled designers really come into their own.
They will often see options that you may not have thought of, including removing walls or installing new windows and doors. Our clients are often surprised at the range of options available to completely reshape and enhance their kitchen space.
Keep in mind that this is the ideal scenario – the holy grail of kitchen layout. Sometimes these things won't be possible and your kitchen designer will work with you to get the best result in the space available.
Let's have a look at some of the most common kitchen layouts.
L-shaped kitchen layout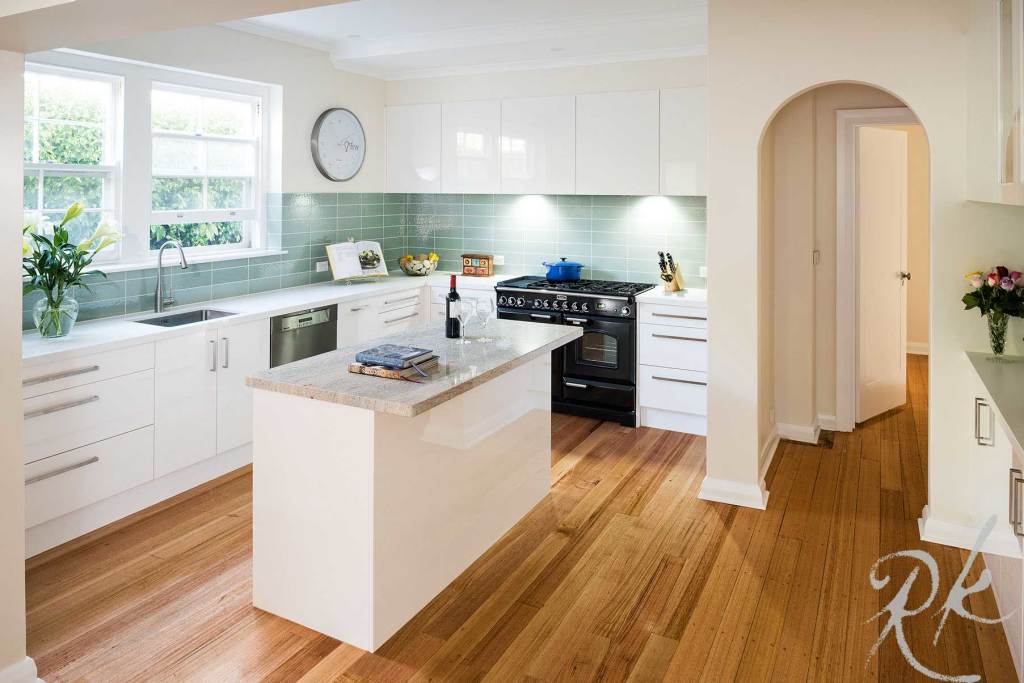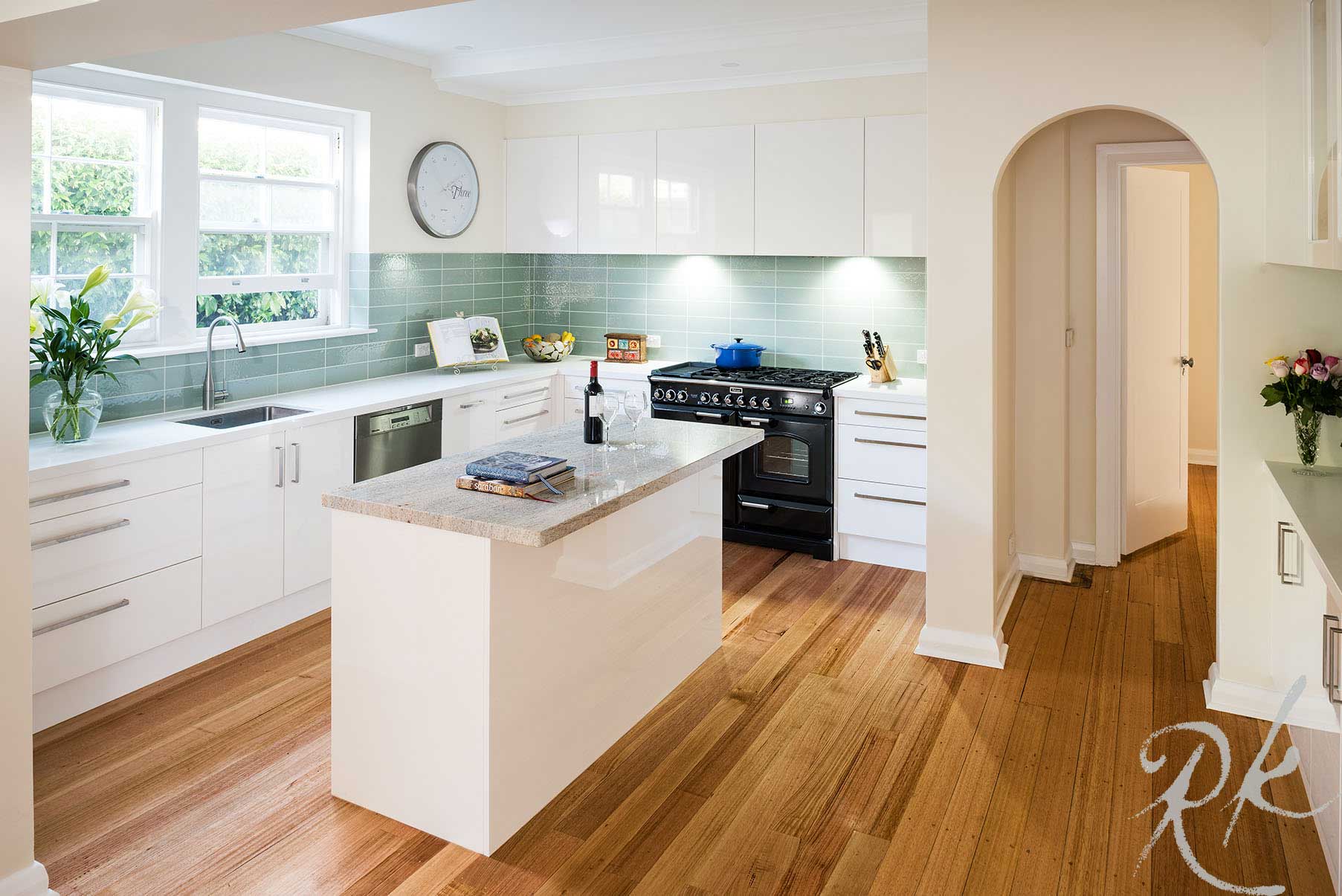 An L-shaped layout spans two walls meeting at a corner of a room.
L-shaped kitchens are among the most popular – and practical – layouts.
They can be adjusted to any length, make excellent use of corner spaces, provide sufficient bench space and allow good traffic flow through the kitchen.
Adding a kitchen island is also a popular option for this layout, and provides extra workspace and storage. It can also act as a seating area with stools.
L-shaped kitchens are great for open plan living spaces, can incorporate a dining area and are very suitable for entertaining.
Pros:
The openness of the layout can make the kitchen seem larger than it is
Easily accommodate a kitchen island
Good traffic flow
Good bench spaceGood storage
Good for open plan areas
Cons:
Risk that appliances can be too spread out
Not recommended for larger kitchens
U-shaped kitchen layout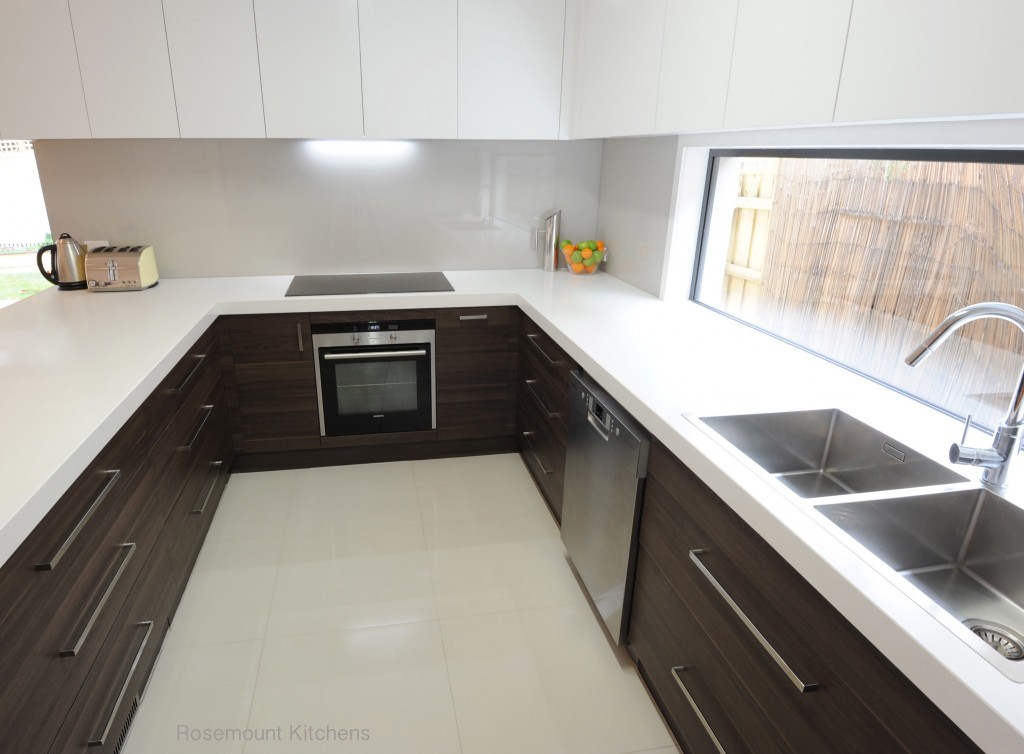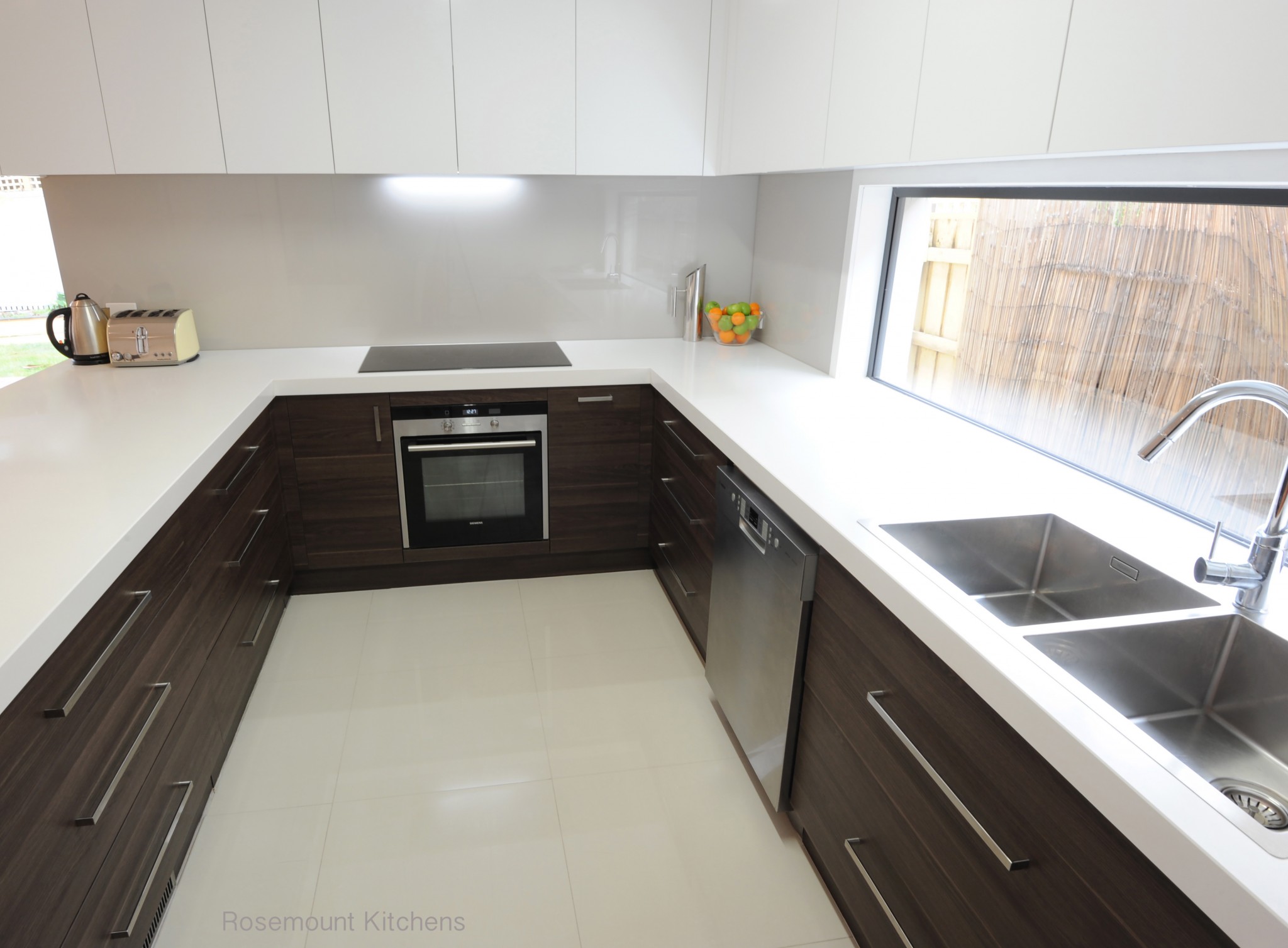 As the name suggests, the U-shape layout has its benches and features configured in a U-shape.
This type of kitchen layout features two parallel sides adjoined by a third wall at one end. The other end is left open.
While the parallel benches are similar in style to a galley kitchen layout, the U-shaped kitchen is wider, which allows for the end to be enclosed and form a bench or work-space.
The functionality of a U-shaped kitchen depends on how long and wide it is. The three "legs" of the U provide ample bench space and storage options.
With a wider "U", it's usually possible to incorporate a kitchen island – adding even more bench and storage space.
This layout works well when the kitchen opens up into a living or dining area, allowing the family and guests to interact with the cook while food is being prepared.
Pros:
Good for a large family
Three distinct "legs" means multiple people can be involved in food prep and cooking
Good traffic flow
Provides ample bench space
Good storage options
Good for socialising – the layout doesn't isolate those working in the kitchen but keeps others out of the way
Cons:
Works best in a open plan space
Requires adequate floor space so as not to be cramped
Can't be too large otherwise the triangle becomes too spaced
No natural dining space
Galley kitchen layout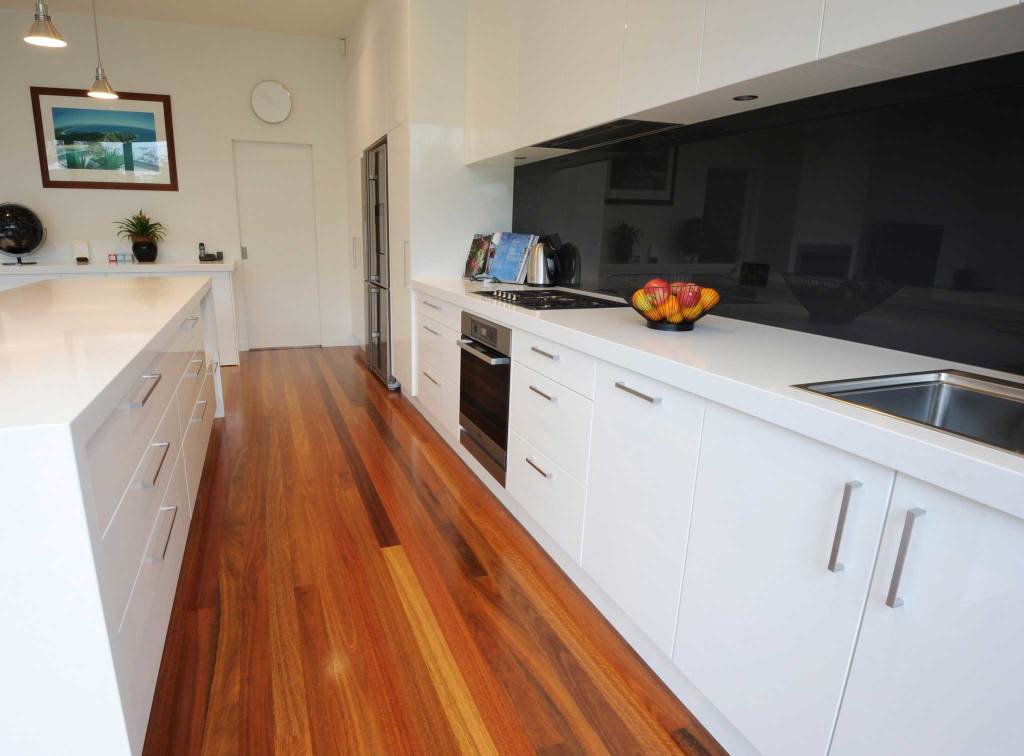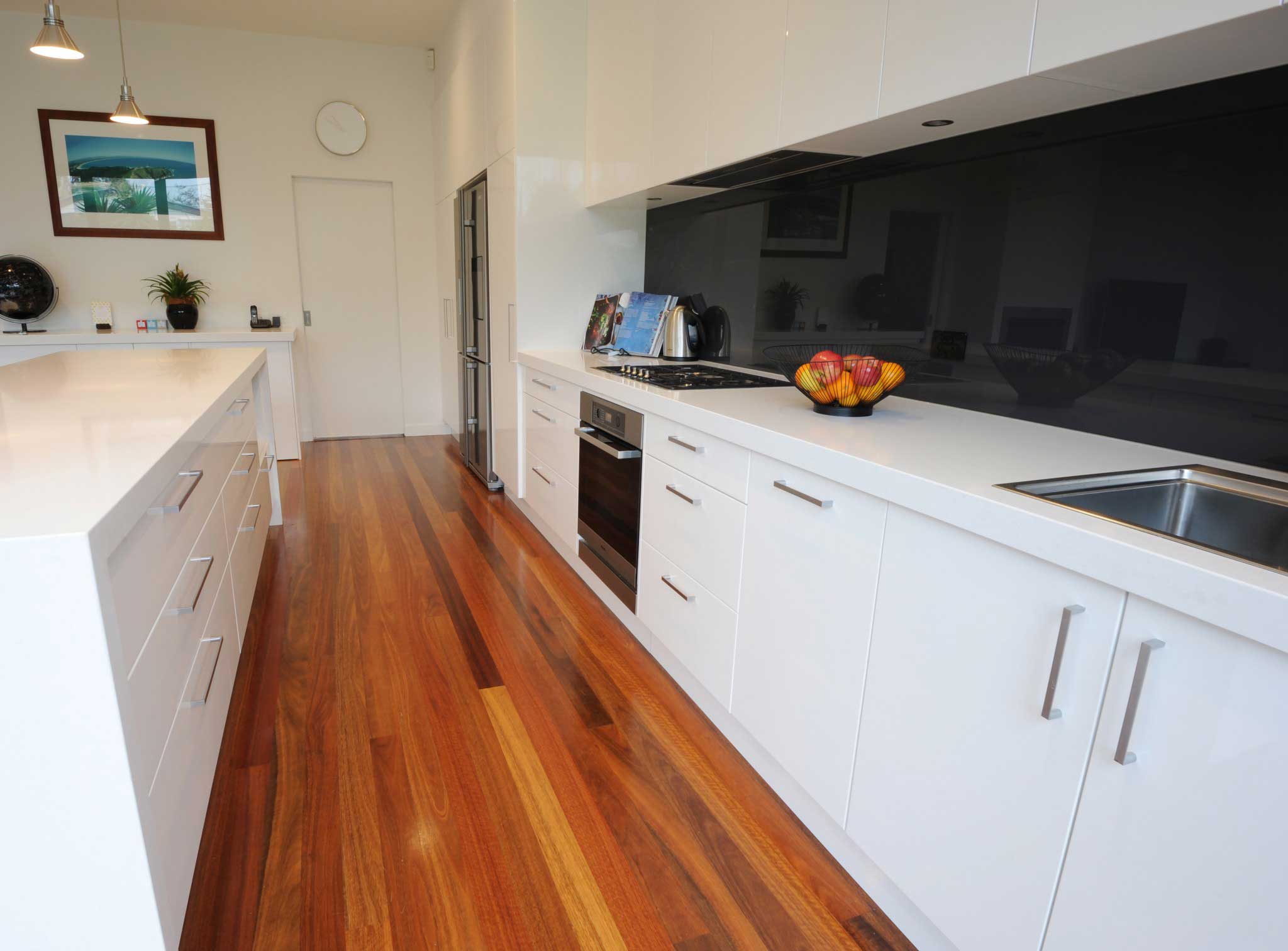 The galley style kitchen layout has a narrow corridor between two parallel workbenches. It's also sometimes referred to as a corridor-style kitchen.
For functionality and efficient use of space it's hard to beat the galley kitchen layout.
Due to its practicality, the layout is commonly used in commercial kitchens and restaurants, and is the style of kitchen on ships (hence the name). It's a configuration that's also a popular choice in apartments and units where space is at a premium.
Grouping appliances together allows bench space to be left free for food prep and a working area.
Storage space can be increased by working vertically, with elements like hanging pots, dish racks, and ceiling-hung cabinets.
Sufficient natural and artificial light is also important.
Working with a designer will help you overcome some of the issues – and really make the most – of this layout.
Pros:
Great for small spaces
Highly functional for their size
Cons:
Limits number of people who can cook in the area
No natural space for a dining area
Can limit interaction with those who aren't cooking (there's no room to socialise with family, guests etc)
Single-wall, one-wall or straight-wall kitchen layout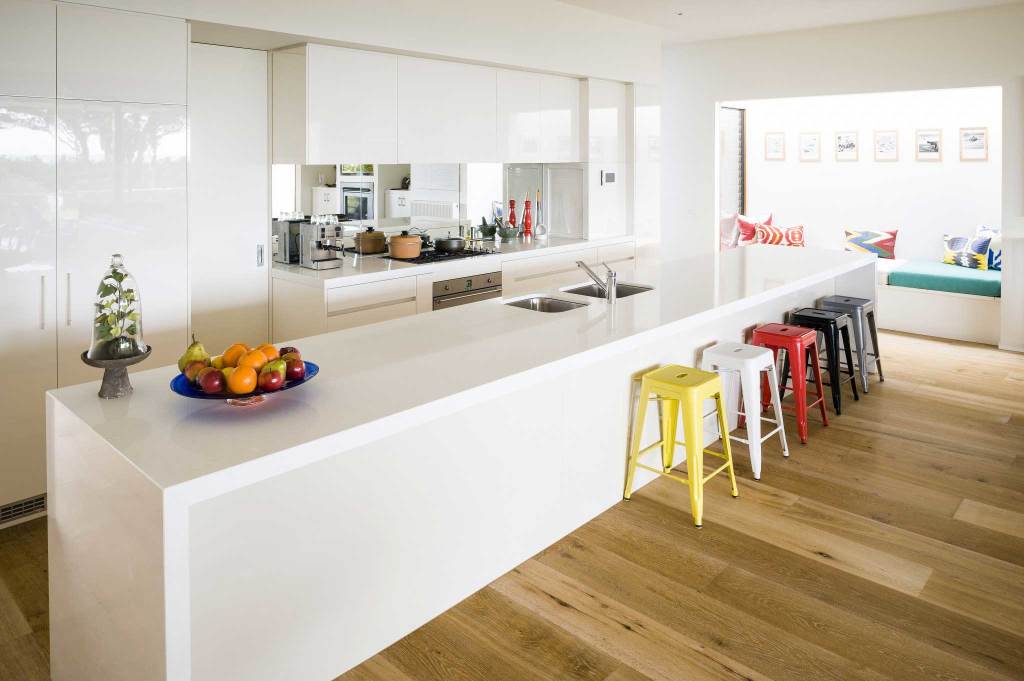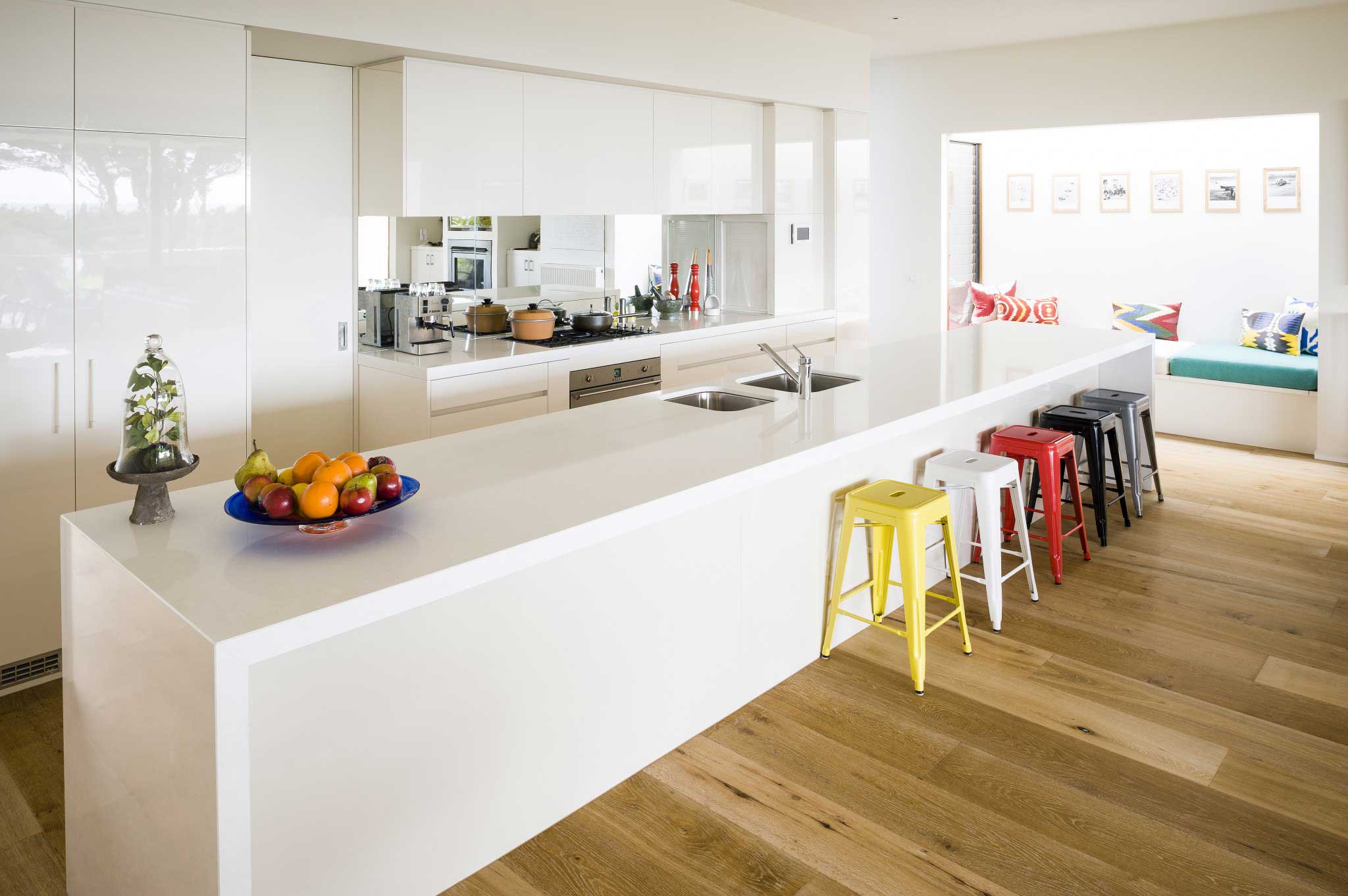 A linear kitchen layout is where all the components are in a straight line against a wall.
Simple and functional, it's a great option for small spaces and popular for open plan living.
The configuration of the sink, stove top and refrigerator are particularly important for how well the space works. A good single-wall layout will have all appliances, cooking tools and food storage within easy reach.
Island benches or a dining table that double as a work bench/food prep area are often added to increase the functionality of this type of space (this effectively transforms the layout into a galley kitchen).
Pros:
Great for small spaces
Great for open plan living
Can be hidden away behind doors or screens/partitions (such as in a studio apartment)
The linear design allows for unimpeded traffic flow
Everything is within easy reach
Cons:
Limited bench and storage space
Not possible to have the efficiency and functionality that comes from the kitchen work triangle
Too many chefs? Multiple cooks can be a challenge
G-shaped kitchen layout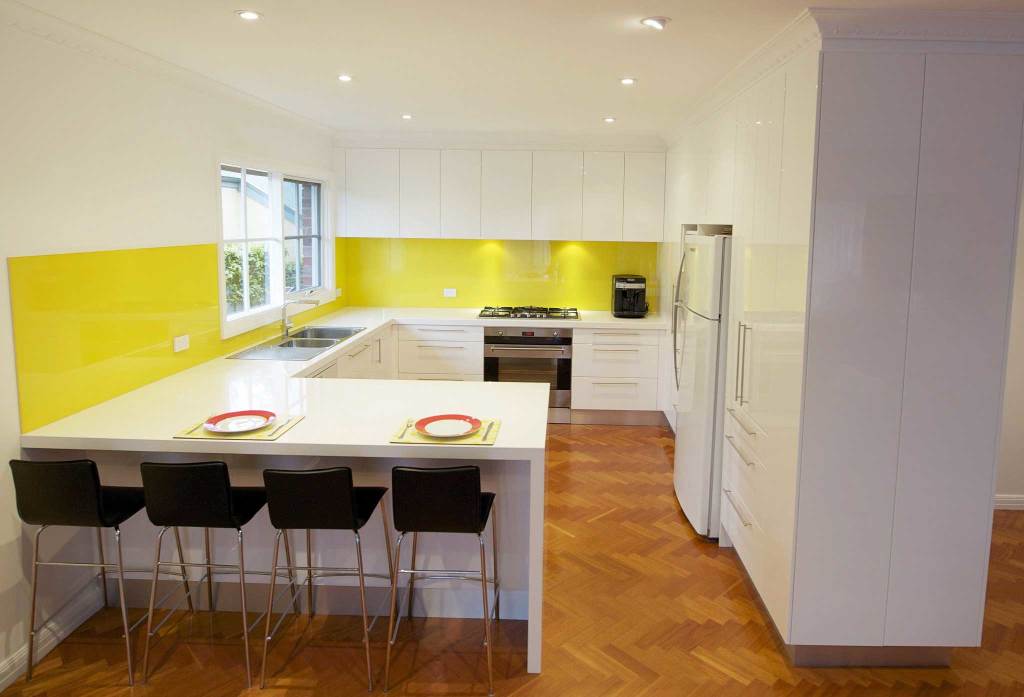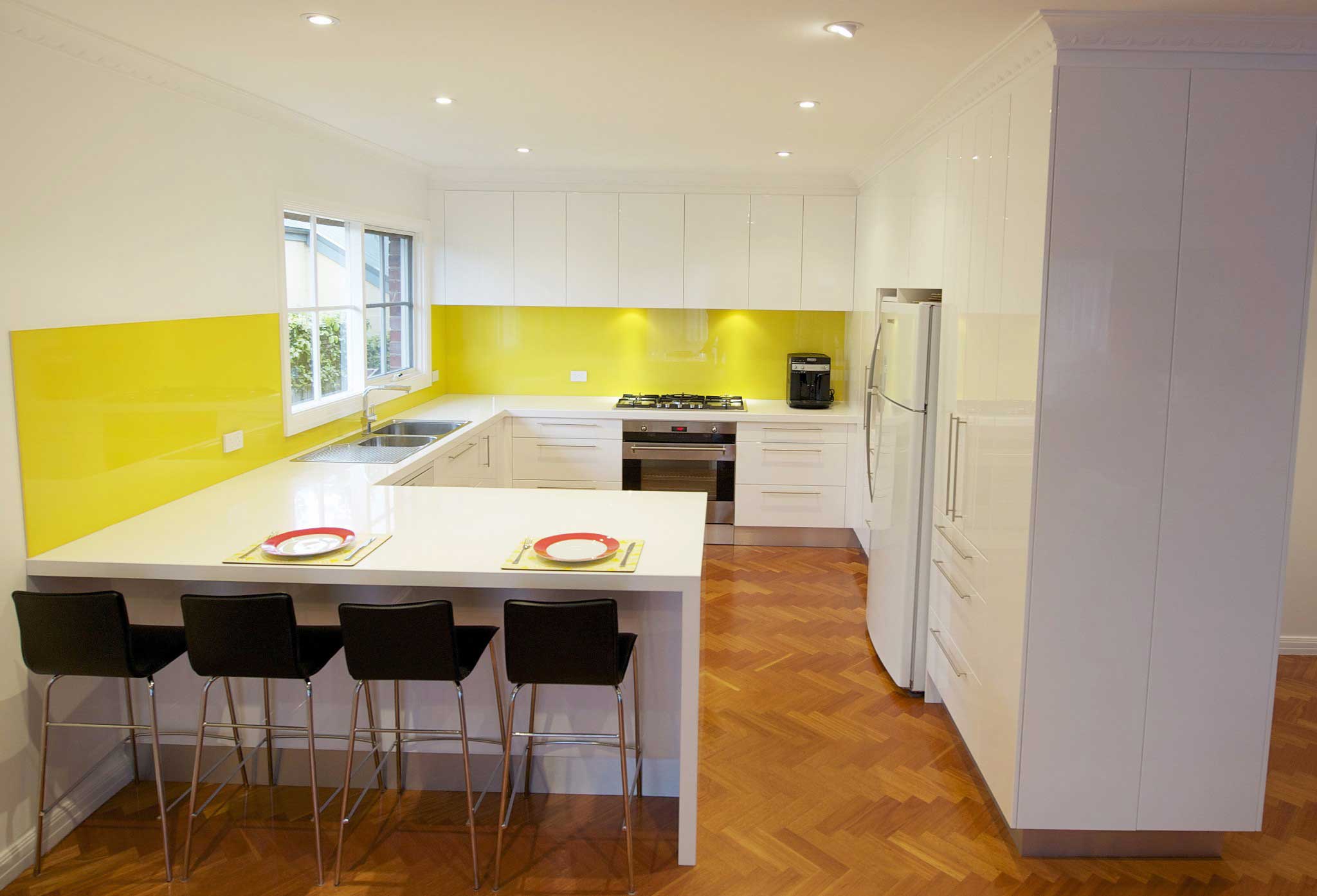 Fairly similar to a U-shaped kitchen, a G-shaped layout is generally bigger and more practical.
It also allows multiple people to be working in the kitchen simultaneously.
The extra leg in a G-shaped kitchen is often called a "peninsula". It can be used as an additional workspace, appliance area, storage or dining/seating space.
In a busy household, a bar with an extra stool seating can be an excellent addition.
Pros:
Great for families
A good option for socialising while working in the kitchen
Allows for multiple cooks
Ample bench space
Ample storage
Cons:
Can enclose a kitchen space and make it feel smaller
Appropriate room must be left for the kitchen entry
The Kitchen Triangle
When discussing layouts, you might hear about the concept of the "kitchen triangle" or "kitchen work triangle" – a term that refers to an invisible line between the sink, stove and refrigerator.
For a long time it was thought that having these three points close, but not too close, would make for a kitchen that was easy and efficient to use.
Of course, kitchen design has changed significantly in recent times, with an emphasis on more open plan spaces, making the idea of the "triangle" less important.
But the idea of important elements being in good proximity to each other is still an important principle, and worth bearing in mind when choosing your ideal layout.
Find out more on the evolution of the kitchen work triangle.
Storage matters
Whatever kitchen design layout you choose, don't under-estimate how much storage you'll need.
Hard-to-access areas are still worth turning into storage, especially for items you use sporadically.
You'll also need to consider style and appearance.
Do you prefer appliances to be hidden when not being used, or should that bright red KitchenAid or Gaggia espresso machine always remain firmly on display? If it's the latter, keep in mind how much bench area you have left over for preparation.
Another thing to consider at the design stage is light. Do your windows get direct sunlight? Are they south facing? Light could affect your layout choice, as well as the colours of the cabinets and benchtops.
There are many elements to consider when designing the best kitchen layout, and Rosemount Kitchens will help you make the right choice.
Check out some great examples of our work in these kitchen photo galleries.