So you want to renovate your kitchen.
Great. The finished result could be:
A better space to prepare and cook food
A wonderful entertaining space that'll be the envy of all your friends
A transformed and redesigned space that truly becomes the heart of your home
A fast and effective way to increase the value of your home
Brilliant – what are you waiting for?
Well, taking a step back is the smart thing to do at this stage.
That's the end result we're looking at … but let's remember that there's a lot to consider, decide and implement to get there.
Ever been asked: "How do you eat an elephant?" One bit at a time.
Here in Melbourne, it's the same with kitchen renovations, which are typically major, complex and time-consuming projects.
So with that in mind, here are five key steps to consider before you start the build of your dream kitchen.
What are you trying to achieve?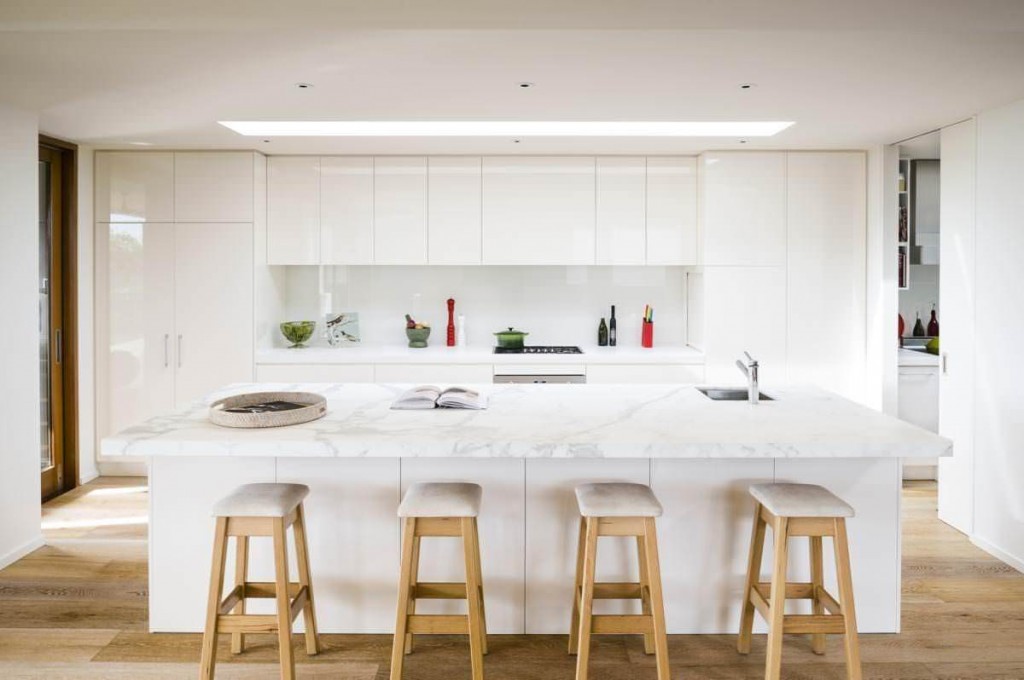 It's hard to get somewhere if you don't know the destination to begin with.
So start off by getting crystal clear on what you want from your new kitchen.
Is your current space driving you crazy because you've got to bend down and reach into corner cupboards to get the pots?
Do the veggies pile up on the cutting board because your bench space is more cramped than an amateur footy player in the fourth quarter?
Do you bemoan the lack of storage space every time you have to go elsewhere in the house to dig out the serving plates?
Do you often find yourself toiling in the kitchen while the rest of the family are watching TV in another room?
Or does the current space just need to be freshened up – maybe with new benchtops, cabinetry and appliances?
Whatever your motivations, be very clear on what they are. Then you can start to:
Research, Research, Research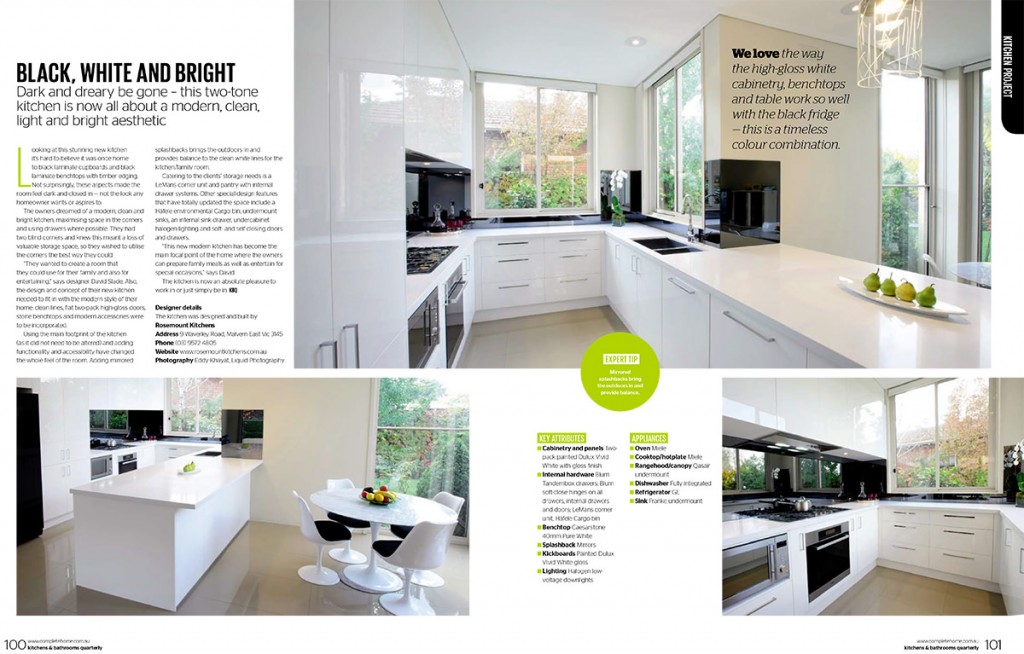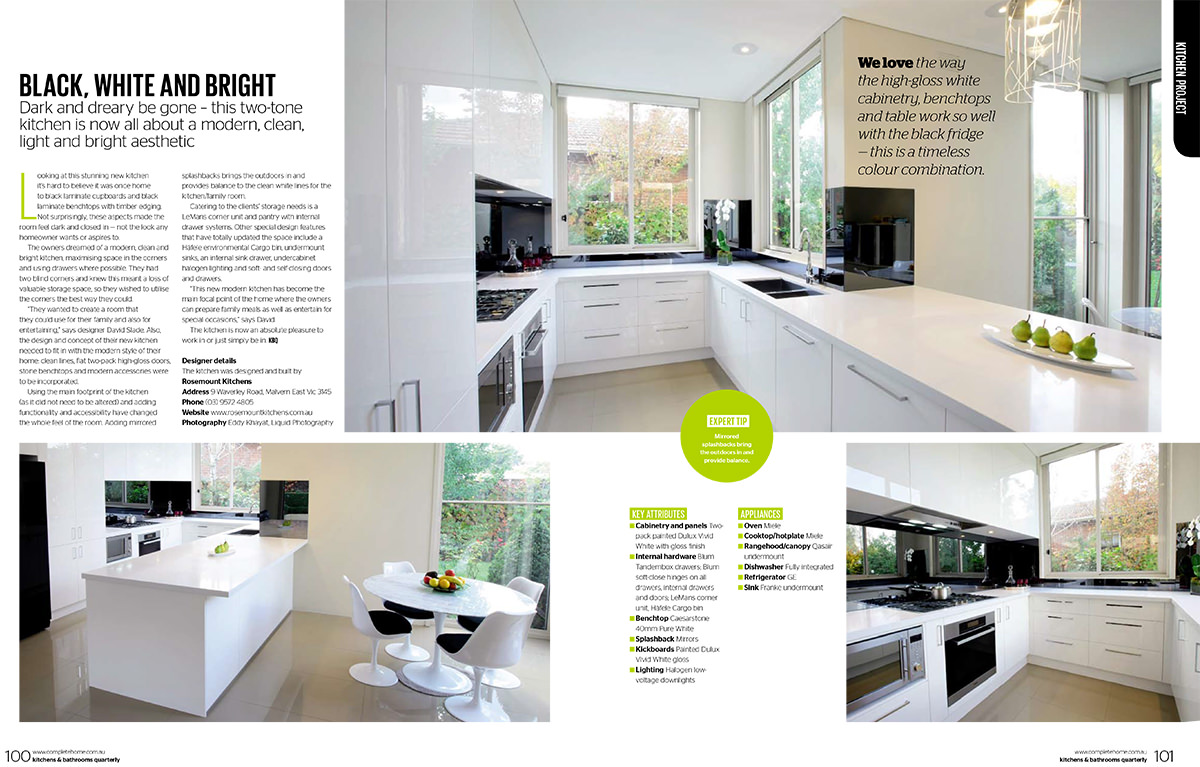 This is where the process gets really exciting as inspiration jumps out from computer screens and magazines pages.
Everyone researches differently, and some will linger at this stage for months and, occasionally, much longer.
But we all do our research with the same intention – to educate ourselves on the process ahead, and find ideas and elements from other kitchens that we just love, and can incorporate into our dream design.
At this point you should go into a kitchen showroom to get a feel for the wide array of kitchen materials, finishes, hardware and components. And you'll see designs to maximise form and function – real displays that look great and use up every bit of spare space as effective storage.
You'll also get feedback and advice from showroom consultants who instinctively know what works – and doesn't – in renovation projects.
Plan Your Kitchen Design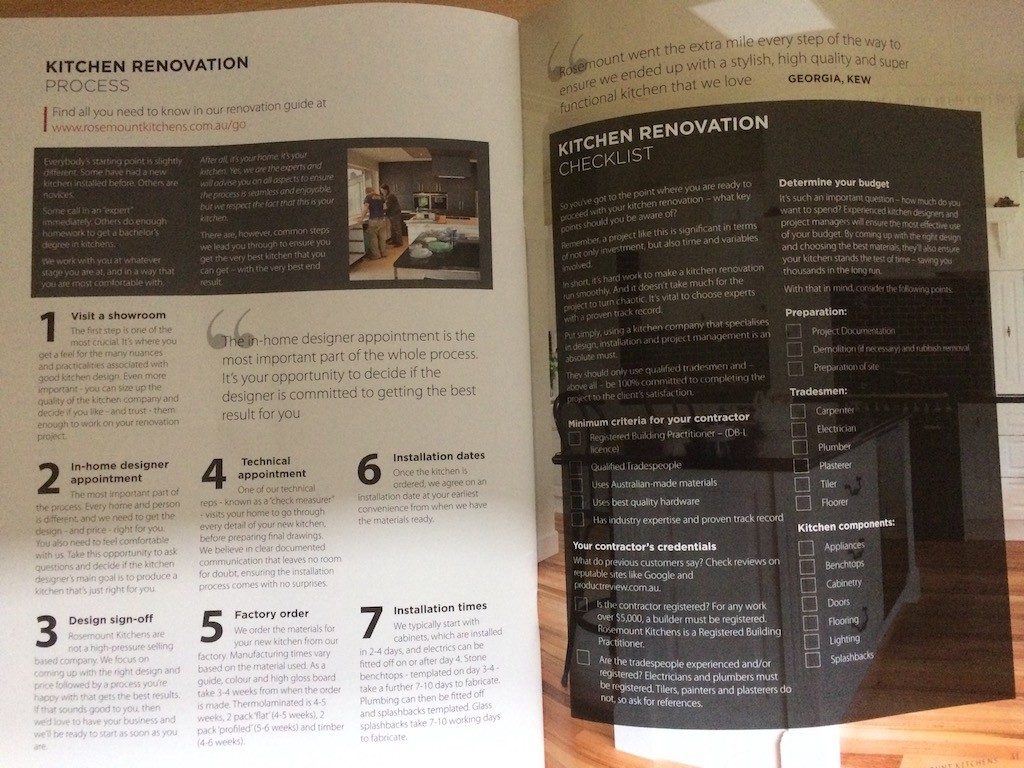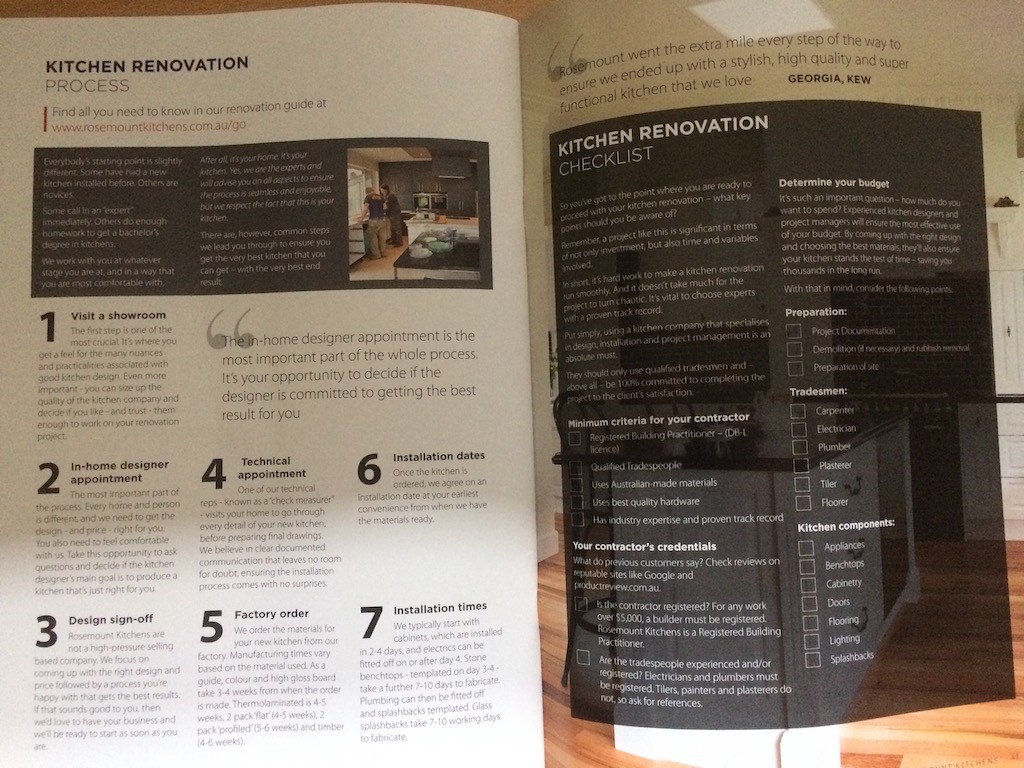 We can't emphasise enough how important it is to properly plan a kitchen renovation.
Yes, it is time consuming, but if you do this part in detail you'll be in a much stronger position to ensure a minimum fuss renovation process that leads to a kitchen just right for you and your family.
Check out our post on how to make sure your renovation doesn't become a nightmare, which includes useful information on a number of things you may not have considered that could trip you up.
Among the areas you need to nail down in advance of a renovation are:
Do you want to change the footprint of the existing space and will structural work be involved? What kind of layout are you looking for – Galley, L-shaped, U-shaped etc?
Modern, traditional, French Provincial, industrial-style … and so on? Lots to choose from – what's best for your personality, space and budget?
Stone, laminate, timber or porcelain benchtops, shaker-style or glass cabinet doors, tiled or mirrored splashbacks? These are just a few examples of the bewildering material choices available. Again, what aligns best with you, your space and budget.
What kind of sink and taps? Cabinet handles? How much lighting and where? New floor – what material? Are you keeping or replacing your oven and fridge? Same criteria as above.
Maximise your space with today's innovative solutions and you're well on your way to a clutter-free kitchen.
The main factors influencing the cost of a project like this are the size of the space, materials used and the trades who build and install the kitchen. Decide your investment and work out what you can achieve. A good kitchen company will help you stretch your budget, showing you where to spend most and how to make smart savings.
Who Do You Need?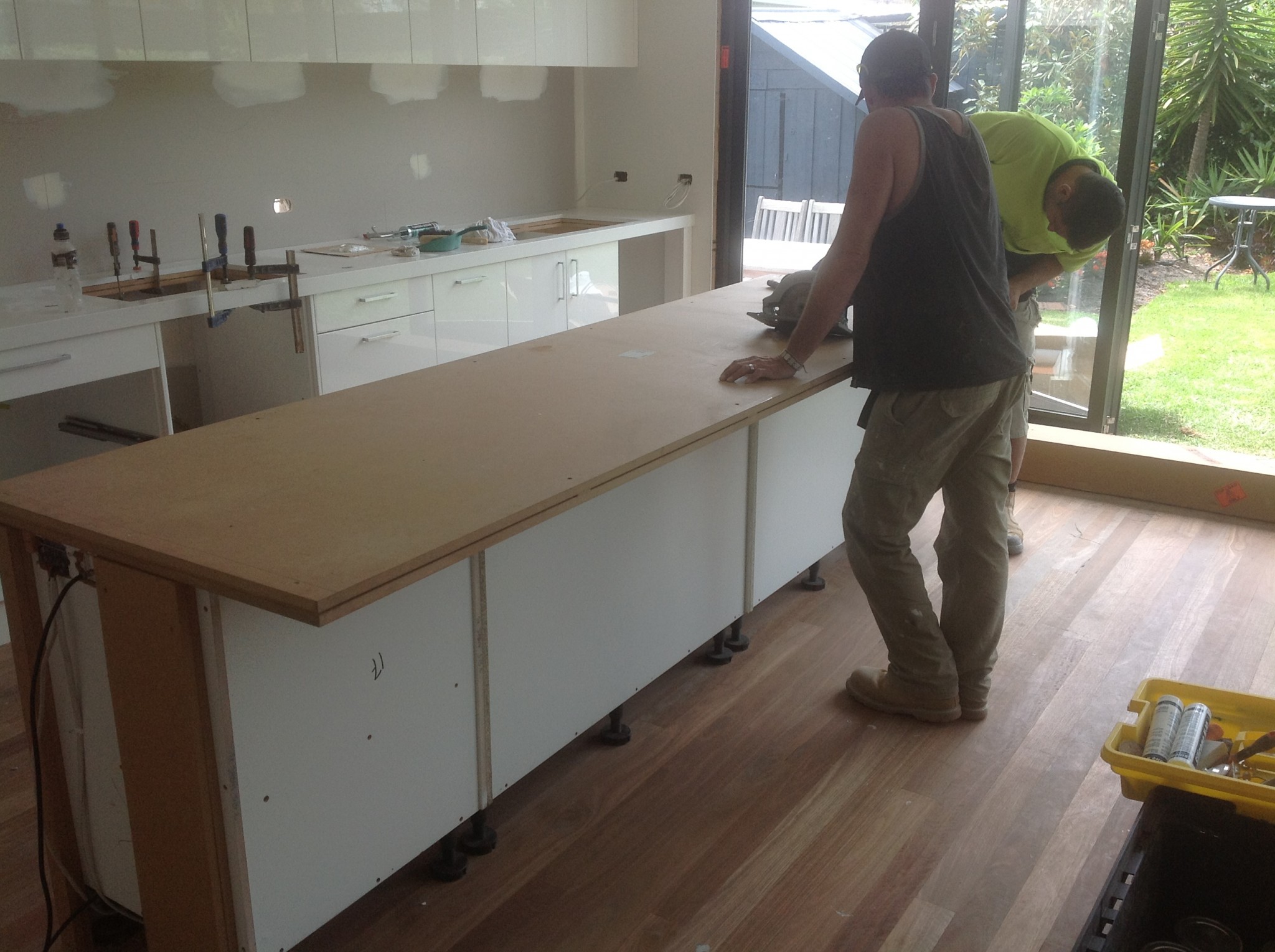 There are really three ways you can build and install a new kitchen:
Do It Yourself
Project Manager
Hire A Specialist Kitchen Renovation Company
DIY
You won't be surprised to hear our view on the DIY option.
Sure, TV shows like The Block make it look easy. But the reality behind the scenes – where qualified tradesmen fix the botched work of enthusiastic contestants – is quite different.
Be honest with yourself – do you have the skills, experience and time to undertake such a complex project?
There are many moving parts in a kitchen renovation, and many things that can go wrong. Even in the smoothest renovations, problems arise.
If you do have the necessary multi-faceted skills, work out if it's really a good use of your time.
Project Manager
You don't do the work itself, but prepare the project plan, organise the designer and tradespeople, and keep everything ticking over and on track.
This option isn't as onerous as taking everything on yourself, but potential traps await if you're not fully across the process and priorities of those you're relying on to complete the job.
For instance, when one tradesman is delayed or makes a significant mistake, what contingencies are in place to limit the knock-on effect to other work, and the change in availability of other trades as a result?
Without the right project plan – and relationships – a kitchen project can quickly be derailed.
Specialist Kitchen Renovation Company
This is where you leave it to the professionals. Sure, it's not the cheapest option of the three but by far the best if you want peace of mind, an efficient renovation process with the least inconvenience to you, and the most effective finished kitchen that maximises your budget and will stand the test of time.
You don't have to worry about common practical and regulatory issues around ventilation, plumbing and electrical.
Or design mistakes that can lead to poor overall flow and irritating space issues.
Hiring a specialist company like Rosemount Kitchens means you get the best design for you and your needs.
In our view, the in-home designer appointment – where a kitchen designer will work with you to produce your dream kitchen design – is the most important individual part of the whole renovation process.
We explain why in more detail on this page – Why Our Kitchen Designers Are Worth Their Weight In Gold.
Once the design is signed-off, the "real" work begins and you benefit from a proven process that has helped hundreds of satisfied customers achieve their own dream kitchens.
A kitchen company like Rosemount can manage every stage of the renovation. You don't have to worry about keeping all the ducks in a row, and if anything doesn't go quite to plan, we will be there to fix it.
Conclusion
Renovating a kitchen is thrilling and intimidating at the same time.
But if you follow these steps before you start ripping out benchtops and pulling down walls, you'll be in the strongest possible position to ensure the best result.