How would you like to splurge on your Melbourne kitchen renovation and enjoy big savings at the same time?
It's a statement that can leave our customers scratching their heads.
No, we're not talking about a stocktake sale and, yes, it sounds counter-intuitive. Too good to be true, some might say.
But it's entirely accurate, primarily because the beauty of a good renovation lies in its complexity.
That means, if you're careful about choosing the right finishes and fittings, you can spend more than you might have thought on quality, and save on many other aspects.
And all without compromising on the look and function of your brand new kitchen.
We know, sounds hard to believe. But bear with us – read on and we'll explain what me mean in more detail.
A Key Component Where You Can Splurge and Save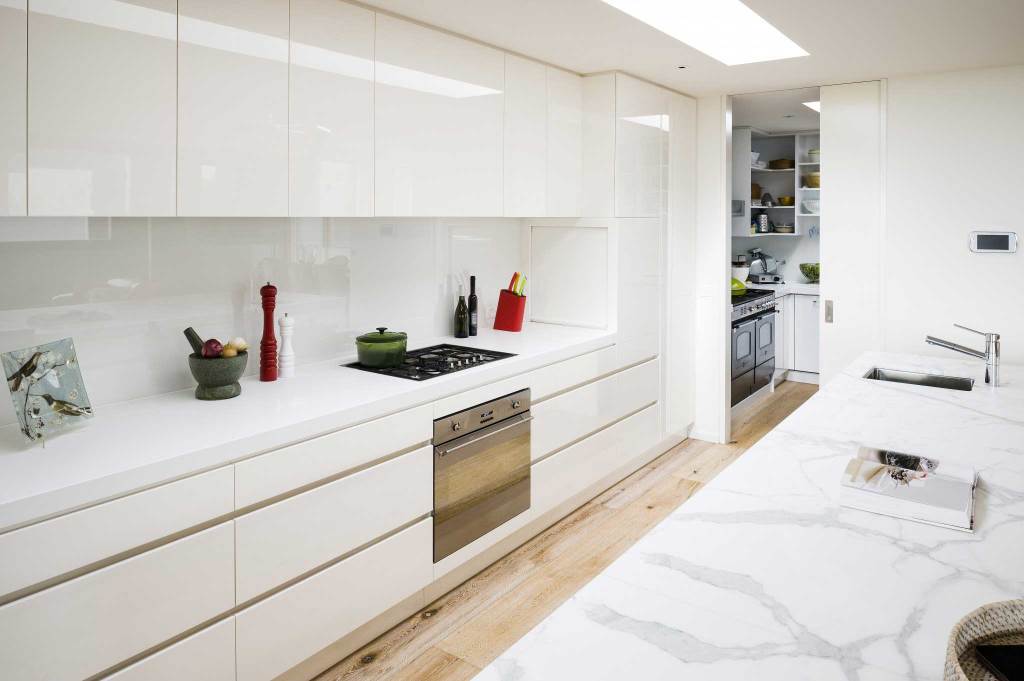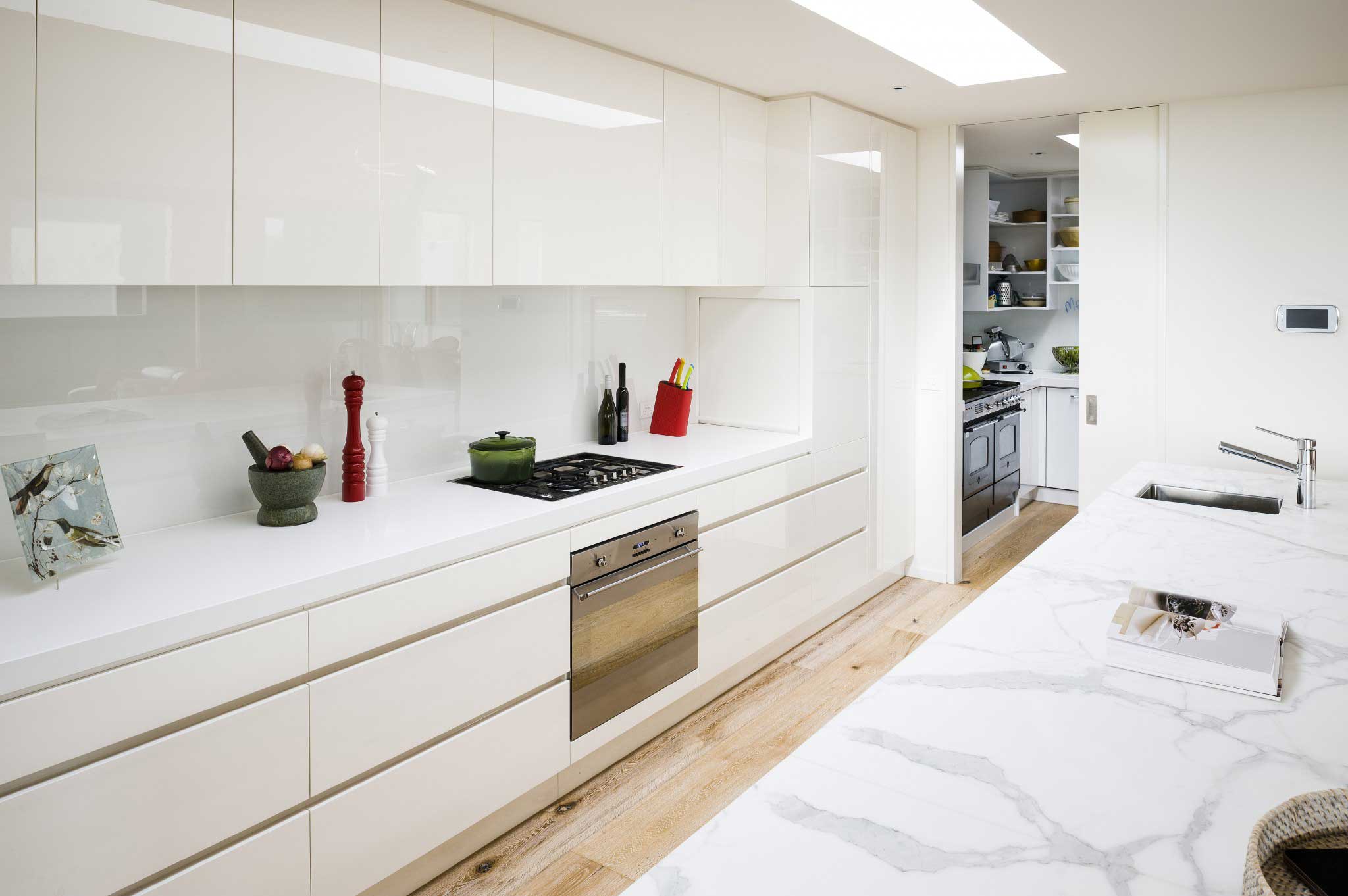 First, we'll focus on an area where you can spend and save at the same time.
The humble drawer is the most worked and important component in your kitchen – and this is one area where you definitely shouldn't be looking to cut corners on cost.
That being said, if you're clever with the design, there are ways to save on drawers without compromising on form or function.
Always go top drawer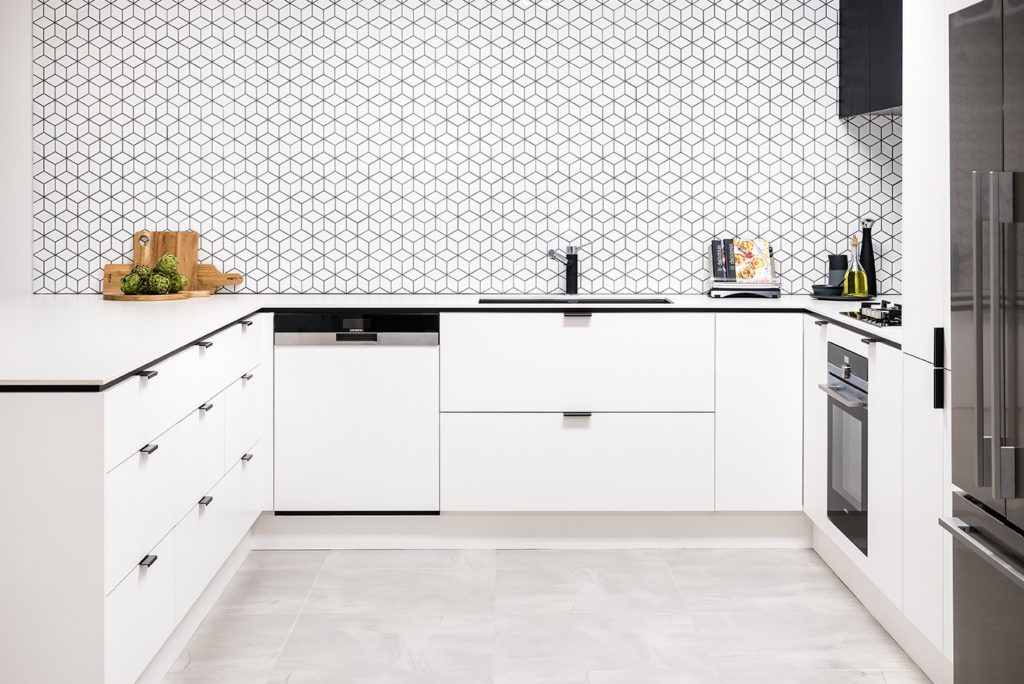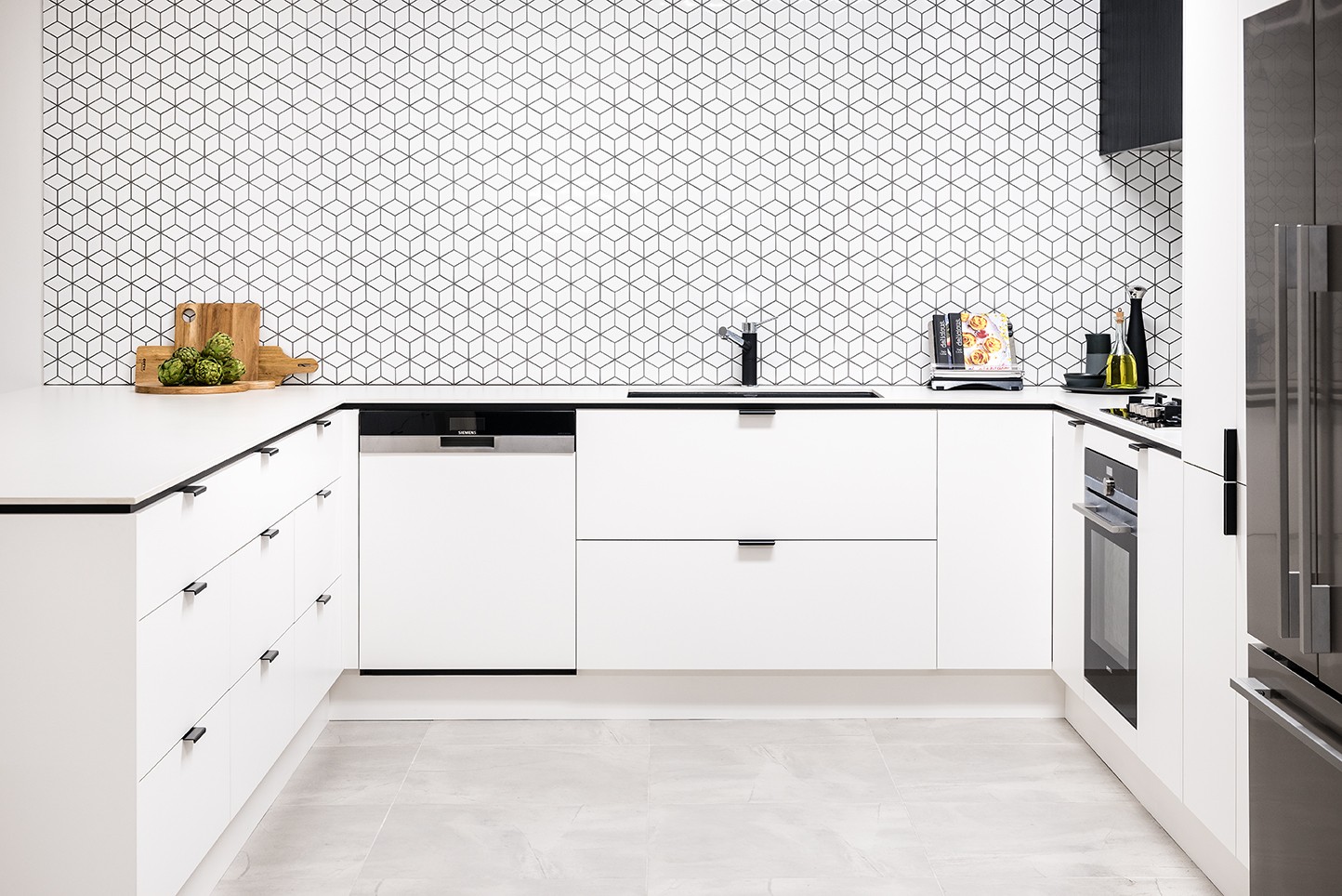 Did you know that you can get up to 50% more storage space from a drawer than a cupboard?
There's a lot of "empty space" in a cupboard, whereas drawers allow you to use that space more effectively for stacking crockery and other items.
Even better, drawers slide out towards you – so no more bending down to reach a rarely used serving bowl or platter at the back of the cupboard.
Put simply, drawers are essential for maximising easily-accessible storage space in any kitchen.
Yes, cupboards will give you the same overall look. And some kitchen companies will design a space mainly with cupboards – and limit the number of drawers – so they can provide a lower quote.
The reason they can do that is that a soft-close drawer mechanism from a company like Blum costs more than a cupboard door hinge. Blum drawers also hold up to 65kg.
But it's just not worth it. This is one area where the day-to-day and long-term benefits vastly outweigh any savings you could make at the start.
Don't compromise on drawers – you will regret it if you do.
How to save on drawers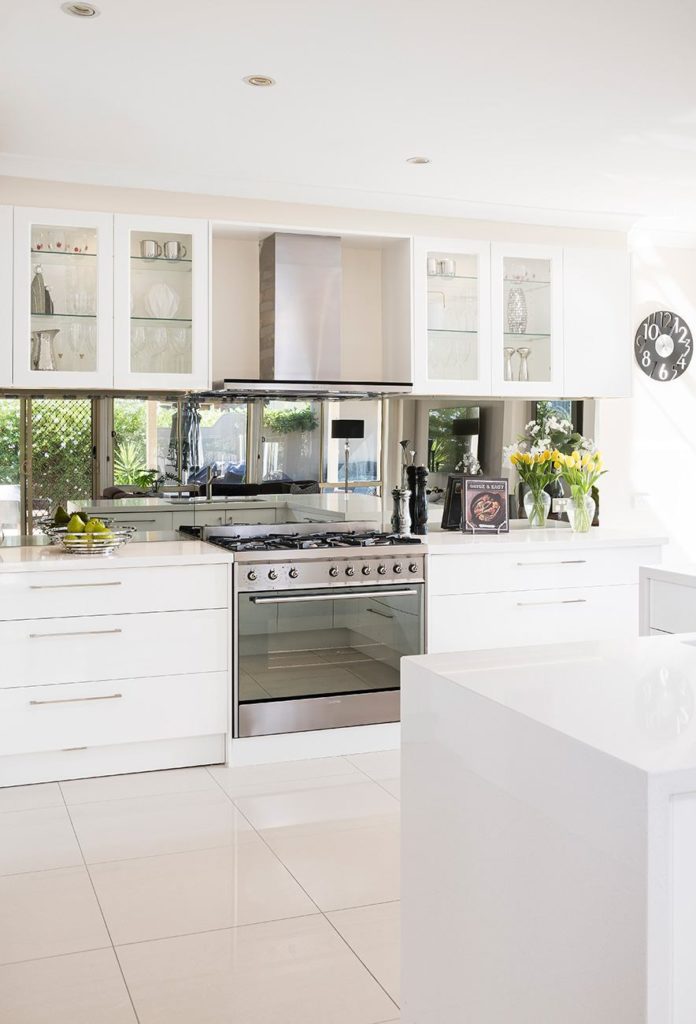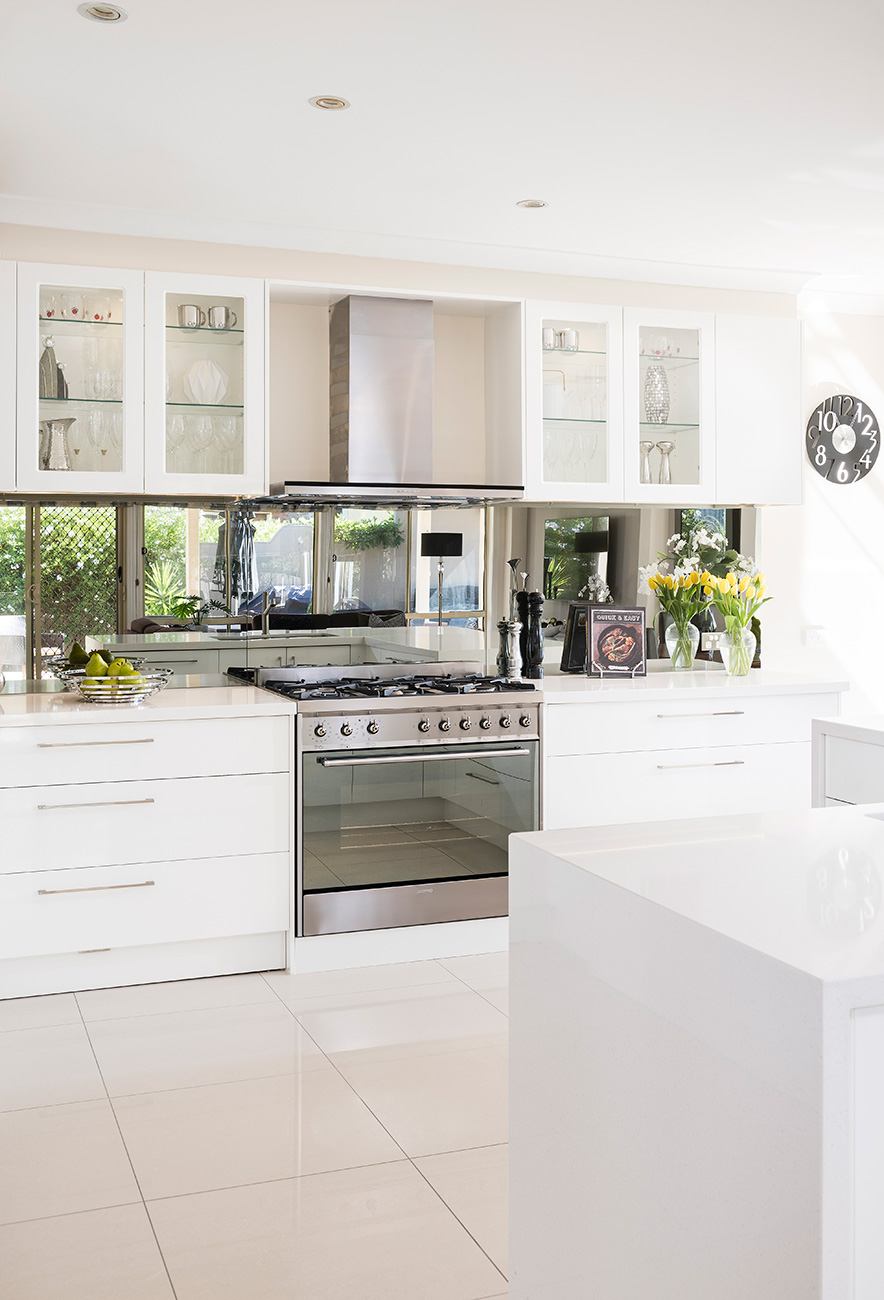 The good news is that there are ways to save on drawers – without compromising on quality or function.
Instead of cutting the number of drawers in your design, simply make them larger – like in the image above.
A good kitchen designer will advise you that a good solution is often to widen the drawers across your space.
That way, your design is more cost-effective and retains all of the function.
Check out more on the benefits of soft-close drawers.
How To Save On Your Renovation
Finishing Touch
The finish you choose can have a dramatic effect on the price of your new kitchen.
Choose the right one, and you save significantly without compromising on the look and feel you're after.
If you're looking for flat doors, for example, then you have a number of options.
Painted doors – often known as 2 pack – are most expensive, but several other matt and gloss finishes will give you the same look at a friendlier price.
Melamine instead of 2 pack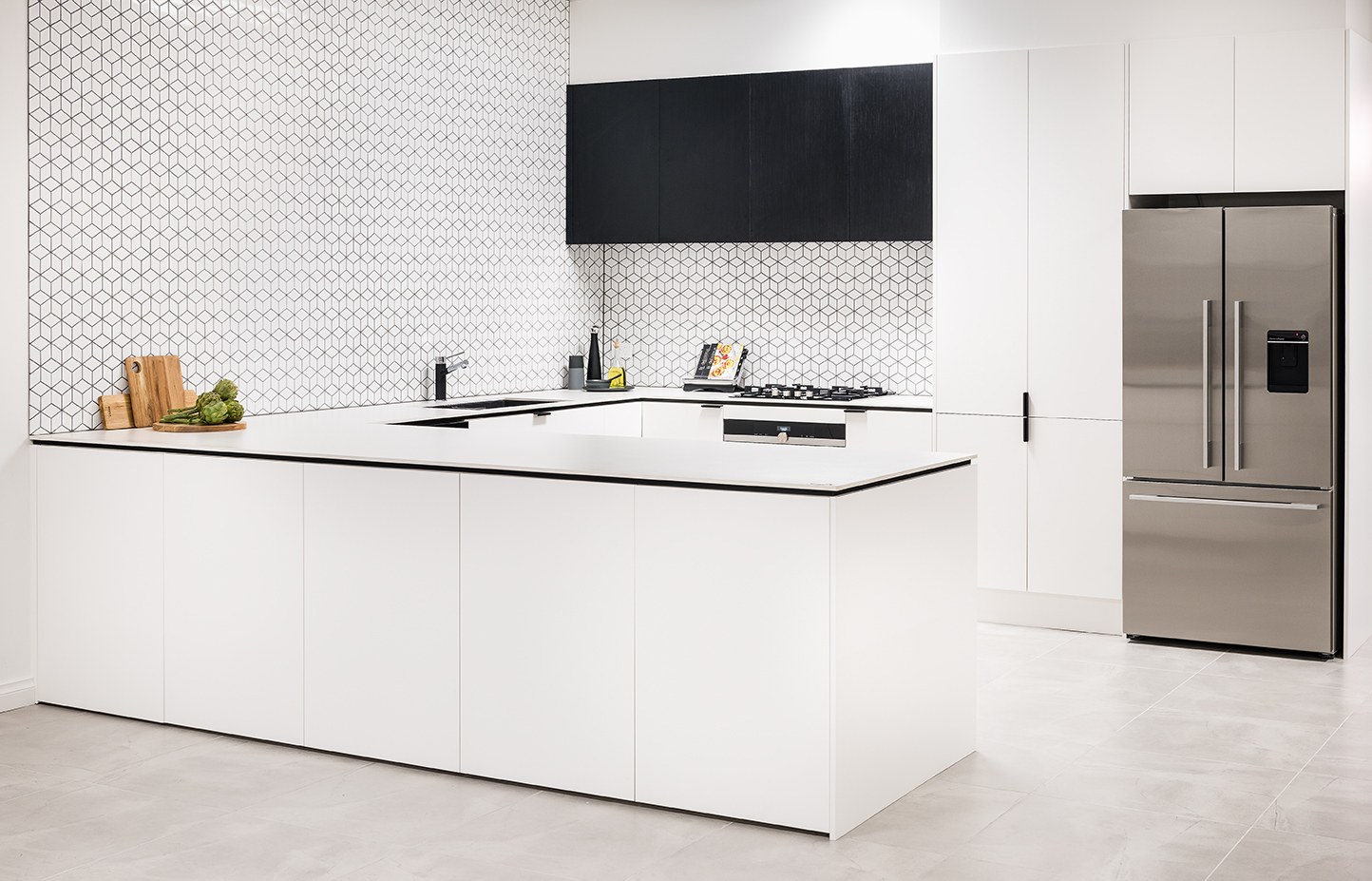 One of the most affordable products, Polytec Melamine, is featured in the above kitchen. It's very similar look to 2 pack satin or matt finish, but costs considerably less.
Thermo profile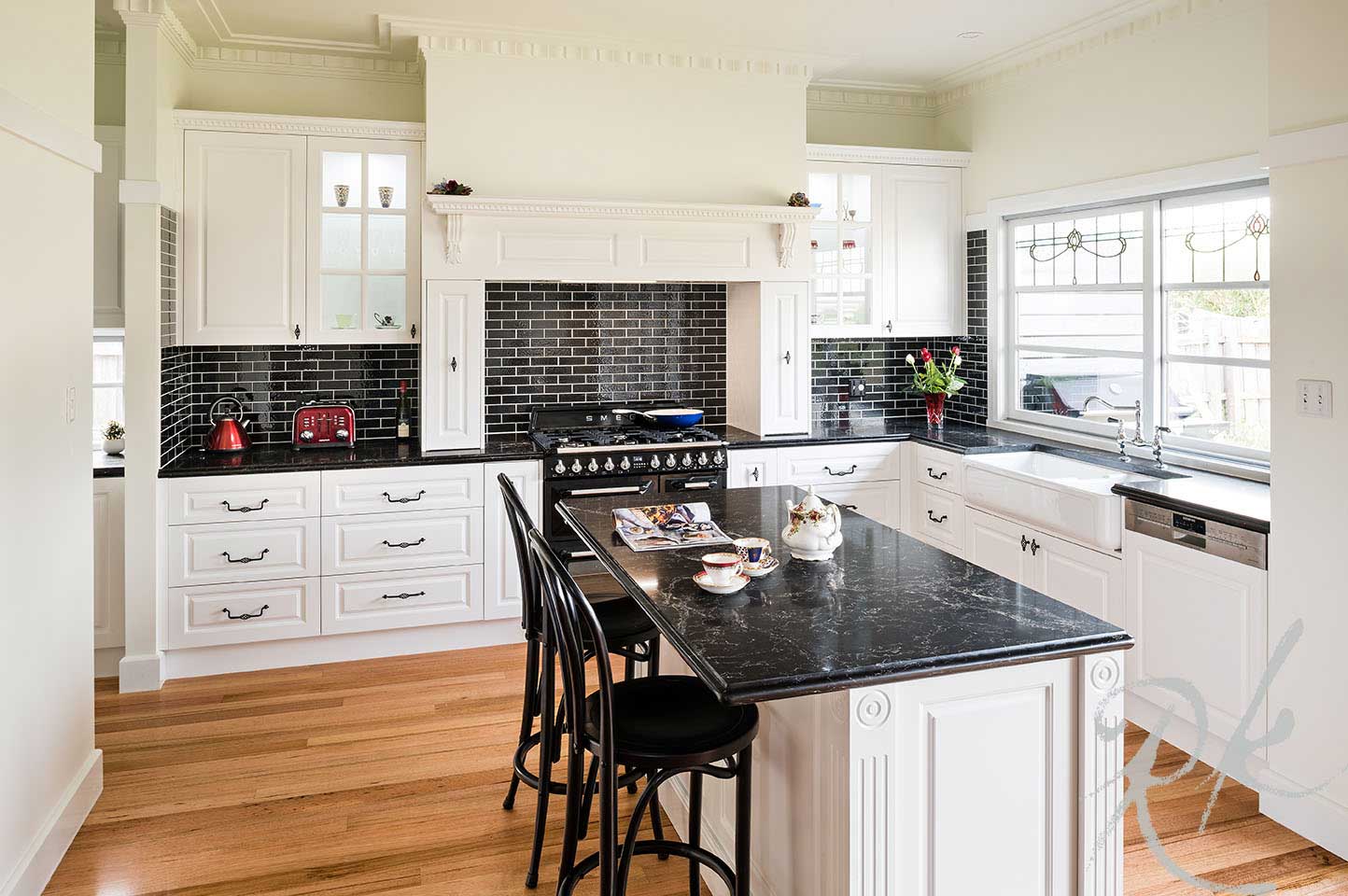 When it comes to profiled doors – like a shaker door in a Hamptons kitchen – there are fewer affordable alternatives than with flat doors. But it's still possible to save.
The image above shows a French Provincial style kitchen with profile doors in Polytec Thermolaminated, which is again a more budget-friendly option than the painted alternative.
Falling timber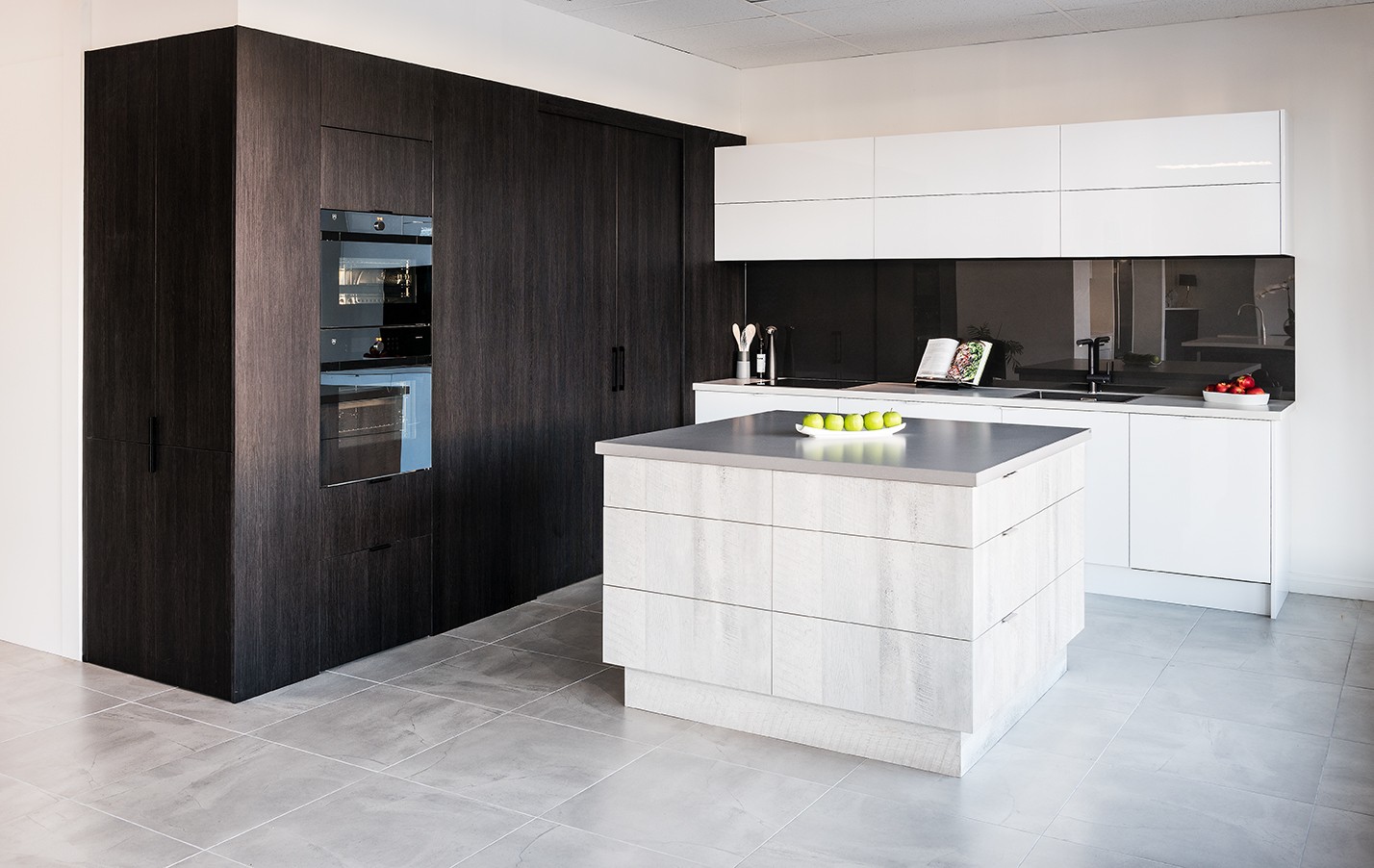 Another popular option is to go for timber shelving or overhead cabinetry.
Solid timber and even timber veneer can be pricey, but with technology improving all the time, you can now find an array of products that closely resemble timber without the expensive price tag.
Polytec's WOODMATT range is a good example.
Our clients often want to mix finishes and colours, which can strain the budget. So we have to find ways to bring it back.
The image above shows an oven and pantry run that has a dark "timber look".
This is Polytec Ravine, in the colour Black Wenge. And it's very cost-effective compared to timber veneer.
Room Up Top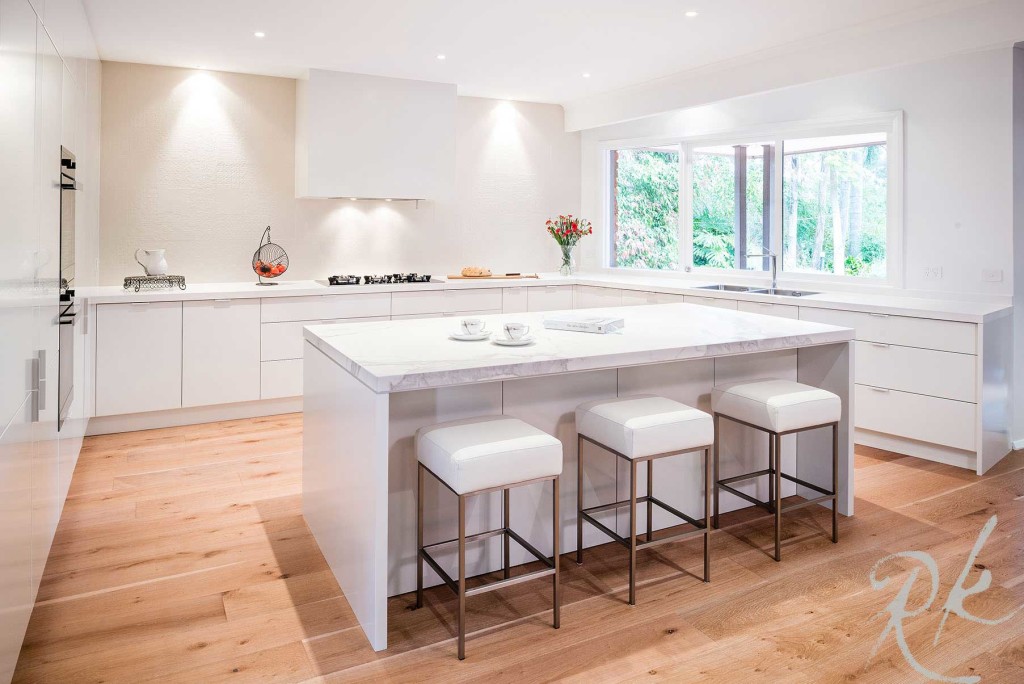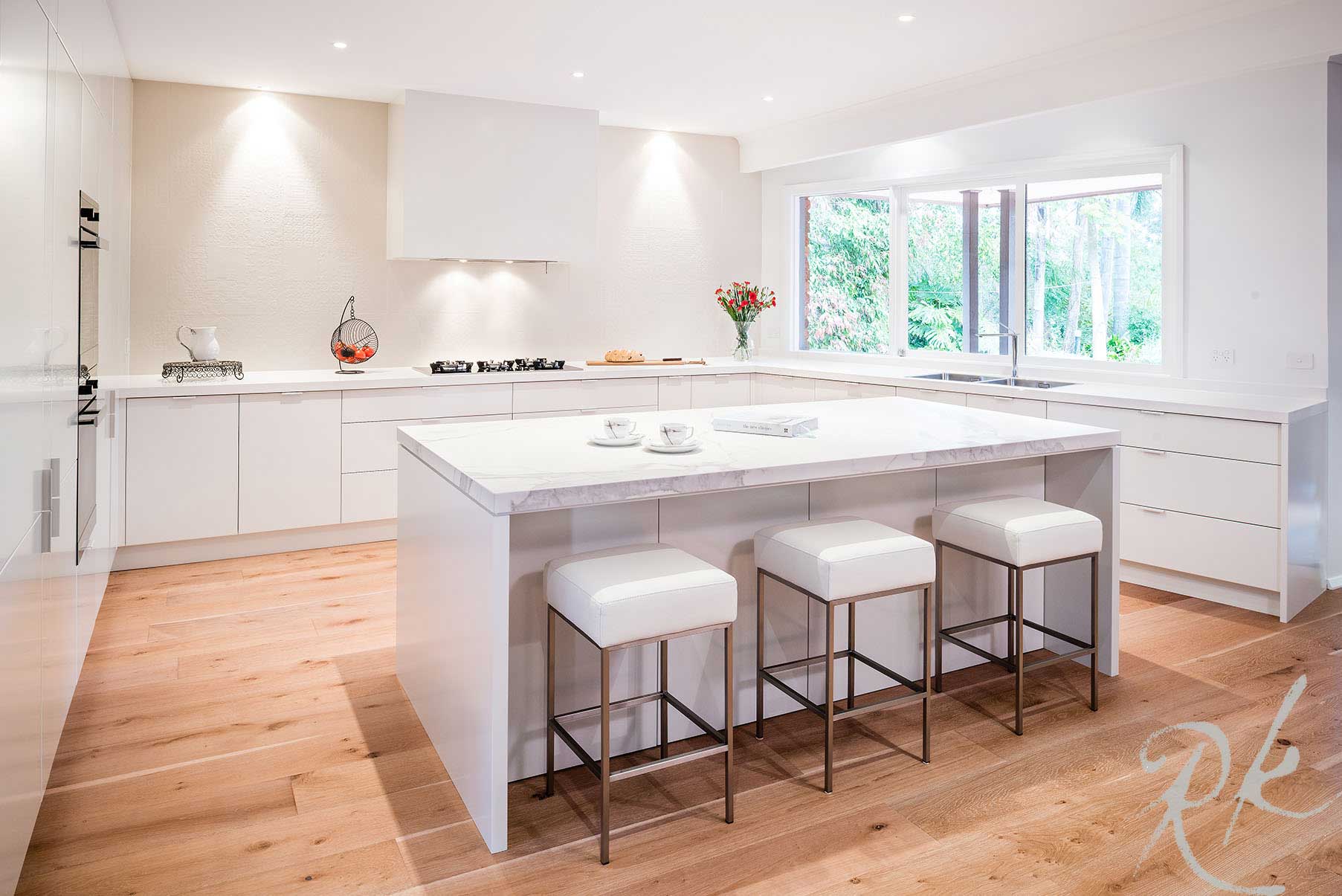 Graphic artists often talk about the merits of white space in a good design.
What's not there is often as important, if not more so, than what is.
Experienced kitchen designers know the same applies to your home's most important room, and that is once again good news for your budget.
Most people assume overhead cabinets are a given in a kitchen design. Because that's what you have in kitchens, right?
Wrong. If you've got enough storage space in below-bench cabinetry or your pantry, you don't necessarily need those overhead cupboards.
Leaving them out not only saves you money, but can make the room feel bigger and more spacious.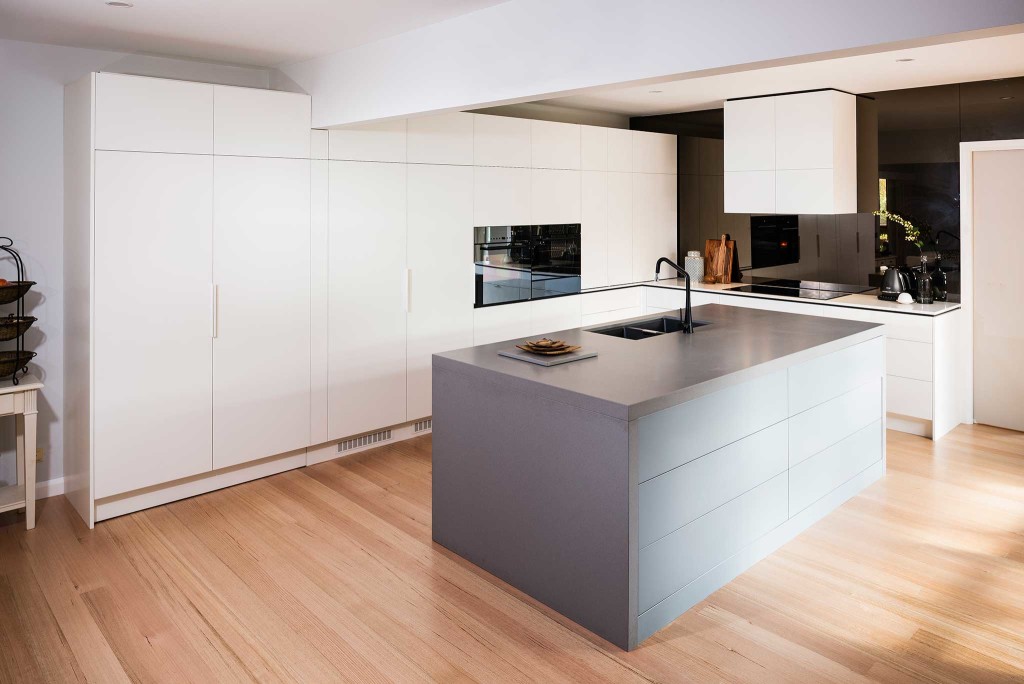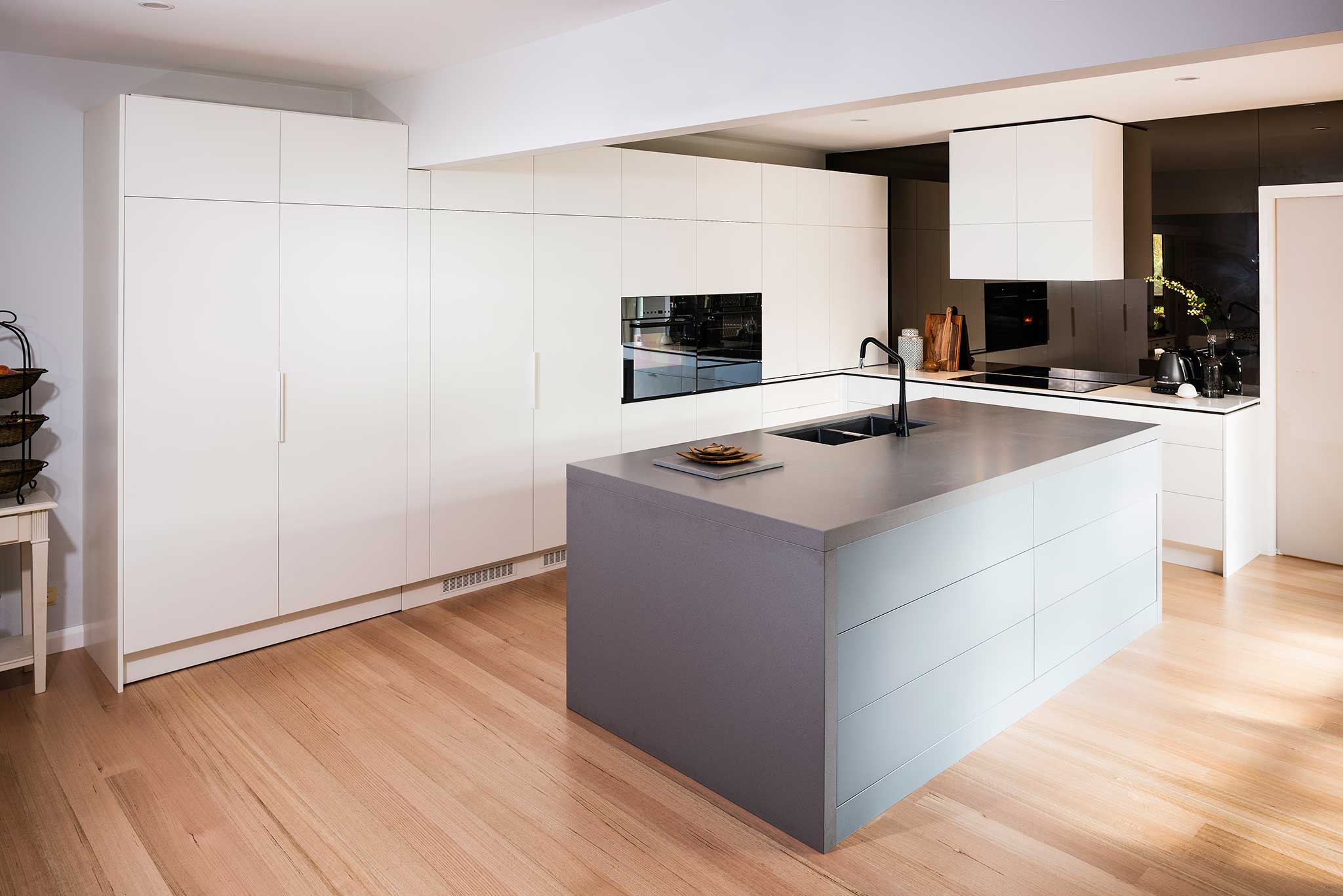 Bench pressed
These days there are a bewildering array of kitchen benchtop choices. Most of our clients choose engineered stone benchtops from manufacturers like Caesarstone.
So how do you save on a benchtop like that?
Choose 20mm instead of 40mm
The majority of stone slabs come in 20mm thickness, so when you want it to look thicker (40mm, 60mm or even 80mm +), the stone mason attaches a 40mm piece to the edge. This gives the look of a 40mm slab, but the body of the bench top itself is still 20mm.
Choose a more cost-effective colour 
Caesarstone colours, for example, come in Standard, Delux, Super natural and Super natural ultra categories. Like the names, there's a substantial difference in price. Picking one over another could save you up to $3,000.
Don't go for waterfall ends
Waterfall ends can be used on island benches, as well as end panels on cabinet runs. If you do want to save some money on overall stone costings, these can be left off and, alternatively, end panels can be made out of matching material to the kitchen cabinetry.
Check out more information on kitchen benchtop choices.
Where You Should Splurge in Your Renovation
In an ideal world, we'd all love an unlimited budget.
Nevertheless, no matter how much you have to spend, there are some key areas we consider too important for any cost-cutting compromises.
Custom designed kitchen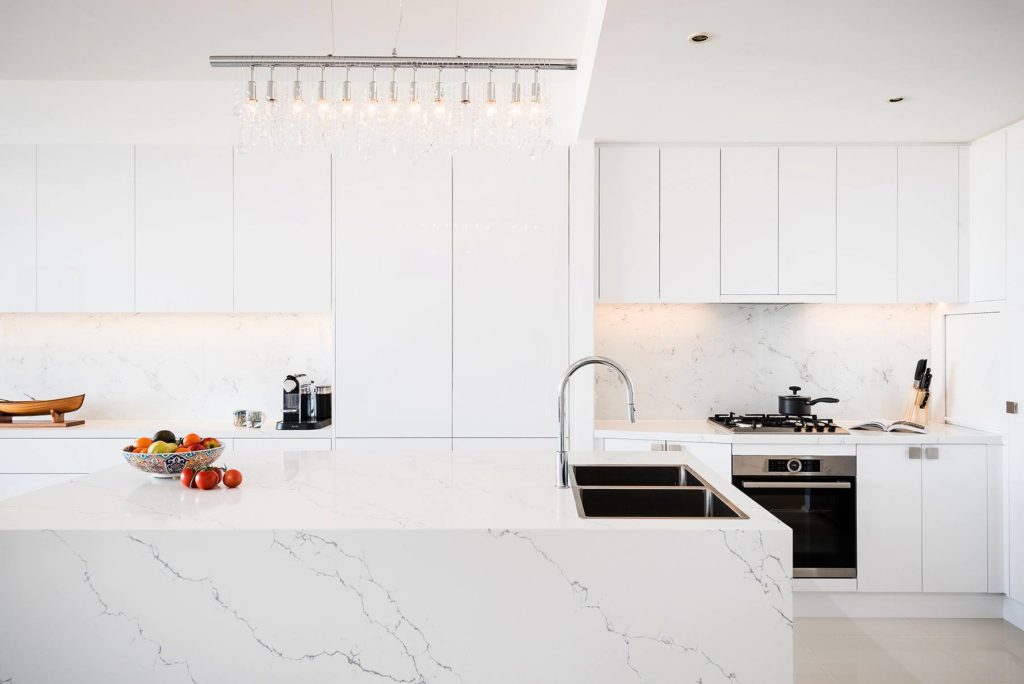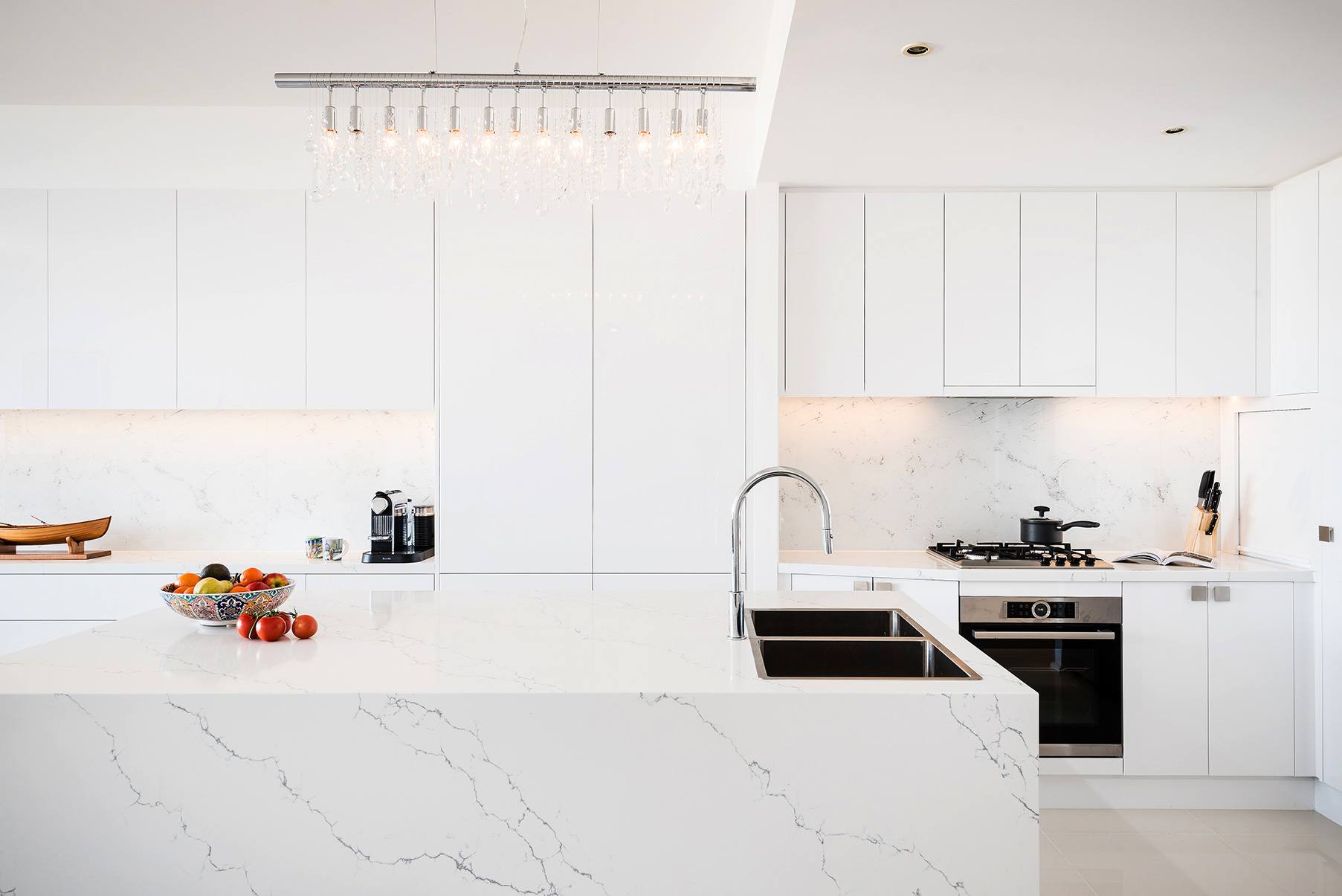 In our opinion, getting your kitchen properly designed by an experienced kitchen designer is absolutely vital.
Why? Buying a flat-pack or "off-the-shelf" kitchen might be cheaper but it's unlikely to fit your space properly or make the best use of the space. You'll probably end up with large panels to fill gaps and soon be complaining about the lack of suitable storage.
By contrast, a kitchen designer will come up with a solution designed specifically for your space, and to meet the needs of your lifestyle and family.
For example, a designer would come up with one solution if the client loved cooking and needed two ovens and large preparation surfaces, but a very different design if the space was for a couple who loved entertaining and wanted to hide any mess in a butlers pantry.
Hard wearing hardware
Don't become unhinged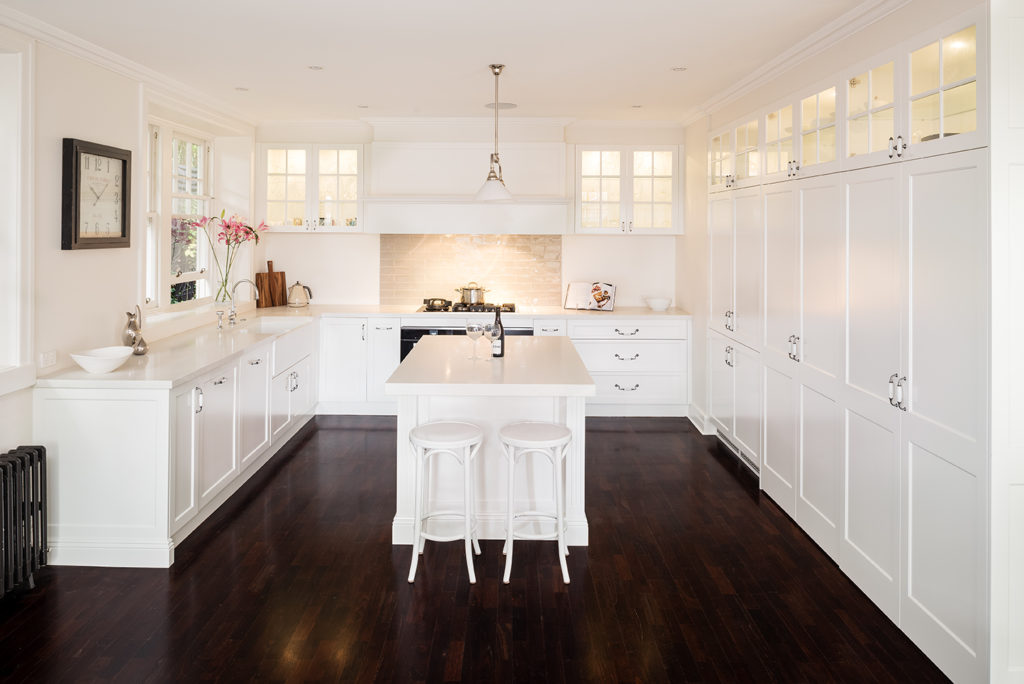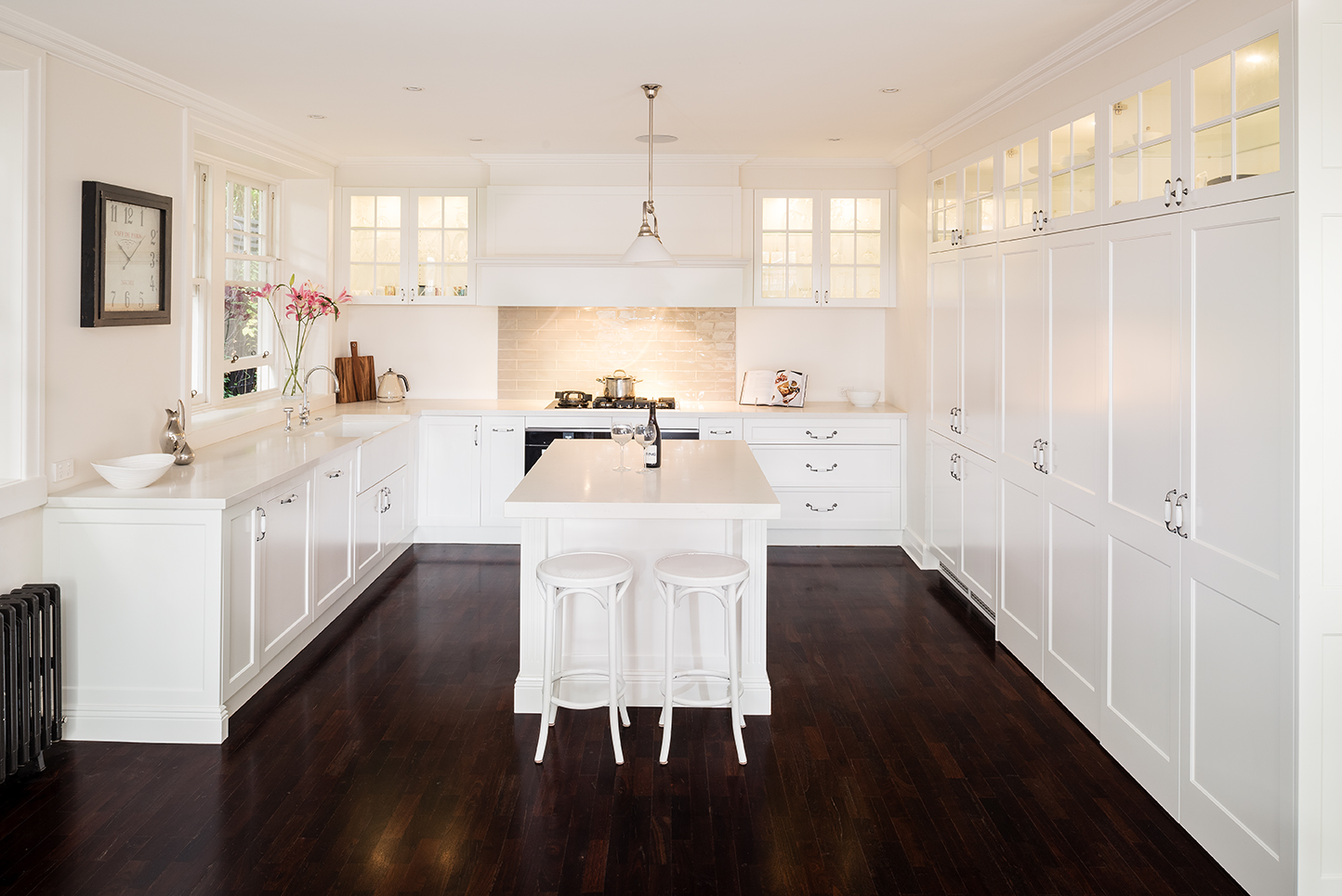 The kitchen is a true workspace and needs to be able to stand up to the rigours of day-to-day family life.
You don't want to be worrying about the prospect of your cupboards and drawers not closing properly – or breaking – soon after your new kitchen is installed.
So when it comes to hinges and associated closing mechanisms we can't stress enough how quality is non-negotiable.
We've all heard the saying "you get what you pay for". Never has that been more true than with kitchen hardware.
Buying cheaper inferior imported products will cost you in the long-run – in both the hip-pocket and disappointment stakes. Spending a bit more to begin with means lifetime warranties and peace of mind. Blum's drawers and hinges –
which we use – are a good example of this quality.
Much more than an accessory
For the same reasons as above, make sure you choose good quality accessories.
One great example is a corner accessory like Kessebohmer's Lemans II corner unit, which is engineered to glide in and out when opening and closing. It's vastly superior to other brands and imported copies, which struggle with the weight of pantry items and perform poorly over time.
We're sure you can understand how much of a difference a product like this – used every day – would make in the kitchen. Choosing a super accessible blind corner cabinet like this one is a decision you simply won't regret.
Conclusion
We hope you enjoyed our recommendations for splurging and saving on your renovation.
Get in touch if you've got any questions and we'll be more than happy to help.