Often we ask ourselves questions – "Do I really need a new kitchen?" or "what will be different in a new kitchen?" It can seem all too hard and we often don't know where to start. That's where the Rosemount Kitchens team can help answer some of the tough questions about renovating your kitchen.
The Rosemount team work together to make the process of renovating your kitchen as smooth and easy as possible. They offer the following services:
Kitchen Designers who understand kitchens and what is required to create a beautiful kitchen that is not only a joy to work in but adds value to your home.
Kitchen Layouts that are aesthetically beautiful and even more importantly are functional and will improve daily life in your home.
Professional tradesmen who actually care about you and your family home. From start to finish, the team at Rosemount Kitchens treat your home like they would their own.
Designer kitchens that are custom made just for you. It's all about you. We custom design and manufacture our kitchens to suit you and your home – without compromise.
A kitchen renovation is a big interruption to your family's daily life. We work with you to keep any inconvenience to a minimum. We do many things right at Rosemount, but looking after you and your family….. we make this our priority.
So why a new kitchen???
There are many reasons why you may be thinking about getting a new kitchen: your oven may need replacing but a new one won't fit the current space. Your benchtop may be damaged or worn and need replacing. You may not have enough storage. The list could go on and on.
Below are some things we find important for a new kitchen design:
Access to every part of your kitchen – no unused spaces. No difficult to reach areas. There are many different design options and accessories that help to make every space in the kitchen accessible.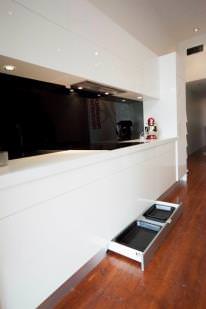 Kicker Drawers utilise the space that is usually wasted.  It is ideal for cooking trays or platters that are hard to stack. We have been told that some use kicker drawers to store their favourite red wine!!!!
Drawers, drawers and more drawers – none of us want to get down on our hands and knees to collect items from the back of cabinets.  With new drawers systems all your saucepans, plates, glasses and plastics are easy to store and and easy to access.  New soft close drawers not only feel beautiful to use but they can take up to 65kg of weight.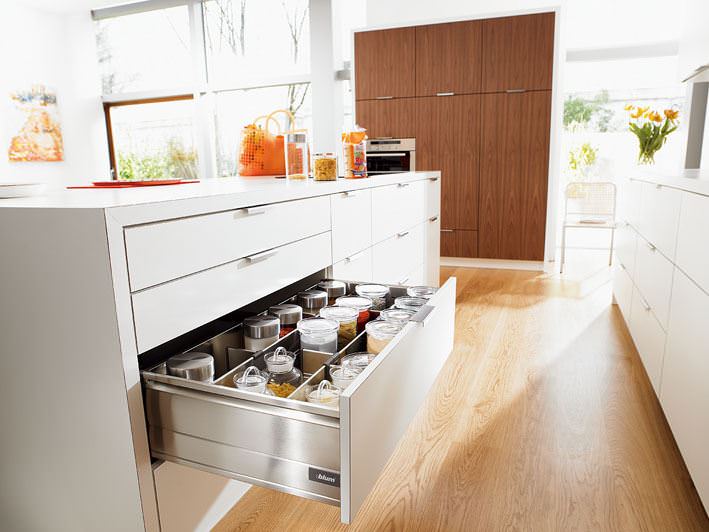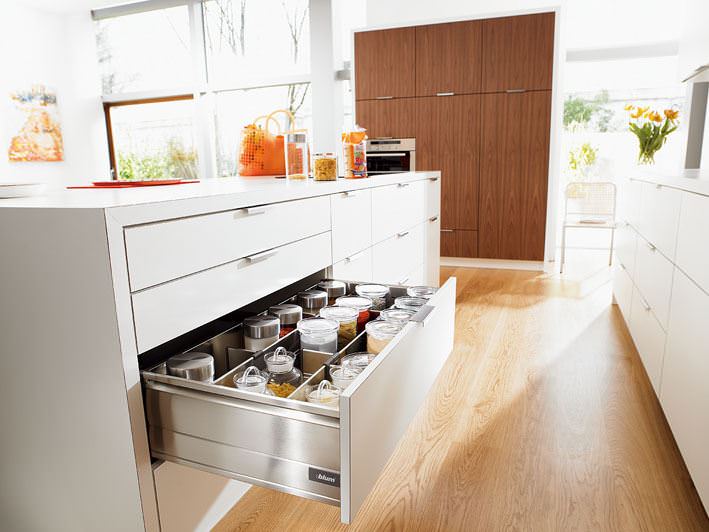 Kitchens with many drawers make all the difference.  Everything becomes easily accessible.  No more getting on your hands and knees to reach the items at the back of the cupboard.
Sink drawers solve that often messy sink cabinet problem and allow far more practical use of the cabinet.  No more messy sink cupboards with wasted space.  Sink drawers allow you to store dishwashing items in a top drawer that is shaped to accommodate your sink and its plumbing.  You are then left with a bottom drawer to store other items or to use for a bin system.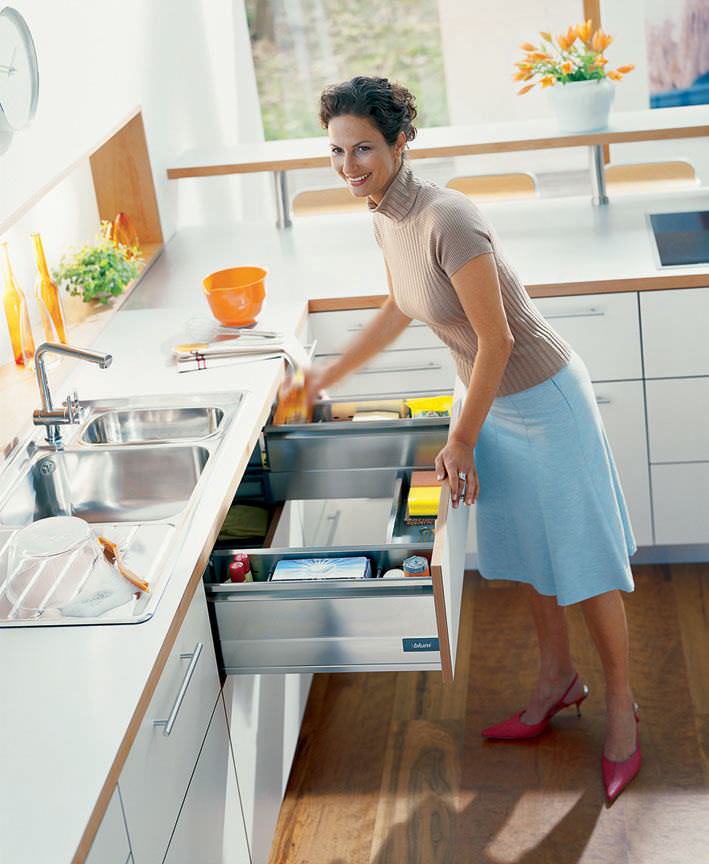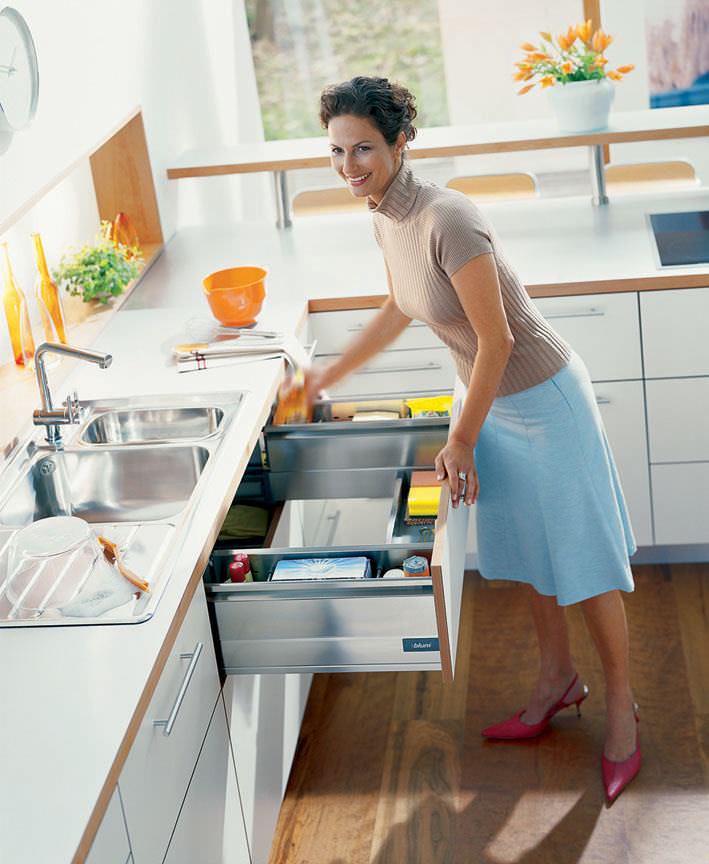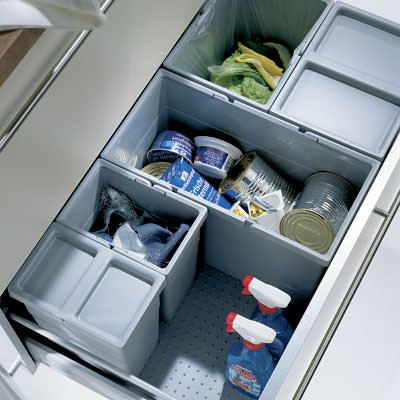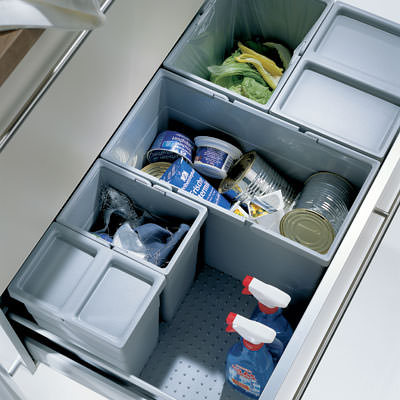 Using the bottom drawer in your sink cabinet for your bin system where you can easily sort your rubbish – recycling, compost & daily rubbish.  You can also use it for storing extra cleaning products.
Corner solutions – corners have proven to be 'lost storage space' over the years, but not anymore.  From modern 'lazy susans' to LeMans corner units, there are many solutions to maximise these hard to reach, but necessary corners.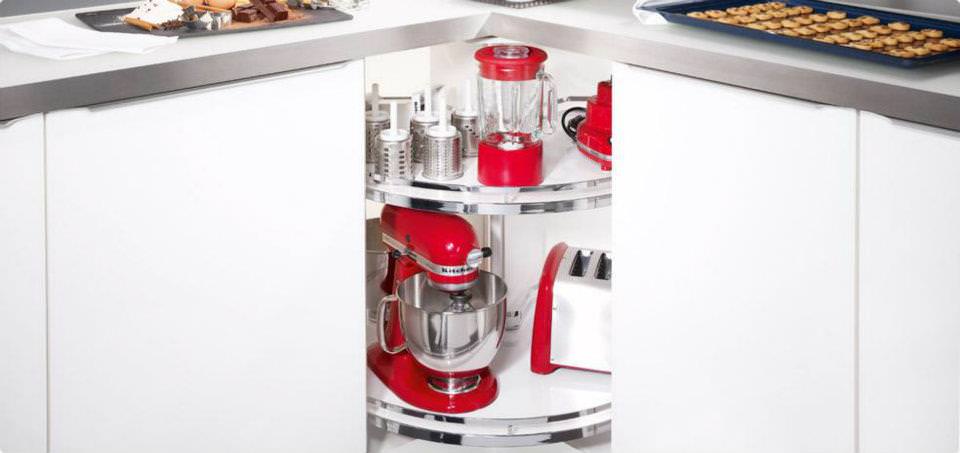 A Revo 90 is a great solution for that hard to reach corner in your kitchen.  Instead of reaching right in to the back of the cupboard, you can simply swivel the shelves around to get the items you are wanting. The doors fold back into the cabinet to give full access without hindrance.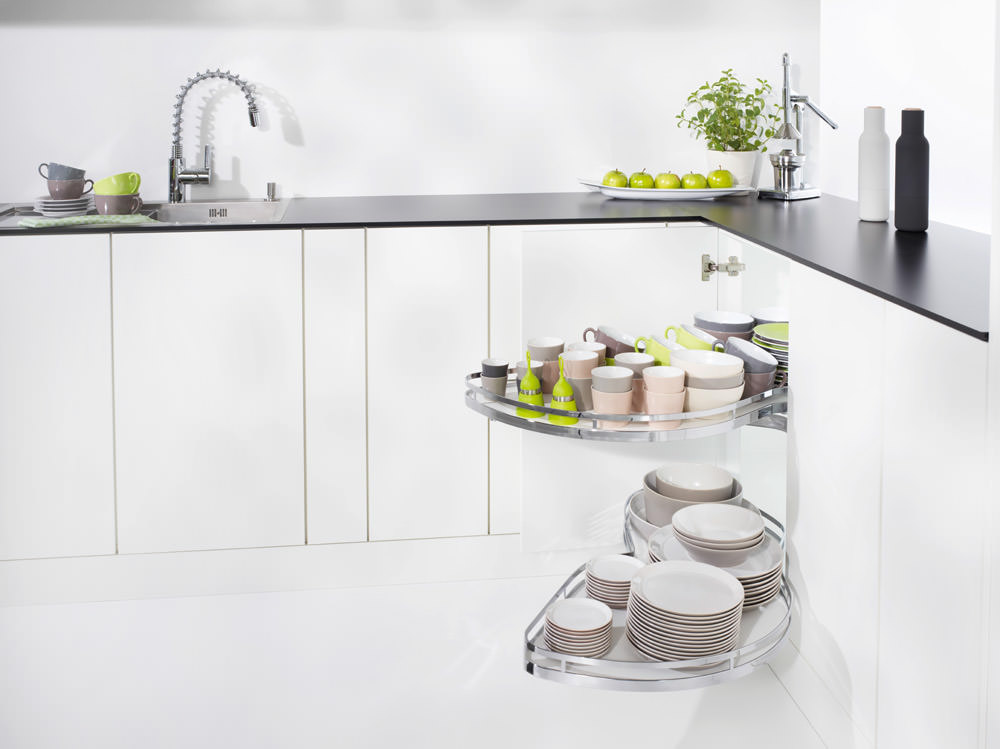 The LeMans II simply glides in and out of a corner cabinet, bringing items right out to you.  They eliminate the need to bend or kneel down to reach into the cupboard.
Recycle solutions – today we recycle more than ever.  New bin systems to cater for separating rubbish are available in many different sizes to meet the specific needs of your household.  For example, larger bins can be used for your cans, bottles and cardboard and smaller ones with lids for food scraps for composting.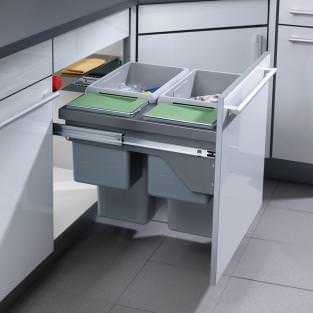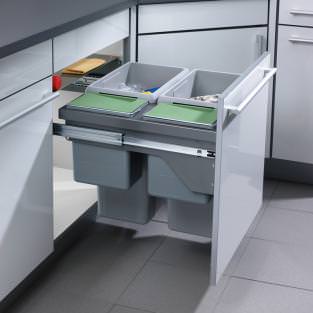 Cargo bins can be fitted into a cabinet in your kitchen.  They come in varying widths to meet your specific needs.
Solid surface benchtops: When buying or selling a house, there is often a 'market expectation' of solid surface benchtops.  Products like Caesarstone or Smartstone provide durable, user friendly surfaces with neutral tones.  There are always new collections being released, so pop into our kitchen showroom for the latest colours, styles and tones.
Clean lines: from door and benchtop finishes to the design layout of your new kitchen, a clean, uncluttered look is very popular.  Minimalistic, neutral, clean, yet striking, are words best used to describe this look.  Handleless kitchens are very popular and can be used in a very modern design right through to a more classic kitchen.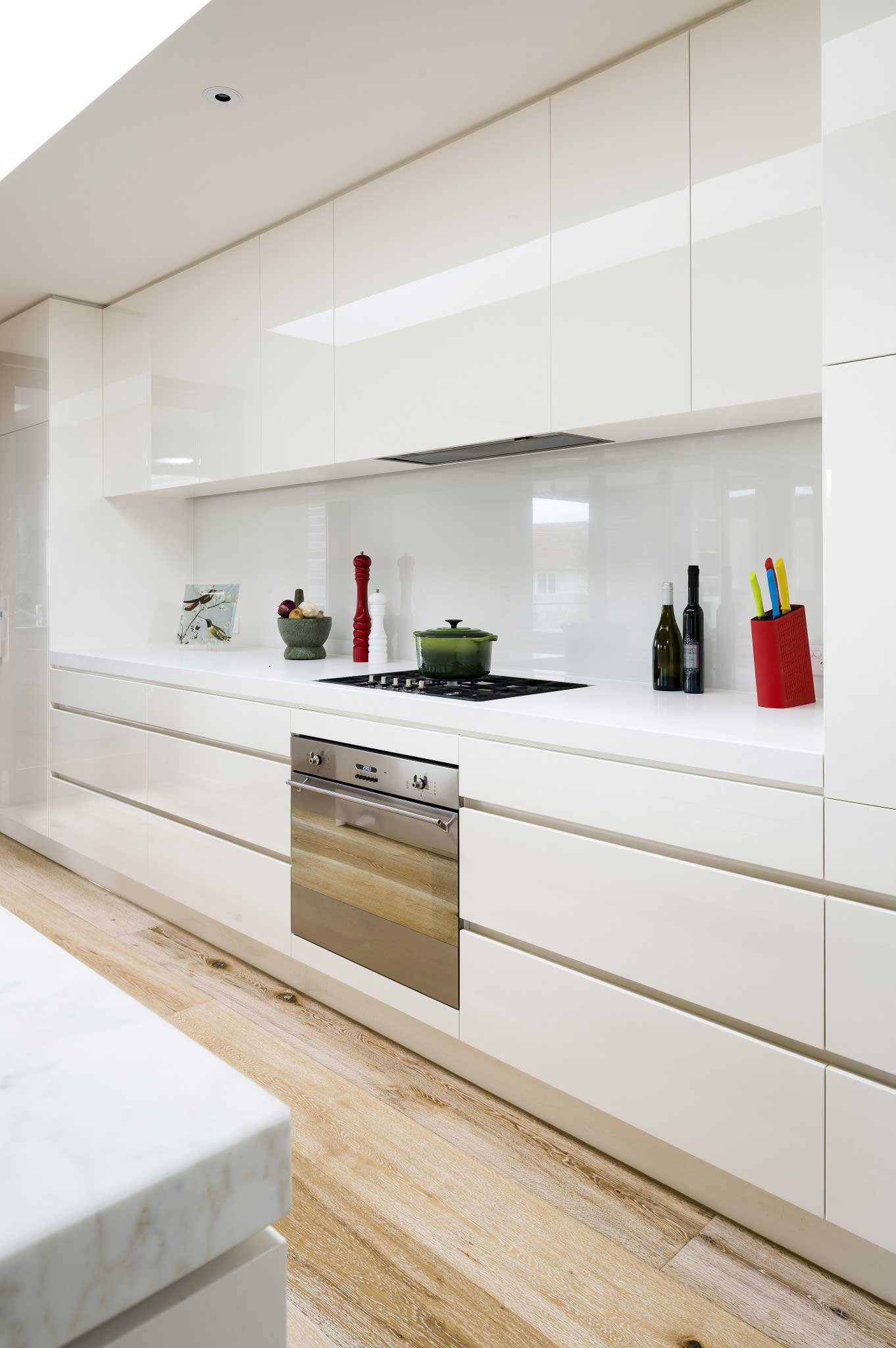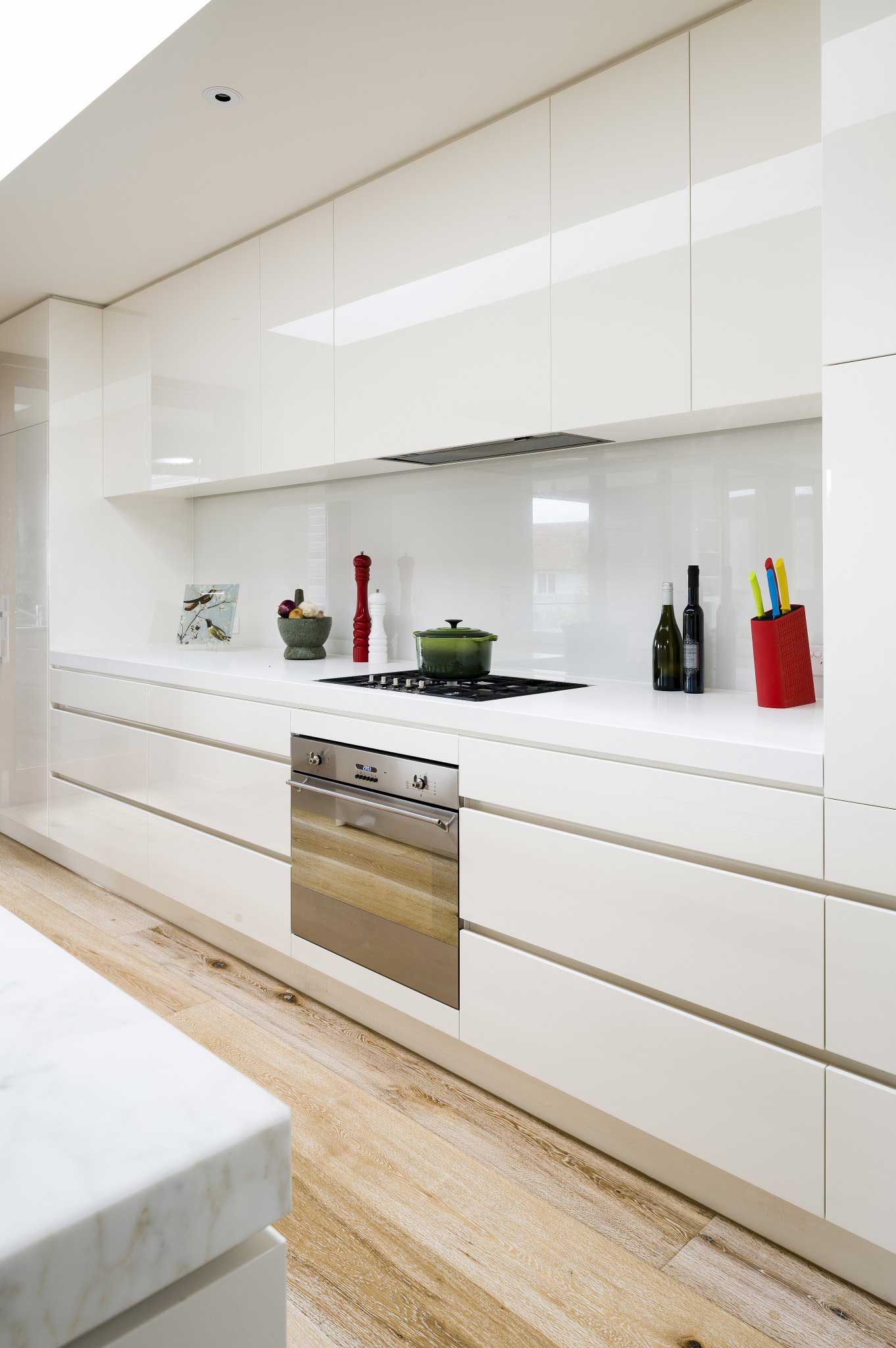 Traditional Kitchens:  even the most ornate French Provincial Kitchens can still function very efficiently with 'all the mod cons'.  Modern storage solutions, drawers, bin systems and corner solutions, combined with a classic profile door, can create that traditional look with 'today's functionality'.