"The difference between something good and something great is attention to detail."
A guy called Chuck Swindoll gets the credit for that quote. He's an American evangelical preacher. I suspect he lives in a home with a great quality kitchen.
Details make all the difference in my professional world. If an estate agent tells you it's all about location, location, location, a kitchen designer will look at you and say: "Details, details, details."
Stand back and admire two kitchens. From a distance, it can be hard to distinguish the quality. But go closer and, if you know what you're looking for, it becomes as clear as the Australian-made MDF board in your kitchen cupboards. More on that later.
Modern kitchen design has the edge
A lot of people remember how cabinet makers used to carry around an iron. They'd use it to apply edge tape to a piece of board. The iron would activate the glue on the back of the tape, making it stick. That might have been sufficient back in the day, but it had its limitations. Over time the edging – which was 0.4mm thick – would bubble, chip or come off altogether.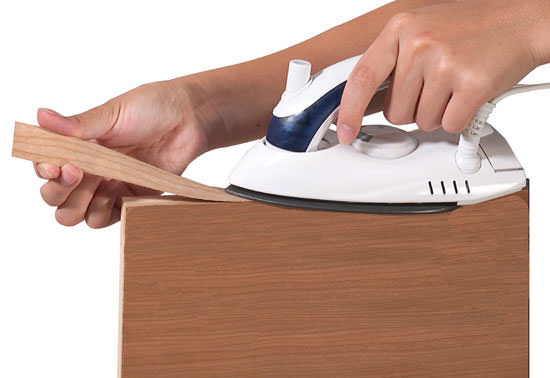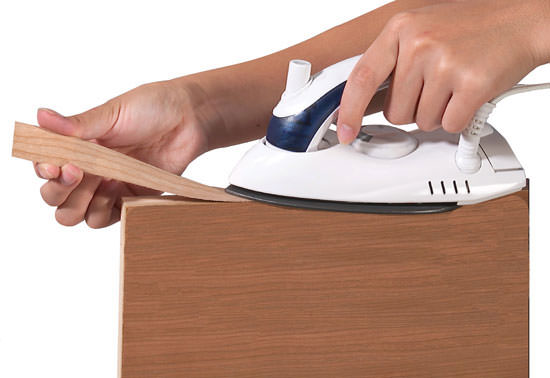 That doesn't happen any more. Today's edging is far superior.
At Rosemount Kitchens in Melbourne, we use high impact resistant ABS edging on kitchen cabinets, doors and panels. It's still heat activated, but at a far higher temperature as it goes through one of our big edge banding machines. That ensures the edging won't chip or peel off. It gives added protection to cutlery and pot drawers that can get easily knocked.
The image below shows a sophisticated "laser fusion" finishing technology that improves the finish, durability and visual appeal. As you can see, it gives a modern, streamlined look with minimal visual lines.
And if you want to minimise the "line" often visible around the edge of kitchen cabinetry, choose your product and colour carefully. Some lighter colours are more noticeable than others.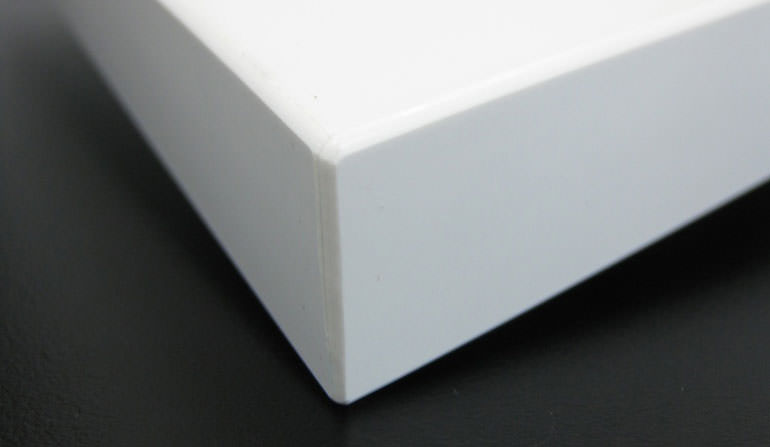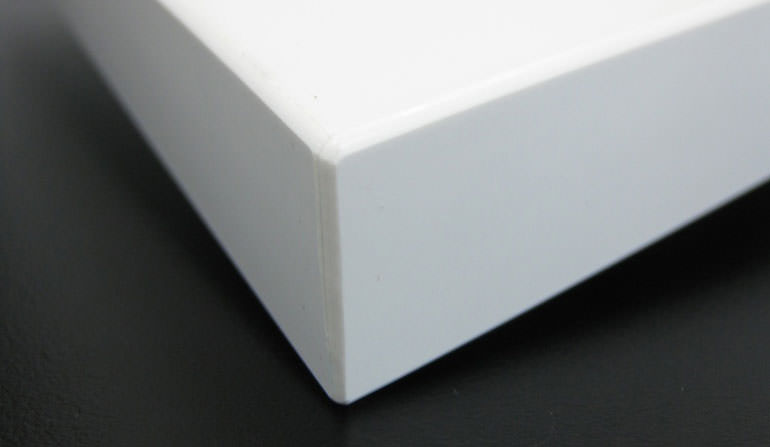 The right finish
We use Australian-made board for carcasses in all kitchens we install.
When board is manufactured in Australia, it is made to the Australian standards and meets the E1 or low formaldehyde emission standard. (Check out this page for a Housing Industry Association (HIA) guide outlining reasonable standards for kitchens.)
It's important to know what you're buying. The Australian standard states that the board needs to be moisture resistant particle board (HMR) or moisture resistant medium density fibreboard (MR-MDF). A lot of imported board is HMR and MR-MDF, but you have to be careful because it may be of inferior quality – and that can ultimately jeopardize the long lasting quality of the kitchen.
Many imported boards have really big chips, so when you screw into those, the screws most definitely don't take hold and they easily pull back out. Not exactly the structural integrity you look for in any kind of kitchen cabinet, never mind a quality one.
Quality kitchens – it's all in the detail
Once again, detail really matters. Take another look at those two kitchens.
In the high quality version you'll see that the gloss doors have a highly reflective beautifully flat finish that some people think resembles glass. The poorer quality version is dull by comparison.
To make sure you get the highest quality kitchen door with a flawless finish that stands the test of time, you need quality board and a quality painting process. It's vital in any contemporary 2pack (painted) kitchen.
Attention to detail, as that old sage Chuck Swindoll observed, really does make the difference between good and great – or mediocre and excellent when it comes to kitchens.
Quality counts in many areas of life, and it is simply essential when you're renovating or installing a kitchen.
Want to find out more about a quality kitchen installation or renovation? Call us today on 1300 476736 or contact us.