When it comes to adding colour to a kitchen, it's far from black and white.
The choices are seemingly endless, and for some clients we've worked with – simply overwhelming.
Will the shade of scarlet that looks gorgeous today make you see red in a few years time?
Our view is that if you get the right advice and stick to a few well-worn principles you'll be as happy with your choice in a decade as you are now.
For us, small details can make a big difference in professional kitchen design.
That's one reason a neutral colour scheme for the majority of your kitchen – with the addition of splashes of colour – makes such a great impression.
This approach works really well with all-white kitchens, which are popular at the moment. They're crisp, clean and modern, but can sometimes appear too stark or clinical.
That's where a burst of colour is so effective – providing warmth, personality and flair to your unique kitchen style.
And it works across all kitchen styles, whether it's French Provincial, Hampton or more modern contemporary designs.
Where and how you incorporate your colour can be as permanent as in the splashbacks or a statement oven, or as changeable as bright stools, a painted door or coloured light shades.
Even the colour of a kettle, toaster or tea towels – yes, tea towels – can make a difference.
So with all that in mind, here are 13 ideas on how to incorporate colour to brighten up an all-white or neutral kitchen.
1. Splashbacks
Splashbacks are a popular and easy way to add colour to a kitchen. Any colour on a paint chart can be chosen, so the choices are endless.
The first three images here are a few of the coloured splashbacks Rosemont has installed for our clients in Melbourne.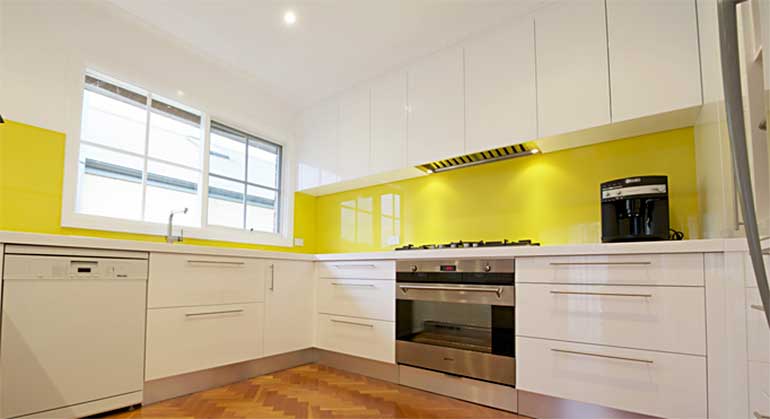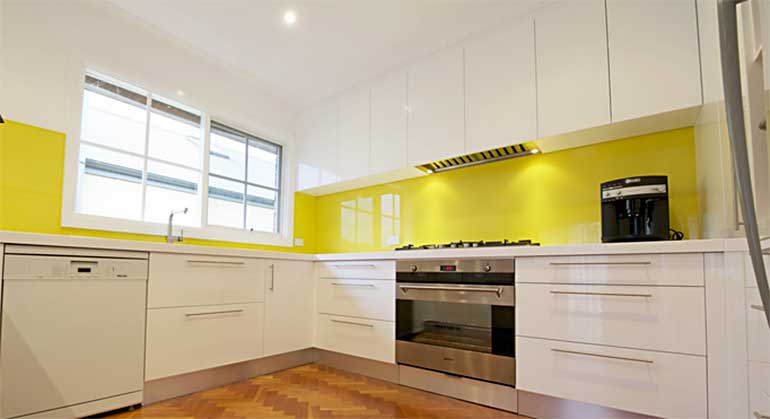 Say a cheery "Good Morning" to this kitchen we installed in Camberwell. The yellow burst of colour adds light, warmth and happiness.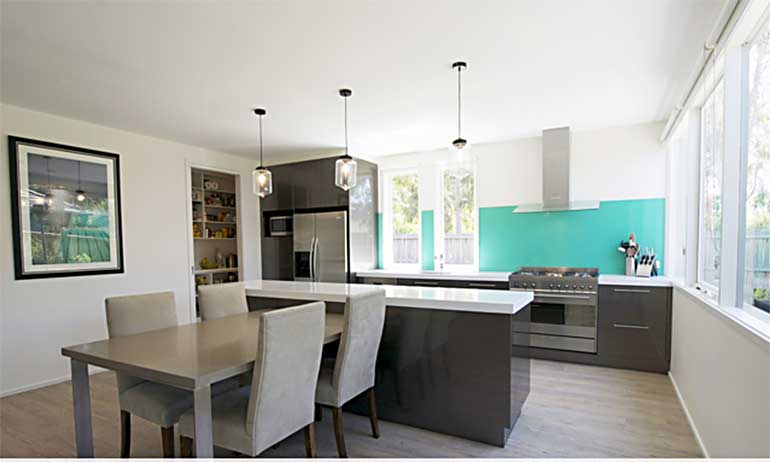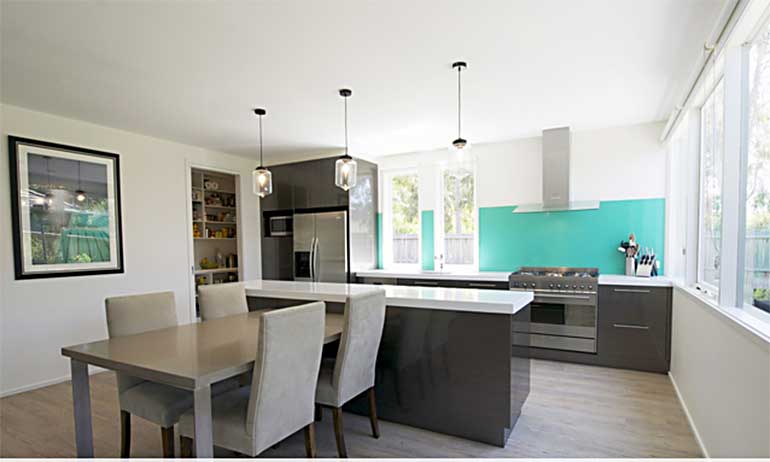 The aqua splashback adds vibrancy to the white and grey palette in this sophisticated modern kitchen in Macleod.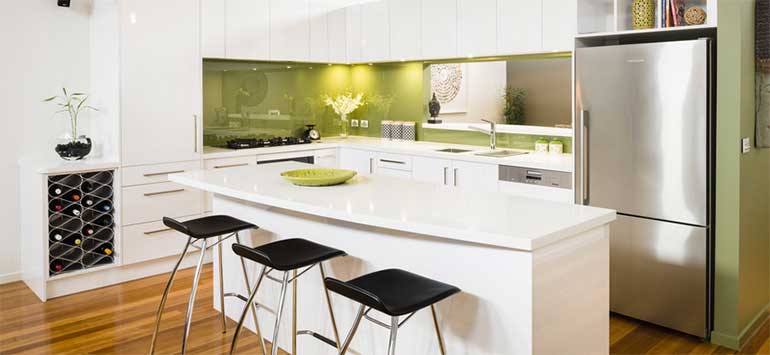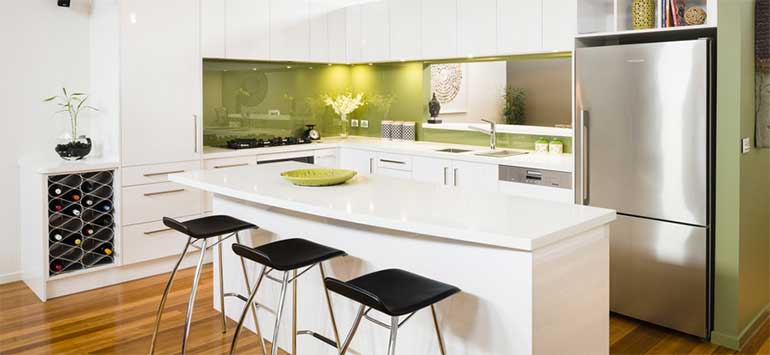 Are you green with envy? Love the use of green in this stylish kitchen in Mount Waverley.
You can see more of these images on our Gallery page.
And here are some more examples we saw on Google: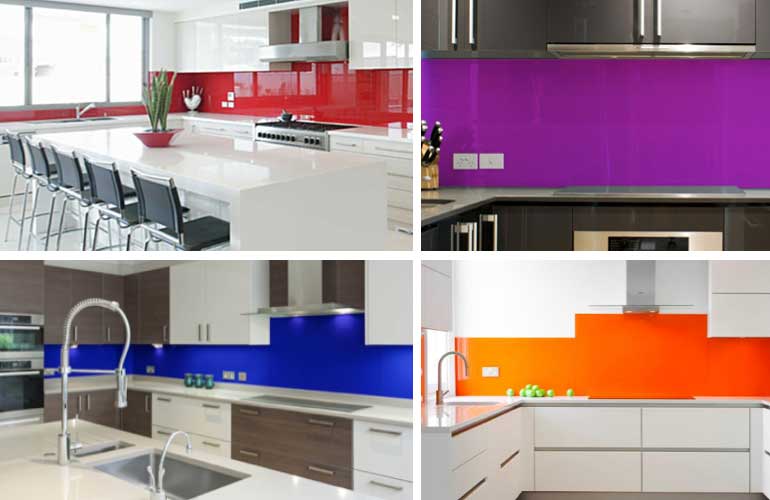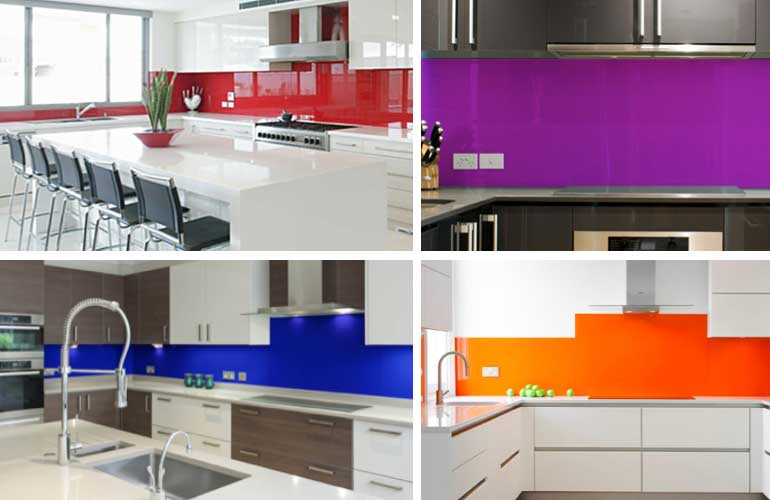 And it's not only the bright shades that stand out. A soft tone can add equal impact when used like this lovely tiled splashback and feature wall.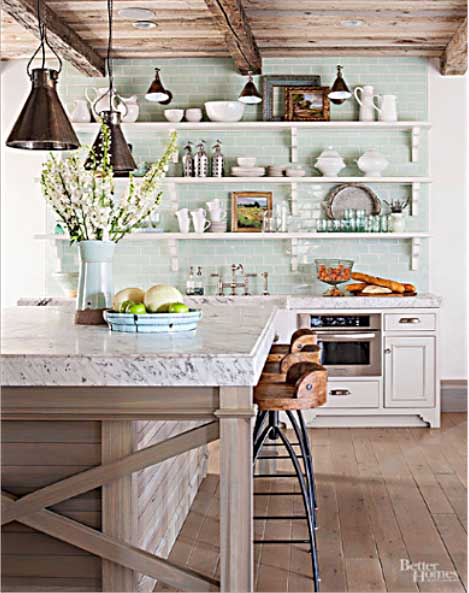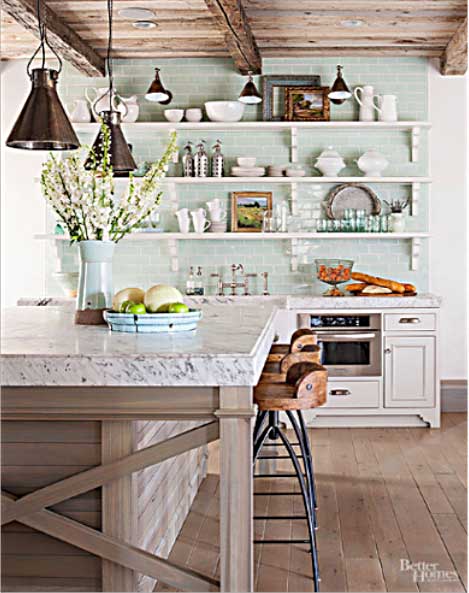 2. Statement Ovens
These drool-worthy coloured ovens are the focus points of these kitchens. The top picture with the beautiful black oven is from a kitchen Rosemount installed in Coburg.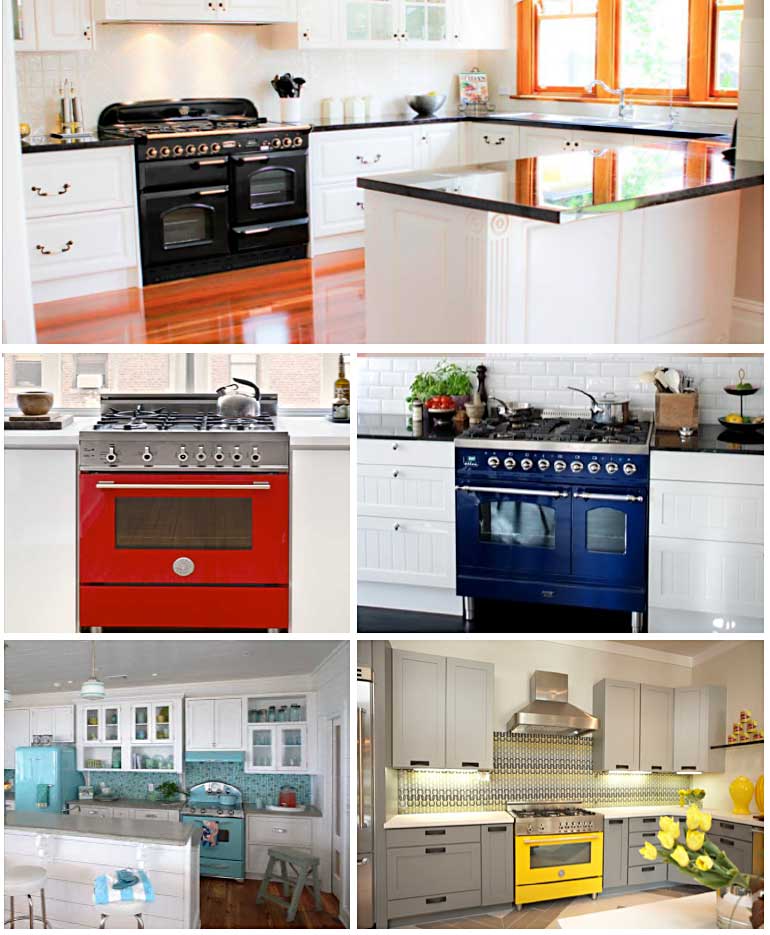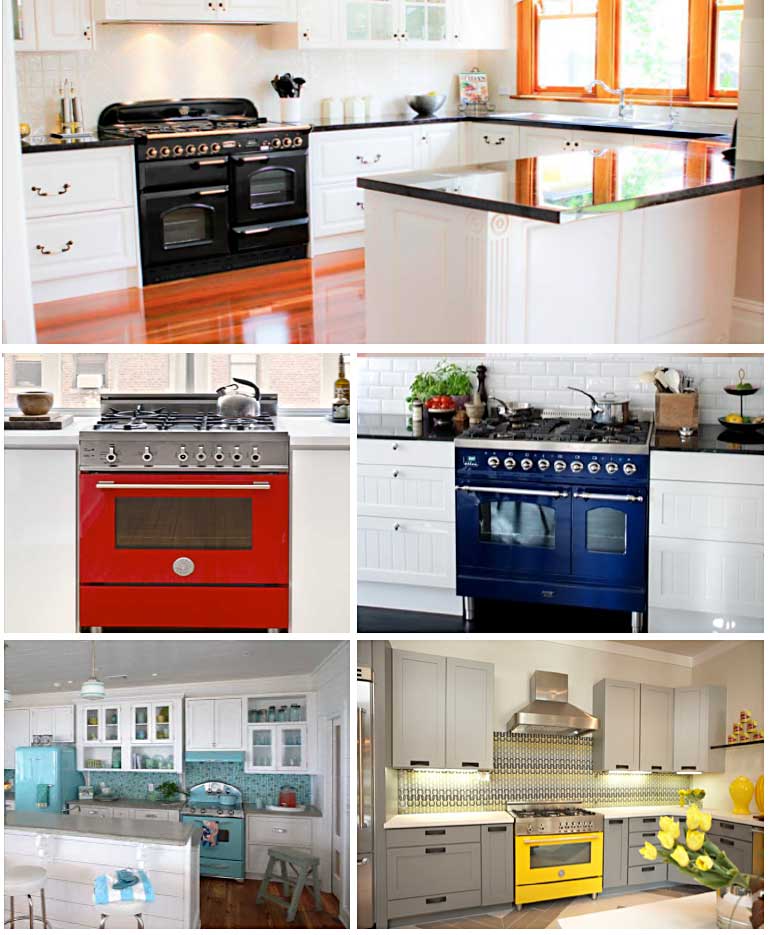 3. Stools and Chairs
Colourful stools or chairs are a great option for incorporating some colour into your kitchen. Coordinate with other items like vases, bowls, plates and canisters for a fabulous look.
The top image is a kitchen Rosemount installed for clients on the Mornington Peninsula. The multi-coloured stools really enhance the contemporary white design. Caesarstone in the USA liked it too (the benchtop is made by them) … they featured this kitchen on their Facebook page.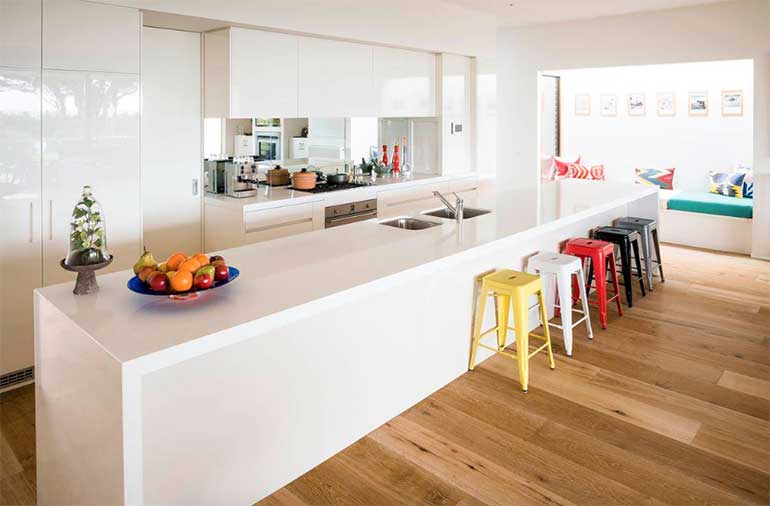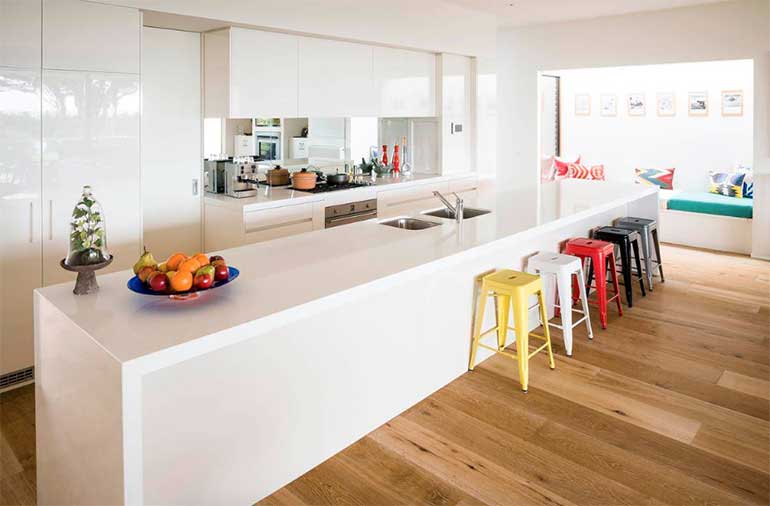 And this one if from Better Home And Gardens: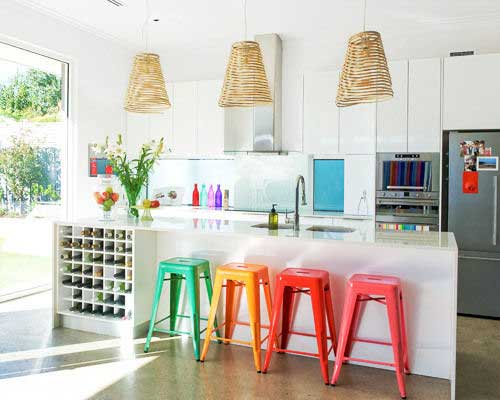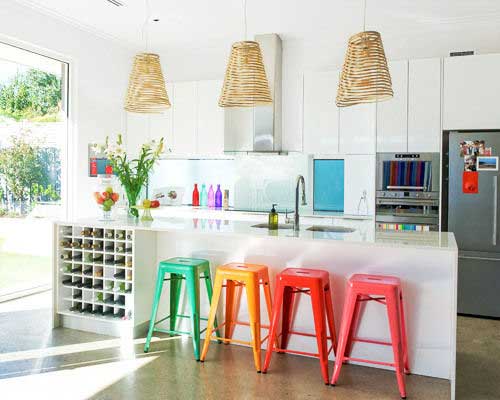 4. Flooring
Team an all white or neutral kitchen with terra-cotta tiles or rich wooden floors for an eye-catching and inviting room.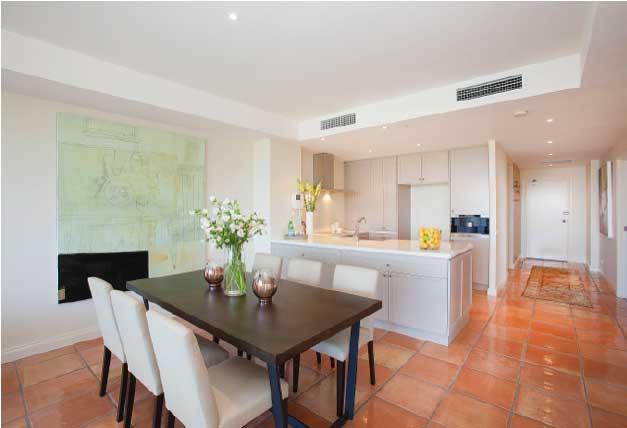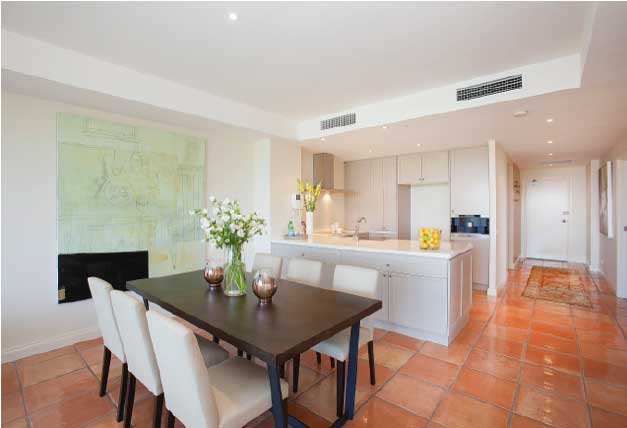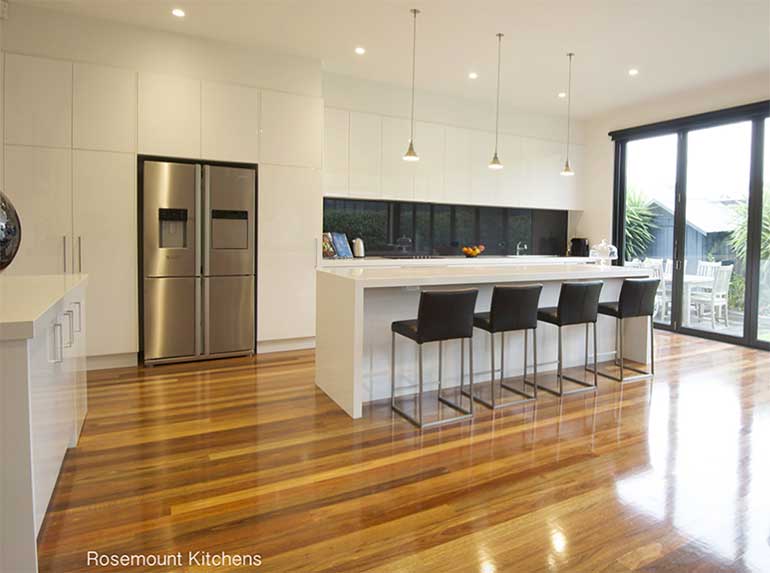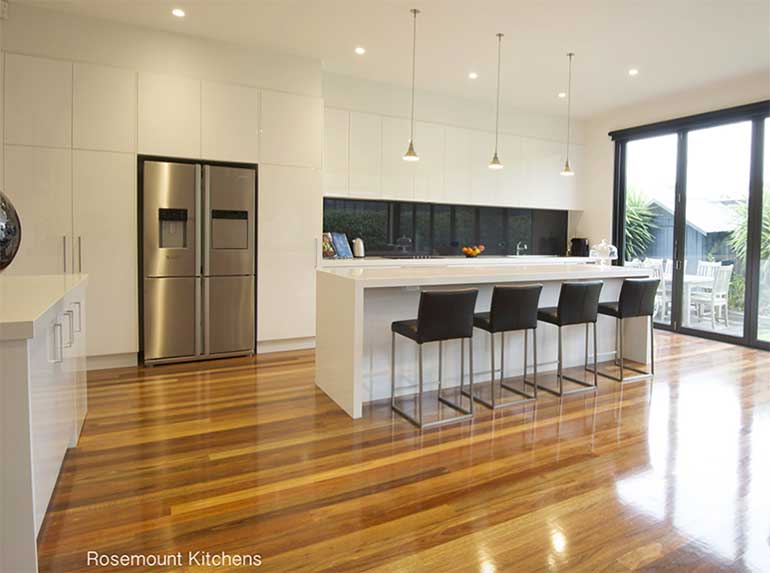 5. Kitchen Islands
Opt for a bright colour and your island really will be the focus of your kitchen -like these fabulous examples.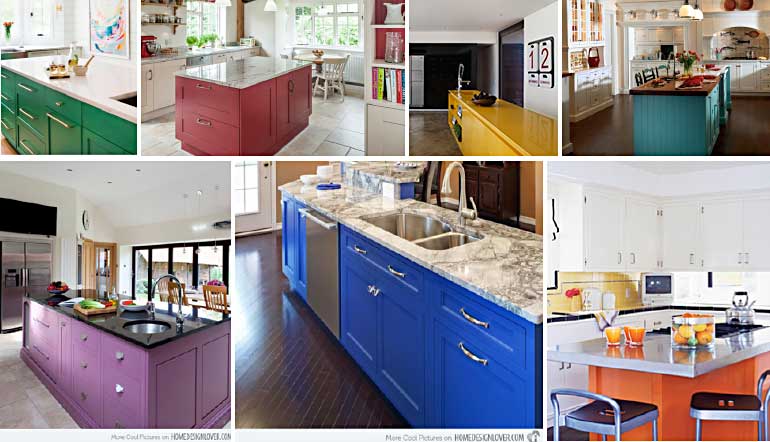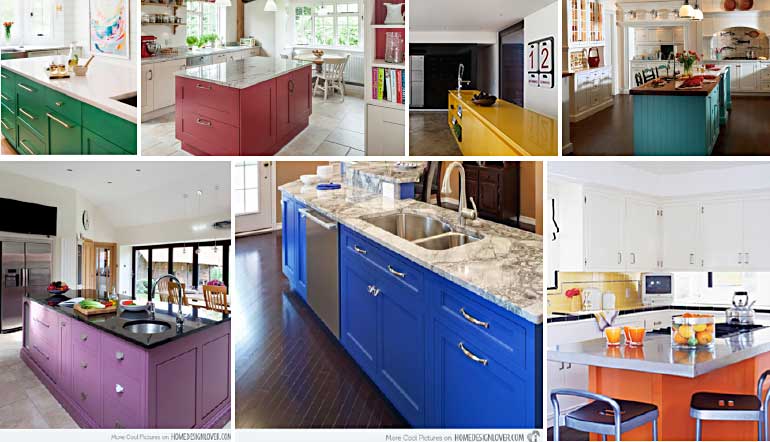 6. Light Shades
Your choice of light shade can add a modern finishing touch to your new kitchen. Pendant lights are becoming highly popular to make a statement in a room. This fabulous red pendant from Beacon Lighting would look stunning hung over an island bench.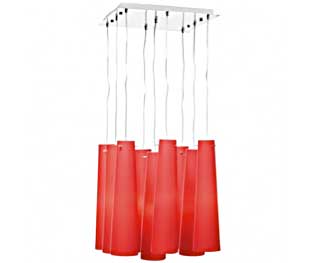 Here are some examples of where coloured light coverings have been used to great effect.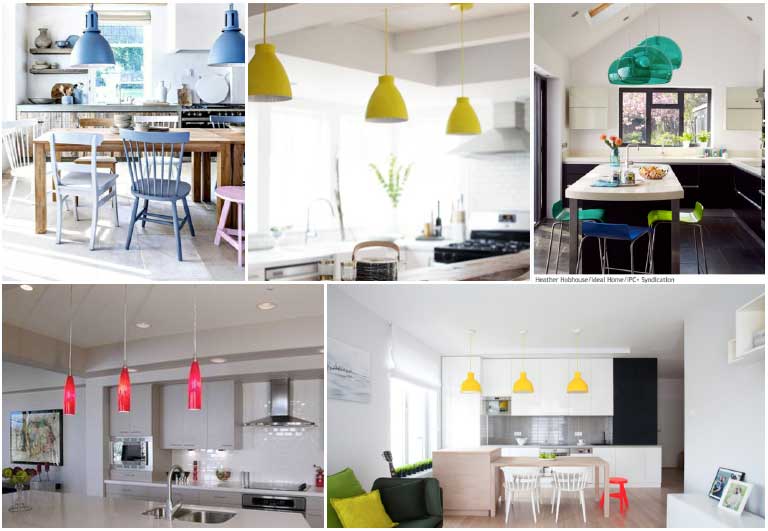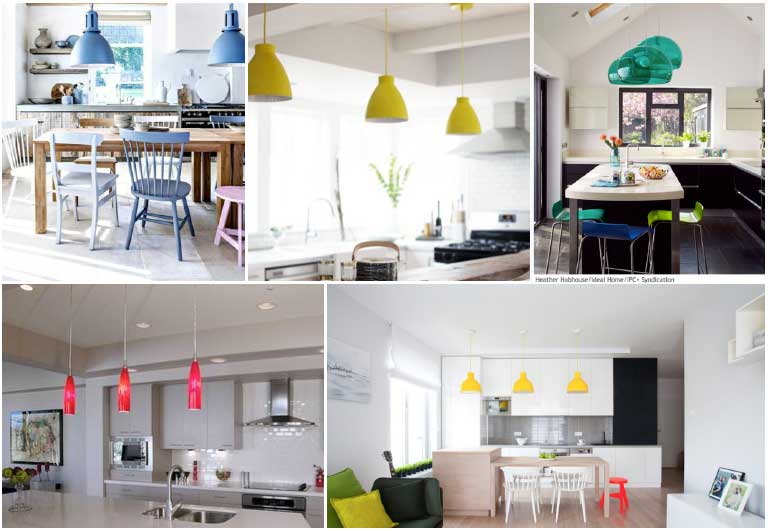 7. Coloured "White" Goods
Step aside stainless steel and white fridges – these retro fridges from Smeg are available in a veritable rainbow of colours.
Some shades have matching dishwashers and small appliances, like toasters and kettles. They're sure to brighten any kitchen.
You can check them out in more detail on the Smeg website.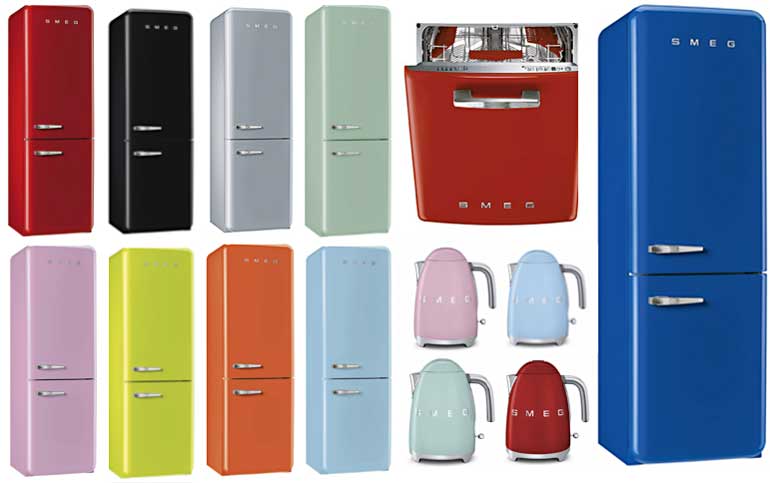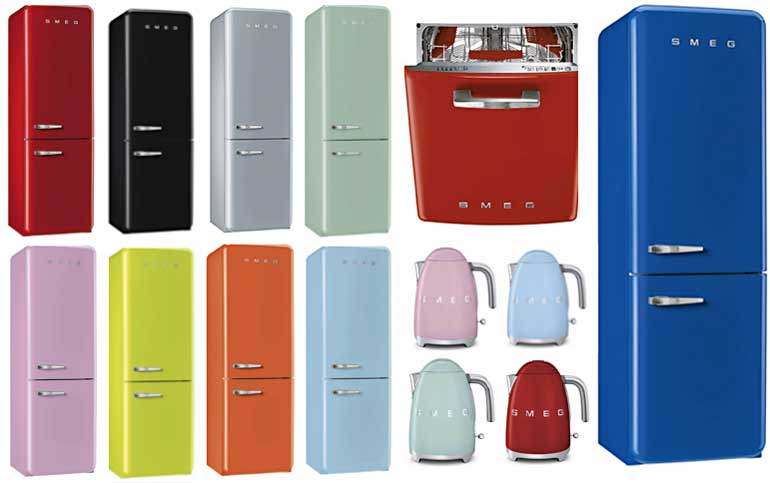 8. Bright Appliances
Using small appliances, such as the Smeg retro range above or Kitchen Aid, can add a burst of colour to any kitchen. The beauty of this approach is that you can easily change the colours if you decide you'd like a refresh.


9. Herb Wall
If you're a bit of a green thumb this wall of herbs will appeal to you.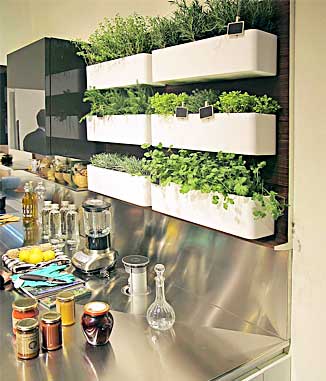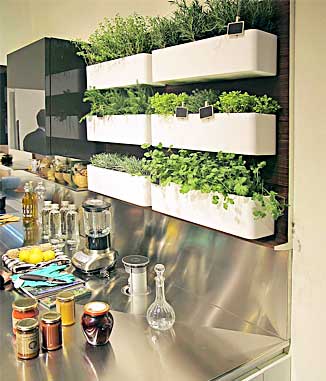 10. Kitchen Art
Using a beautiful piece of art in the kitchen, or adjoining dining/living room, is a great way to add not only colour but also beauty.
Choose something that you love or that speaks to you, and your kitchen will reflect your personality. As we know with art, everyone's taste is different, so the options are endless.
We love this kitchen in Middle Park where our clients used both an original artwork and a complementary light covering to make their kitchen unique.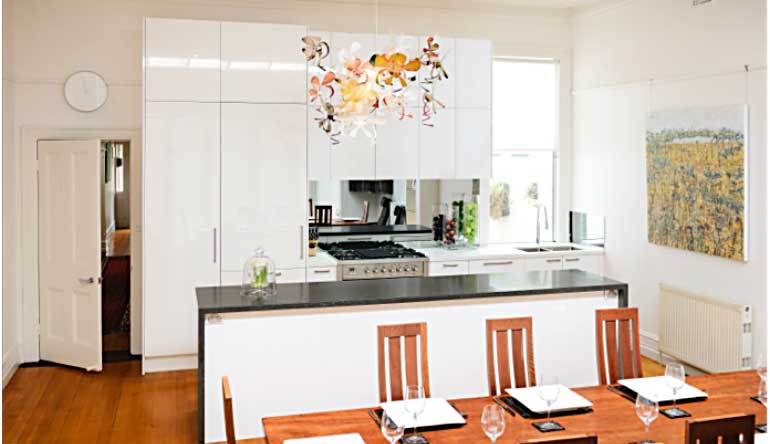 Can't find that perfect piece in the right colours or size? How about having a piece commissioned by a local artist?
Here are couple of examples of artwork, produced by Melbourne artist Brooke Swain, that would add beautiful colour to any kitchen or living space.
11. Ceiling
Have you ever considered a painted ceiling to add some colour in your kitchen? It's one of the most overlooked areas to add a touch of flair.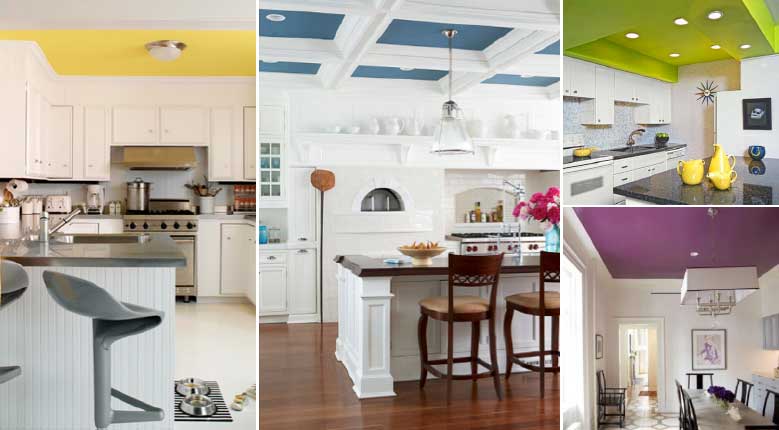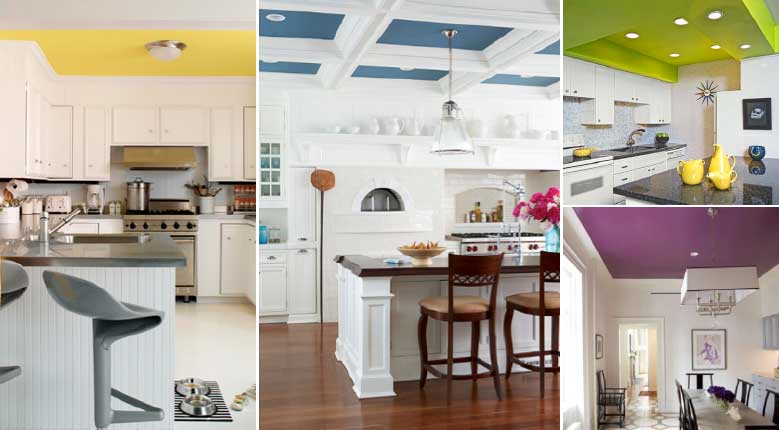 12. Doors
Consider painting a door a bright or strong colour. An added bonus is that marks on the doors won't be as obvious.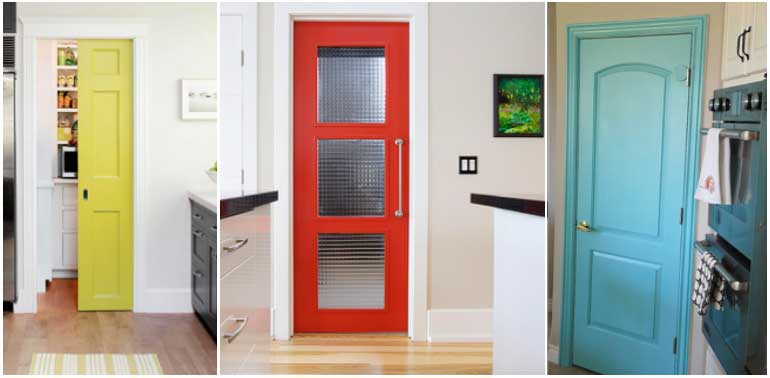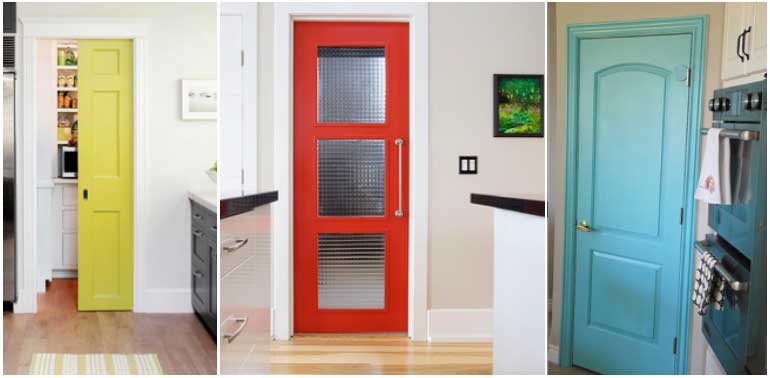 13. Window Frame
Painting your kitchen window frame provides a pop of colour in an unexpected place and immediately brightens the room.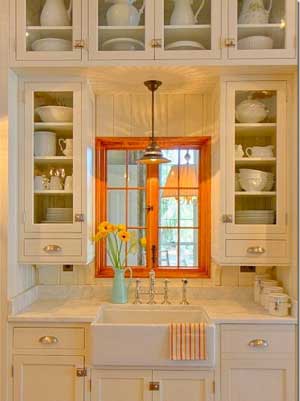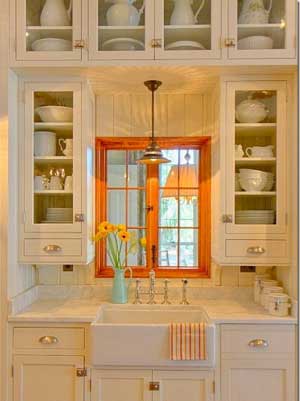 Conclusion
What do you think of these suggestions?
Our clients often express surprise at how effective they can be.
I hope it's been of help, and don't forget, our designers can help you decide on a kitchen colour combination that's going to make you happy for many years to come.