Small Kitchens
Well designed small kitchens show that size isn't everything when it comes to the most important room in your home.
Sure, we'd all love to have a luxurious kitchen that's bigger than a typical high-rise apartment. But for most of us, the reality is we don't have that kind of space.
Which is fine:
Because when it comes to kitchen design – like so many other things in life – it's not so much about the space you have but what you do with it that really counts.
As long as you're careful and clever about how you fill that space, you'll be able to create a beautiful small kitchen that caters to you and your family's needs.
Attention to Detail
At Rosemount Kitchens we're obsessed about attention to detail. You can see from these photo design galleries that this applies to every project we undertake.
That's even more important when you're creating a kitchen where space is at a premium.
There are several key principles that we would argue apply to the majority of great small kitchens, but we always start with the basics:
How do you and your family use the kitchen, and what's most important to you when it comes to what you want to get out of the kitchen?
Also consider what you want and need in the kitchen – then ask yourself: "Where is it going to go."
These are important and fundamental considerations in any kitchen renovation, and once our kitchen designers have the answers they set about creating a new kitchen that the customers will just love – and love spending time in.
We often meet customers wondering how on earth they could transform an existing small kitchen or if it's possible to make their space seem bigger.
The answer is a resounding "yes" – as long as you closely follow some key principles.
Important principles in small kitchen design
When it comes to a creating a great small kitchen, there are a number of common factors to consider when trying to find a balance between form and function.
The best small kitchens share the following traits:
Good layout
Maximum use of potential storage space
Neutral colours and effective use of light
They also focus on simplicity. The idea that "less is more" is a good one to keep in mind when creating your perfect small kitchen.
Layout:
Kitchen layout is often influenced by the customer's specific needs.
For instance, a U-shaped kitchen will give you more storage space but limit the amount of interaction. On the other hand, two people will be more comfortable together in a galley-style or l-shaped kitchen with island.
Visual Illusions
There are a number of "visual tricks" that can make a small room seem bigger.
Light and lighting:
Natural light always makes a space feel larger. If you've got it – or can potentially access more by, for example, putting windows in a door – use it.
Can you create more light from existing windows? Would your kitchen benefit from the addition of a skylight? It's an economical addition that can make quite a difference.
Glass and mirrored materials can also make a significant difference.
For instance, a striking glass or mirrored splashback can create more light in a room – and a feel of more space.
Highly glossed tiles, ceramic tiles and stainless steel are good examples of commonly used materials that reflect more light.
Using LED bulbs can also have a significant visual impact, and more distinctive options – like pendant lighting – can create an attractive focal point that draws the eye.
Colour counts:
There are exceptions to everything, but most of the time predominantly dark colours could make your already small space seem claustrophobic.
Choose light, neutral colours for your cabinetry, doors and walls.
Putting splashes of bolder colours and different textures in specific areas – like the benchtop, splashback or even appliances – adds interest and warmth without compromising on your sense of space.
If you want more dark colours in the room, consider a darker floor and/or darker cabinetry below waist height, closer to the floor.
Door styles:
A profiled door can make a small room feel too busy, whereas a flat door and its more direct lines can create an illusion of space.
Storage in small kitchens
Maximising space is vital in any kitchen renovation project, and more so in a smaller kitchen.
Professional designers like the ones who work at Rosemount will look to increase efficiency by utilising every possible nook and cranny.
Go to our storage solutions page for a detailed run-down of the innovative options available. It's fair to say there are more than a few.
Drawers:
Did you know that drawers can have up to 50% more storage space than a cupboard in the equivalent space?
It makes sense when you think about it. With a drawer, you can put larger items like pots and pans at the bottom and insert another drawer directly above to be used for lids and other smaller items. That way, you are using all of the inner space, as opposed to a cupboard where there's often a lot of unused space above what is stored.
Drawers are also easier to access, and our specialists always work with customers to incorporate as many drawers as possible.
Effective use of kicker drawers just above floor level can also free up masses of storage space that otherwise wouldn't be used.
Overhead cupboards:
These are a good storage option, although it's usually important not to fill the room with them. Limiting the number of tall cabinets is another way of making a small room feel more spacious.
We often advise customers to devote a single wall to floor-to-ceiling storage. It's dependent, of course, on each customer and the space they have.
Pull-out pantries:
Easy access slide-out shelving within cabinetry is a great storage option in a small kitchen.
Products like Hafele's pull-out TANDEM pantry unit and Blum's SPACE TOWER are designed with limited space in mind, and superb in terms of access and quality. Both companies also provide internal divider systems to keep your provisions organised.
Corner Cabinets:
These are another example of great space creators. Those hard-to-reach "dead" spaces are common to many kitchens, but corner units like Hafele's LeMans II bring them to life. The shelving pops out when you need it, and slides back in when you don't – making good use of every possible area.
Benchtops, islands and sinks
There are many ways to get creative in a small space, and these are just a few.
Benchtops that double as preparation and eating area – if you don't have room for an island or table.
Smaller single sinks with a removable drainer can create more valuable bench space.
Undermount sinks increase the bench space further and are often more visually appealing.
Integrated and smaller appliances
Fully integrating the dishwasher and/or fridge can make a kitchen seem less cluttered, again adding to the illusion of extra space.
A below-bench microwave with surrounding trim helps clear your benchtop.
Consider smaller appliances that are now being produced to cater for the increasing number of people living in apartments and smaller townhouses.
Everything from fridges and dishwashers to ovens and rangehoods; they're more compact and slimline but just as functional and attractive as the standard size counterparts.
Great example of small kitchen transformation
This particular project shows the importance of the design.
Storage was an issue and needed to be maximised, without impacting the living space of the room.
Rosemount designer Ben Schultz worked closely with the client to get the right aesthetic and practical results.
Ben's brief was to incorporate the exposed brick walls, timber floor and include a freestanding 900w oven, as well as lots of useable storage.
The choice of materials and colours was very important, as this was a narrow terraced home. The kitchen needed to compliment the living area, without taking over the whole space.
The end result left the client thrilled. And the photos illustrate how a smaller space can still be functional and practical as well as stylish and modern.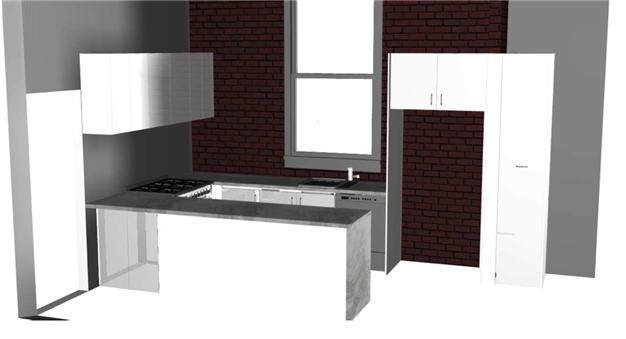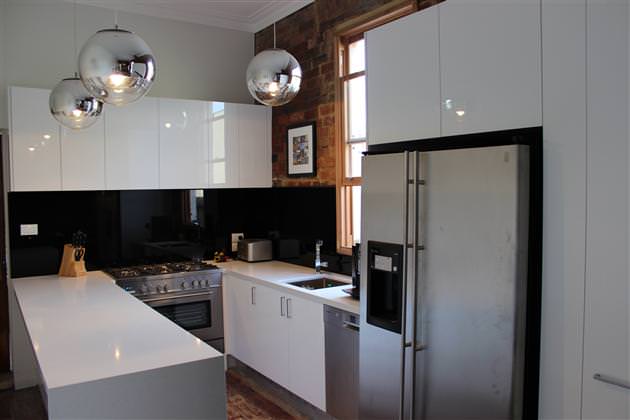 Key Tips:
This kitchen is a good example of the benefits of using a designer, who can maximise the use of the space without compromising on form or function.
Rather than trying to make box cabinets fit into the space, Ben custom designed the cabinetry, getting the best result for the client.
Blind Corners
There were two blind corners in this kitchen and to maximise the storage, Ben put a Lemans II in one corner, which brings everything right out to you. See more about the LeMans II.
On the other blind corner Ben put an underbench microwave on the kitchen side, but so to not waste that corner, he also put a cupboard on the opposite side of the bench.
This means you get to still use the whole corner for much needed storage.
Kitchen Storage
The clients wanted a pantry to be included in their new kitchen.
To make this possible, Ben used a small part of the living/lounge room area and added a pull-out pantry by Kessebohmer. There is a pantry option for any kitchen project.
Kitchen Drawers
Ben put in as many drawers as possible. As we mentioned above, drawers provide more storage than cupboards, and they are great for crockery, glassware, plastics, pots and pans, as well as pantry items.
Handles
Using narrow, modern, square look handles below the bench means they don't take over the space, but remain practical for the amount of drawers in the kitchen.
No handles on the overhead cabinets allows the kitchen to blend seamlessly into the room. The overhead cupboard doors have also been hung down by 10mm for easy opening.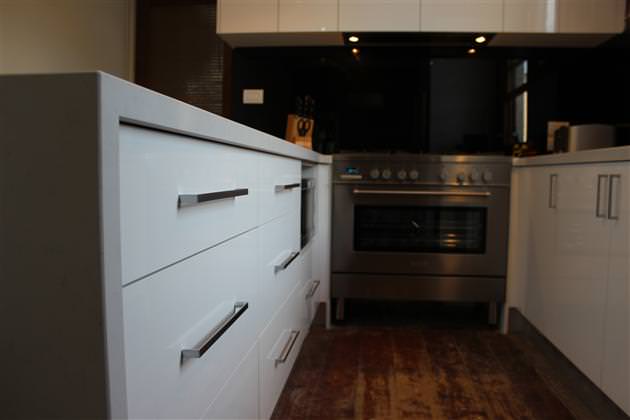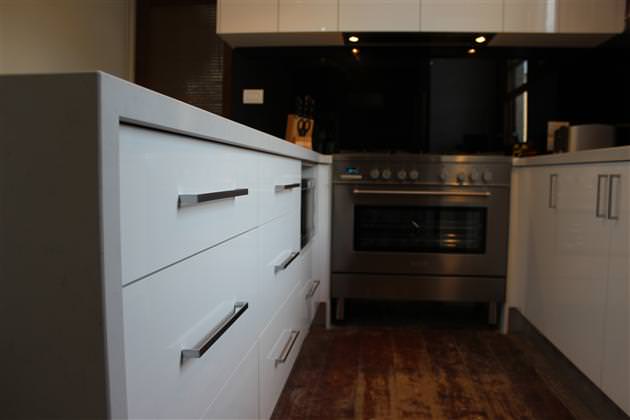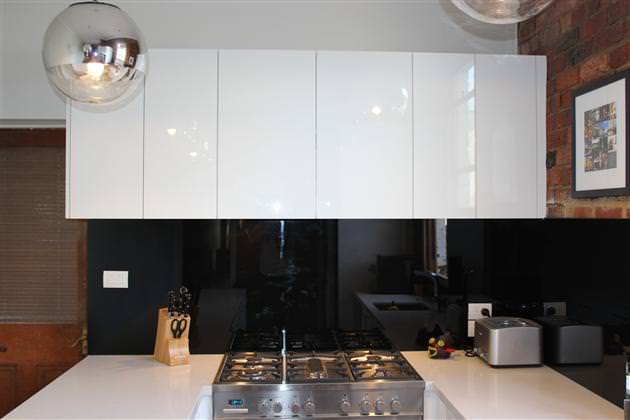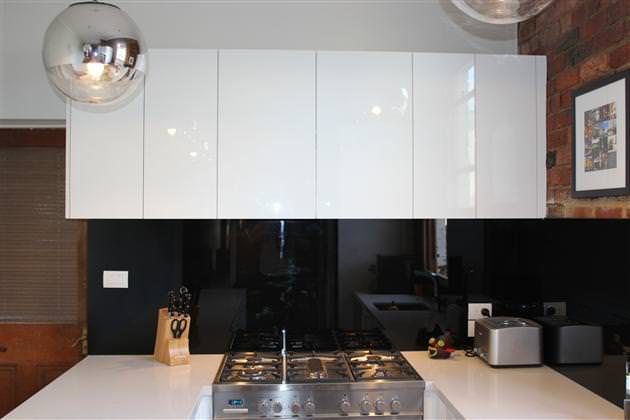 The combination of white high-gloss cabinetry, black glass splashbacks, exposed brick walls, newly polished floorboards and three fabulous pendant lights blend together perfectly for a stunning kitchen and living room.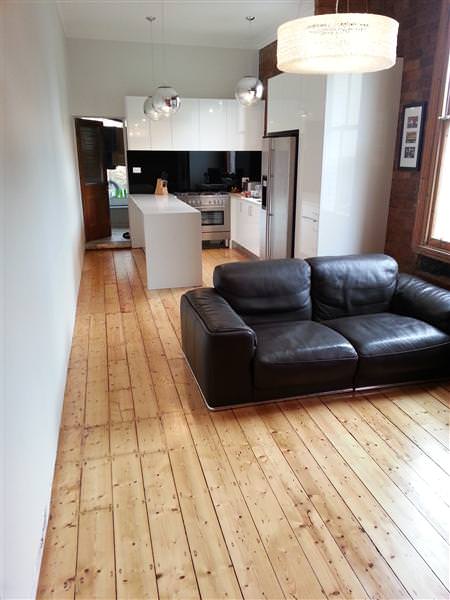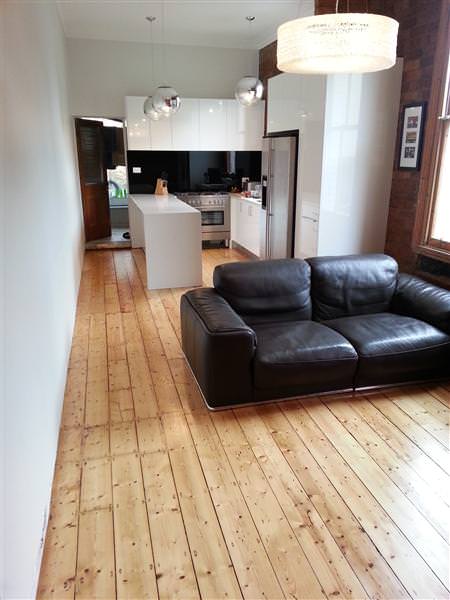 Key Features
Cupboards: Polytec Createc – Ultra White Gloss
Kick Boards: Brushed stainless steel
Benchtop: Caesarstone – London Grey 40mm
Hardware: Blum Tandembox drawers, Blum soft close on all cupboards and drawers. LeMans II
Handles: Kethy Handle E2131
Conclusion
As you can see, there are many ways to look at a particular space and come up with a great kitchen style that maximises form and function.
At Rosemount we specialise in creating great small kitchens. So get in touch to find out how we can help transform your kitchen.