Black Beauty
Featured Kitchen Renovations: Carrum Downs
We went to a few kitchen places but none compared to Rosemount. Their workmanship, attention to detail and care for the customer was second to none.

Bec Buchanan
When Bec and Brad Buchanan built their family home in Carrum Downs, they put in a second-hand kitchen to save money.
Ten years on, with cupboard doors falling off, the couple decided it was time to do a major kitchen renovation and install the kind of kitchen they've always dreamed of.
"We chose a black kitchen out of personal taste," says Bec. "We wanted it to be a bit different so we went black with the brick tiles and polished concrete floor."
And Bec couldn't be happier with the result.
"We really really like it," she says. "We thought it would suit our house and we were right."
Need more kitchen renovations inspiration? Look through the great images in our kitchen galleries and see what style of kitchen you like best. You'll also find more case studies at the bottom of this page.
Considering your own project? Call the Melbourne kitchen renovations team at Rosemount Kitchens on 1300 476 736 for a free, no-obligation consultation.
Similar layout with one big difference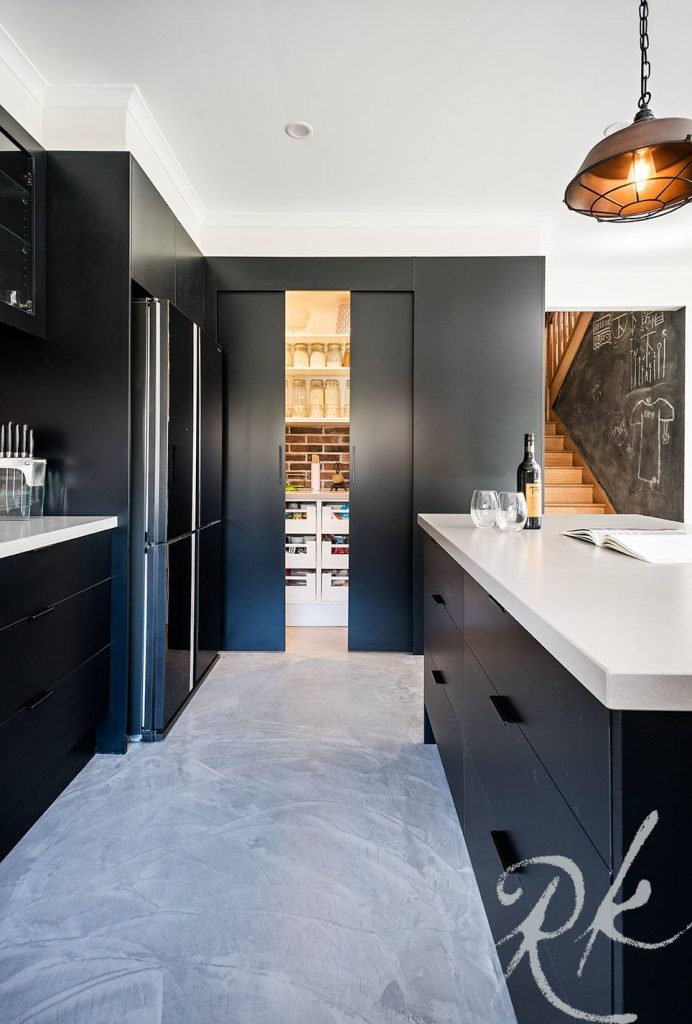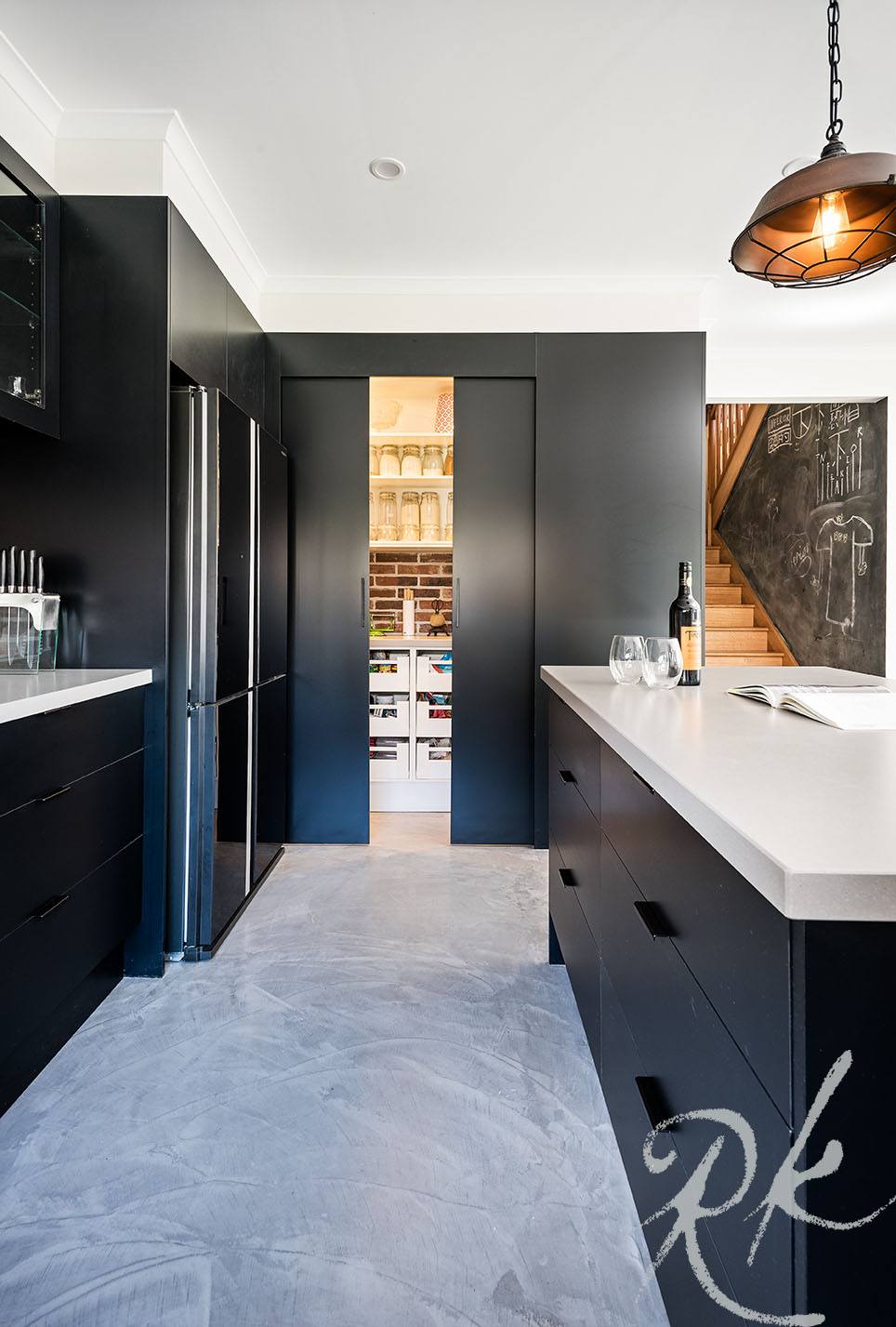 The Buchanans' new kitchen follows a similar layout to their old second-hand kitchen.
Key requirements in the new design included overhead cupboards with glass doors, drawers rather than cupboards and more power points.
The kitchen table was also replaced by an island bench. "With the table it wasn't the most practical," says Bec. "But with the island bench it's now very practical."
But arguably the biggest change to the kitchen – from both a practical and aesthetic point of view – is the spacious pantry. It looks like it's built-in but is in fact installed against the wall.
"Previously we had a corner pantry and it was really a lot of wasted space, as you couldn't find or get to things because it was so deep," adds Bec.
"So Rosemount suggested a bigger, longer pantry where the cupboards have been built in with the bulkhead.
"We just love it. It's a step-in pantry and looks great. What's even better is the bench space in there. It's where I keep a lot of my appliances, so they're tucked away and not on the kitchen benches, which helps to keep the kitchen itself very tidy.
"And this pantry is very easy to navigate. You can see exactly what you've got."
Go here for more information on your kitchen pantry options.
Ample storage keeps everything in its right place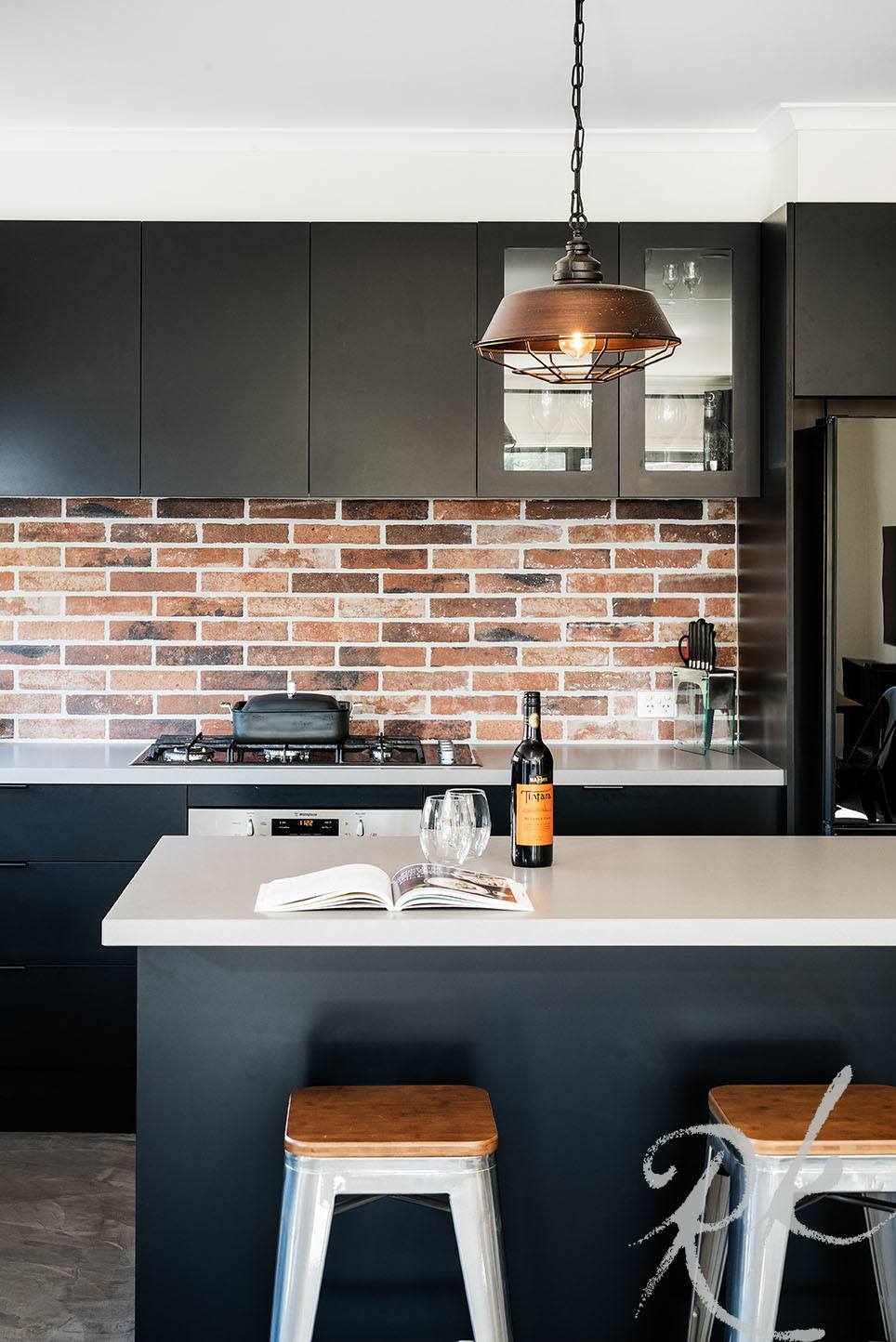 Another plus of the new pantry is the big increase in what Bec calls "usable storage" – a factor that's so important in any well designed kitchen.
"There's lots of storage space in the pantry drawers and the island bench is good for storage too," says Bec. "Right from the get-go it's been so helpful having a very practical kitchen compared to the kitchen we had before.
"There also wasn't a lot of bench space in that kitchen. When you prepared food you had your back to everyone else, whereas with the island bench you can now see the rest of the family."
Her four teenage kids appreciate the change.
"It's made such a big difference. The kids enjoy being down here because the room is so much more functional and inviting."
And this pantry is very easy to navigate. You can see exactly what you've got."
Brick-look tiles add warmth to the space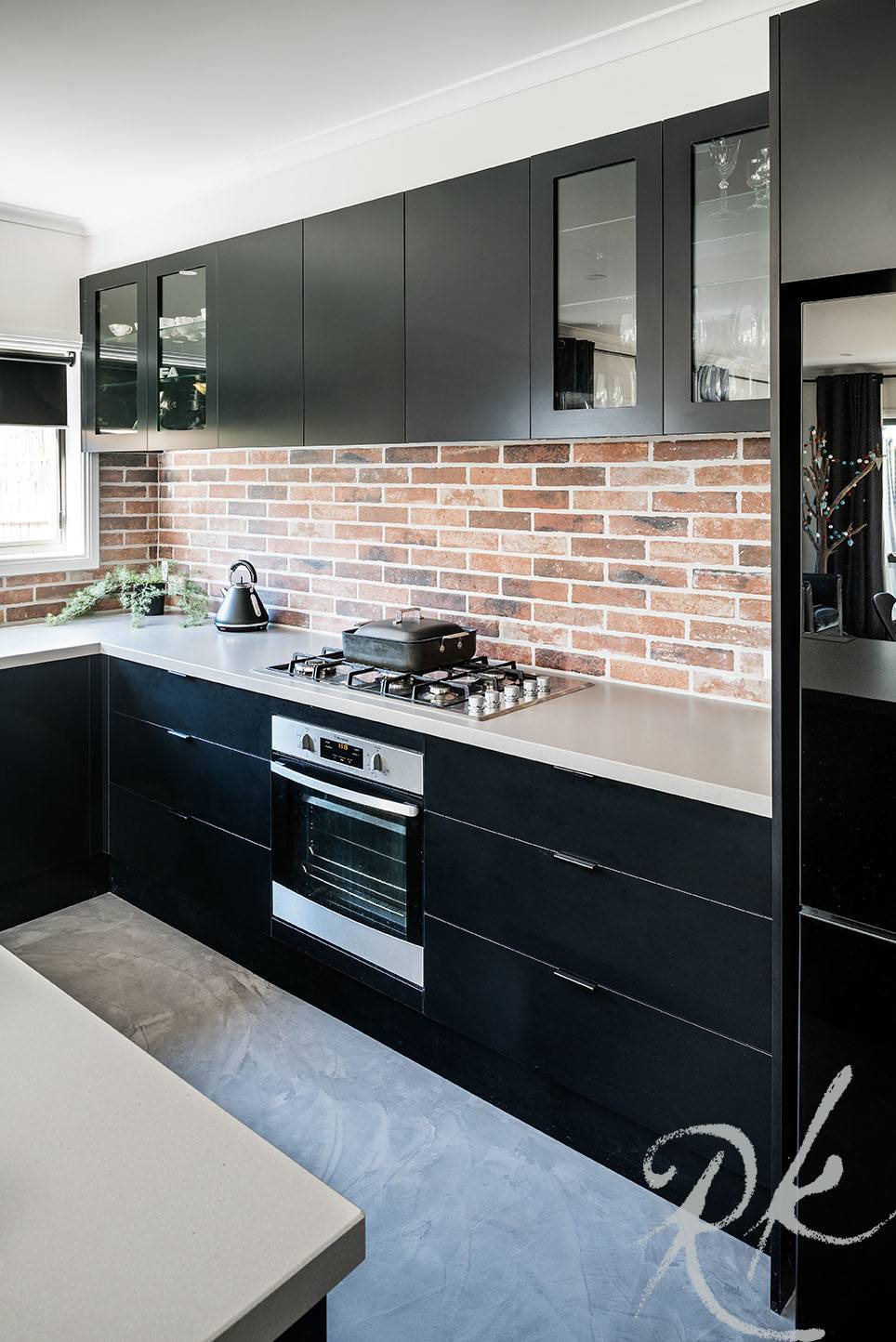 Bec says the brick-look tiles have been vital in adding "warmth" to the kitchen.
"When the grey benchtops went in we realised that we needed to bring some warmth because with the black cabinets, grey benches and polished concrete floor there was a risk it could seem quite cold and dark.
"We started out looking at subway tiles but I really like bricks. Then we found these tiles at Beaumont Tiles and they just warmed the kitchen up. They're classed as a tile but have a brick feel."
Rosemount was the right choice to create dream kitchen
Before installing the new kitchen, Bec and Brad were friends with some of the team at Rosemount.
After installation, they're happy to report that the finished result is more than a match for the positive recommendations they had received.
"Once the kitchen was installed, they came back and looked to see if there were any scratches," says Bec. "They went over everything with a fine toothcomb and said, 'OK, we're replacing these panels'. And that's what happened.
"Rosemount were really professional at all points in the process. They were extremely thorough, reliable and prompt – if they said they were going to be there, they were there. We were never left wondering where they were.
"They communicated very well from the initial plans right through the project. We enjoyed working with them and we love our new kitchen."
Bec and Brad had a very good idea of the kind of kitchen they wanted, and we were delighted to help them achieve a fantastic result. It's a kitchen that is super practical and looks stunning.

Mark Tonkin, Rosemount Kitchens
Key Kitchen Features
Cabinetry: Stylelite Carbon Velvet
Benchtop: Caesarstone Sleek Concrete
Splashback: Brick look tile
Handles: Madinoz powder coated black
Framed doors: Clear glass
Oven: Westinghouse
Hotplate: Fisher and Paykel
Dishwasher: Asko
Sink: Blanco
Tap: Blanco
Floor: Polished concrete