Stunning and Elegant
Featured Kitchen Renovations: Greenvale
Our kitchen is absolutely beautiful. I love it and if I could, I'd give Rosemount an 11 out of 10 rating.

Lisa Bitzas, Greenvale
Lisa and Greg Bitzas built their family home more than 20 years ago, and the kitchen had reached its use-by date.
"It was just dated," says Lisa. "The white vinyl wrap was peeling off and the vinyl floor was disgusting. So it was either renovate or move, and we looked at a few houses. But my husband preferred the house we were in, and the neighbourhood, so we stayed put."
When you see the Greenvale couple's beautiful new kitchen, it looks like they made the right decision.
"Our kitchen is absolutely beautiful," adds Lisa. "I love it and if I could, I'd give Rosemount an 11 out of 10 rating."
Need more kitchen renovations inspiration? Look through the great images in our kitchen galleries and see what style of kitchen you like best. You'll also find more case studies at the bottom of this page.
Considering your own project? Call the Melbourne kitchen renovations specialists at Rosemount Kitchens on 1300 476 736 for a free, no-obligation consultation.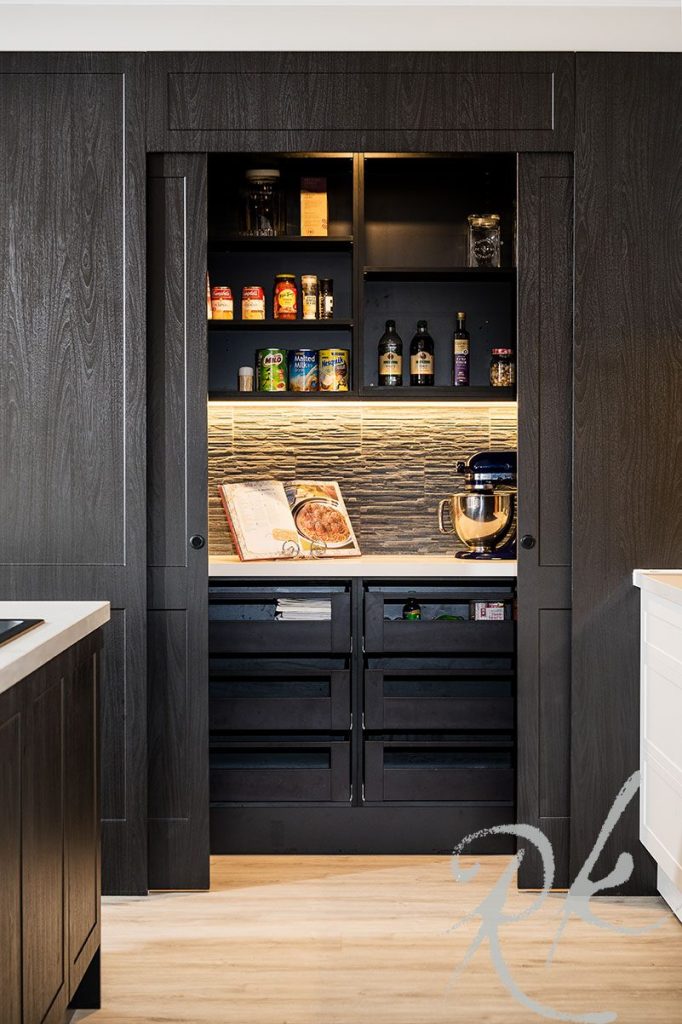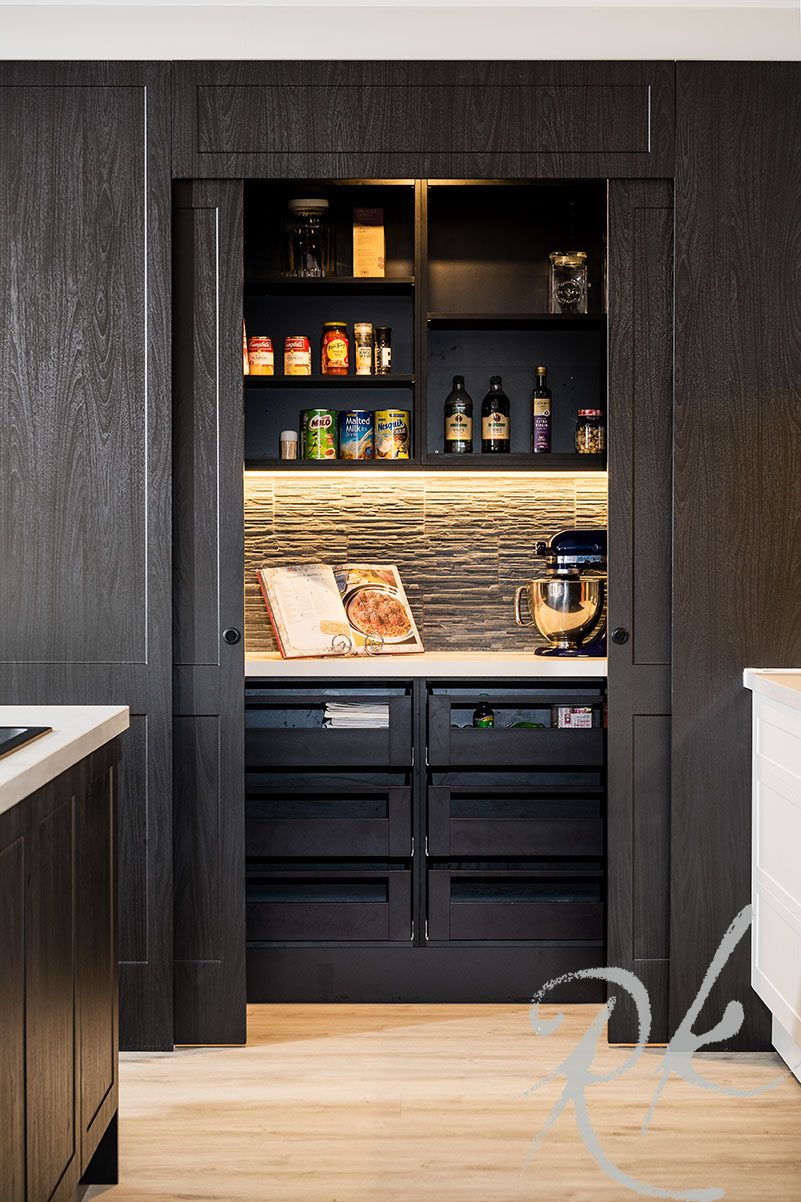 Perfect pantry
There are so many stunning elements in this Greenvale kitchen renovation, but Lisa has a few favourites.
The first one is practical – storage.
Lisa loves cooking but didn't have enough space in her hard-to-access pantry.
"It was one of those small corner ones and it was overflowing," she says. "Because I couldn't reach the back of the cupboard, I had to put all my spices in boxes and pull out the boxes to access them."
Compare that daily frustration with the new recessed walk-in pantry.
"It's perfect, I just love it," she says. "It's just wonderful to be able to walk in and have all the drawers right there in front of you. I no longer have to go searching for anything.
"The pantry has so much storage I haven't even filled it yet."
And there's another big bonus.
"I really wanted something where I could put all my appliances on the bench so I didn't have to take them out and put them back in every time," says Lisa.
"We leave the pantry doors open all the time but if I want to I can just close them and everything is out of sight. If there's a bit of a mess in the pantry, you can just close the doors. It makes the kitchen look tidier."
There are other very special upgrades in this pantry. To maintain a luxe look when the doors are open, Lisa and Greg added black melamine to internal pantry shelves and Blum TANDEMBOX intivo drawers in Terra black.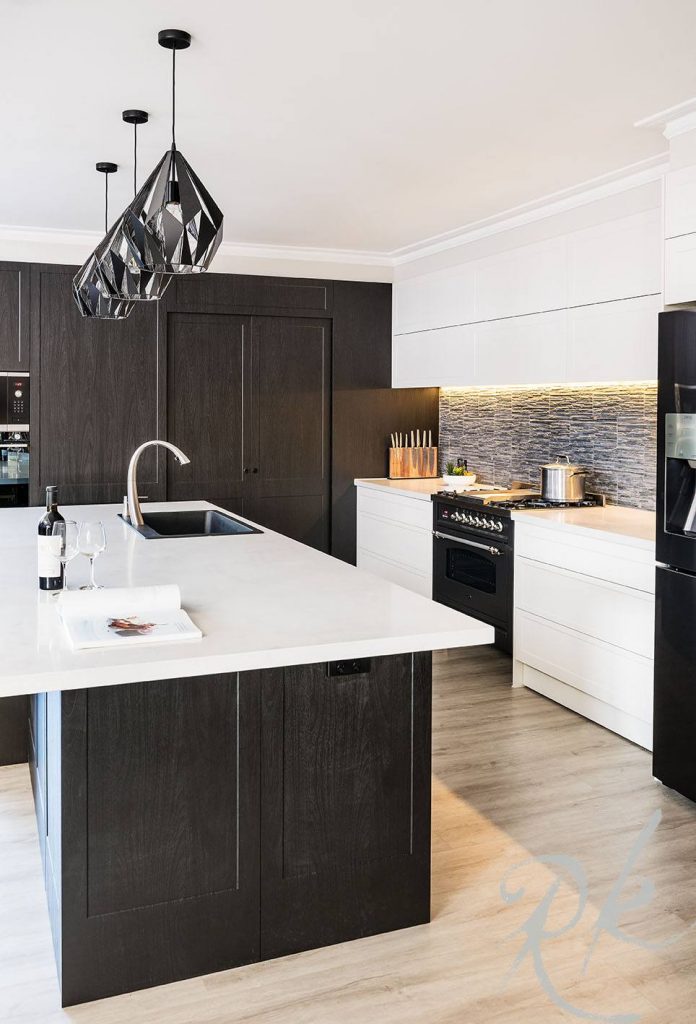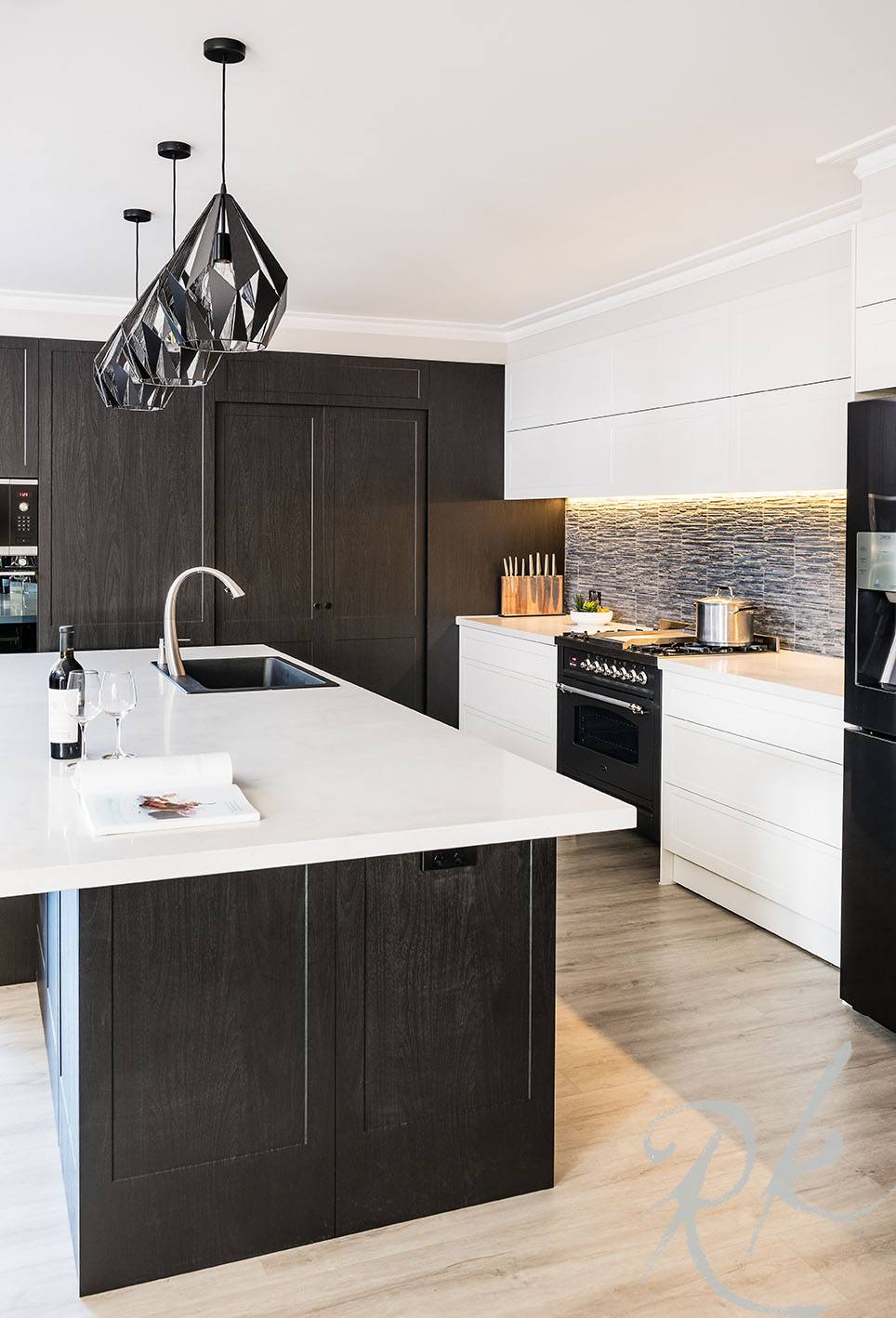 'Automatic' cupboards and drawers
When Lisa was looking at various options for the kitchen she wasn't too concerned about including cupboards and drawers that open by touch.
"But my husband is a real techno freak and he loved all that stuff so our kitchen basically has the works," she says. "But I have to admit I love them. Having used them for a while, I don't think I'd want to be without them now.
"I've gone into other people's places and expect the cupboards to open. I even touch my fridge and dishwasher without thinking, and expect them to open for me. But then I realise, 'No, you have to do that by yourself.'"
Blum's SERVO-DRIVE was used for the drawers and overhead cabinetry. It's an electric opening system that allows drawers and overheads to open smoothly with a single touch. The addition of Blum's AVENTOS lift system – which allows doors to open upwards – works superbly for the overheads. And not only do they open with a single touch, they close with the push of a button.
Gorgeous Blanco sink
Lisa loves here new Blanco sink. She was worried it might get "grubby" but was assured by Rosemount's designer that this wouldn't be an issue.
"He also had a black sink and said Blanco was the brand to get. I asked, 'Does it get messy,' and he said no. To be honest, I actually think it looks cleaner than a stainless steel sink."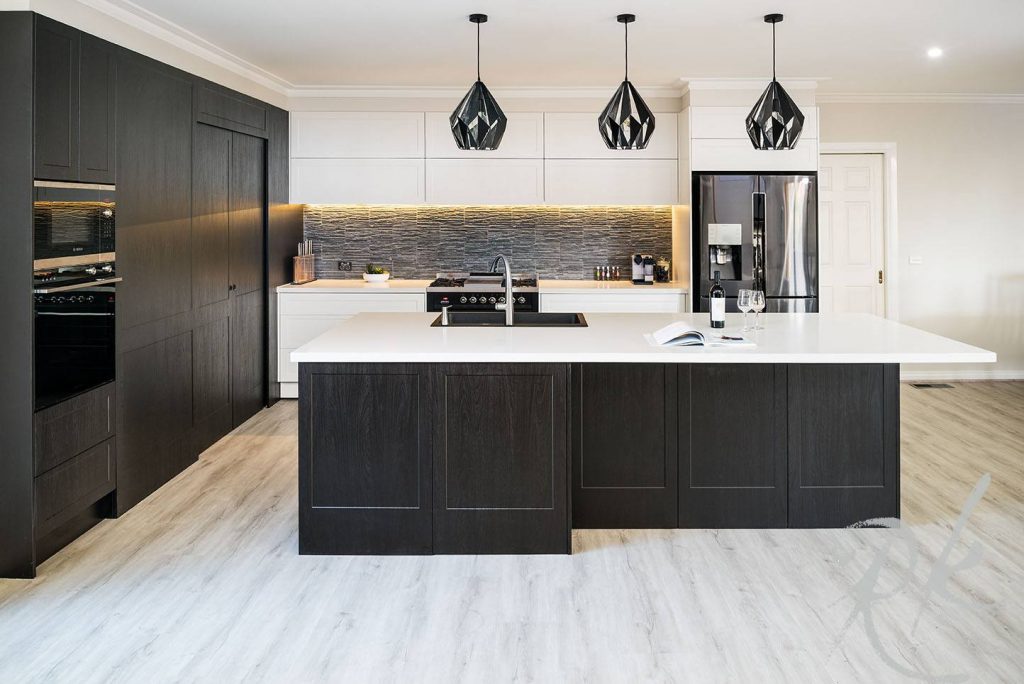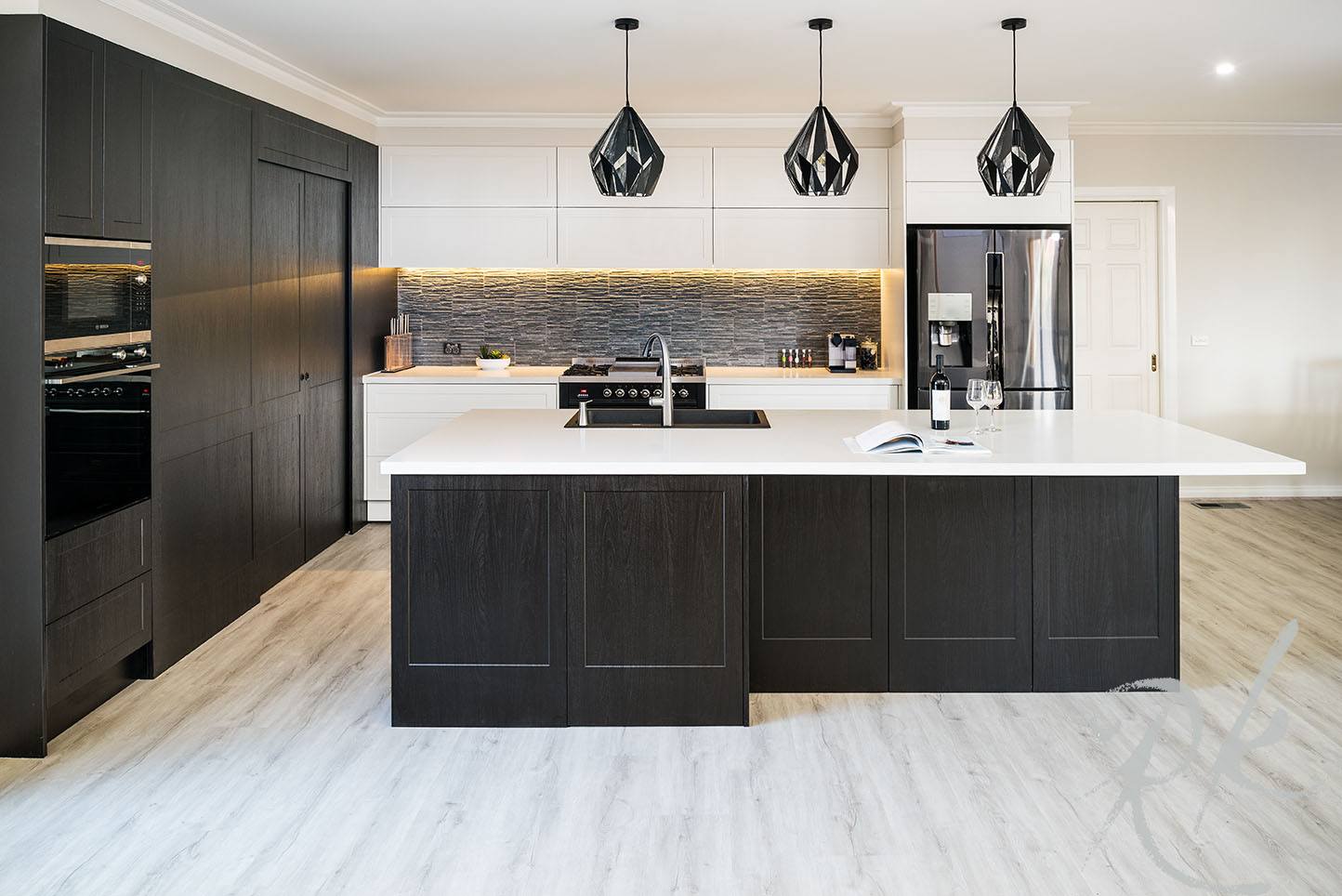 Great colour contrast and balance
Many people comment on the beautiful contrast – and balance – between the dark and light colours in this kitchen.
Before the installation, Lisa didn't have any preconceived ideas about the colour scheme, apart from the fact she wanted white benchtops.
She fell in love with the dark cabinetry after visiting Rosemount's Essendon kitchen showroom in Melbourne's northern suburbs.
"The showroom has a display with the darker colour we've now got. It's off-black – like a really dark brown – with a grain through it, and I love it."
Was she concerned the room would be too dark?
"A bit concerned at first, yes, because we previously had down lights in the kitchen and lost a window where the pantry now is. When the pendant lights went in I thought it wasn't going to be light enough, but a light under the rangehood and strip lighting means it's not an issue. When I'm cooking it's absolutely fine."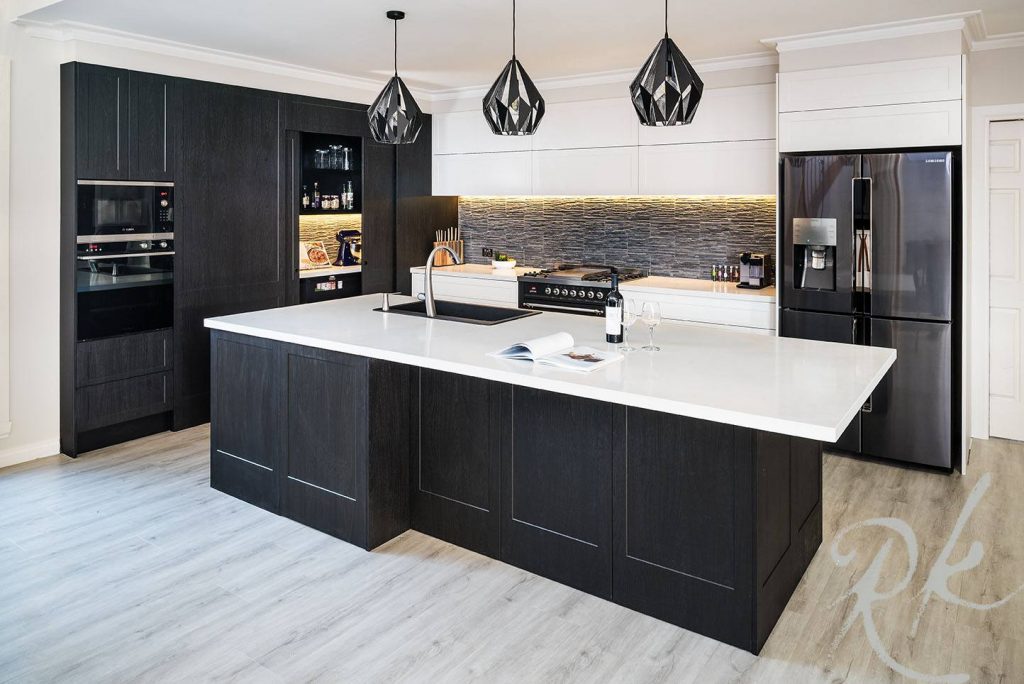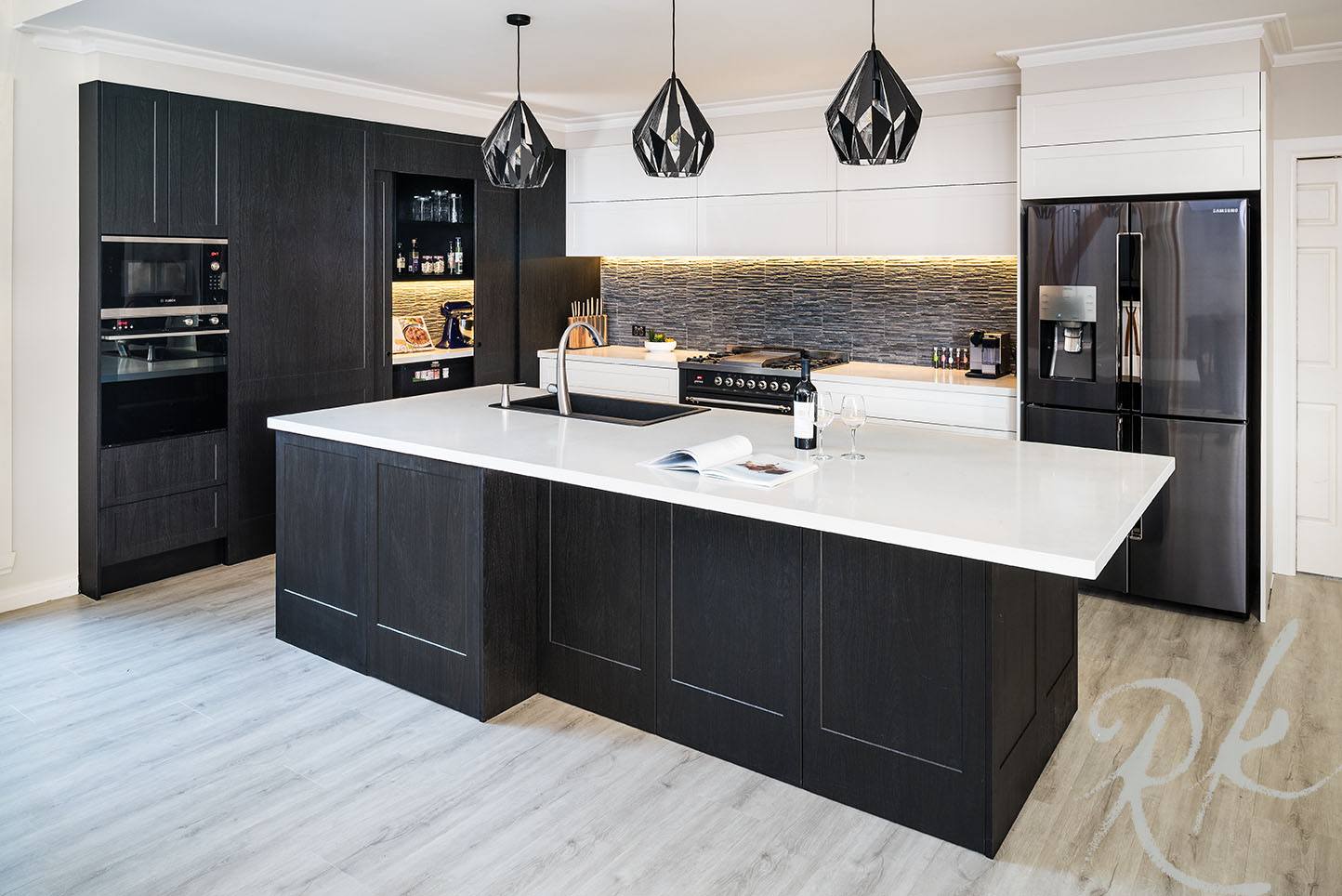 Space-saving layout
Rosemount's designer also offered priceless advice on the layout of the new kitchen.
Beforehand, Lisa thought she would have to knock down a wall and reduce the size of her ensuite bathroom to accommodate extra storage space.
"I originally wanted a big walk-in pantry and I was going to rip out a wall into our ensuite and take out the spa because we didn't use it," she says. "I thought the kitchen was a really odd shape and I don't quite know how it was going to work.
"But the designer said I didn't need to go into the ensuite, and pointed out that a big ensuite was a really good selling point for a home.
"He said, 'I can get you the storage you need without doing that and probably save you an extra $30,000.'"
Some of that extra storage is under the island bench.
"I originally thought I didn't need extra cupboards on the other side of the island bench," adds Lisa. "But the tradesmen said it would just be wasted space otherwise. So we changed the panels to cupboard doors and now that space is full. I now realise that it's a case of the more storage space, the better."
Terrific tradies
The addition of cupboards under the island bench was just one example of helpful suggestions made by tradesmen. The carpenter also advised making the microwave more integrated.
"The tradies suggested things and we made changes on the fly," says Lisa. "I liked the fact they didn't stick rigidly to the plan. If we or they saw something that could be improved, they made the change. That was definitely to our benefit."
She was also surprised by the involvement of Rosemount's managing director Mark Tonkin.
"He called me regularly asking how it was going, wanting to know if I had any issues. I was very surprised by that, and impressed. I felt like I was the best customer they had ever had. That's how they made me feel."
At one point Lisa was without running water just before some friends were due to arrive from overseas.
"We had a bit deadline where we had guests arriving from the US and Mark was onto it right away. He rang me about three or four times, got onto staff and it got done. He was fantastic."
The contrast of colour and the practicality of the storage space are outstanding features in this kitchen.

Mark Tonkin, Rosemount Kitchens
Key Kitchen Features
Cabinetry: Polytec Thermolaminated (Colours: Classic White matt finish and Black woodgrain matt finish)
Door Style: Polytec – Obren
Shadowline: Eveneer Mink
Benchtop: Caesarstone Frosty Carrina
Drawers: Blum Legrabox Terra Black with SERVO-DRIVE
Splashback: Tiled
Kitchen Carcass: Black Melamine
Cooker: ILVE Freestanding Oven
Wall Oven: Fisher and Paykel
Dishwasher: Siemens
Rangehood: Siemens
Fridge: Samsung
Sink: Blanco
Tap: KWC – Zoe TLP
Microwave: Sharp
Bar Fridge: Fully Integrated UIK

Accessories

Cutlery Insert: Blum Orgaline
Bin in drawer: Hafele One2Five
Overhead Cabinetry: Blum AVENTOS SERVO-DRIVE
Strip Lighting in pantry and under overhead cabinetry