Showstopper
Featured Kitchen Renovations: Malvern East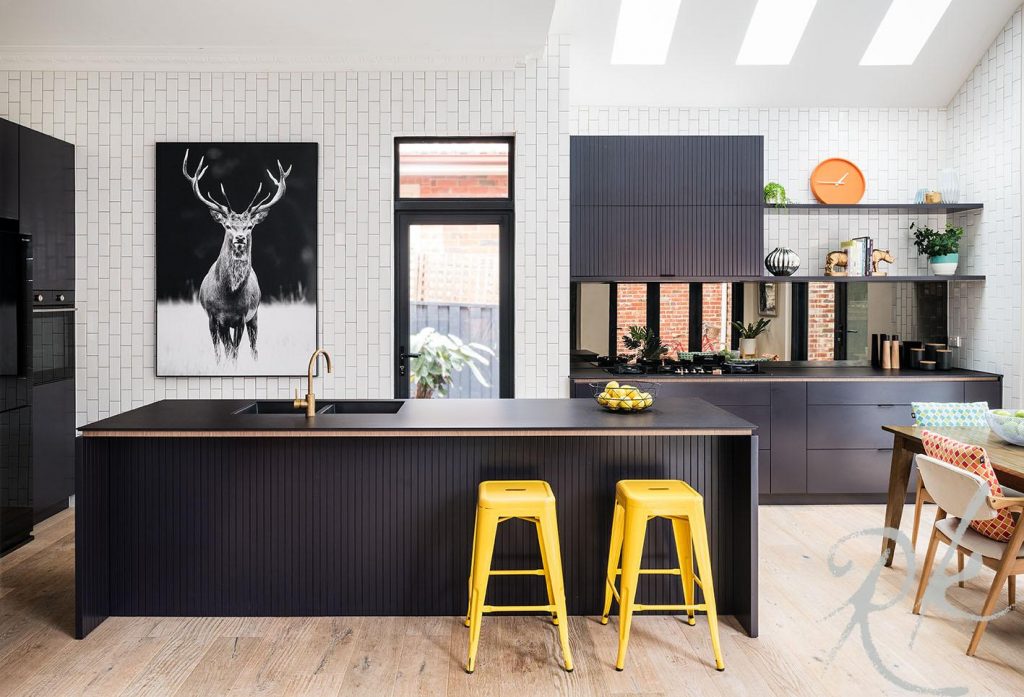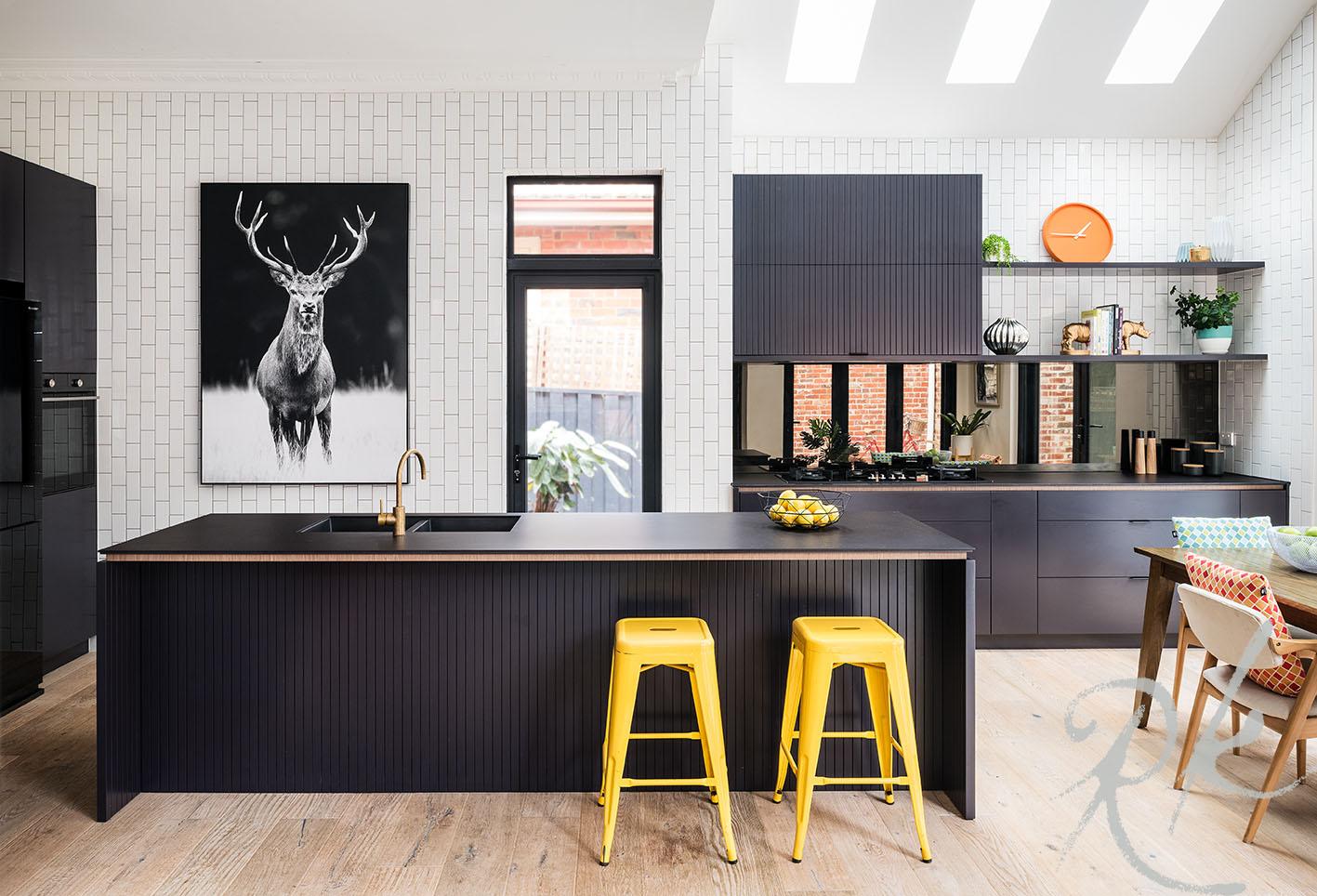 Anthony and Julie Sharpe know more than most how to put on a show, but the new kitchen takes centre stage in their family home.
You might recognise the showbiz couple. Anthony is an actor and singer best known for his role as Cec in the hit ABC series Miss Fisher's Murder Mysteries. Comedienne Julie is one of Australia's top cabaret MCs.
They both love entertaining, and their renovated kitchen, living area and soon-to-be-completed outdoor deck is the ideal place to enjoy a meal and drinks with friends and family.
But this Malvern East kitchen renovation didn't quite turn out the way Anthony and Julie envisioned. At first, they wanted an all-white kitchen with an island bench in a specific spot.
"Rosemount's designer showed us how that would look," says Anthony. "And then he said, 'what do you think of a black kitchen with the island on the other side?'
"When we saw it we thought 'oh my God, that's the opposite of what we asked for', but we love it."
Find out more about this stunning renovation in our Q&A with Anthony below.
Need more kitchen renovations inspiration? Look through the great images in our kitchen galleries and see what style of kitchen you like best. You'll also find more case studies at the bottom of this page.
Considering your own project? Call the Melbourne kitchen renovations experts at Rosemount Kitchens on 1300 476 736 for a free consultation.
Why did you decide to renovate?
This is a red clinker brick semi-detached house that I think dates back to the 1940s and when we moved in it had what I call the "old grandma kitchen".
I pulled out that kitchen and basically built a new one myself. It was only supposed to be temporary but we ended up keeping it a bit longer than we intended.
The longer-term plan, though, was always to do a bigger renovation where we would open up the back half of the house and let it flow out onto a new deck. The kitchen is the centrepiece of the whole living area, so we wanted to make sure we got that exactly right.
And it's turned out so well. It's just so much better for Julie, myself and our daughter, Lucy.
The dark cabinetry looks amazing – how did the change from white to black kitchen come about?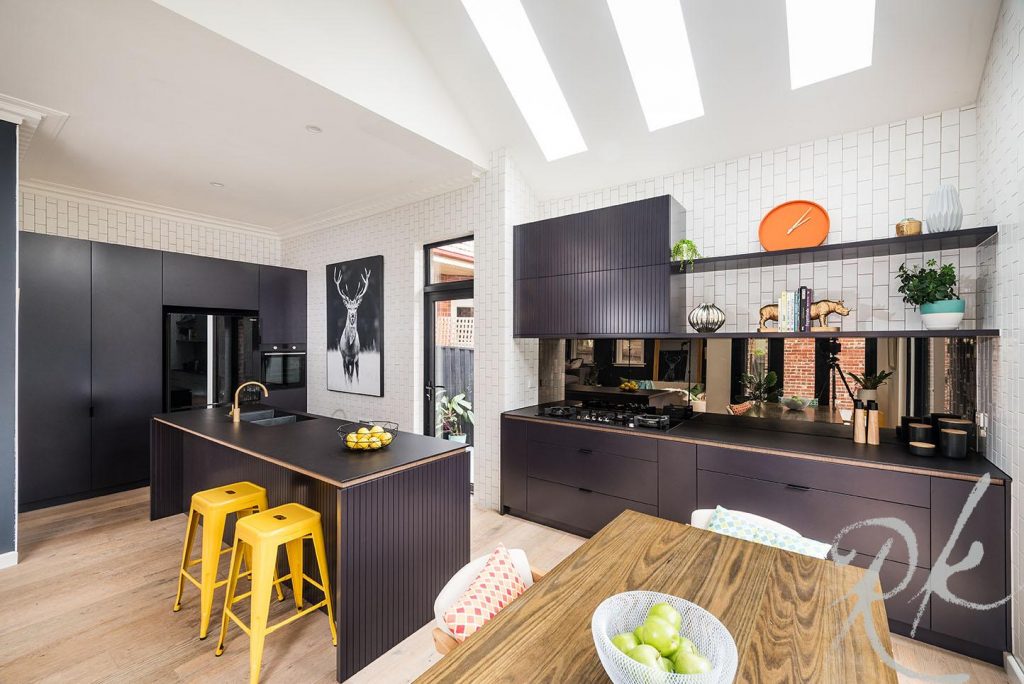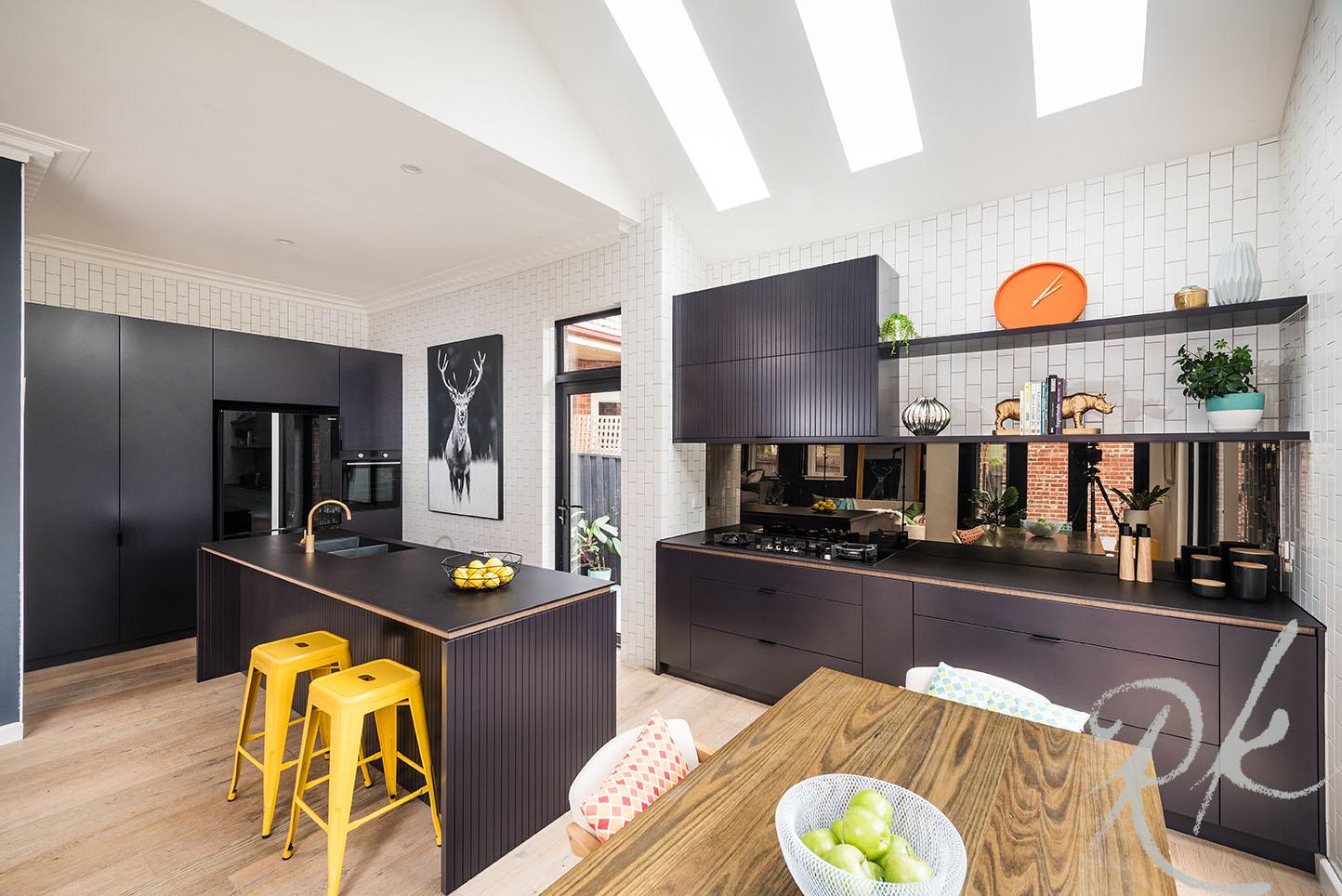 It's quite a funny story, actually. We originally wanted a white kitchen centred close to where the kitchen table is, so it's facing back into the room. Where the big island bench is – that was where we were going to put the table.
The designer showed us on the computer what that would look like and then he said: 'OK, that's what you asked for but I've got another idea. What do you think of a black kitchen with the island on the other side?'
He explained that if the walls, ceiling, floor, cabinets and so on were all white or light, there would be nothing to ground the space.
And a black kitchen doesn't have to feel dark. It can actually be quite light depending on how the light is hitting it.
You thought the space you had would be difficult to design a good kitchen in?
Yes, it's a very odd space. In fact, we thought it was a terrible space for a kitchen.
But when the designer saw it, he just loved it. He said: 'No, no, no – this is great. It's different. This kitchen is going to be really different and that's a good thing.'
He loved the challenge of creating something within the space. And he really thought a lot about how we wanted to cook, and where we wanted people to be. We do like to entertain as well and there was a lot of thought on how to make all that work with this particular shape.
The end result is a great design that works well. It does look very different but the comments we've had from people have all been very positive. Usually along the lines of 'oh my God, this is amazing.'
Are there any aspects of the design you particularly like?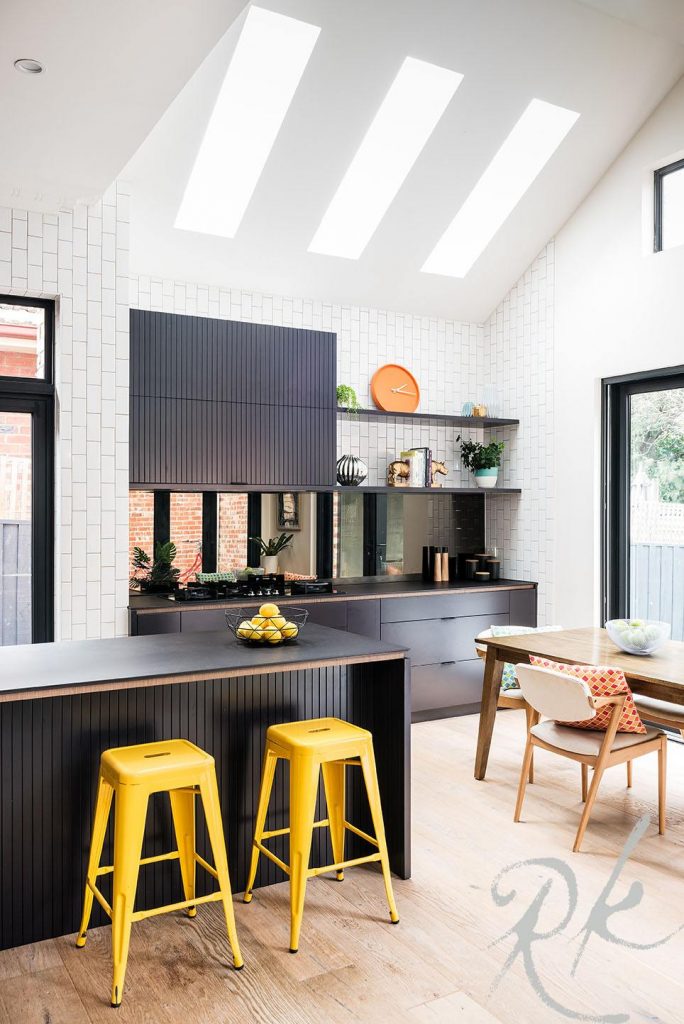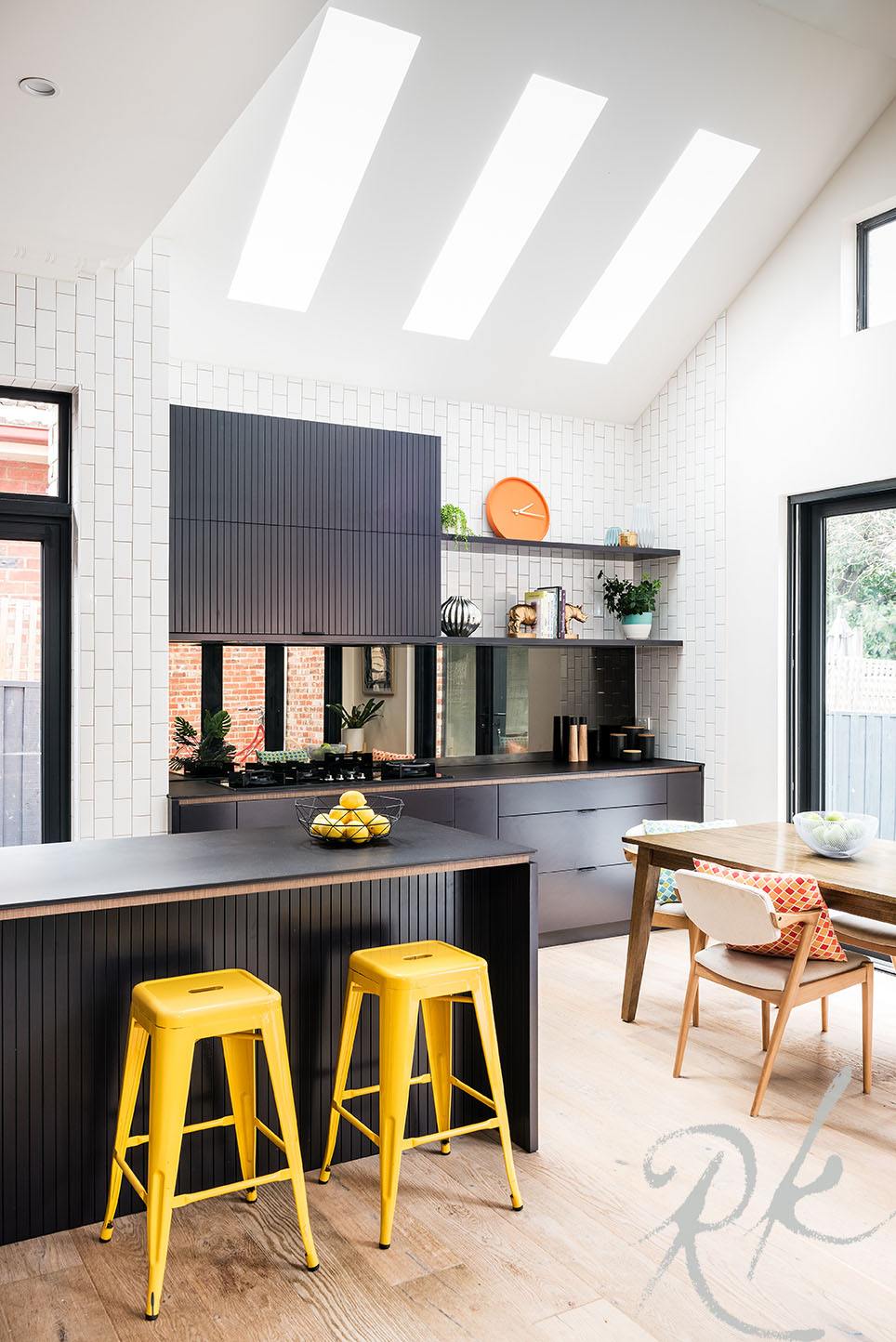 With the cathedral ceiling, the designer wanted the kitchen to have a vertical look and I think it's worked really well.
He's incorporated that look in a number of ways. A lot of the panels have vertical cuts in them and the subway tiles run upwards instead of sideways with slightly darker grout that makes them more prominent.
We've also wrapped them right around the kitchen which gives it the kind of cafe type look we were looking for.
I love the light in the kitchen. The shafts of light change as the day goes on and it's a really different looking kitchen in the morning than it is in the afternoon.
How important was it to have the input of a professional kitchen designer?
Well, initially we were just looking to get a few ideas for the kitchen and we didn't know if we would go ahead.
But the designer's ideas and enthusiasm for the job helped persuade us to go for it. The kitchen was more than we'd budgeted for but after we saw the design we thought 'let's spend the money and do this properly'.
What was also great was the amount of times he designer came round to the house and talked through the design. It showed that this wasn't just a quick sale.
We also had an issue with the benchtop. Something fell on it and cracked the porcelain. And the guys were great. They came around, got it organised and replaced it. It was all done in a day.
You know how you get sold and it's all great until you've paid the bill, and then you worry if you've got an issue? Well, that sort of post sale service was great. The level of care at all stages from Mark and the team is something I haven't seen from other businesses.
How much has your new kitchen changed your home?
The kitchen is part of a bigger home renovation that I've been doing with my brother, Matthew, who's a builder.
We knocked down a lot of the back end of the house and rebuilt the perimeter walls within the same shape.
With the old internal plan you had to go from the kitchen through the laundry and down some steps to get outside. If you were having a BBQ you were either inside or outside and there was no way to communicate between the two areas.
It was a really dark house, and it was so tight and cramped with lots of doors and different spaces. If you had three or four extra people in the house it was terrible.
But we knocked out walls, opened it up as much as we could and now there can be 15 people and they won't bump into each other.
The new design also creates a really great flow from the lounge room into the kitchen and out to the deck. It's a small space but the cathedral ceiling in the kitchen and French doors make it feel a lot bigger.
Any more renovations planned after this one?
Once this is done I'm done with renovating. I met Julie 17 years ago and ever since then we've been renovating. But they've all been on investment properties so we've never been able to enjoy the results ourselves.
I said: 'This is the last one, this is it.' I had to give my wife a good kitchen, something that was really nice. And I think that's been achieved. I still find that I do most of the cooking, though.
Find out more about Anthony and Julie at their websites: anthonyjsharpe.com and julie.net.au.
This project is a great example of how a designer and the customer can work together to create a wonderful kitchen. It's really important to get that balance of listening to what's important to the customer, but also being prepared to challenge ideas for potentially better ones.

Mark Tonkin, Rosemount Kitchens
Key Kitchen Features
Cabinetry: 2 pack Dulux Klavier matt finish
Back panel and overhead: V-routed panels
Shadowline: Eveneer Mink
Benchtop: Maximum 'Pepper' matt
Handles: Madinoz MDZ powder coated Black matt
Rangehood: Sirius
Cooktop: Asko
Oven: Asko
Fridge: Sharp
Dishwasher: Asko Fully Integrated
Sink: Olivieri
Bin in drawer: One 2 five Hafele
Drawers and Hinge hardware: Blum and Kessebomer comfort pull out