French Class
Rosemount went above and beyond what they needed to do to make sure I had a wonderful family Christmas. Nothing was too much trouble and I couldn't believe what they achieved.

Dalene Constable, Camberwell
For several years, ill health had put paid to Dalene Constable's plans to renovate her kitchen. And after she finally decided to go ahead with the major remodelling project, there was another setback.
"We were three quarters of the way through the kitchen and I received word I had another cancer," says Dalene.
"I was told I had to have an operation before Christmas, and my plan was to have Christmas here with my family."
A week beforehand the new kitchen had no benchtops, splashback, cupboards or drawers. Dalene expected she'd be hosting the big day without an island bench and splashback, at the very least.
"But Mark at Rosemount pulled out all the stops," she says.
"I had wanted a certain finish on my island bench and the people that Rosemount normally used couldn't do it before Christmas. So they found another stonemason who was able to do it in time with the profile I wanted. All up it was done in about four days, and ready for Christmas. I couldn't believe it."
Dalene also didn't expect to have a splashback in place for the big day.
"But Naomi, the most fabulous tiler, came here on the Saturday before Christmas and spent 10 hours doing the splashback.
"No-one could believe the difference between what they saw before Christmas and what I had at Christmas. It was amazing."
With a beautiful looking and functional kitchen which had been made ready for the festive season, Dalene went back into hospital for surgery in early January.
"Rosemount went above and beyond what they needed to do to make sure I had a wonderful family Christmas," she says. "I couldn't believe what they achieved.
"Nothing was too much trouble as I was recovering in January. They came back in February to do the finishing touches and I must say it made me quite emotional, as we were just so pleased with the beautiful result."
Below, we talk to Dalene in more detail about the first time she and husband John renovated their kitchen in 25 years.
Need more inspiration? Look through the great images in our kitchen galleries and see what style of kitchen you like best. You'll also find more case studies at the bottom of this page.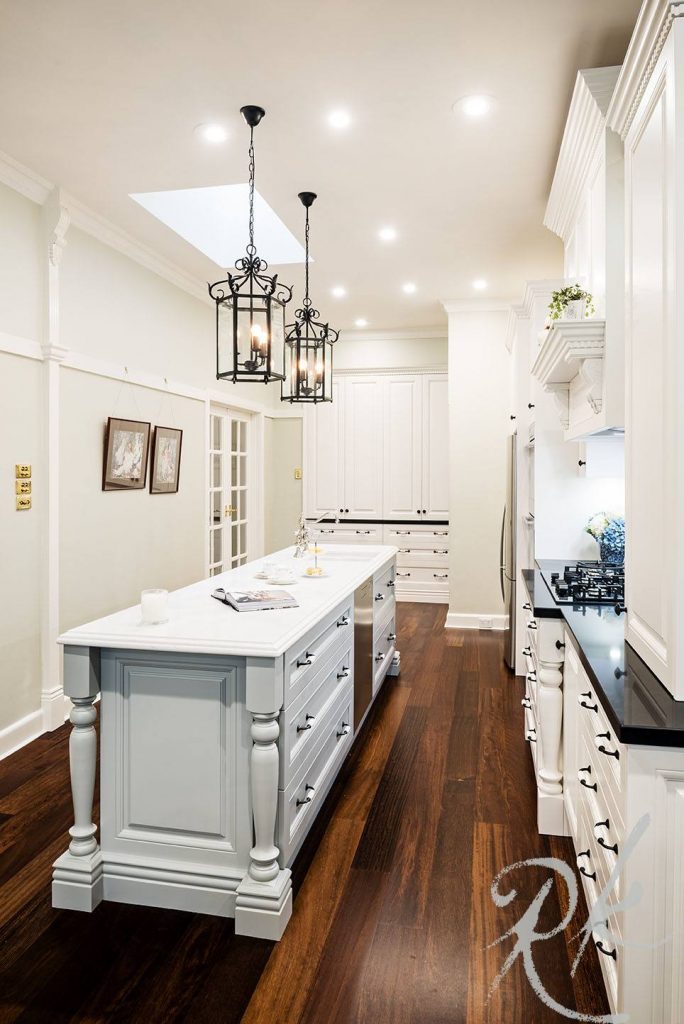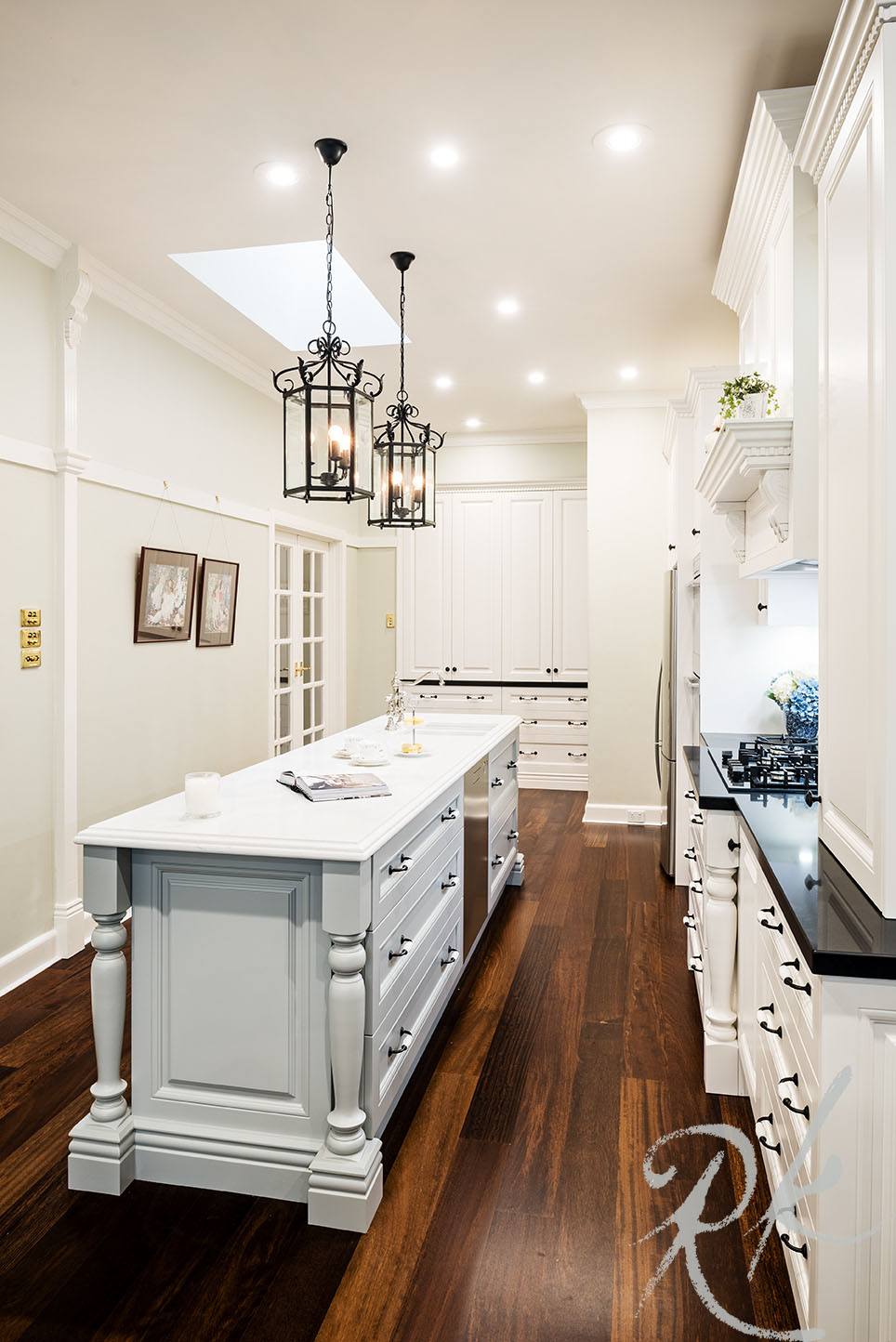 This kitchen project sounds a bit like a labour of love?
I've been thinking for the last four or five years that I'd like to change the kitchen and I knew the look I wanted. Over the years I've always bought lovely magazines, seen photos I like, cut them out and put them in a folder.
So I'd always wanted a French Provincial kitchen, and I wanted a kitchen that wouldn't date.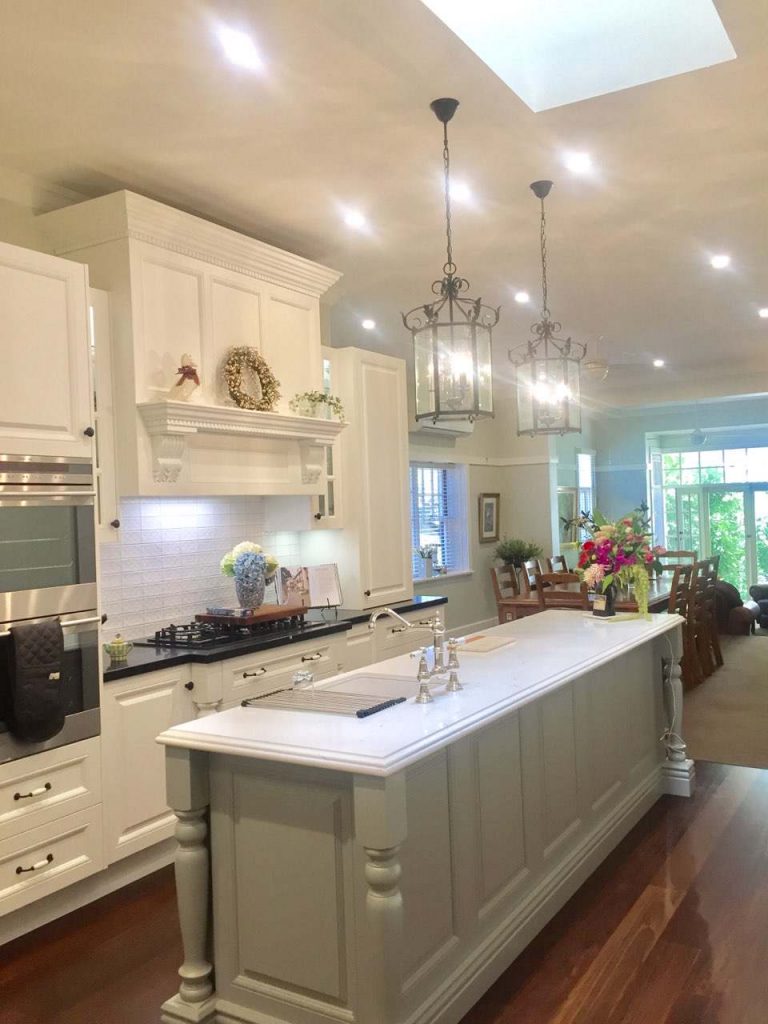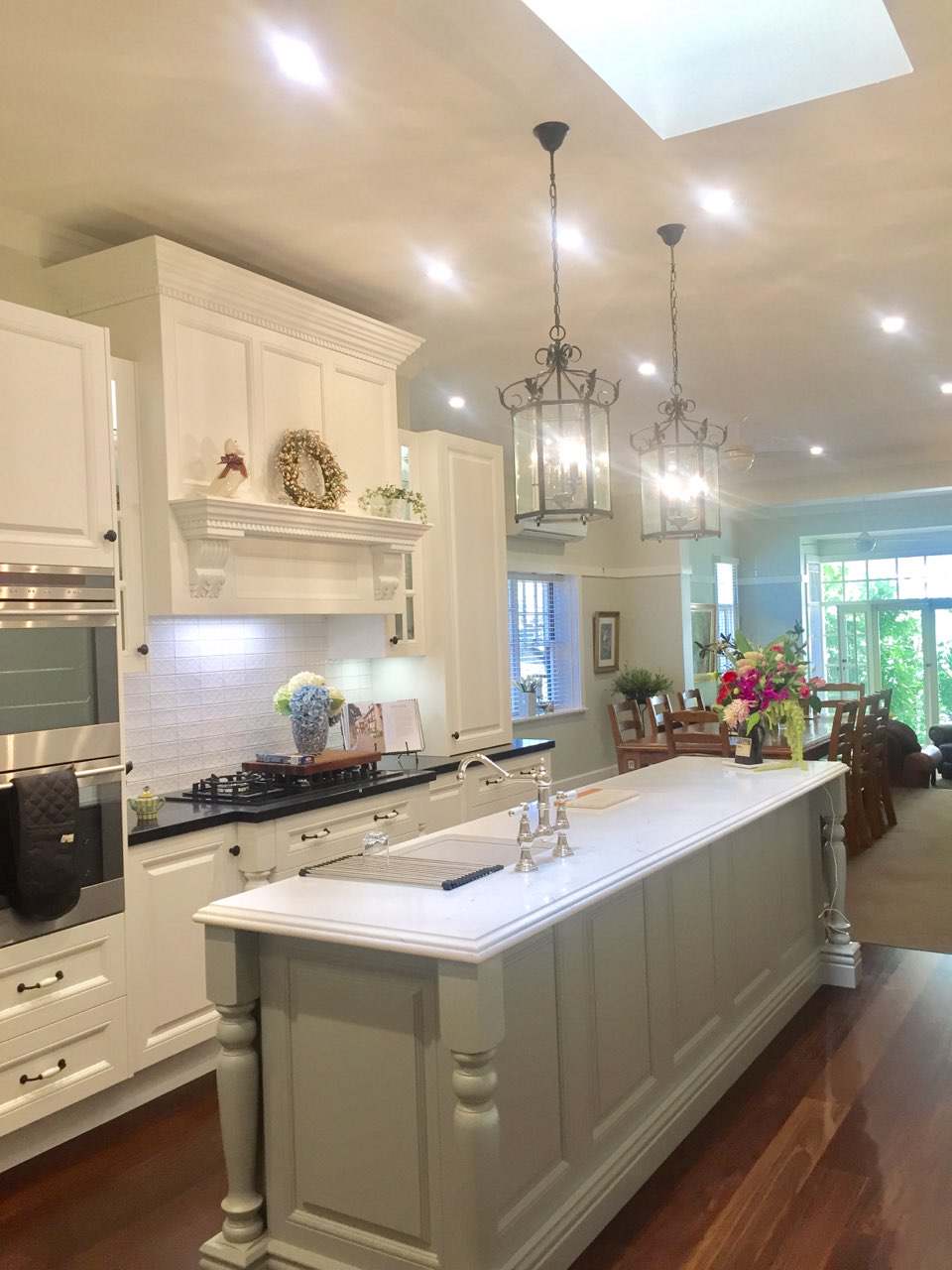 The kitchen is in the centre of the house with no outside windows. How did that affect the design?
We live in a Californian bungalow with the kitchen in the centre of house with no outside lights as such. We've renovated a few times in the 32 years we've lived here, but always kept the kitchen in the centre.
Normally with a French Provincial style you need a large kitchen area and have more wall space work with. Light was also a consideration.
But added a skylight some years ago to give the extra light needed and I also put French doors into the dining room, which gives the kitchen more light. All round, I think it works quite well.
Everyone who comes in here says, 'Wow'. They remark on how well the kitchen goes with the house. It seems to flow and just suits the home as a whole.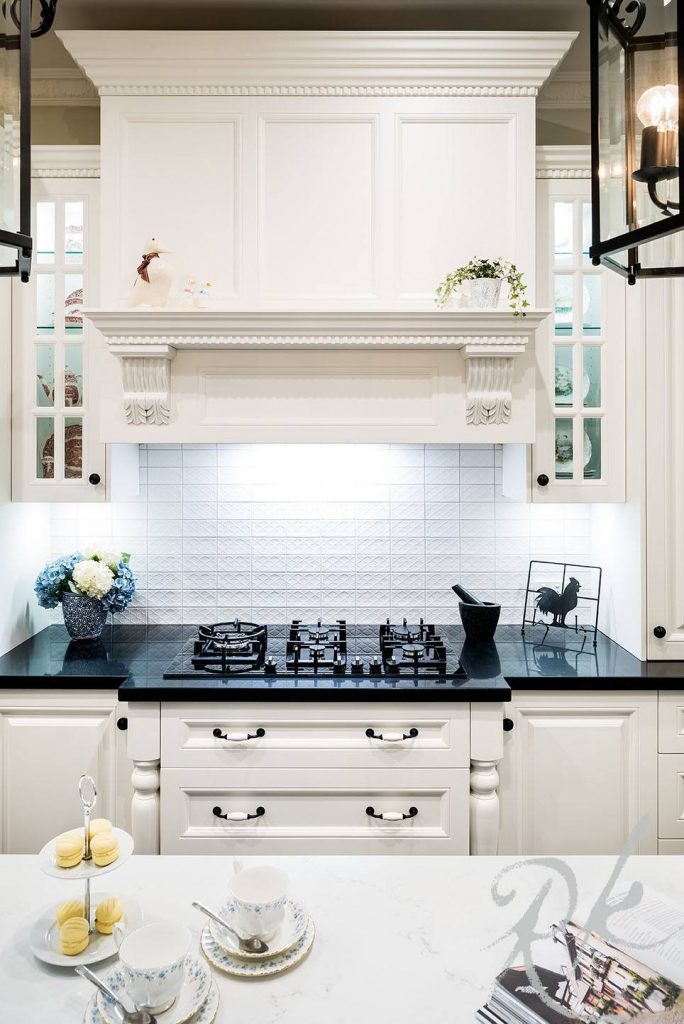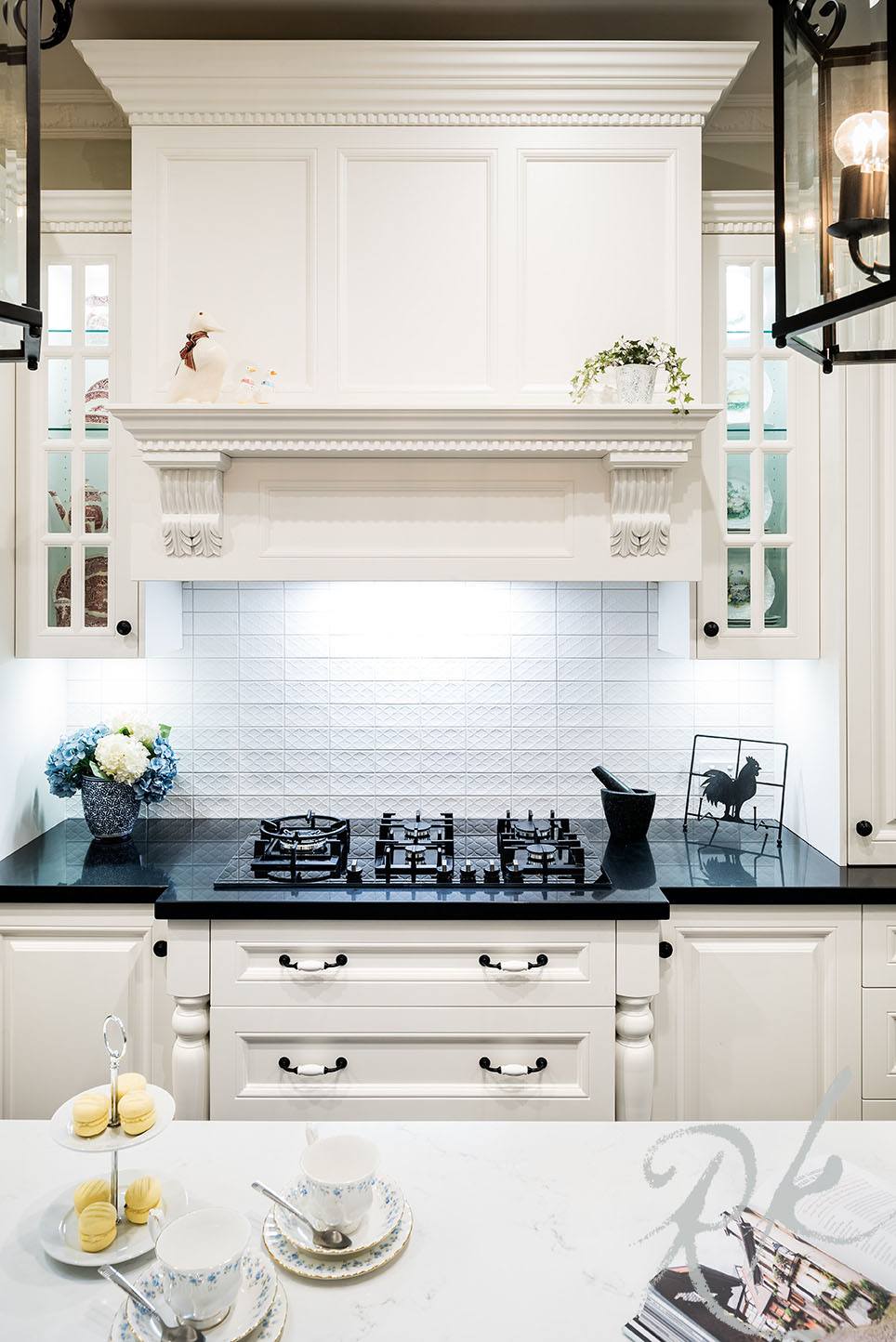 You've incorporated many decorative elements that really give that French Provincial feel.
A French Provincial kitchen is more detailed than a Shaker or Hamptons kitchen. There is lots more detail, which I wanted, and it gives a more busy feel but still looks elegant.
The turned posts look great, and I'm really pleased with the handles, which I purchased through Period Details in Bayswater. With the drawers, they suggested one handle but I wanted two because I felt it added to the look and design. And I'm very happy with that.
I also chose two different designs for the drawers and on the cupboards. In one the pattern is coming out, in the other it's internal.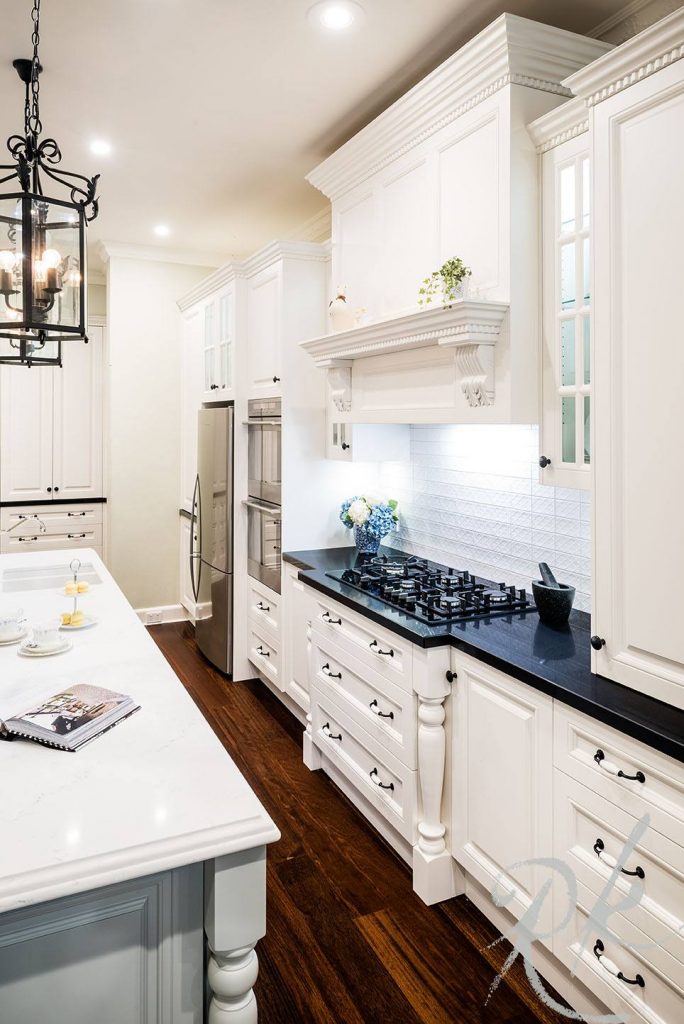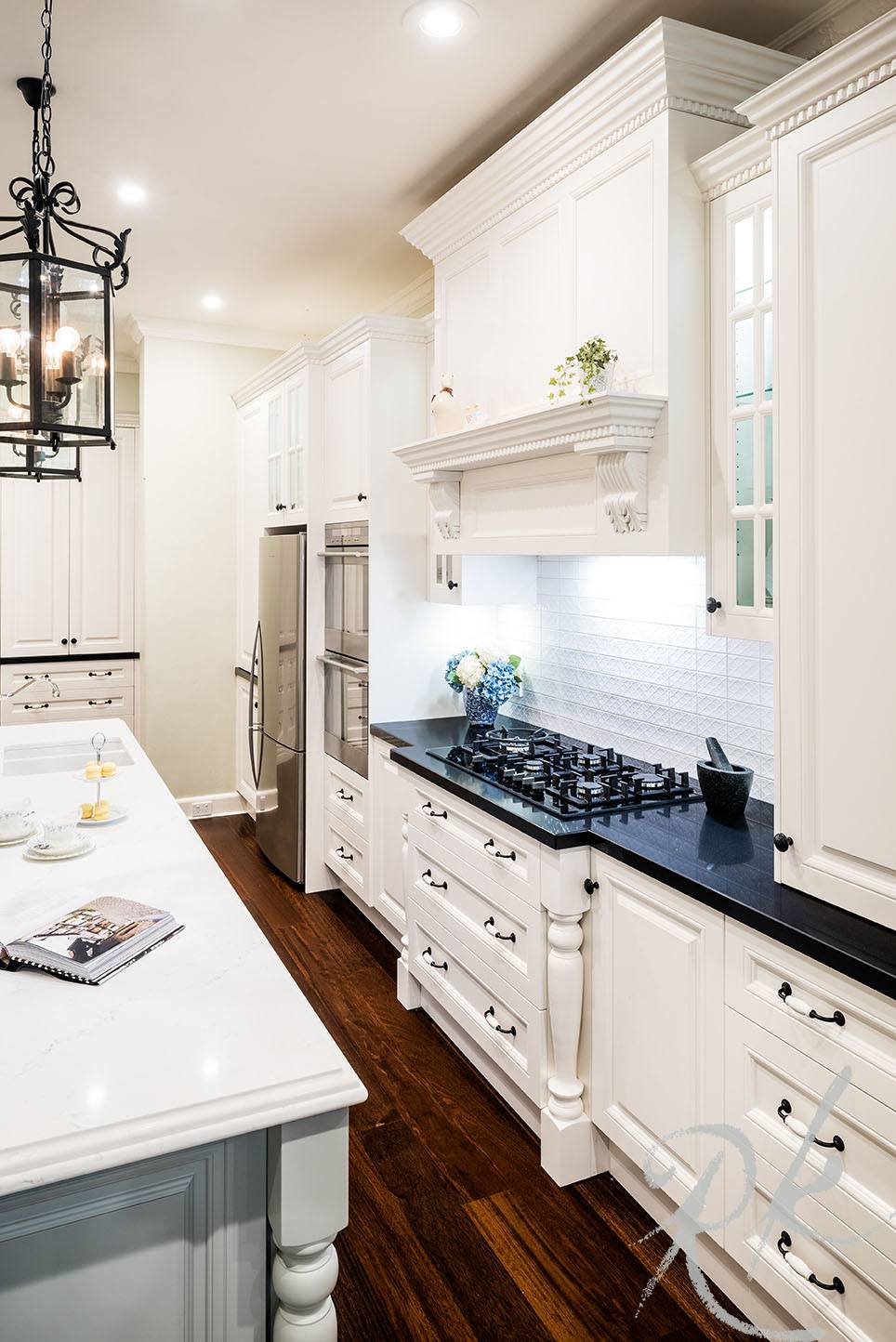 Do visitors to your house think that your benchtops are natural stone?
Very much so. I always thought I'd like a stone benchtop and assumed I would have marble or granite. And that's what people think. They say, 'Oh, you've got marble, it looks lovely'.
But it's Quantum Quartz, which most suited my main aim to have something workable that I didn't have to be too precious with; something where I didn't have to worry that it would stain, for instance. I think it works much better and it's so practical.
Marble has beautiful patterns and I think if you choose something that looks like marble it does add a touch of class to your kitchen.
I also always wanted to have black benchtops near and around the stove, and for the island bench and top to be a different colour. Originally, I was going to have a darker benchtop in the centre, but the designer said it might be a bit dark for the room. And I thought that was a good point, so I went lighter.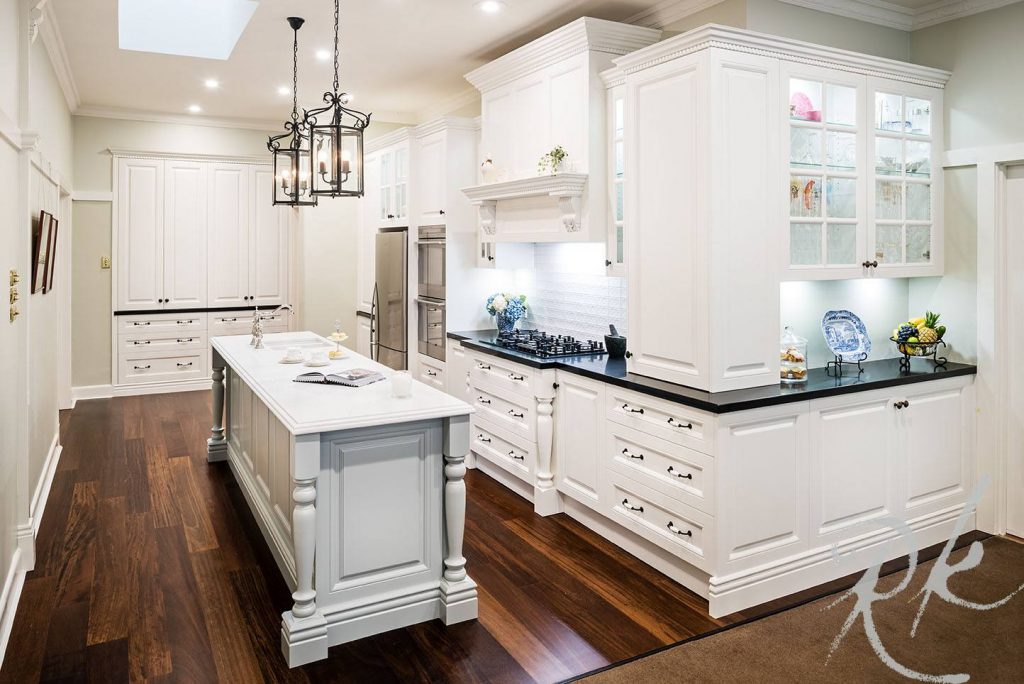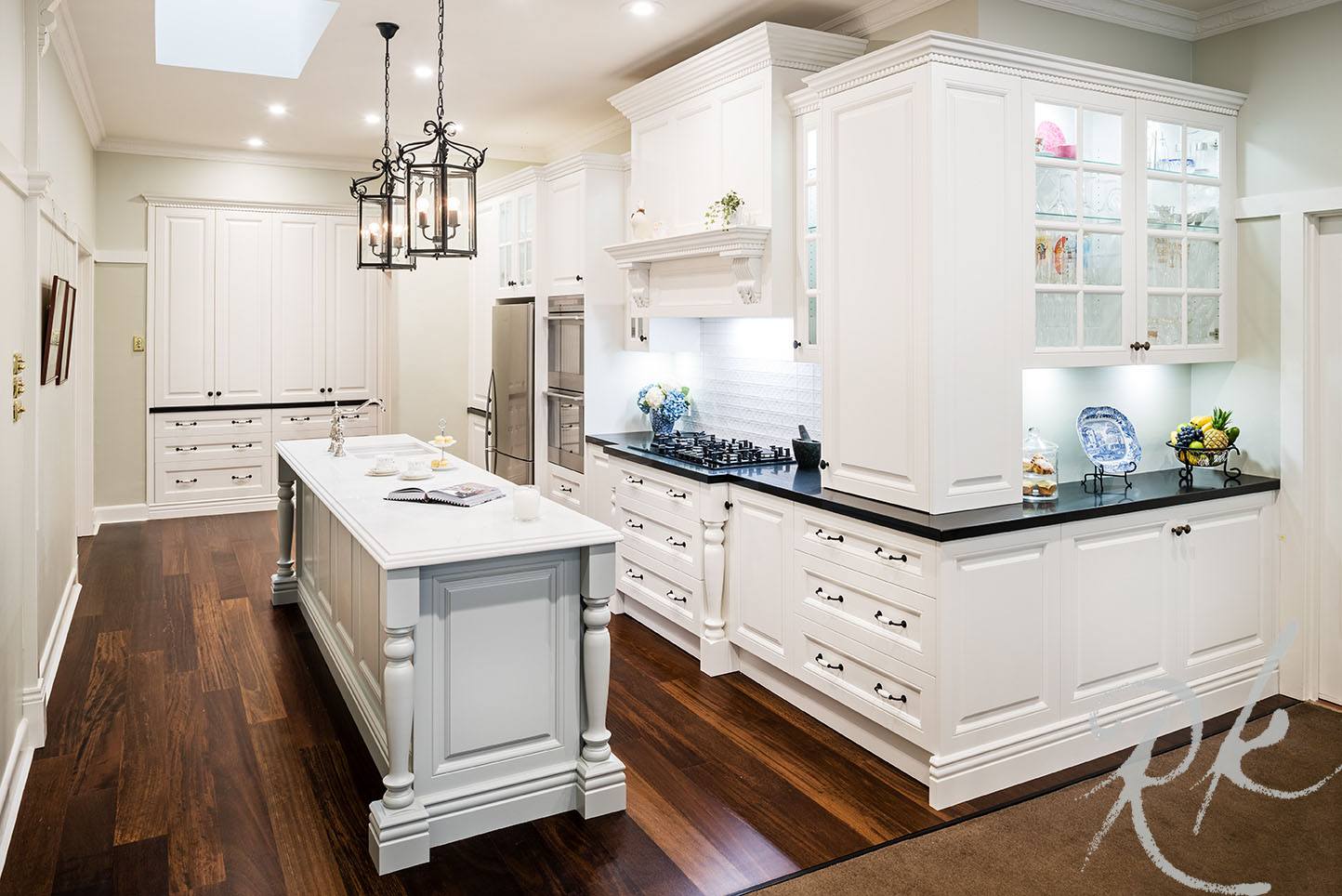 How does it feel to be in your new kitchen?
Great. You sit here and it's quite tranquil. There's something about it. It's very comfortable.
I always said when I changed my kitchen I wanted it to be practical and look good.
My husband has noted the difference, how everything seems to be on hand and just flows. Before we had a lot of cupboards where we had to get down on the floor to get a saucepan out. Now we have the drawers that we just pull out. We can see everything and we have a place for everything – it's amazing.
My absolute favourite thing is my appliance cupboard. It's like a mini Butler's pantry – perfect for when you have a galley type space. It houses many things, and it can all be hidden behind large bifold doors when you have unexpected guests arrive! Perfect.
It's so much easier to work with, and you just feel like cooking in it.
How did you find working with Rosemount?
At the start I wanted to get everything sorted and know exactly what was happening prior to commencement. That took a little longer than expected, but Rosemount have been fabulous.
We did have a bit of a hiccup when the doors arrived, but not in the correct colour. Mark was fantastic and had everything redone. As Mark said, things happen, but he will fix it if it's not right. And it's been proven they stand by their word, which is a great comfort when doing a major renovation.
The tradesmen were just amazing. Sometimes they worked way past their time to get things done. Our Project Manager Ben Schultz coordinated the trades and everything so well, which helped eliminate concerns and unnecessary stress. They were all a pleasure to have in our home.
We have done other renovations over the years but Rosemount stands out by far. I chose Rosemount because of their reputation for giving quality and service, but they have also shown to be a caring company as well.
As I was heading off to one of my specialist's appointments, Mark rang to see how I was and wish me well. And I was pleased to be able to say, 'doing quite well now after another cancer.'
Considering everything, I am one of the fortunate ones – I'm here to tell the story.
When it's personal – business and life has far greater value.

Mark Tonkin, Rosemount Kitchens
Key Kitchen Features
Cabinetry: 2 Pack
Benchtop: Quantum Quartz Crystal Black
Island benchtop: Quantum Quartz Michelangelo
Splashback: Genesis Bianco – (3D Lantern)
Doors: Polytec – Style: Rothbury and Keimbah
Handles: Hafelek
Capping: Tesrol Federation
Protruding kicker: Tesrol SK3
Corbels: C8
Decorative column: Farmers turned post
Flooring: Godfrey Hirst "Naturals" Smoked Iroko
Lighting: by Robert Kitto
Cooktop: Bosch
Oven: Electrolux
Fridge: Fisher and Paykel
Dishwasher: Asko
Sink: Franke
Tap: Perrin & Rowe