Renovation lights up tired kitchen
Pendant light and rangehood add sparkle to beautiful Camberwell kitchen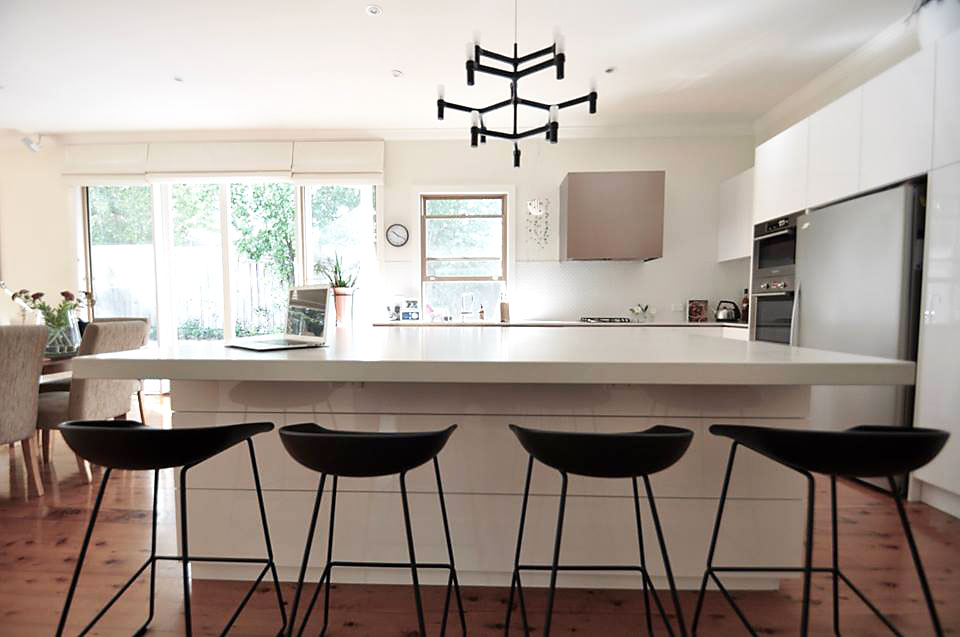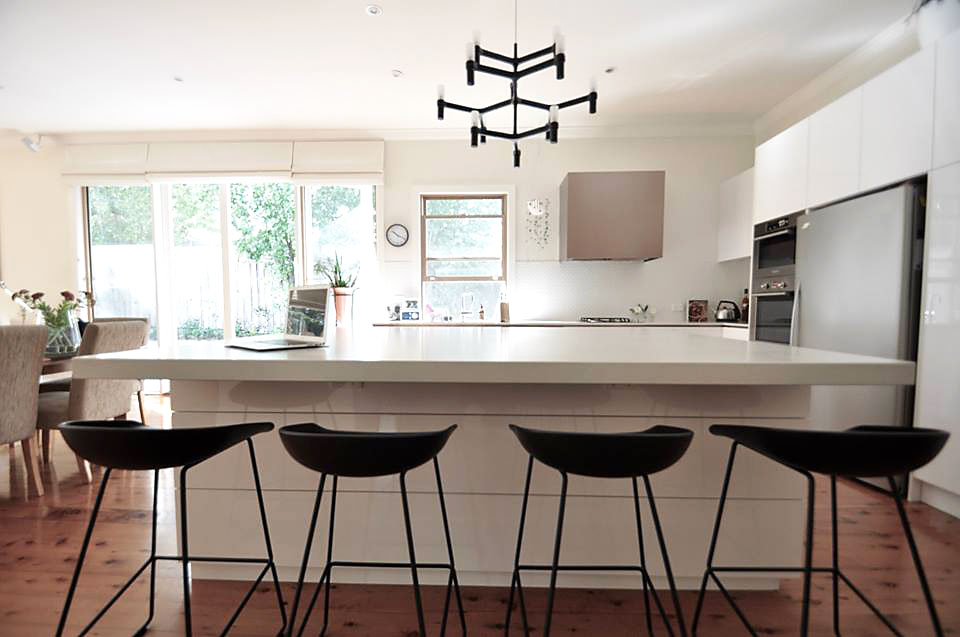 This was our first time renovating, so it's fair to say there was a little bit of trepidation on our part. But our experience was very positive and we're thrilled with our new kitchen.

Julie Davie, Camberwell
Julie Davie never warmed to the kitchen in the Camberwell home her husband and young twins moved into more than a decade ago.
It was impractical with insufficient bench space, and after ten years of enduring the space, Julie decided it was time for a more modern look, with clean lines and natural light. That has been provided by a new east facing window and white cabinetry and bench tops.
The installation of an outdoor pool had also served to emphasise the kitchen's poor orientation – and outlook.
Now that's all changed, thanks to a Rosemount Kitchens renovation that has transformed how the Davie family view and use their most important room.
"We've made quite dramatic changes," says Julie. "We've gone from black to white and now have a much better use of space and orientation, maximising the outlook to the pool and garden. We're really, really happy with our new kitchen."
Check out images of the kitchen pre and post renovation taken by Rosemount's designer.
You can also read our Q&A with Julie below – where she discusses her first kitchen renovation experience and explains why she chose Rosemount over other providers.
Before the renovation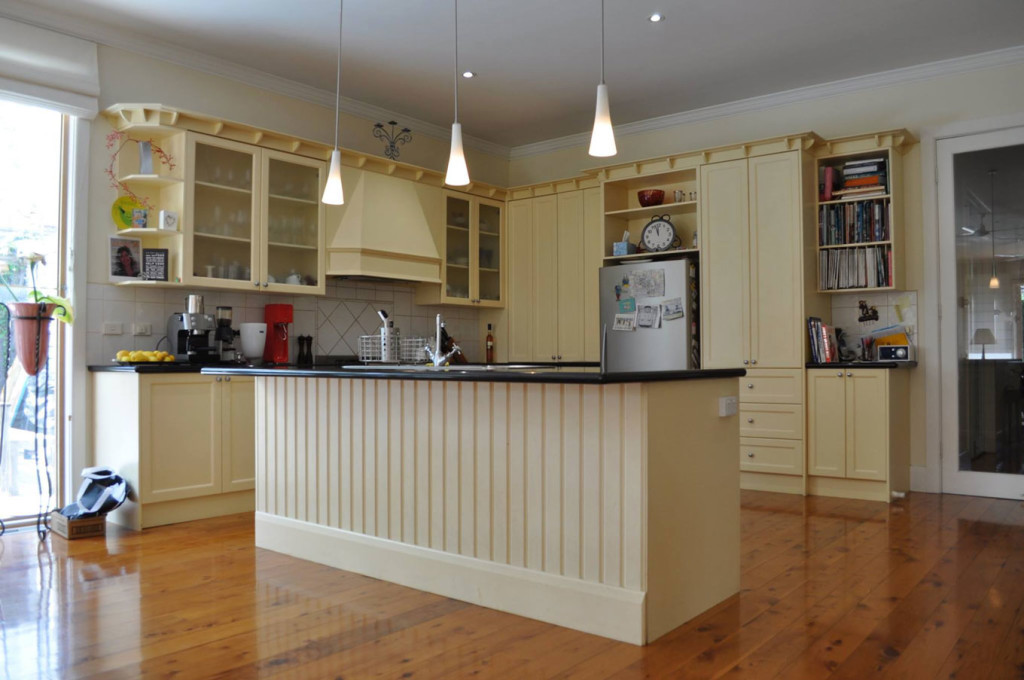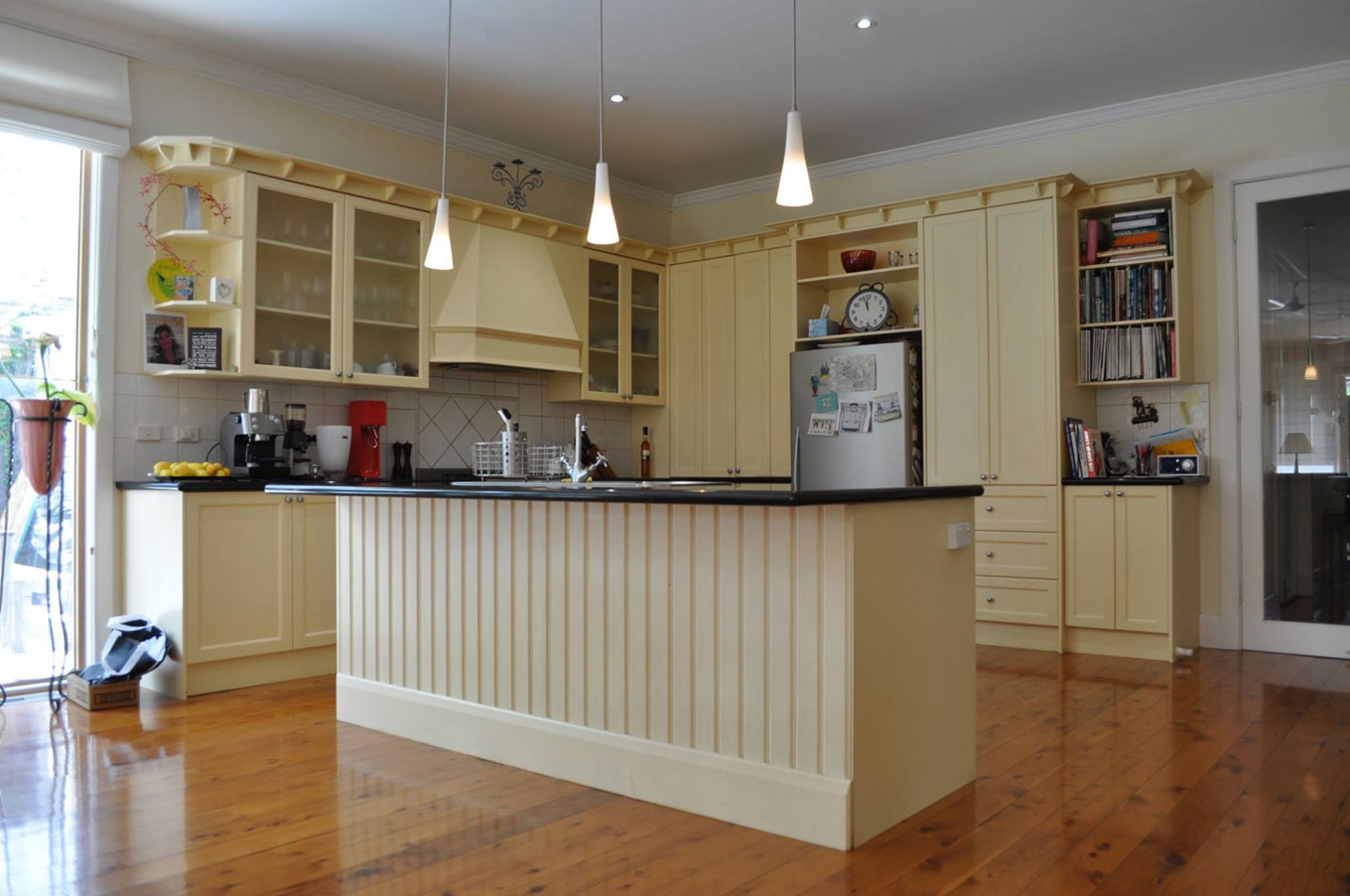 After the renovation
Need more inspiration? Look through the great images in our kitchen galleries and see what style of kitchen you like best. You'll also find more case studies at the bottom of this page.
What made you decide to renovate?
There were a number of reasons. We inherited the kitchen when we moved into this house in 2002, and always felt it didn't really meet our needs in terms of use and practicality.
The layout was poor. There was a big kitchen area but a very empty square space right in the middle. It felt like a ballroom space and the position of the sink was the bane of my life.
We put in a pool a few years ago and felt the current kitchen design and aspect didn't really maximise the outlook.
The children were now teenagers and our family dynamics and needs had evolved. We felt the kitchen needed to reflect this too.
Why did you choose Rosemount for the renovation?
This was our first time renovating, so it's fair to say there was a little bit of trepidation on our part.
We had a couple of kitchen reps come to our house but their suggestions seemed fairly 'pedestrian' and not unique or specific to our space.  We wanted something different and dramatic and with a 'wow' factor. Unfortunately we were left wanting.  
Our first meeting with the designer was different. He has a background in interior design and his passion was evident. He could see the bigger picture and his eye for detail and finishes were so refreshing. We were very impressed.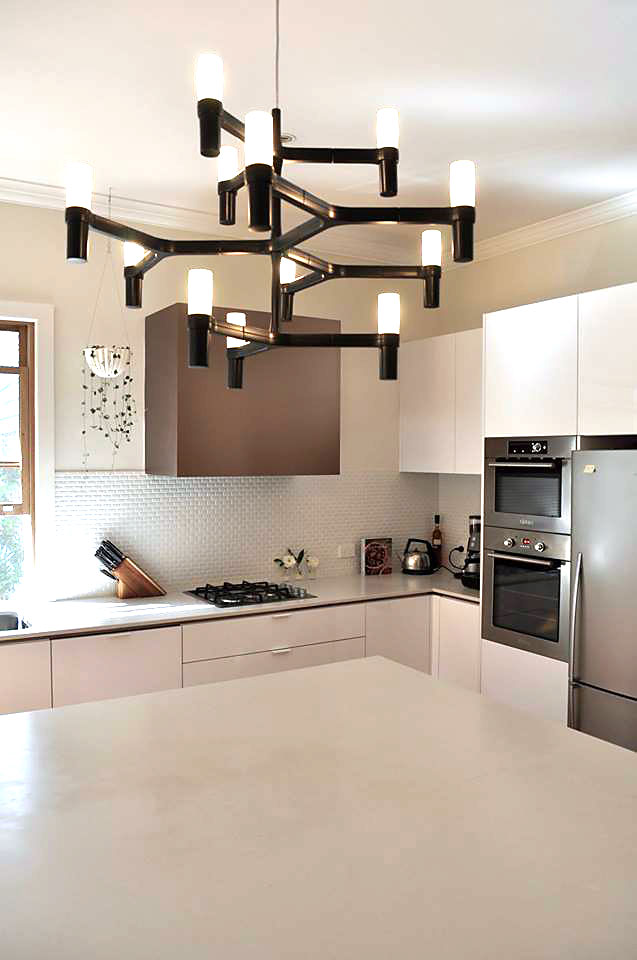 The light and rangehood are real focal points in the new kitchen.
Rosemount's designer felt that the big focal light, bronze rangehood and window would draw attention.
And he's right. People come through those doors and it's a "wow". You've got the window outlook onto the garden and the light from the window, and the lovely big light and the rangehood – and it just all works.
We'd originally looked at a group of three pendant lights but the designer suggested one really big dramatic light.
With the rangehood he suggested doing it in laminate rather than stainless steel. People think it's bronze copper, and it really is a bit different, more authentic, individual and classy. It matches the trim too and it's a great focal point, along with the light.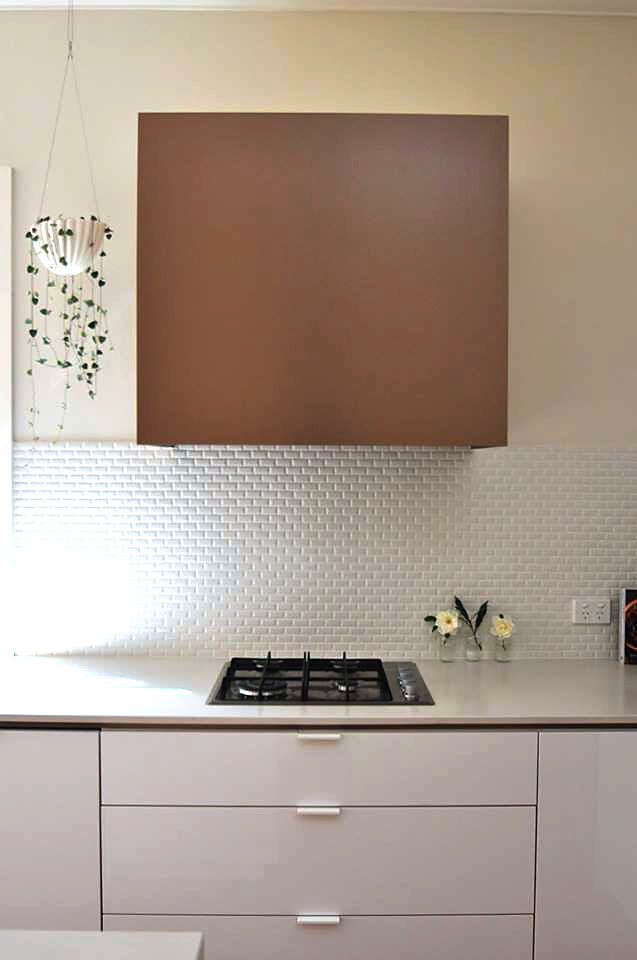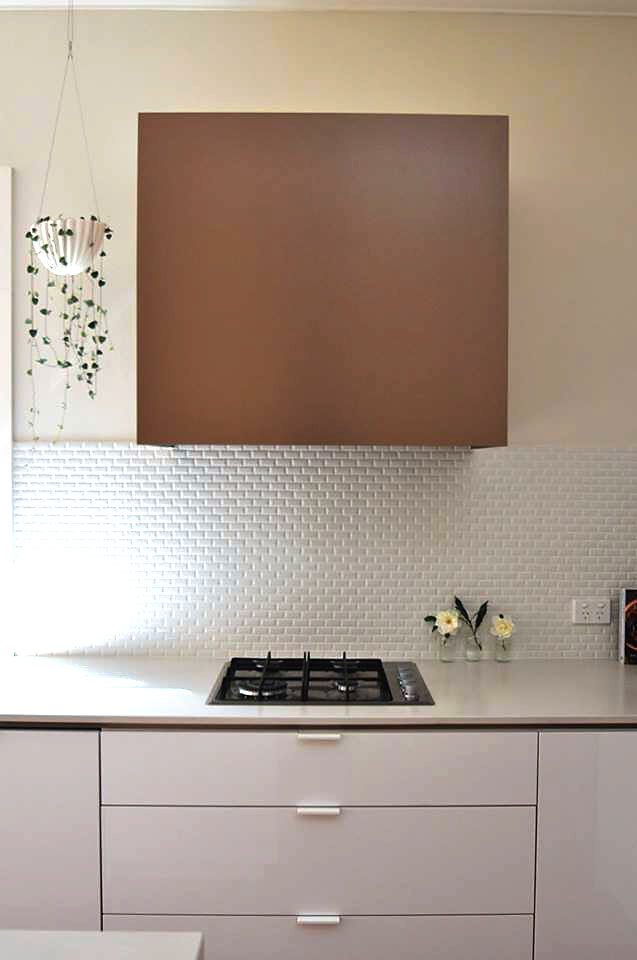 Was changing the orientation of the kitchen important?
We wanted to orient it more towards the pool and wanted a big square bench in the middle, because we knew we couldn't change that space.
The desinger's skills and expertise when it came to detail were just terrific. Things like the orienting of the cupboards and whether to have handles or not.
And I now love looking out the window at the garden. It's like another room really. It's just beautiful sitting there looking at the garden and the pool.
Rueben visited recently and suggested painting the inside trim of the new window in black, which would frame the garden outlook. I thought, 'that's a great idea'. So it's on the list. We will do that.
What practical aspects of the new kitchen stand out?
I guess I always thought you'd have overhead cupboards but the designer advised us to keep the majority of the cupboards/storage at waist height and below.
The kicker drawers are just great for storage. I love to cook so it's a great place for all those trays for entertaining, and for plates – otherwise it would just be a dead space.
The corner solution that just comes out is also great because it's so easy to access. We all know how useful that is because corner cupboards are notoriously hard to navigate and get stuff in. I'm thrilled with that.
Overall, it's a much improved functional layout and use of space. We have gained significantly more bench space and our children are much more motivated to cook and develop their skills.
Was there much disruption during the renovation process?
We sold our existing kitchen prior to the installation of the new one so had to use the laundry which was not ideal but fine in the interim. Also being late October and pre-Christmas, it was a demanding time work and family wise.
Once all the paperwork was sorted, we received our "schedule of installation" and the works progressed. Rosemount's staff, associated builder and electricians were highly skilled, professional and a pleasure to deal with.  
Their attention to detail and consultative, professional manner is to be applauded. They were always happy to answer questions and allay any concerns. We were very impressed with their strong work ethic too. 
The designer was particularly helpful and patient in sourcing appliances and offering advice regarding lighting and stool recommendations and suppliers.
Our experience was very positive. I thought there might be hiccups with teeing up tradies, delays and things. But we didn't experience any of those. We were always kept in the loop and knew what was happening.
Working together with customers on a project is so important. We listen to their ideas and bring our professional expertise to ensure the end result is exceptional. This renovation is a great example of that philosophy.

Mark Tonkin, Rosemount Kitchens
Key Kitchen Features
Island Bench – Caesarstone "French Concrete 4001" with a 60mm edge profile
Cabinet doors and panels – Ultra glaze with Arctic ice gloss colour matching ABS edges
Kickboards – Arctic ice gloss
Splashback – tiles
Storage solutions – Kessebohmer LeMans II corner system and three kickboard drawers
Appliances and Accessories
Lighting – Crown Minor suspension light from Mondo Luce in South Yarra
Oven – Ilve
Microwave – Ilve
Rangehood – Sirius
Rangehood box – from Laminex Innovations range in brushed bronze horizontal grain
Cooktop – Fisher Paykel
Dishwasher – Asko
Refrigerator – Fisher Paykel
Wine Fridge – Vintec
Sink – Franke
Tap – Grohe
You'll find more inspiration in our photo galleries.
You can also contact us or call and we'll do our best to help.