If you've ever sold a house or apartment in Melbourne, you might already know this. Of all the things you can do to increase the value – and sale price – of a property, kitchen renovations are by far the most important.
Check out the video below to see what I mean. It features Brian Capp, one of the city's most experienced real estate agents. He has sold thousands of homes during a career that started in the 1970s.
"I think I realise by now the best things to do when you're trying to sell as quickly as possible for the best price," he says.
"The kitchen is probably the most important room in the house from a buyer's point of view. A really good new or renovated kitchen makes a huge difference to not only the price, but the saleability of the house."
Kitchen Renovations that helped get the sale
We agree with Brian. Years of experience has taught us the two main things that can make or break a property sale are the kitchen and bathroom.
Check out the two homes below, where Rosemount renovations successfully helped our clients get a great result when they sold their properties.
Wheelers Hill Kitchen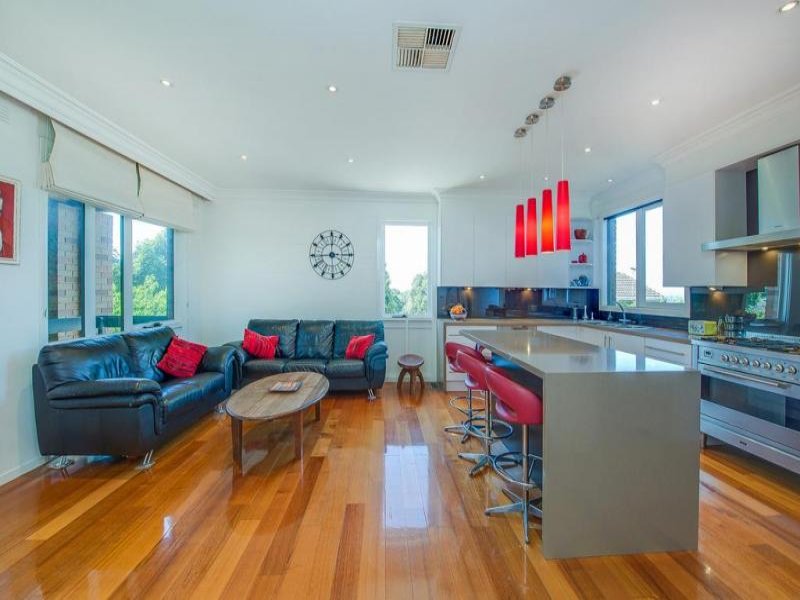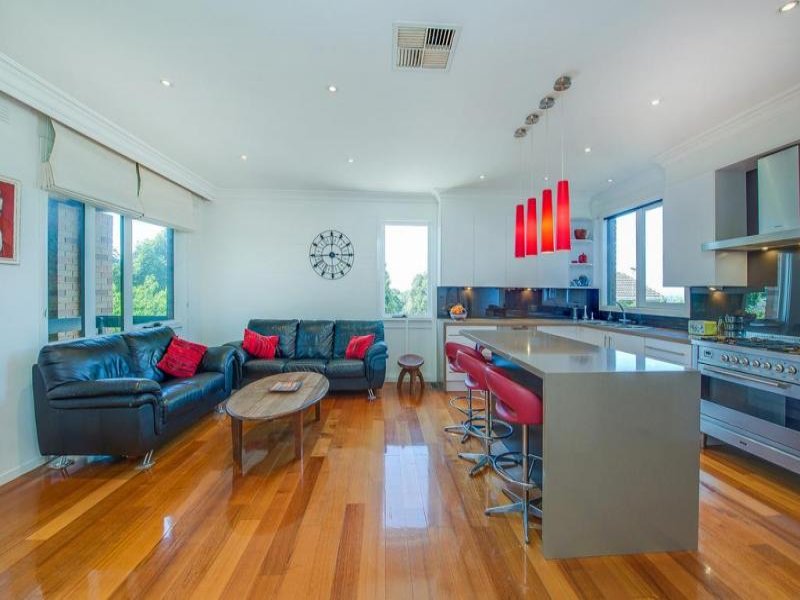 Mark designed this beautiful kitchen back in 2009, and it still looked modern and in great condition when it was sold in 2014.
That's proof of something regular readers know we emphasise on a regular basis – the importance of quality components.
Unlike many cheaper imports components now flooding the market, they'll look as good in Year 10 as they did on Day One.
This "Grand Entertainer" had several great features that made it functional and a breeze to work in, including:
Doors and panels in Laminate Sheen finish
Glass Splashback
Blum soft-close hardware on all drawers and cupboards
Undersink pull-out bin x 2
The real estate agent promoted a "stunning hostess kitchen" that was perfect for a family who loved to entertain.
Camberwell Kitchen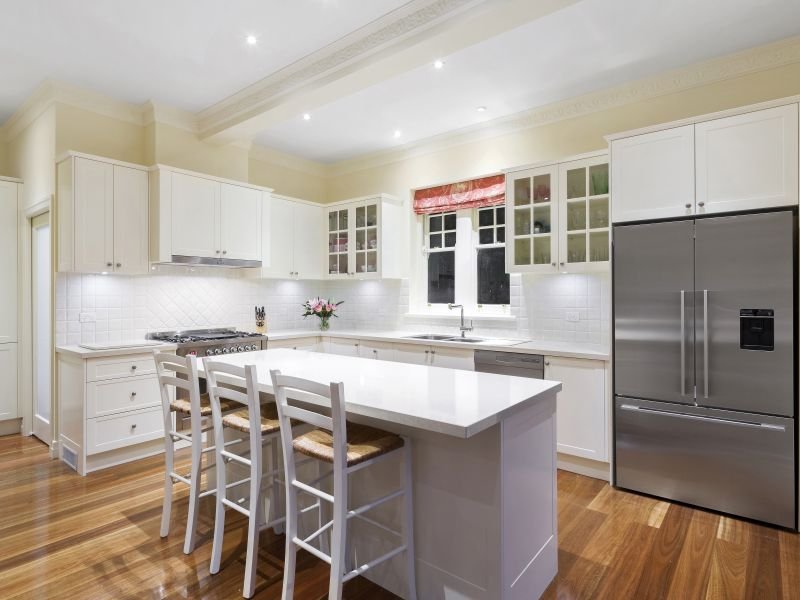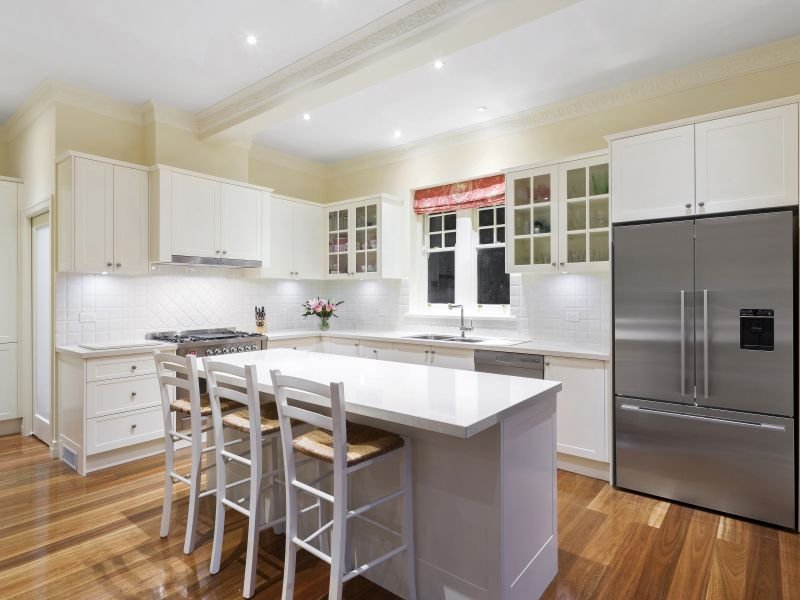 Rosemount designed and installed this kitchen, and our clients sold the home a year later through Noel Jones Real Estate in Camberwell.
The family came to us as a result of being recommended by friends who had previously got a Rosemount kitchen.
It's a beautiful kitchen, with standout features including:
Shaker Door and Profile panels – 2Pac Dulux white Opal 1/2 strength
Benchtop: Caesarstone – Buttermilk
Splashback: Tiles
Accessories: LeMans corner unit, Cargo pull-out bin, Inner pull-out drawers and Blum Orga-Line cutlery insert
Why your Kitchen makes a difference
As Brian says, the goal with any home sale is to sell as quickly as possible for the highest possible price.
Renovating or installing a new kitchen can put you ahead of the pack in a competitive market.
You should always focus on the kitchen – followed by the bathroom.
"You can put in new carpets if you like, but you might pick the wrong colour so it's a waste of money," says Brian.
"If you put in a really nice kitchen with modern colour schemes and really good white goods … that can make a terrific difference."
When Brian holds open houses, he knows from experience that the kitchen can be key to overall perception.
Potential buyers are delighted when they experience something like soft-close Blum drawers.
"If someone comes in and just gives them a touch, and they close, you can see people smiling," adds Brian.
"That's the difference it makes. They are happy in the house, which makes a difference to the prospects of selling."
Key Kitchen Renovation Principles to Maximise Your ROI
So what do you need to be aware of if you're renovating a kitchen to maximise the sale price of your home?
There's no fixed correct answer, but the finishes you choose for the cabinetry, benchtops and splashbacks – to name a few – can significantly affect the cost of a kitchen. Our designers are great at working with customers to maximise their budgets.
And that's vital, because a prospective buyer will quickly notice the difference between a cheap "makeover" and a brand new kitchen that includes soft close drawers and doors, or clever innovations that make the kitchen functional and practical.
The "makeover" kitchen might look shiny and new on the outside, but it'll use the same 20 or 30-year-old footprint and won't function anything like its new modern counterpart.
Why is this important? Details like a functional pantry where you don't have to move four things to get to the back, and even a dedicated pull-out bin, can catch the eye of prospective buyers. For instance, they'll find a kitchen that's mostly drawers much more appealing. And they'll quick suss out – by opening a cupboard – if the "renovation" is more cosmetic than complete.
In cases like that, they might offer a lower price for the house, because they'll be factoring in the cost of installing a new kitchen after the sale.
As you can see, there's fine line between spending too "little" and spending "enough". The risk is that if you scrimp up front, you'll pay in the long run. Worse, what you have spent might feel like money wasted.
How much should you spend?
Many variables come into play when you're considering how much to spend renovating your kitchen.
Every "expert" has an opinion, but I like this advice from NAB.
"Understanding your home's value can also inform the way you structure your renovation budget. For example, a kitchen renovation may cost from $5,000 to $50,000 (or more) depending on the appliances and finishes you choose. Experts in  home improvements recommend 5% of the value of your home should be in your kitchen. So if your home is worth $500,000, you could consider spending up to $25,000 on your kitchen."
I'll give the last word to Brian, and it's a good one – especially if you're thinking of selling.
"If you've got a good kitchen designer like Rosemount and spend $20,000 I'd expect it to be multiplied by three or four when the time comes to sell the property."
For more information, check out our page on the cost of a new kitchen.