Shaker Style Kitchens
Shaker Style Kitchens – Made in Melbourne
Shaker style kitchens are timeless, and very popular in cities like Melbourne where there are so many older homes particularly suited to this classic look.
But the truth is that a shaker kitchen works in just about any kitchen design – from modern and contemporary to the more traditional Hamptons or provincial you'd normally associate with these wonderful looking cabinet doors.
Elegance, simplicity and versatility are key to the enduring success of shaker cabinets, which were first popularised by an obscure religious sect in the late 1700s.
More than two centuries on the look might remain largely the same, but advances in technology have transformed the variety of finishes and colours.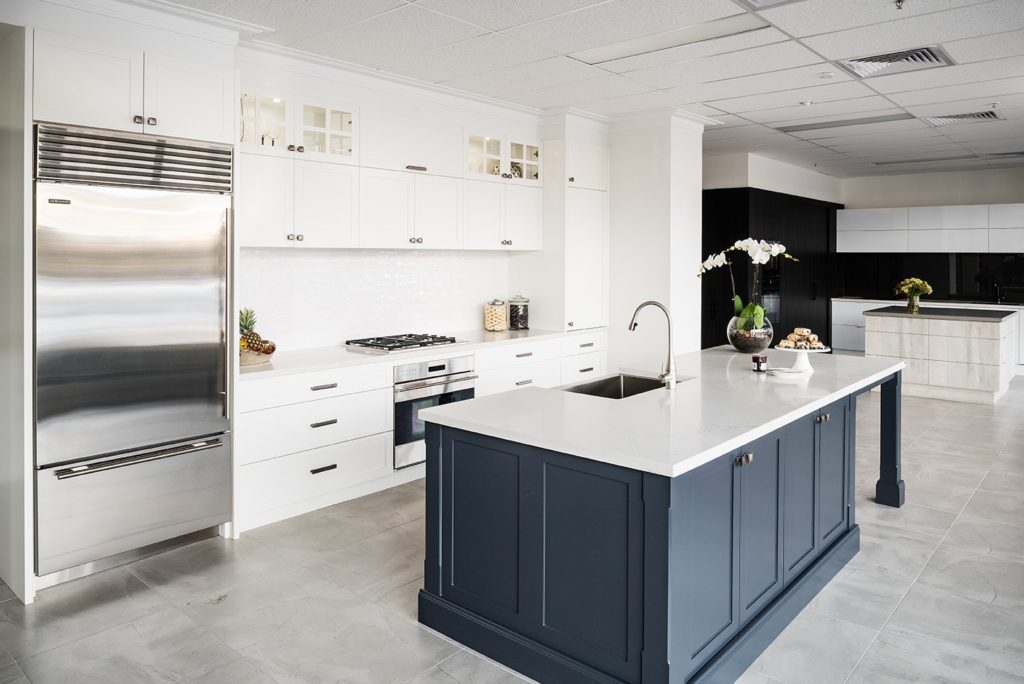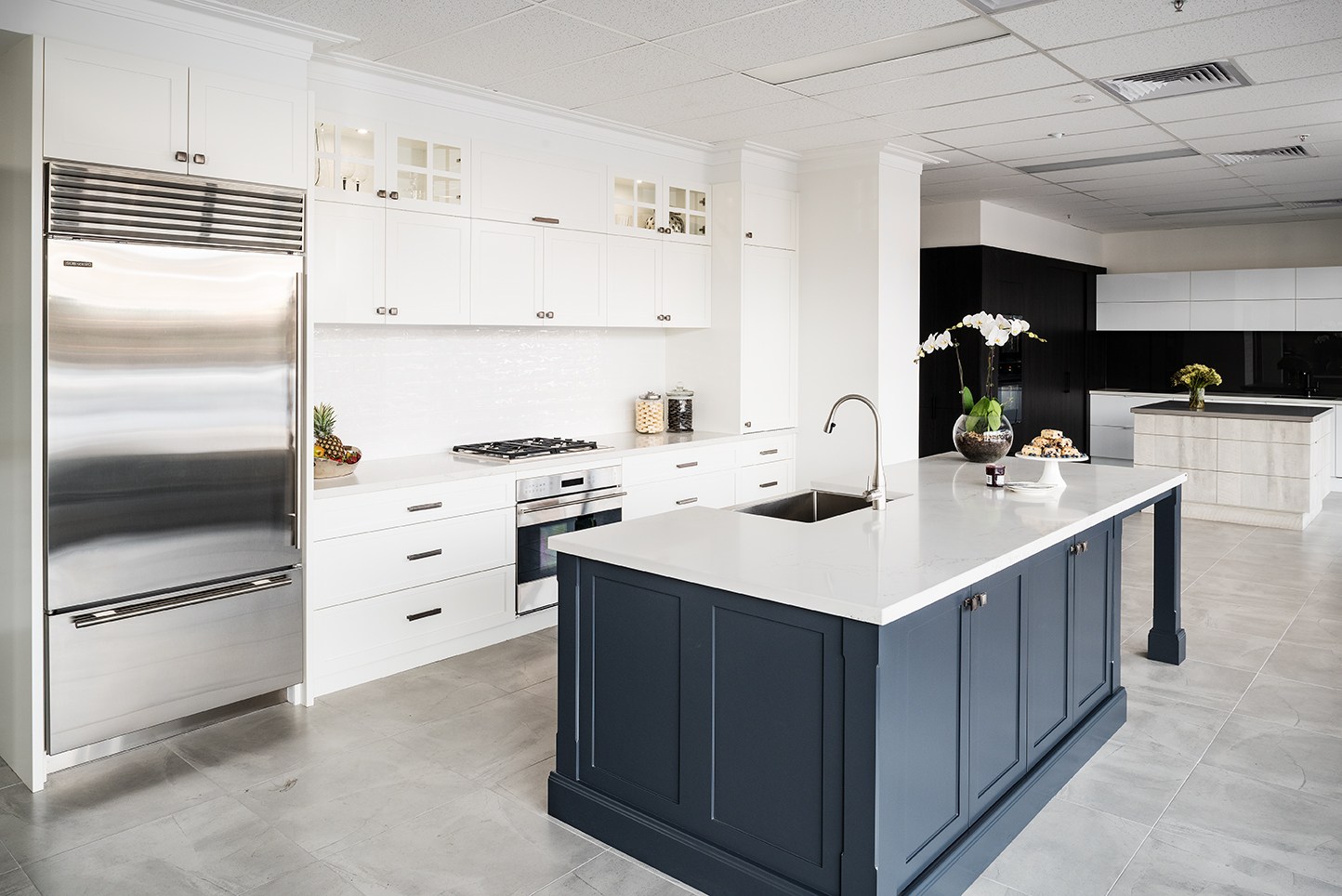 So what is a shaker style kitchen?
A shaker style kitchen is typically one that has cabinets and doors with recessed panels – a framed profile sometimes referred to as "rail and stile".
The shaker door was traditionally made with a 5-piece door front, two rails, two stiles and a central panel. It was strong and there was little wasted timber.
It's a style that's unpretentious and repetitive, and continues to be highly sought-after in a variety of designs.
See what we mean by looking at the examples of Rosemount projects on this page.
Did you know?
The "shaker" name comes not from the style itself, but the people who came up with it.
The United Society of Believers were a Manchester-based religious group who broke away from the Quakers in the late 1700s and migrated to America. They were commonly known as Shakers because of the way they moved and danced during religious ceremonies.
The Shakers were also master craftspeople who hand-crafted their furniture from solid timber. But they kept the designs simple because they regarded additional decoration, ornamentation and even veneer as "deceitful".
Key features of shaker style cabinets, cupboards and doors
While today's shaker designs maintain that minimalist spirit, you can add your own flourish in a host of ways.
The clean lines in the framed centrepiece of the cabinetry remain the bedrock of shaker style cabinets, but today's shaker door has come a long way from the original handmade timber style.
Most shaker doors are now made from Machine Grade Moisture Resistant EO MDF and the profile routed in. The door can be vinyl wrapped and painted to the desired colour.
Variations of the traditional shaker design include:
Simple minimal routed lines, like the 'Oberon' door from Polytec
Deeper routed lines such as the 'Oceanic' door from Polytec
Shaker style doors are popular in a range of kitchen designs. It's what you'll usually find in a Hampton style kitchen.
Because it doesn't seem to date, it works equally well in coastal, country, chic, and contemporary kitchens.
To dress it up you can can add some fluted columns and mantels to give a more provincial feel.
That's what our customers did below. This kitchen uses a shaker door, but they have added a mantel for the rangehood and decorative posts on the island. They also added small glass front doors on the overhead cabinetry.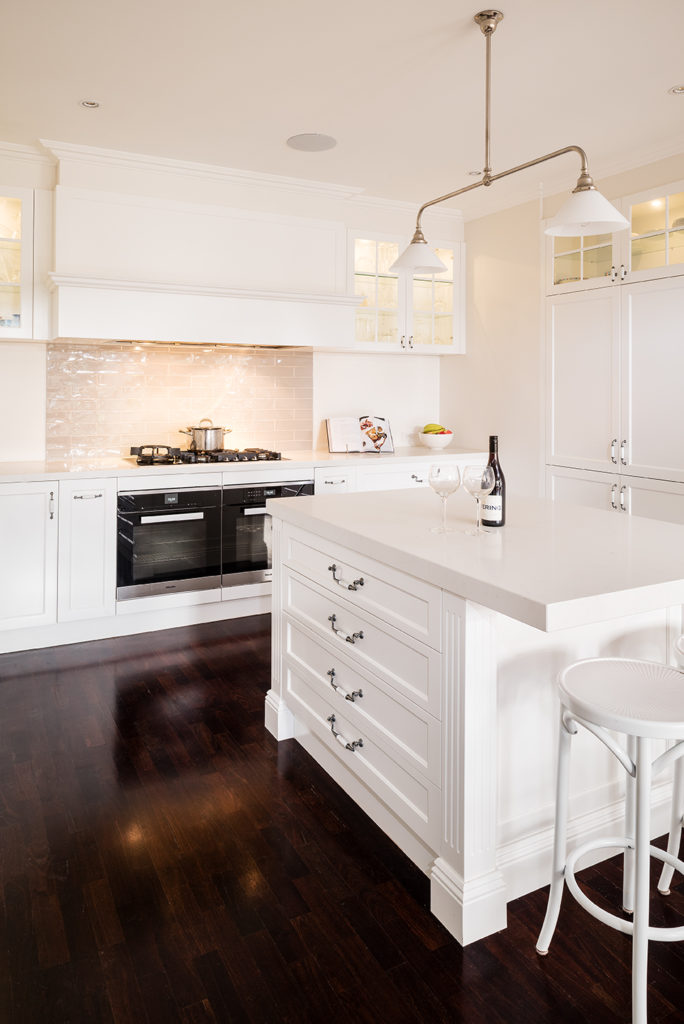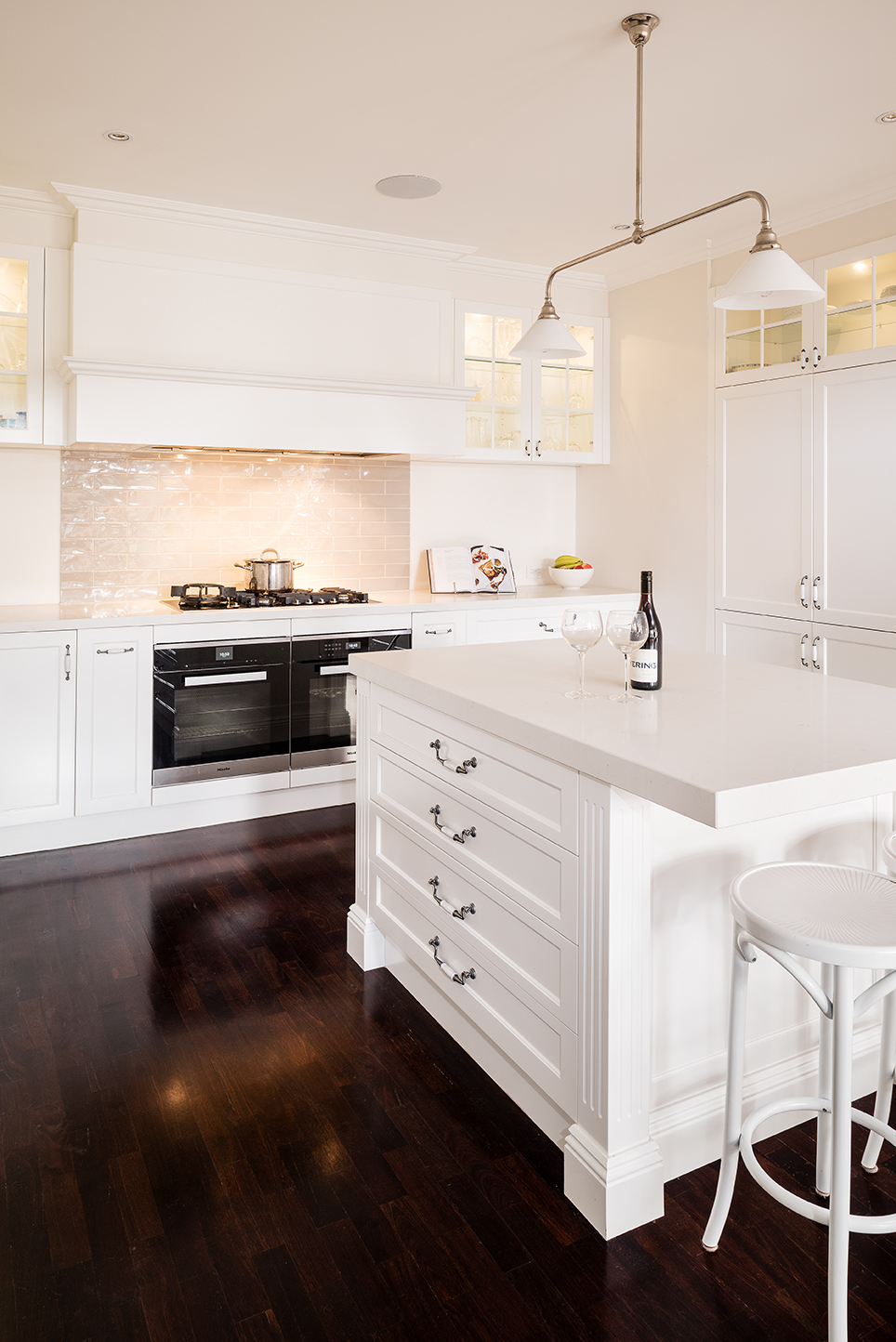 What Are The Key benefits of Shaker Kitchens?
1. Shaker Cabinets Can Be Versatile
Shaker kitchens are extremely versatile. A number of different finishes can be used,
and depending on the choice, that alone can produce a completely different style.
For instance, the vibe of a white 2 Pack shaker door in a satin finish is completely different to a kitchen with black thermolaminated shaker doors.
2. Your Shaker Kitchen Choices – Keep It Simple or Dress Up
Keep it simple, like the original designers intended, or dress up and accessorise to create the kitchen you really want.
As we mentioned earlier, elements like fluted columns, corbels and mantels can create a more decorative provincial feel in a shaker kitchen.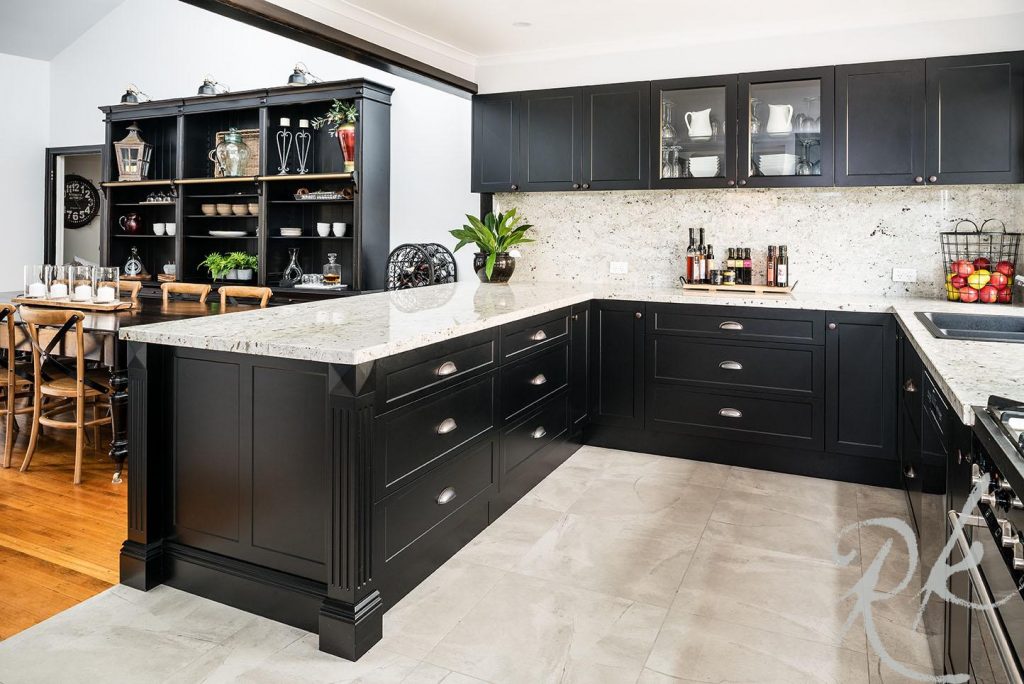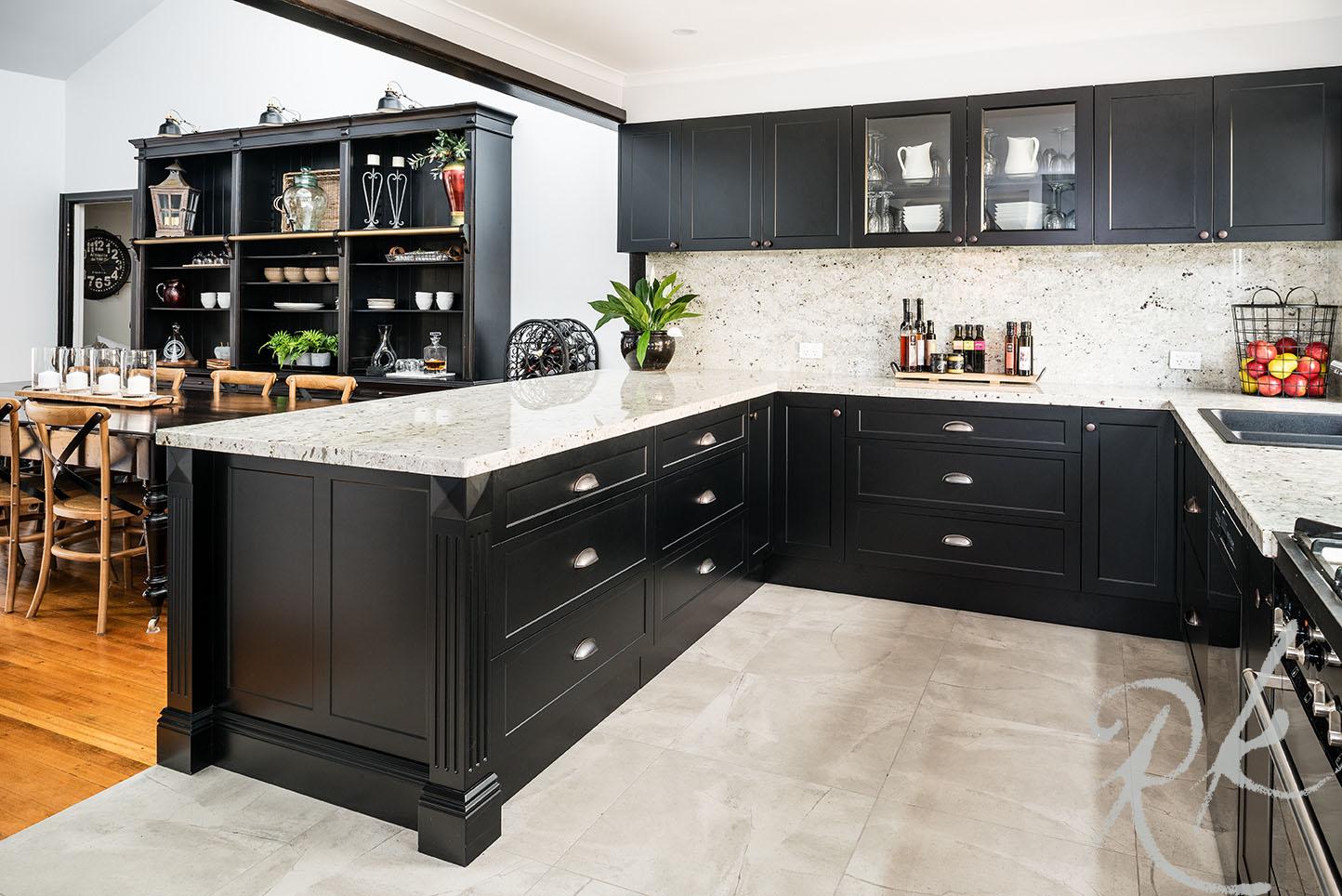 Shaker Cabinets – Handles and Knobs:
You can also make a great statement with your choice of knobs or handles on a shaker cabinet.
There are so many options these days, although colour contrasting metal knobs or shell handles remain very popular.
Shaker Kitchen Splashbacks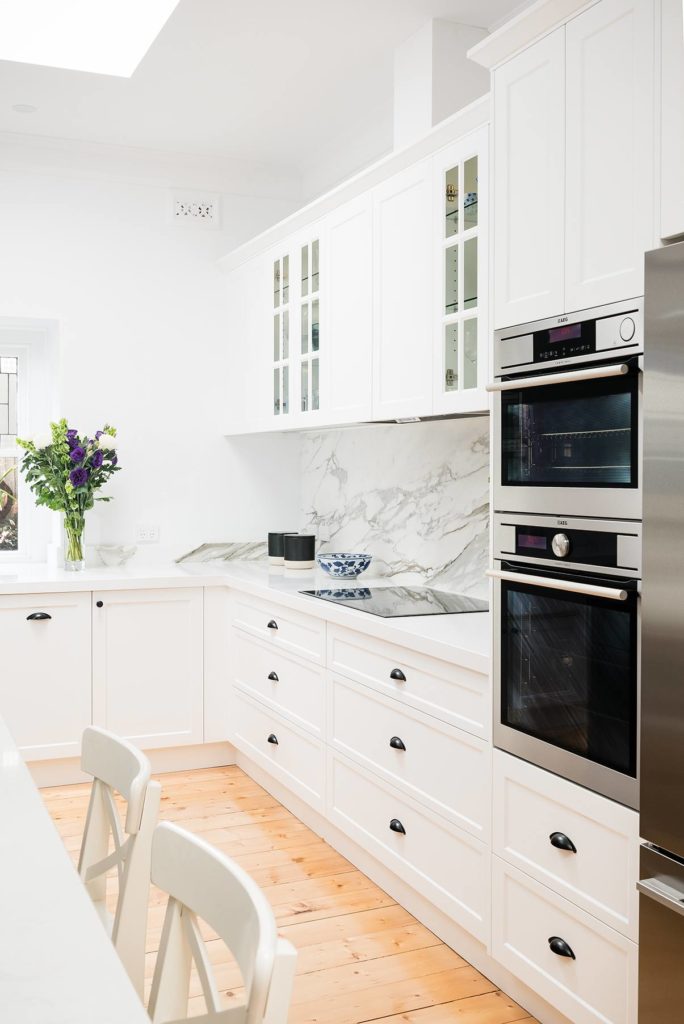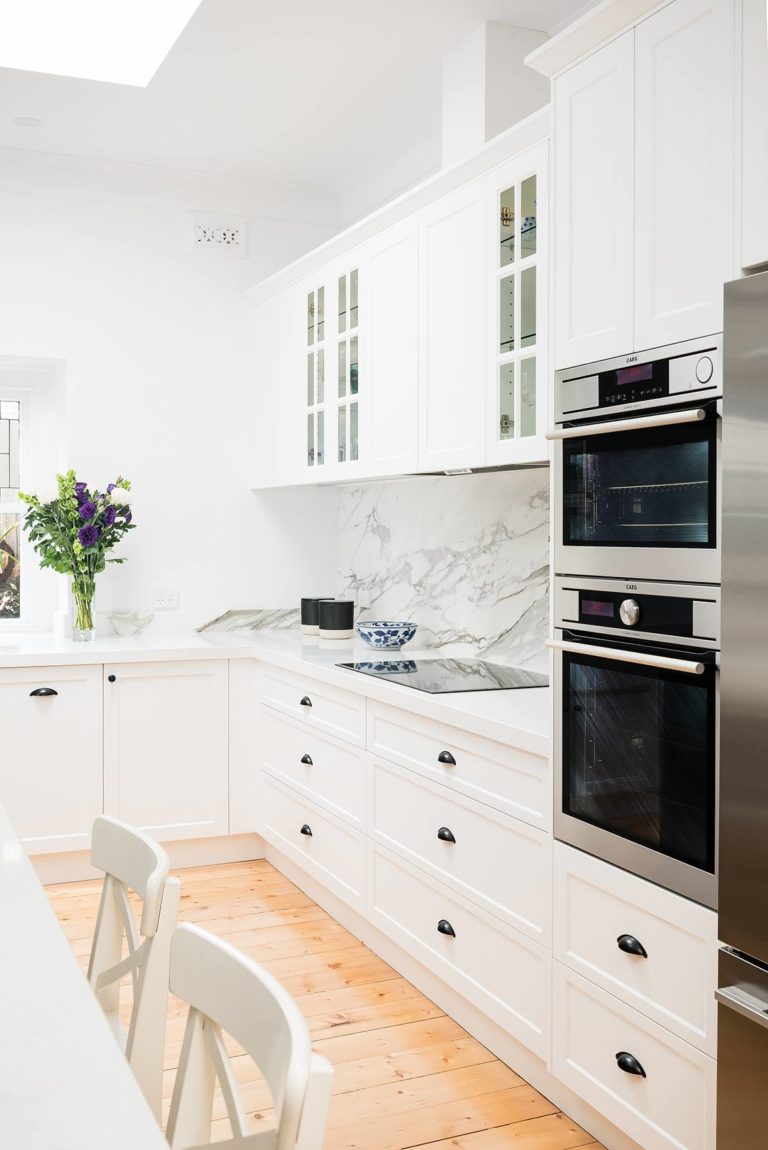 In the kitchen above, a beautiful Calacatta marble splashback works perfectly with this painted shaker kitchen. Cabinetry colour: Deluxe lexicon quarter strength, satin finish.
Shaker Kitchen Benchtops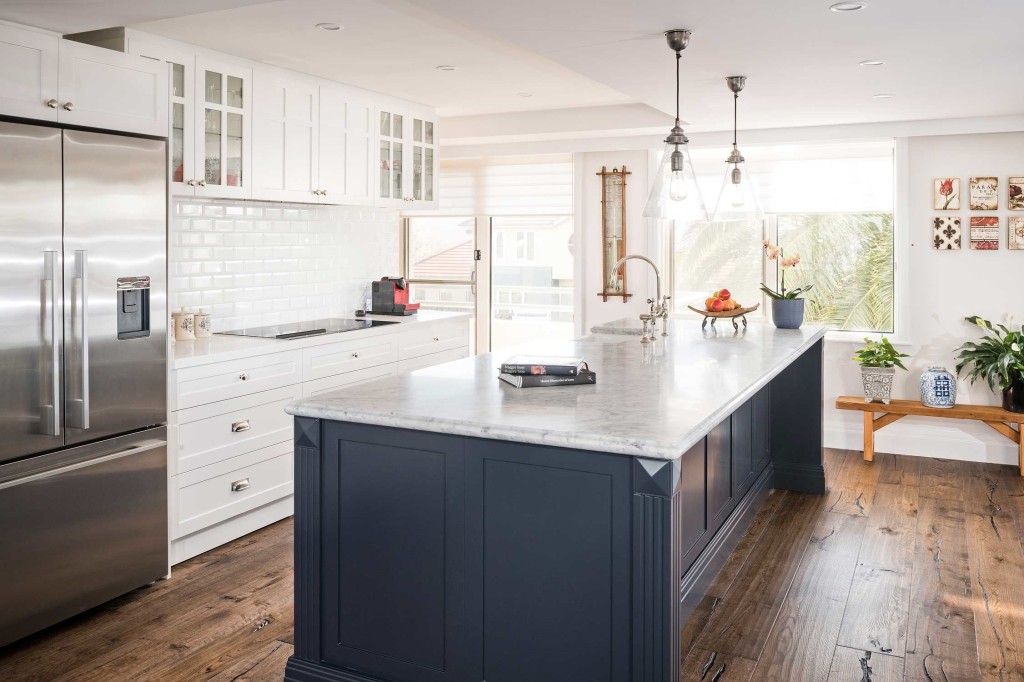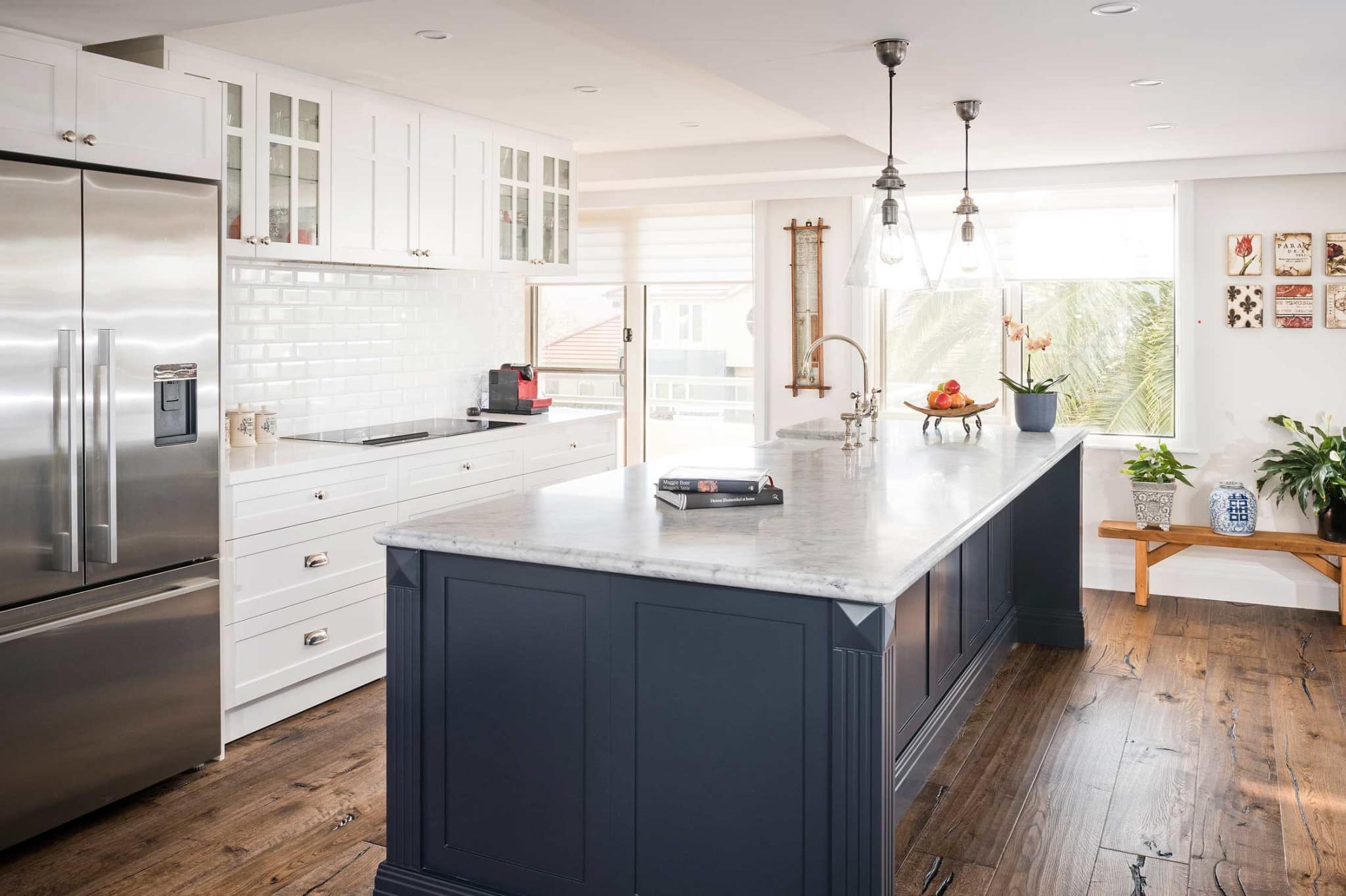 In the kitchen above, the back run bench is Caesarstone – colour Snow – teamed with a statement island benchtop in Bianco Carrara marble with a decorative edge profile.
3. Range of budgets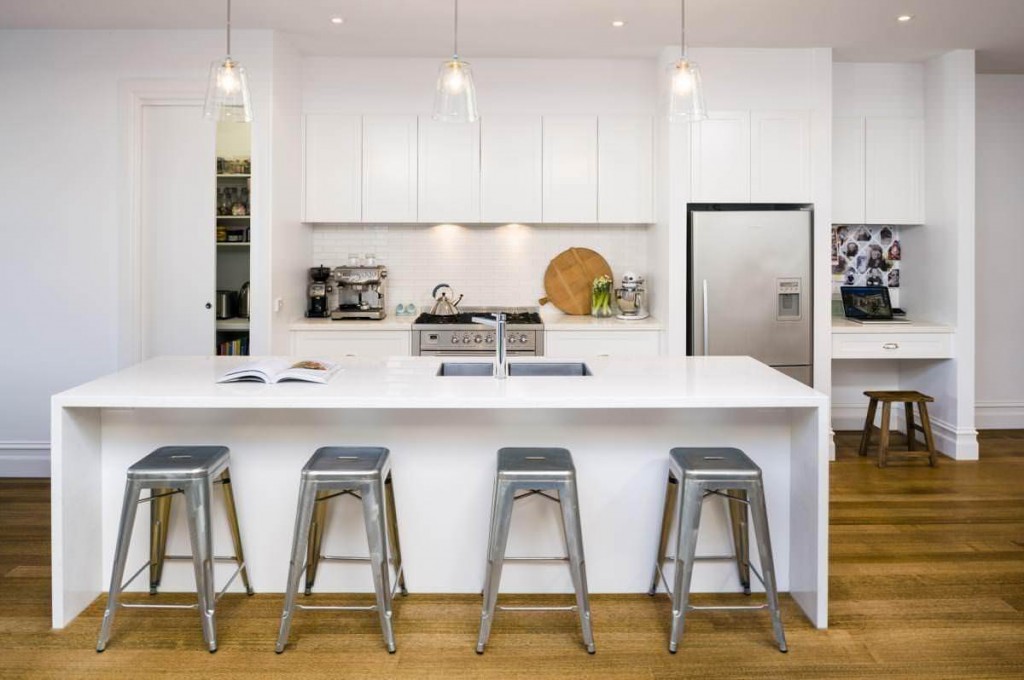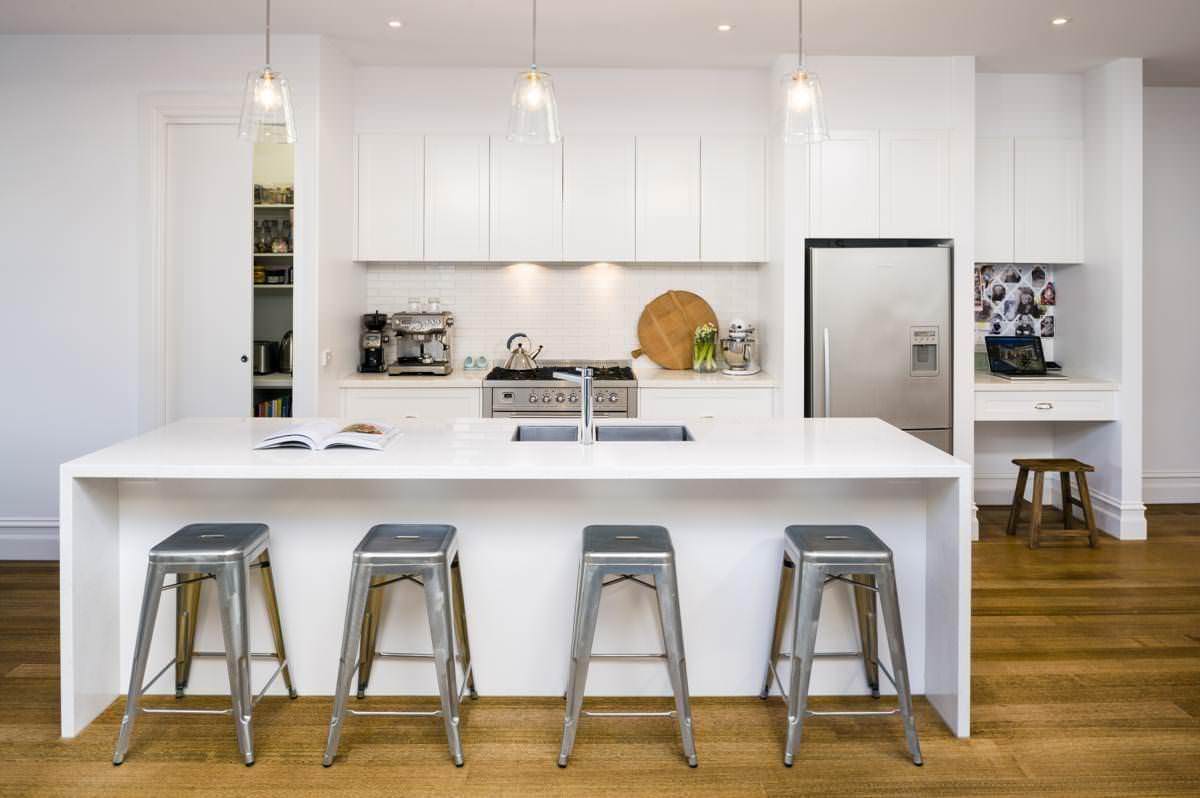 Three materials are typically used for shaker cabinets:
These days 2 Pack and Thermolaminated are the most popular options.
Polytec – a quality and trusted Australian company – is the main supplier of both and provide a number of shaker styles.
Thermolaminated shaker doors can have a variety of finishes that suit many different styles: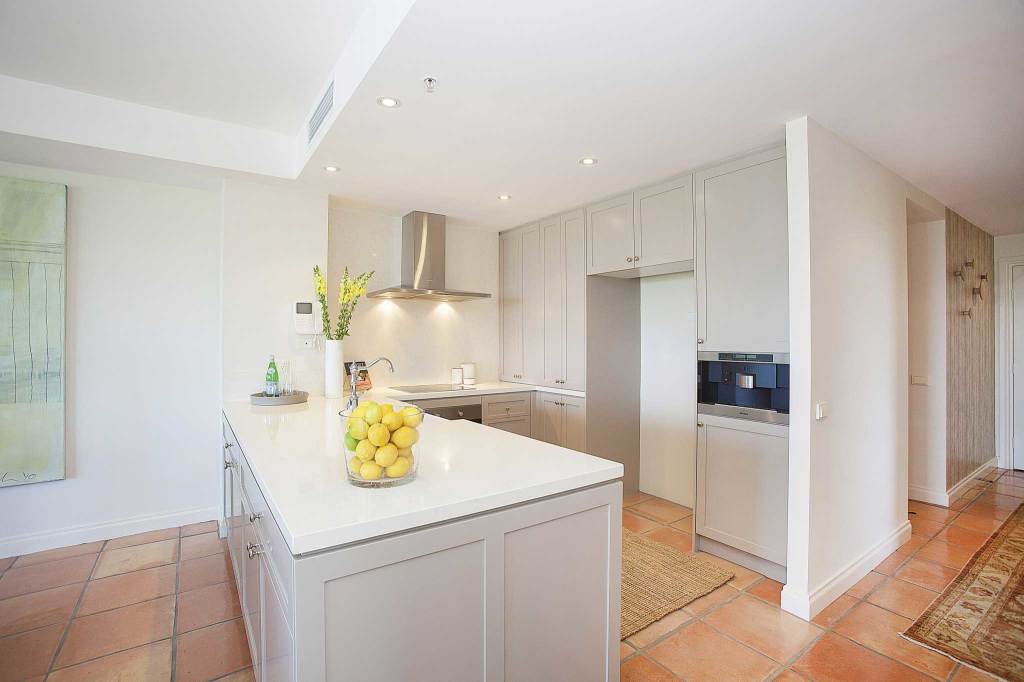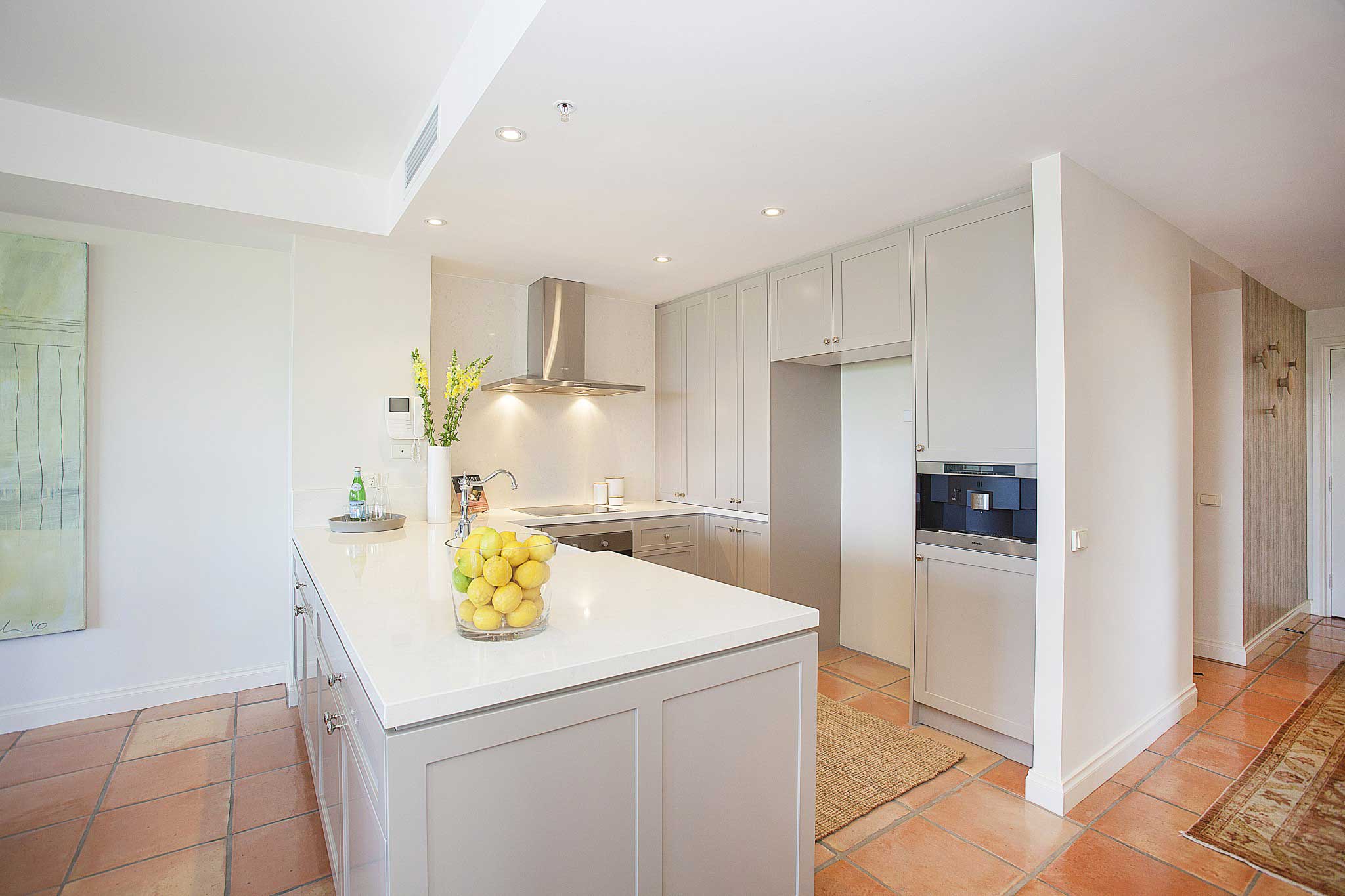 4. Classic design is here to stay
Simplicity is often the reason a design becomes "classic". Think of the black dress that's in every leading designer's collection or a chair by Hans Wegner.
It's the same with shaker style kitchens, which epitomise the phrase "timeless classic" in our business more than any other kitchen design.
Conclusion
Shaker style kitchens have long been – and always will be – a great choice in a renovation project.
The best way to get your dream kitchen is always to seek the advice of experienced Melbourne kitchen designers, who can make great suggestions and head off any potential pitfalls.
If you'd like any help – or answers to questions – don't hesitate to get in touch or pop into one of our showrooms.