Island Oasis
Great balance of form and function in a kitchen with maximum storage and minimalist look
There's so much we love about this gorgeous new kitchen.
When our clients moved into their new home in Warranwood, right out on Melbourne's north-east fringe, they knew the previous kitchen (above) was in need of an update.
Our designer listened to their specific requirements and worked around some structural constraints to produce a space that delivers in both looks and practicality.
The primary part of the brief was to maximise storage. We did that with a beautiful pantry and a large number of drawers and cupboards; not all of which you can see at first glance.
At the same time, the clients wanted their new kitchen to be clean and uncluttered.
And they were delighted with the end result, which combines clever design and a predominantly white palette.
We often advise clients to maximise storage with a minimalist look, and this kitchen is a great example of that principle.
Pantry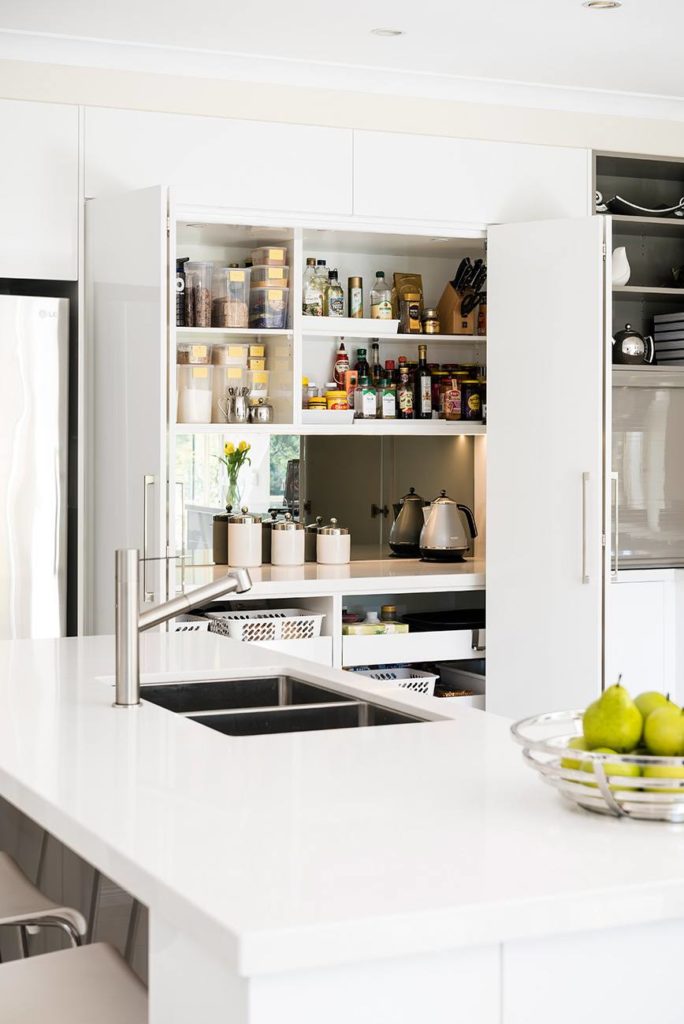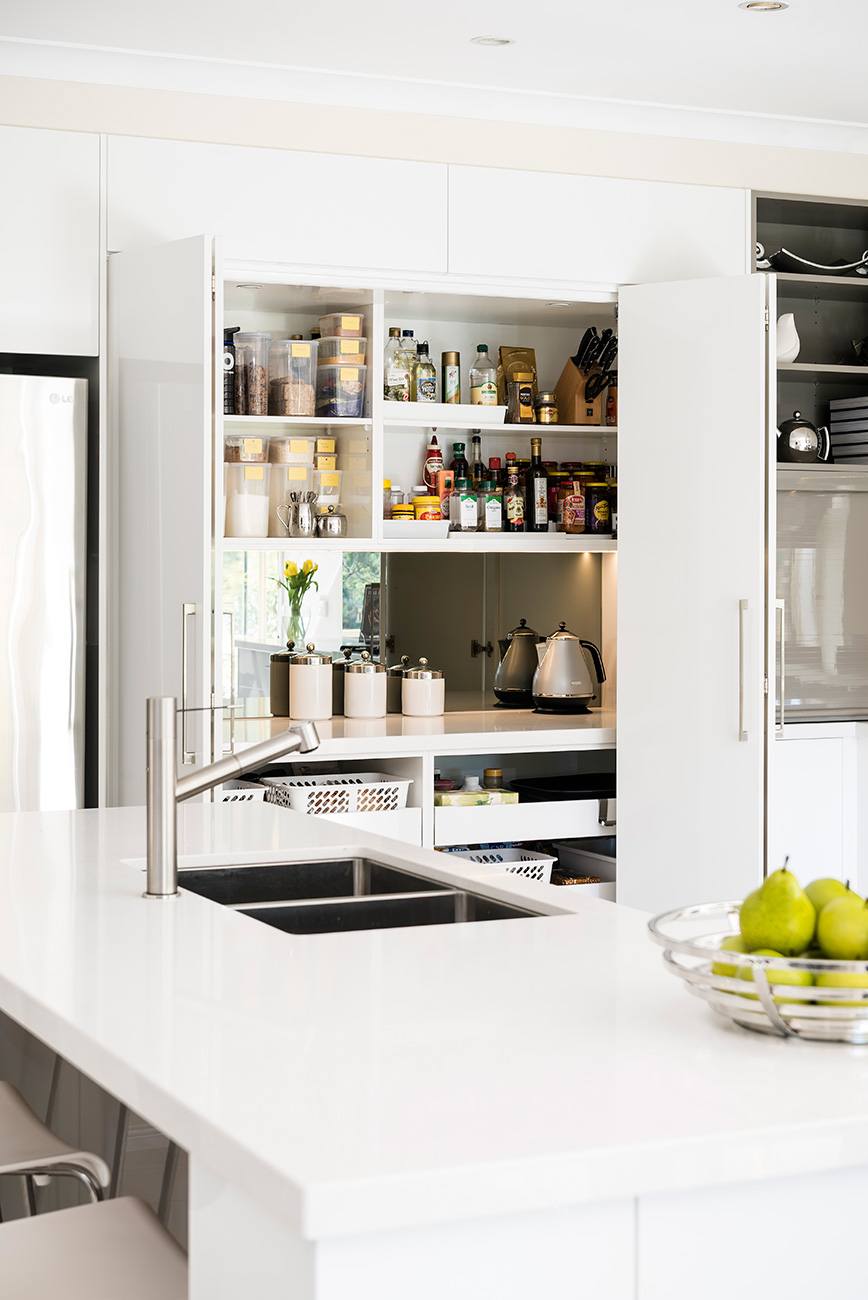 The pantry is a highlight in this kitchen.
Next to the fridge, from the outside it looks like a normal pantry – that is, a cupboard where you store your provisions.
But when you pull back the bi-fold doors, a super-functional space is revealed.
There's a benchtop where it's easy to work. Instead of dragging out a mixer or juicer from a cupboard, the newly installed power points mean they are always plugged in ready to go.
Even though this area can and will become untidy, all you have to do is close the doors and the kitchen once again looks clean and uncluttered.
Everything else in the pantry is at your fingertips, easily reachable in the shelves above the benchtop or in the soft-close drawers below. There's loads of space for all your provisions.
The doors are also designed not to stick out too much when open.
It's easy to see why our clients absolutely fell in love with this pantry.
Want to see it for yourself? You can check out a very similar pantry in our Essendon showroom.
Maximum Storage
This was a key stipulation for the clients and we placed drawers and some cupboard spaces wherever there was space.
Take a look at the island bench. In front of the seats you can see two small cupboards. On the other side there are what appear to be some white panels. Again, these are actually discrete "tip-on" cupboards. You just tap them and they pop open.
Most people have more than one dinner set, and excess wine glasses. Positioned just next to the dining table, this is a great place to store surplus crockery and glassware.
Island Bench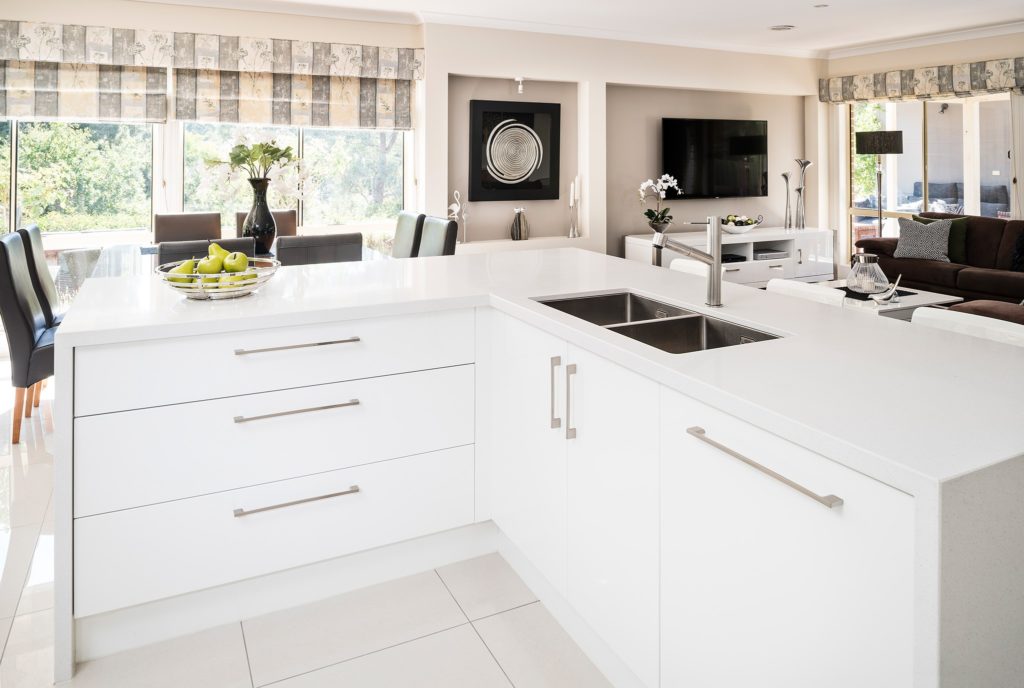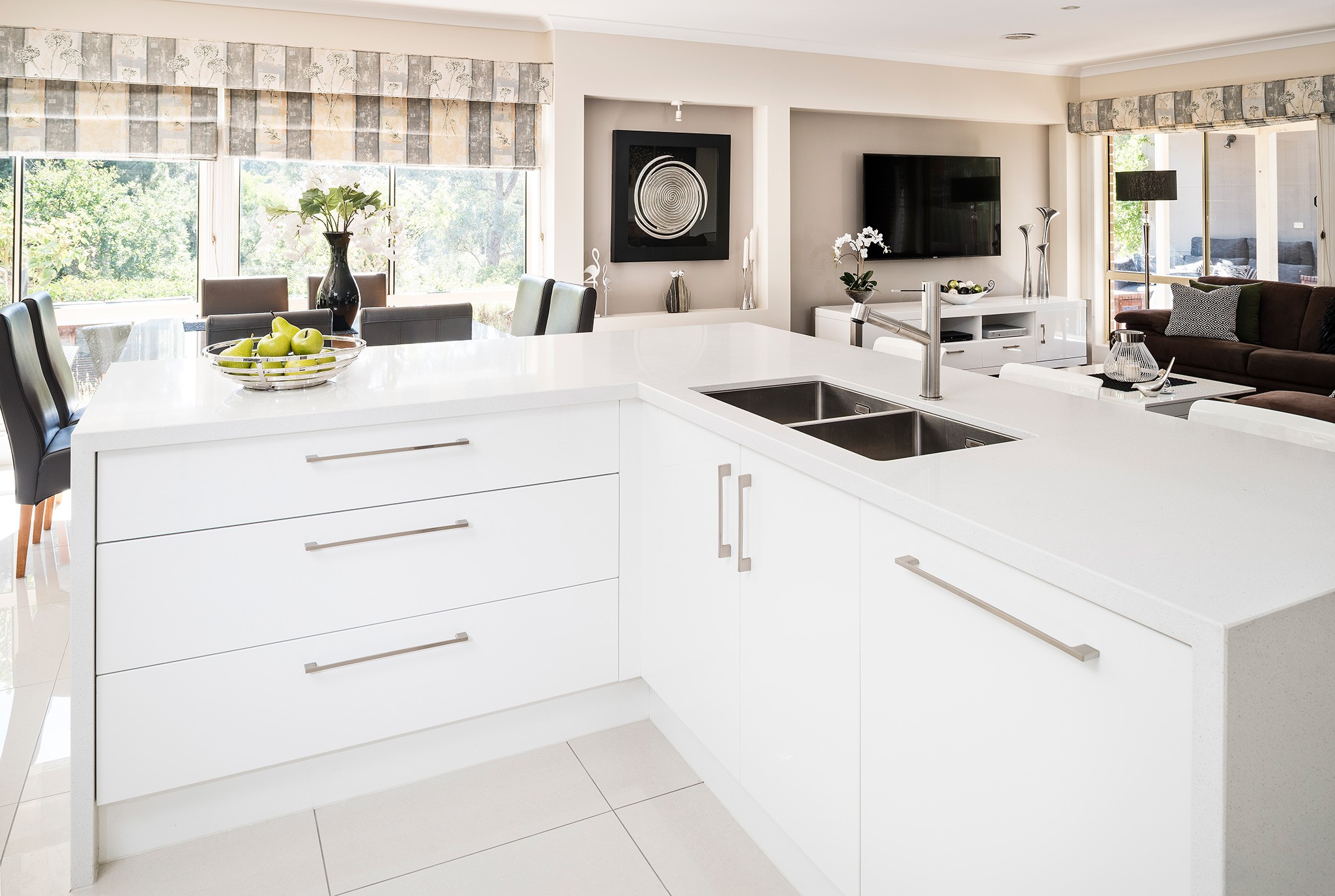 The previous kitchen had a huge island bar protruding from the wall, and only one entrance to the kitchen.
In kitchens like this we usually recommend installing an island bench to create two entrances.
The main reason – congestion.
When you've only got one exit it can easily become a bottleneck if more than one person is trying to use the kitchen.
But when you've got two entrances there's a much better flow and space to work in.
Our clients were delighted with this new set-up.
They wanted a kitchen where it was easy to serve up food from the stove or oven to the dining table. Instead of having to pass meals over the bar or walk right around the kitchen, now it's just a few easy steps to the table.
Existing plumbing and a concrete slab also meant there were some restrictions on the design of the new kitchen.
The clients love the L-shaped island, and we hope you agree the designer did a terrific job despite those limitations.
Glass and Mirrors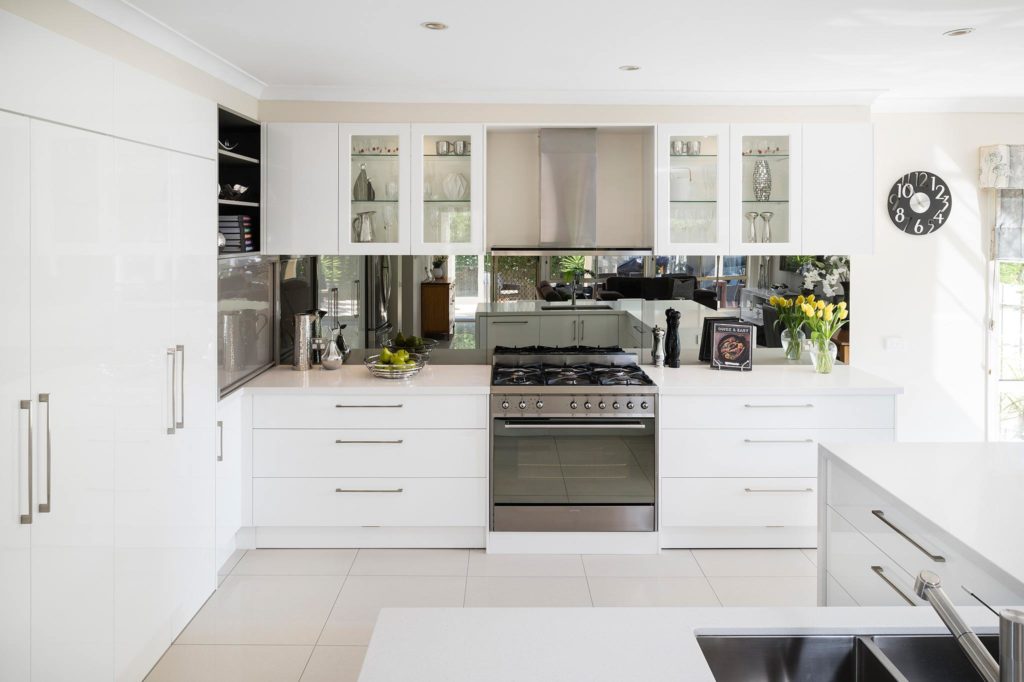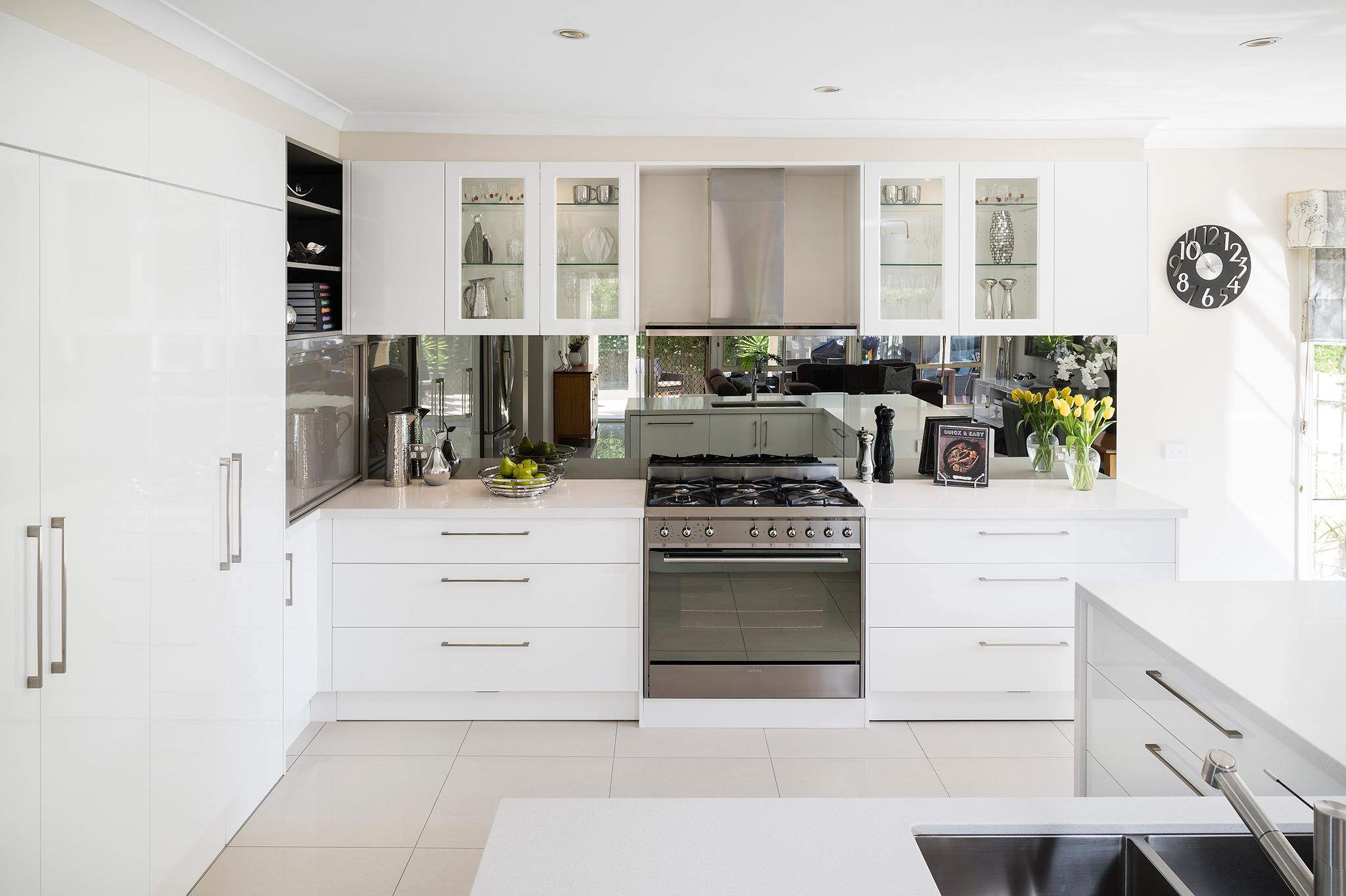 Another key requirement for the clients was glass doors on the cupboards, so they could display family mementoes and ornaments.
Bench lighting is very important, and we installed strip lighting underneath the cabinets next to the rangehood.
There's also ample lighting inside the pantry, which makes it easier to work in there.
Another important part of this kitchen is the mirrored splashback.
In the right circumstances, we sometimes recommend to clients that if they have a nice vista on the outside of the property it can be a good idea to put in a mirror of some sort.
This has the effect of "pulling the outside in" and creates the appearance of more space. That's one reason display homes often have lots of mirrors – it makes them feel bigger than they actually are.
Brilliant White
Don't listen to the so-called experts who tell you that white is out and no longer fashionable. That's just nonsense. Our view is that white or a neutral colour is timeless.
And it's worked so well in this kitchen, where we've used a classic white gloss.
The splashes of colour come from the large floor tiles and various shades of grey provided by the fridge, oven, rangehood, door handles and sink and tap. The panel on the island bench is a strata grey gloss.
White on its own can look too clinical. By adding splashes of colour – even if it's just with appliances – you can instantly add warmth and balance.
Looking Good
Another thing to aim for is a clean, minimalist feel – whatever the style of your kitchen.
In most houses you'll see a plethora of household items cluttering the benchtops; from toasters to car keys to mobile phones.
But kitchens look best when there's nothing on those benchtops, and we've now got the capacity and technology to store everything easily out of sight and in its right place.
I've heard a lot of renovation shows recently saying that 'white is out of fashion'. It's not. White is timelesss. It's clean and neutral, and allows people to stamp their own character and personality on the finished kitchen. This kitchen is a great example of that principle

Mark Tonkin, Rosemount Kitchens
Key Kitchen Features
Colour – Polytec thermolaminated Classic White gloss
Feature colour – Polytec thermolaminated Strata Grey gloss
Benchtops – Caesarstone Ocean Foam 40mm with waterfall ends
Door style – Manhattan (Vinyl) Plain face door with 3mm edges
Panel type – Combination of Polytec thermolaminated Classic White gloss and Polytec melamine Classic White sheen
Handles / Knobs – Elegant Hardware
Splashback – Mirror smoked grey
Lighting – Rounds LED light in top of each glass cabinet, strip lights in warm white below wall cabinets
Appliances and Accessories
Stove – Smeg
Rangehood – Ilve
Microwave – Breville
Dishwasher – Asko integrated
Refrigerator – LG
Sink – Franke undermount
Tap – KWC ONO satin stainless with hose
Considering your own kitchen project? Check out our Essential Kitchen Renovation Guide.
You can also contact us or call 1300 476 736 and we'll do our best to help.
You'll find more inspiration in our photo galleries.