Family friendly
Featured Kitchen Renovations: Camberwell
How this family transformed a dark, cramped kitchen into an entertainer's dream
We're thrilled with how the kitchen has turned out. It's gone from the darkest to the lightest room in the house. It looks so beautiful and I just love it

Fiona, homeowner
Some kitchens transform how a family spend time in their home, and this modern take on the classic Hamptons style is a great example.
The 1920s era home in Camberwell previously had a kitchen positioned in the centre of the house – and the lack of light made it dark and uninviting.
Before: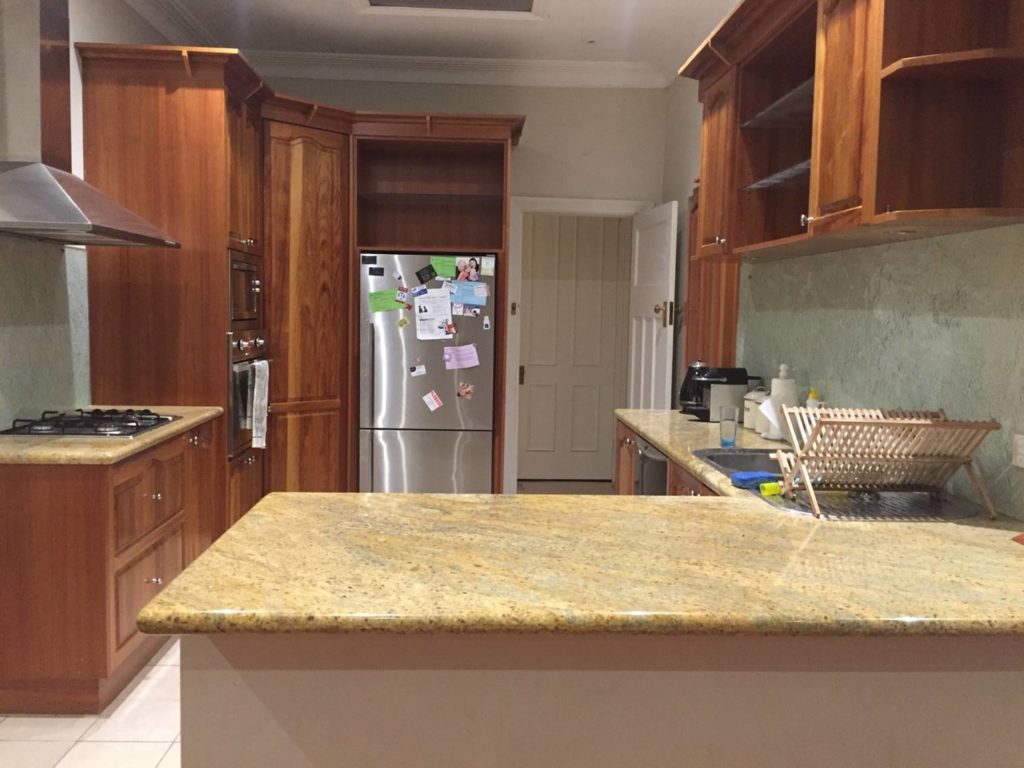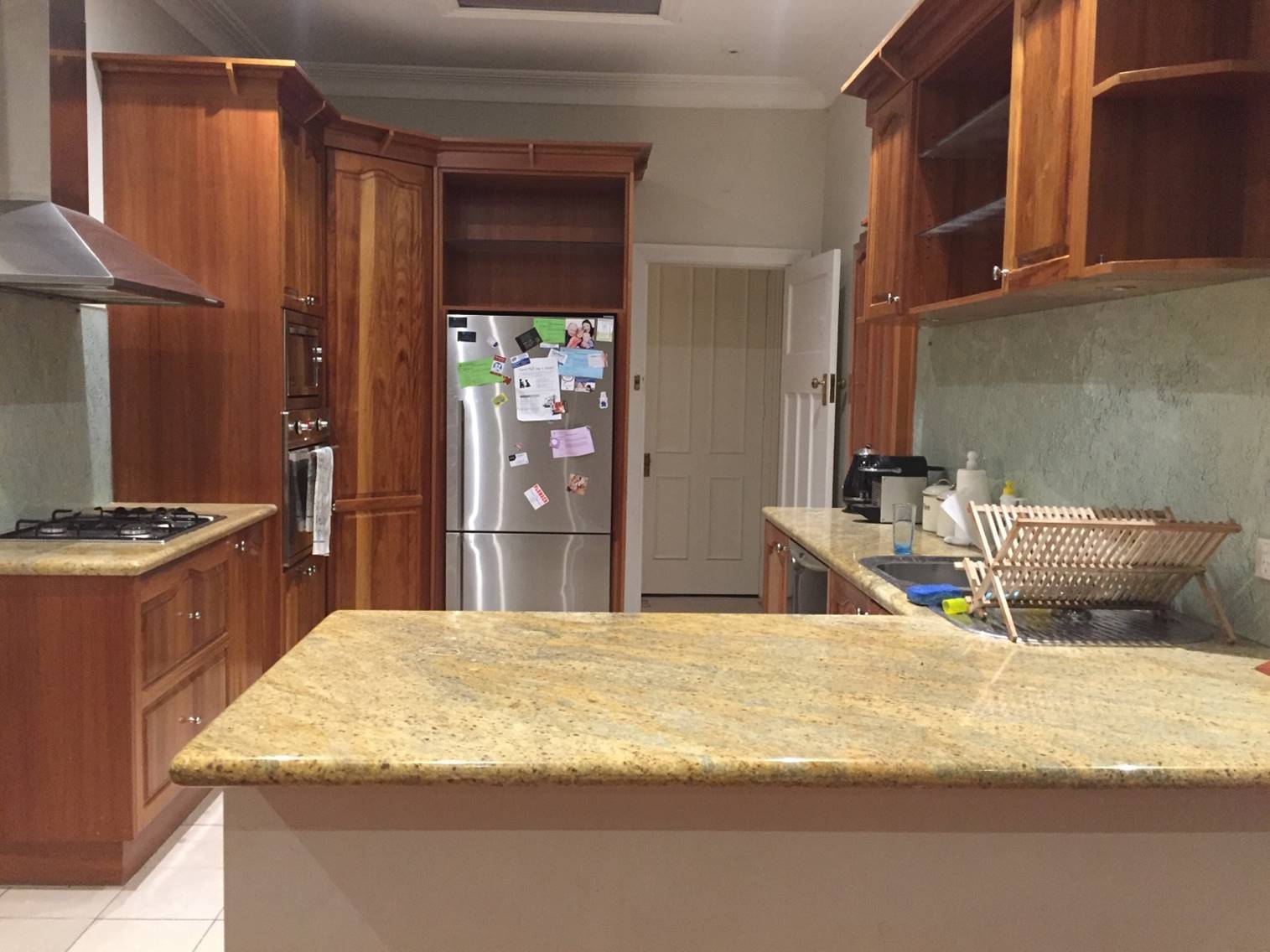 Thanks to the vision of the home's owner Fiona, combined with the expertise of Rosemount Kitchens, her family's life has been transformed by a stunning kitchen renovation that has created this welcoming and light-filled space.
After: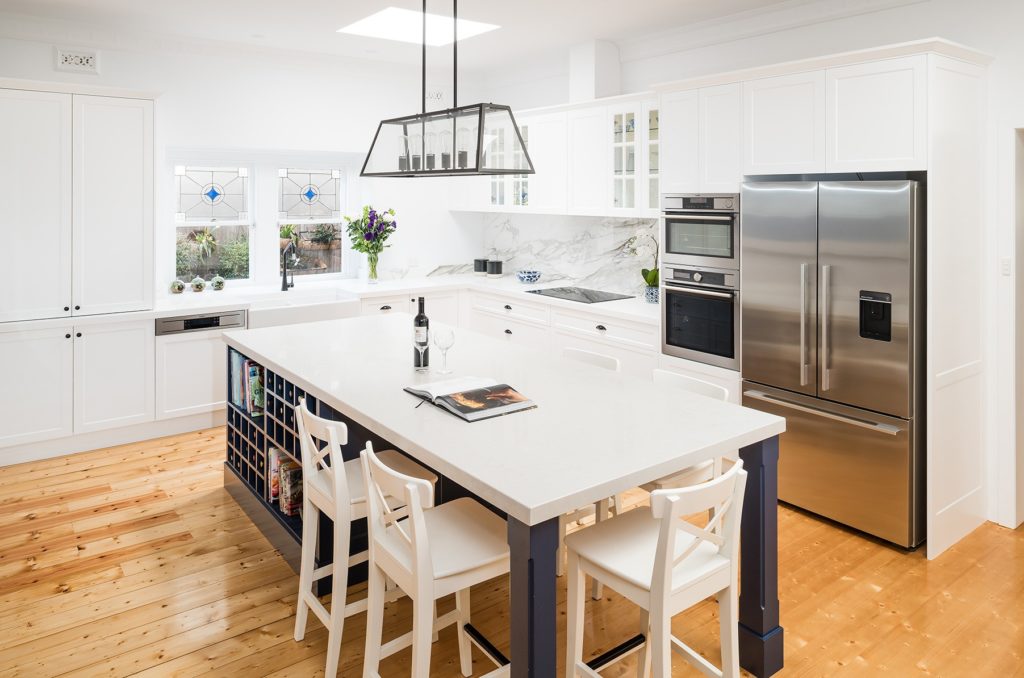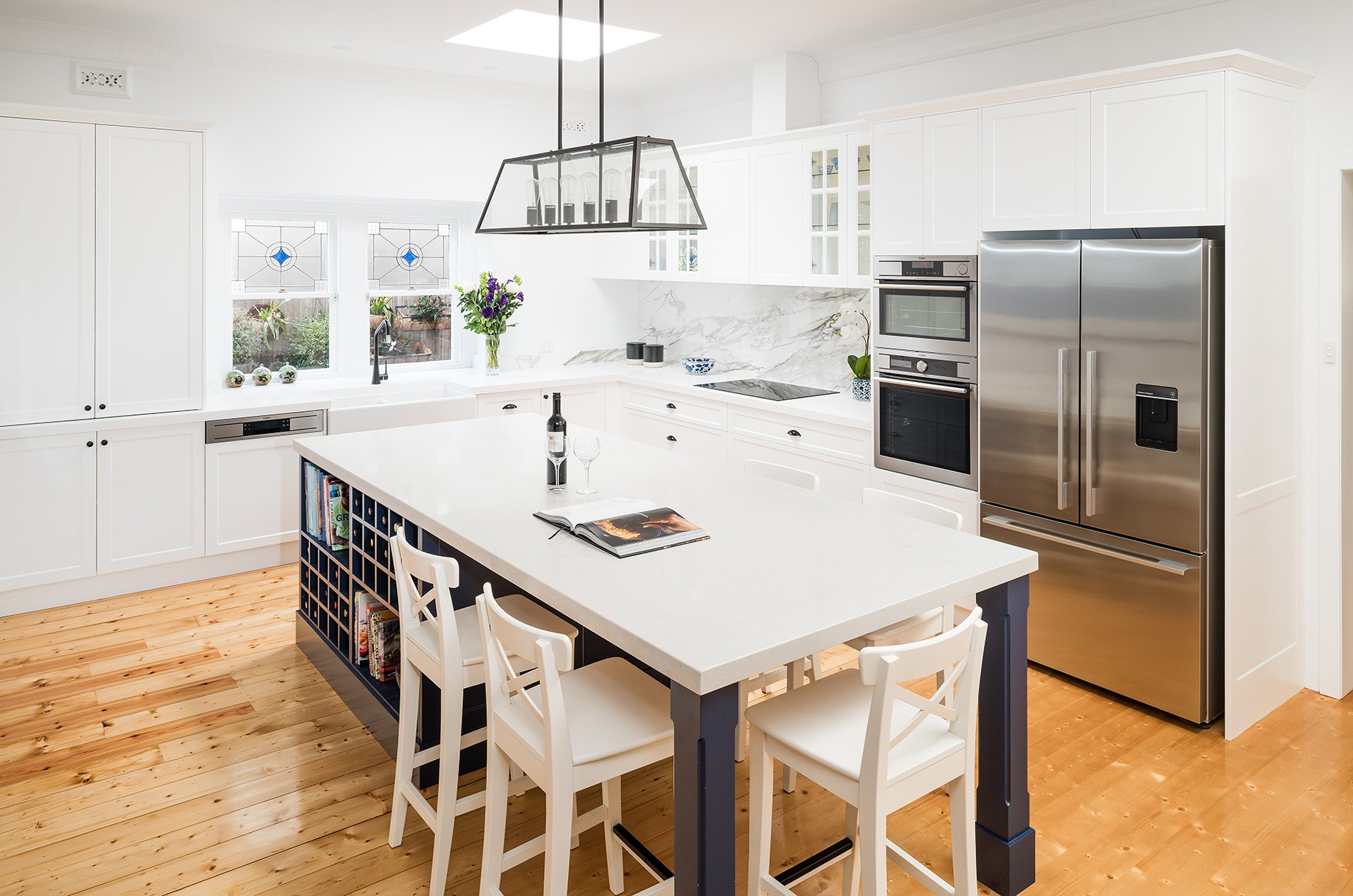 "We're thrilled with how the kitchen has turned out," says Fiona. "It's gone from the darkest to the lightest room in the house. It looks so beautiful and I just love it."
And she was impressed not only by Rosemount Kitchens' custom-build, but management of a complex project that saw walls demolished and rooms reconfigured to create the new space.
"Rosemount were fantastic," says Fiona. "Nothing was ever a trouble."
Need more kitchen renovations inspiration? Look through the images in our kitchen photo galleries and see what style of kitchen you like best. You'll also find more case studies at the bottom of this page.
Considering your own project? Call the Melbourne kitchen renovations specialists at Rosemount Kitchens on 1300 476 736 for a free, no-obligation consultation.
Thinking out of the box in the middle of the house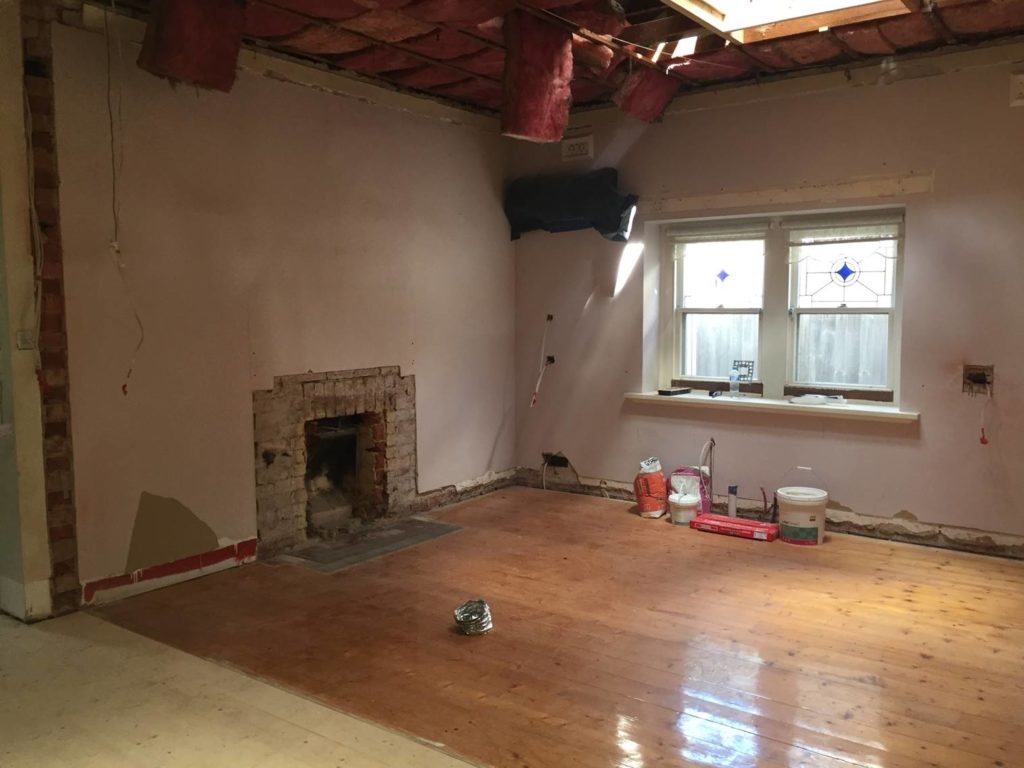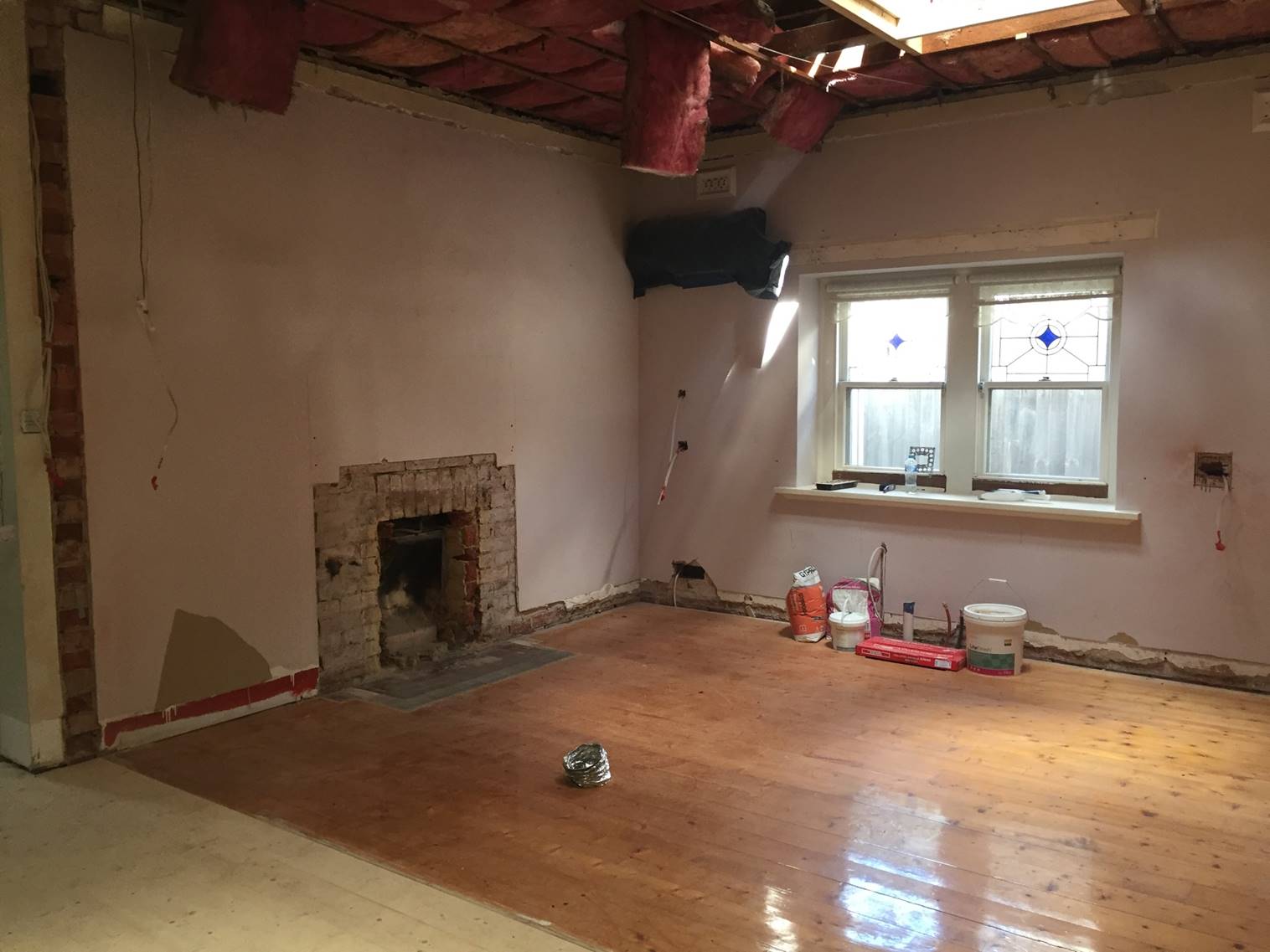 We spoke to Fiona about how the renovation project has changed the way that her husband, two children and herself spend time in their Camberwell home.
"We rearranged the front of the house," says Fiona of a project that saw a wall knocked out to join the existing kitchen and formal dining room into one larger space.
Another wall was reconfigured to create a welcoming flow from the front door direct into the new kitchen / dining area.
And an additional skylight was installed to brighten the whole space.


"We weren't really using the formal dining room anyway so now we've got a big large kitchen with a big island bench where we can socialise," says Fiona.
"We spend more time as a family there – from reading a paper to having a meal. The kids can sit and chat or do their homework while I'm cooking.
"We love socialising and entertaining so it was important not to have a strip of stools down one side of the island. We have five or so seats and everyone gathered around so it's more social.
"I often have a crew of people here where a glass of wine will turn into a meal.
"It's a great social space."
Functionality with added style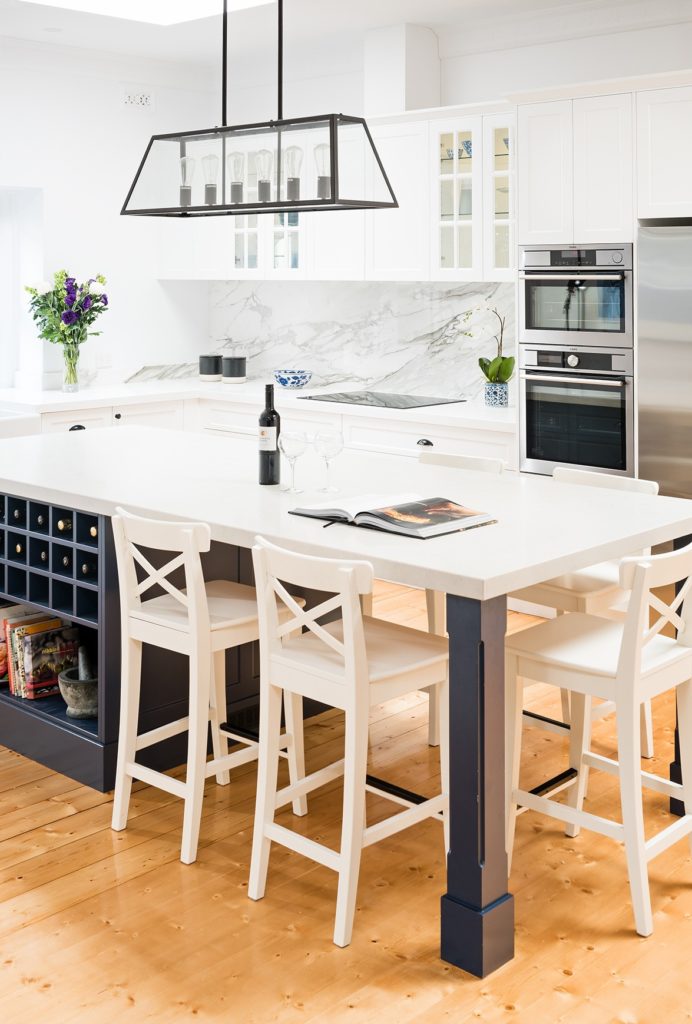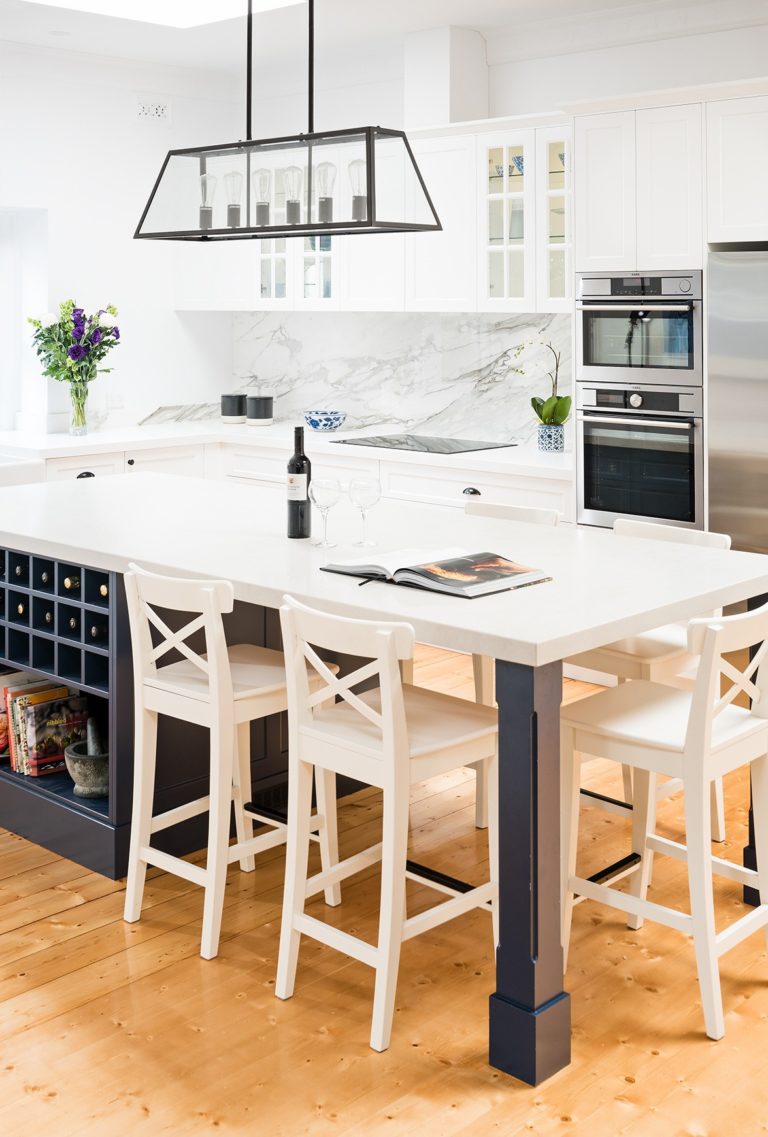 Fiona was absolutely determined to get the best result with her new kitchen.
She already had a keen interest in design, and took an interior design course as part of the preparation for choosing the best layout and style.
"I spent a lot of time trying to understand what style I'd like. I looked at lots of magazines and did a lot of research online," she says.
Fiona decided on a modern Hamptons look with predominately white cabinetry, but colour was also key.
"We spent a lot of time choosing the right colour to make sure we got that really deep blue at the bottom of the island and also the desk area," she says.
"That gives a bit of contrast so it's not all white."
Once Fiona settled on a style, she researched the quality components and materials that would best suit her family's day-to-day lifestyle.
Custom-built cabinetry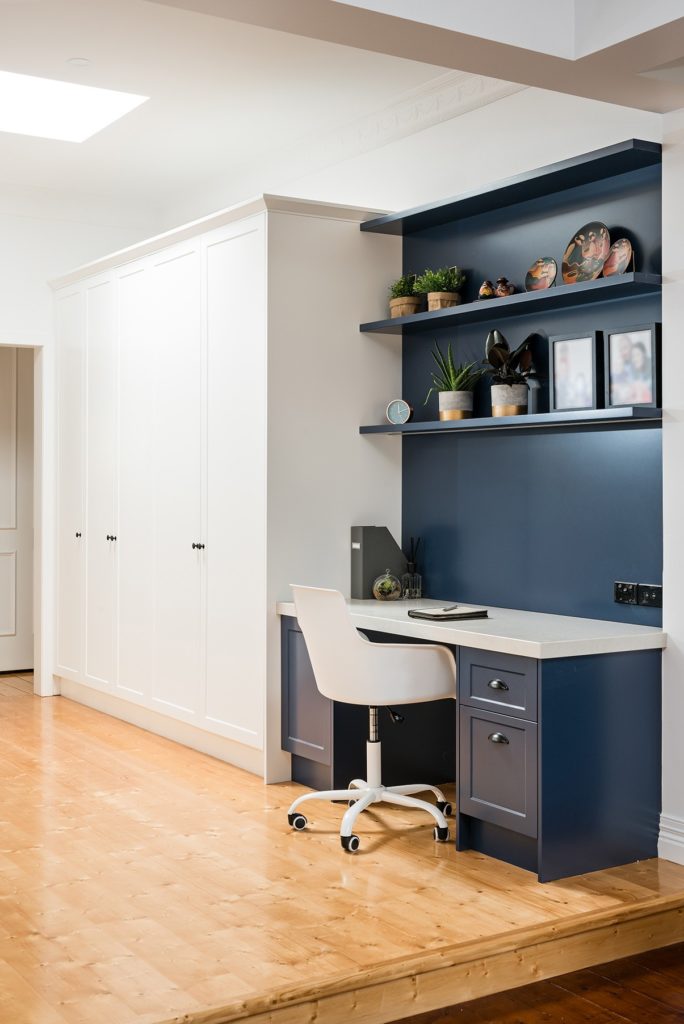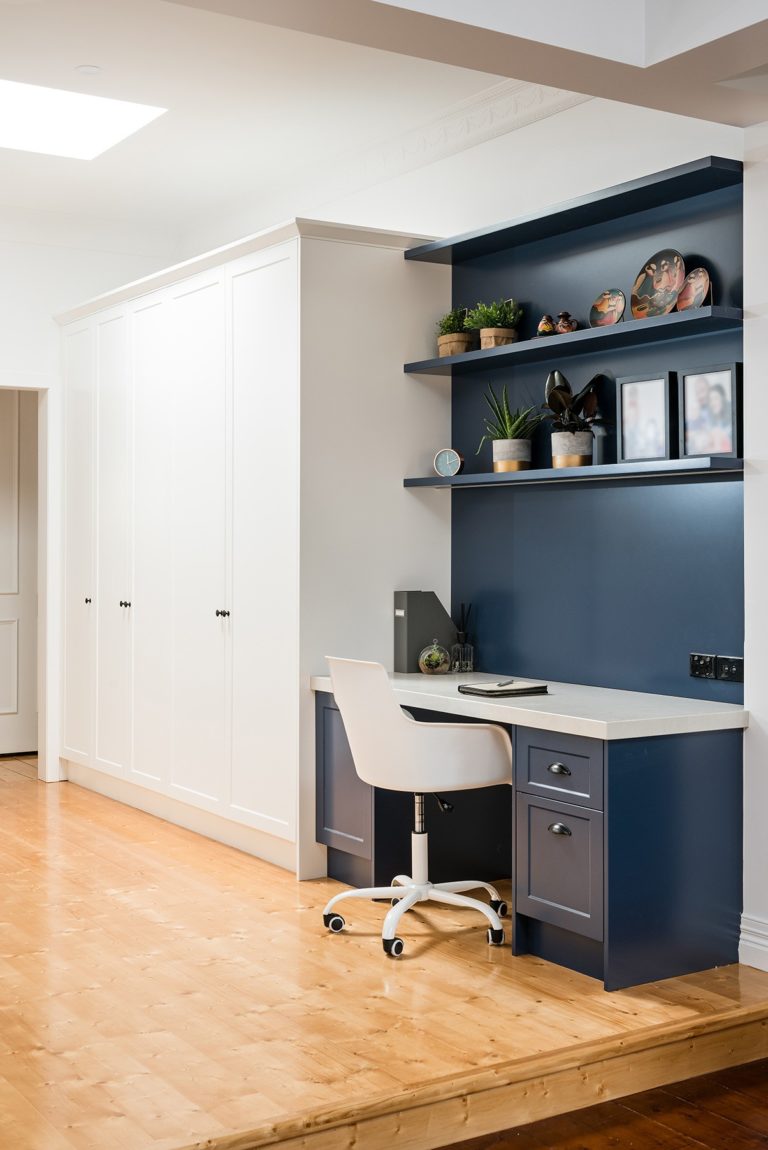 Fiona loves the specially built cupboards where the kids put their school gear, and her husband dumps his golf equipment.
"It's just one part of a really functional design that's right for your family. We also built a desk area where I work when I'm working from home."
Calacatta marble
One element was a must-have: Calacatta marble.
"I love Calacatta marble, and in a perfect world I'd have that all over my island bench," she adds.
"But with two children and a young family I felt it would have got ruined so we chose Caesarstone for the benchtops and island. It's simply more durable, easier to keep clean and not going to get damaged."
The Calacatta marble still takes pride of place in this kitchen – as a beautiful feature splashback.
Pantry storage
Fiona has been bowled over by the Blum pull-out drawers in her large pantry.
"I've never had pull-out drawers and they are great. It's so easy to get food in and out. I love them."
Impressed by Rosemount's quality and project management
Fiona considered a number of kitchen companies before choosing Rosemount to build and install her new kitchen.
She found Rosemount online and then went to two of our showrooms to see the quality.
"I think it's really important to go into showrooms or houses that have been done to check the quality of the finishes yourself," she says.
She enjoyed working with Rosemount's designer, who also managed a number of tradesmen involved in structural and demolition work, as well as the kitchen renovation.
"Everyone knows that in a project like this, when so many people are involved, some things will go wrong," adds Fiona.
"How you deal with that makes the difference and Rosemount were fantastic. The designer sorted out any issues and nothing was ever a trouble.
"When it came to the installation, if something wasn't quite right he took it away and came back with the perfect fit, or whatever the issue was."
It's really important to listen to a client's ideas, work together and realise their vision. Fiona had an excellent eye for design and we were able to bring professional expertise to ensure an exceptional end result

Mark Tonkin, Rosemount Kitchens
Key Kitchen Features
Island Bench – Caesarstone London Grey with 50mm edge profile
Benchtops – Caesarstone Pure White with 50mm edge profile
Cabinet doors, panels and kickboards – Elite 2 Pack Polyurethane in Dulux Lexicon Quarter and Sapphire Stone satin finish
Splashback – Calacatta marble
Storage solutions – Hafele Kessebohmer Le Mans II corner system, Blum pull-out drawers
Waste disposal – Hafele One2Five dual slide out bins
Appliances and Accessories
Oven and Steam Oven – AEG
Microwave – Panasonic
Rangehood – Whispair Barcelona
Hotplate – AEG
Dishwasher – AEG
Refrigerator – Fisher Paykel
Sink – Shaw's Shaker double sink
Tap – Armando Vicario
Got any questions? Contact us or call 1300 476 736 and we'll do our best to help.
You'll find more inspiration in our photo galleries.