Federation First
Kitchen renovation a century in the making
Rosemount were by far the best of the trades we dealt with in our whole renovation, and continue to be.

Judy Utley, Malvern East
It's not often you get to renovate a house that was last on the market more than a hundred years ago.
But that's what happened to Judy Utley and husband Grant Atyeo, who bought a rare untouched Federation property in Melbourne's Malvern East.
They were first new owners since 1911, and the first serious renovators.
"The last person who had the house bequeathed to them was in 1963," explains Judy, who works as a human resources manager.
"He just blocked up the middle of the house, rented it out and spent no money on it.
"So there had been no renovations, no change to floor plan or anything. All he'd done was put in a makeshift kitchen in the room at the front so the house could be split into two flats. It was otherwise untouched."
To make space for a new kitchen/dining and family room, Butlers Pantry and laundry, the couple built a large extension at the rear of the existing house.
Before the renovation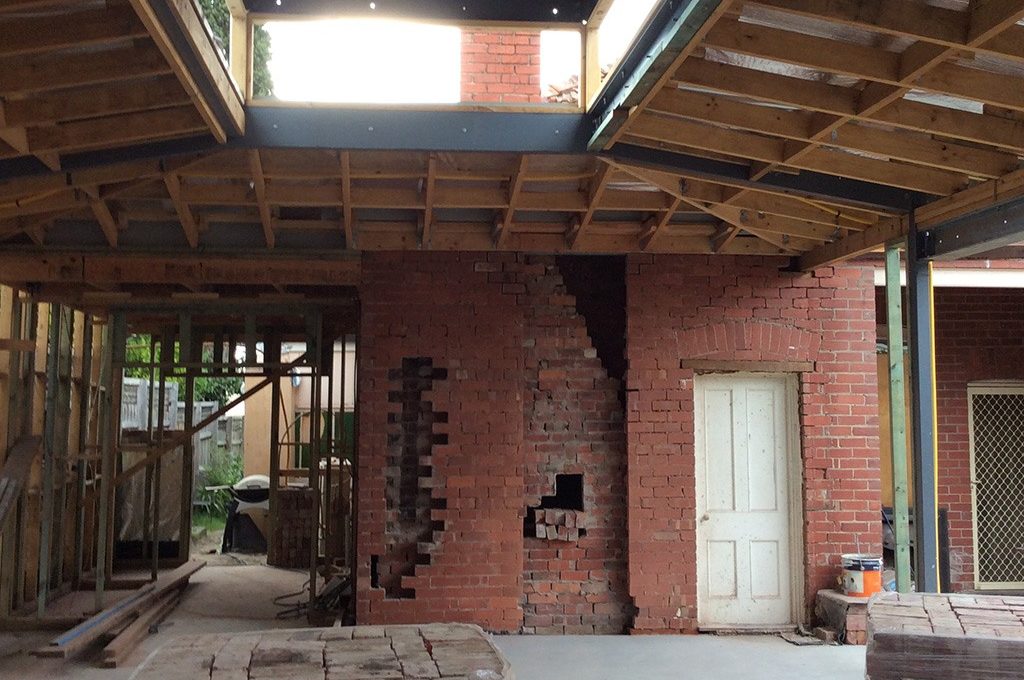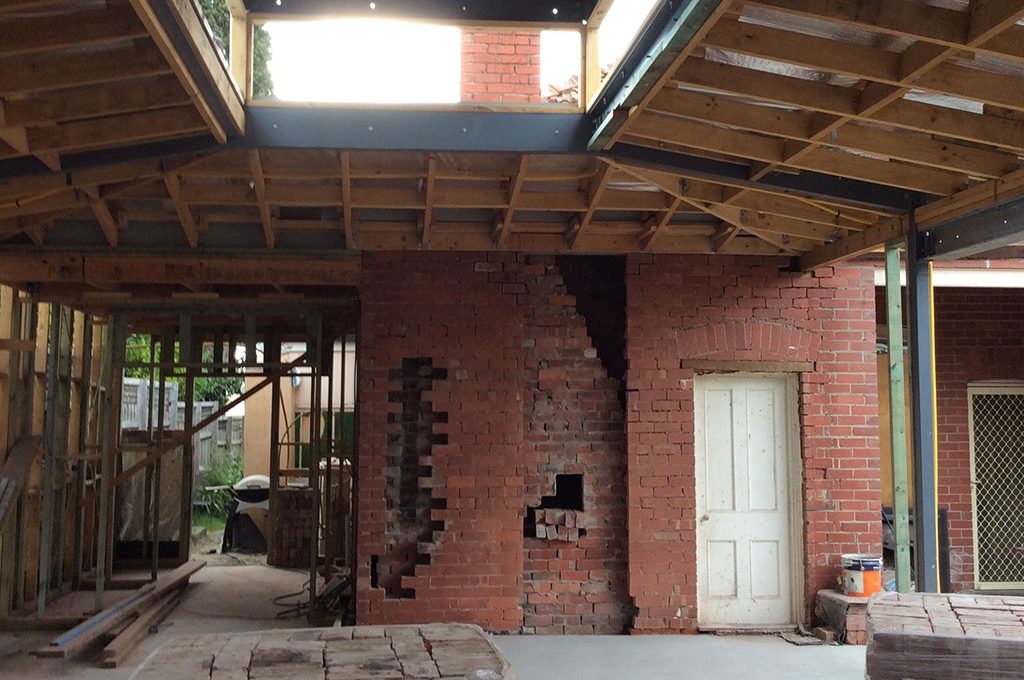 After the renovation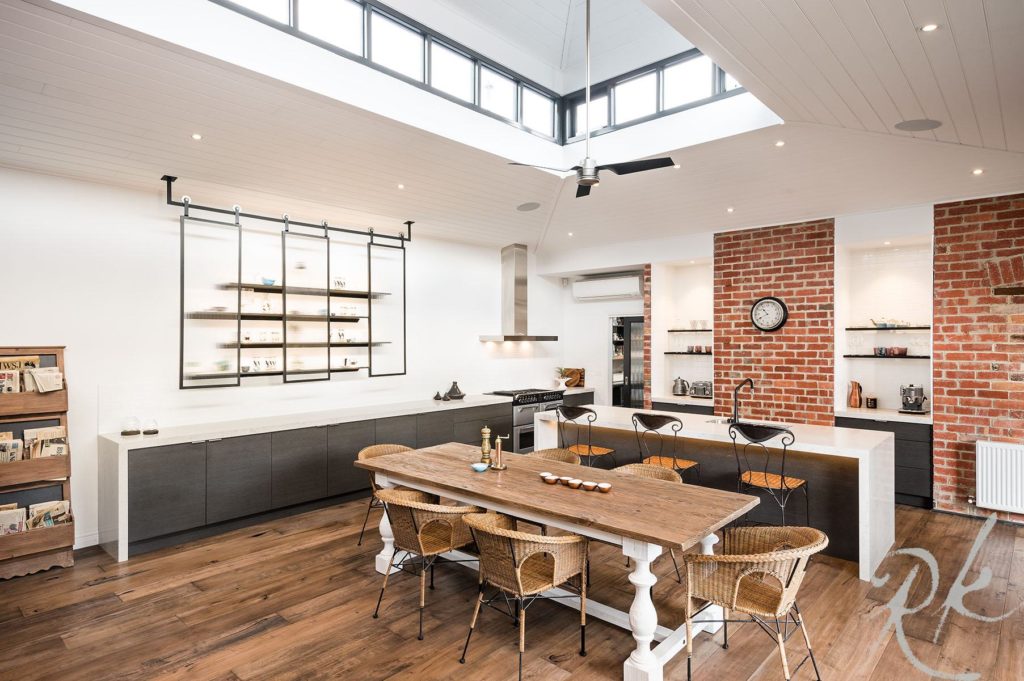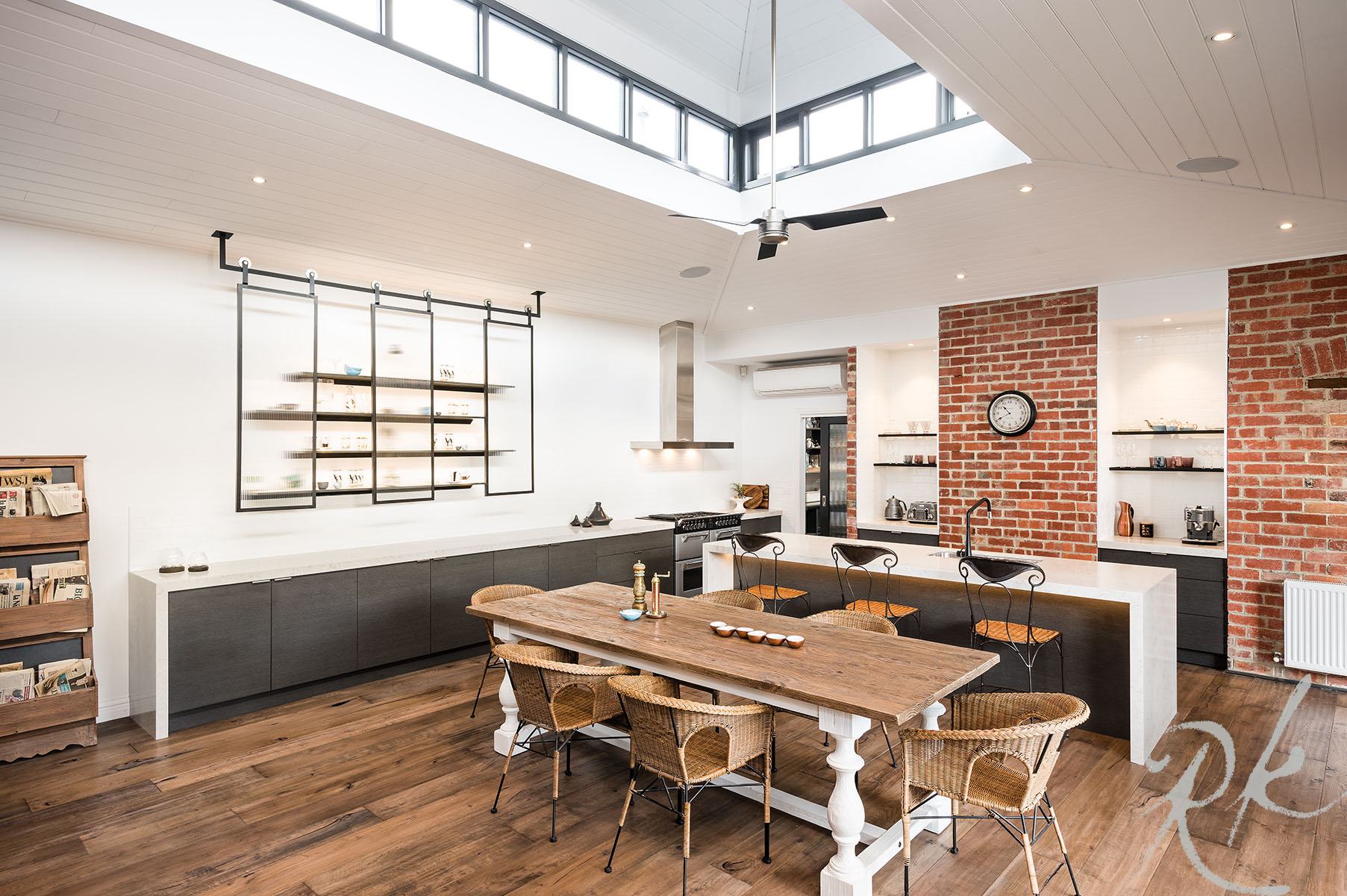 Need more inspiration? Look through the great images in our kitchen galleries and see what style of kitchen you like best. You'll also find more case studies at the bottom of this page.
We spoke to Judy about a challenging and ultimately satisfying project.
What were the main things you wanted to get from the renovation?
We wanted the kitchen to be contemporary but didn't want people to walk through this beautiful Edwardian house and be faced with Battlestar Galactica. Some kitchens today are just so modern and space age.
We also didn't want it to be mock Edwardian. It had to really have its own style, but would remain in keeping with the rest of the house.
And that's something I think we've achieved.
The new kitchen and family room look terrific – what style would you say they are?
We're not sure how to describe the design because it's contemporary but not modern, if that makes sense. It's truly a mish mash of ideas.
Our daughter described it as "soft industrial" and we like that description. It's not the slavishly industrial look that's popular at the moment, but there's an edge of that. The cut-out in the ceiling is a nod to the past (not unlike what you'd see in an old European factory) but not Edwardian.
The brick wall is the original back of the house, and we liked the worth of the brick rather than having it plastered. In a room that's predominantly white walls, where you can see shelves down one end in a dark monument colour and brick up the other end, I think it balances the room out.
How difficult was it to find a kitchen company?
We went to three kitchen places before Rosemount, had a good idea of what we wanted and knew where the bench and stove would be. But we couldn't put it all together and needed someone who could do that.
The first place listened and didn't get back to us. The people at the second just glared at us when we walked in – because we didn't have an appointment.
And the third place took our plans and said: "I can see someone's put a bit of work in here, but don't worry, we'll design your kitchen for you." And I thought: "Patronising."
Rosemount was different. I walked into the Malvern East showroom, met the designer, showed him a few things and he was just engaged straight away. He just latched onto what we were looking for brilliantly.
How did you find working with Rosemount?
Just fantastic. Rosemount were by far the best of the trades we dealt with in our whole renovation, and continue to be.
And we had a great kitchen designer who was clearly excited about doing something a bit different and edgier. He really brought some of my ideas in the kitchen to life, and designed all of the laundry. The pantry is beautiful too – it just works really well.
What we liked about the designer was he respected our ideas. His eye for detail and boldness of suggestion was fantastic. He just got it – the look we were after.
Did the renovation come together the way you hoped?
We think the kitchen and family room is quite stunning, and get lots of compliments.
People see the highlights like the exposed windows up top or the great big pieces of kitchen cabinetry. Then there's the sliding glass that anchors the dining room and links to the kitchen as well.
It's only afterwards that they notice the beautiful old oak floor. In most places a floor like that would be the star of the show. But there's so much more happening in this room.
Working together on a project like this is one of those great opportunities. It's personal for the customers and our team, and immensely satisfying to listen, understand and create an end result that everyone is proud of.

Mark Tonkin, Rosemount Kitchens
Key Features
Kitchen:
Colour: Cleaf Dark Rovere LG18 Horizontal grain.
Kicker Colour: as above
Splashback material: White Subway tile
Benchtops: Caesarstone – Bianco Drift 60 mm
Island: waterfall ends
Handles:Madinoz 100mm
Stove: Belling
Canopy: Belling
Dishwasher: Asko
Microwave: Smeg
Sink: Abey Daintree (undermount)
Tap: Abey Tink D-B
Butlers Pantry:
Colour: Laminex Domain Natural finish
Kitchen colour: as above
Benchtop colour: Laminex Domain matt finish
Handles: Madinoz 100mm
Laundry:
Colour: Laminex Domain Natural finish
Kicker colour: as above
Benchtop colour: Polytec Fontaine matt finish
You'll find more inspiration in our photo galleries.
You can also contact us or call and we'll do our best to help.