Brilliant white
Beauty meets function, and completely transforms an apartment
Although the new kitchen is much bigger, it hasn't compromised the living space at all

Doris, homeowner
Do you think living in a apartment limits the possibilities of a kitchen renovation?
If the answer is yes, you should speak to this home's owner Doris – living proof of how a little imagination and skill can transform even the most challenging spaces.
The images below shows how the kitchen looked before and after a superb renovation in her Port Melbourne apartment.
Before: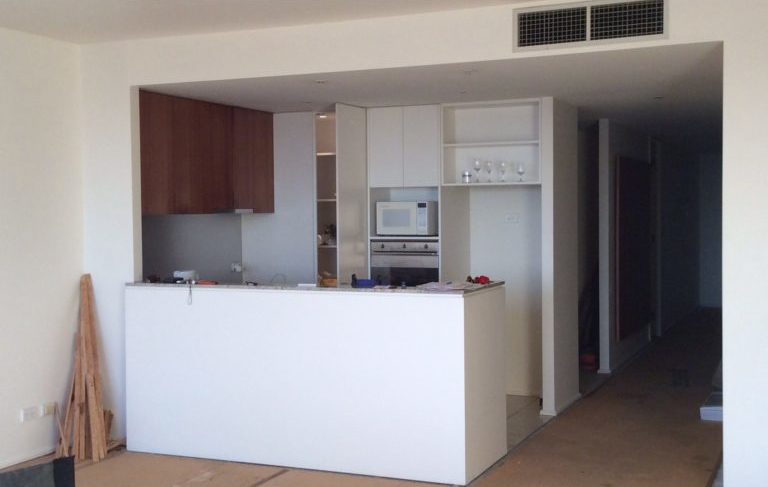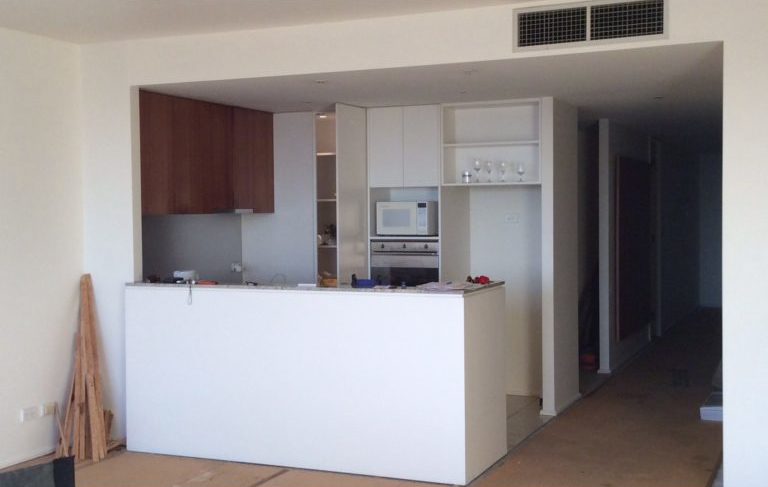 After: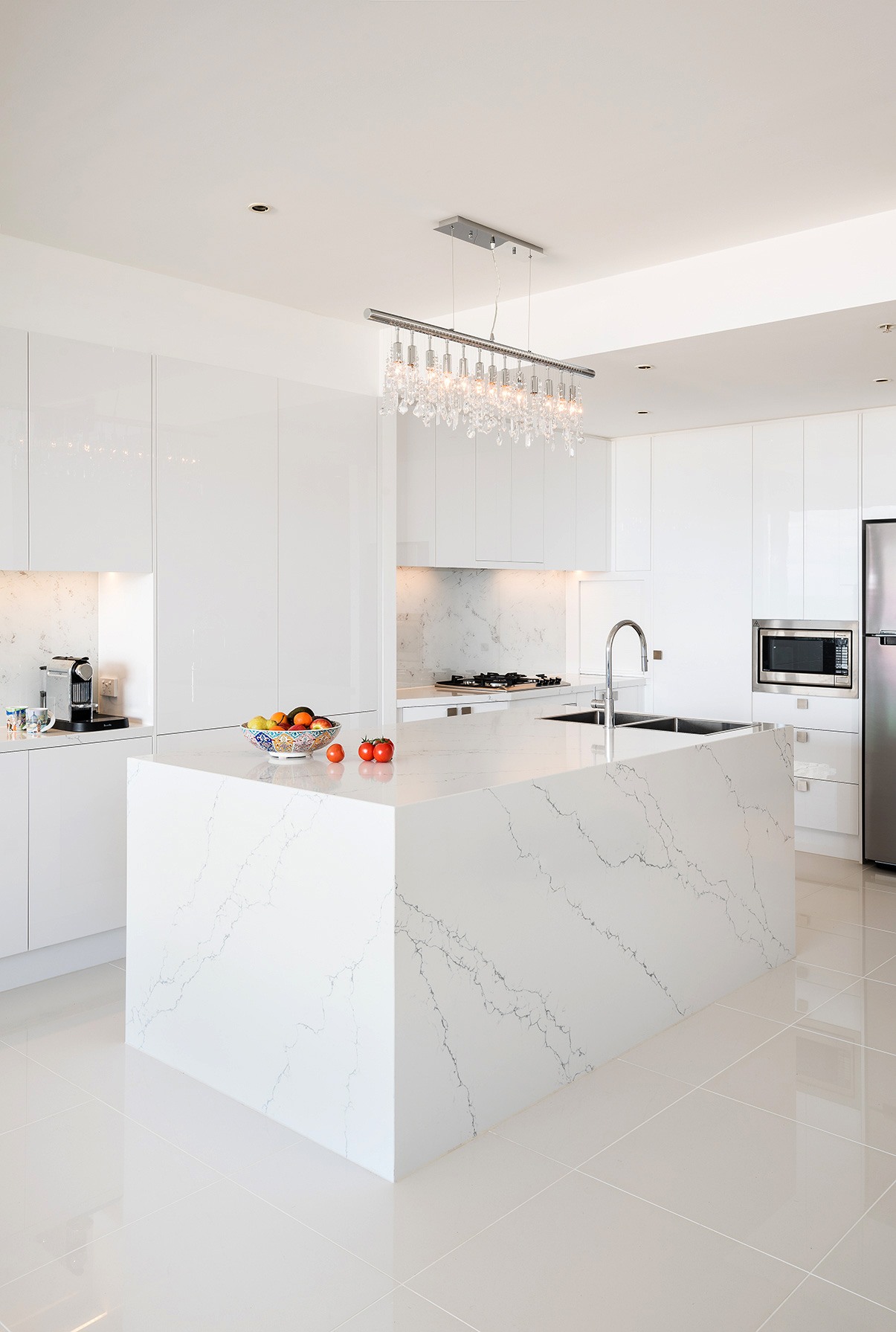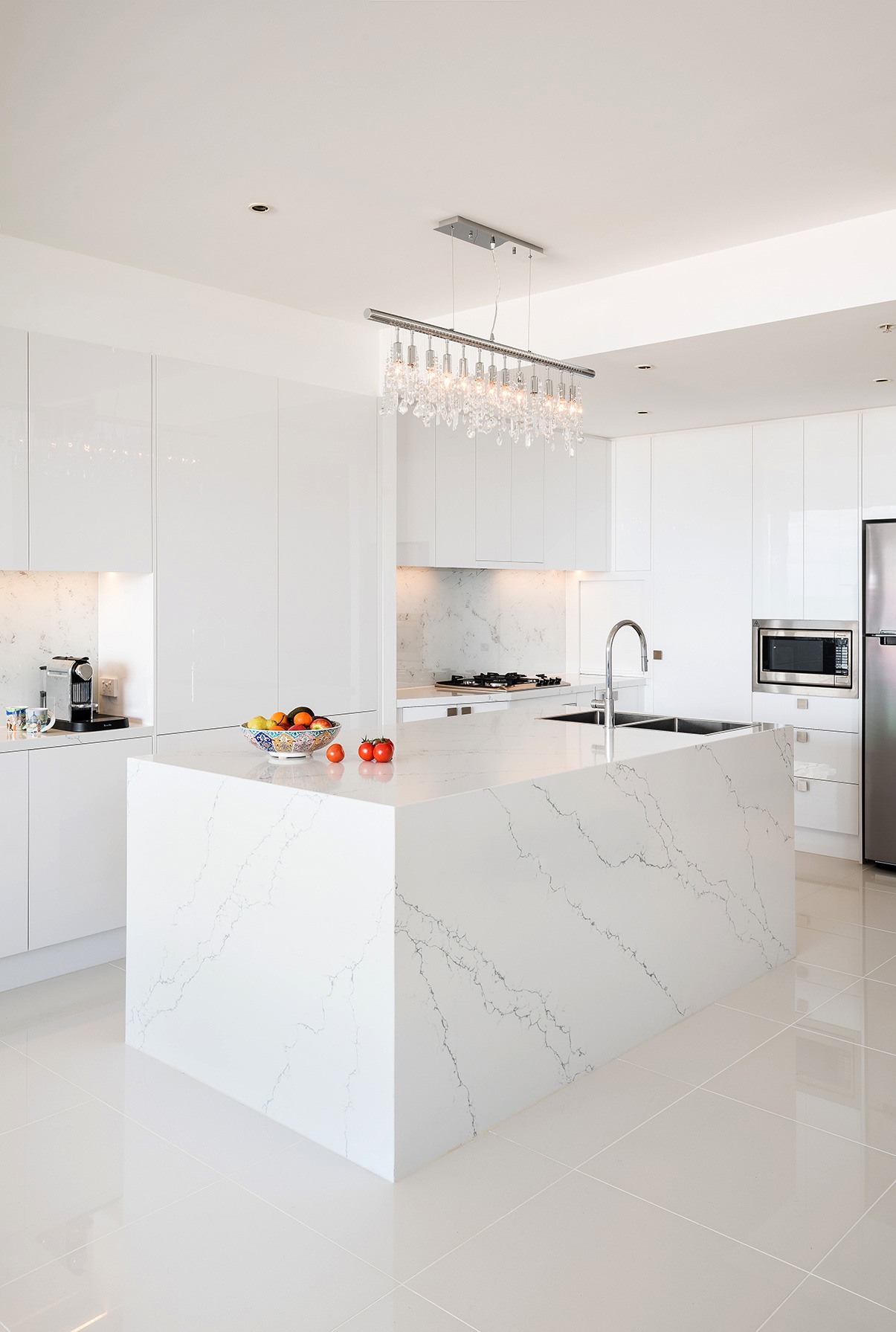 Quite a change, and one that has changed the way Doris lives in her apartment.
"The previous kitchen was tiny," she says. "There was very little cupboard space, just a small benchtop and I hardly cooked."
Now she's cooking more than ever, and loving a much larger kitchen area that – because of the clever design – has not impinged on the adjoining lounge-dining area.
Matching island and splashback
The kitchen's standout feature is a beautiful island with waterfall ends. The stone is from Venatino Statuario from the Quantum Quartz range, and looks spectacular.
"I wanted a marble look but not marble because it's too hard to look after," says Doris. "This stone looks great and is very easy to work with."
The splashback looks almost identical to the island, but is made from glass, imprinted with a patterned image Doris found on the internet.
"I just wanted to replicate the stone bench and I think I did that," adds Doris. "People love the kitchen, and are blown away with the transformation
"And for me it's not just beautiful, every part is so functional. For instance, I can empty the dishwasher straight into those beautiful cupboards. That's something you don't necessarily tihnk about beforehand."
Wall of cupboards creates flow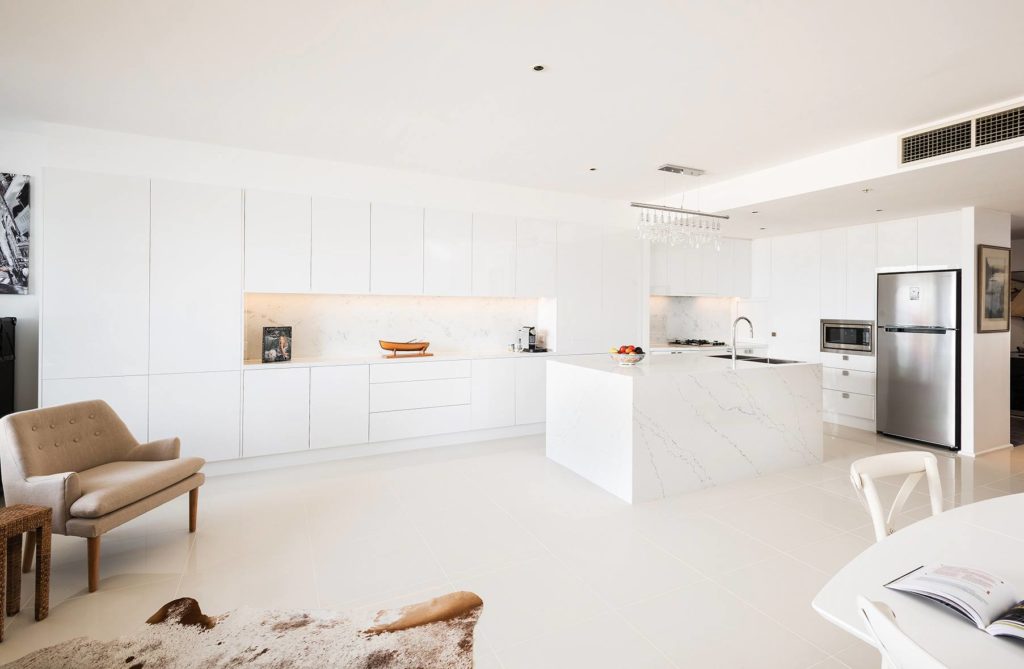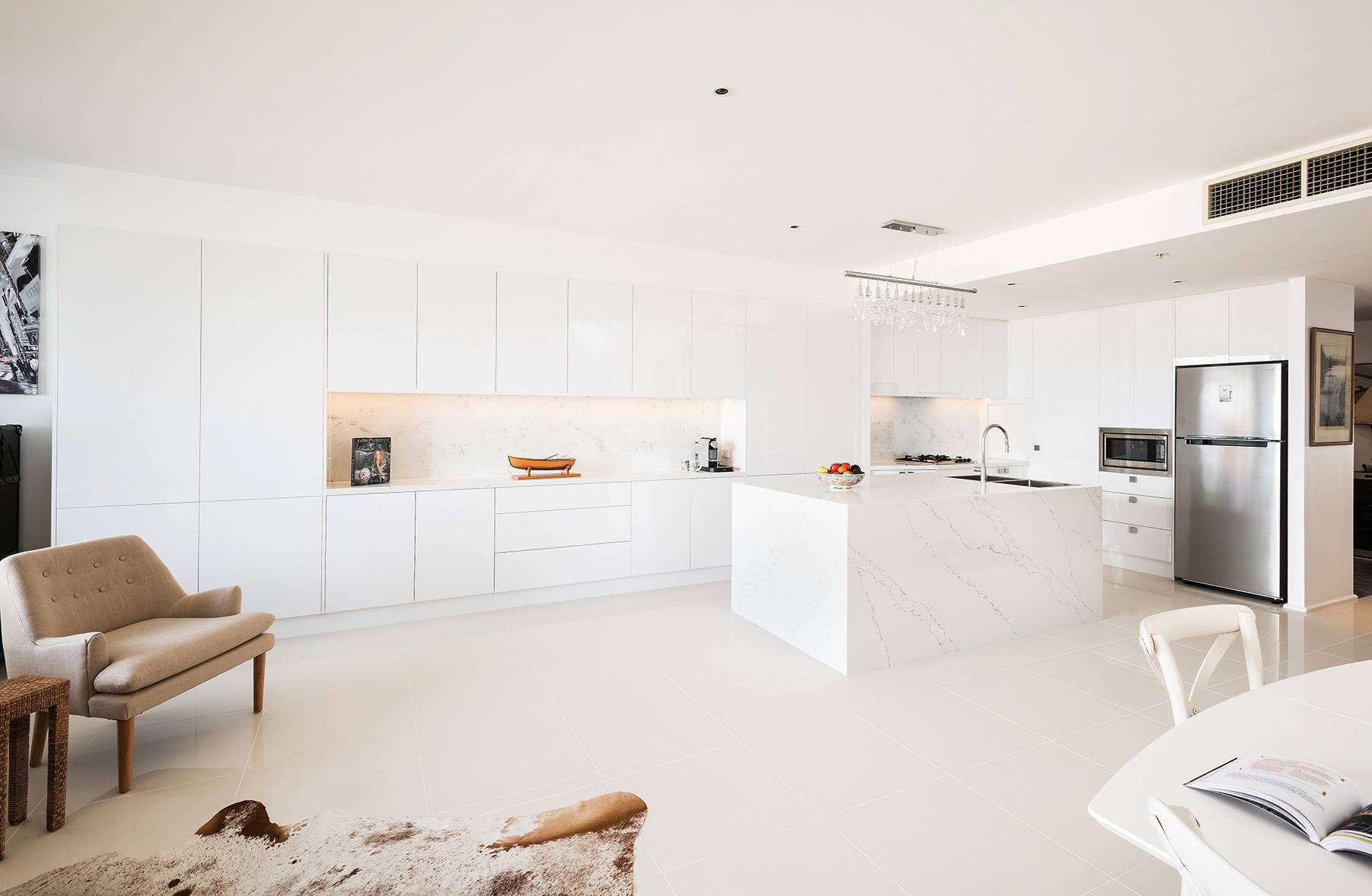 Key to the design was a wall of white handleless cupboards that created huge amounts of storage space, but looked like an actual wall.
"I wanted to try and create a kitchen that was not only elegant but would flow into the living space seamlessly," says Doris.
"I think we achieved that as it hasn't compromised the living space at all."
The wall of handleless cupboards are half the normal thickness, resulting in less intrusion into the lounge-dining area.
"By not having handles on those cupboards I got the look I wanted," adds Doris. "I now have great kitchen space and stacks of storage stretching into the lounge. It's wonderful."
Clean and white
Another crucial design element was the colour – white. It helps project a modern, elegant feel and creates an enhanced sense of space.
"I love white and think it looks clean and crisp and elegant with the chandelier and other lighting," she says.
But how hard is it to keep clean?
"Not at all," she says. "The doors have a high gloss with a metallic look to them. You can hardly see fingerprints. If I do, I just wipe them over with a cloth.
"I've got a great water view, and in certain lights I can actually see the ocean in my cupboards. It's just a lovely effect that comes from the high gloss."
Planning makes perfect
Doris had planned out the project in great detail before researching the best kitchen company to build her dream kitchen.
She chose Rosemount Kitchens after visiting the Malvern East showroom and particularly liked the finishes on the cabinetry.
Doris was also impressed by the professionalism of the kitchen designer and other members of the Rosemount team.
"All of the guys were great," she adds. " When they first came out I liked what they said and how they approached things. With the work of all the team, we got the finished product, which is stunning."
Doris added: "During these types of projects there are inevitably hiccups. For instance, there was a hiccup with the island bench and covering up the plumbing. But everyone worked around it and there was never an issue that couldn't be resolved.
"Overall it was a delight. I've never worked with tradesmen who were so accommodating."
This was a great project. Doris had some ideas that, from a design perspective, were challenging. But we love a challenge, and through multiple visits, took the time necessary to work through every aspect. We love the finished result just as much as Doris.

Mark Tonkin, Rosemount Kitchens
Key Kitchen Features
Door style and panel type: Ultra Glaze
Colour: New pearl metallic gloss with matching ABS edges
Benchtop: 40mm Venatino Statuario from Quantum Quartz
Splashback: Glass (with printed image)
Drawers and fittings: Blum
Lighting: Crystal Bar Chandelier from Designer Chandeliers, Southbank
Sink and taps: Franke
Oven: Bosch HBG655HW1A
Hotplate: Bosch PCH615B91A
Rangehood: Bosch DHI 635 KAU
Fridge: Bosch
Dishwasher: Bosch
Microwave: Bosch
You'll find more inspiration in our photo galleries.
You can also contact us or call and we'll do our best to help.