Retro remake
Our kitchen is beautiful and Rosemount were so easy to work with. The tradesmen were top class. Nothing was too much trouble. If something wasn't done properly they just came out and fixed it. I wish all tradesmen were like that.

Roslyn Pipino, Werribee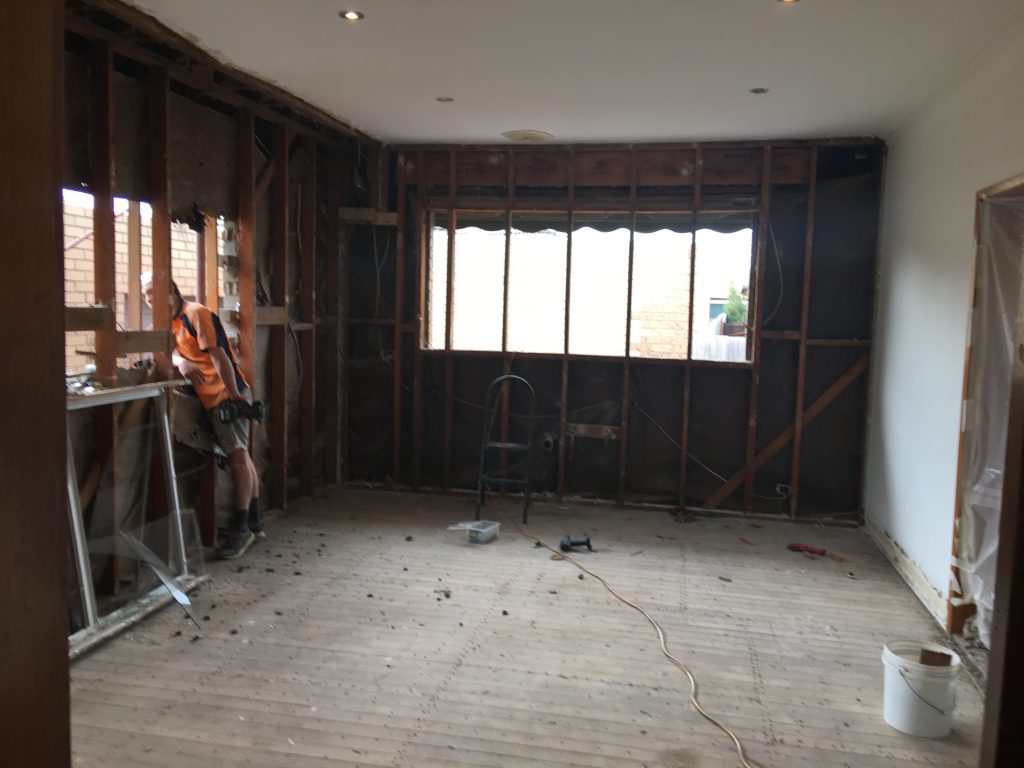 Roslyn and Jim Pipino undertook an extensive year-long home renovation, and their story will sound familiar to many people who have had tradesmen working in their home.
Some were great, like the Rosemount staff who built a new kitchen that has helped transform the retired couple's home in Werribee.
Others didn't pan out so well.
"I'm looking at one of those jobs right now," explains Roslyn. "We closed up a door in the hallway and it's just shocking. The plasterer did a terrible job.
"And you know what happens. After a while, you get fed up and you don't call them back, and you're left with a poor result."
Contrast that to her experience with Rosemount's team, who designed and installed a beautiful new kitchen, and kept her up to speed on progress throughout the process.
"When the Rosemount tradesmen told me how long it was going to take, that's how long it took. Everything they said is what they did. They were really great and it makes such a difference."
Need more inspiration? Look through the great images in our kitchen galleries and see what style of kitchen you like best. You'll also find more case studies at the bottom of this page.
Retro renovation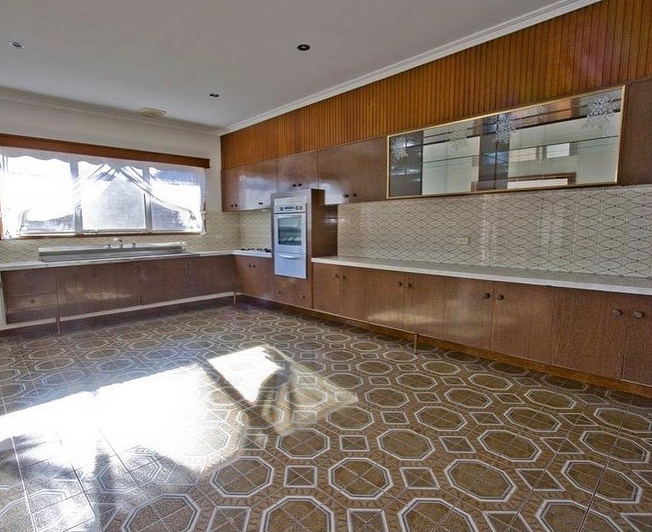 The Pipinos bought the house in 2007, but rented it out for 10 years before moving in to be closer to family.
As part of the renovation, the back of the house was reconfigured – and the kitchen layout changed – to create a more open plan space that now flows out into the backyard.
It was part of a wider refit that also included a new bathroom and putting a shower and toilet into the renovated laundry. The driveway was closed up to create an undercover garage while landscaping and a new fence brought the front and back gardens to life.
But it's arguably the kitchen where people will notice the biggest difference.
After all, it hadn't changed since the 1970s.
"The kids loved it because it was really retro and I thought the tiles were beautiful," says Roslyn. "But it simply wasn't a functioning kitchen. It was too dark, old and was almost crumbling. It just didn't work."
When Roslyn and Jim moved in they decided not to use the kitchen at all.
"We set ourselves up in the dining room off the lounge room, used an electric fry pan and put the fridge in the TV room," adds Roslyn. "That was a better solution than trying to use the old kitchen."
Gorgeous pantry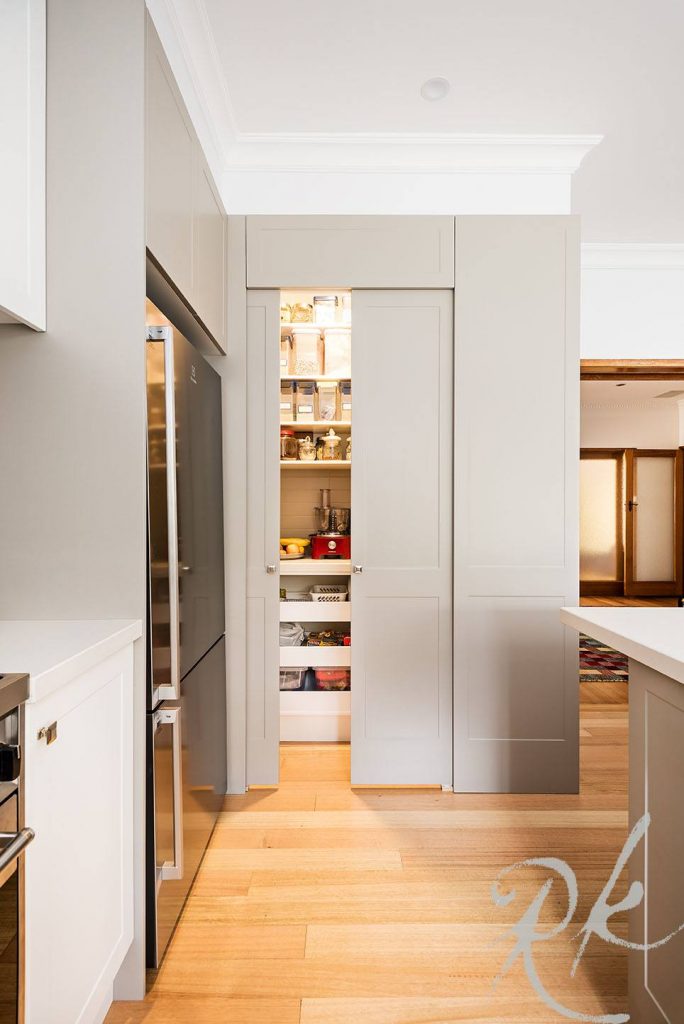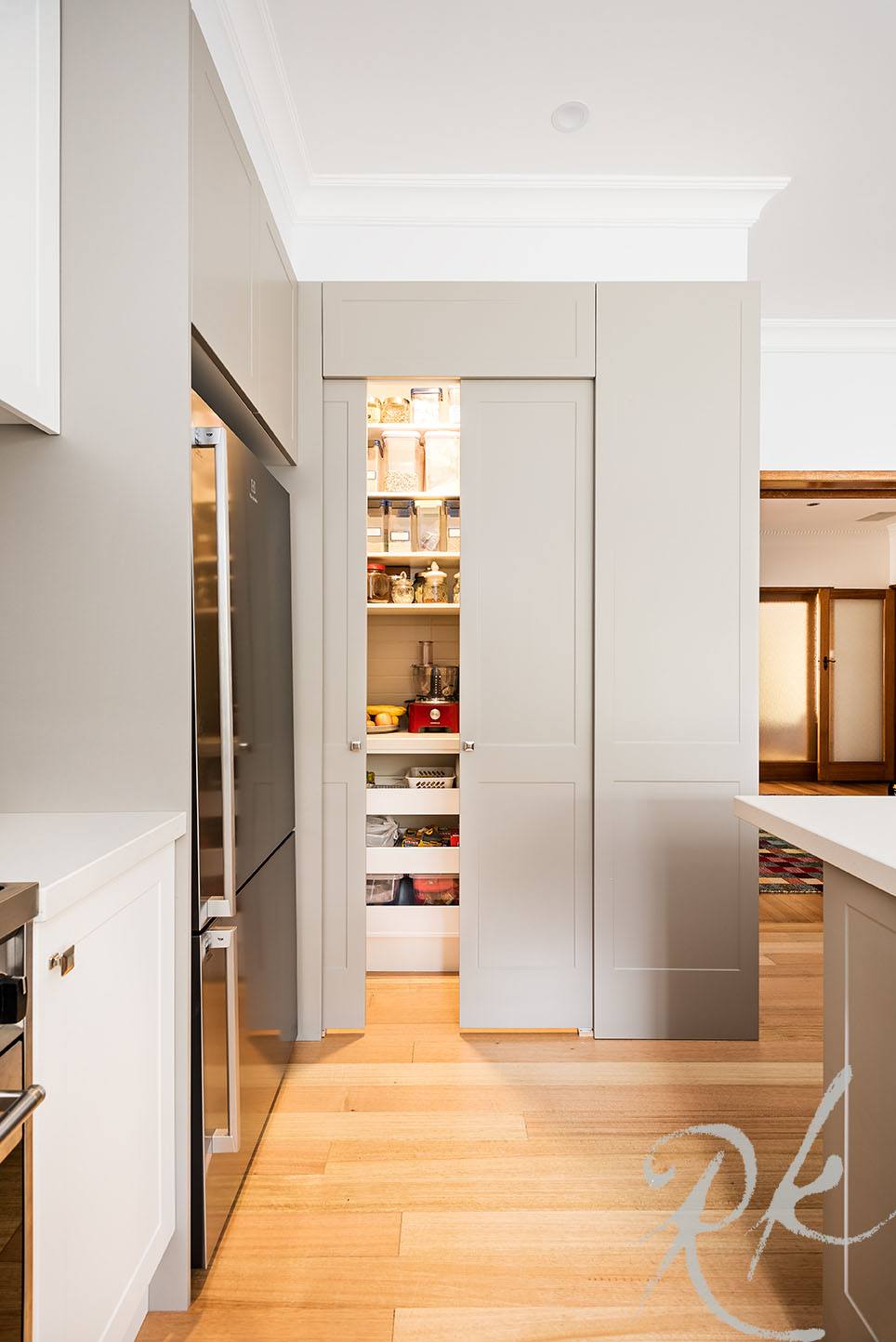 Roslyn loves cooking, and wanted a clean looking kitchen. When she visited Rosemount's northern suburbs kitchen showroom in Essendon, she saw the walk-in pantry in one of the display kitchens and knew it would be perfect for her space.
"The old kitchen had a big walk-in pantry that was unusual for its time, but I didn't want something like that or a butlers pantry," she says.
"But the pantry in the showroom was one I hadn't seen before and it was gorgeous. It's a walk-in pantry that just closes up. You can close the doors and wouldn't know it was there.
"I've got the toaster and microwave in there because I don't like clutter and having stuff on the benches. It's perfect for giving the kitchen that clean look I wanted."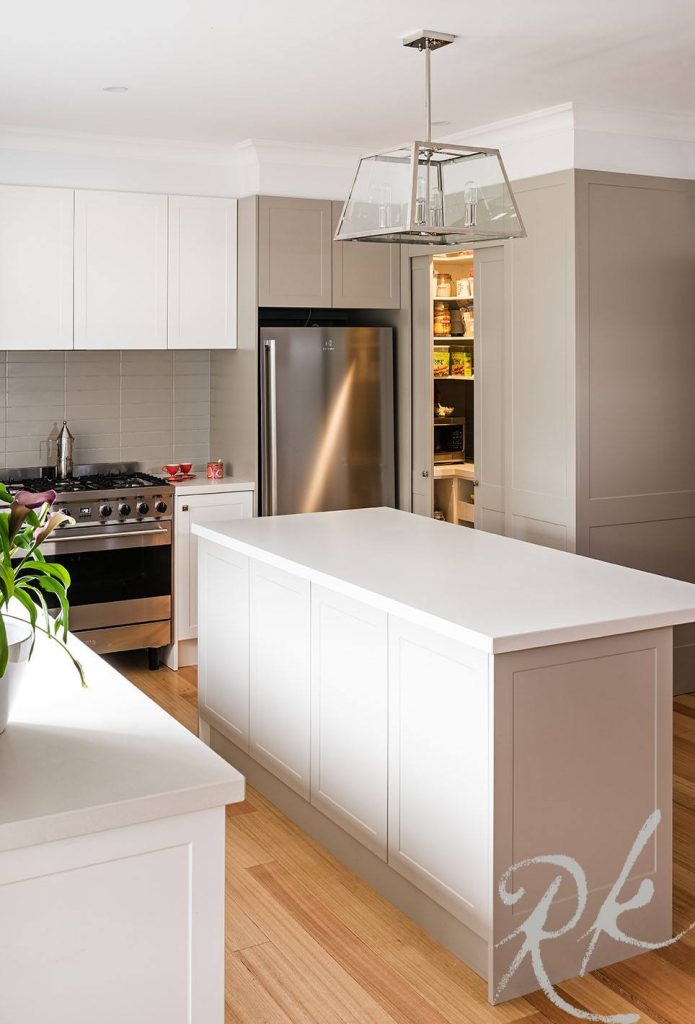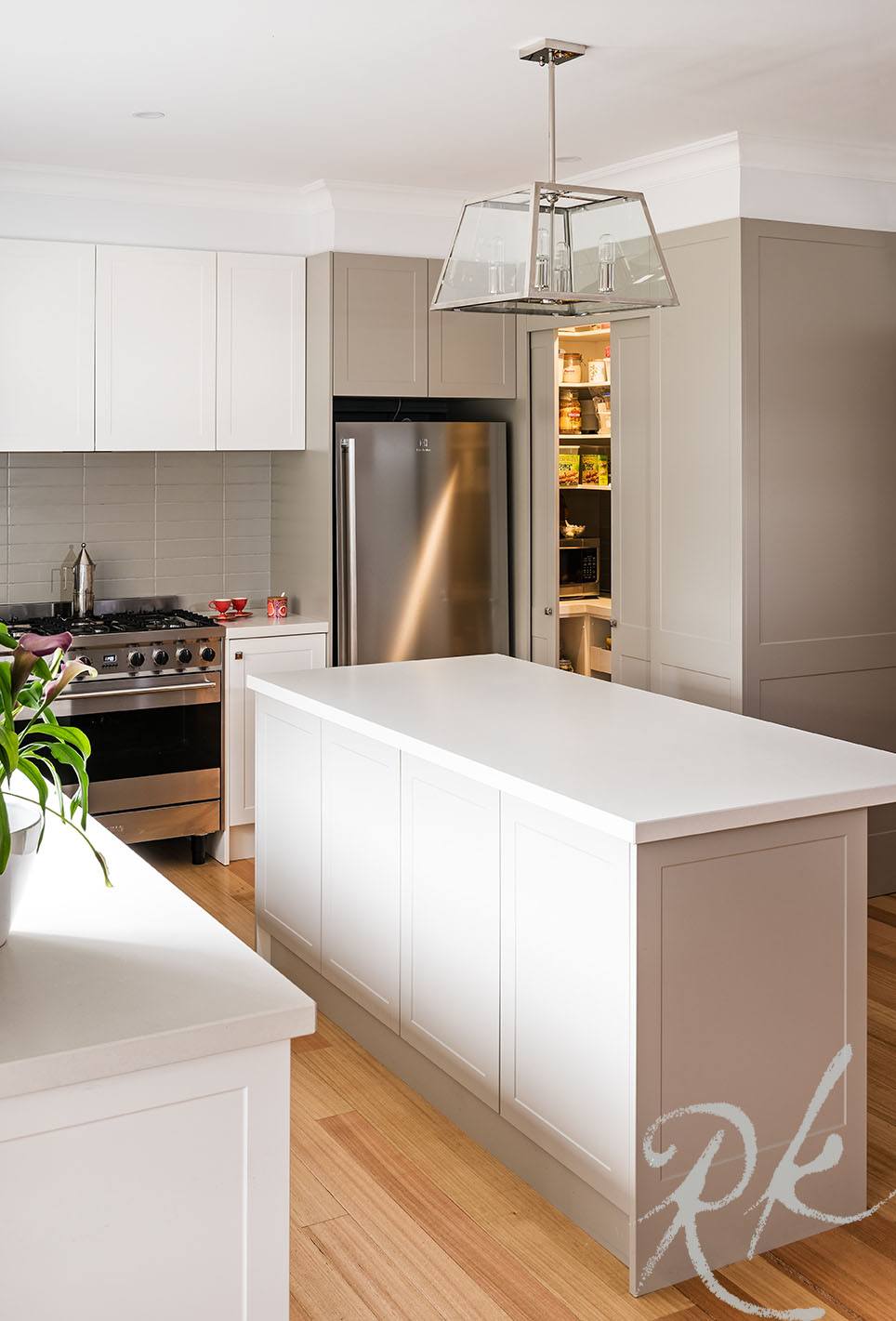 Island bench:
Roslyn also loves the island bench.
"I've never had an island bench before and it just feels like there's so much room. We sit there to have breakfast and look out into the backyard. It's just great."
Soft-close drawers:
The soft-close drawers look great and are very practical.
"They are positioned next to the dishwasher, which means I can put the plates straight into the drawers. It's really convenient."
Having drawers in your design makes a kitchen a breeze to work in and adds so much more storage than cupboards. Rosemount uses Blum's soft-close BLUMOTION Antaro drawers, which have highest quality motion and dynamic carrying capacities from 30-65kg.
Working with Rosemount
Roslyn describes the process of working with Rosemount to create her new kitchen as "so easy".
It all started on the first of several visits to the Essendon showroom.
"You might have an idea of what you want but then when you go to the showroom that all goes out the window," she says.
"For a start, there's no way I would have picked that pantry. And once you see everything up close it gives you a much better idea of what is possible."
To begin with the couple had no firm idea of the design they would like. "My husband had some great fun knocking down walls and then we said, 'ok what can we do with this space?'", she says.
With the help of Rosemount's designer, they created a kitchen that is a pleasure to be in.
"Everyone who has come here really likes the kitchen," says Roslyn.
We love the functionality of this kitchen, and you can see every part of that functionality on display in our Essendon showroom.

Mark Tonkin, Rosemount Kitchens
Key Kitchen Features
Cabinetry: Polytec Thermolaminate – Classic White Matt and Stone Grey Matt. Oberon door style
Benchtop: Caesarstone Fresh Concrete
Handles: Mother of Pearl BM Cup Pull and BM Shaker Knobs
Rangehood: Falmec Integrated
Oven: Smeg Freestanding
Fridge: Electrolux
Dishwasher: Asko Fully Integrated
Sink: Franke