Renovation worth the wait
How this Wantirna kitchen used to look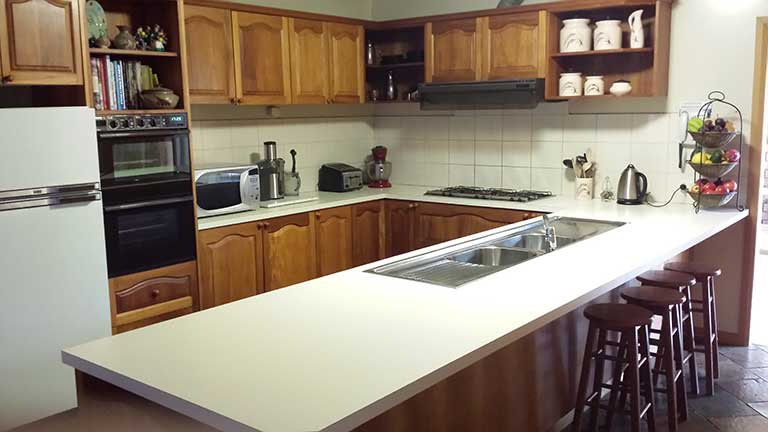 Our designer was just fantastic. He wanted our kitchen to come to fruition as much as we did.

Shirly
Homeowners Shirly and Doug spent a long time looking for the right company to renovate their kitchen.
"We were looking for four years and got quite disenchanted by the whole process," says Shirly. "There were times when we thought of just giving up."
Doug was disappointed by the hard-sell approach he encountered in several kitchen showrooms. "All the companies we spoke to seemed to be interested in was getting the money up front."
Then the retired couple visited Rosemount Kitchens and their long-planned kitchen renovation was back on track.
Listening to their needs
Doug and Shirly were delighted they'd finally found a company that focused on listening to what they wanted.
On their first visit to Rosemount's Nunawading showroom, Shirly told staff member Beryl Borgo how she loved the thought of an all-white gloss kitchen.
When Beryl learned the kitchen got the full morning sun, she cautioned against that plan. It would have been blinding. "And that was great advice," says Shirly. "We were saved from making a big mistake."
Attention to detail
Not long afterwards, Rosemount's kitchen designer made his first visit to the couple's home in Wantirna.
They were immediately struck by the designer's attention to every detail.
"The designer watched me as I was working in the kitchen, and took note when I told him what I didn't like," adds Shirly.
"He was just fantastic. He wanted our kitchen to come to fruition as much as we did."
Before: time for an update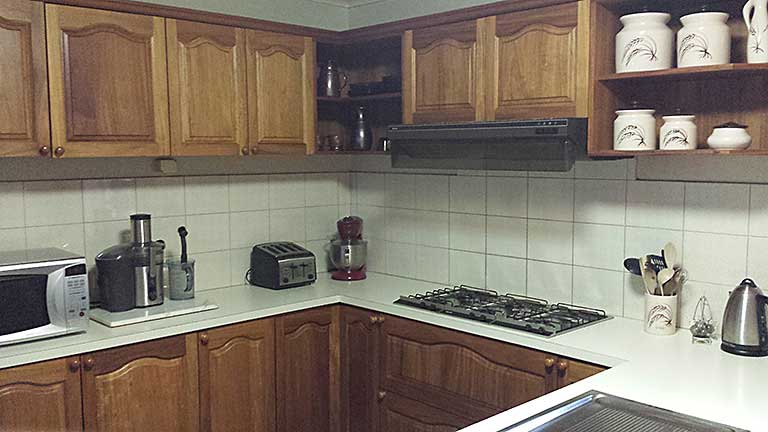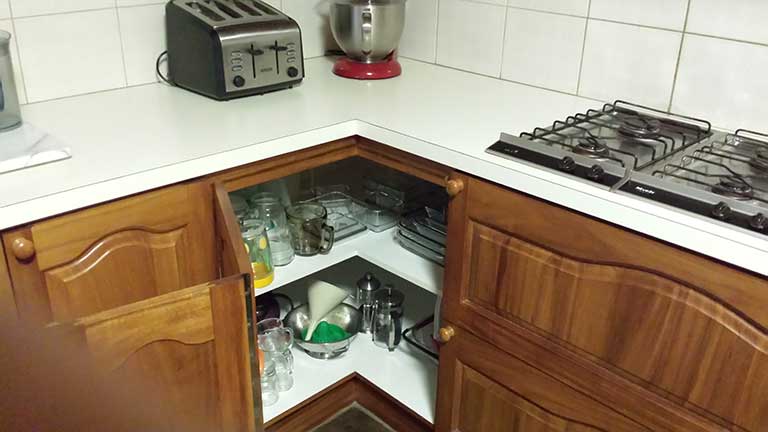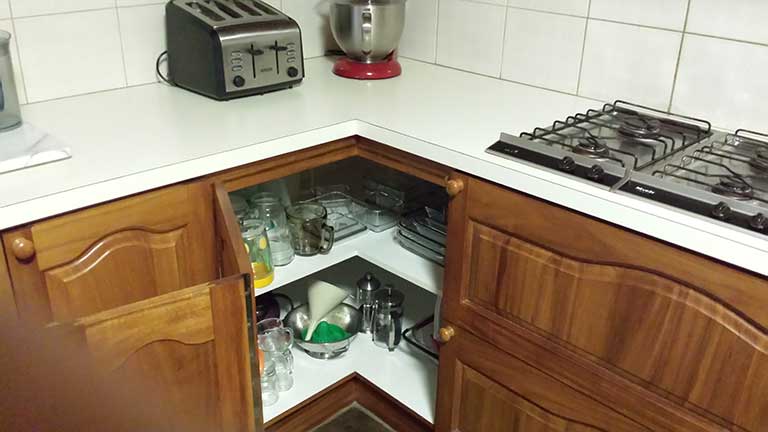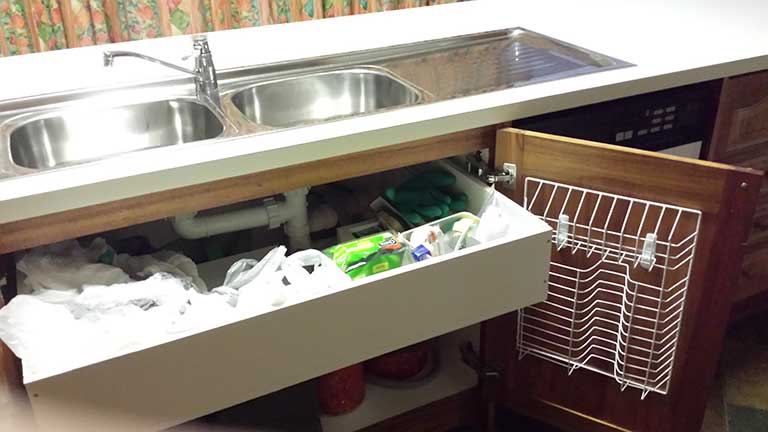 Almost 30 years after moving into their current home, the couple knew their old kitchen was past its best – and in need of a major update.
Like so many families who renovate, design and function limitations that started out as minor niggles had grown into significant daily inconveniences.
Shirly is a passionate cook and baker. The couple grow vegetables in their garden and keep a beehive that produces dozens of kilos of honey every year.
But the prospect of having to bend down and reach into hard-to-access cupboards would often act as a sufficient disincentive to cook. "It really put me off," says Shirly.
For Doug, the annoyances of the old kitchen were frustrating in a different way. "I always got my pants caught on the door knobs," he says.
After: Designed for life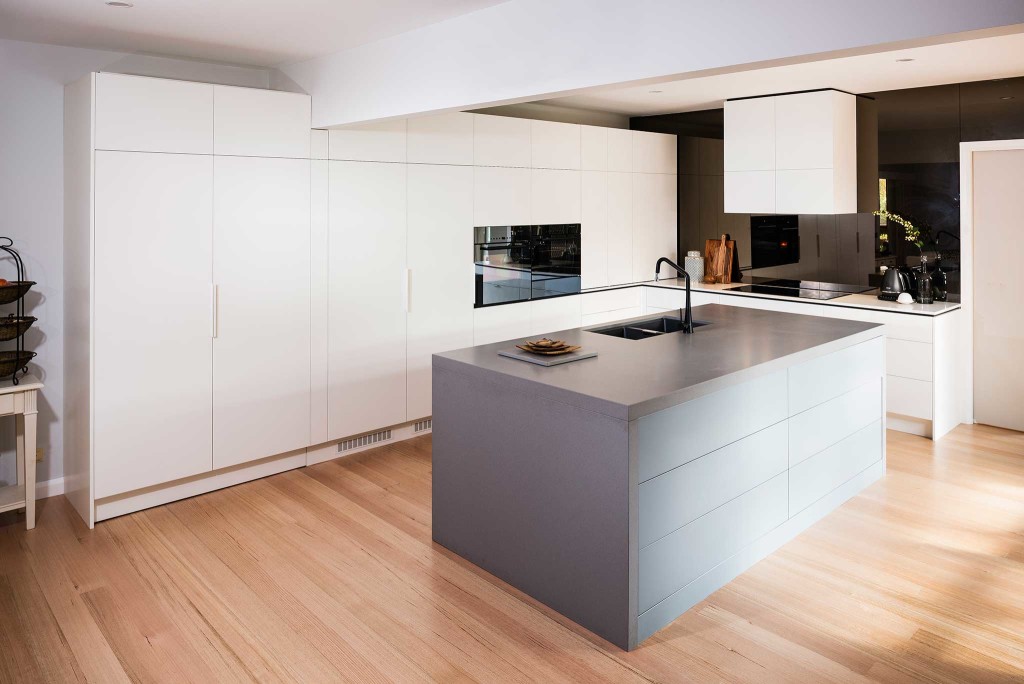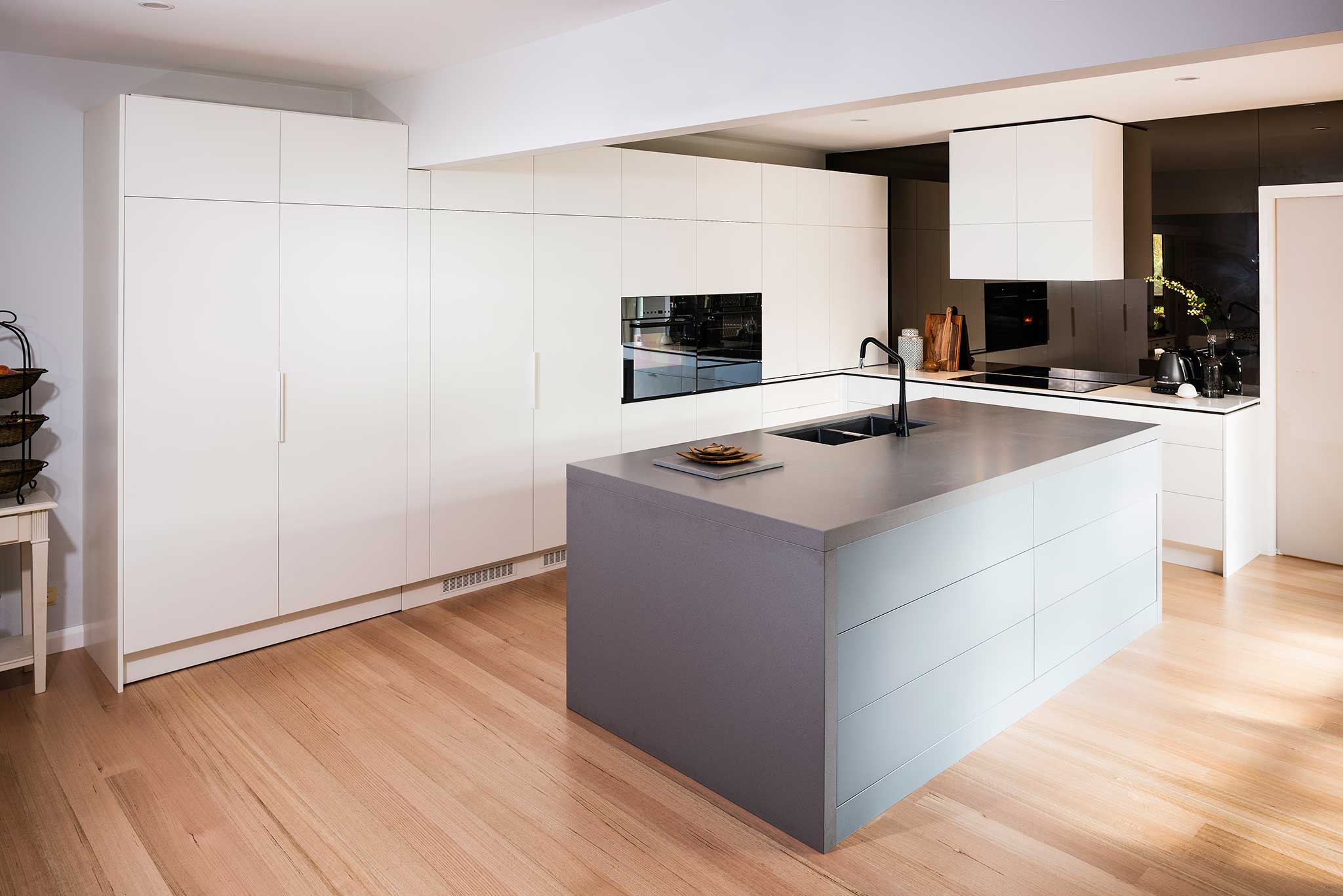 There are no such problems in the transformed space.
The designer worked with the couple to create a kitchen that not only looks wonderful, but is a pleasure to cook in.
The standout design feature is a striking Caesarstone Sleek Concrete island benchtop first suggested by Rosemount.
"I thought I'd misheard when our designer mentioned the concrete style finish," says Doug. "And I thought I would hate it. But he sent us to a place where we could see, touch and feel the benchtop – and I loved it."
From a more practical perspective, Shirly particularly likes a custom-designed space where pulling back bi-fold doors allows her to use a Mixmaster and prepare food without having to move to another part of the kitchen.
Superb storage: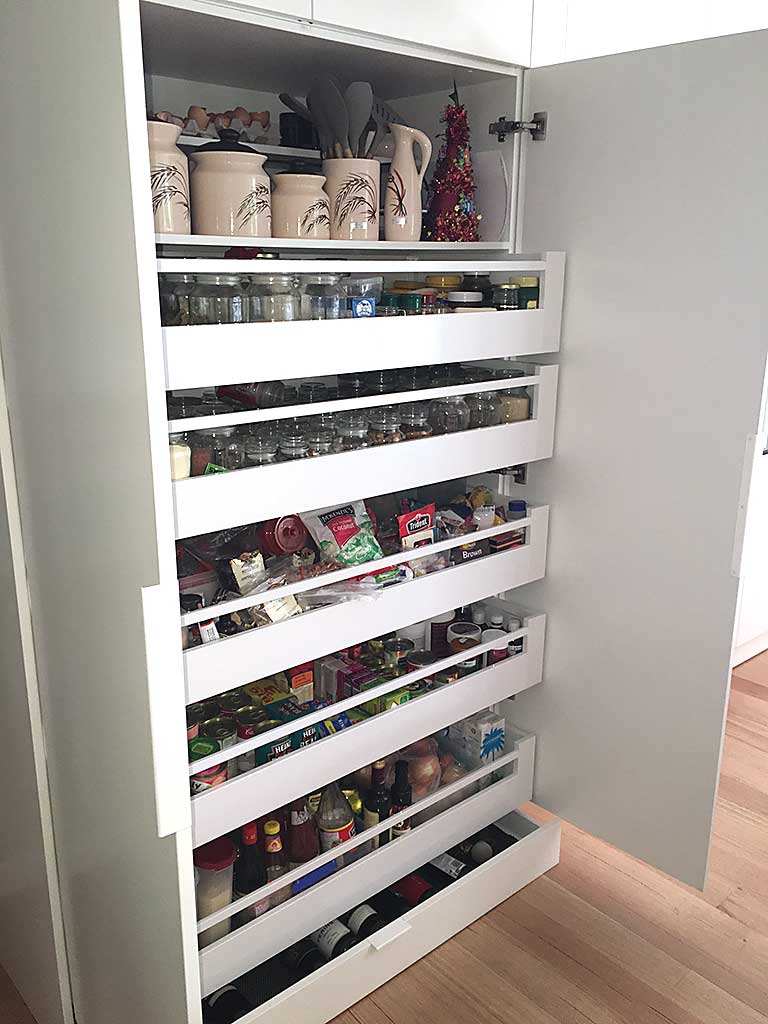 And she describes the storage space in her new kitchen as "incomparable" compared to the old one.
Before the renovation, the Doug and Shirly stored dinner sets, dishes and platters in a buffet and dresser in another room.
Not anymore.
"We now keep everything in the kitchen, and you'd never know by looking at it," says Shirly.
"Before it was all cupboards. Now it's all drawers which are much more convenient. When you open a drawer, you can see what you need straight away. I don't have to bend down and stretch into dark corners any more."
Key Features
Island: Caesarstone Sleek Concrete benchtop and 2 Pack doors, panels and kitckboards – all finished in Dulux Timeless Grey Satin
Benchtop: Caesarstone Snow benchtop
Cabintery doors, panels and kickboards: Dulux Vivid White Satin finish
Handles: Powder coated vivid white to match cabinetry and Matt Black on handless Blum tip-on drawers at back of island
Splashback: Bronze mirrored splashback
Kickboards: 2 Pack
Appliances
Steam Oven: Vzug
Combi Oven: Vzug
Warmer: Vzug
Cooktop: Vzug
Rangehood/canopy: Whispair
Dishwasher: Integrated Vzug
Refrigerator: Liebherr Integrated Fridge and Freezer
Sink: Black Moulded Granite Sink from Oliveri Santorini range
Conclusion
Every kitchen is different and our designer took the time to understand our clients' needs and ultimately create their dream kitchen. From storage requirements to room constraints, personal likes and dislikes, the importance of detail can't be over emphasised in projects like this. The result is a beautiful and functional kitchen that is truly unique to Shirly and Doug.

Mark Tonkin, Rosemount Kitchens
Doug and Shirly love the intelligent use of space and ease of use in their new kitchen.
They were also thrilled that the Rosemount team managed the whole project, dealing directly with other contractors involved at different stages.
"That was fantastic," says Doug. "It was great that we did not have to get someone else to do this."
"Rosemount have been fantastic," adds Shirly. "Renovations like this don't happen without the odd hiccup along the way. But every time there was a small hiccup, Rosemount dealt with it and we couldn't be happier with the result."
Find out more about project on our Wantirna kitchen renovation page.
You'll find more inspiration in our kitchen design photo gallery.