We've all heard of French Provincial kitchens, but it's a bit more difficult to pin down exactly what that means.
There are so many interpretations and variations. The ever-popular Hamptons Style and one of our most popular renovations in Melbourne would both be classed as French Provincial – even though they look quite different.
Flick through the latest kitchen magazines and you'll see an overwhelming number and variety; some highly decorative and ornate, others more simplistic in profile and style.
Never has the saying "beauty is in the eye of the beholder" been more true.
So if you're looking for some inspiration and guidance, check out our Pinterest board.
We also like this post from Houzz.com – 12 Essential Ingredients for a French Provincial Kitchen. It's a great resource, and there's some great info in there.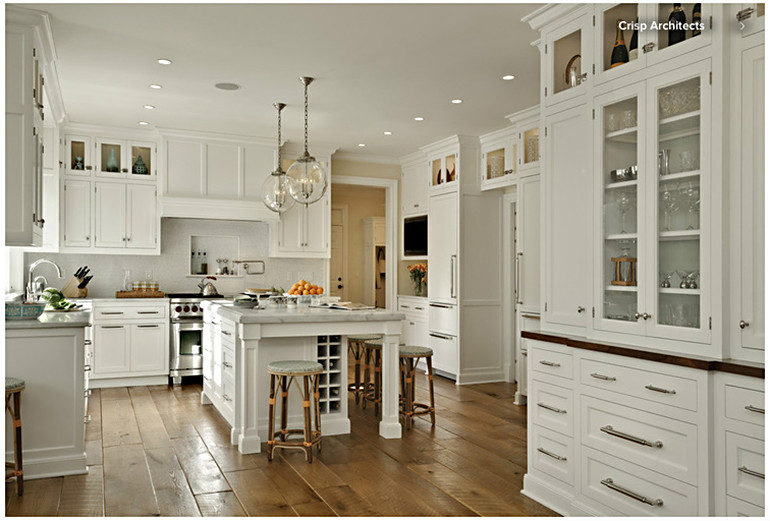 How to Accessorise Your French Provincial Kitchen
Of course, once you've chosen a style you'll need to think about other elements to add to that French charm.
Here's a few suggestions I hope you'll like.
Quintessentially French Cast Iron Cookware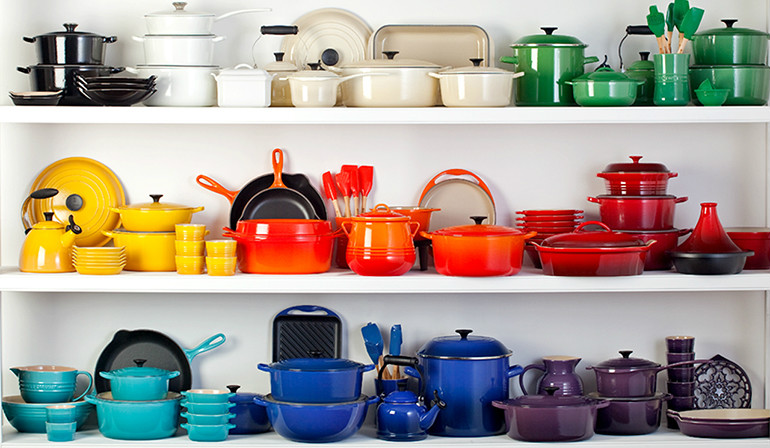 Nothing says French kitchen quite like cast iron cookware from Le Creuset
They've been handmade in France since 1925, and the quality – just like the kitchens we build – really shines through.
You'll find them in a range of colours, including classic reds, creams and blues, plus special edition hues. Just imagine them sitting proudly on your new stovetop or benches.
While you may be familiar with Le Creuset's cast iron range, you may not know that they also have exceptional quality 3-ply Stainless Steel and Toughened Non-Stick cookware. There are also other assorted kitchen items, including bakeware and serving ware.
Where to find?
Check out Le Creuset Australia. They're also stocked at the big department stores and quality kitchenware suppliers nationally.
French Tableware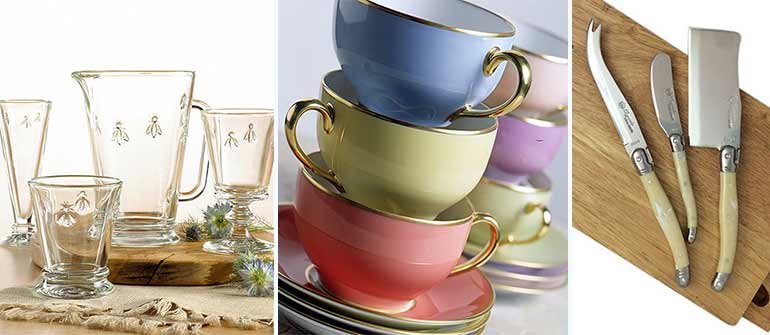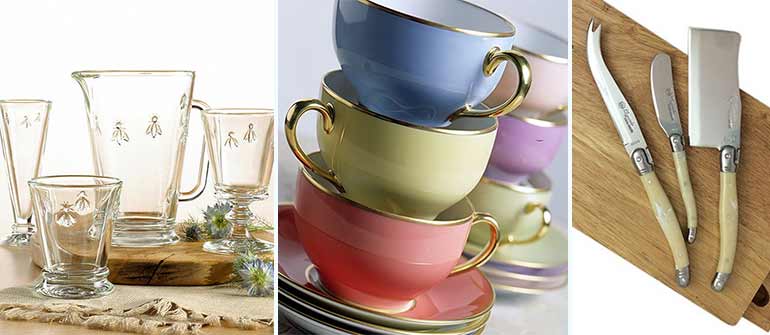 For authentic French or French inspired crockery, cutlery, glassware and linens, it's hard to go past the range at Peters of Kensington.
Check out the Laguiole knives and refined Limoges porcelain items. We're particularly taken with the range of La Rochere glassware right now.
It doesn't get much more French than this – the Napoleonic symbol, the bee, decorating glassware made by the French glass company La Rochere – which has been around since 1475 and is the oldest glass factory in Europe.
There's a range of styles from tumblers, stemmed glasses, jugs and other assorted lovelies.
While you might think that glassware with this type of pedigree would be for special occasions only, The Bee range is actually quite a heavy glass that's durable enough for everyday use. It's even dishwasher safe.
And if bees aren't for you, La Rochere also has a range of butterfly and dragonfly glassware as well.
Simply delightful in a French inspired kitchen.
Where to find?
Check out Peters of Kensington.
French Cookbooks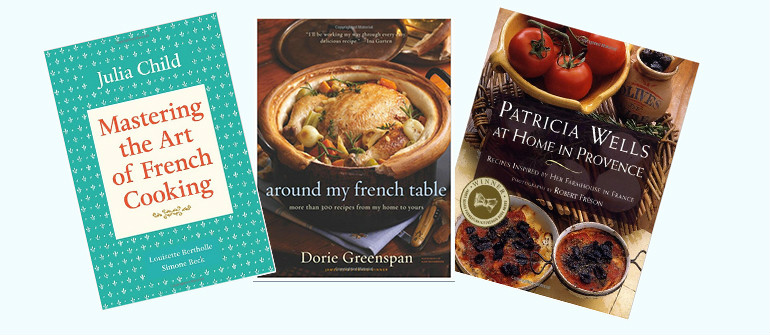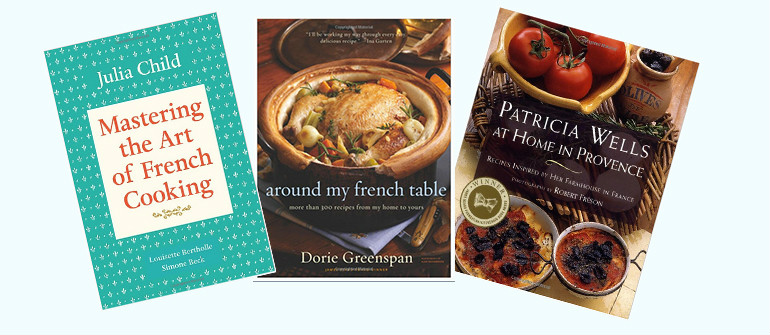 You might just want to make some great French-inspired meals in your new kitchen. So a French cookbook might come in handy.
The gorgeous Books for Cooks has classics such as "2000 Favourite French Recipes" by legendary French chef Auguste Escoffier.
Here are some other highly regarded French cookbooks to get you started:
Glorious French Food: A Fresh Approach to the Classics – James Peterson
Around My French Table – Dorie Greenspan
Lulu's Provencal Table – Richard Olney
Patricia Wells At Home in Provence – Patricia Wells
The Country Cooking of France – Anne Willan
Mastering the Art of French Cooking Vo.1 – Julia Child
Where to find?
Books for Cooks is in the Melbourne suburb of Fitzroy.
New and Old – The Best of Both Worlds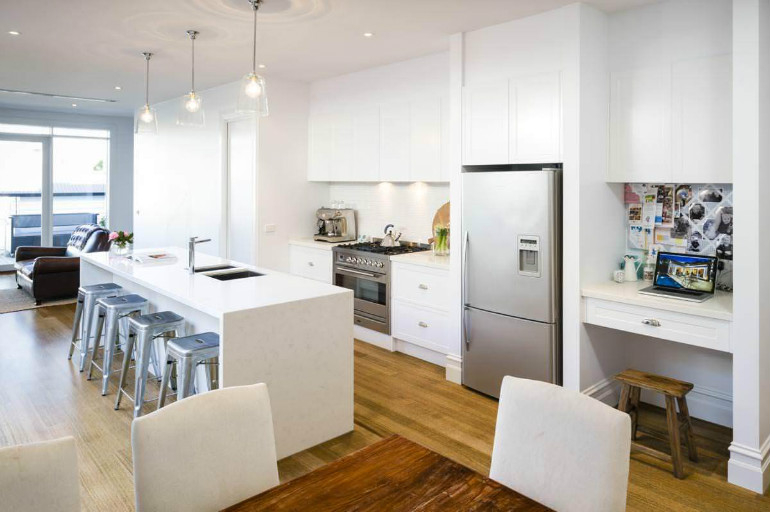 French Provincial decorating reflects a style popular in Provence in the south of France way back in the 18th & 19th centuries.
It typically combines elegance and functionality, using gentle lines, intricate woodwork, simple colour palettes, natural stones and timbers.
What's great in today's kitchen designs is that you can combine that timeless charm with the best in modern functionality. Your kitchen might look like it's from another era, but it will function as well as any ultra-modern counterpart.
For example you can use full extension drawers and soft close drawers and doors from Blum Hardware. Space saving solutions from Kessebohmer can make the kitchen a dream to work in.
And consider also timeless benchtops in timbers, natural stones or engineered "lookalikes", such as the new Callacutta Classic range from Caesarstone.
All the while, you'll retain the features for which French Provincial kitchens are best known – like furniture style cabinetry, soft colour palette, and profile doors and panels.
That's something we specialise in at Rosemount. Whether you have a large or small kitchen space, our kitchen designers can create a custom space so you get exactly what you want.
Take a look at the renovation we completed at the Victorian style home in Armadale mentioned earlier. It wasn't a large kitchen, but it gained a provincial look with simple shaker door and panels, an engineered stone top with a subtle marble look, shell handles and a simple brick pattern tiled splashback.
Bonus Tip: A French Provincial Inspired Dining Room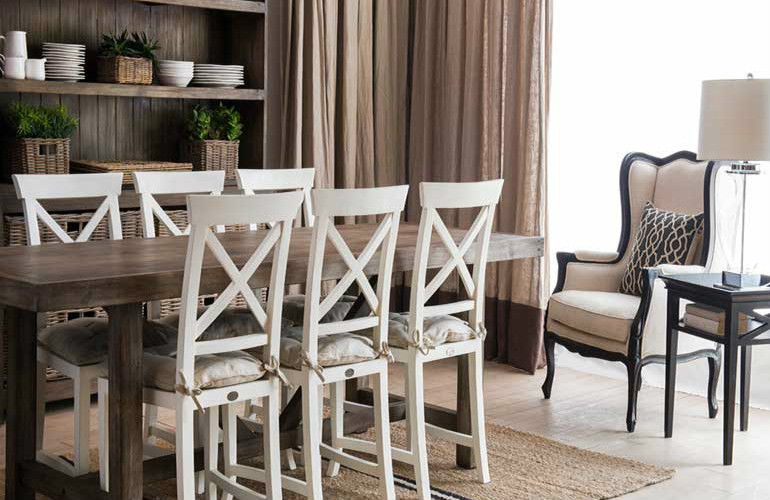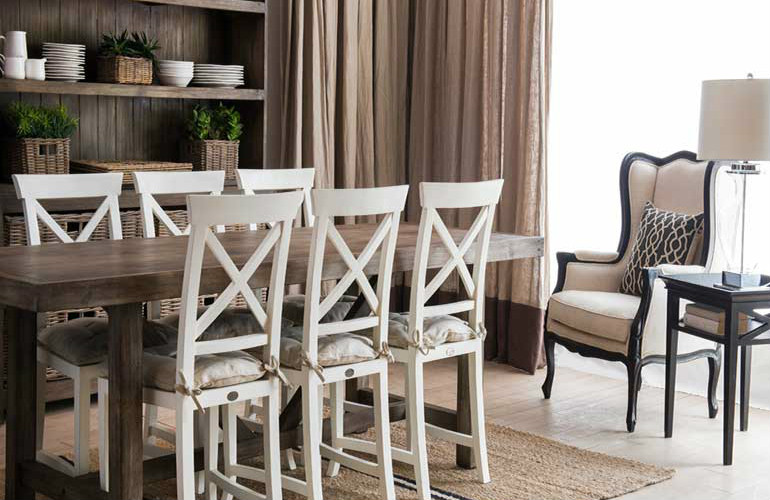 It's likely that if your kitchen is French Provincial, you'll be looking to continue that theme elsewhere in your home – particularly through to your dining room.
For stunning ideas on how to style your home with a certain je ne sais quoi, take a look at La Maison.
We particularly like their range of French inspired dining tables and chairs; like the Manyara table pictured above. (There's a lot to love on their website).
Where to find?
La Maison is located in Surry Hills, Sydney. They also have preferred stockists around the country.
Do you have any questions regarding French Provincial kitchens? We'd love to help – you can contact us here.