Black Kitchens
Black Kitchens – made in Melbourne
When it comes to black kitchens it's pretty easy to see why going to the dark side looks like a good idea.
Black kitchens have made a bold move into the mainstream of kitchen design in Melbourne.
Not that long ago they were the exception in the professional kitchen designer's toolbox. Today black kitchen cabinets and benchtops are everywhere.
When done right, black and dark kitchens pack a visual punch. They provide a depth and texture that kitchens with lighter cabinetry struggle to match.
So here are our thoughts on some of the key elements you should keep in mind when considering your own move to the dark side.
Benefits of Black Kitchens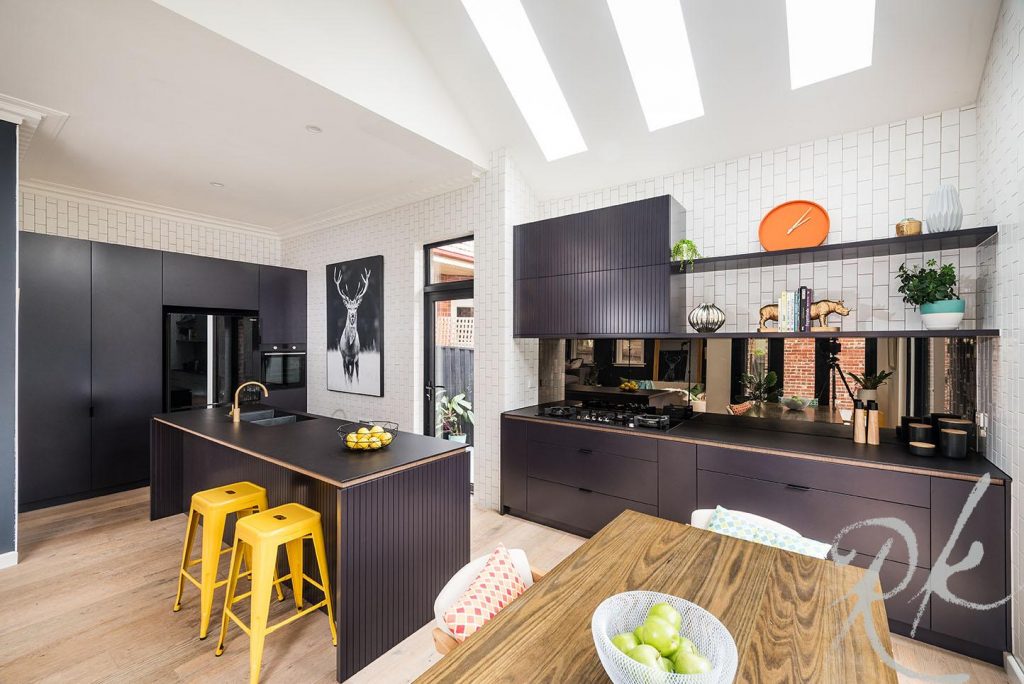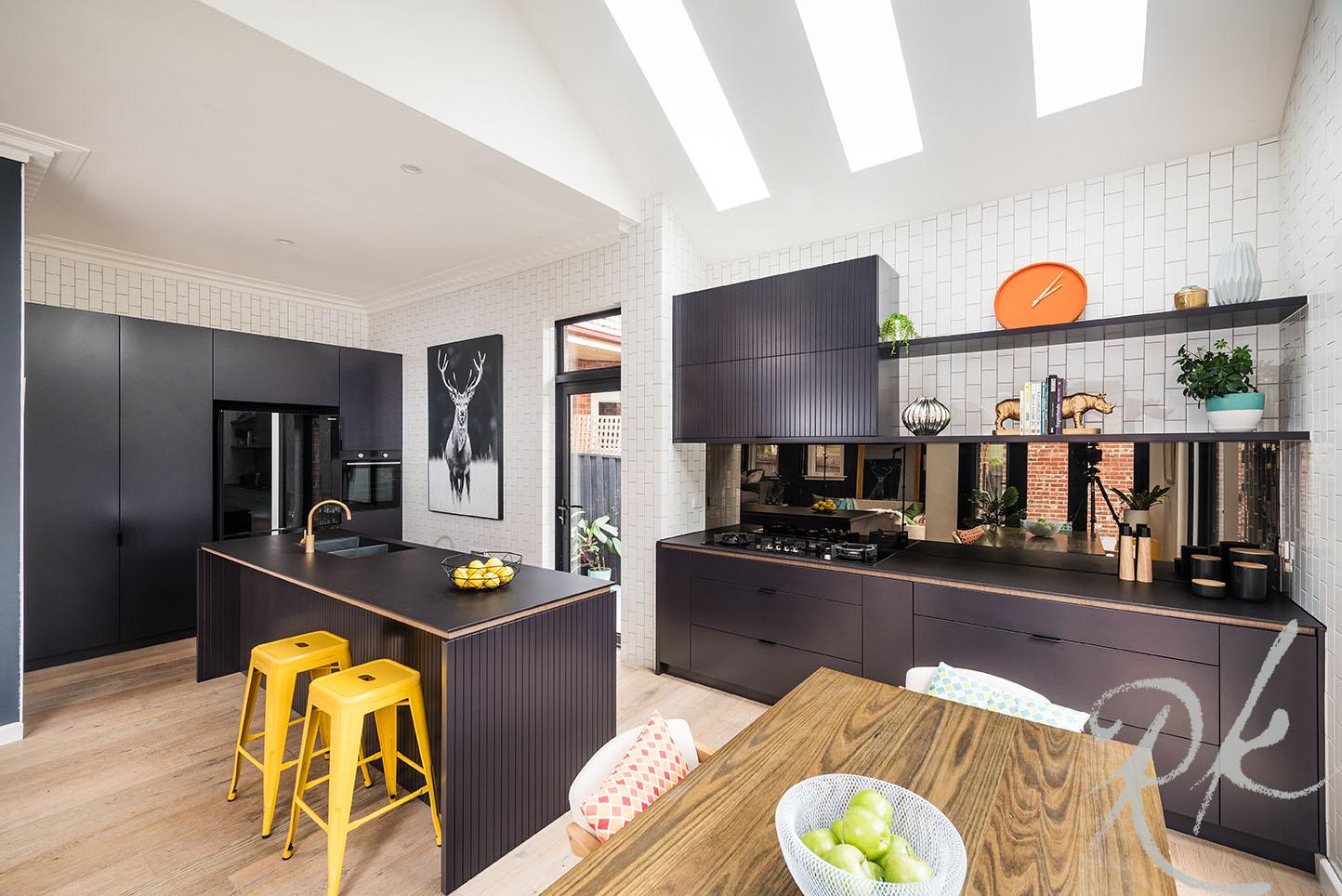 Black kitchens done well are visually stunning.
The owners of this kitchen originally wanted a white kitchen with neutral tones. But Rosemount's designer suggested the alternative you see here – and the owners were delighted.
They talk about the instant impact the kitchen makes with friends and family when they see it for the first time. The initially reaction is usually: "Wow".
As well as allowing you to be a bit more "daring" in your kitchen design choice, choosing a dark kitchen means you can use contrast to the max.
In this kitchen the darker cabinets provide a good balance to the lighter subway tiles. They also help to ground what is still a lighter space – with the lighter ceiling, walls and floor.
Black and darker coloured kitchens also suit most kitchen styles and can be mixed well with a variety of colours and textures.
Think, for instance, about offsetting the dark cabinetry with a lighter benchtop that has some texture – like a natural stone benchtop or one of the great engineered stone alternatives available from quality providers like Caesarstone.
Concrete or concrete-look benchtops also work well (check out Caesarstone's concrete-inspired Metropolitan Collection).
Flooring and spashbacks can add texture, light and warmth – a lighter timber, for example, on the floor or mirrored splashbacks to enhance the overall effect.
As you can see, there are so many ways to go.
Key Considerations in a Black or Dark Kitchen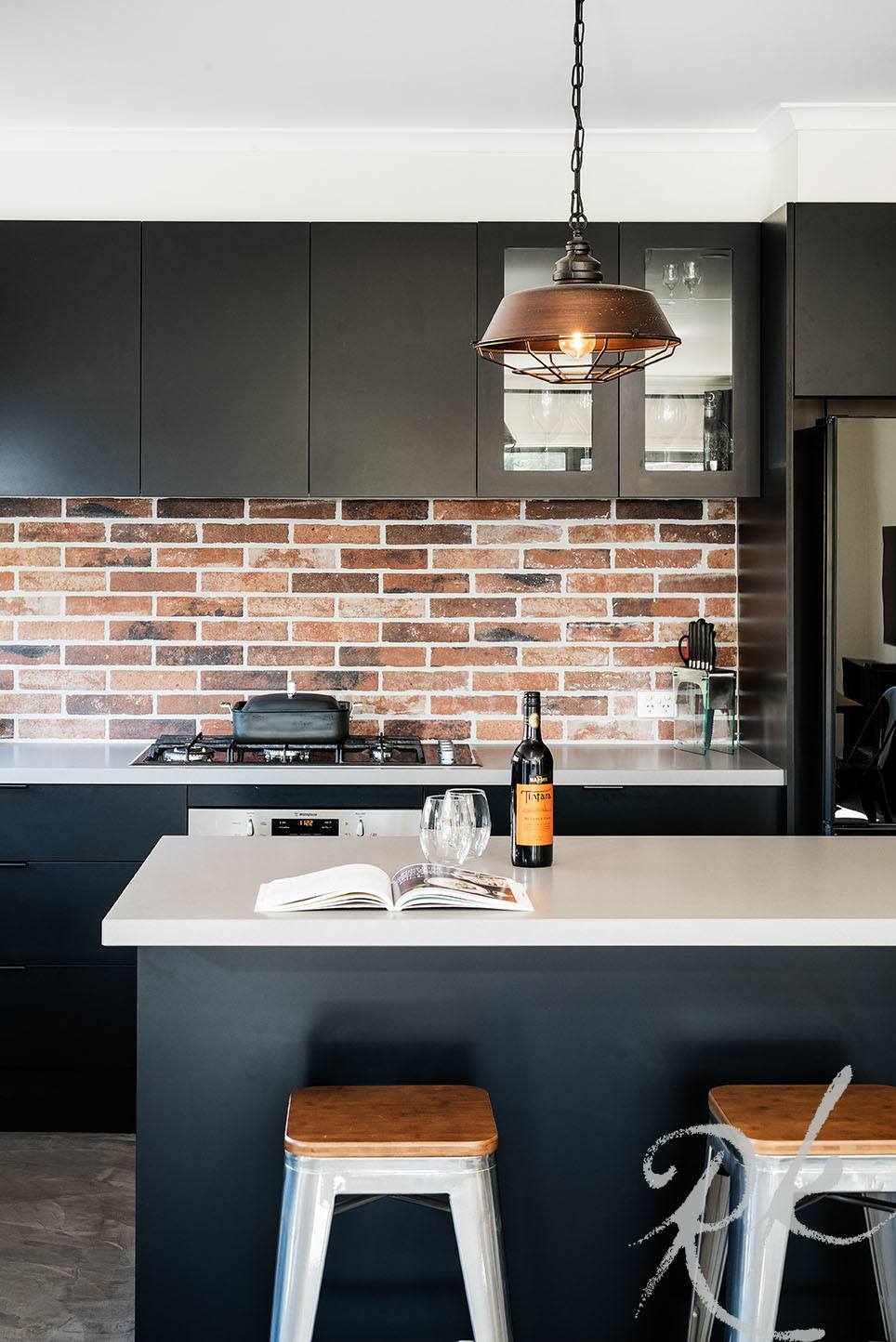 The darker more dramatic look might appeal to you, but it won't appeal to everyone.
Of course, that's not a consideration if you aren't looking to sell your home at any time in the near future. But if you are looking to sell at some point – and want to best leverage the cost of the renovation against the increased value it creates – it's definitely something you'll want to take into account.
You might also look to add some "warmth" to offset the darker features in the kitchen.
In the kitchen above, the owners chose a brick-look tile because they felt the darker cabinets, floor and benchtops needed some relief. And it really did the trick.
Dark Kitchen Cabinets
Darker cabinets often work best when they contrast with a lighter ceiling, floor and walls. They work particularly well in a larger open space, and can transform the look of an otherwise bland kitchen.
You can mix and match darker cabinets with most colours and textures. Black and white is a popular choice, but the key is to know which colours and textures work within your space.
Consider also the space you have. When it comes to kitchen design, white has traditionally been dominant. There are a number of reasons for this, including the fact that white reflects light and can open up a space or room.
Black, on the other hand, absorbs light and in some cases dark cabinetry can make a room seem smaller.
But when used right, with a good balance of light, black can bring a sophistication and elegance that's difficult to beat.
If it's not done properly the finished kitchen might seem unnecessarily cramped and gloomy.
So it's important to ensure the work areas in kitchens with dark cabinets are well-lit and, ideally, that there's a lot of natural light in the kitchen.
Black and Dark Kitchen Benchtops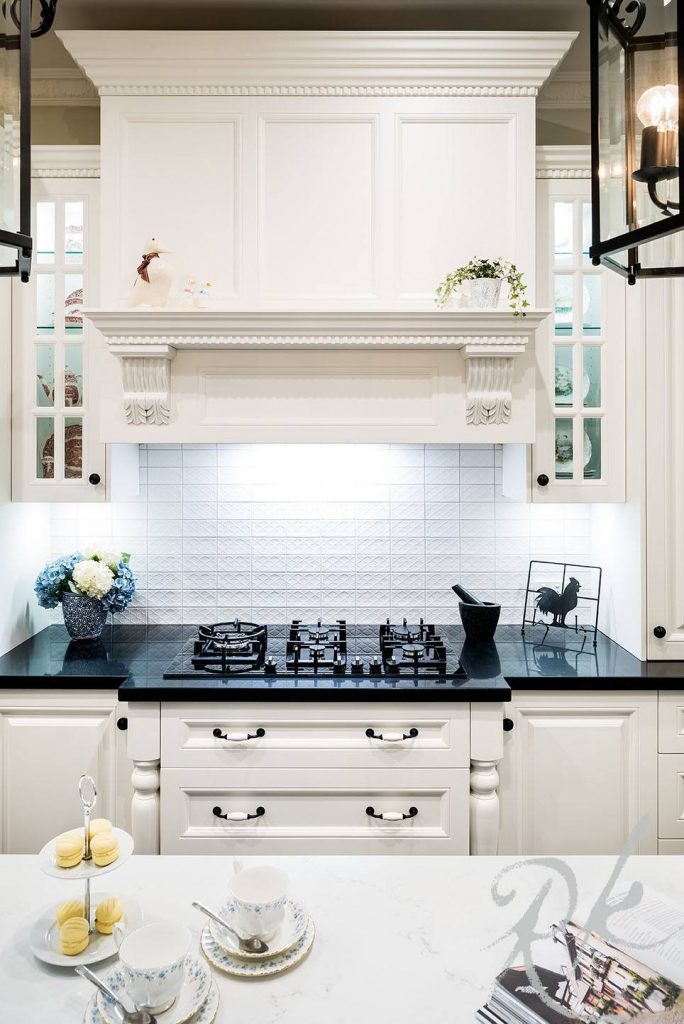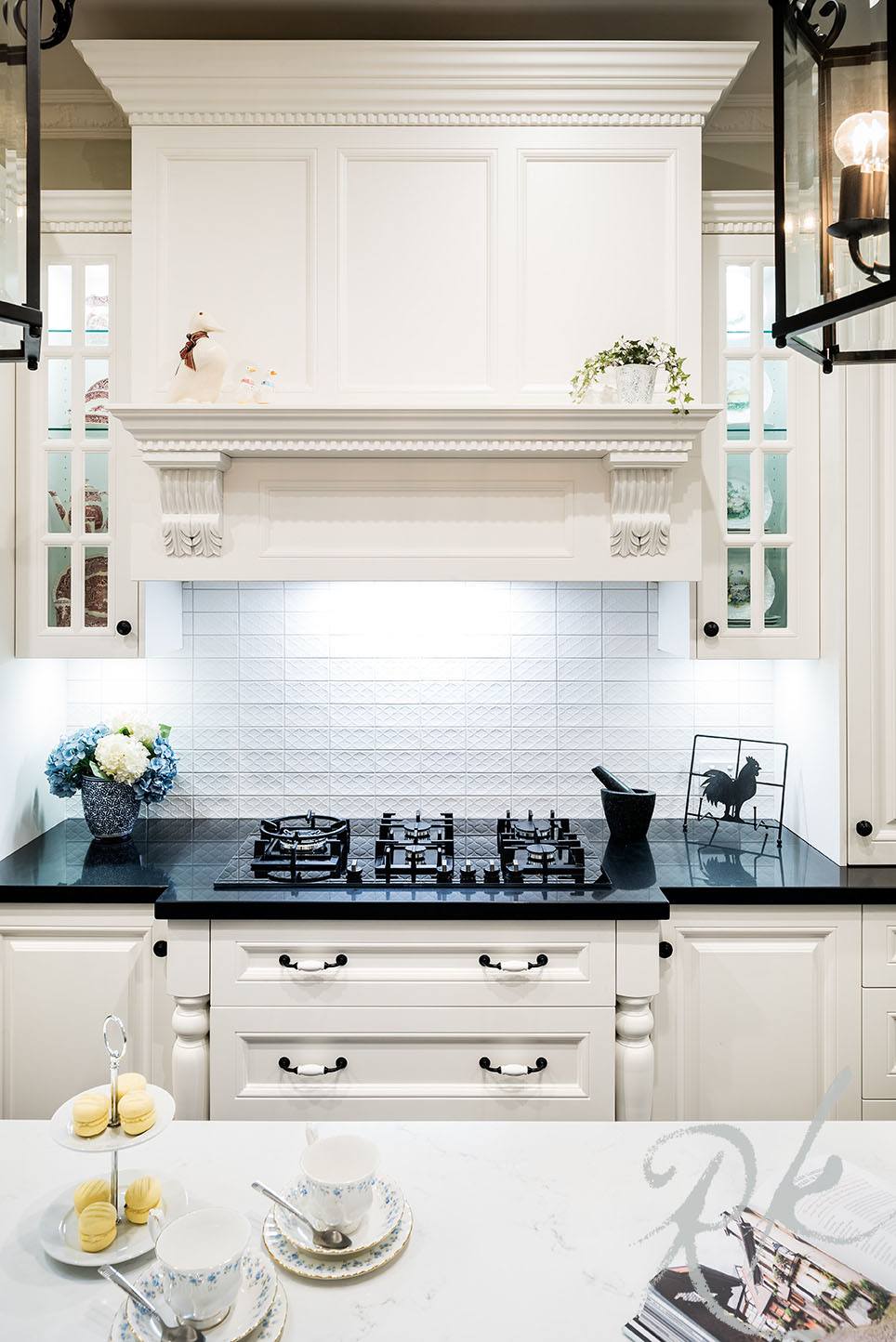 Darker coloured benchtops provide a fantastic alternative to lighter cabinetry.
This French Provincial style kitchen is almost all lighter colours apart from the floating floorboard, Caesarstone Raven benchtop, decorative drawer handles and pendant lighting.
These elements – and particularly the benchtop – help to ground a space otherwise dominated by the lighter 2 Pack cabinetry, Polytec doors and smoke grey island bench.
And they work beautifully.
Black kitchens – Matt or Gloss?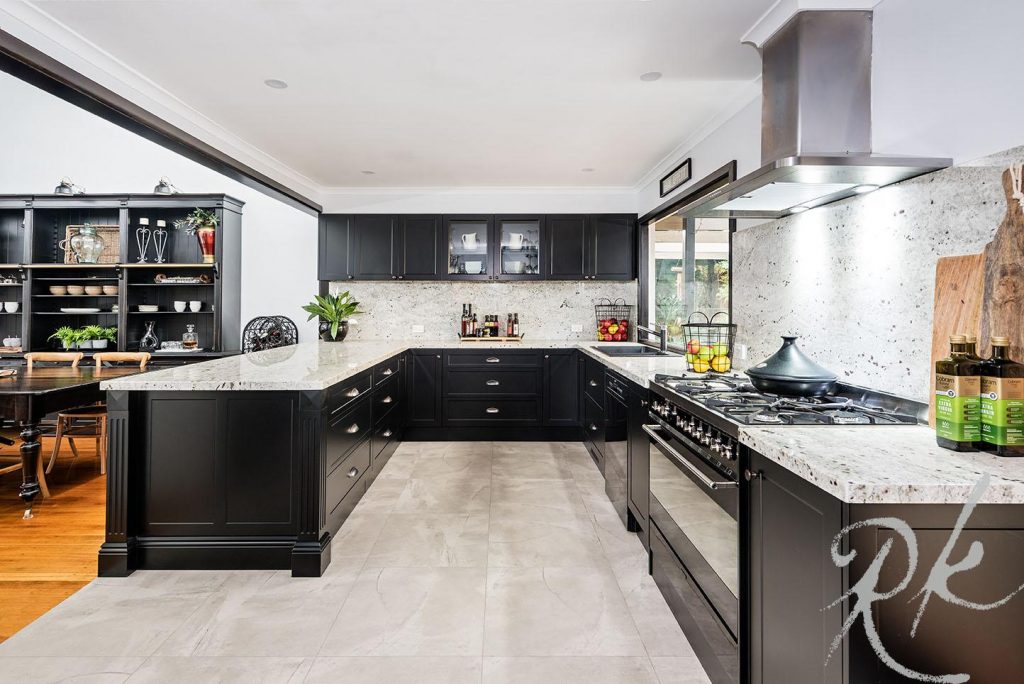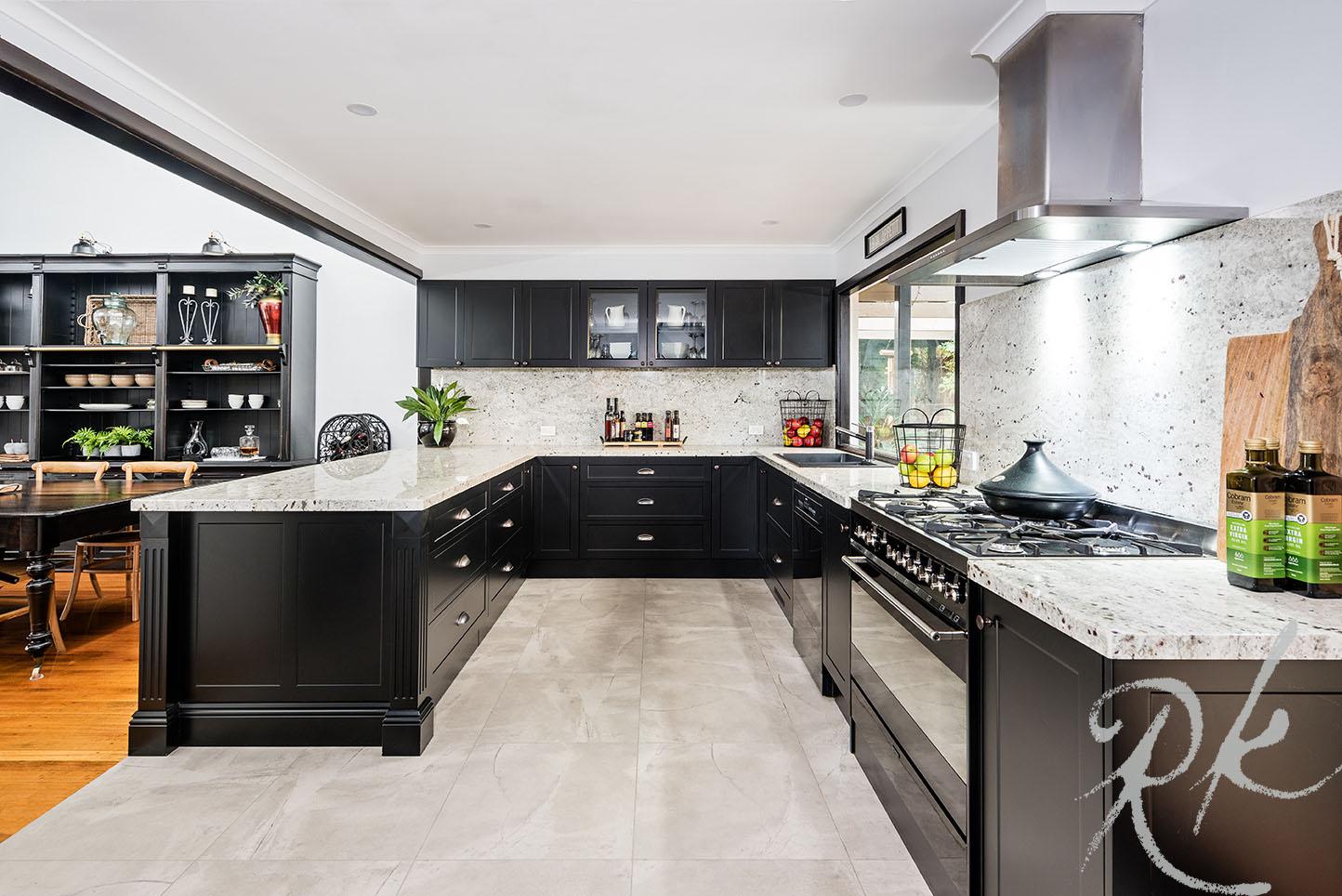 The finish you choose for your renovation is very much a matter of personal preference.
And there's no doubt black matt is very on trend at the moment.
If you're after a black matt finish, here are some products we love and would recommend for your project. Our showroom consultants and designers can provide more information on the differences between each.
For example, at the premium end you'll find the Fenix NTM, where the technology and manufacture of this product makes it one of the best anti-fingerprint surfaces – which is one of the main concerns our clients have with black and other dark cabinetry.
Laminex – Absolute Matt
Polytec – Venette
Stylelite – Velvet finish
Nikpol – PerfectSense Matt
Fenix NTM
2 Pack is also an option for a matt finish.
If you'd prefer gloss, there are plenty of high gloss options for your design.
Will You Consider A Black Kitchen?
So, would a black kitchen work in your home? As you can see, there's a lot that needs to be considered when looking at black kitchens.
Seeking advice from one of Rosemount Kithens' experienced kitchen designers, who can make great suggestions and head off any potential pitfalls, is the best way to approach a project like this.
Why not contact us today or pop into one of our showrooms.