By Mark Tonkin
I got a pleasant surprise a while back when The Age's Domain website got in touch to ask my thoughts on kitchen renovation ideas for 2016.
It also got me thinking – what kitchen styles will be popular?
If you've seen how we work at Rosemount Kitchens, you'll know we don't get distracted by the latest fads and shiny objects.
For us, every customer and property is unique, and every renovated kitchen designed to maximise not only form and function, but our clients' specific needs.
That said, we design, build and install many kitchens each year and become aware of new styles, trends and innovations as they happen.
So with that in mind, here are my thoughts on the kitchen designs that are proving – and will continue to prove – popular throughout 2016.
Considering your own kitchen project? Check out our Essential Kitchen Renovation Guide.
1. Hampton Style Kitchens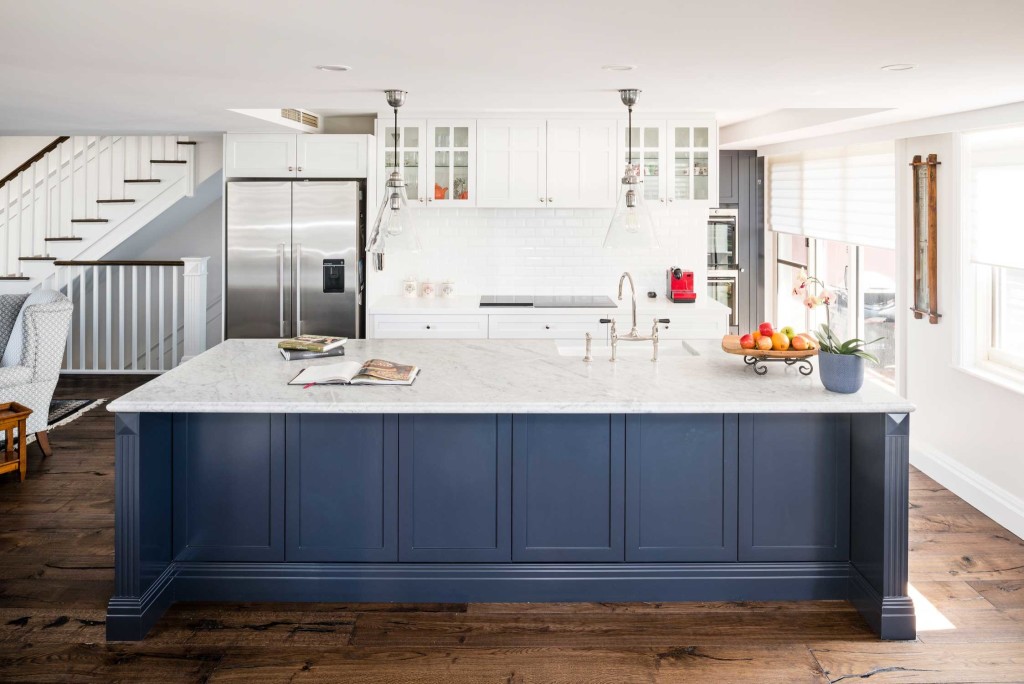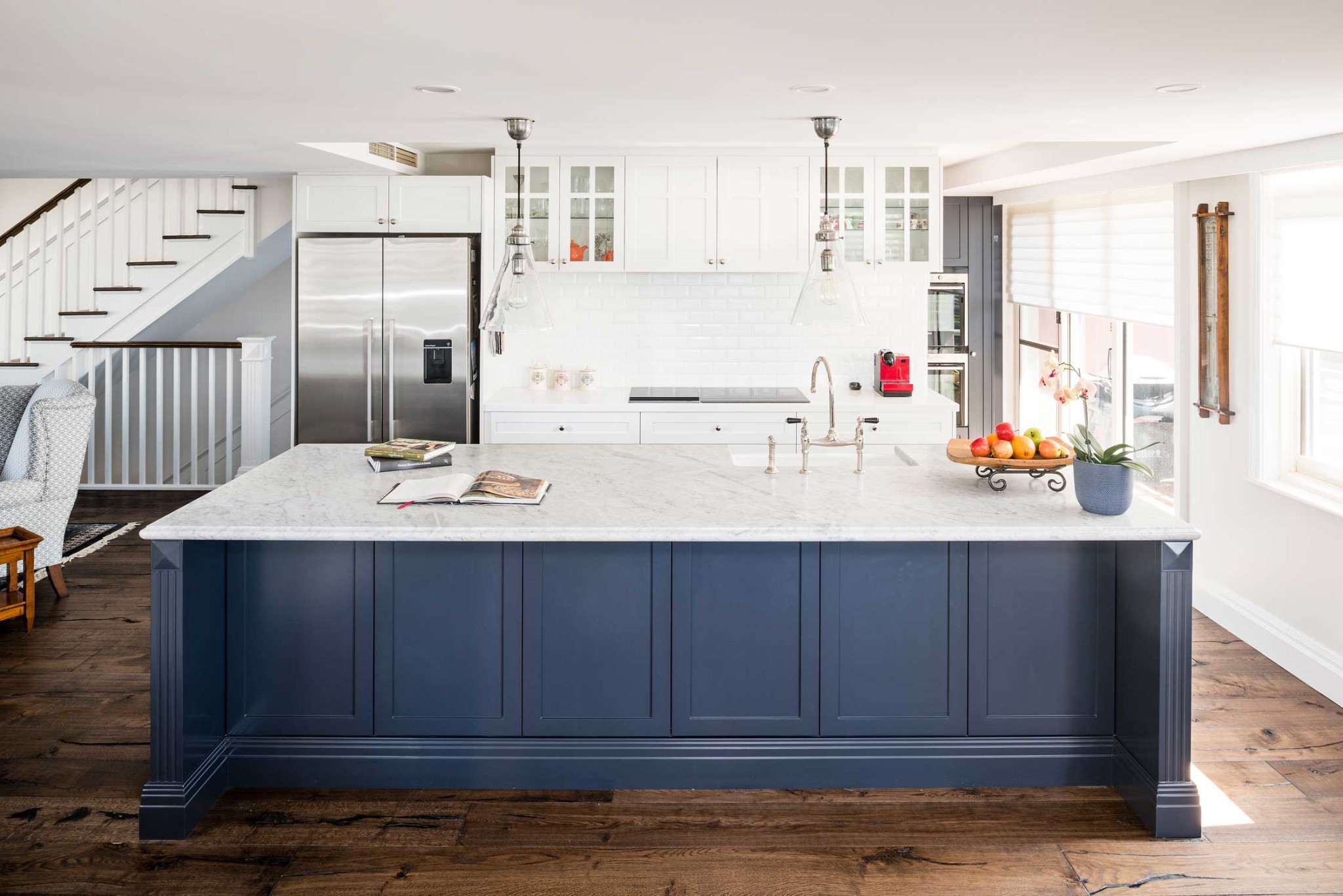 "Classic" might be an overused descriptive term, but when it comes to this style of kitchen it couldn't be more apt.
Hamptons kitchens were as popular in 1916 as they are today, and I'd happily bet that whoever is writing the Rosemount blog in 100 years has them at the top of their tips list for 2116.
That's a long way of saying that the Hamptons style is timeless. And any wonder – when designed well, they look and feel fantastic. It's hard to think of a better space where you'll be happy to not only prepare food, but spend lots of time in.
Contemporary Meets Traditional
Hamptons kitchens are better than ever, combining the traditional elements that make them so popular with cutting edge design and materials. For example, classic door profiles like shaker doors are enjoying a renewed surge in popularity, often as part of kitchens that in every other way would be described as ultra-modern.
Read the full story on one of our most popular Hamptons style projects – featured in the image above.
And find out more about Hamptons kitchens.
2. French Provincial Kitchens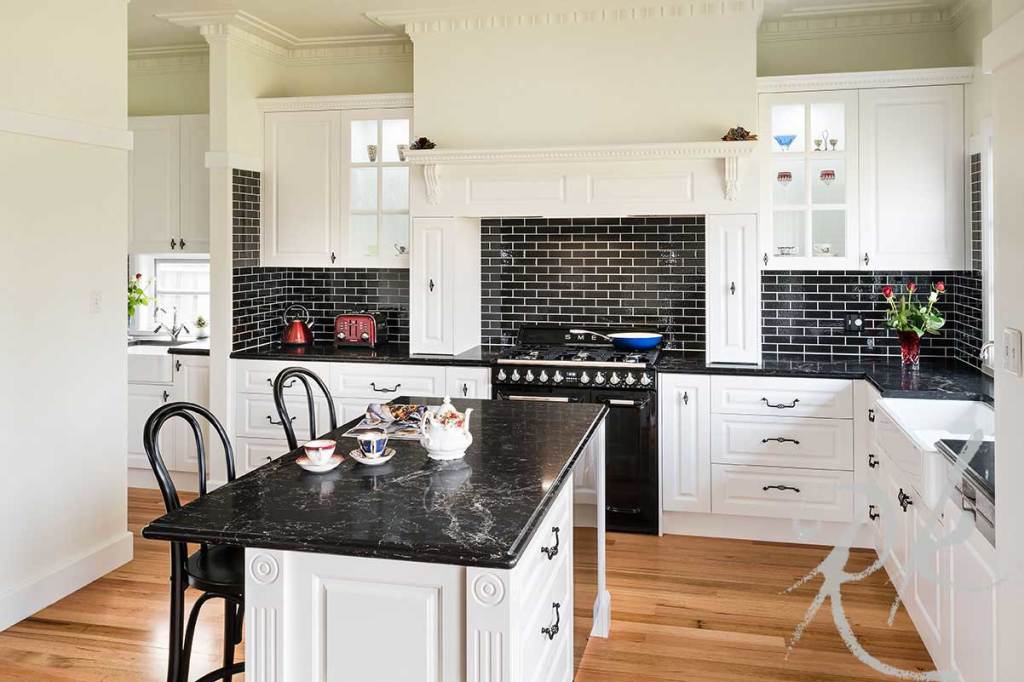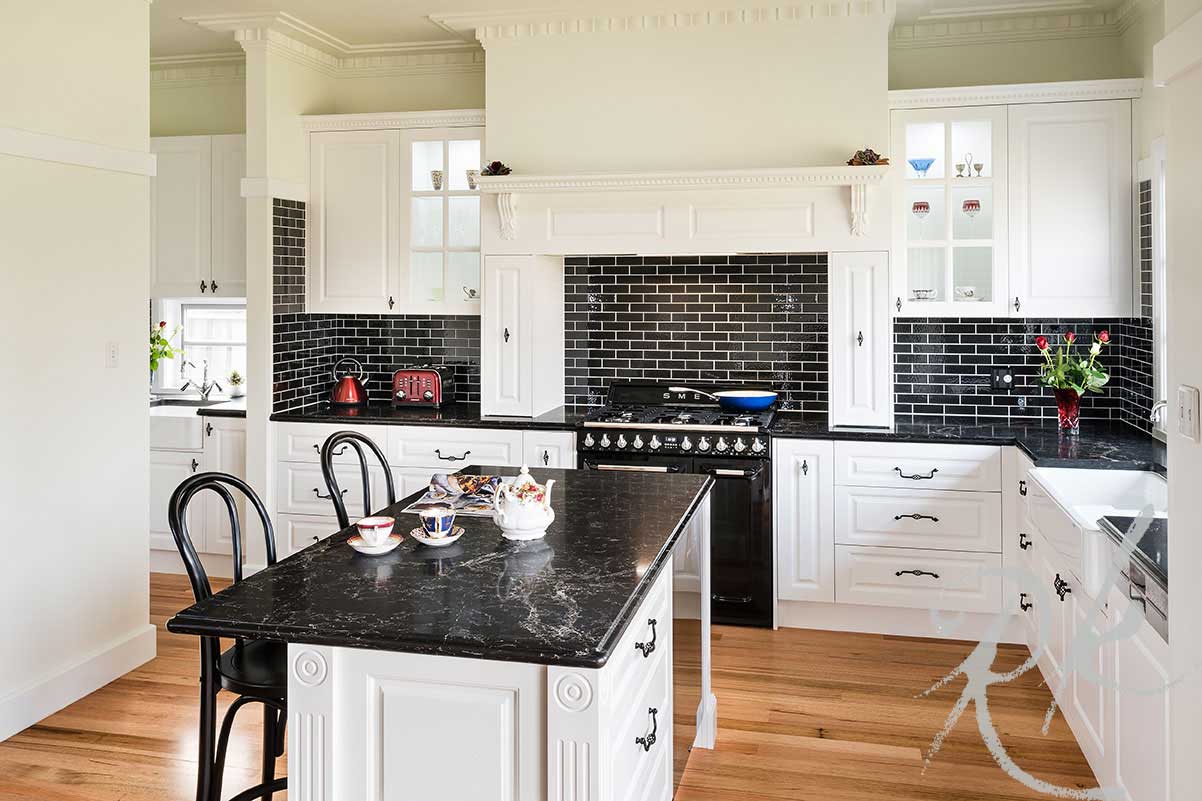 Much of what I've said about Hamptons could equally apply to French Provincial kitchens.
I've lost count of the number of customers who've researched the myriad of styles available today, and opted for another enduring classic.
You might not think a design that typically includes decorative flourishes on cabinetry, and more ornate elements like brass taps, faucets and corbels would work in the kitchen of a city apartment.
But any professional kitchen designer worth his or her salt would politely disagree. They'll come up with discrete solutions that work wonderfully in their given surroundings.
Take one of our recent kitchen renovation projects in Parkdale (featured in the image above).
The property owners asked Rosemount's designers to create French charm without being too ornate or ostentatious.
The result, in my opinion, is sensational – striking but restrained aesthetics and outstandingly practical.
Read more about this French Provincial style renovation.
3. All White Kitchens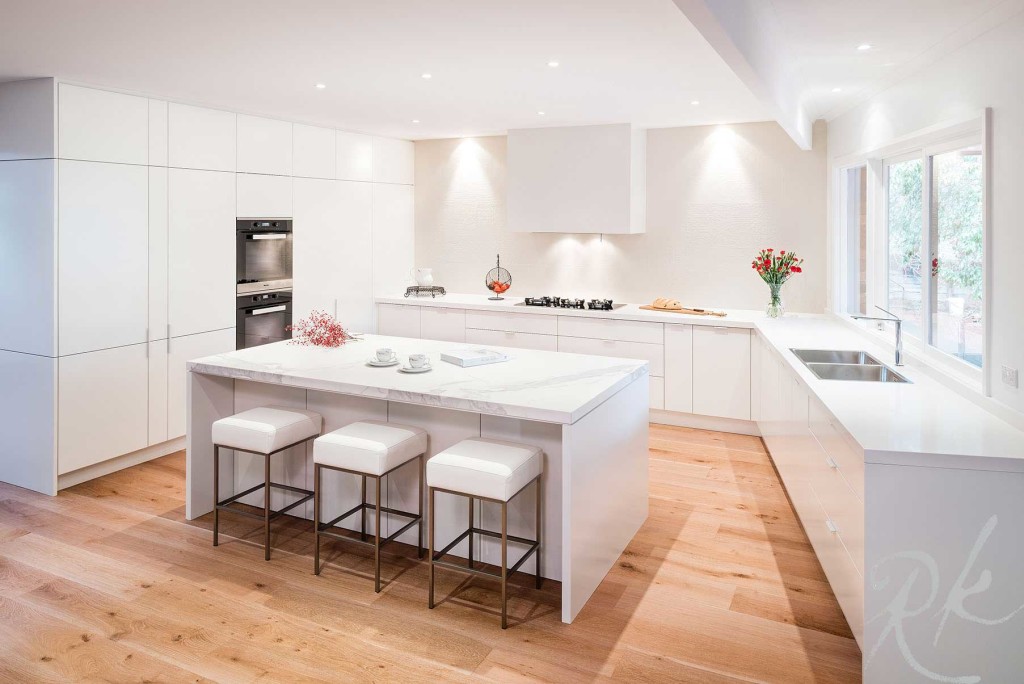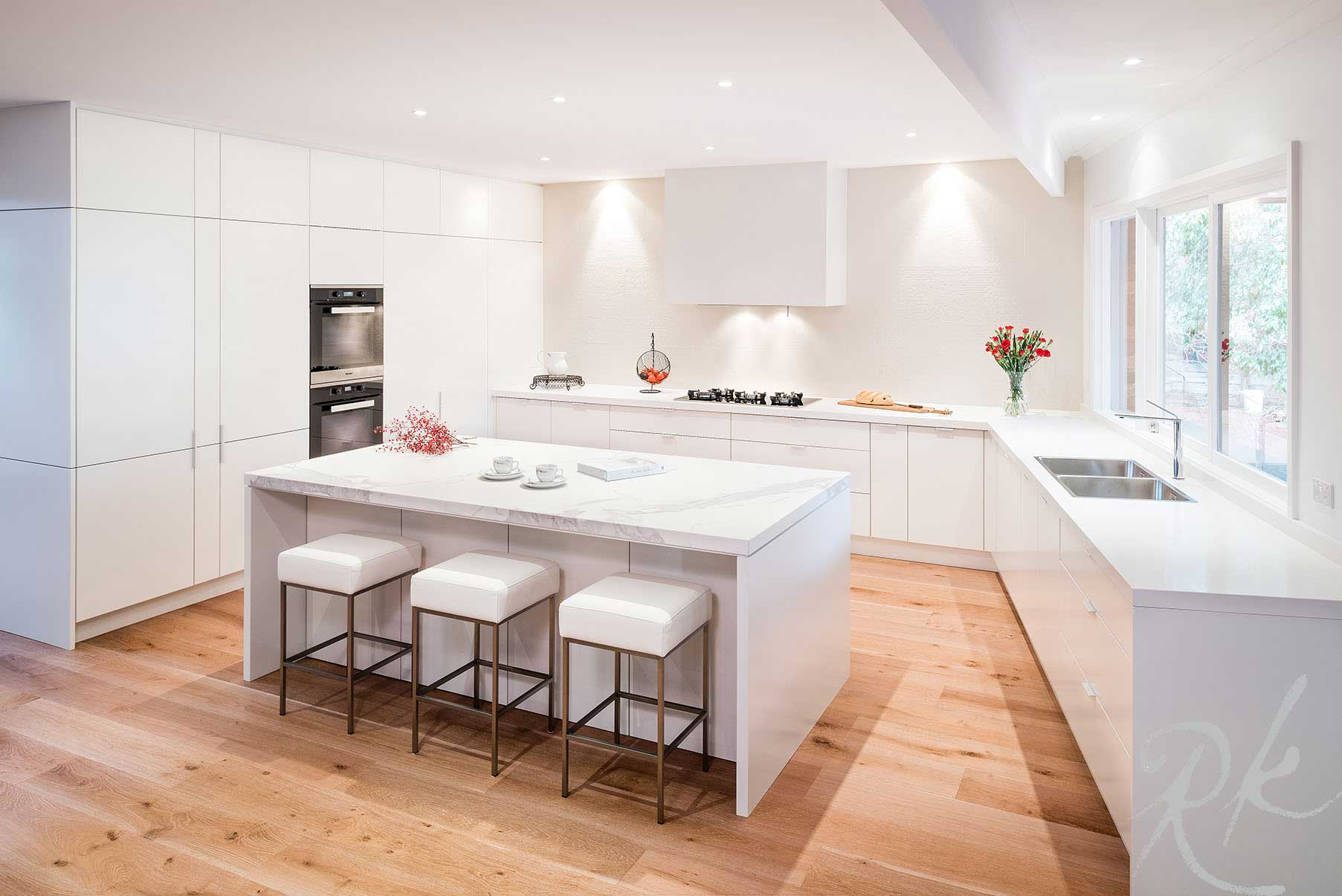 There are several reasons why white kitchens are top of many renovators' lists in 2016.
The clean lines and clutter-free surfaces not only make for a minimalist, contemporary feel but creates a blank canvas on which to stamp your own personality.
That could be through the addition of a striking glass splashback or stone benchtop. Or just some creative splashes of colour – so varied are the options we wrote an extensive blog post on the subject.
Also think texture when it comes to enhancing a predominantly white kitchen – something as simple as a timber floor or tiled splashback can bring unexpected warmth and character to an otherwise minimalist design.
Take a look at another of our popular projects – the Warrandyte white kitchen renovation featured in the image above.
The light and sheer sense of space is a world removed from the kitchen it replaced. And the Neolith island benchtop stands out as the room's centerpiece.
What Style Would You Choose?
These kitchen styles became increasingly popular in 2015 and that has continued in 2016.
They are, of course, my picks, based on experience. But I'd love to know what you think – so please leave a comment below or on our Facebook page.